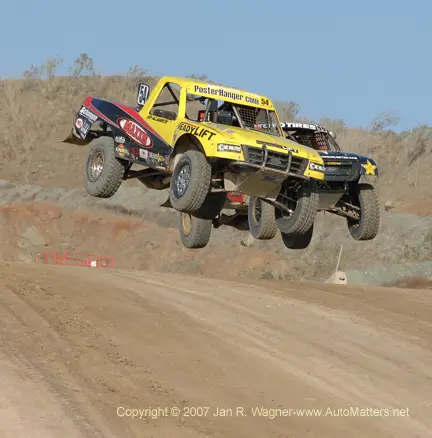 CORR Off Road Racing at "The Quarry" — Chula Vista International Raceway (Sept. 2007)
Usually when I cover an auto race, I am somewhat preoccupied with wondering who is going to win. It is especially aggravating when I've tape-recorded a race on TV and then, before I can watch it, I catch a glimpse of the race winner's name on one of those sports tickers at the bottom of the screen.
I tell you this because for me, Championship Off Road Racing (CORR) is different. Sure, it ultimately matters who wins – it's certainly important to the drivers! But CORR is hugely entertaining every single lap, from the race leader all the way to the back-markers. So much can happen at any moment that I find myself losing track of who's leading whom. Instead, I am constantly scanning the track to see where the action is – cameras (with long and short lenses) always at the ready. The situation can and does change, moment by moment.
I sometimes wonder why I get "lucky" so often when photographing motorsports events. Despite the fact that I work solo at races, I seem to somehow manage to capture more than my fair share of the exciting on-track action. Perhaps it is because, as a long-time autocrosser, I can sense when my car is getting out of shape. That may give me insight into what to look for on the track.
As these photos show, the CORR spectators were treated to some spectacular action on September 29th and 30th. The race trucks were constantly on the verge of being out of control. There were several rollovers and lots of flying dirt. By the way, that wet dirt is very, very slippery. Even as I gingerly crossed the track between heats to change vantage points, I could barely remain on my feet.
CORR at "The Quarry" in Chula Vista is especially exciting for spectators because this venue is basically a gigantic coliseum. Think of Mickey Thompson off road stadium racing times ten – maybe times 100! "The Quarry" features a bigger track, bigger jumps… just about bigger everything.
The spectators in the main grandstand can see almost all of the on-track action without ever leaving their seats. As a matter of fact, some of my most dramatic CORR photos featured here were taken from the safety and comfort of that vantage point. That is very unusual for a motorsports venue.
A big thank you for this fantastic track has to go out to James Baldwin, who purchased CORR in 2005 and whose stated goal is "to take Championship Off Road Racing to mainstream America." "The Quarry" is a jewel in the rough.
The track is huge. The jumps are enormous – especially the granddaddy of all jumps by the big-screen TV. There are long, steeply banked, sweeping turns and tight, narrow turns too. The trucks' body panels barely seem to be attached – which is all the better to add drama when the inevitable collisions occur, and to provide wonderful, free, post-race souvenirs to appreciative race fans.
The bottom line is that this racing facility, as well as the racers, their teams and the sponsors are very fan friendly. For example, Otay Mesa Sales specializes in sales and rentals of construction and industrial equipment. However this weekend, just inside the gate, they were serving delicious Mexican food. That really hit the spot. They also support entry level racers, including eight-year-old Dylan Jacobs who is driver of the #39 Trophy Kart.
The kids put on an especially entertaining show in the Trophy Karts. Earlier this year, I got to drive a Trophy Kart for a couple of laps during Press Day. These trucks may be small, but they more than make up for their size with thrills and spills. It was all I could do to keep mine from rolling end-over-end on a section of the course that had a succession of what looked like gentle bumps. As it was, I inadvertently nosed my Trophy Kart into the dirt and almost came to an abrupt, painful stop. The kids who drive these things are tough.
The Quarry draws some big names to San Diego County. Saturday's competitors included Champ Car racer Paul Tracy. It was his first (intentional!) off road race.
At first it looked like he wouldn't be taking the green flag on Saturday. I heard that he wrecked his Pro 2 race truck on Friday. However, according to the rumor mill, thanks to a last-minute arrangement with Josh Baldwin to use his backup Pro 4 truck on Saturday, Paul Tracy raced and came in a respectable fifth.
Saturday's racing was action-packed all afternoon. Carl Renezeder won the Lucas Oil Pro 4 points race (full size, four wheel drive trucks), a race in which Tim Herbst crashed out in a spectacular rollover.
In the Pro 2 Jason Baldwin Memorial race (full size, two wheel drive trucks), Todd LeDuc won in his Rockstar Energy Drink number 3. Rodrigo Ampudia took first place in the Pro Lite points race (light duty, two wheel drive trucks), piloting his Monster Energy Drink-sponsored number 36. The race day ended with Pro 2, which was won by Dan Vanden Heuvel in his Amsoil number 77.
Well, that's all for now. To learn more about Championship Off Road Racing, go to www.corracing.com.
Copyright © 2007 & 2021 by Jan Wagner — AutoMatters & More #250r4