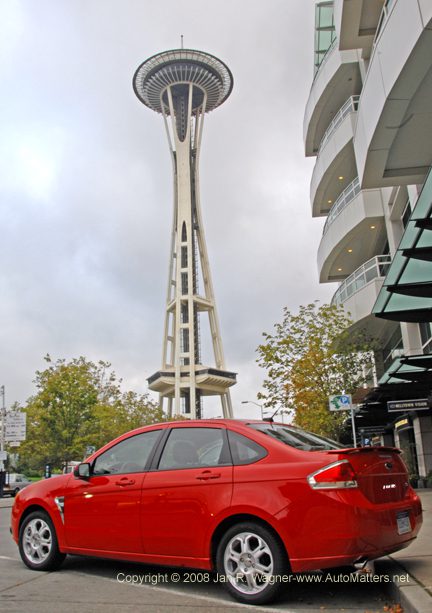 New 2008 Ford Focus in Seattle: great handling, user-friendly electronics
As part of its introduction for the new 2008 Focus, Ford invited a group of journalists to experience the car in and around Seattle, Washington.
Our Focus fleet was fueled up and ready for us. As we would soon see, it was no coincidence that the home of Microsoft is conveniently nearby. We visited there during our time behind the wheel.
As we got in our cars and left Seattle to explore the countryside, it soon became obvious that this new Focus is one great-handling car. It carves turns and decelerates like a compact European sports sedan from those much more expensive brands. I'm dead serious. This car has absolutely stellar handling, and without being harsh or noisy. About all that my new Focus needed to make it perfect for spirited drives on the twisties was the standard five-speed manual transmission (my test car had an acceptable automatic) and a roomy yet fun, sport station wagon model (are you listening Ford?).
What is especially amazing is that this is the standard suspension, so everyone who drives a new Focus will finally get to experience sharp, responsive handling and braking. Ford has just raised the fun and driving dynamics (safety) bar a bunch.
It has been interesting to see people's reactions to the Focus over the past few months. In this age of the automobile as a rolling platform for the latest in hot consumer electronics (look for my upcoming column featuring automobiles at the Consumer Electronics Show), Microsoft's SYNC has proven to be a big hit after it was introduced in this Focus.
Typically, affordable economy cars don't handle particularly well and are not much fun to drive. They are usually basic, no frills transportation appliances. Their readily apparent, lackluster driving manners may not matter much at first to people who are looking for affordable, reliable transportation – that is, until they realize that part of reliability includes the vehicle's ability to help get them out of trouble when confronted with emergency accident avoidance situations. A vehicle that nearly makes you seasick as it bobs and weaves down a winding road, or stopping and starting for slowly moving traffic, is not what you want to be driving when you are trying to avoid an accident. That is why everyone, not just driving enthusiasts, needs a vehicle that handles well. That is one very important reason why you owe it to yourself to drive Ford's 2008 Focus.
I have no doubt that clever motorsports enthusiasts out there are already coming up with ways to further improve on the driving dynamics. Put on a set of super-sticky tires and this should also prove to be a very competitive autocross car.
If you watch TV, you've probably seen the new Focus in commercials touting its SYNC "powered by Microsoft®" option. SYNC is exclusively available in Ford, Mercury and Lincoln vehicles.
We learned about SYNC first-hand, as we used it to easily place hands-free cell phone calls and use voice commands to select and play music. We also had an opportunity to learn about SYNC from the people at Microsoft who helped develop it.
SYNC enables you to connect your portable digital music device – even a USB drive with music stored on it, to an affordable, upgradeable (goodbye planned obsolescence) entertainment and communications system in your car – and then use simple voice commands to select music by artist, title or genre. As I proved when I called my kids in other states, you can make and receive hands-free, Bluetooth-enabled, crystal-clear cell phone calls while you are driving. Importantly, the sound quality is excellent on both ends of the conversations, unlike many of the hands-free, Bluetooth cell phone devices that I've tested. It can even read your text messages. SYNC works really well. Clearly, Ford and Microsoft have done their homework before bringing this product to market.
Debuting SYNC in the new Focus (as a $395 option in the SE or as standard equipment in the SES) was an inspired, bold move. Finally there is an affordable, accessible solution for anyone who is constantly on their cell phone and who is constantly plugged into their digital music devices. Now we can put both of our hands safely back on the wheel, where they belong. I need SYNC. I want SYNC, now!
While we were visiting Microsoft we were invited to tour their house of tomorrow. Unfortunately we were not permitted to take photographs but suffice to say it was like being in consumer electronics heaven. I especially liked the reconfigurable electronic wallpaper, complete with electronic 'windows,' and the fact that computer technology really can deliver on the promise of making the home of the future a smart house. If you ever get an opportunity to take this tour, jump at the chance.
The new Focus is as practical as it is fun to drive. The trunk is huge. In a demonstration where it easily beat competitive offerings from Toyota and Honda, it gobbled up four suitcases with ease.
Thanks to its supportive seats with their good lumbar support, this car is very comfortable on long drives. Color-configurable ambient lighting is optionally available so that you can change the interior mood of your car whenever you feel like it. You'll be able to select from seven different colors.
The pain at the pump is eased by fuel economy of up to 35 mpg (highway) and there is a more powerful, standard, 2.0-liter Duratec engine with 140 hp and 136 lb.-ft. of torque. The 2.0-liter Duratec 20E engine, with 130 hp and 129 lb.-ft. of torque, qualifies Focus as a Partial Zero Emissions Vehicle (PZEV).
Standard safety equipment includes side air curtains, seat-mounted side air bags and a tire pressure monitoring system.
As I always try to do on these trips, after spending time in the car and with the other journalists I toured the local area, looking for unique, interesting, beautiful and sometimes downright strange things to photograph and then show you.
I even spotted some neat car-related stuff!
On my trip to Seattle I was aided in my travel quest by Jason of V.I.P. Executive Services (www.vipexecutiveservices.com), a company based in Texas which specializes in executive ground transportation and protective services.
Jason formerly served for five years in the Marine Corps and now he works as a Seattle fireman, but this day he was on assignment to Ford. A long-time resident, he knows this city very well. He showed (and told me about) more in the short period of time that I had available than I could possibly have seen on my own.
Jason drove me to an off-the-beaten-path viewpoint from where picture postcard photos of Seattle are shot.
My tour ended with a return trip to the Space Needle, one of several structures on the site which I first visited as a young boy during the 1962 Seattle World's Fair. This was really my lucky day, because the sun finally broke through just as I arrived there. That made for some spectacular photo opportunities.
It's time to sum up what I discovered on my trip about the new Focus. This car combines great fuel economy, European sports sedan handling, an affordable yet high tech, voice-activated communications and entertainment system, plenty of room in the trunk for stuff, a full complement of safety equipment, fresh new styling, more power than before and a starting price under $16,000 for a nicely equipped coupe or sedan (even less for the S model without SYNC). That and more adds up to one heck of a good car.
Ford finally has a small car for us that is well-equipped to successfully compete with Honda and Toyota in this tough market segment, but don't just take my word for it. Test drive a new Focus on some challenging, fun roads and see for yourself.
To learn more about the 2008 Ford Focus with SYNC "Powered by Microsoft®" go to www.fordvehicles.com/cars/focus.
Copyright © 2008 & 2021 by Jan Wagner — AutoMatters & More #251