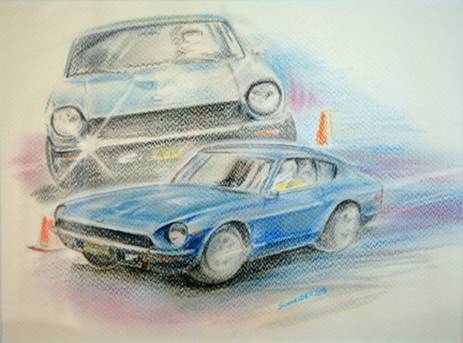 Crazy for Autocross/Slalom: Welcome to My World
Today I would like to change gears a little bit. Usually I tell you about other people's events and cars, but I got to thinking that perhaps you would like to learn a little bit more about me and my over-the-top automotive interests. I apologize in advance for the quality of the photos. Most of them are digital photos of old prints.
I began autocrossing back in the late 1970's and early 1980's, when this form of motorsports was called slaloming. During those years I lived in several cities in Alberta, Canada, where I worked as a television Writer/Producer (mostly on TV commercials). In 1979, which is where this story begins, I was living in a small Alberta city by the name of Lethbridge.
Other than when I was working, I was bored out of my mind living there. There were only so many movies I could see every week and I didn't enjoy one of the other popular local pastimes – which was going out to drink beer, so when a co-worker told me about car slaloms I jumped at the opportunity to check one out. At the time I owned a bone-stock, red, 1978 Datsun 280-Z 2+2. Actually it did have one modification: I'd had the vinyl seats re-upholstered with a brightly-colored, herringbone-patterned cloth.
My 280-Z 2+2 handled like a pig. Its combination of non-power steering and lots of weight at the front end made it unsuited to the plentiful and tight turns of our slaloms, which were held in small parking lots. Nevertheless, it was run-what-you'd-brung, so I did. Some of the lots were so small that we had to keep track of two and even three laps per run, before we exited the course.
I got hooked on slaloming and soon became unsatisfied with the handling of my car. This was the beginning of my very costly but incredibly fun car habit.
I decided to make my car faster, but instead of working on the handling I made the mistake of addressing its acceleration. I had its stock fuel injection removed and replaced with what proved to be poorly-jetted Weber carbs. Above 3,000 rpm or so it had muscle-car acceleration, but getting there from a stop it was just as likely to stall as begin to move. Driving it on stop-and-go city streets was a real adventure.
My next slalom car, which was my all-time favorite, was a 1970 Datsun 240-Z. I got it really cheap. It was used-up and rusted-out – so badly so that beneath where the driver's and passenger's feet went, metal plates had been welded in to cover the jagged rust holes in the floorpan.
I spent a lot of money buying and installing various performance stuff for that car. I even learned how to do some of the work myself. However, when I failed to evenly tighten a three-piece set of spring compressors and they almost instantaneously slid together under the force of the car's spring – nearly cutting off some of my fingers in the process, I decided then and there to leave most of the serious car work to the experts. I still do.
Fortunately, the money spent on this car was well spent. On a slalom course I could do just about anything with it. I had my choice of throttle-on oversteer, lift-throttle oversteer, quick and easy turn-in, and great braking. That car suited my driving style better than any car I have ever owned – before or since. It was a dream to slalom, and I frequently beat very competitive, well-driven cars with it. The local Corvette club had a class for non-Corvettes called "tin," which I often dominated. Ah, those were the days.
We had autocrosses from one end of Alberta to the other, in something called the Alberta Autoslalom Championship series. The Canadian province of Alberta is big, so a lot of driving was required to get to the various events. Back then, as now, I insisted on my slalom car being street legal so that I could drive it whenever and wherever I wanted to. I have never once trailered any of my slalom cars to events. Also, my preference is to have a car big enough to at least be able to hold a second set of wheels and tires – so that I would not have to drive to and from events on my sticky, short-lived slalom tires.
Once a year I participated in a major event called "Superweekend," in Lethbridge, Alberta. We basically took over the roadways of Lethbridge Community College and held a big slalom. There was a significant risk of hitting the curbs that lined much of the course, so it was very important to stay on line. Perhaps that is why I rarely, to this day, hit any cones on my runs.
In the early 80's my work in television took me to Edmonton, which is the capitol of Alberta. There, in addition to our warm weather slaloms, we also had an "ice dice" series in the winters. We shared the Northern Alberta Sports Car Club's ice racing "track": a slippery path plowed in a snow-covered, frozen lake.
After the ice racers raced on it, they left high ice banks on the outside of turns. These were formed when their racecars melted the ice and flung it. We had to be careful to avoid these very hard, high banks of ice as we negotiated our way around the slalom cones that we'd set up.
There were three classes: rubber-to-ice, limited studs and unlimited studs. I ran my 1984 Mazda Rx-7 GSL-SE in the rubber-to-ice class. Since we ran without the benefit of studded tires, we really had to look ahead and anticipate the turns in the course or we would not make them.
The cars in each of these catch-all classes were often very different from each other, so we decided to equalize the competition by creating our own local spec class. One of our members (Fred H.) had a modified, yellow, VW Beetle, which we all shared.
I remember one event in particular, which was perhaps the first time I ever slalomed the Beetle. I had a passenger with me and we were going way too fast to make a particular turn on the ice. I faced two choices: either continue as I was going and hit the ice bank sideways – which would probably have caused the car to roll over; or veer directly towards the sloped bank and try to hit it head-on.
In a split-second decision, I chose to do the latter. I was laughing like a hyena as the car launched up the ramp-like bank and way into the air – no doubt with all four tires well off of the ground. Somehow it landed without rolling or digging in, and we survived unscathed. I didn't even break that tough little Beetle. That was a hoot!
We held another special, slalom-like event every year on January first, as I recall. It was called the Fox Field Trials, named after the owner of the field we used. Once again a tractor plowed out a course in the snow, but this time our track surface was a rough, frozen field. The objective was to see who could get around the course the quickest. That was a fun way to enjoy a winter's day!
I was very active in slaloming until this time and, thanks to being single and with no other responsibilities, I even served a term leading a car club (the Edmonton Light Car Club).
Most of my life outside of work revolved around motorsports and I loved it. However, a golden opportunity presented itself at work so I sought and accepted a transfer to California in 1984 (pun intended).
Over fears that my Canadian-spec Rx-7 would not be allowed as it was into California, I sold it and bought another red one just like it in San Diego.
Soon thereafter I met my wife-to-be (now my ex-wife) and got busy with starting a family. Motorsports and cars took a back seat, although I still tried to stay as active and involved as time would allow. I continued to regularly participate in what had become known as autocrosses, and I served terms as the newsletter editor of another car club (the San Diego Asebring Drivers).
I decided to get what I thought would be a better autocross car but instead I ended up buying an overpriced, poorly modified, 1962 Lotus Super 7 Series 2. Those cars were already marginal at best so the poorly executed major modifications made my car totally unreliable. It broke before every single autocross that I tried to enter it in. I finally gave up trying to fix it and sold it.
I also spent time at some major automobile races – as an enthusiastic spectator and sometimes as a passenger. My most joyous experience was getting a two-lap ride in an IMSA GTP car around the race track at Del Mar in the early 1990's.
I remember being belted in with a five-piece racing harness, only to slide up on hard acceleration and then back down when the driver hit the brakes. I absolutely loved the thrill of riding at high speed around the race track. I wish I had tried wheel-to-wheel racing.
Next, to replace the Lotus, I special-ordered a red, 1988 Mustang LX 5.0, complete with a manual transmission and a limited-slip differential. I paid a premium to order it with crank-up windows, to save weight. The car was powerful and fun to autocross, but it tended to understeer badly in tight turns.
Then I bought a red, 1991 Mitsubishi 3000GT VR-4. What an amazing technological tour-de-force that car was. It had everything: electric front and rear spoilers, a switch-controlled variable exhaust note, all-wheel-drive, sportscar styling, gobs of power and probably a bunch of other stuff I don't even remember anymore. Of course the penalty for all that technological wizardry was that the car was very heavy, so it wasn't especially well-suited to autocrossing. That said, it sure did handle well on rain-soaked surfaces thanks to its all-wheel-drive.
Besides the Datsun 240-Z, one of the only other autocross cars that I enjoyed any sort of regular success with was my next car: a dark brown, 1979 Porsche 911 SC. It had almost 100,000 miles when I purchased it but it had been very well taken care of. Its previous owner was the proprietor of an independent Porsche service facility.
I had the car's suspension upgraded, which turned it into a very well-handling, albeit relatively gutless, car in its class. It did best in the rain and on tight handling courses because I knew how to get the most out of its tail-happy, oversteering cornering characteristics – and was not afraid to do so. That was no doubt due to my years of driving rear-wheel-drive cars in slaloms and on gravel- and snow-covered roads back in Alberta.
The tricks I found for going quickly around tight turns in an early and low-powered Porsche 911 are to lift sharply off of the gas pedal at the start of turns, to plant the front end and help the car start to turn; and then jump on the gas pedal almost immediately after the car starts to turn, or if the rear end starts to slide out in a turn, to plant the rear end. That makes it stick like it was glued to the road. Of course, the opposite is also true. Sharply lifting off of the throttle or hitting the brake pedal while the car is turning is a sure way to make a 911 spin out. No guts, no glory as they say. Just don't go in too fast or you'll be in trouble.
I sold the Porsche (a move which I regret to this day) to get a new Neon ACR, after I had done well with one in a local auto dealers' autocross. The plastic trophy had gone to my head.
Probably my biggest problem I had competing with that car is that is was front-wheel-drive. My driving style is better suited to rear-wheel-drive cars. I learned that when I faced some of the best autocrossers in the country, at the SCCA Solo2 Nationals in Topeka, Kansas.
I got rid of the Neon and went back to a rear-wheel-drive car: this time a bright red Camaro with a V-8 and a six-speed manual transmission. Now that was more like it.
After that I traded up to a 1996 BMW M3. I was able to locate one of the rare ones with the BMW M-cloth upholstery, so that I would not slip side-to-side on the seats in my autocrosses.
Remembering how much enjoyed my Porsche 911, and not particularly satisfied with the understeering characteristics of my '96 M3, I sold the BMW and bought a Porsche 914-6 conversion. When it ran properly the car was as wicked-fast as it looked, but I suspect that prior to my ownership of it this Porsche had experienced a hard life. While not quite as unreliable as my all-time worst car (the 1962 Lotus), the 914-6 took a pretty close second place. It was expensive to buy and cost me a fortune in necessary and never-ending repairs. I decided to sell it and let someone else keep BMW repair shops in business. My thick stack of repair bills helped make it clear to the new buyer what they might be in for.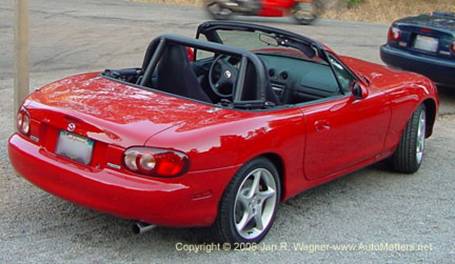 My car-buying budget was on life support, so my next car was a bare bones, 2003 Mazda Miata Club Sport: a very rare, lightweight model for racing, with all of Mazda's go-fast Miata stuff. Mazda supposedly made only 50 of these: 25 convertibles and 25 hard-tops (with no soft-top mechanism underneath, for light weight). I was told that of all the second generation Miatas, only the Club Sports did not come with air conditioning. They did not even have a radio, although I added one (if you ever see a completely stock one you can tell a Club Sport by its round black plug where the radio antenna would otherwise be).
That was a pretty competitive autocross car but because of my wish to also drive it on the streets occasionally, I soon realized that living in Southern California I was not satisfied to drive a car without air conditioning. A trip in the summertime to Las Vegas, and another to Solvang, convinced me of that beyond a shadow of a doubt. I looked into adding A/C to my Miata, but the cost to do so was prohibitive (about $3,000 for the labor plus the cost of all the parts). It took months for me to sell the car because no one here wanted a Miata without A/C – unless I was willing to practically give it away. I ended up advertising it in Canada, where I finally found someone who liked it enough to buy it and pay the cost of converting it to a Canada-spec car. I promised myself that I would never get another car without A/C – at least as long as I lived here in Southern California.
Currently I autocross a beautiful, metal-flake red, 2004 Mazdaspeed Miata in the SCCA's C Stock class. Unfortunately I have never done very well in competition with it. The gear ratios are not suited to typical autocross courses and it is too easy to mis-shift when driving aggressively. Furthermore, until recently Kumho and Hoosier did not make competitive autocross tires that would fit it. Now Hoosier does, but because of the gearing situation I am again considering yet another car.
I like the Pontiac Solstice. The one time that I test-drove one was about a year ago, at a GM ride-and-drive event. They had set up a very short, tight autocross course and invited us to compare their GTO and the then-new Solstice on it. I flew around the course in the Solstice and really enjoyed driving it.
At this year's SCCA Solo nationals, Solstice drivers dominated the top of the scoring charts in C Stock. However, the problem with the Solstice for me is that air conditioning is not available on any cars that have the Club Sport package (which is the hot ticket – pun intended once again). So, should I wait in the hopes that GM will eventually realize that some warm weather autocrossers are willing to trade-off the added weight for the comfort of air conditioning; should I buy a non-Club Sport Solstice with the optional limited slip diff, anti-lock brakes and air conditioning – and try to do without the other go-fast stuff that comes standard with the Club Sport package; should I wait for Mazda to hopefully answer the Solstice's challenge with a competitive autocross version of their current Miata; or should I cool my heels in my air conditioned Miata and wait for the anticipated coupe version of the Solstice, which might have A/C and room on-board to enable it to carry a second set of wheels and tires to and from events? So many questions, so little money…
The only other thing I can think to add here is that I especially enjoy owning sportscars that are associated with active car clubs. Belonging to the Porsche club was great, as was the CASC (the former Canadian equivalent to the SCCA), the BMW club and my current SCCA and Mazda clubs. I came very close to ordering a new C6 Corvette recently (there are several Corvette clubs) but I decided to put that idea on the back burner due to the same lack (until very recently) of competitive autocross tires for it, combined with that car's big price tag. I could keep my Miata and buy a new Pontiac Solstice for less than what a new C6 Corvette would cost me.
Well, if this doesn't convince you that I am a hopeless car and autocross nut, probably nothing will. I go to unbelievable lengths in my quest for cheap plastic trophies.
I absolutely love cars and motorsports. That's why I continue to write about them and take pictures of them. It sure isn't for the money.
Drive safely and do join me again next time.
Copyright © 2006 & 2021 by Jan Wagner — AutoMatters & More #215