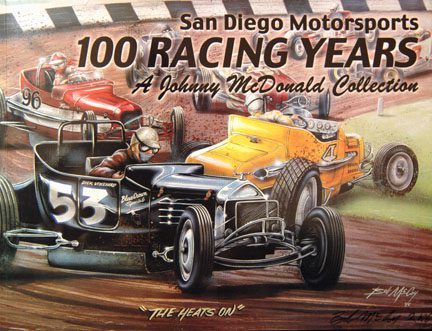 Book Review: San Diego Motorsports – 100 RACING YEARS – A Johnny McDonald Collection
(Photos reproduced here for this review by permission of Mr. McDonald)
What do Barney Oldfield and NASCAR NEXTEL CUP star Jimmie Johnson have in common? The answer is that they both share strong racing ties to San Diego County. Barney Oldfield raced here in the early 1900s and current NASCAR NEXTEL Cup star Jimmie Johnson is from right here in El Cajon. You might not realize it, given that there is no big league, permanent race track here today, but this area was once a mecca for auto racing.
"Glorious and yet bumpy" is how author Johnny McDonald describes San Diego motorsports in the preface of his new book. It features (but is not strictly limited to) the history of San Diego County racing and racers from 1907 through 2006.
Johnny McDonald is a well-known personality in the San Diego area motorsports scene. He covered motorsports for the San Diego Union for over 25 years. Car and Driver magazine once called him one of our nation's "most influential."
He certainly knows his subject, having covered not only the local motorsports scene but also racing at Indianapolis, Daytona, Toronto, Phoenix, Laguna Seca, Sebring, Riverside, Baja and Ontario. He served three terms as President of the American Auto Racing Writers and Broadcasters Association, has co-promoted motorsports events and is a former director of the San Diego Automotive Museum.
Not only is this book almost overflowing with historical racing photographs, but it also features illustrations by former racer Bob McCoy. My first recollection of seeing Bob McCoy's motorsports art is from when I was covering the 2005 GoodGuys show in Del Mar.
I'm somewhat of a history buff and found this to be a fascinating read. Once I started I couldn't stop until I was done. From circle tracks to road courses; drag, motorcycle, boat, dune buggy and off-road racing – you'll find all that and more In the book's 144 pages. The large selection of old black & white photos of racing vehicles, along with images from Southern California's colorful past, attracted my curiosity; Johnny McDonald's accompanying short stories and informative photo captions helped bring those photos to life.
Old-timers might remember races at Torrey Pines, Balboa Stadium and Del Mar (since I remember the racing at Del Mar – does that mean that I'm an old-timer too?), but before that, way back in 1915, there was racing on a 5.9-mile road course along the dirt streets of Point Loma. The race was organized to draw national attention to San Diego's Pan American Exposition in what is now known as Balboa Park.
Future World War One flying ace Eddie Rickenbacker raced here. Cars included those made by Stutz, Maxwell, Duesenberg and Mercer. Just imagine what is must have been like to have actually experienced all of this, as you read these thrilling headlines from the San Diego Union newspaper: "Speed Boys Skim Over Pt. Loma Course at 90-mile Clip" and "Time Destroyer Beats Death on Fastest Auto Course." Fred J. Wagner (no relation to me) was the starter, and Lewis H. Falk used uniquely descriptive language to describe the race for the newspaper's readers: "With motors popping merrily and the fog of exhaust smoke rolling in the wake of cars, the drivers took their mechanical brutes on the course."
Johnny described for his readers how even earlier, in 1907, Barney Oldfield raced on a two-mile, purpose-built, high-speed race track around Lindo Lake in Lakeside. The track cost $10,000 to build, which was a huge amount of money back then. It was spent to attract guests to racing enthusiast and promoter John H. Gay's Lakeside Inn.
An estimated crowd of 10,000, some of whom made the long and difficult drive all the way from Los Angeles, gathered on Christmas Day in 1912 on the sand at Pacific Beach to witness the world land speed record attempt made by "Wild" Bob Burman. He had previously set the record at Daytona Beach. His $15,000 Benz Blitzen had already reached an initial speed of 129 mph and was in the midst of another, hopefully quicker run when the car burst into flames. The fire was extinguished by pushing the car into the ocean.
Thanks to the recent, vintage automobile racing at events on the Navy base in Coronado, it is possible for us to at least somewhat experience what is was like seeing these cars racing in all of their glory. Of course you'll need to squint a bit so that you won't notice the modern-day safety equipment. In its infancy, racing was much more dangerous – not just for the drivers but for spectators, too.
Racing continued here over the years, and is well-documented in this book. Billy Vukovich raced at San Diego's Balboa Stadium, which hosted auto racing from 1939 to 1961. Rodger Ward, a future two-time victor at Indianapolis, won his first major race here.
Sports car racing came to San Diego's Torrey Pines area in a big way in the 1950s. Future Formula One World Champion Phil Hill won here (in a Ferrari) in 1952, as did Carroll Shelby in 1955. Dan Gurney, Masten Gregory and Ken Miles also raced here.
First on a quarter-mile dirt track in 1961, and soon on a 3/8-mile paved oval, cars raced regularly at Cajon Speedway in El Cajon. Sadly, that track is gone from our racing calendar too.
Carlsbad Raceway opened in 1964. During its long run (from 1964 to 2005) it featured NHRA-sanctioned drag racing and motorcycle racing.
Racing returned to the Del Mar Fairgrounds in 1987, as exotic, powerful IMSA GTP cars challenged each other and thrilled racing fans on a temporary circuit there. However, despite its popularity (73,000 fans in 1990), an unfortunate combination of circumstances led to its demise after the 1991 racing season.
And what about the present? I'm pleased to note that despite what we've had and subsequently lost over the past 100 years, we still enjoy several forms of exciting, spectator-friendly motorsports here. This includes hydroplane racing on the waters of San Diego's Mission Bay, vintage automobile racing at Coronado and a notable return to racing's roots on dirt with off-road racing in Chula Vista.
Modern-day motorsports fans will recognize the names of Jeremy McGrath, Alex Barron, Boris Said, Brian Simo and NASCAR NEXTEL Cup's Jimmie Johnson. All of them are accomplished racers from San Diego County. Now if only someone would build a permanent race track to take advantage of our near-perfect, year-round weather…
Finding and captioning all of the photos must have been a huge undertaking. They alone would justify the $24.95 cover price of this highly enjoyable and informative history of San Diego motorsports. Add in Johnny McDonald's colorful stories and insights, and I can't imagine any motorsports enthusiast not enjoying this book.
Johnny will be speaking at 7:00 p.m. on Thursday, Nov. 16, 2006 at the San Diego Automotive Museum. He will also sign copies of his book, which will be available for purchase there. For more information, visit the museum online at www.sdautomuseum.org.
Drive safely and do join me again next time.
Copyright © 2006 & 2021 by Jan Wagner — AutoMatters & More #216