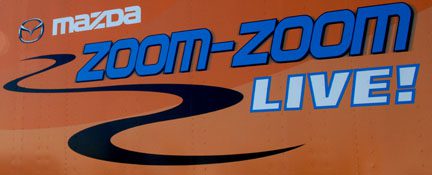 Driving cars can be so much fun sometimes. Admittedly many people consider them to be little more than transportation appliances, but you already know that I don't fall into that category – and I'm hoping that you don't either.
Once in a while auto manufacturers put on what we call "ride-and-drives." They set up driving exercises and invite you to drive their cars. They hope that you will like what you experience and consider them when you are next in the market for a new vehicle. Sometimes these events include competitors' vehicles, too.
This was a Mazda ride-and-drive. Their traveling road show was held in various locations around the country. The closest one to my home was at California Speedway in Fontana, so that's where I went.
There were several challenges, each designed to highlight certain strengths of the vehicles driven. As an incentive for trying all of the challenges, points were accumulated and could be spent on a prize.
The "CX-7 Target Hunt" took place on a winding road course marked by orange traffic cones. Every so often there would be a little "target" lying flat on the course, next to a pair of yellow cones. Each Mazda CX-7 had a sensing device mounted under the front of the vehicle. The object was to drive a CX-7 and pass the center over each of the six marked targets. Points were awarded for accuracy. Oh yes, and there was a time element also, which made the hunt more challenging.
Since we were told that the targets were all the same distance from the side of the course, on my first run I looked out the side when I was about to cross over the targets. I tried to position my CX-7 the correct distance from the marker cones. Unfortunately, when I got back I learned that I had been way off – and, to make things worse, I was very slow.
I had one more chance to get it right. This time, instead of looking out to the side, I just looked ahead and concentrated on centering the CX-7 over the target. Also, I drove much more quickly – which demonstrated that this 244 hp CX-7 SUV handles well and has responsive acceleration. Success! I improved from driving correctly over at least 25% of the targets on my slow first run to getting at least 75% of the targets on my much quicker second run. I earned 50 points.
In the "Matched Time Gymkhana" the object was to try to do the run in exactly the same time as Mazda's pre-determined target time of 27.000 seconds. Once again, no more than two timed laps would count towards our points total. I chose what I knew would be an especially nimble, precise-handling car: a Mazda3.
Without a passenger to operate a stopwatch for me, this was going to be really difficult, if not impossible. Nevertheless, I took off my watch, engaged its stopwatch function and then nailed the accelerator as I pressed my stopwatch's start button – or so I thought. Don't you just love those tiny little buttons on watches these days? I messed up and failed to start the stopwatch. Now what? Well, I just relied on my internal clock (yes, guys have those too) and went for it.
Incredibly, I crossed the finish line only a few thousandths of a second off of the target time. I probably couldn't have done that again if my life had depended on it. Since I had arrived to this ride-and-drive a little on the late side and wanted to do all of the points-earning exercises, I gratefully accepted my 25 points for being within .5 seconds of the match time and I moved on to the remaining points exercise.
The MAZDASPEED6 Challenge, presented by Bridgestone, was my favorite event – an autocross. We would get two timed runs behind the wheel of one of these 270+ horsepower, turbocharged, six-speed manual transmission-equipped sports sedans to try to earn maximum points.
My first run was okay but I had played it a little bit too safe. Points would be awarded based first on how close one came to the target time, and then, if one beat that time, who beat it by the most. That one person every hour would get the maximum 50 points.
The time to beat was 34.00 seconds. Hitting cones along the way would mean incurring time penalties, so precise driving was important. On my second run I squeaked by the time to beat with a time of 33.827 seconds. It wasn't the quickest time of the hour but it was clean (no cones) and enough to earn me another 25 points.
The "Sports Course" was just for fun. The cars were the rotary-engined RX-8 and the MX-5 Miata.
Before I knew it my afternoon was just about over. There was just enough time left to see what I'd earned for my efforts. My prize? A shiny, bright red, diecast model of the new MAZDASPEED3.
The next time you hear about a manufacturer's ride-and-drive, check it out. They're almost always a lot of fun.
Drive safely and do join me again next time.
Copyright © 2006 & 2021 by Jan Wagner — AutoMatters & More #217