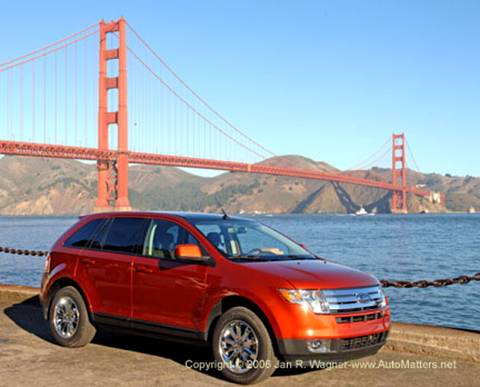 2007 Ford Edge in San Francisco: Times are Changing — Again
Way back when horsepower literally meant horse power, people relied on covered wagons to haul their families, friends and all of their stuff. Those had plenty of room inside but they sorely lacked for comfort and amenities. And ride-and-handling? Don't ask.
People had to make do with these for a long, long time, but everything changed with Henry Ford, the advent of the automobile and station wagons. These land yachts combined a car-like ride with cavernous amounts of interior room, as compared to sedans and coupes. They were very practical and comfortable – especially on long trips on the open road. Many were big, long vehicles, with soft rides and marginal handling at best. Back then bigger was better. I recall, from when I was young, that Ford was known as the "wagon master."
Times changed, tastes changed, and in the 80's Chrysler single-handedly redefined the people-and-stuff mover with their minivan triplets: Dodge Caravan, Plymouth Voyager and Chrysler Town & Country. Thanks to their much taller passenger compartments, along with the packaging efficiencies of front-wheel-drive, they had tons of room, and because they were car-based they still offered a familiar car-like ride. Short- and long-wheel-base versions further increased passenger compartment space.
Over time these became known as the vehicles of choice for "soccer moms" – and eventually that was a problem. People wanted more than lots of space in their people-and-stuff movers, they wanted to be seen as cool, too.
Enter SUVs – the next group of roomy people movers. They were big inside and offered commanding views of the road. When people showed up in these they made a statement to the world: get out of my way. The problem is, most gave up any sense of being car-like in terms of ride and handling. Many were little more than ponderous, gas-guzzling trucks with family car attributes. While they had – and still have their place in the automotive scheme of things, SUVs are not what many people ultimately need and want.
Finally we have it all. CUVs (Crossover Utility Vehicles) offer the passenger-and-stuff space that many people need, along with bold styling, car-like ride, decent fuel economy and crisp, safe handling.
The new 2007 Edge is Ford's entry into the CUV segment of the market. I was able to spend some time with it while I enjoyed the sights on a recent trip to San Francisco.
From most angles its styling is certainly distinctive. It makes a strong visual statement – especially when seen in its available Blazing Copper Metallic exterior color.
Its efficient use of interior space is impressive. One can't help but notice the large amount of space behind the front seats. Passengers here are not treated like second class citizens. The 60/40 split, second row of seats reclines, and the seat cushions change to a more comfortable angle too.
For hauling stuff, the seatbacks fold forward and flat. That includes the front passenger seat. The rear seats have an available EasyFold™ electro-mechanical remote release, which is very easy to use. When all of these passenger seats are folded, Edge offers eight feet of unobstructed space.
Passenger comfort does not stop there. Buyers have come to expect a full complement of electronic entertainment devices in their people-and-stuff movers, and the Ford Edge does not disappoint. It includes available LCD monitors and satellite radio, and goes a big step further by providing an Auxiliary Input Jack to accept feeds from the immensely popular IPODs and other portable music devices. This jack connects these devices to the Edge's sound systems, giving people easy access to the favorite music that they have stored there.
Something else that makes Edge's interior stand out, and which really enhances the behind-the-front-seats passenger experience, is the Panoramic Vista Roof™. This huge opening really does provide passengers with a panoramic view of their surroundings, as well as a great open air experience.
The Edge offers a good blend of power and economy. Its 3.5-liter DOHC 24-valve V-6 delivers 265 horsepower through a 6-speed automatic transmission. City/highway mpg is 18/25 for front-wheel-drive and 17/24 for all-wheel-drive models.
Safety is enhanced with all sorts of things that you can't readily see, including air bags, Ford's Safety Canopy™ system with rollover detection, side curtain airbags and a four-wheel anti-lock braking system. A Reverse Sensing System is optional.
As welcome as all these features are, one important feature of the Edge completes the package. It is something that has been needed but lacking on many of the high sales volume, people-and-stuff movers to this point in time. That feature is confidence-inspiring handling.
The Ford Edge may surprise you. It certainly surprised me. At one point on our extended drive we were on a very twisty stretch of highway, with quite a steep drop to one side of the road. I was in the front passenger seat. We were moving along nicely when we unexpectedly came upon a very sharp turn at fairly high speed. I sensed that we were going into this turn too quickly. I wouldn't go quite so far as to say I panicked, but I certainly had thoughts about the possibility of our sliding off of the road and rolling down the embankment. They were not pleasant thoughts.
Suddenly, as if the Edge had somehow read my mind, I sensed that the vehicle was slowing down and coming back under full, safe control. I didn't know it at the time but this was not thanks to anything that the driver did. No, what I experienced first-hand was AdvanceTrac® with RSC®. This electronic stability control system is standard equipment on the Edge. It "uses two gyroscopic sensors to monitor both yaw and roll motions." It represents a huge safety benefit.
While it is one thing to survive an accident, it is quite something else to be able to avoid one in the first place. Don't get me wrong – even though the Edge includes an independent rear suspension which further enhances handling, this is not a racecar. The Edge does provide safe handling that can really help keep people out of trouble.
The times have indeed changed again, and Edge seems to deliver the goods in more ways than one. Expect to see Ford's Edge in showrooms in November. MSRP pricing will start at $31,395.
Drive safely and do join me again next time.
Copyright © 2006 & 2021 by Jan Wagner — AutoMatters & More #214r3