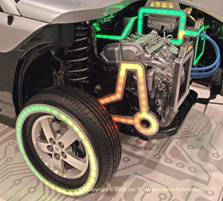 OC AUTOSHOW (Orange County, California)
Put on your comfortable walking shoes. It's auto show time of year again.
First up among the major market auto shows was the 2006 Orange County Auto Show in Anaheim, California. It provided the opportunity to hear about, see and DRIVE a wide variety of fuel cell vehicles. Of course there were plenty of non-fuel cell, 2007 model year vehicles to enjoy as well, so let's begin with a few of those.
Lamborghini Orange County unveiled the exotic Murciélago LP640. My fellow members of the Press were all over it. Its exotic doors that swing open upwards say this is no ordinary vehicle.
Like any Lamborghini, there is an ample supply of 'go' to accompany its 'show.' In the engine bay lurks a 6.5 liter, 640 hp beast. Permanent 4-wheel drive ensures that the power makes it to the ground. Does that make it fast? You bet! How about a top speed of 212 miles per hour? That's well over 100 mph faster than the top speed of the SMART car that took me from California to New York earlier this year – and that car was able to keep up with just about everything I encountered on the road. Of course the acceleration is wildly different. The Lambo does zero to 60 in only 3.3 seconds! We won't discuss how long it takes the SMART car to accomplish that but suffice to say it is slower.
At least they both have two seats…
So, what is this and other Lamborghinis like to drive? After overhearing something about driving Lamborghinis at California Speedway, I expressed my interest in doing so and sharing my experiences with you. They promised to keep me in mind. We'll see if they remember.
Nissan had something special to show us at their Press conference, too. We were treated to the world debut of the 2007 Nissan Altima Hybrid. Billed as the "most advanced Altima ever," it combines "an ultra-clean gasoline-powered 2.5-liter 4-cylinder engine" with an "emissions-free electric motor." Power is transferred to the driving wheels by a CVT (Continuously Variable Transmission), which provides seamless acceleration. The gasoline engine automatically shuts down whenever it is not needed, saving gasoline and eliminating pollution. Numbers that buyers will care a lot about include the Altima's driving range of 750 city miles per tank, and EPA-estimated city fuel economy of 41 mpg (36 highway). It is most economical in city driving conditions and no, you don't plug it in to recharge the batteries. It takes care of that on-board.
Lincoln presented three new vehicles: Navigator, MKZ and MKX.
The MKX is Lincoln's first entry into the rapidly emerging, very popular crossover vehicle segment. Smaller in exterior dimensions than the large SUVs that had been so popular before fuel prices started to soar, this segment still provides generous cargo and people space, along with better fuel economy and more.
The five-passenger MKX is luxurious and offers a comfortable, car-like ride, a smooth-shifting, 6-speed transmission and a panoramic Vista Roof™. Safety features include Advance Trac® with Roll Stability Control®, as well as side airbags and a Safety Canopy™ air curtain system.
Fuel cell vehicles were very well represented.
I drove two and found that from behind the wheel they are much like my Toyota Prius – especially when it is running on battery power. Electricity is used to produce smooth, high torque acceleration. However, whereas my Prius only runs on electricity sometimes, fuel cell vehicles always do. They do not have backup gasoline engines.
We hear a lot about how fuel cell vehicles are coming and how they may be the answer to our personal transportation needs, but many of us still do not know much about how they work. Part of what the California Fuel Cell Partnership does very well is educate. They sum up fuel cells quite well in this one sentence: "A fuel cell creates electricity through an electrochemical reaction between hydrogen—stored in tanks onboard the vehicle—and oxygen—from the air."
You may have heard of the term "fuel cell stack." That simply refers to a stack of fuel cells, which combine to produce electricity to power vehicles. Fuel cell stacks combine hydrogen ("the most abundant element in the universe") with oxygen. The only byproducts of the process are water and heat.
There are significant differences between the fuel cell systems under development, and the technology is continually evolving. In driving the two vehicles, I could hear one difference. One vehicle made a distinct whining sound on acceleration. The other was very quiet. As I recall, the explanation (please, don't hold me to this) for the difference is that one utilizes a high pressure stack whereas the other's is low pressure.
Using fuel cells does seem like a better idea than continuing to burn the world's finite oil supplies. There would be no pollutants released into the atmosphere and we would no longer have to be dependent on oil imports. Those of us who need or just like to drive big SUVs or high-powered cars could do so without feeling guilty. However, don't hold your breath waiting to buy one anytime soon. The most optimistic estimate that I heard for seeing some come to market, and in very limited numbers, is two years. Most seem to be saying that number is more likely to be ten to 20 years. Part of the reason why is that we have to build a huge infrastructure that includes specialized filling station equipment, in order to be able to supply the needed hydrogen. Also, as long as gas is not ridiculously expensive, there may not be a strong demand for change from the market (you and me). Additionally, the technology still requires some breakthroughs to make the systems affordable and somewhat more efficient than they would be if produced today. I am optimistic that the problems will be solved. They have to be.
I ended up spending a full day at the show and took way too many pictures of the cars – and trucks.
I can never seem to resist doing that.
Whether you enjoy going to car shows to take pictures (and videos) too, or just want to check out some of the new vehicles on display in one convenient location, watch for an auto show coming soon to a convention center near you.
I'd like to change subjects now and apologize to those of you who were offended by my recent AutoMatters & More column (#212 – "Auto Sales and the Dealership Experience") about a poor dealership sales experience that I had. I should have realized that — especially depending upon your perspective and situation, my critical treatment of this sensitive subject could have been like rubbing salt on a wound. My goal with AutoMatters is to inform and entertain, not offend. As the following paragraph shows, there are plenty of subjects to discuss that we can all enjoy. I'll try to remember that in the future, but feel free to remind me again if I forget.
Something I'm going to try to start doing in AutoMatters & More, at least occasionally, is give you some advance notice of upcoming topics and events. We're coming up on a very busy and exciting automotive season. Next week I'll be in San Francisco driving the new Ford Edge. A little bit later I will be off to California Speedway to participate in Mazda's "Zoom-Zoom Live." At the end of October, AutoMatters & More will once again be in Las Vegas to bring you coverage of all four days of the spectacular SEMA Show. November activities will continue with the Motor Press Guild's Evaluation and Track days, followed by a visit to both Press Days of the Los Angeles International Auto Show. I also have coverage (including some dynamite photos) of the recent historic automobile races in Coronado, another presentation from Dave Hermance of Toyota, on the subject of battery technology for hybrid vehicles, and a huge round-up of Ford Mustangs by the Queen Mary in what is becoming scenic Long Beach. If that isn't enough for you, things have a way of popping up at the last minute, too. Let's see, at one column per week that makes how many weeks already spoken for? Oh, and how on earth am I going to keep up with all of the writing, as well as editing the photos that I take? Help! It's a good thing I love cars so much. At least I may finally be getting an assistant temporarily who will look for more publications to carry AutoMatters, as well as try to bring some advertisers on board to spread their messages – and help pay the bills around here. This is a very hectic time, indeed. Wish me good luck and pray that my computers don't fail us (again).
Drive safely and do join me again next time.
Copyright © 2006 & 2021 by Jan Wagner — AutoMatters & More #213