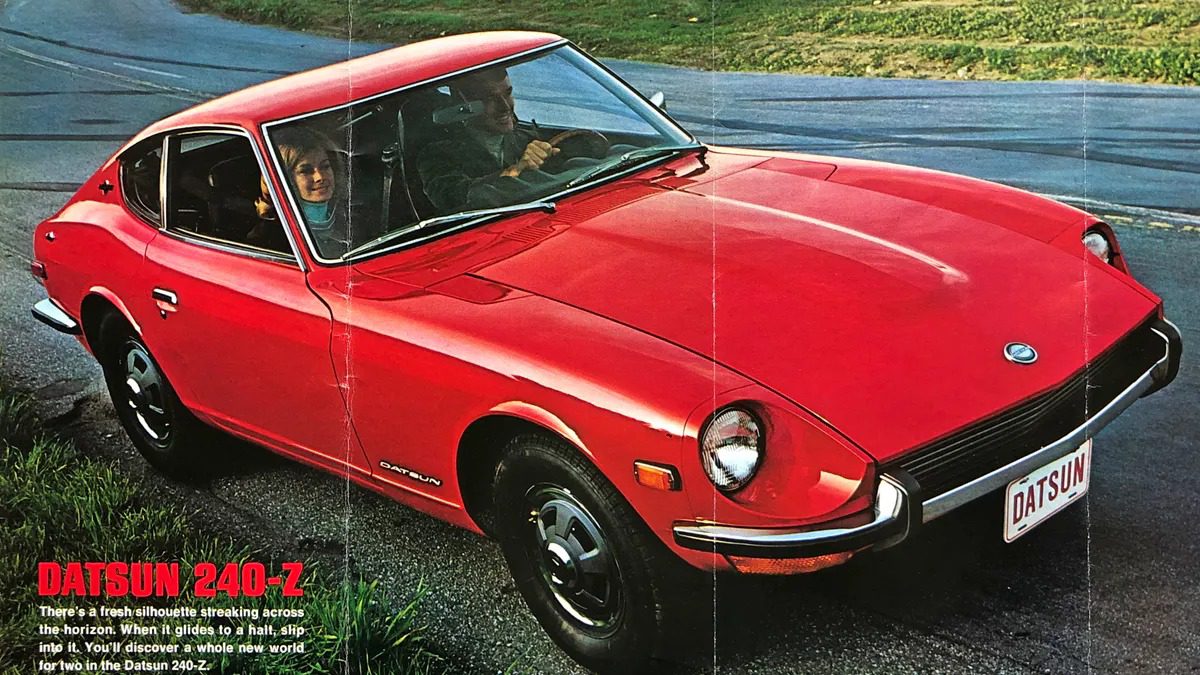 EARLY Z-CAR PRINT ADVERTISING
R​are Datsun Z brochures, ads & more! Just added: another poll & a postscript.
Long before the internet became popular and only a few years after color television first was introduced in Canada, automobile manufacturers expended substantial resources to create compelling, visually attractive new car sales brochures and magazine advertising. Exquisite studio and on-location photography situated the vehicles in idealized settings, eliciting thoughts of lifestyles and activities that one might imagine themselves enjoying with such a car. Carefully chosen words described the vehicle's key attributes.
I still remember the brochure for my first car — an arrest-me-red, 1970 Plymouth Duster 340 muscle car. It was pictured in an idyllic meadow covered in wildflowers – not at all like the grey, forgettable city streets upon which it would spend most of its life.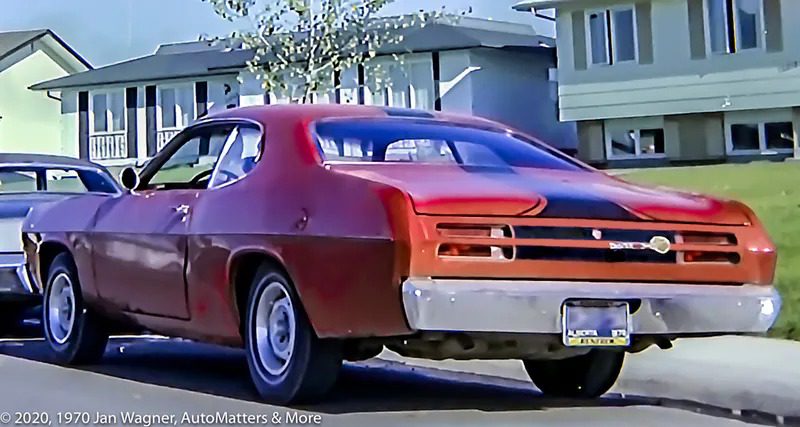 My 1970 Plymouth Duster 340 in around 1970, in Calgary, Alberta. Note the painted-on racing stripe on the trunk lid. This car was very fast — in a straight line. It had a huge trunk. Note the ventless side windows, in a car without face-level ventilation.
The next vehicular object of my attention was Datsun's new, exciting and reasonably priced 240Z sports car. I probably clipped every advertisement for that car that I found in the car magazines, along with the feature stories that were written about it.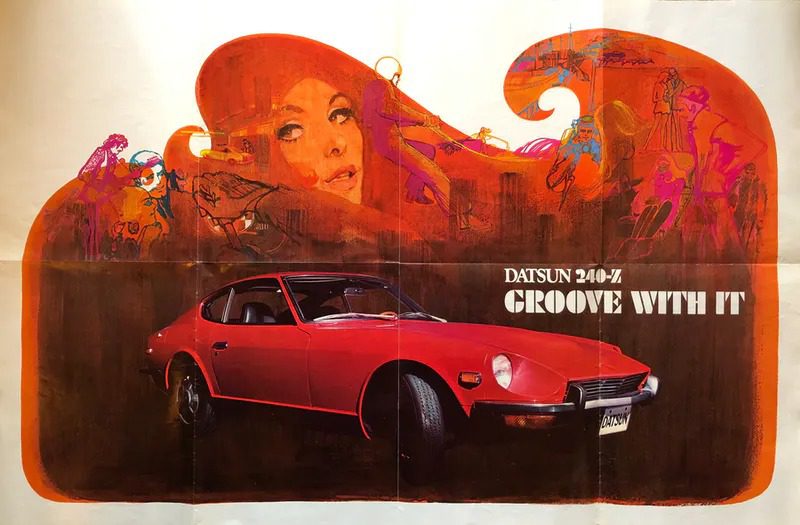 Groovy poster for the Datsun 240Z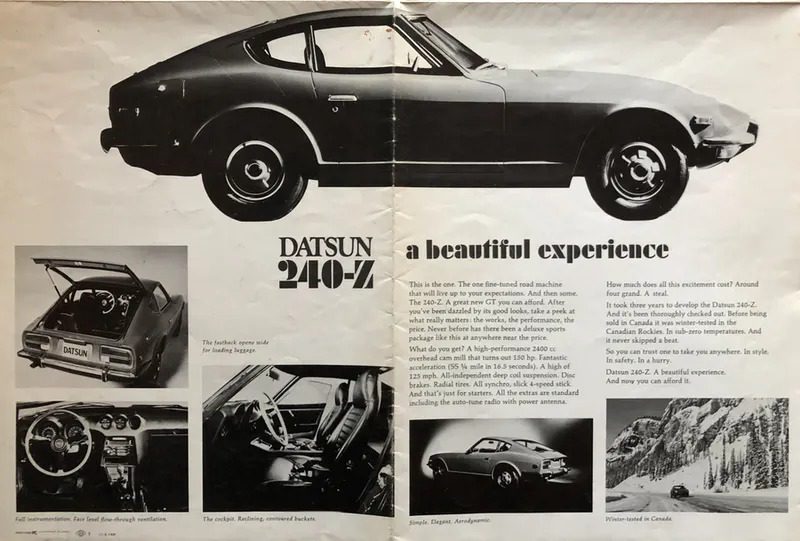 F​rom the back of the "Groovy" poster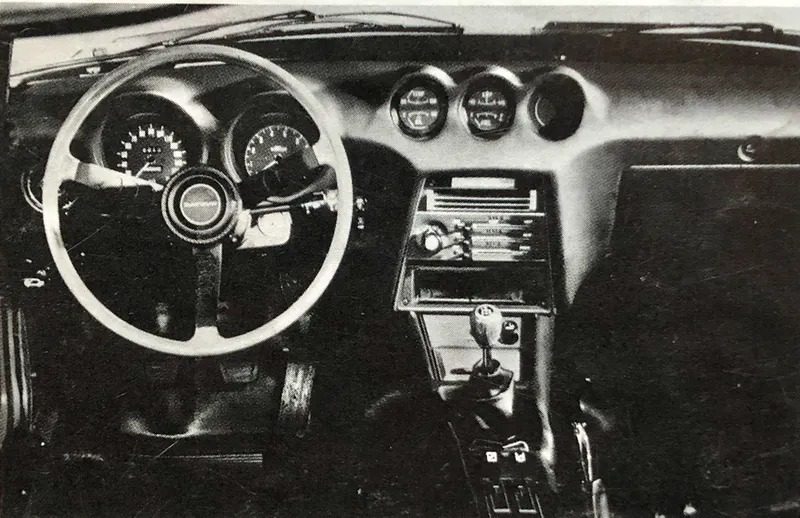 From the back of the "Groovy" poster (note the manual throttle & the manual choke)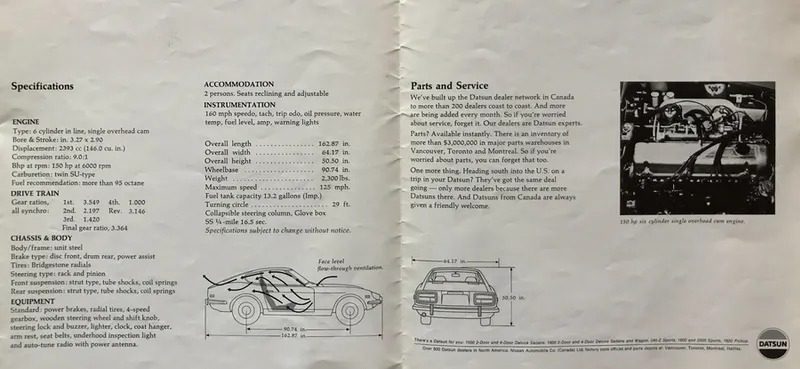 F​rom the back of the "Groovy" poster
One such ad in particular stands out. I discovered it in the June 1971 issue of Motor Trend magazine – on the flip side of the page that contained a dramatic review of the then-new Steve McQueen movie "Le Mans" – the very same movie that I would one day watch at a drive-in theater, while seated behind the wheel of my Mandarin Orange, 1971 Datsun 240Z. Exciting times indeed, but I am getting ahead of myself…
In bold white letters against a dark background, the ad copy read: "Join a Minority Group." The single photograph was captured at dusk, with a clear sky overhead. Sitting stationary on a desolate, bone-dry lakebed that stretched as far as the eye could see, was a solitary, orange, 1970 Datsun 240Z, its headlights blazing like eyes looking into the approaching darkness. No people were in sight. It was as if the 240Z was waiting for me, luring me in with its seductive good looks, as if to say "come drive me into the night."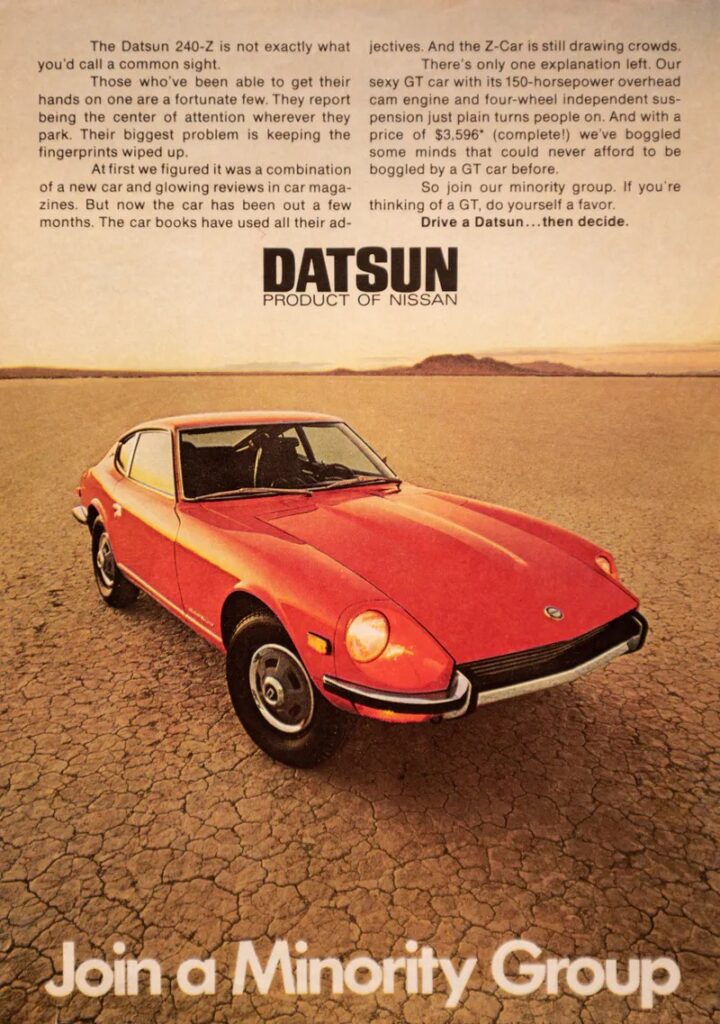 Magazine ad for the 1970 Datsun 240Z (you can tell it's a 1970 by the 240Z emblem on the side, behind the window) (in Motor Trend magazine, June 1971)
Additional text reinforced the visuals: "The Datsun 240-Z is not exactly what you'd call a common sight," referring to the first buyers as "a fortunate few." "They report being the center of attention wherever they park." We were reminded that the car magazines were raving about this car, subtly suggesting to us that we seek out and read those articles to learn more about the 240Z – so popular an automobile that you might not even find one to look at in a Datsun dealership. Key technical highlights mentioned were the car's "150-horsepower overhead cam engine and four-wheel independent suspension."
The clincher was the price: just $3,596 (in the U.S., $4,395 in Canada), accompanying this tag line: "Drive a Datsun…then to decide." Did that work for you? It certainly worked for me! I was hopelessly smitten and bought my own Mandarin Orange, 1971 Datsun 240Z.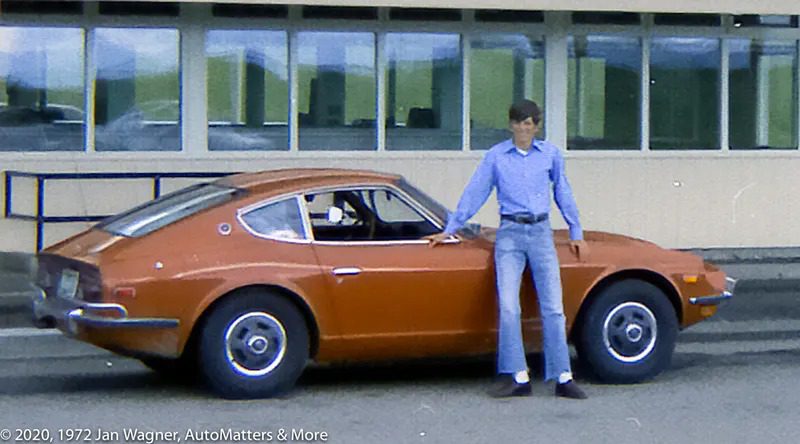 This is me about 50 years ago, with my Mandarin Orange, 1971 Datsun 240Z. I sure wish that I still had that car — and that I was still that slim!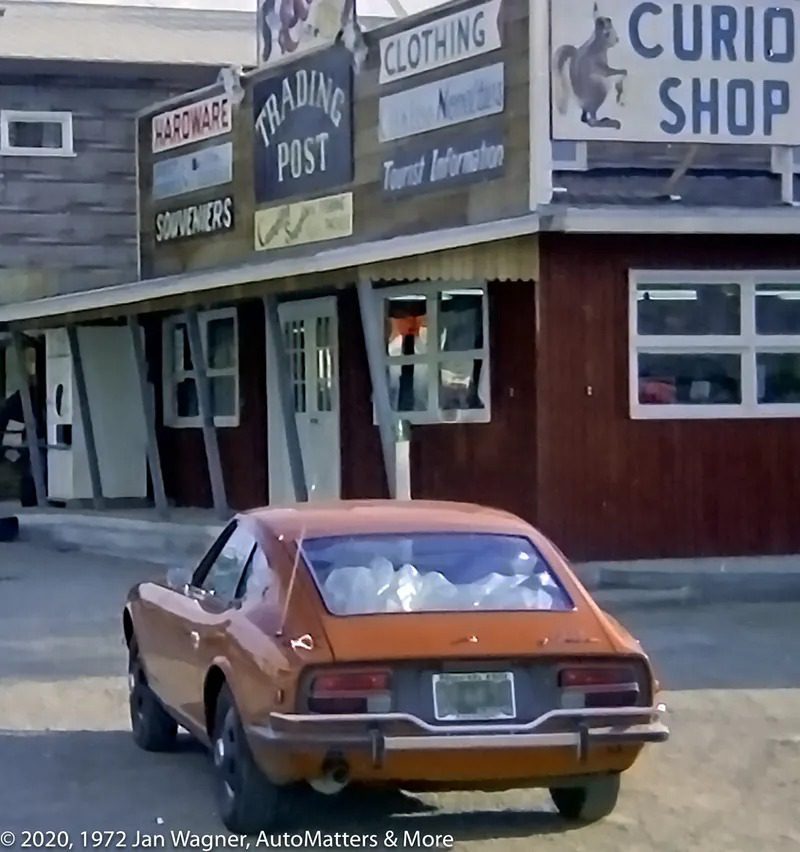 Racking up the miles in my 1971 Datsun 240Z in Montana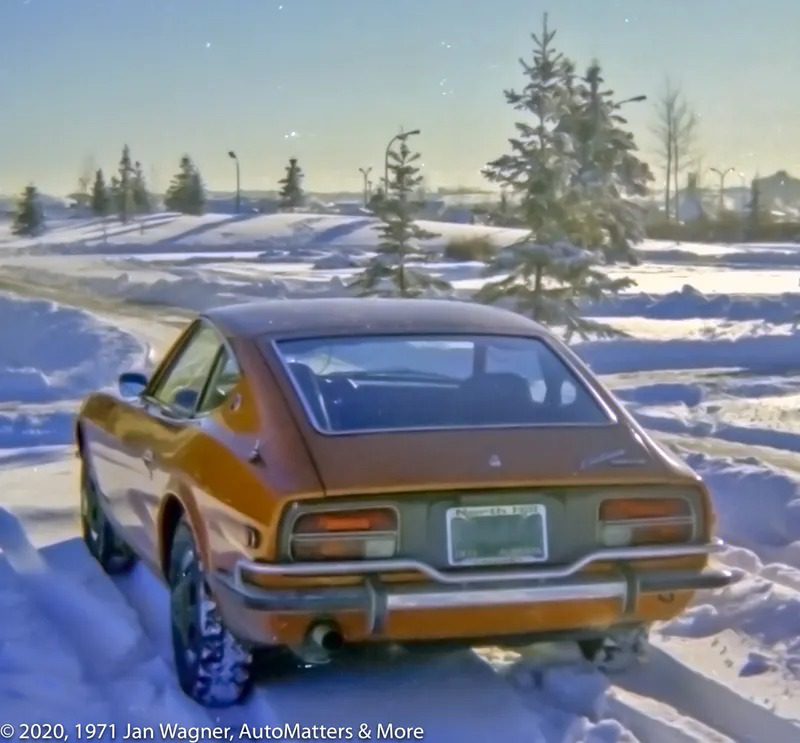 P​ut on a set of snow tires and a 240Z is a fine winter car too (except for the rust problem)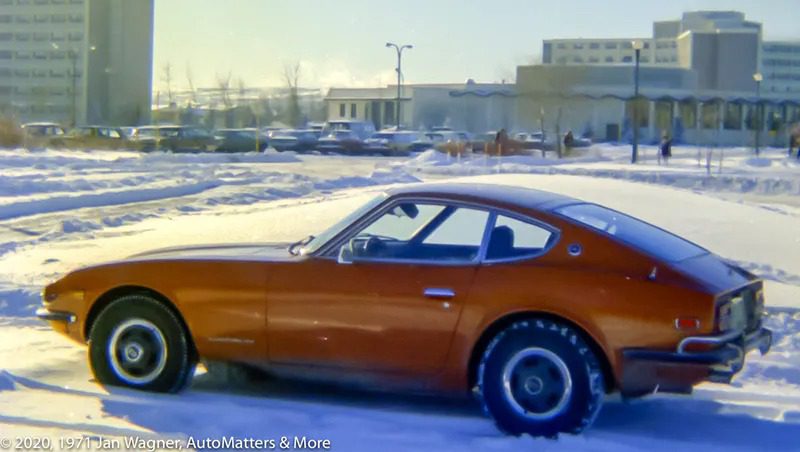 I communted in my 240Z to college in Calgary, Alberta
That was only one of many ads, and there were similarly crafted sales brochures, with beautiful lifestyle photography and magnificently composed descriptions of the car's noteworthy attributes and features.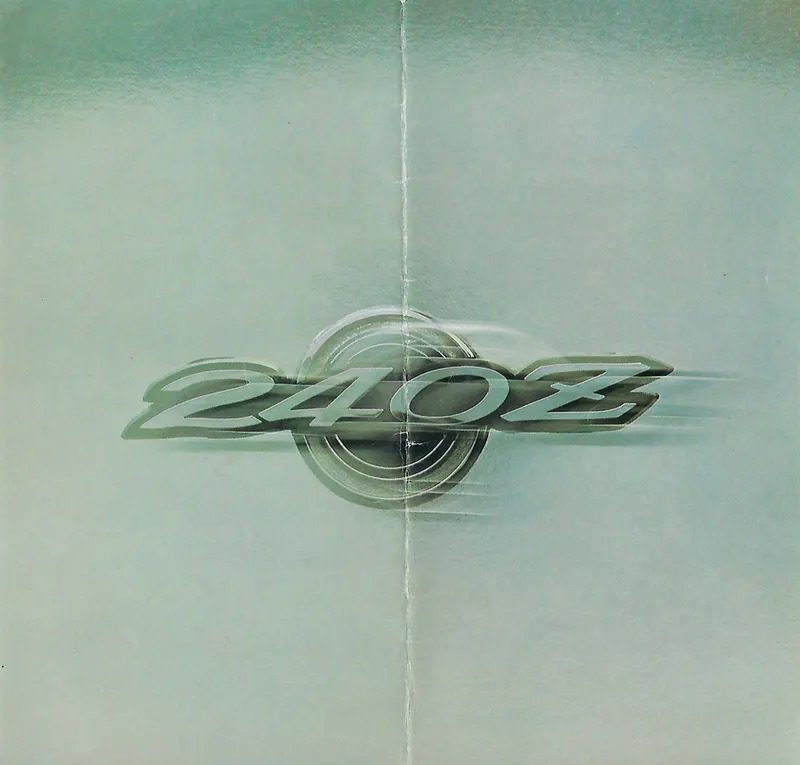 B​rochure for the U.S. spec 1970 Datsun 240Z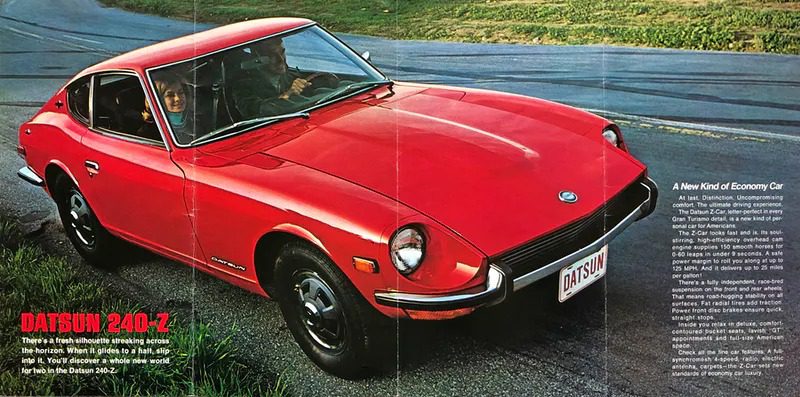 B​rochure for the U.S. spec 1970 Datsun 240Z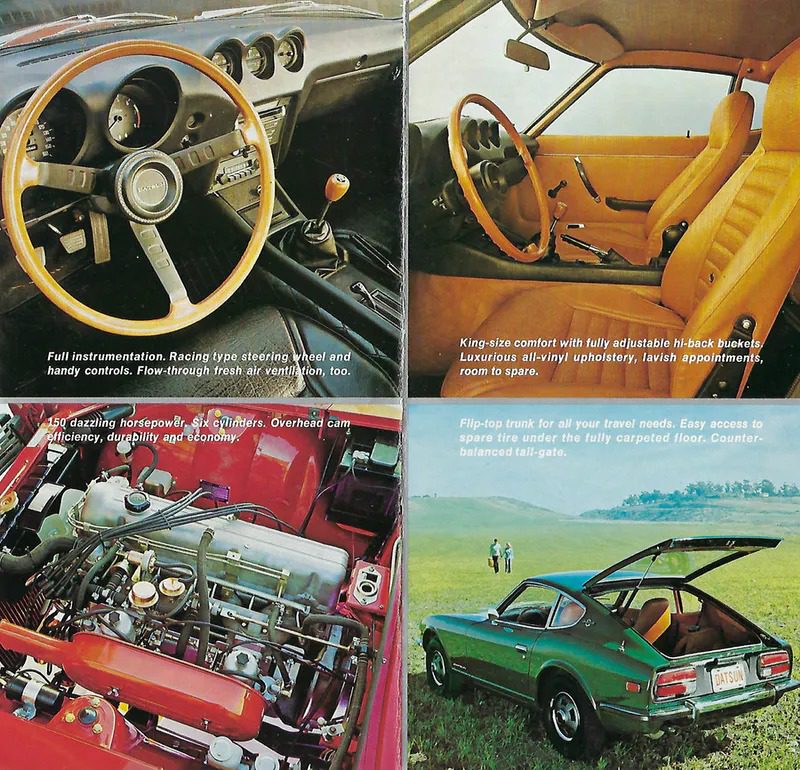 B​rochure for the U.S. spec 1970 Datsun 240Z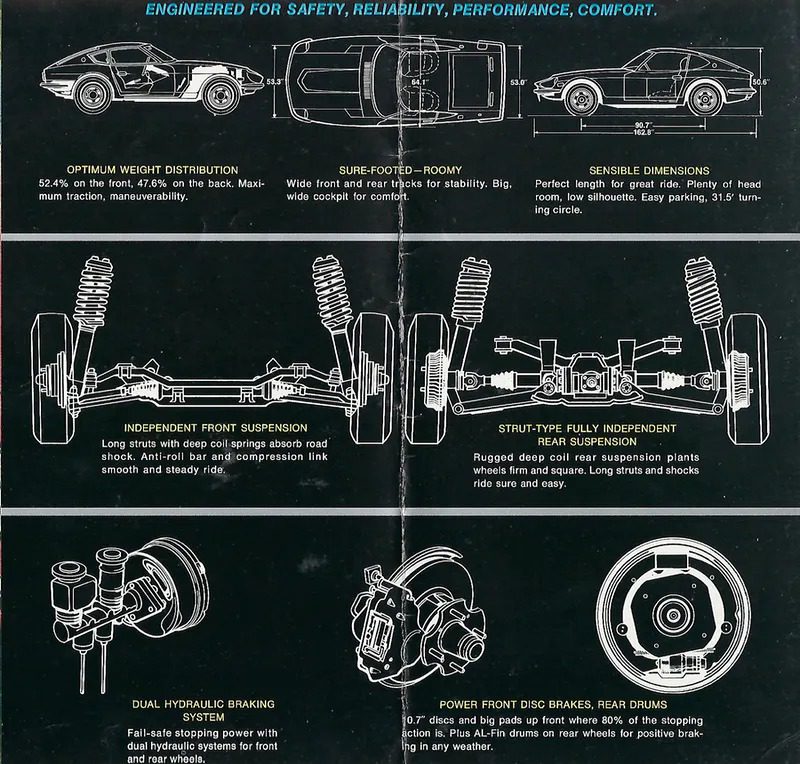 B​rochure for the U.S. spec 1970 Datsun 240Z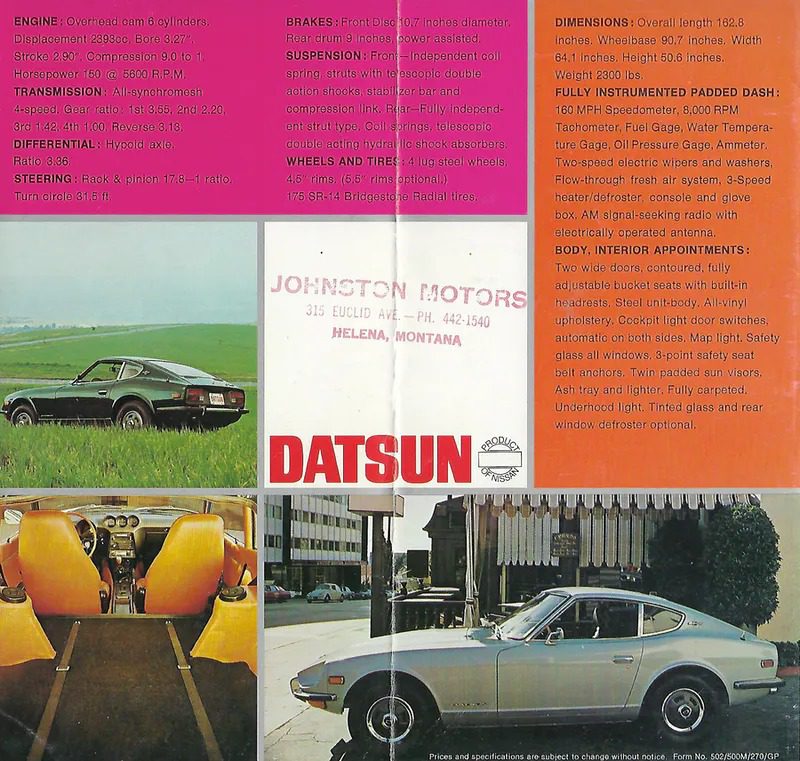 B​rochure for the U.S. spec 1970 Datsun 240Z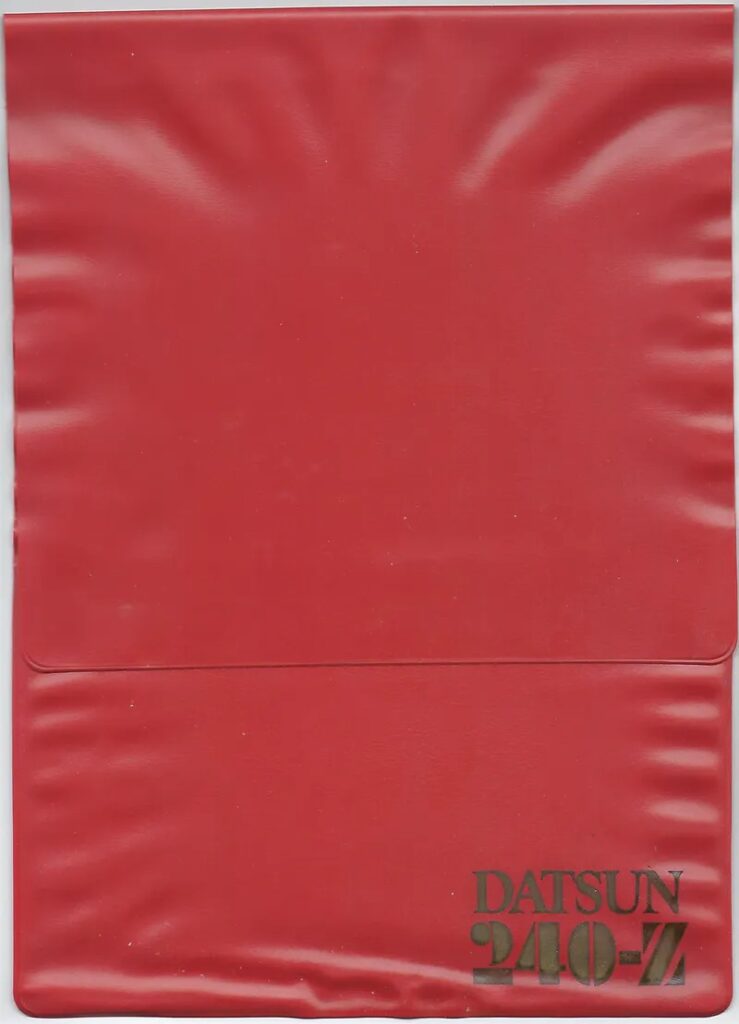 The plastic Datsun 240-Z folder within which I used to store my growing collection of Z-car brochures, ads, and reviews
I​nstruments and controls of the 1970 and 1971 Datsun 240Z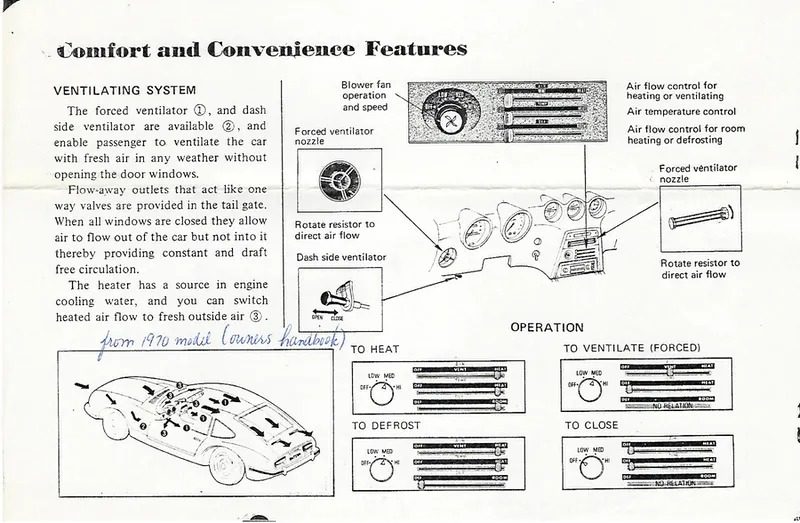 Ventilation controls & paths for the 1970 Datsun 240Z. Note that the air exited the car through vents on the rear hatch. That changed to functional side vents behind the rear quarter windows, from 1971 onwards.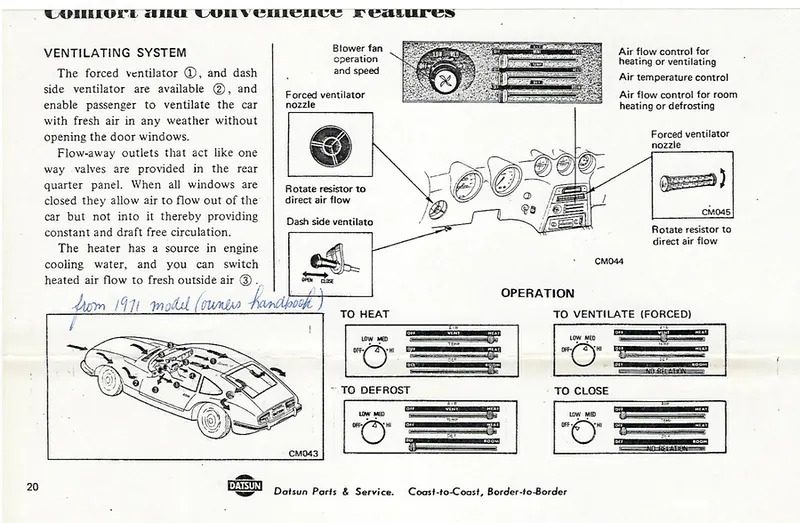 V​entilation controls & changed exit paths for the 1971 Datsun 240Z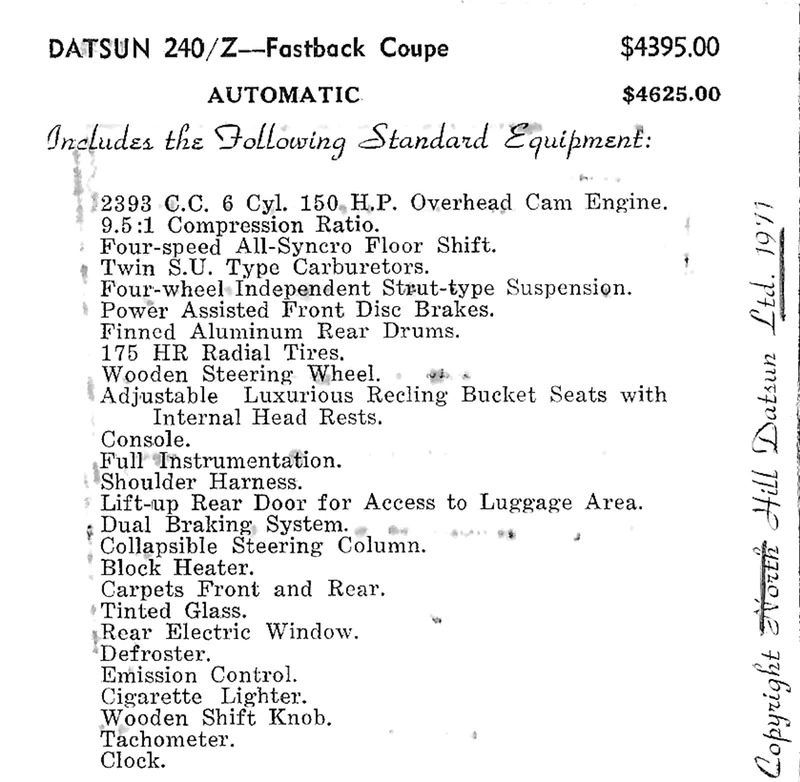 C​anadian pricing and standard equipment for the 1971 Datsun 240Z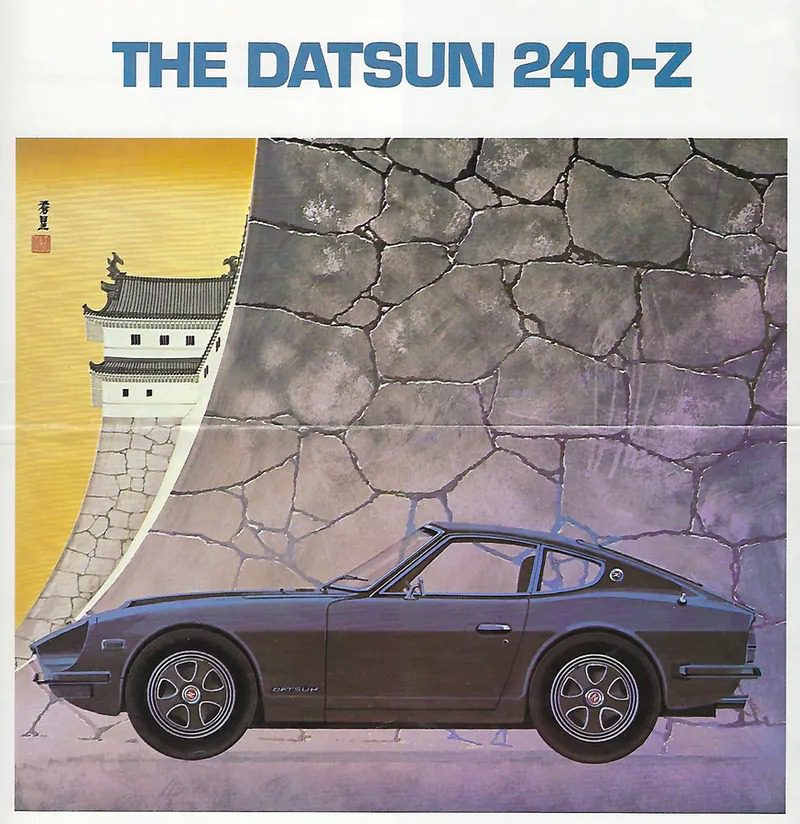 C​anadian brochure for the 1972 Datsun 240-Z
"So pretty and so potent you don't know whether to frame it or floor it. So meticulously made it's equally at home on a twisty back road or in a Concours d'elegance."
"Stick your foot in it. From kitten purr to tiger roar it answers with six cylinders that rev to seven grand and propel you to 60 in under nine seconds."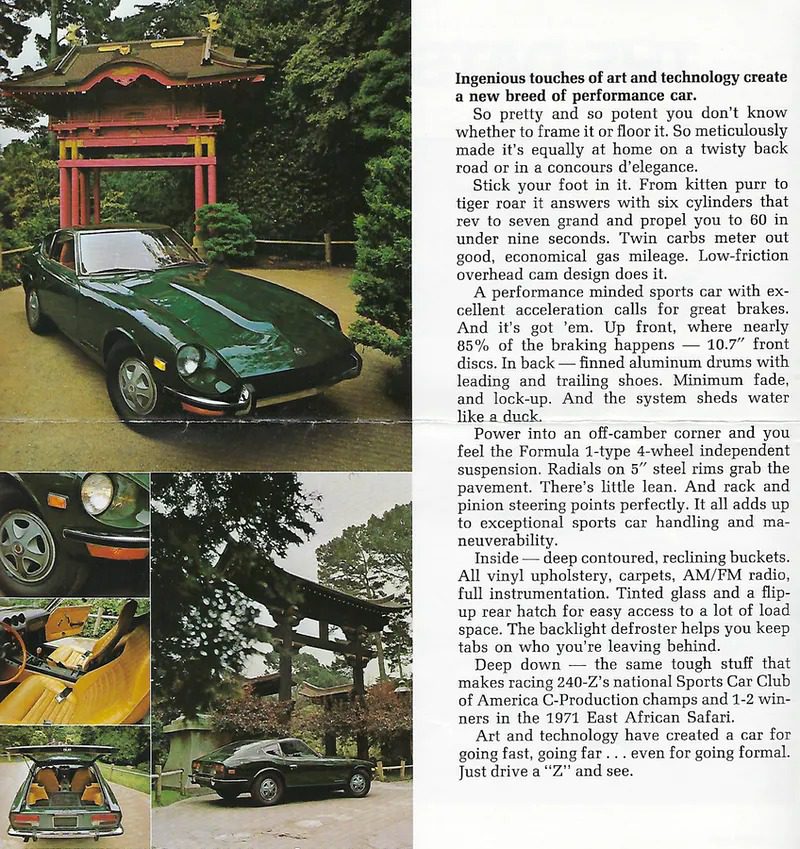 C​anadian brochure for the 1972 Datsun 240-Z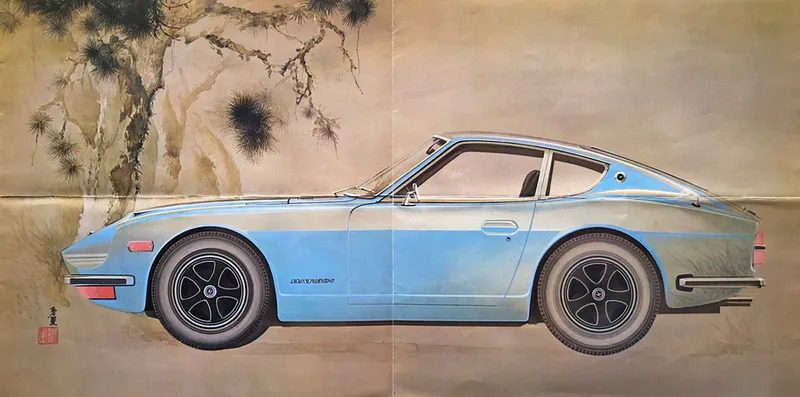 C​anadian brochure for the 1972 Datsun 240-Z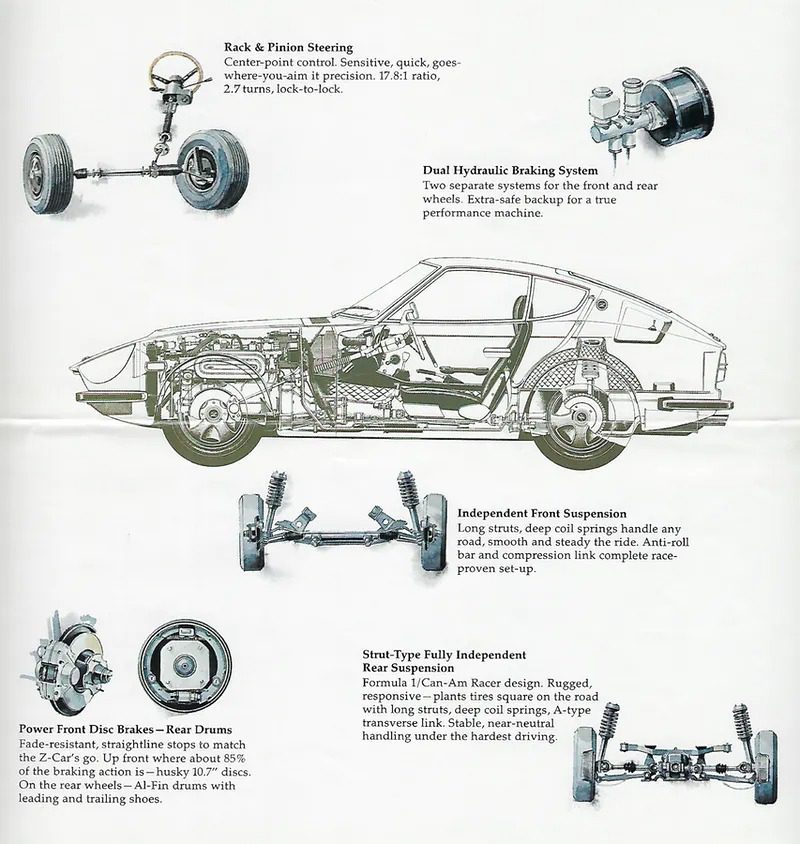 C​anadian brochure for the 1972 Datsun 240-Z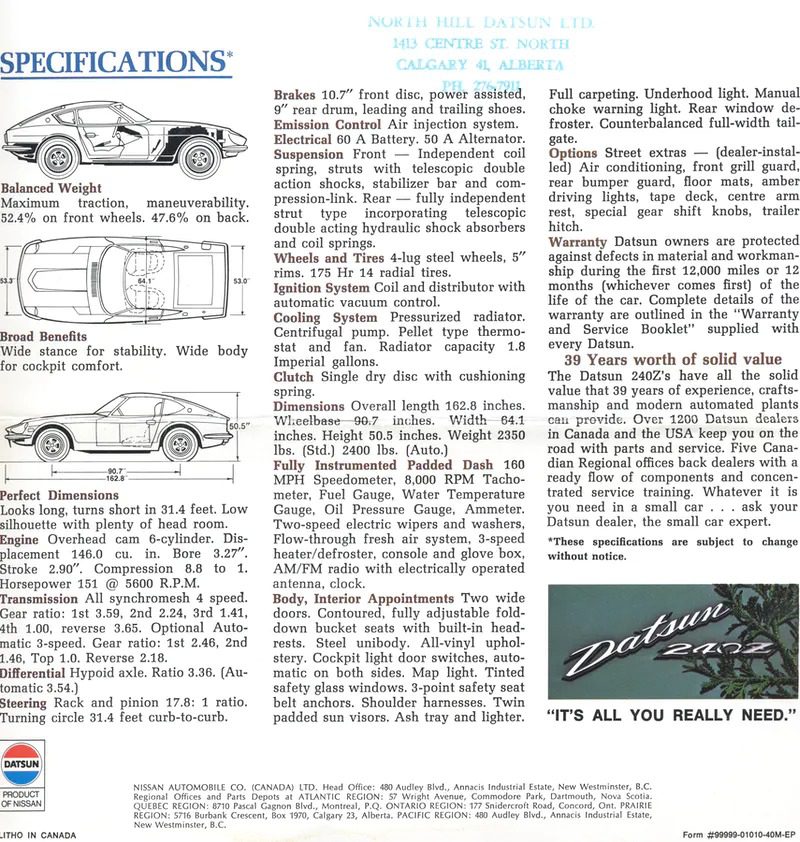 C​anadian brochure for the 1972 Datsun 240-Z
Here is a brochure, from the early 1970s, intended to help customers personalize their Datsuns: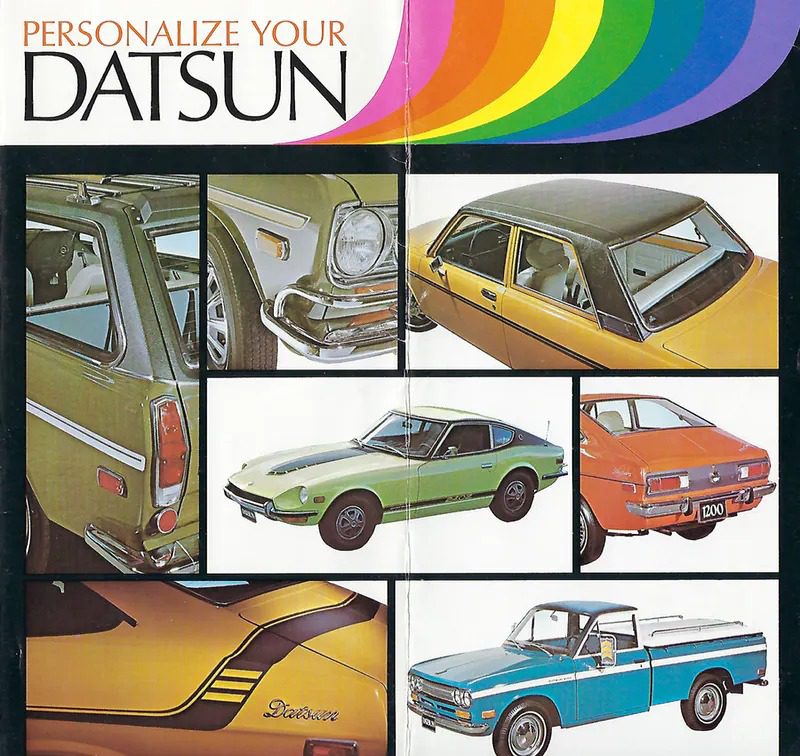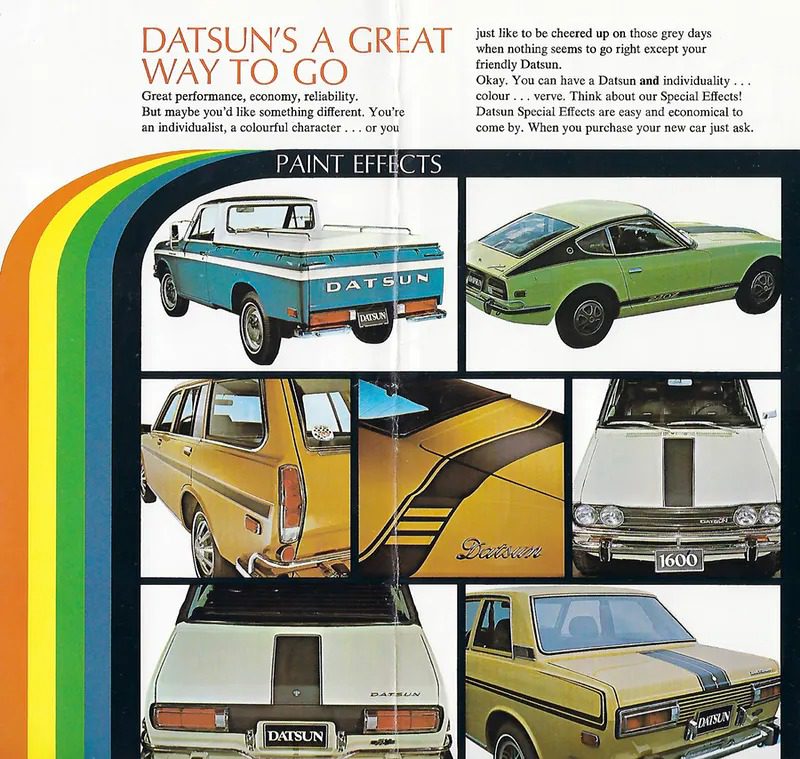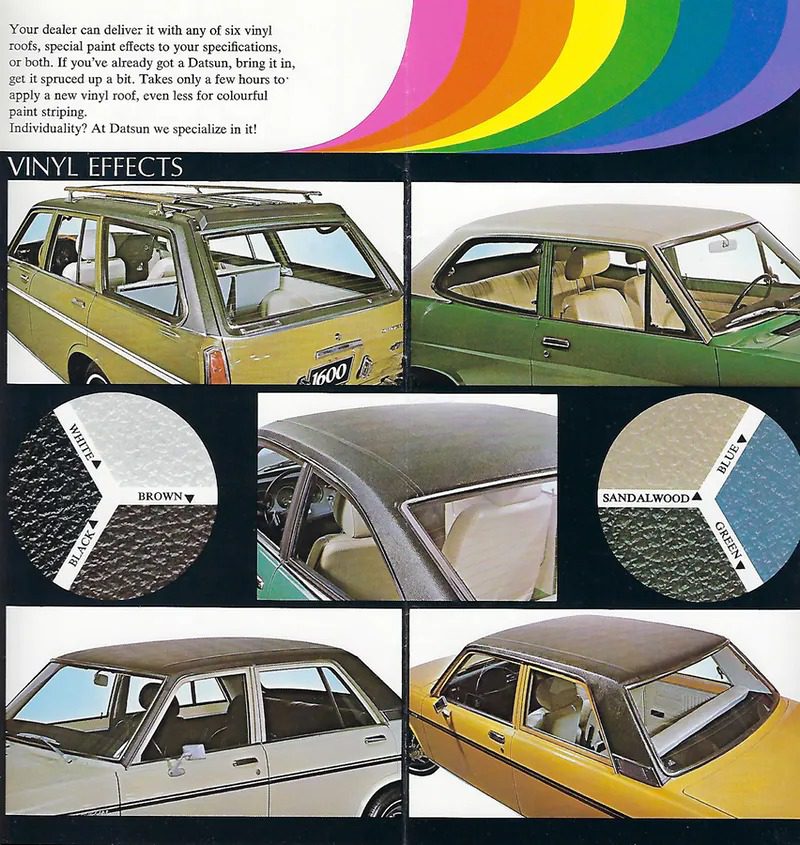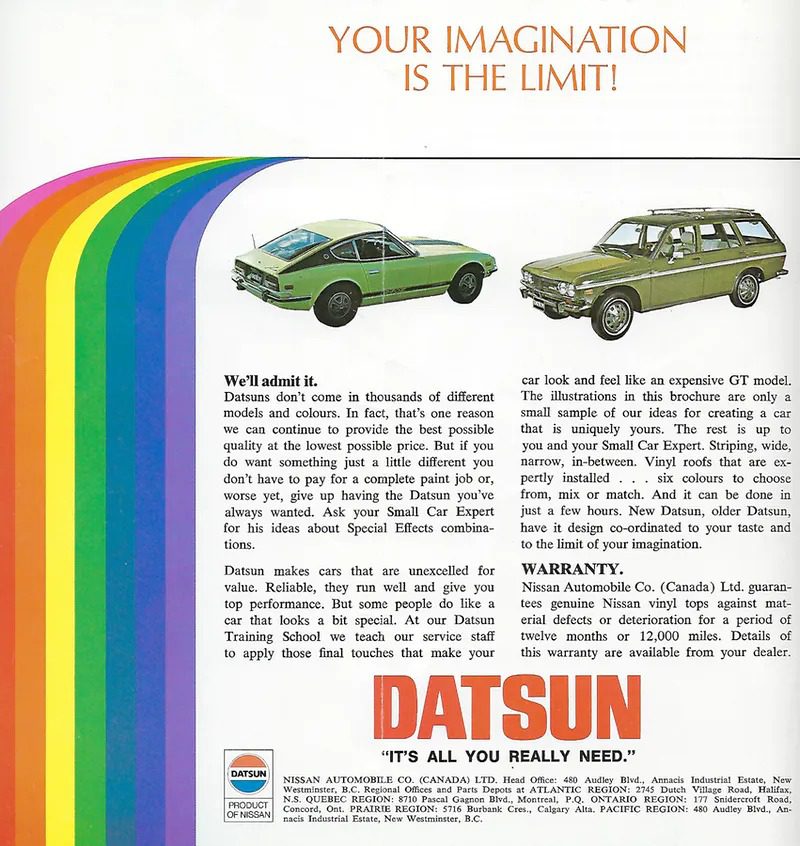 T​his would be the last of the Datsun 240Zs…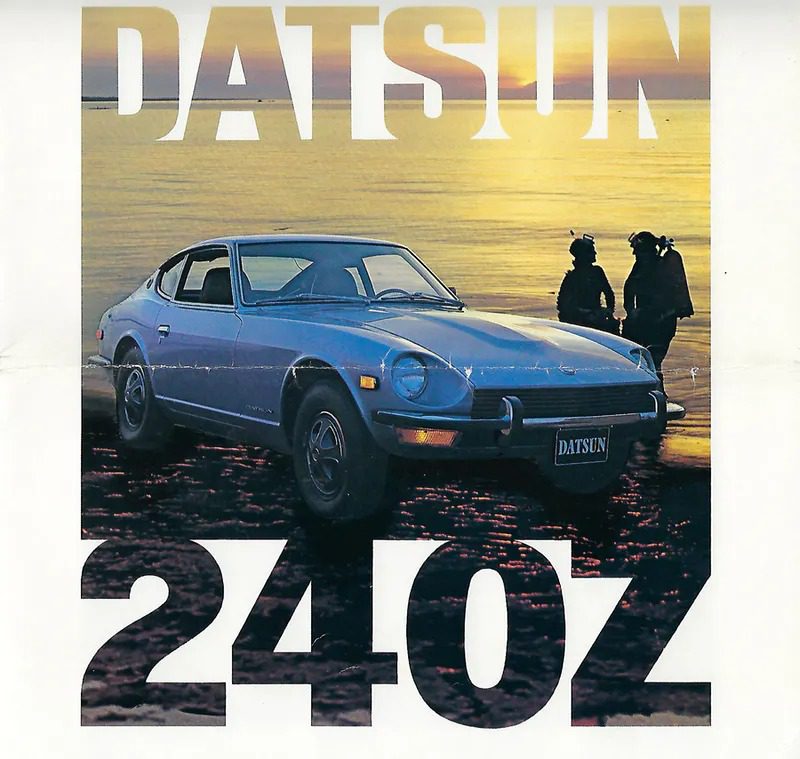 1​973 Datsun 240Z brochure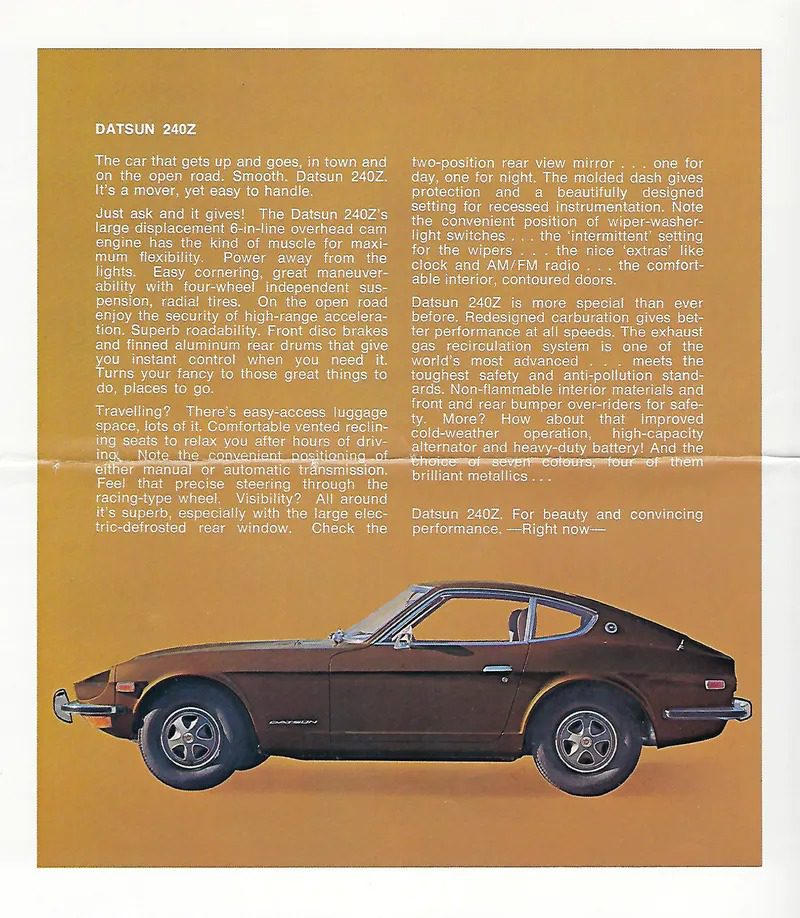 1​973 Datsun 240Z brochure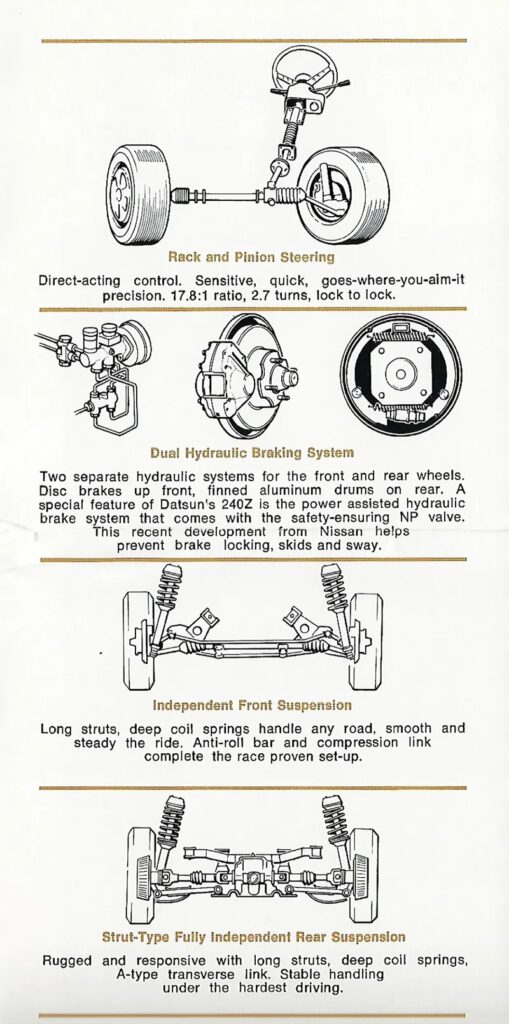 1​973 Datsun 240Z brochure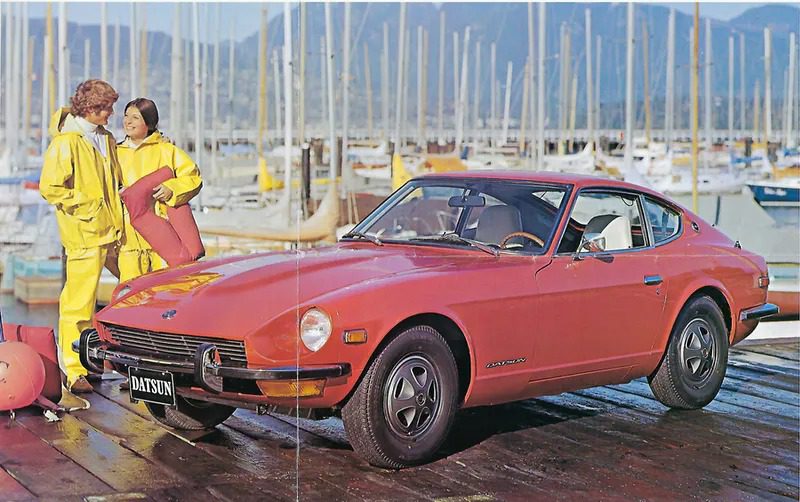 1​973 Datsun 240Z brochure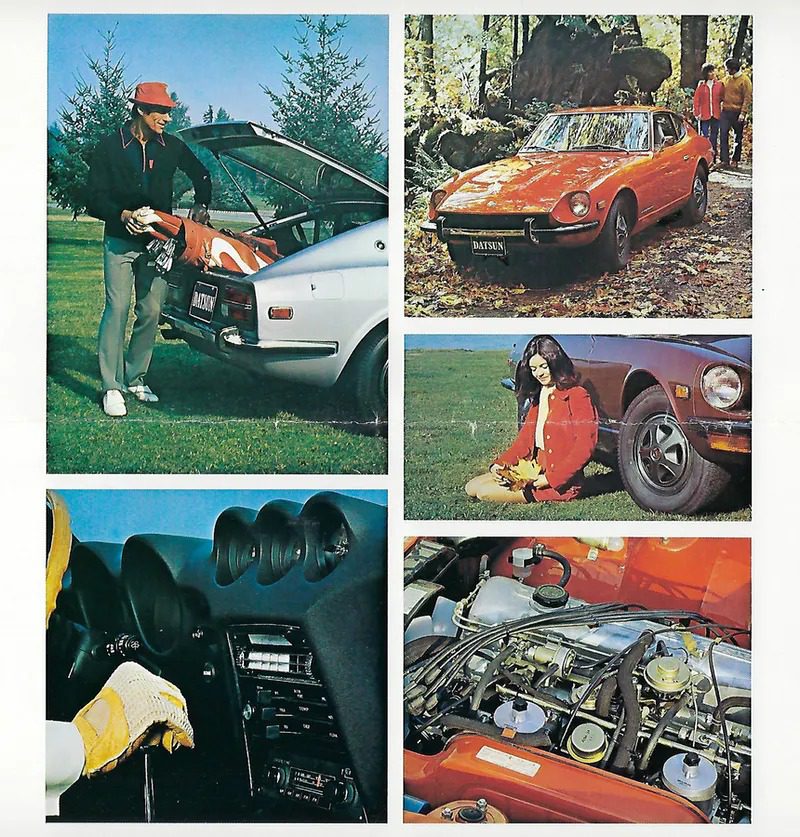 1​973 Datsun 240Z brochure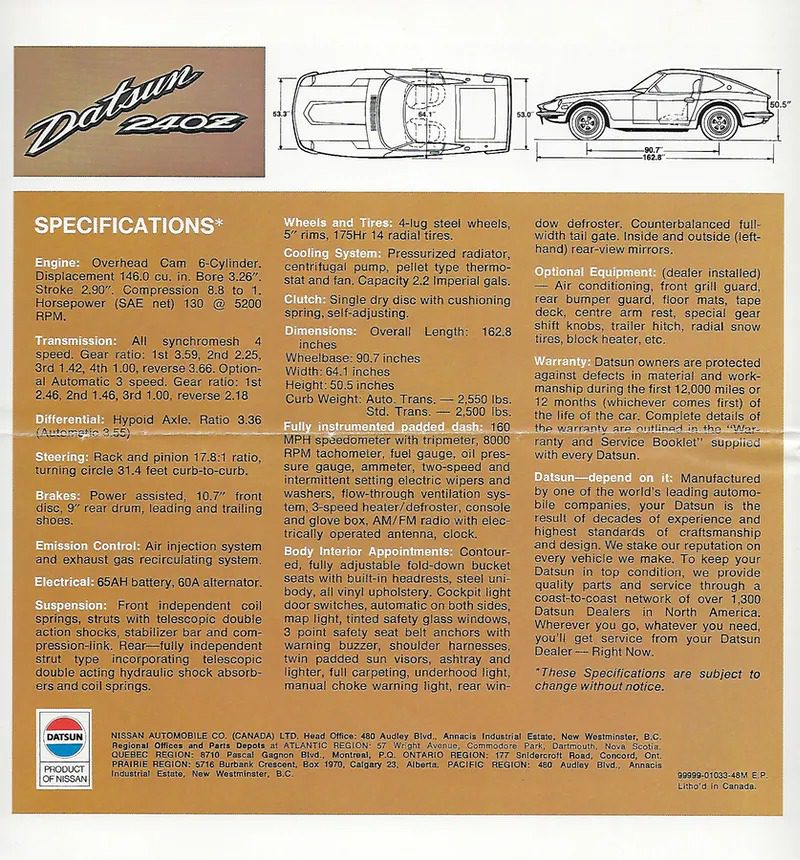 1​973 Datsun 240Z brochure
How could an enthusiast not yearn to have this car for their very own? Unfortunately, however, I sold mine. When I was young, I just assumed that new cars would get better and better over time. Little did I imagine that emissions and safety laws would make such lightweight, economical, and relatively straightforward sports cars a thing of the past – examples of which some people would pay dearly for many years later.
In the years that followed I collected more brochures and ads for Datsun and then Nissan Z-cars, and bought more cars, but they would never, could never live up to my fond memories of my Mandarin Orange Datsun 240Z…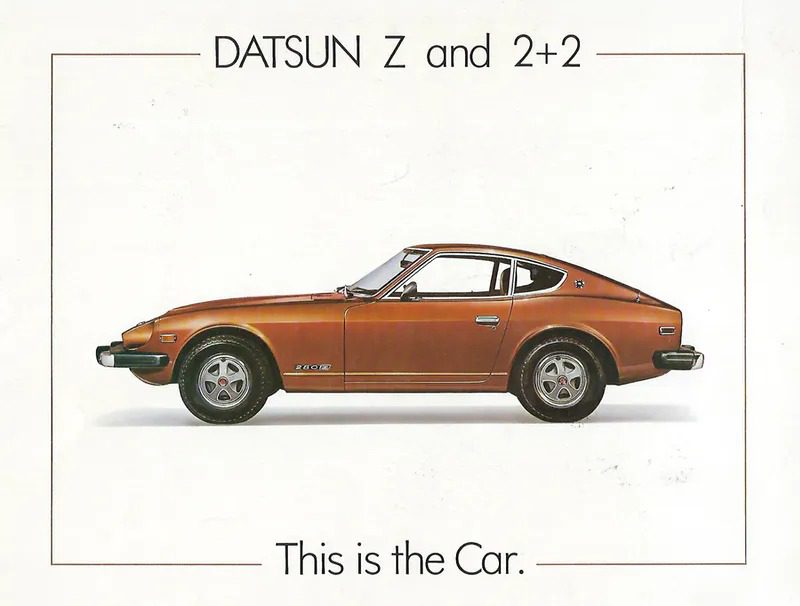 1​975 280Z & 2+2 brochure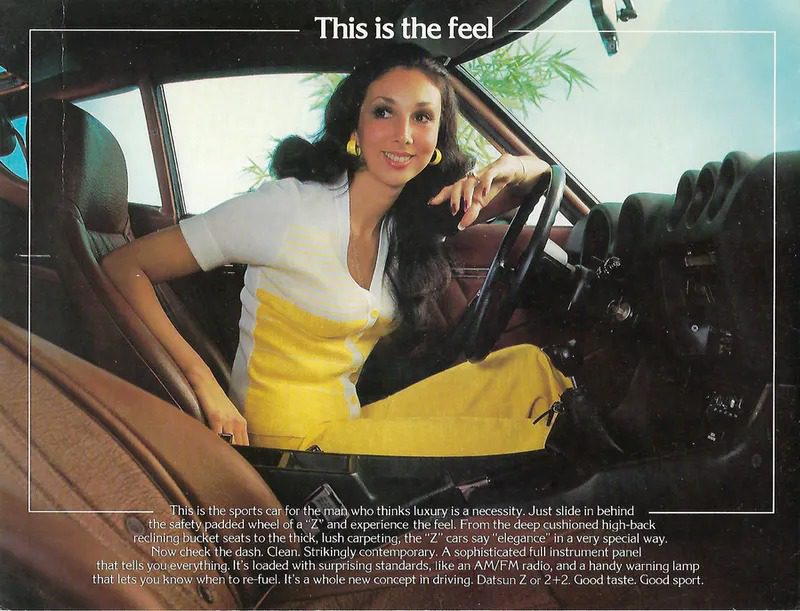 1​975 280Z & 2+2 brochure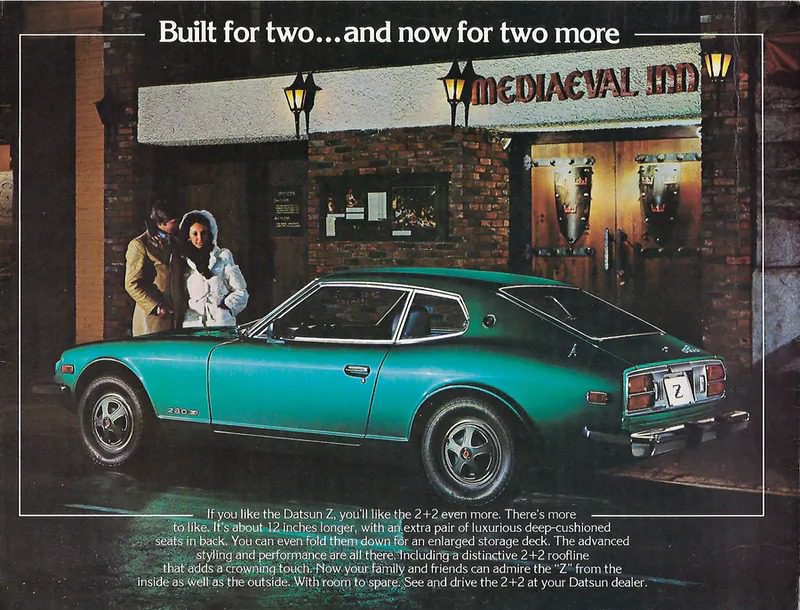 1​975 280Z & 2+2 brochure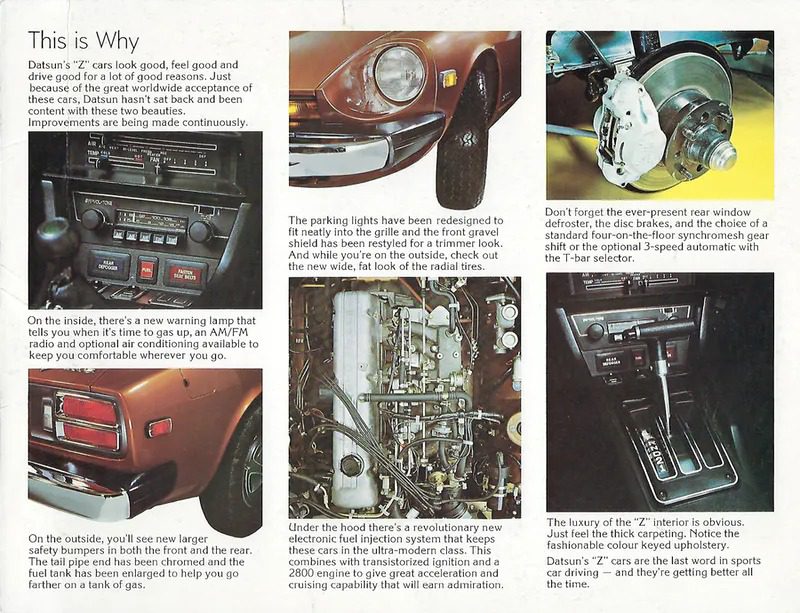 1​975 280Z & 2+2 brochure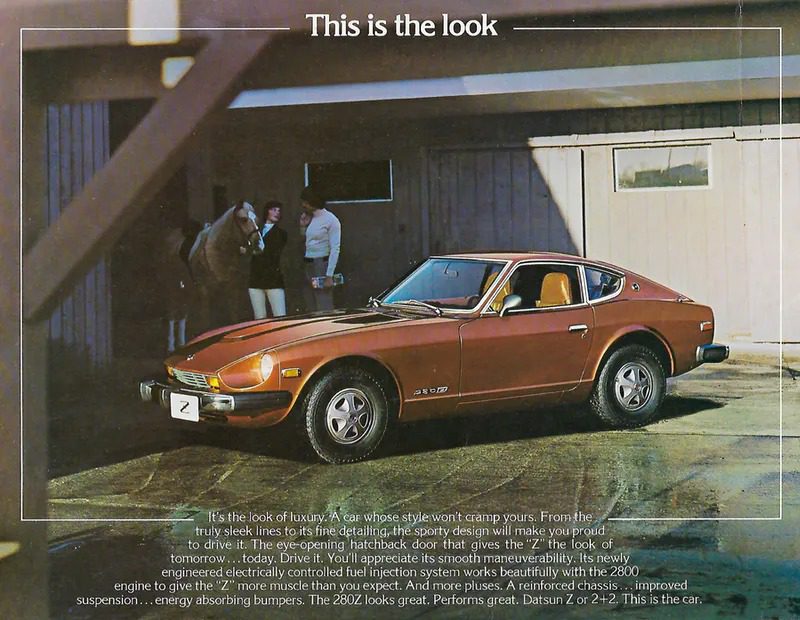 1​975 280Z & 2+2 brochure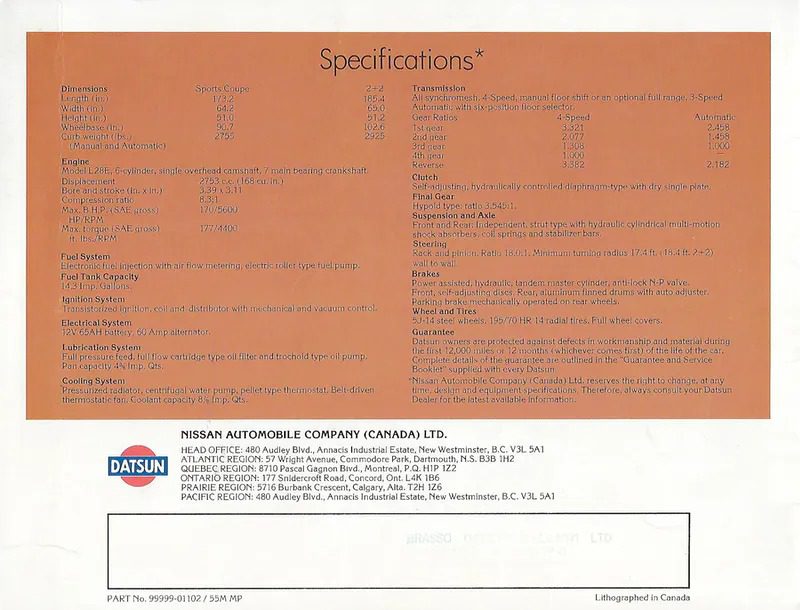 1​975 280Z & 2+2 brochure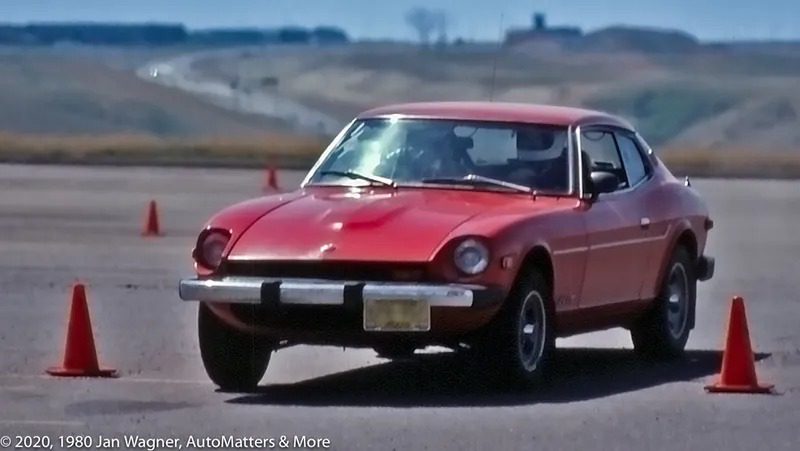 M​y 1975 Datsun 280Z 2+2 was not the great-handling car that I'd hoped it would be. The heavy steering made it especially challenging on the autocross course. Replacing the stock fuel injection with triple webers did not help.
I​n the 1980s I bought a very used, 1970 Datsun 240Z to use for autocross (called 'slaloming' in Canada, at the time). With a few relatively minor, common suspension upgrades it had excellent handling. I regularly beat Corvettes in the Corvette Club slaloms (all non-Corvettes were grouped together in their "tin" class).
M​y second 240Z, bought very used and badly rusted, to autocross.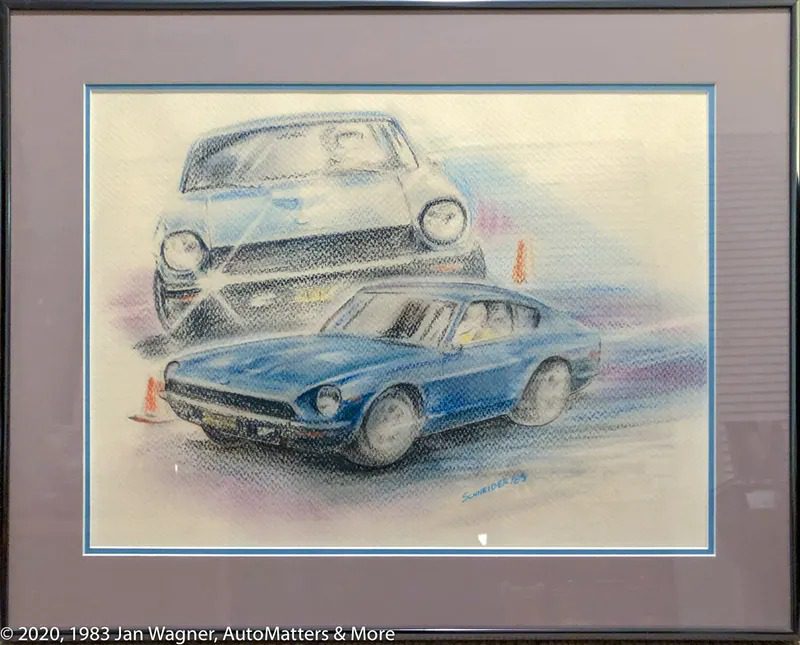 Photos and this sketch are all have left of that wonderful, rusted-out Datsun 240Z
Seeking to recapture some of that 240Z magic, a year ago I saw and bought a new, very orange Miata. Remarkably, despite all of its added content, it still gets similar fuel economy to my orange Datsun 240Z.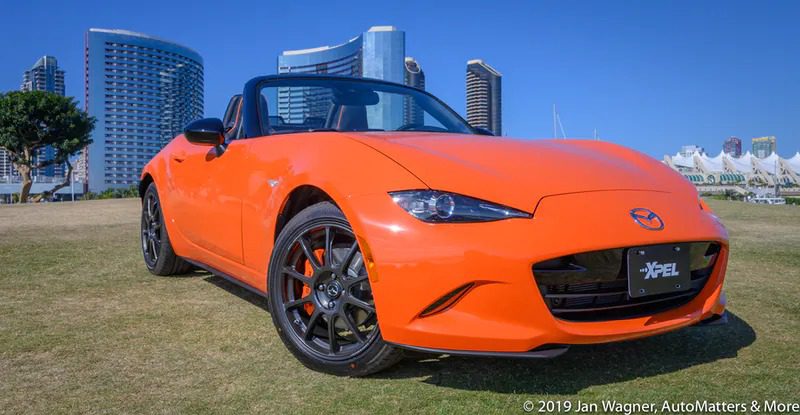 My Racing Orange 2​019 30th Anniversary Edition Mazda MX-5 Miata
It seems fitting to remind you that Nissan (Datsun) was all about small cars back in the 70s, at a time when most of the cars on the road were anything but small. They distributed what was really another sales brochure, aptly entitled: "How to buy a small car." Enjoy!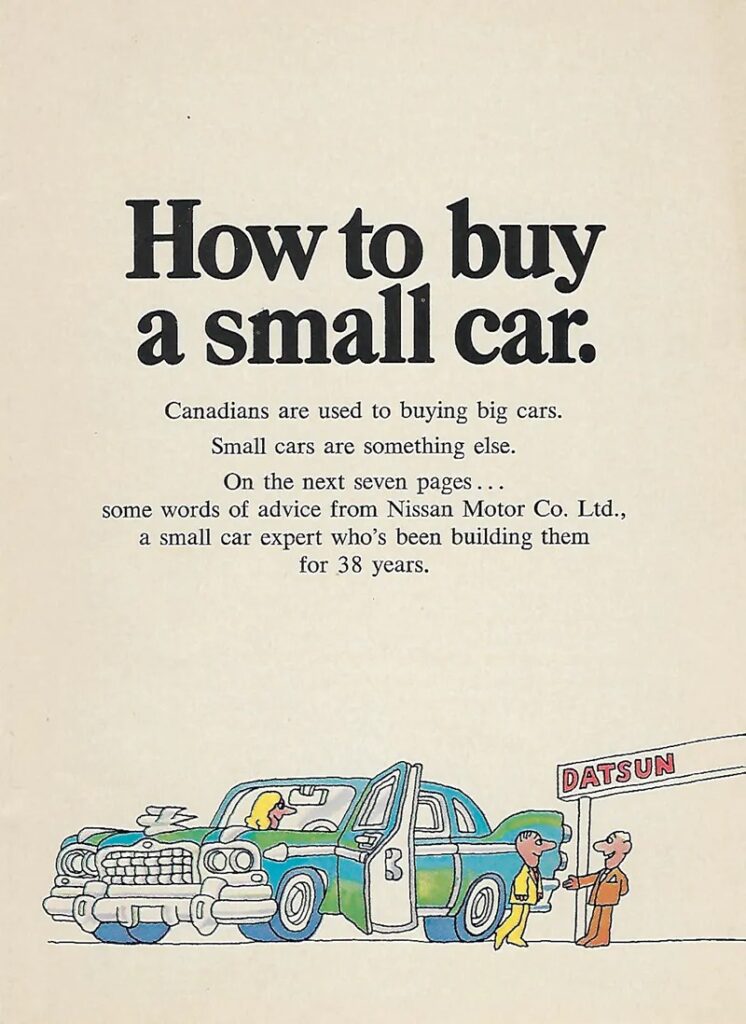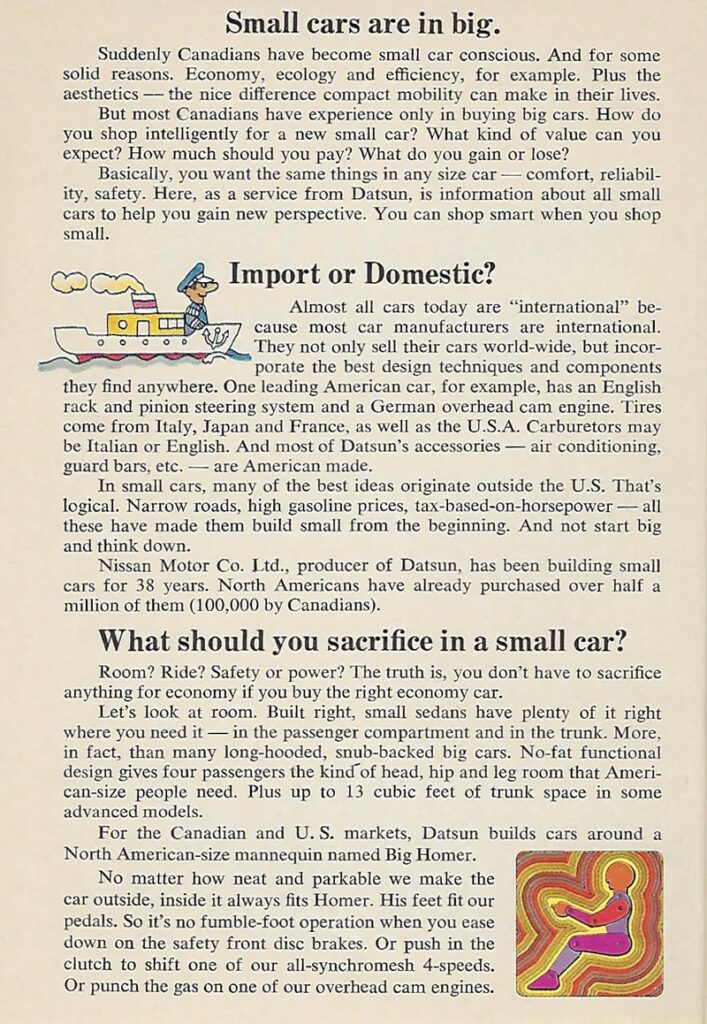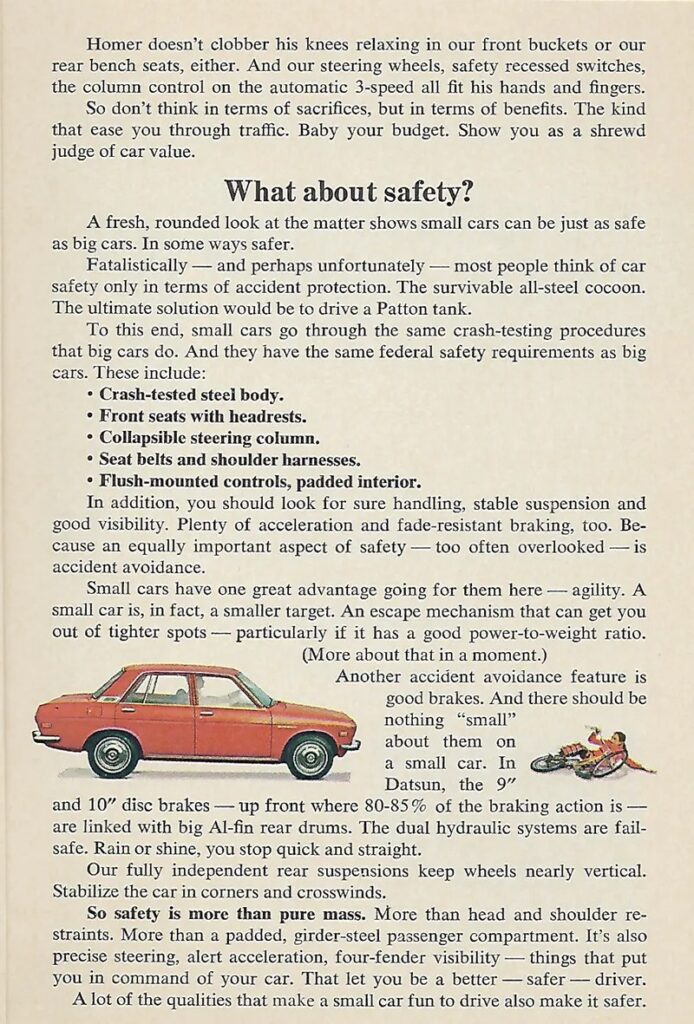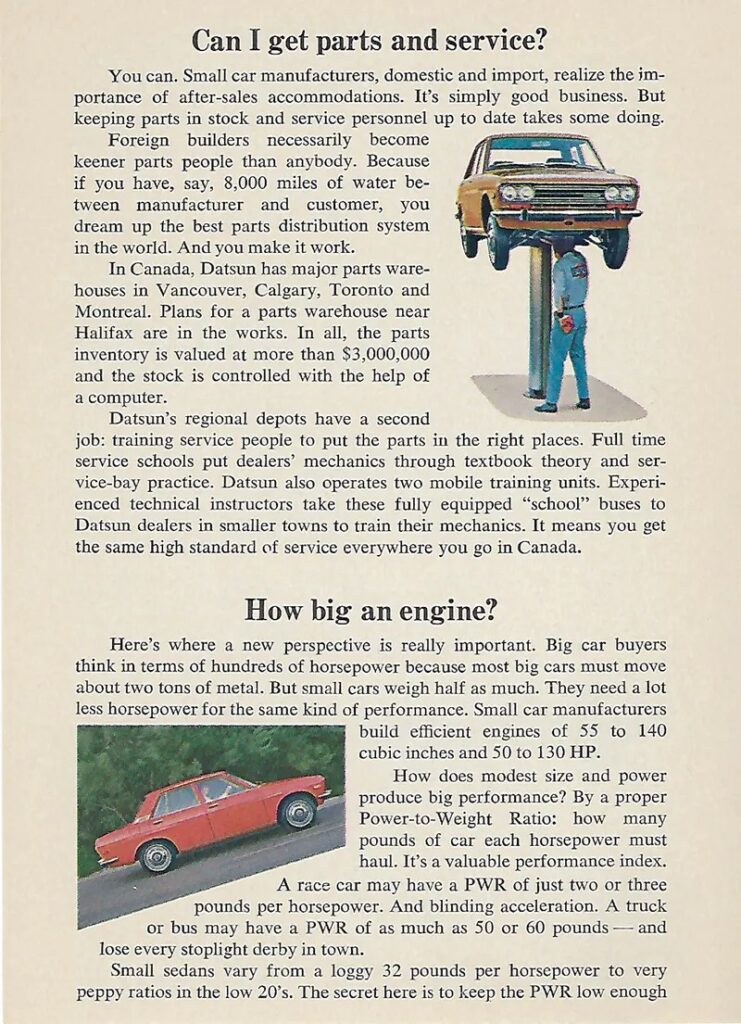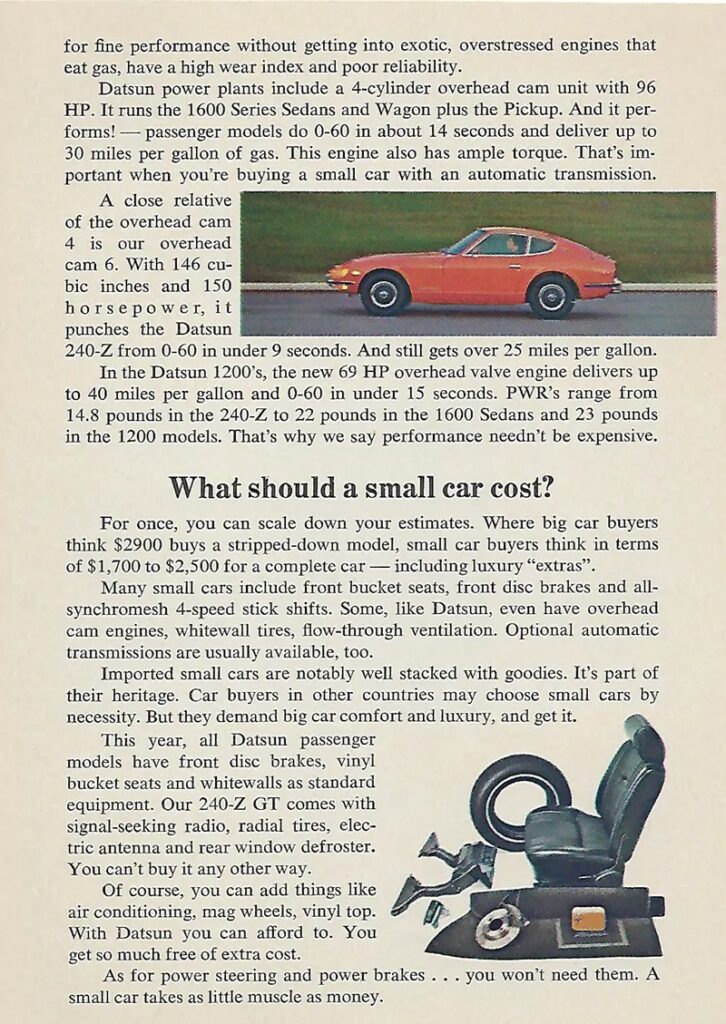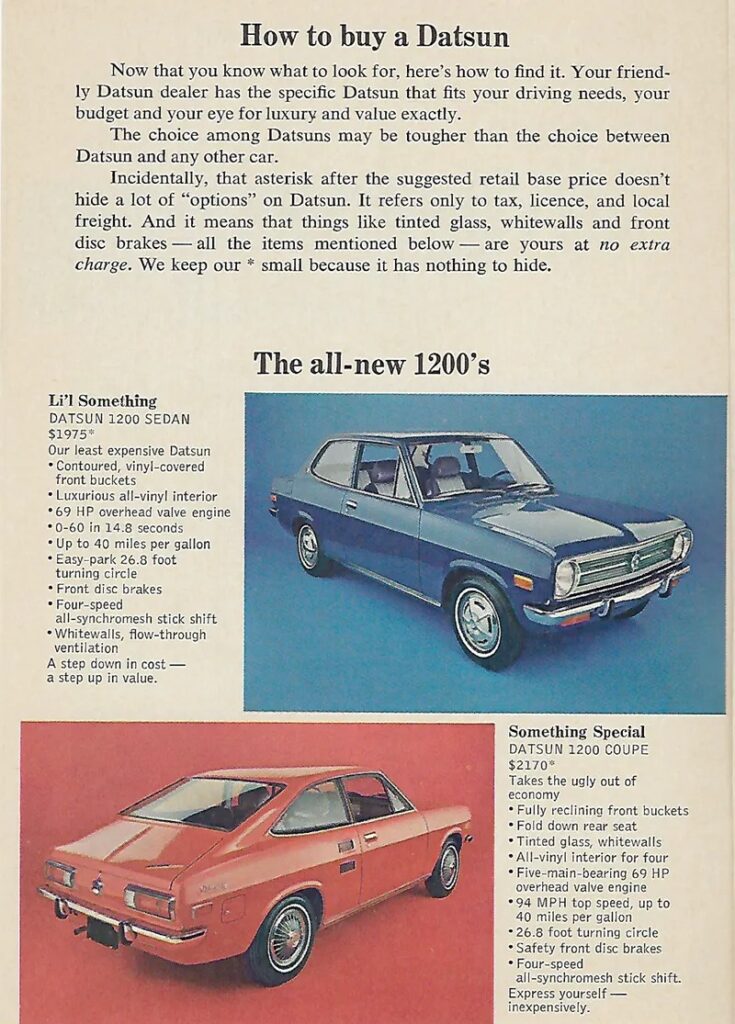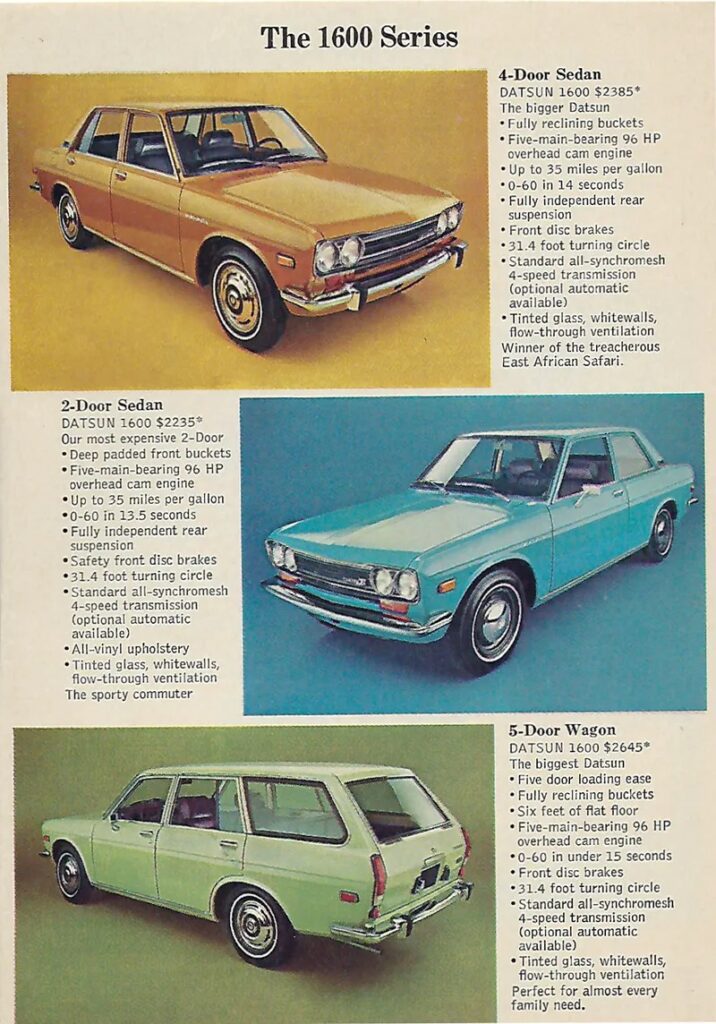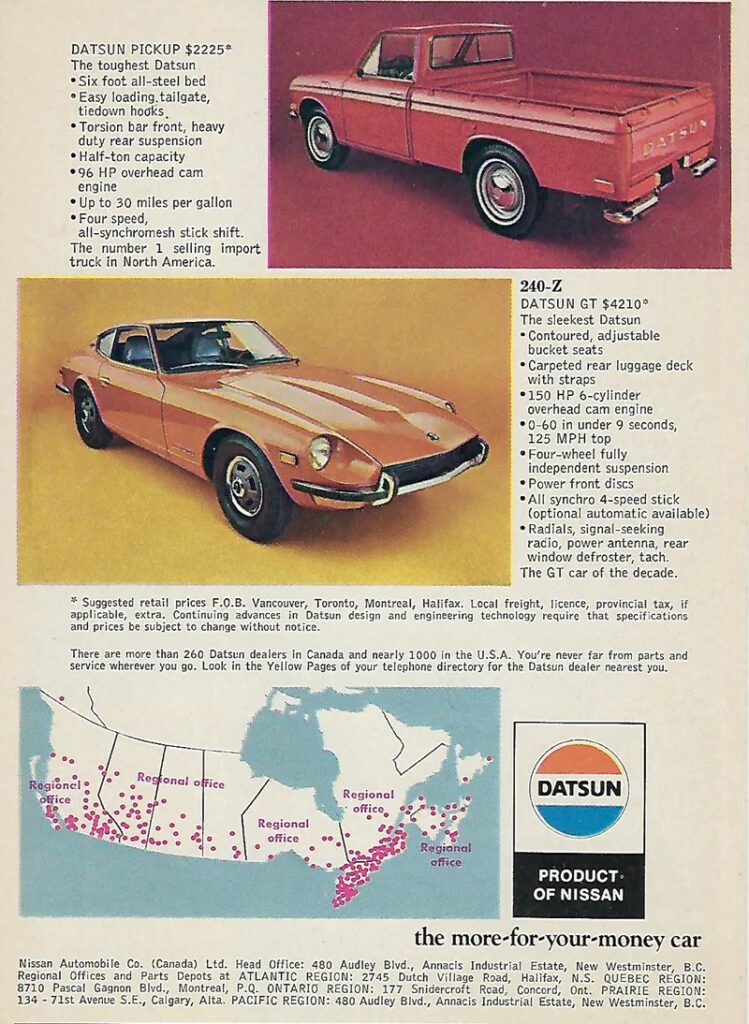 POSTSCRIPT (AUG.
17, 2020)
Datsun's iconic 240Z holds a very special place in my memory, and perhaps in yours too.
Nearly 50 years ago, while I waited eagerly for the eventual delivery of my new Mandarin Orange 1971 Datsun 240Z, I did as I do now when I am waiting for the delivery of an eagerly anticipated new vehicle. Frustrated because I needed to wait to do so, in part I occupied myself by finding, reading, and then re-reading literature about it. I think that the difference between why I did this for Z-cars, versus other vehicles in the years that followed, may have been due to that plain little red plastic Datsun 240Z giveaway folder that my Datsun dealer gave to me. That folder gave me a convenient, hard-to-miss place to gather and store all of the literature that I had been collecting, so for years (until it was filled) I kept everything together in that, through all of my moves in Canada and the United States.
Having done that made finding the brochures and advertisements easy, but I wanted to tell you the story behind that collection, in order to properly share treasure/time capsule with you. In order to accomplish that, I needed to sort through literally thousands of up to 50-year-old slides, negatives, and prints (the earliest of which were taken with a Kodak Instamatic 100 — remember those, anyone?!), in a colossal effort to try to find photos of my old Z-cars (and my 1970 Plymouth Duster 340). Needless to say, I was distracted while performing that task by looking at many photos unrelated to this particular project!
Digitizing the brochures was straightforward. Thankfully, thanks to the quality of their printing processes, their colors and clarity have remained relatively intact over the years. They had been stored out of the light, so they have not faded appreciably. I was able to scan most of them on my HP flatbed printer. I used a camera to photograph the few that were too large to fit on the glass.
My slides, negatives, and prints, on the other hand, were another matter entirely. U​unfortunately, time has not treated them well. Over the past 50 years, they have deteriorated badly, suffering a combination of significant fading, discoloration, and a loss of image clarity. That would make the task of digitizing usable images very difficult.
I had never scanned slides and negatives before. First I tried a small, plastic device that I had bought at a discount store years ago, but had never used it. The results were terrible, validating the maxim that you get what you pay for.
Since buying a new, state-of-the-art scanner was not in my budget (apparently Nikon drum scanners are particularly good — and VERY EXPENSIVE), I attempted to resurrect, from long term storage, my 20-year-old, relatively low resolution (by today's standards) Epson flatbed scanner, and its photo attachment. Nearly 20 years ago I had bought that with the intention of using it to scan my thousands of slides and negatives, but I procrastinated and never did that. As a result, this is essentially a nearly 20-year-old but brand-new scanner. That's good news. The bad news is that I discovered — when I connected it up to my year-old iMac computer, that it would not scan images to that computer. I learned that my 20-year-old scanner software was not supported by the current Mac operating system, and then I learned that Epson no longer makes software for that printer. Ouch! A frantic Google search led me to some third-party software that received recommendations. I bought it. It's not great, but it works.
The surprises continued. My original plan of 20 years ago to scan all of my slides and negatives with this scanner could never come to fruition. First, the basic parameters of the images need to be painstakingly adjusted individually. Then, scanning each one is agonizingly slow. Finally, the images need to be individually edited (in Lightroom and Photoshop), to try to lessen the adverse effects of fading, discoloration, and loss of clarity. Furthermore, the scanning process has introduced excessive image 'noise.' To mask that requires softening the scanned images using a combination of 'image smoothing,' sharpening, and more editing tools. The resultant images look more like oil paintings than photographs. Nevertheless, using that scanner, combined with my very limited expertise, that is the best that I can do. Needless to say, this is anything but an automated process.
The bottom line is that I spent hours producing a few usable images of my old cars. Furthermore, unless a commercial scanner miraculously gets delivered to my home, my decade's worth of images will never be seen by anyone else. That is sad. Some of those images — particularly those of motorsports — are of historical significance, including Can-Am racing from the 1970s at Edmonton International Speedway. It is what it is…
I do hope that you have enjoyed this special installment of "AutoMatters & More."
J​an Wagner (San Diego, California)
COPYRIGHT © 2020 BY JAN WAGNER – AUTOMATTERS & MORE #654R4 EXTENDED