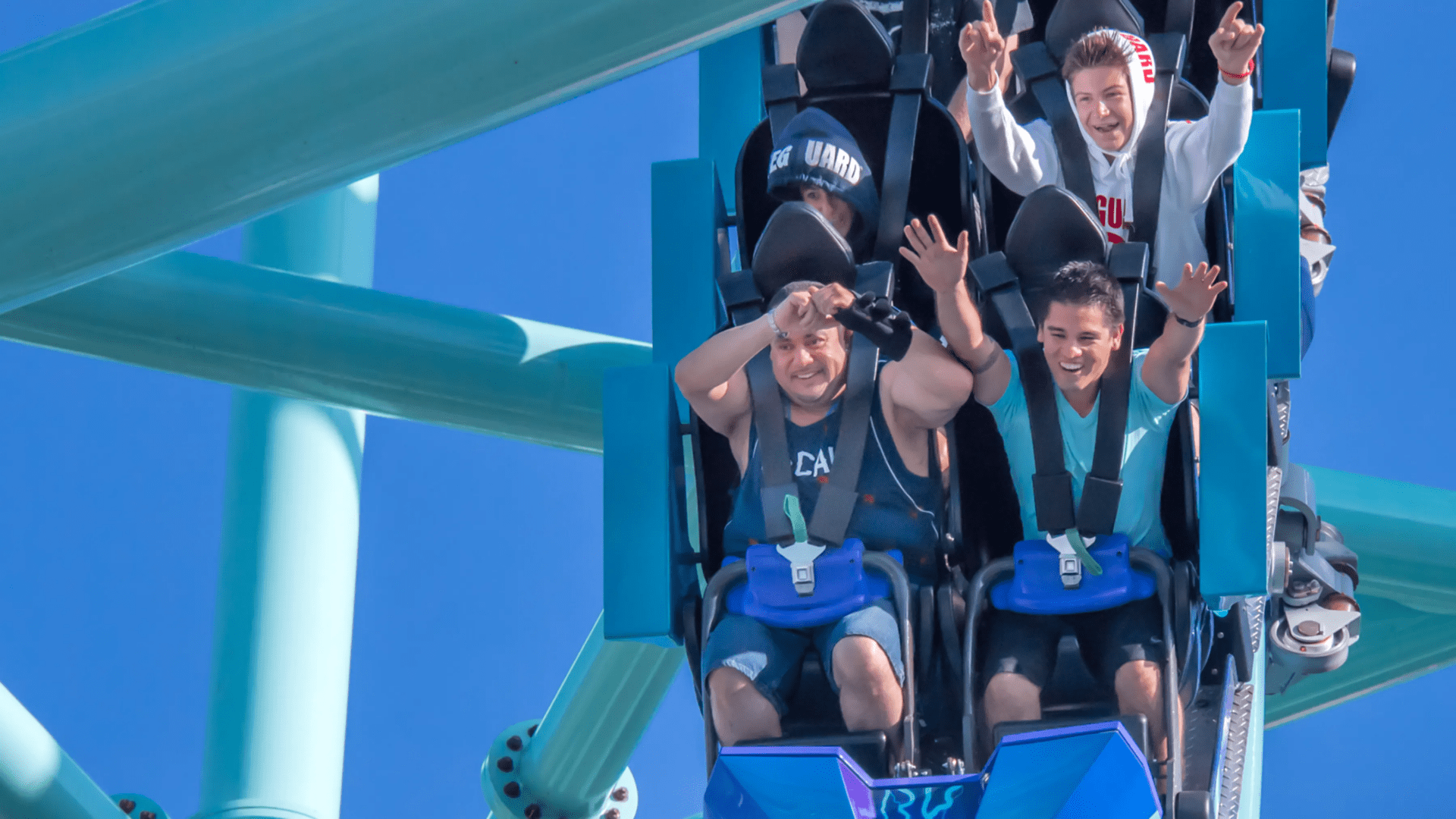 "ELECTRIC EEL" roller coaster – DARE TO RIDE THIS TWICE? (watch the VIDEO) & "INCREDIBLES 2"
VIDEO: San Diego's newest roller coaster is also its fastest and tallest!
"ELECTRIC EEL" AT SAN DIEGO SEAWORLD – DO YOU DARE TO RIDE THIS TWICE?
San Diego SeaWorld has been undergoing a major transformation post-"Blackfish"a very controversial documentary film that, according to SeaWorld, has two central – and wrong – premises: "(1) that life at SeaWorld is harmful for killer whales and for trainers working with these animals, and (2) that SeaWorld has attempted to cover up the facts surrounding the tragic death of trainer Dawn Brancheau in 2010, as well the history of Tilikum, the killer whale involved in that accident." You can read SeaWorld's response at: seaworldcares.com/the-facts/truth-about-blackfish/.
No matter what your position may be on these issues, there is much to like about and enjoy at San Diego SeaWorld, especially now that the busy summer season is about to kick off.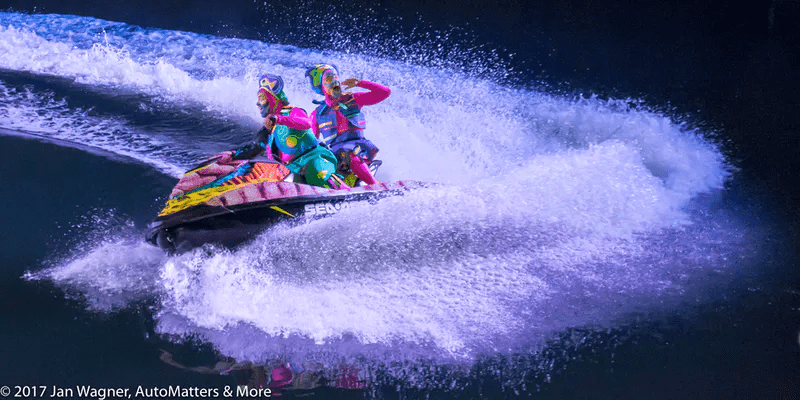 "Cirque Electrique" is San Diego SeaWorld's breathtaking, nighttime entertainment spectacular. It returns as one of SeaWorld's eight "Electric Ocean" entertainment experiences. From your vantage point in a stadium that faces San Diego's Mission Bay, you will enjoy a thrilling show that features aerialists in LED suits performing above and in the water.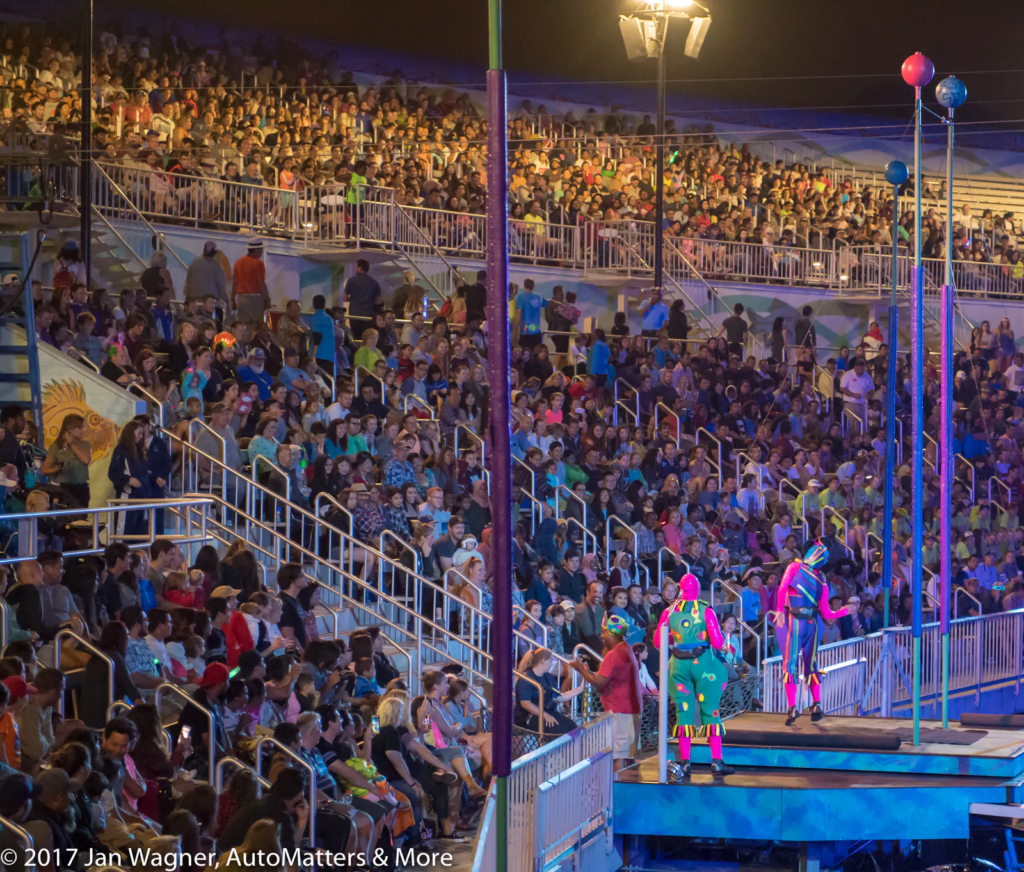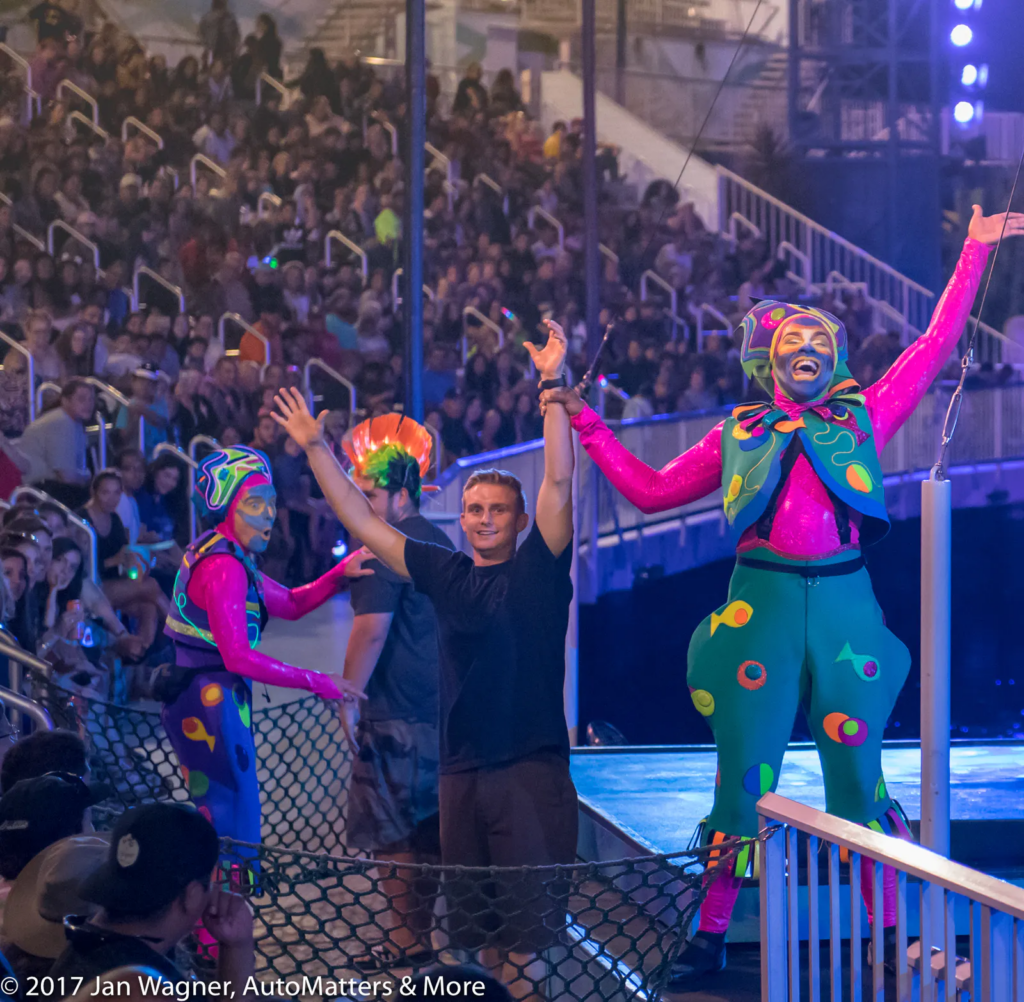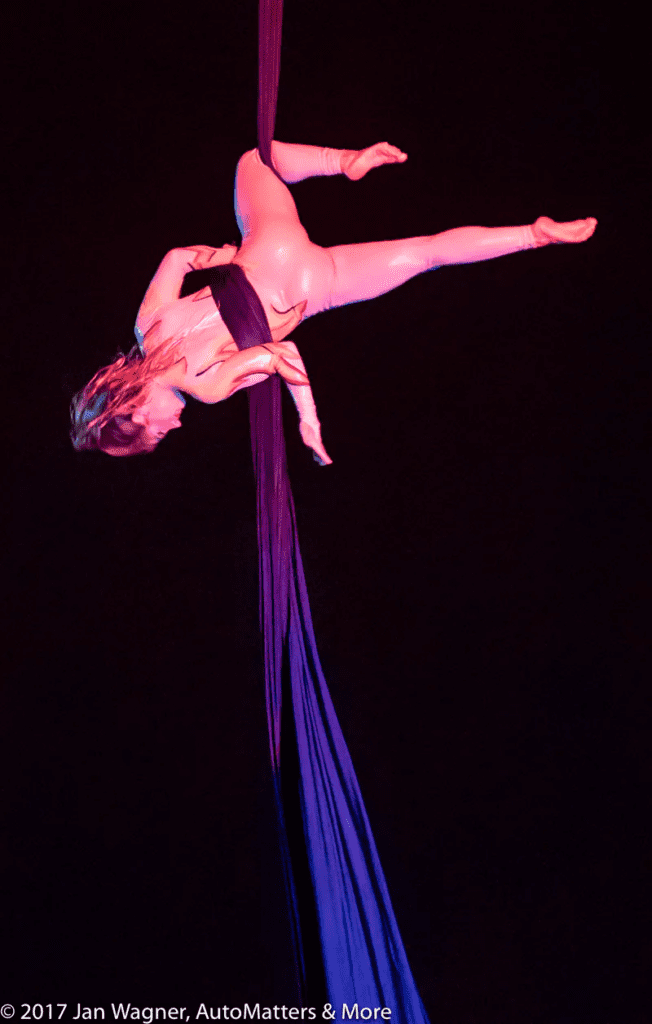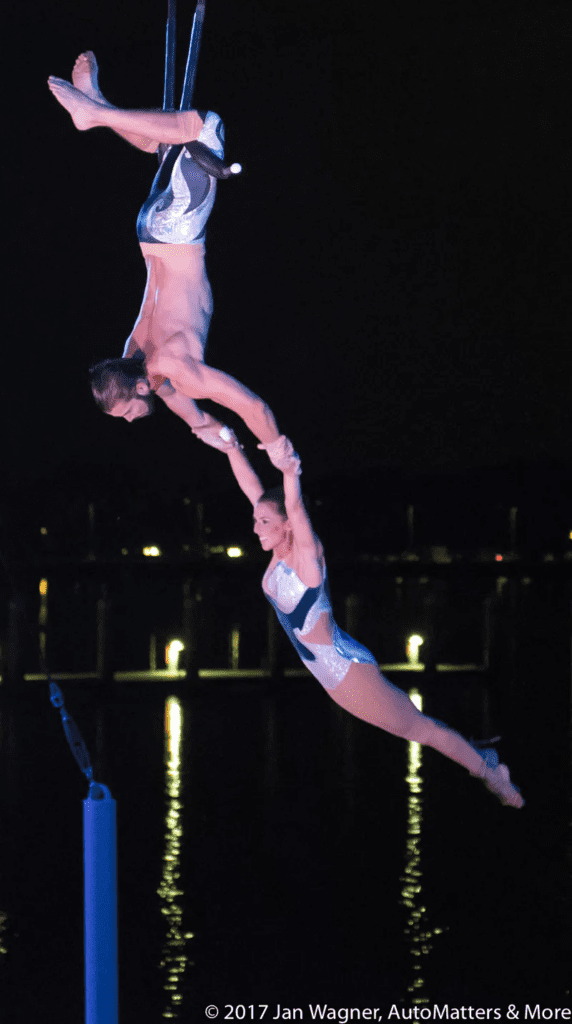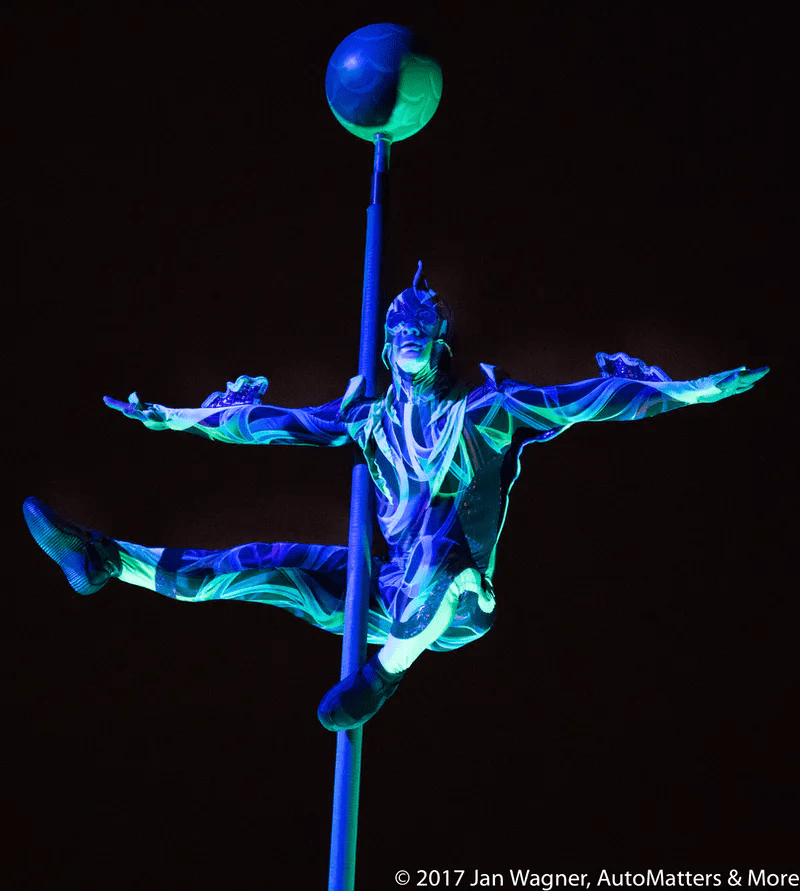 Also, and new for this year, USBA world freestyle Jet Ski champion Mark Gomez joins flyboard champion Jake Orel.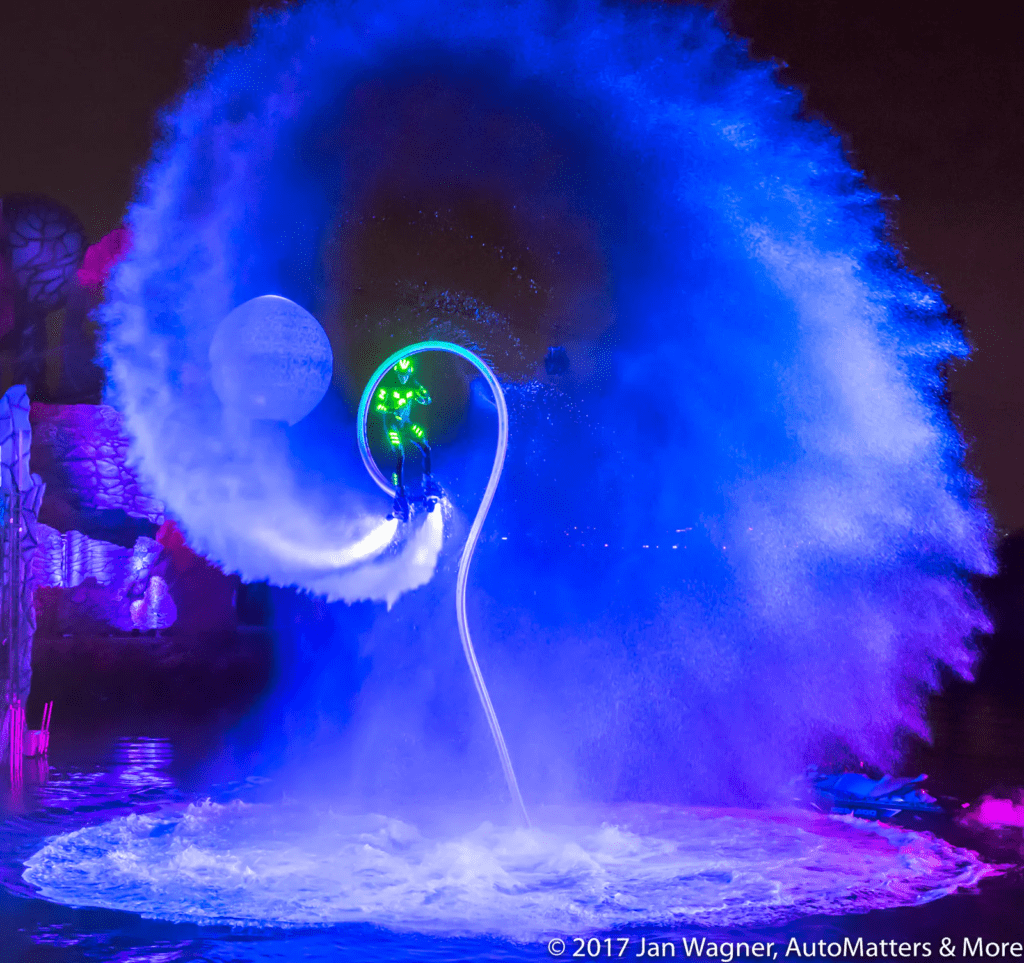 "Cirque Electrique" at San Diego SeaWorld (2017).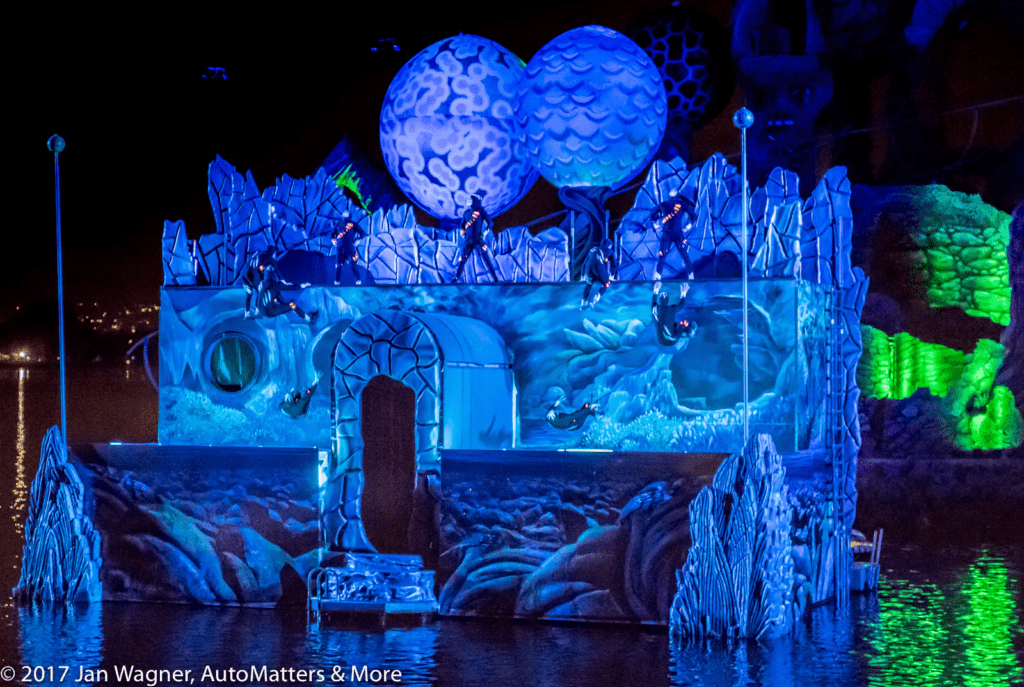 SeaWorld has redesigned their killer whale show – "ORCA Encounter" – to put greater emphasis on its educational aspects. It is narrated by SeaWorld trainers, and supported by videos and graphics on a gigantic screen. SeaWorld's majestic killer whales demonstrate their natural behaviors – including their spectacular breaching, high out of the water.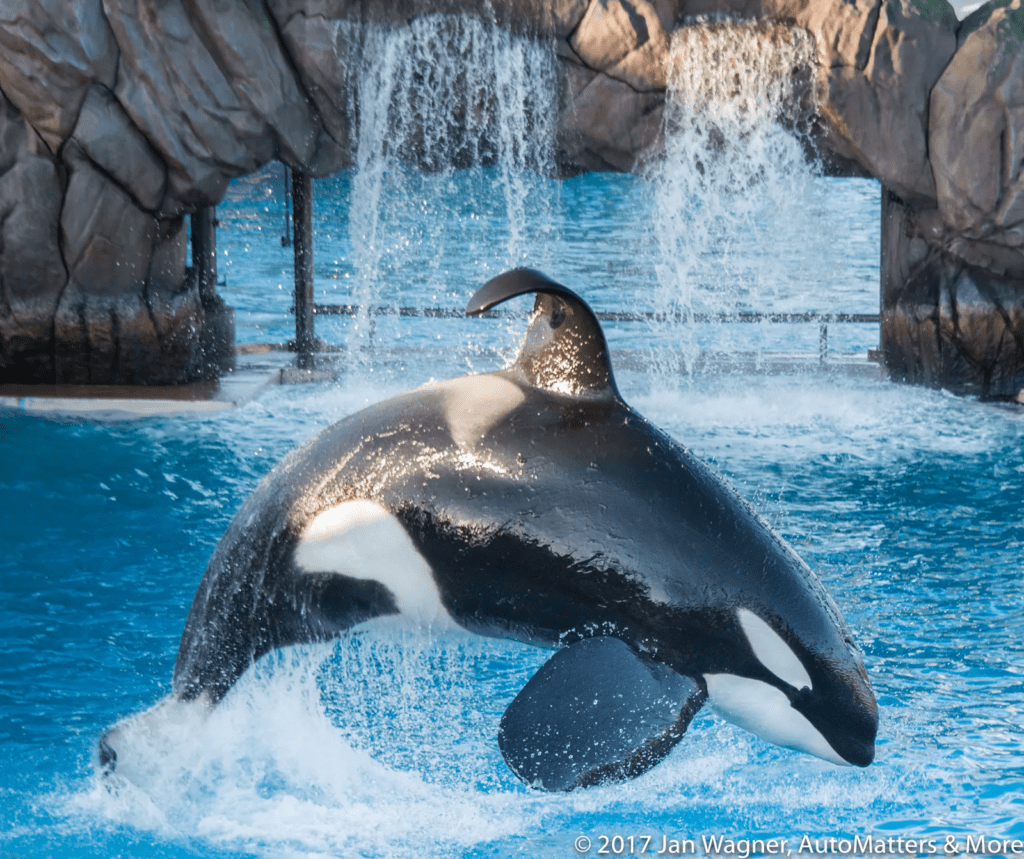 Little kids will enjoy the new "Sesame Street Party Parade" featuring their favorite "Sesame Street" characters, including Cookie Monster, Ernie & Bert, The Count and Big Bird.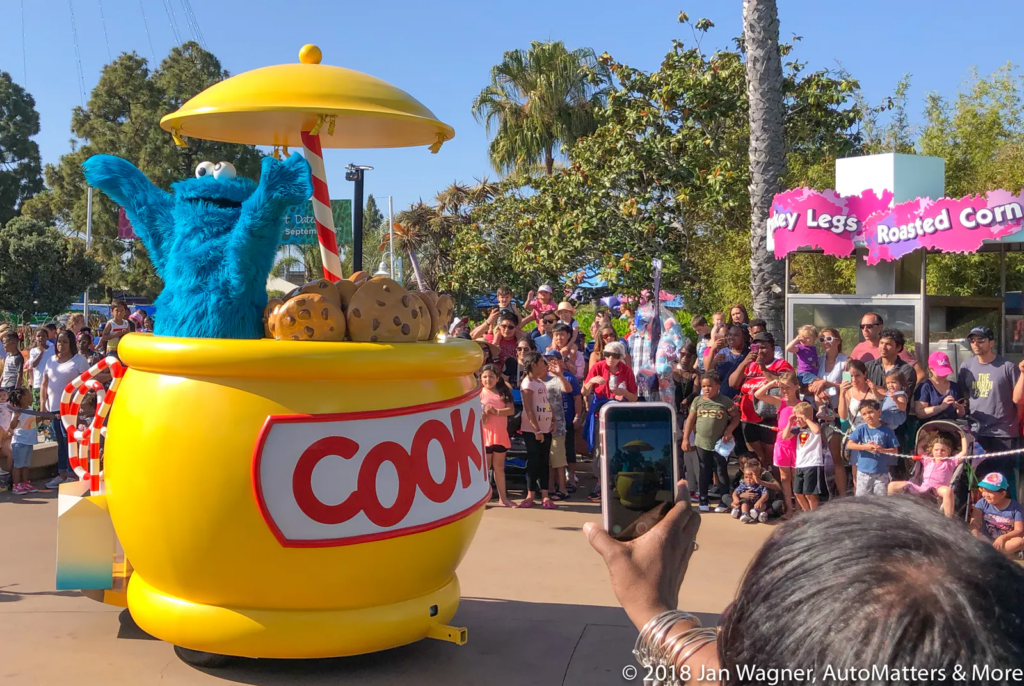 SeaWorld has a brand new roller coaster. "Electric Eel" earns its billing as the "tallest, fastest roller coaster in San Diego." It "will propel you forward and backward … accelerating to more than 60 miles per hour in seconds."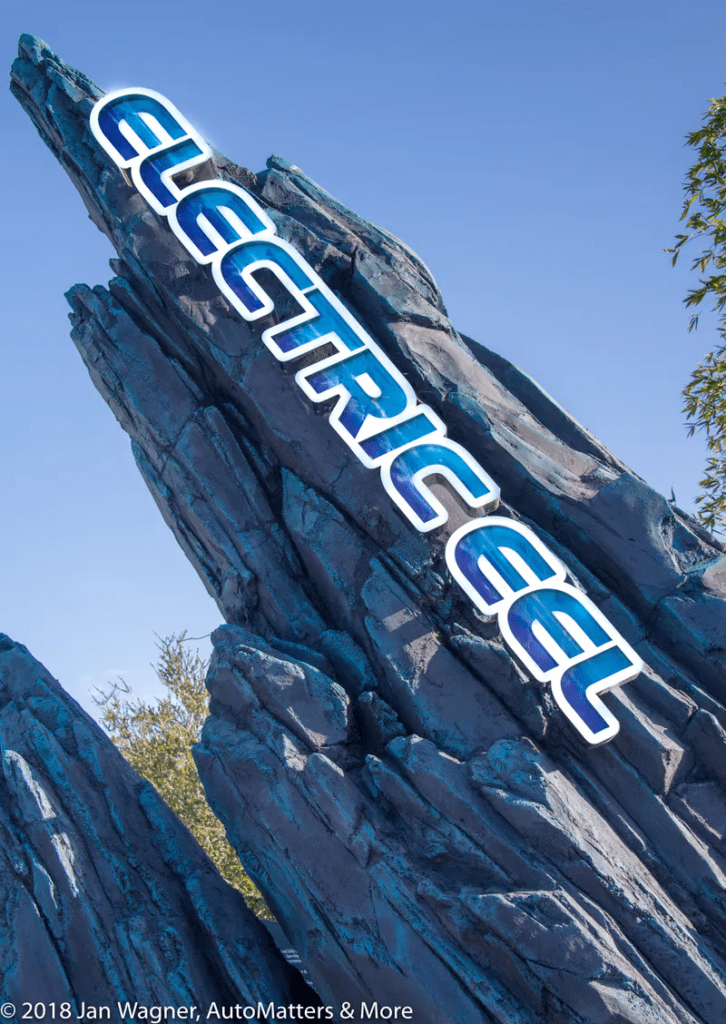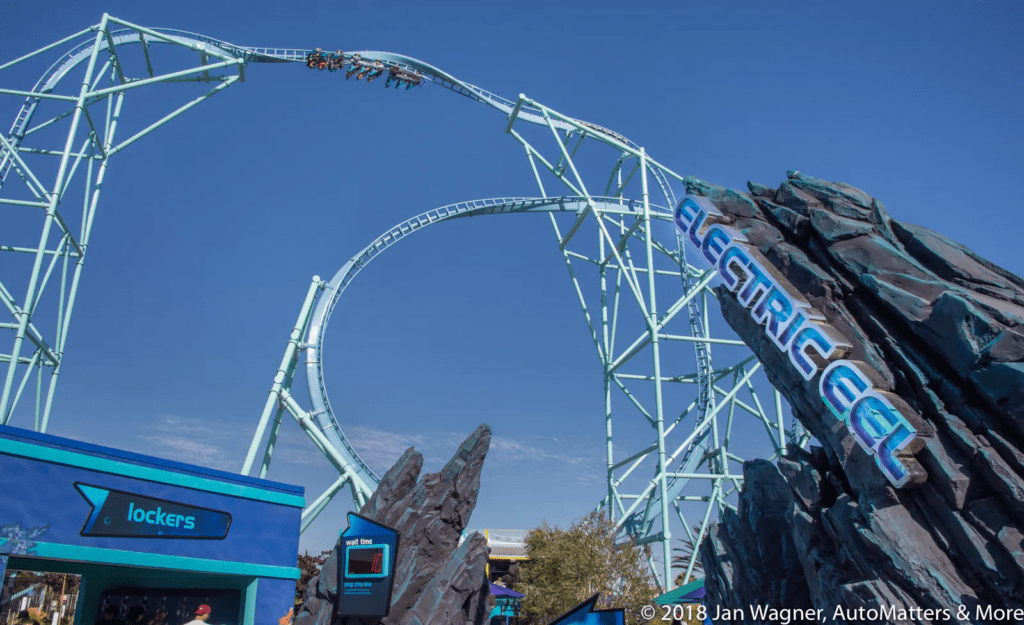 While waiting to ride this for my first (and probably only) time, I wondered – with more than a little apprehension – why the line for a brand new ride was so short (only ten minutes). Now I know. The experience is extremely intense. This ride is for those who are physically fit.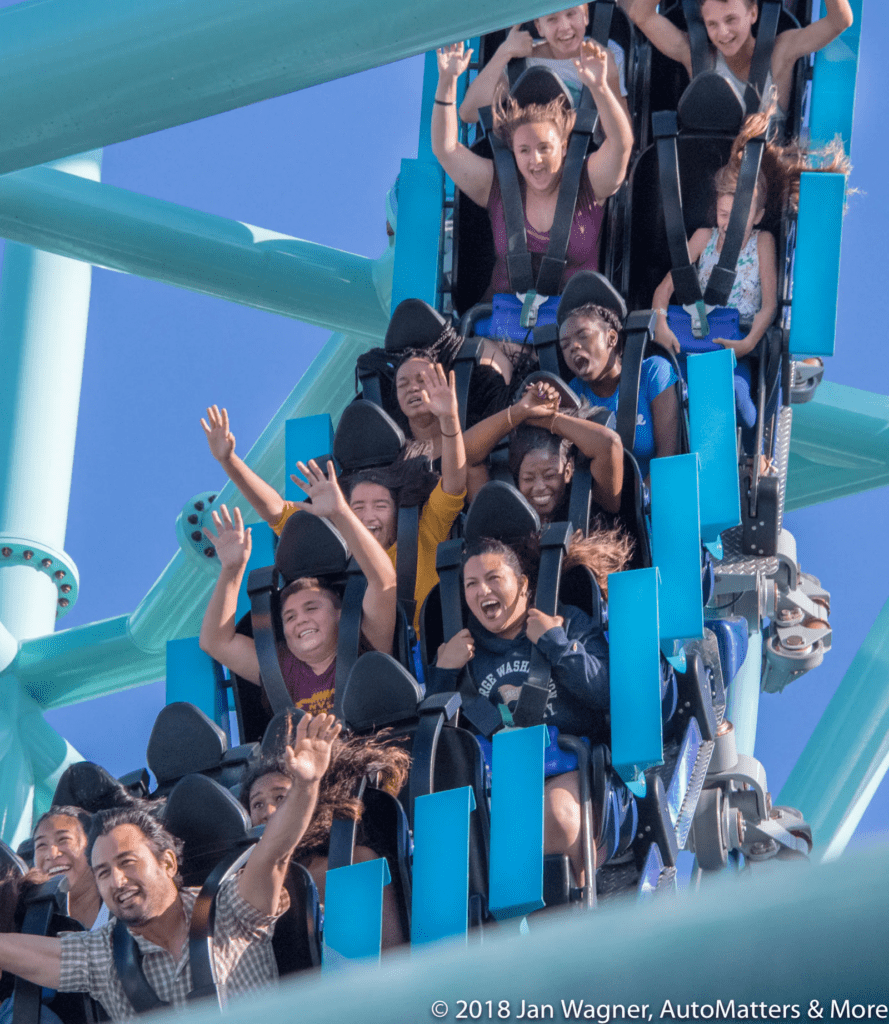 Those who are brave enough to ride this roller coaster will experience incredible acceleration during its multiple launch experiences and dramatic changes in direction.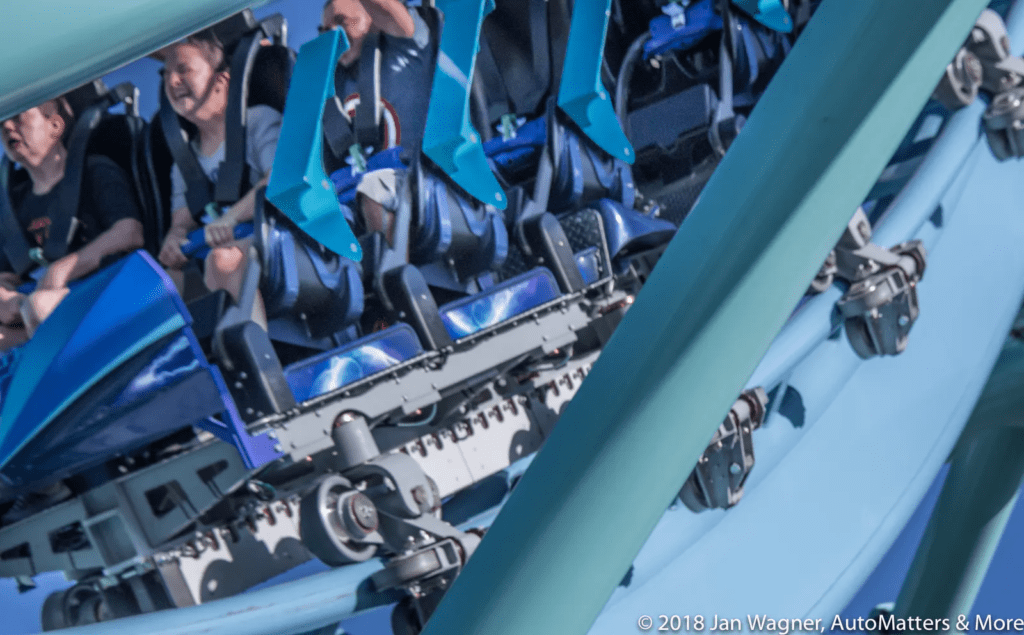 It also inverts, but very slowly, necessitating the use of a large, enveloping safety apparatus that holds you safely and securely in your seat while you hang upside down, gazing wide-eyed at Mission Bay below. You will feel pressure on the upper part of your legs.
Here is a VIDEO of this INTENSE ride:
This slow-moving inversion is also why you absolutely may not take any loose objects with you.

An attendant will seek out and collect any remaining loose items – including eyeglasses – that you might not have thought to store in a locker.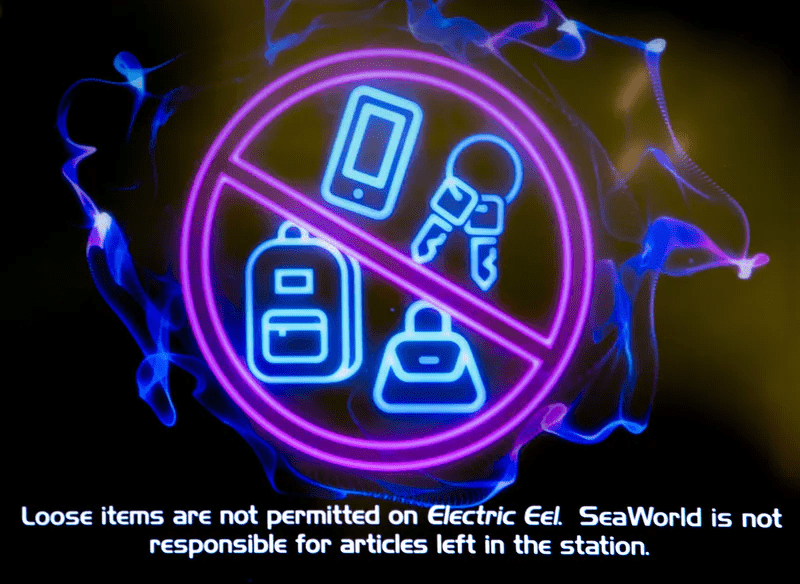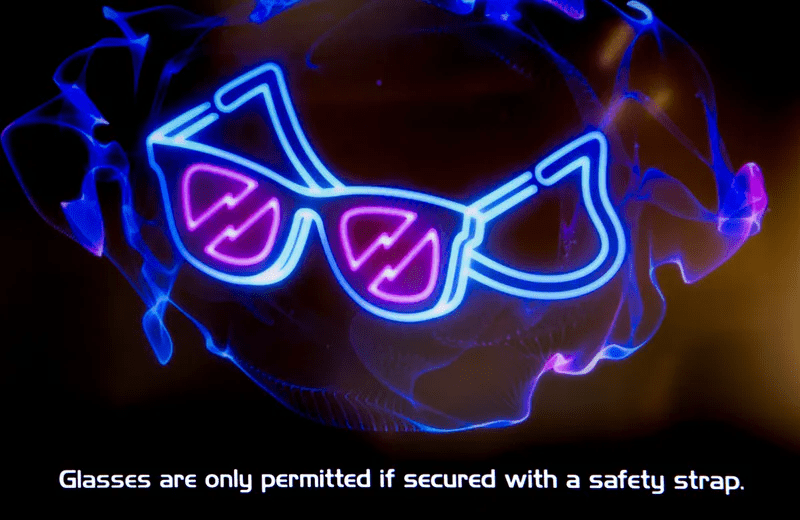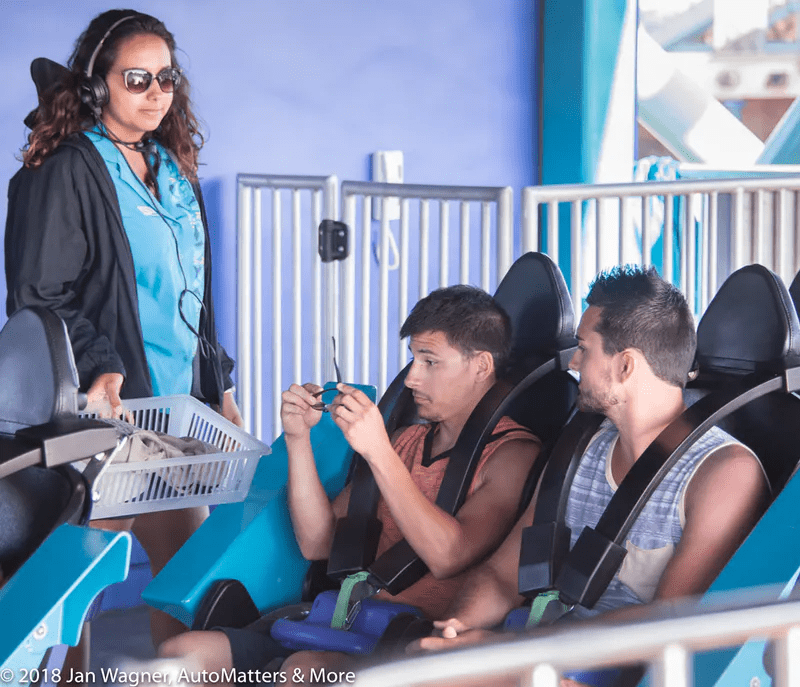 Between the extreme g-forces and going fully upside down in slow motion, this roller coaster ride is intense to the max. While you wait in line, I implore you to read the long list of instructions on the pre-boarding sign.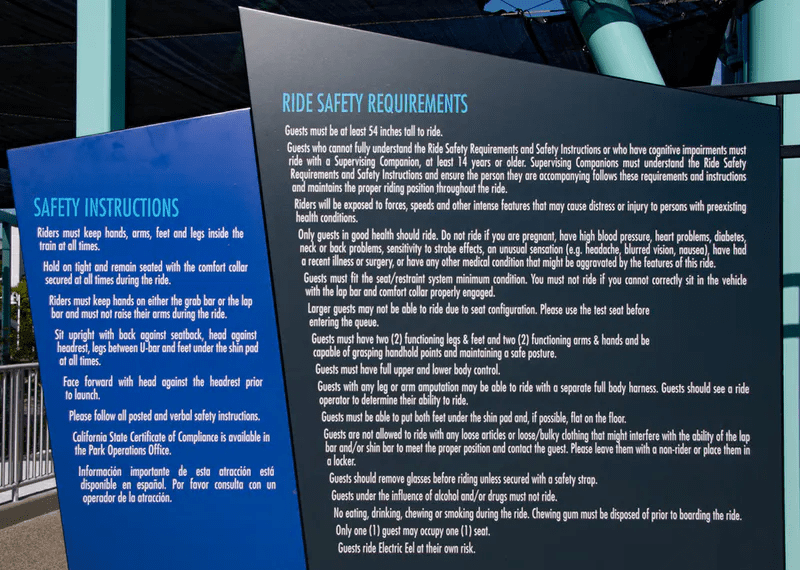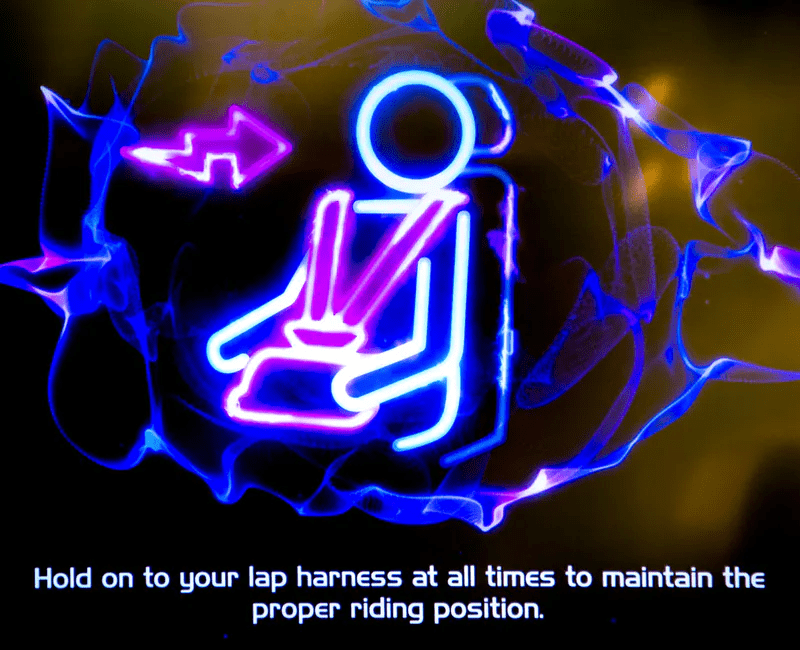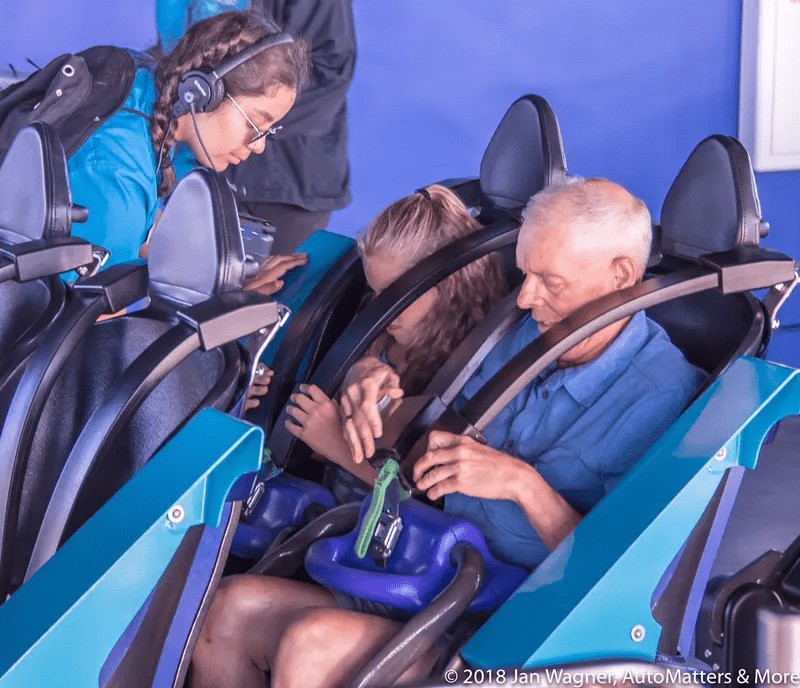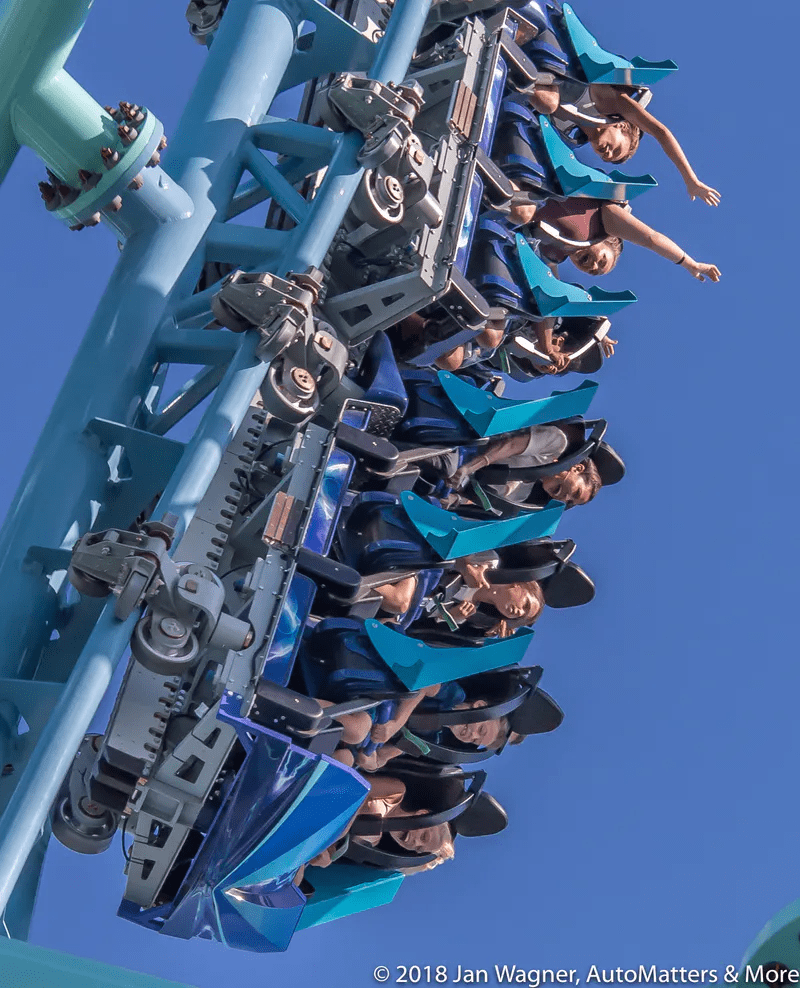 Do put your head against the headrest prior to launch. I did not, and almost immediately after the ride began I seriously regretted that. Suddenly I felt sharp pain in my neck, as I tried struggled to resist the high g-forces. That compelled me to let the headrest do its job.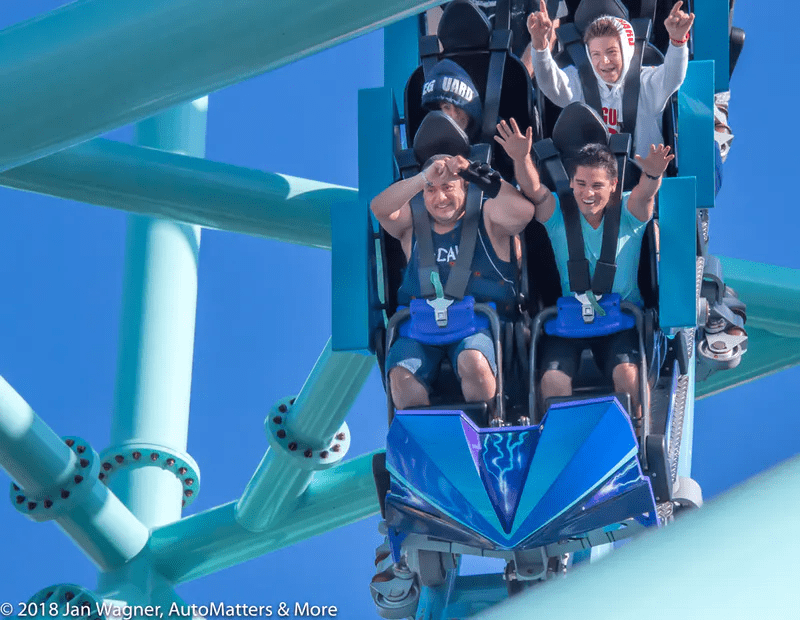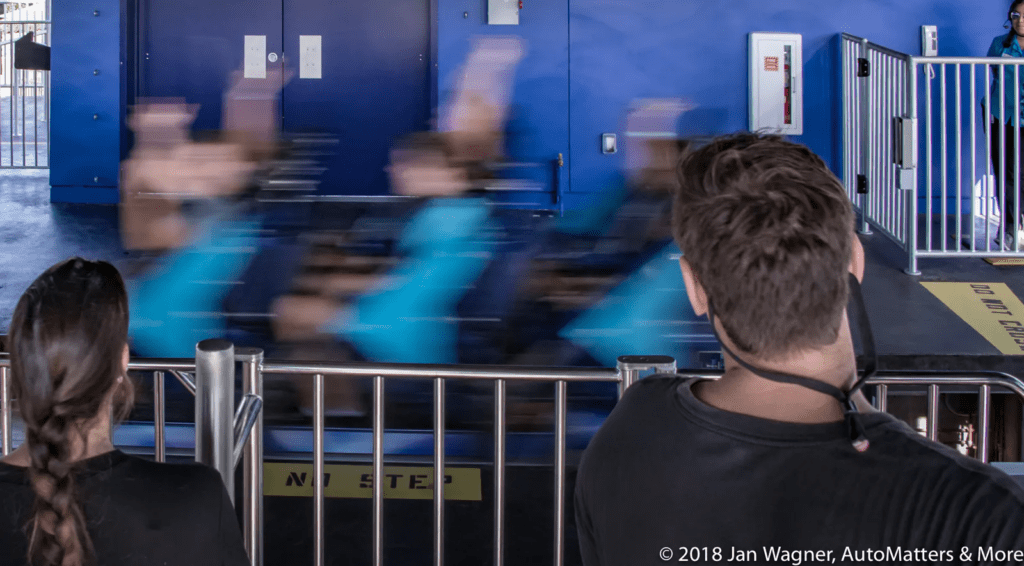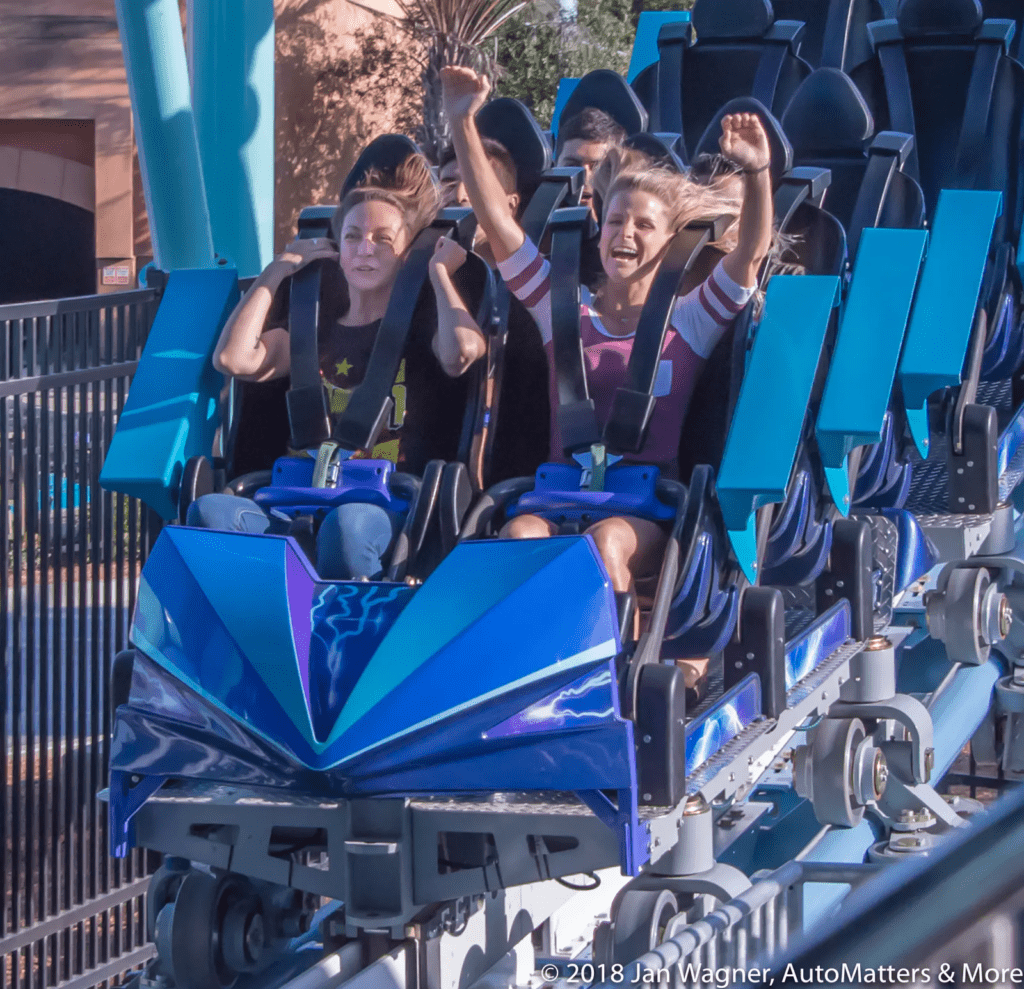 For more information, visit seaworld.com.
"INCREDIBLES 2"
When we last saw the Parr family of "supers" in "The Incredibles" (2004), they were homeless. In "Incredibles 2" we are reunited with Bob (Mr. Incredible, the father), Helen (Elastigirl, the mom), daughter Violet and sons Dashiel ("Dash") and baby Jack-Jack, who steals the show! Helen is called upon to lead a campaign to rebuild their tarnished reputation, while Bob bravely tries to take over the day-to-day responsibilities of taking care of the kids at home. You can probably imagine how that went. Of course they all found themselves in another of their action-packed adventures, ably assisted by Frozone (voiced by Samuel L. Jackson).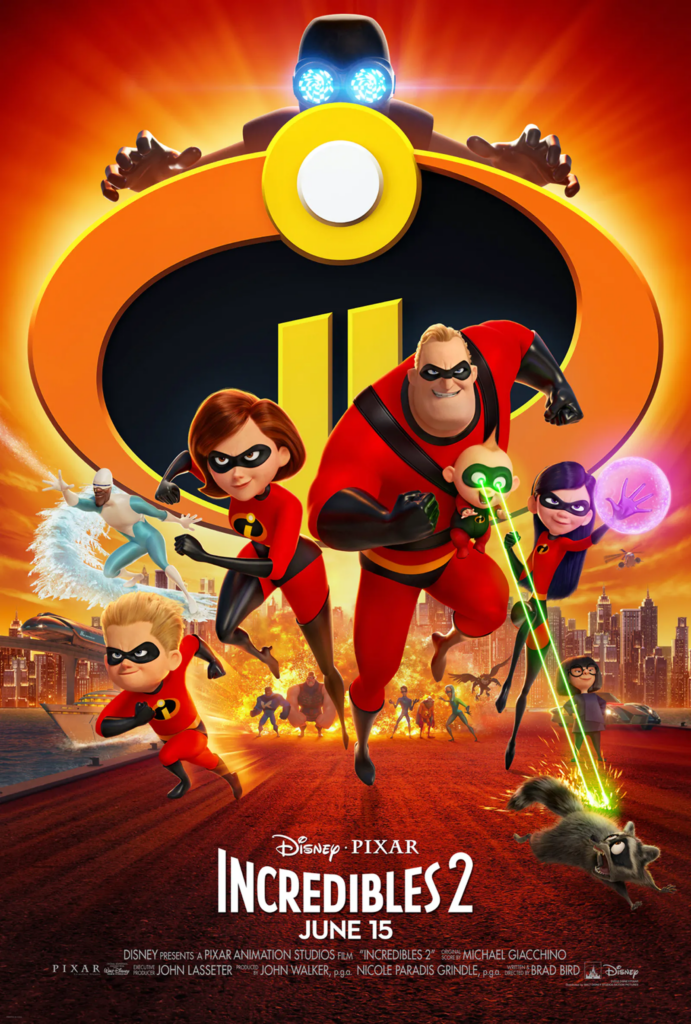 "Incredibles 2" is a cute, entertaining, comfortably predictable movie for the little ones. Expect a kid-friendly, happy ending.
COPYRIGHT © 2018 BY JAN WAGNER – AUTOMATTERS & MORE #545R2