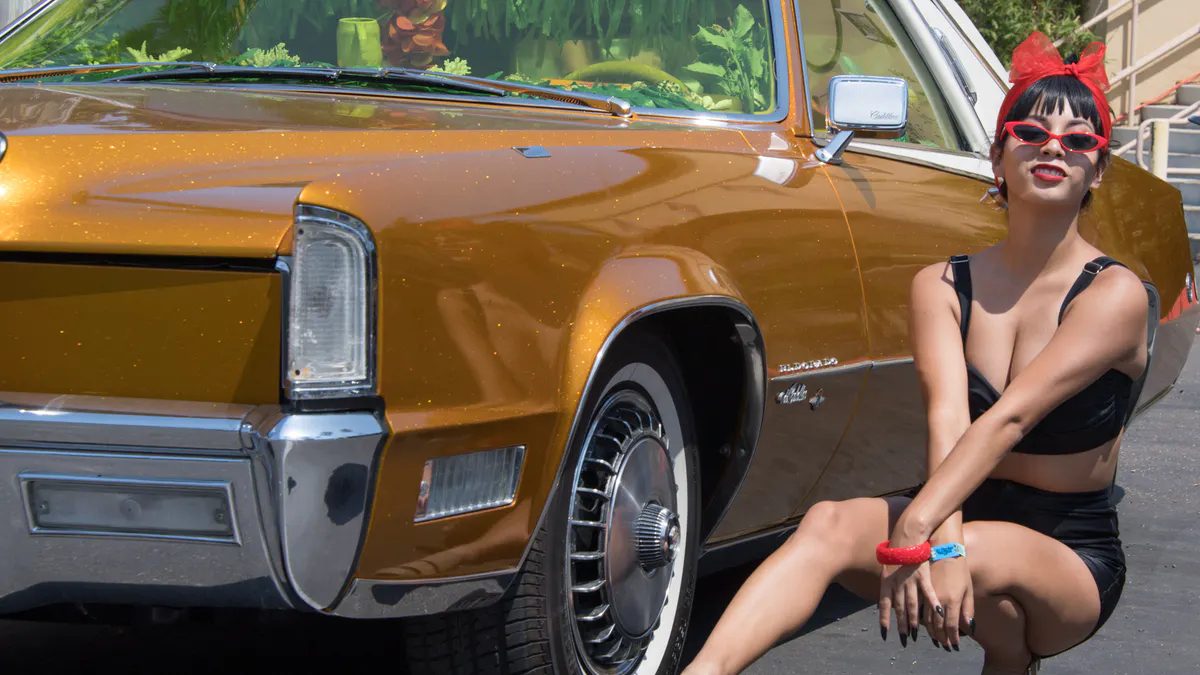 TIKI OASIS 2018 – WITH A CAR SHOW (includes VIDEO of "The Satin Dollz")
The next best thing to a South Seas islands getaway
When you think of paradise, what comes to mind? For many it is an idyllic South Seas island where gentle breezes, swaying palm trees, hula dancers, Tikis, music and white sand beaches combine to create a restful, welcoming environment that is all but impossible to resist.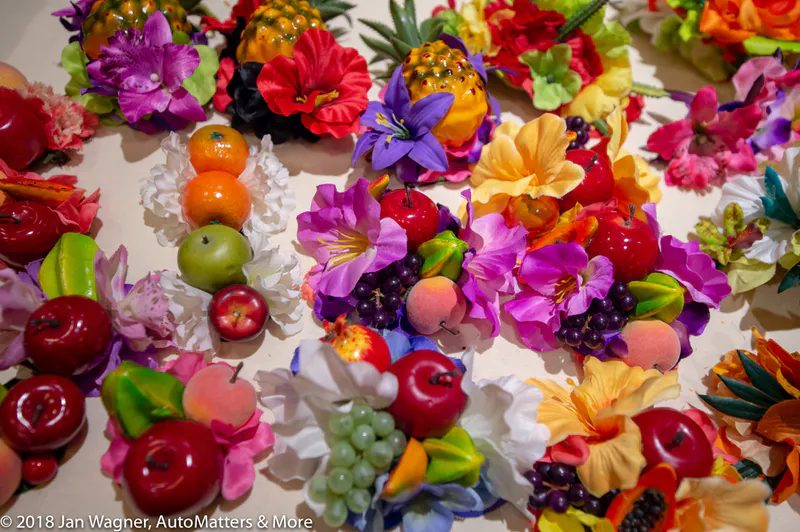 While nothing is a substitute for actually being at such an island paradise, watching movies and TV shows set in those exotic locales, spending some downtime at Tiki-themed business establishments and attending large, themed social events like Tiki Oasis may be the next best things.
– From Tiki Oasis 2017.

– Surfing in San Diego County (Del Mar), California.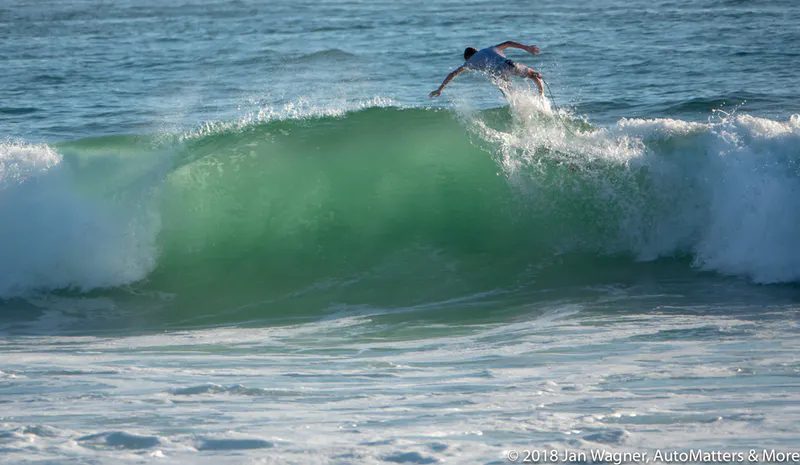 – Surfing in San Diego County (Del Mar), California.
I discovered Tiki Oasis last year, after a friend suggested that I cover the Tiki Oasis Car Show. I did so on the last two days of Tiki Oasis, in the parking lot of the Polynesian-themed Crowne Plaza Hotel, in San Diego's Mission Valley.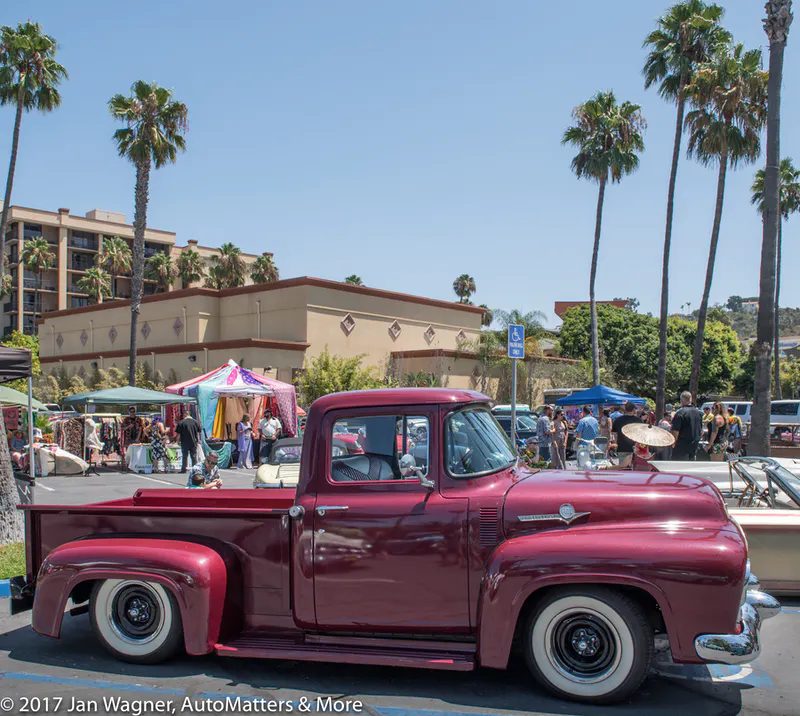 – Tiki Oasis 2017 Car Show at the Crowne Plaza Hotel in San Diego's Mission Valley.
What I discovered there did include a car show, but it was everything else that was going on there that especially captured my interest. I spent the next two days cramming as much as possible into the limited time remaining. It was just about as close to taking a South Seas vacation as was possible in a big city on the mainland. I relaxed, wore Hawaiian shirts, attended symposiums, bought Tiki art, enjoyed island music and taste-tested rum cocktail samples.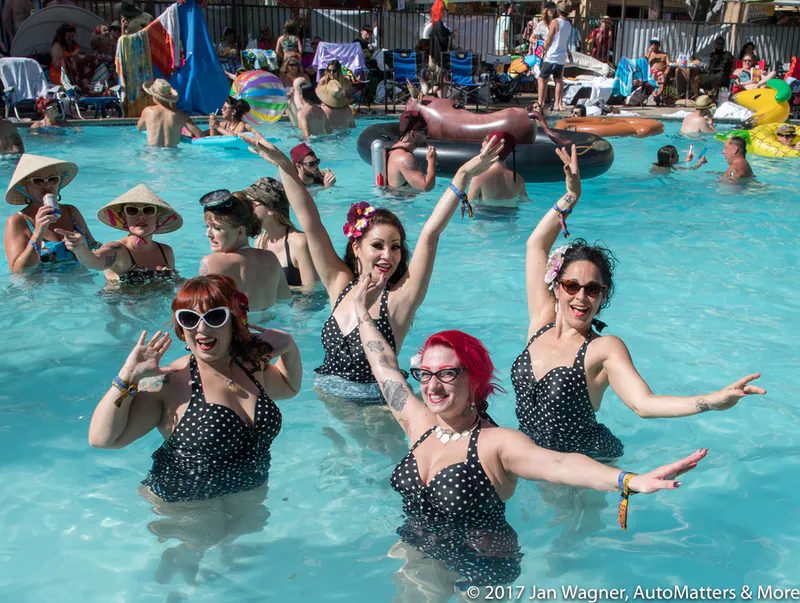 – Poolside at Tiki Oasis 2017.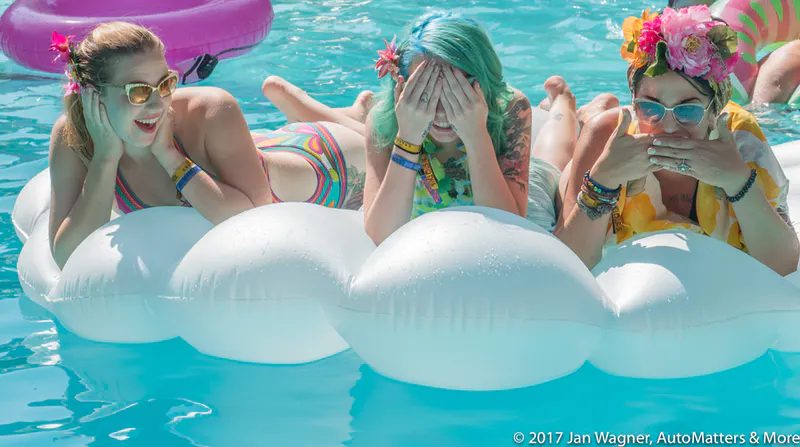 – Poolside at Tiki Oasis 2017.
This year I began my South Seas islands getaway earlier, on the first of the five days of Tiki Oasis.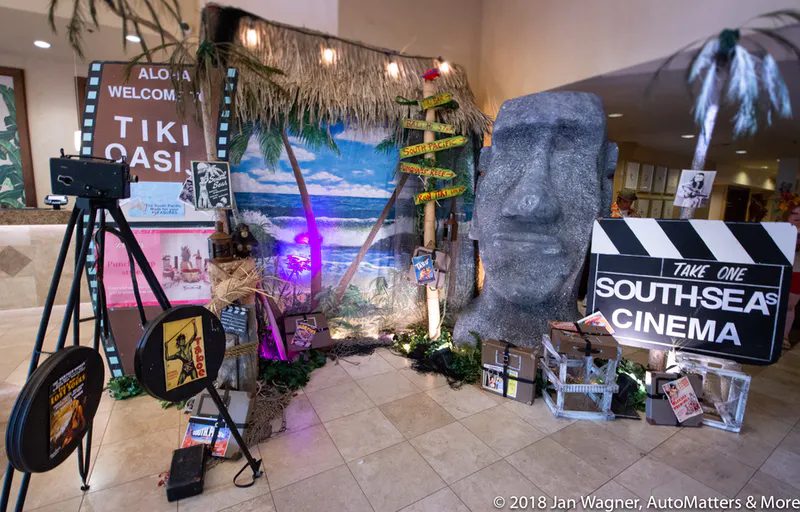 – This photo op greeted guests at the Crowne Plaza Hotel.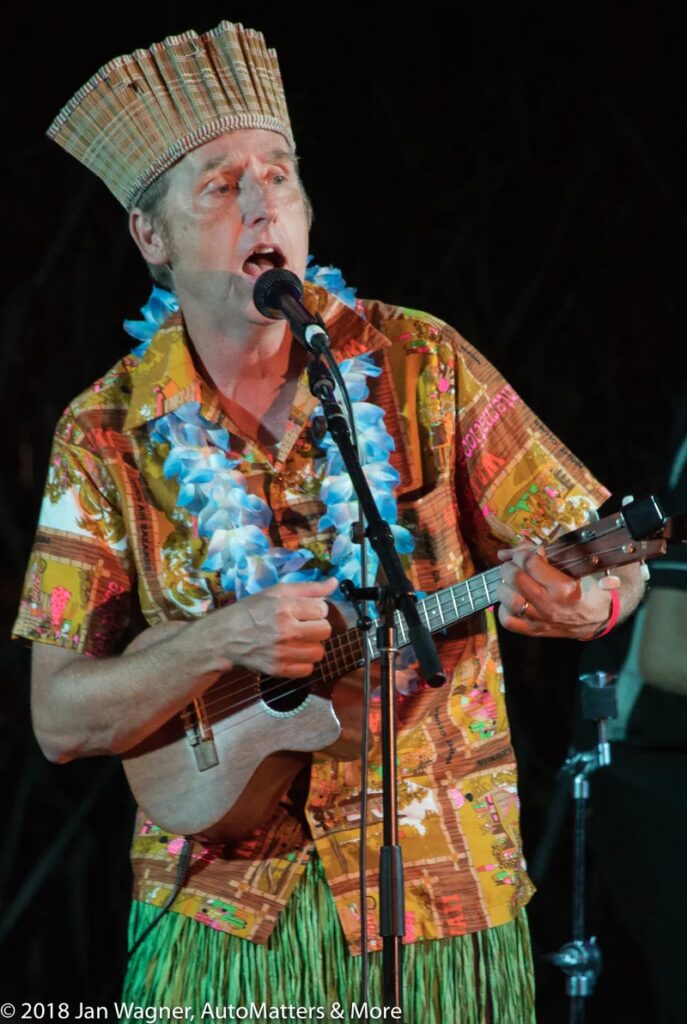 – Setting the mood for Tiki Oasis 2018: Emcee King Kukulele at the 'Meet & Mingle' at the historic Bali Hai Restaurant.

– San Diego skyline.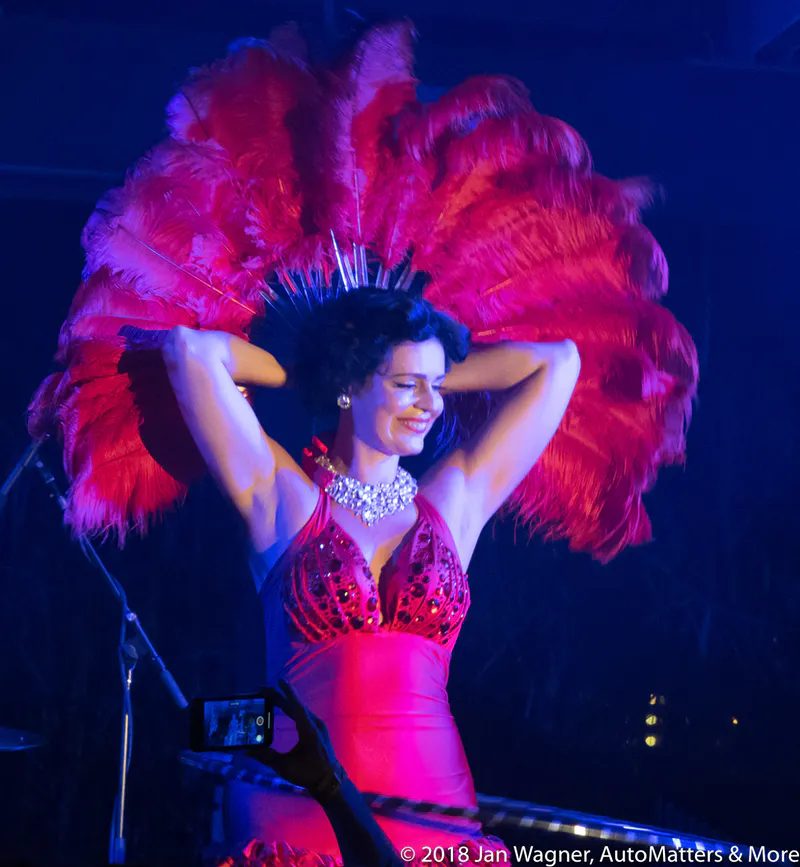 – 'Meet & Mingle' entertainment on Day One.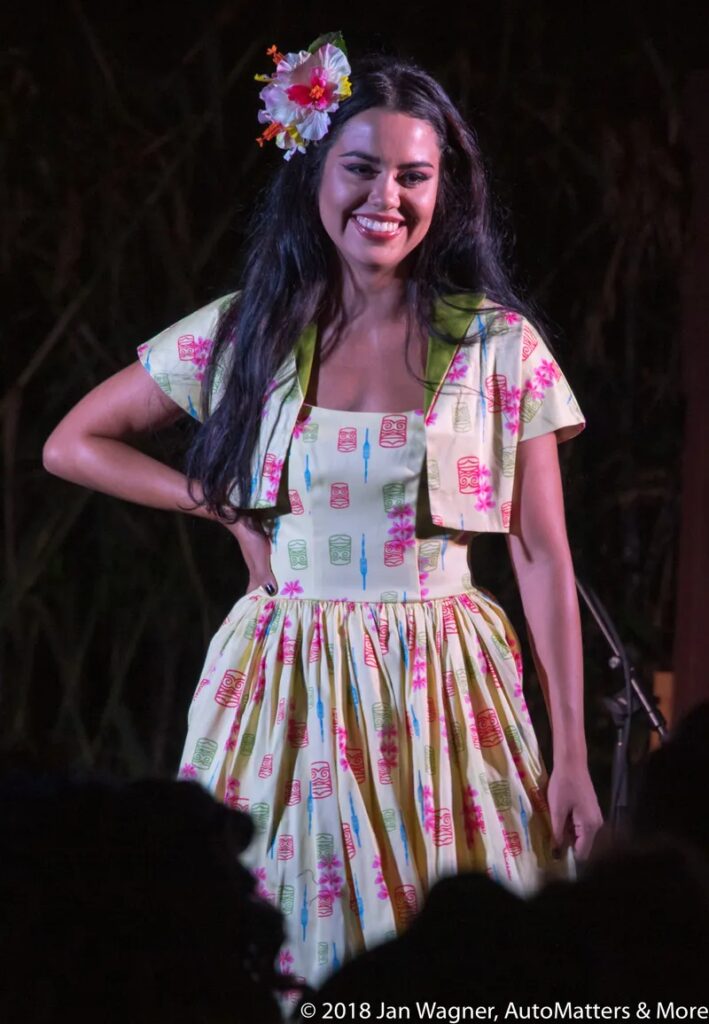 – 'Meet & Mingle' fashion show.
The theme was South Seas Cinema. We were reminded of many classic films set in the South Seas, including "Song of the Islands" (1942) starring Betty Grable as a local island girl; "From Here to Eternity" (1953) – a World War II drama starring Burt Lancaster, Frank Sinatra, Montgomery Clift, Deborah Kerr and Donna Reed; "Mister Roberts" (1955) – another WWII drama starring Henry Fonda , James Cagney, Jack Lemmon and William Powell; Rogers and Hammerstein's World War II musical "South Pacific" (1958), starring Rossano Brazzi and Mitzi Gaynor; "Hawaii" (1966) starring Julie Andrews – adapted from the epic, historically correct novel by the prolific author James Michener; and "Mutiny on the Bounty" (1962) starring Marlon Brando, Trevor Howard and Richard Harris in the classic story about a mutiny set in Tahiti.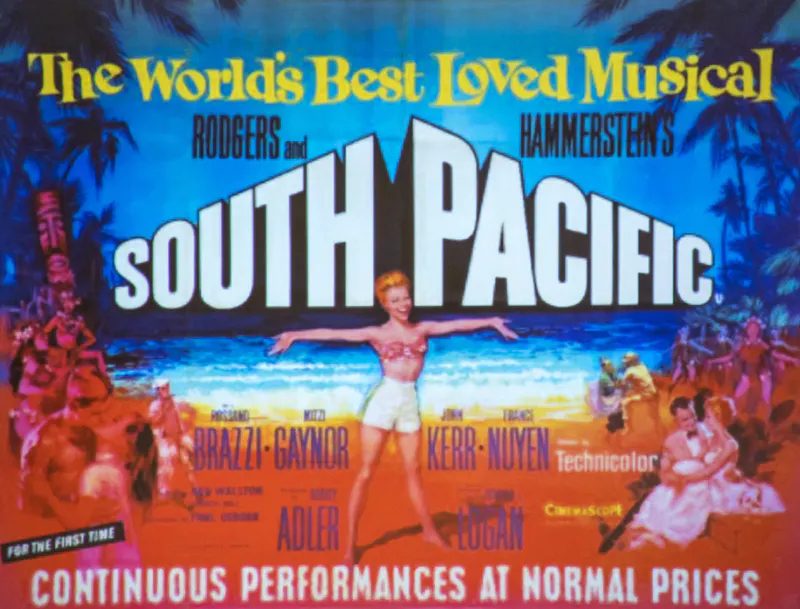 – "South Pacific" (1958).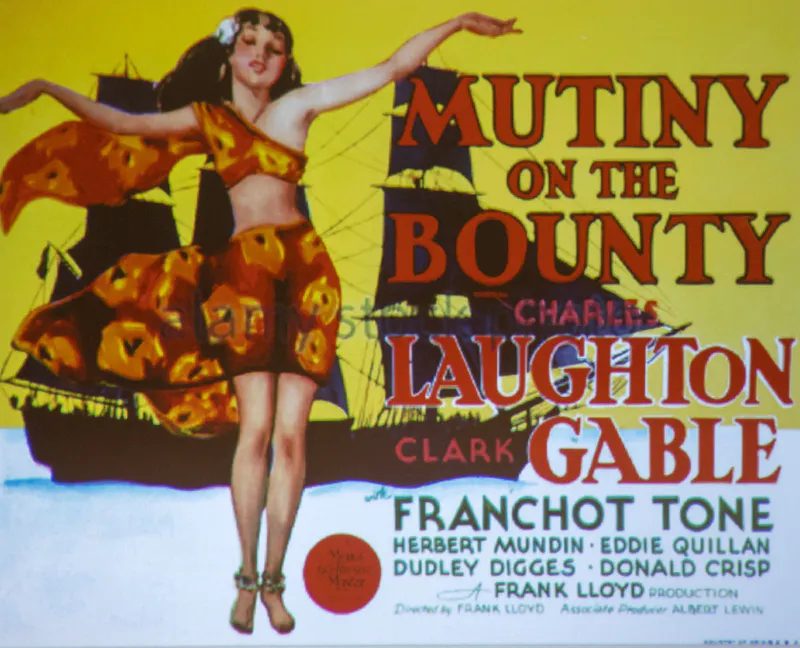 – "Mutiny on the Bounty" (1935).
Other, lighter movie fare included "Gidget Goes Hawaiian (1961) – a beach party movie starring James Darren and Deborah Walley; and the cult classic "Godzilla Vs. Mothra" (1964), featuring a gigantic, city-destroying moth.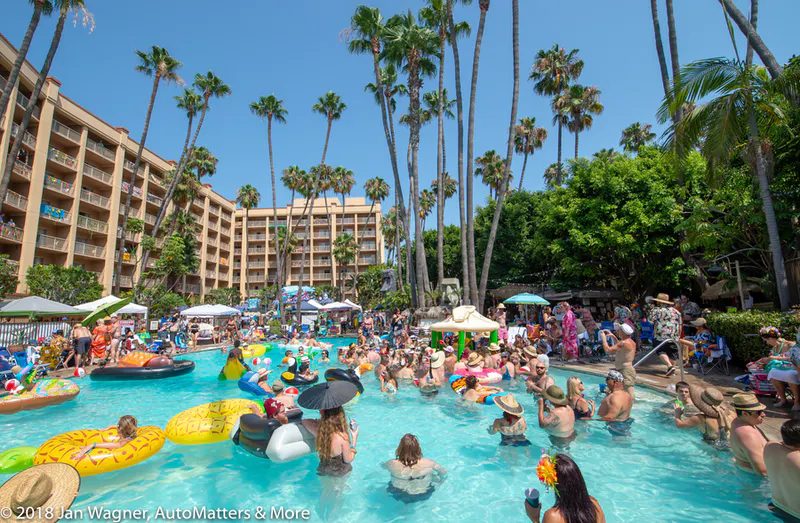 – Poolside at Tiki Oasis.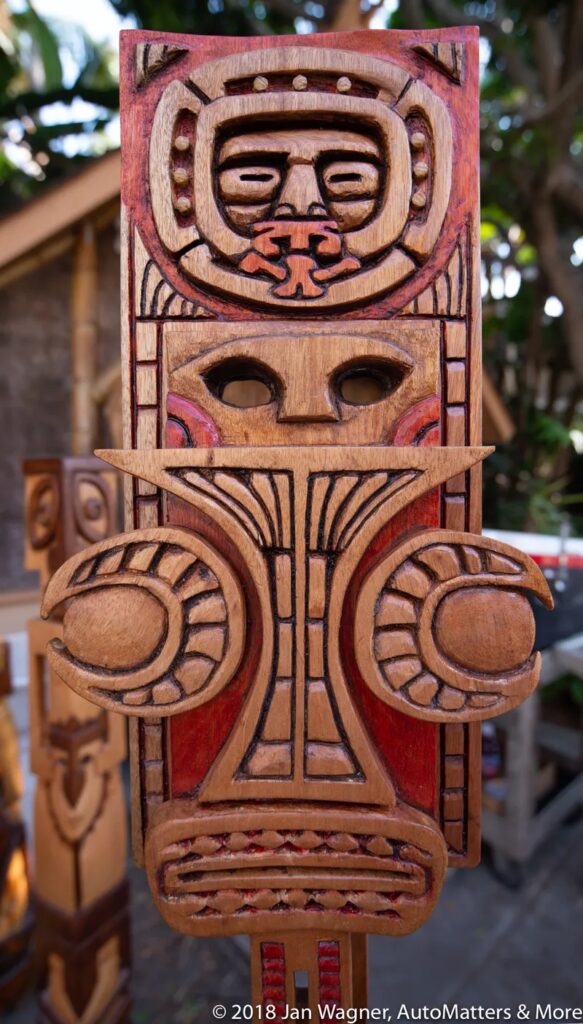 The tenth annual Tiki Oasis Car Show included a stage with DJs and live bands, food trucks, an outdoor marketplace and, of course, trophies for the winners.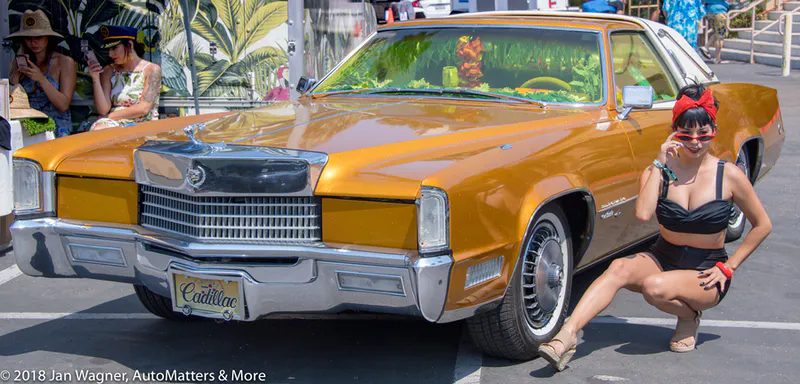 – Custom Cadillac at Tiki Oasis Car Show 2018.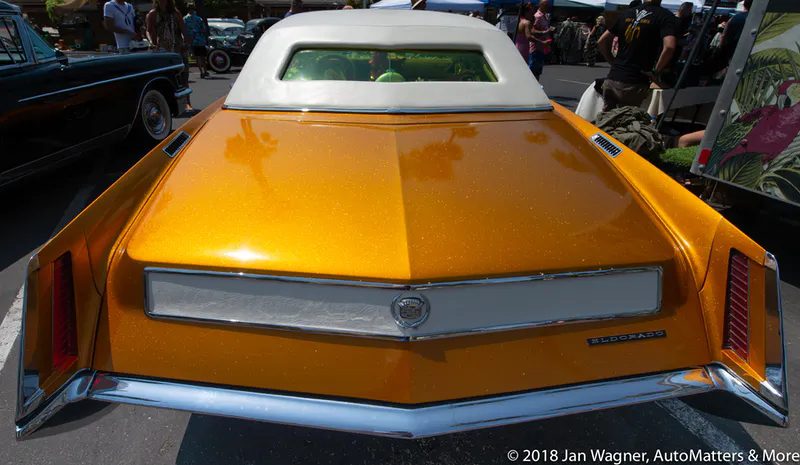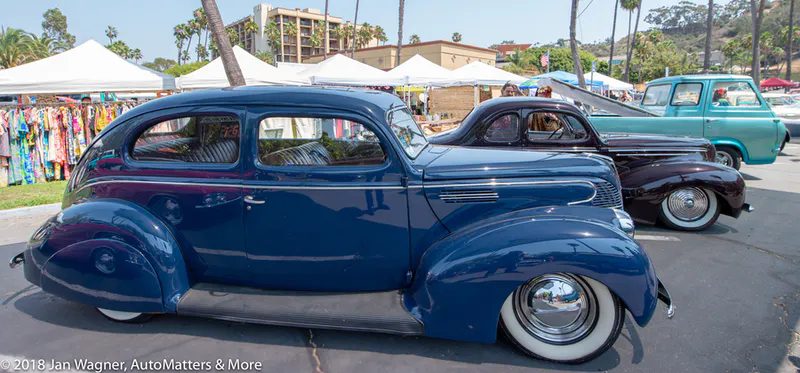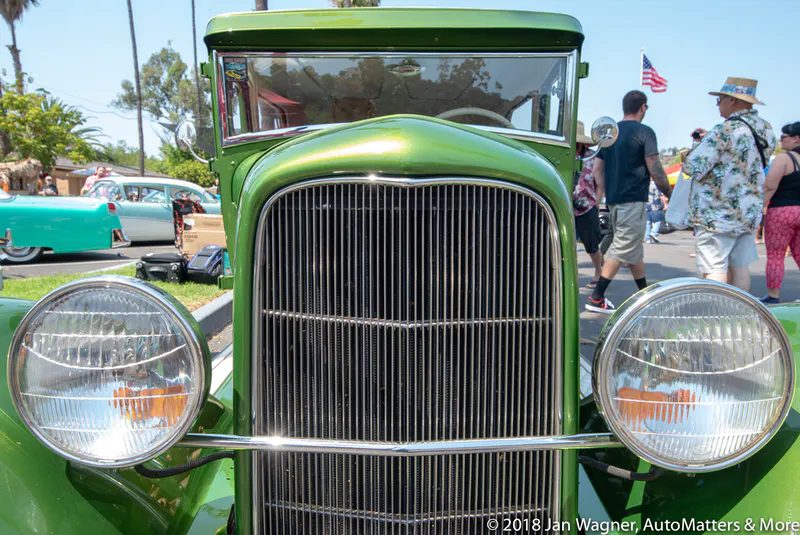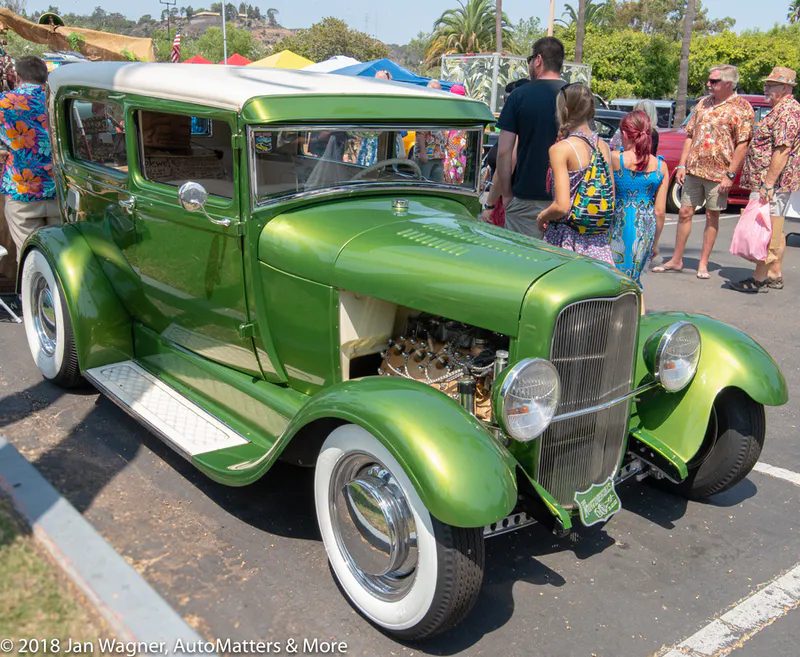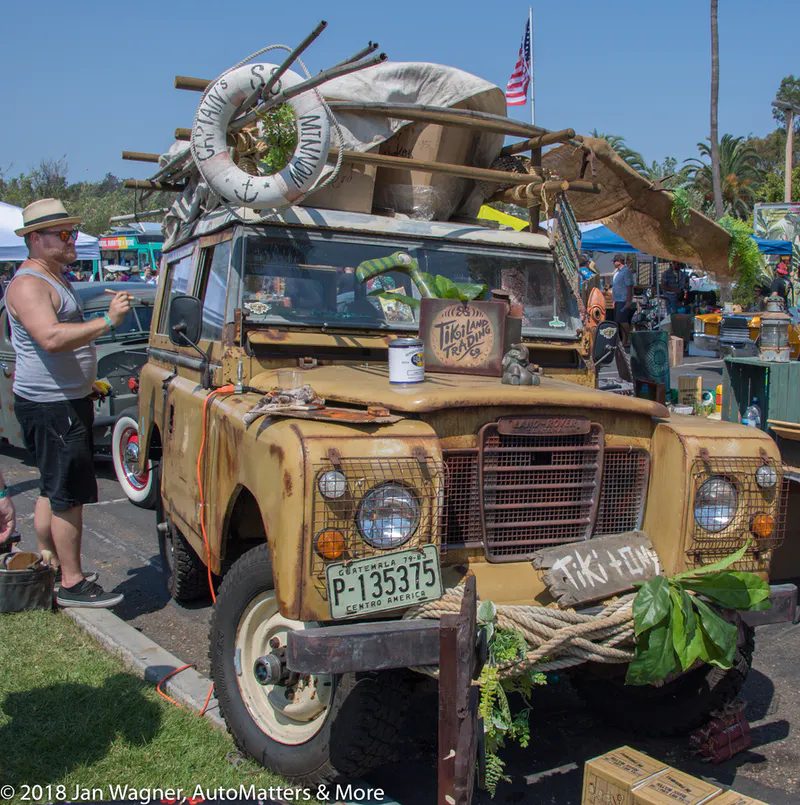 – Vintage Land Rover in the Tiki Oasis Car Show.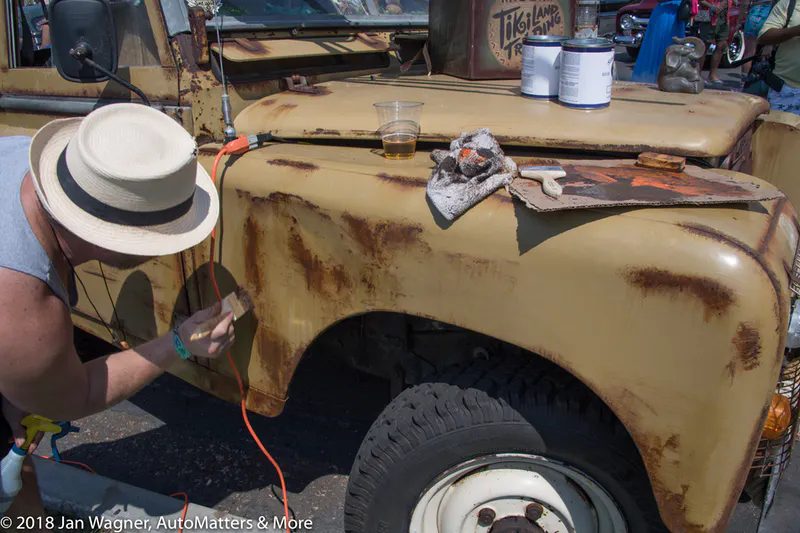 – Strategically applying 'rust' to the Land Rover.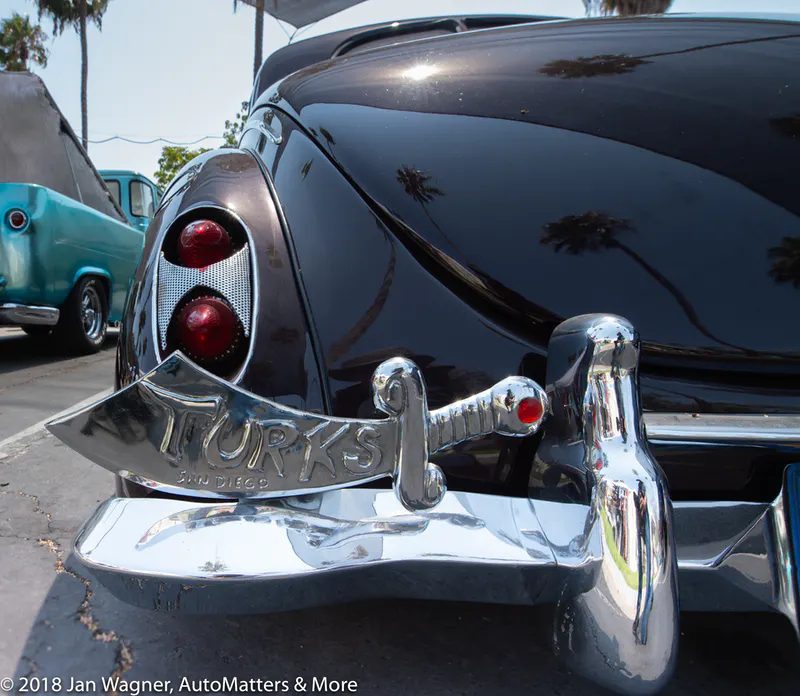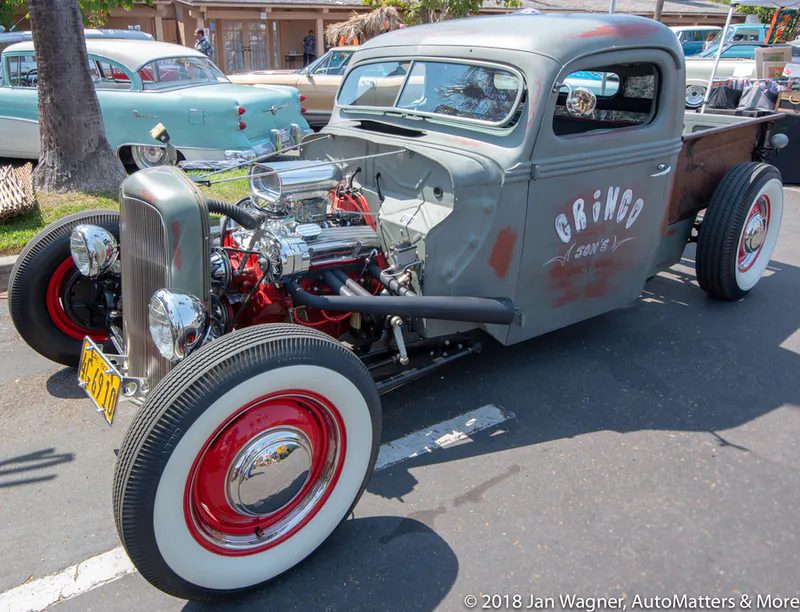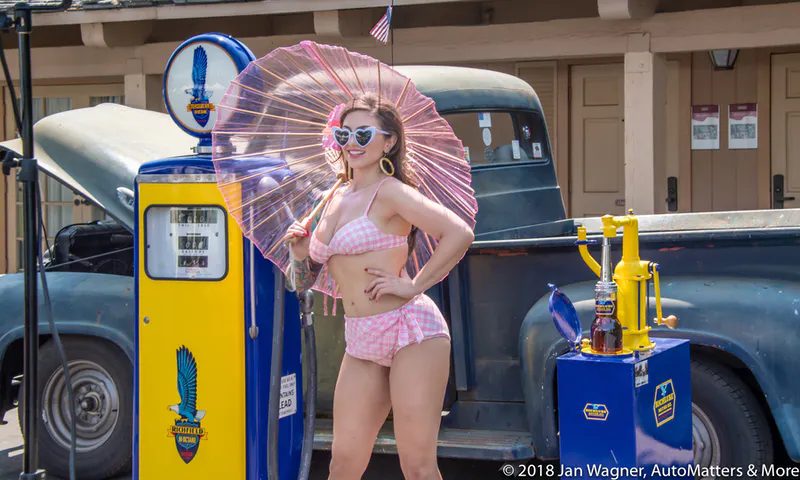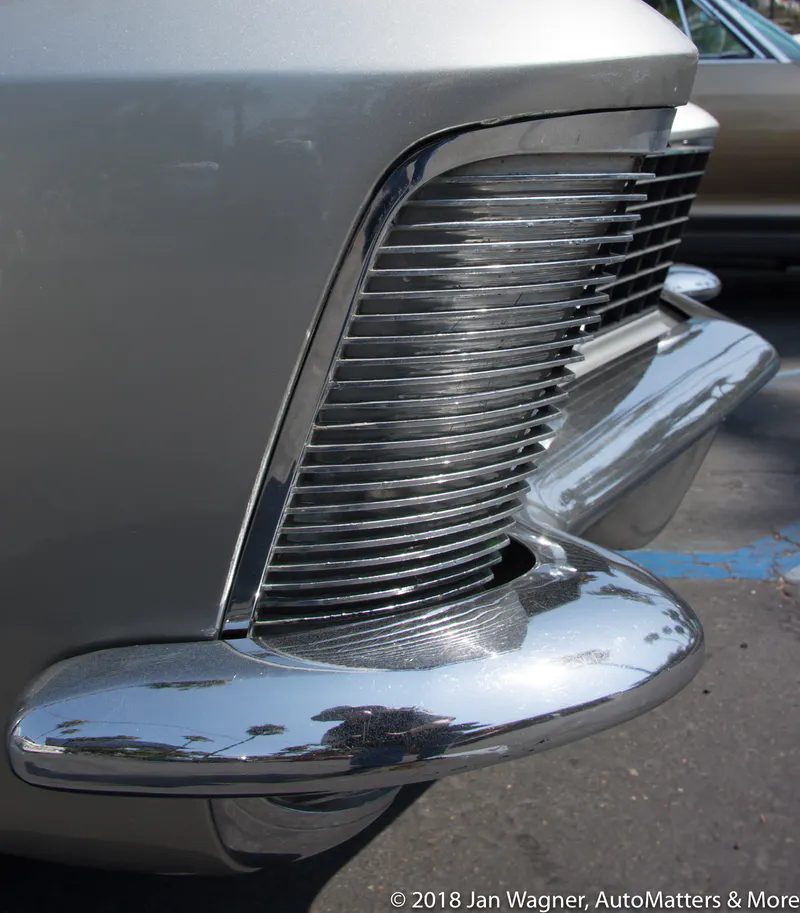 – Buick Riviera.
Other things to see, do and enjoy included Tiki storytelling, The Satin Dollz – an incredible song and tap dance troupe with a Big Band Era sound (based in Hollywood, London and Paris, www.thesatindollz.com). WATCH THE VIDEO HERE: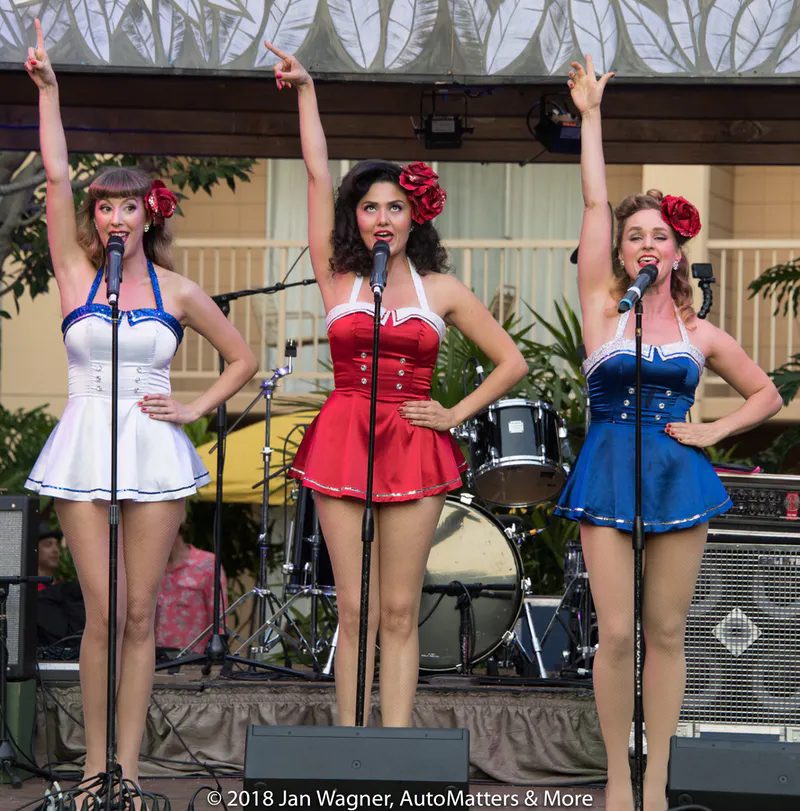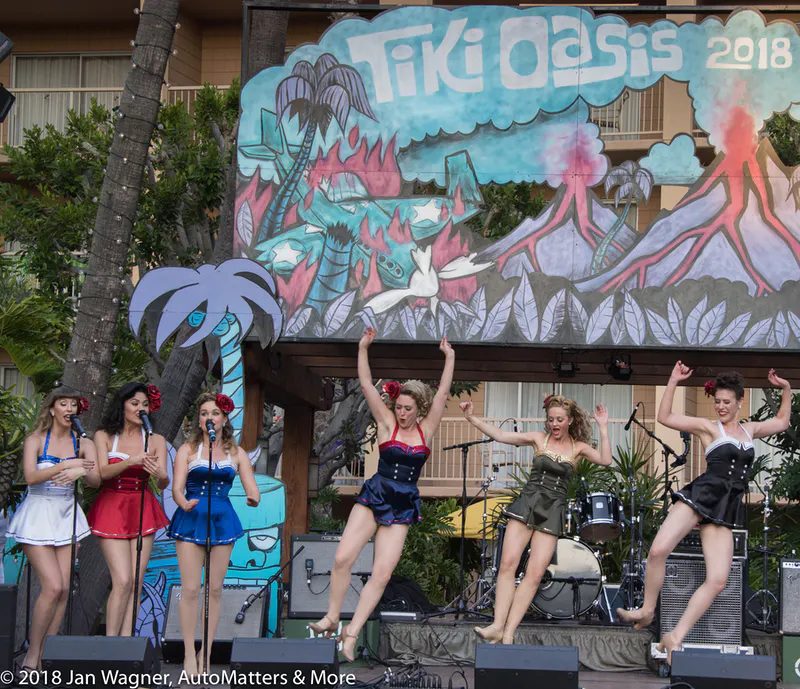 – Big Band Era song and dance with The Satin Dollz.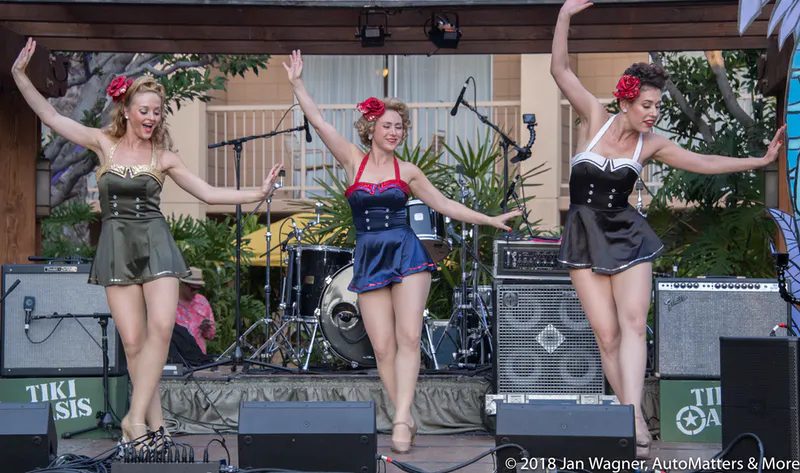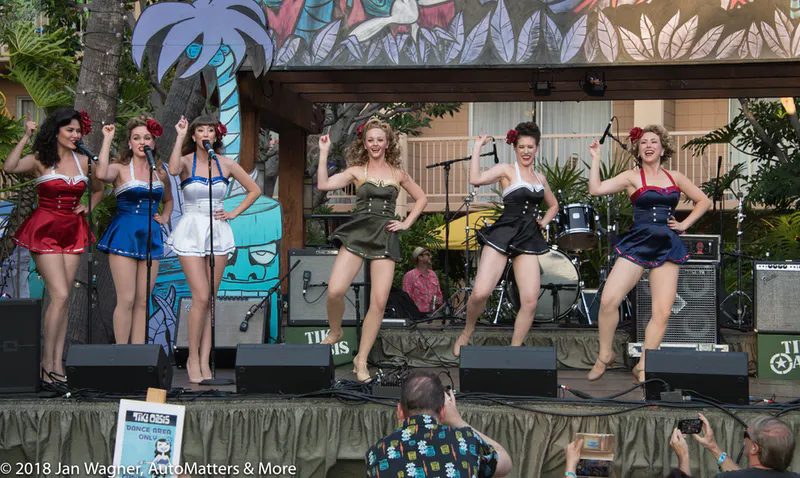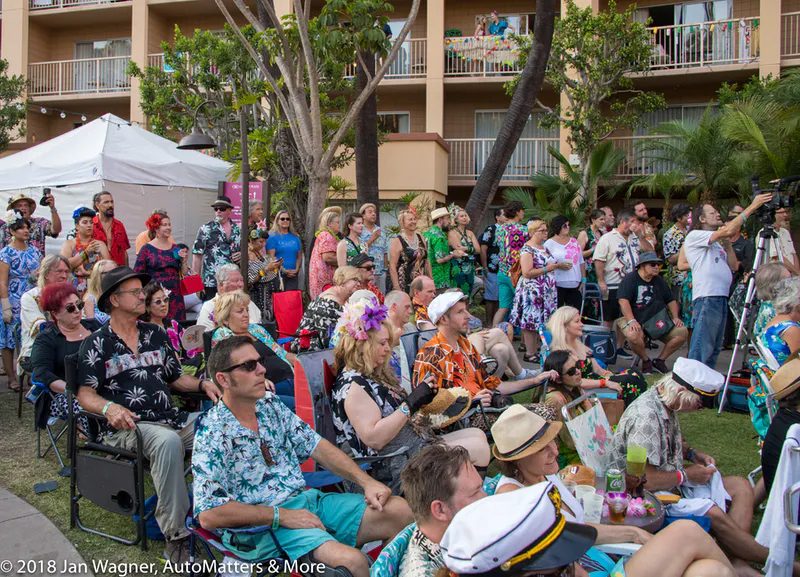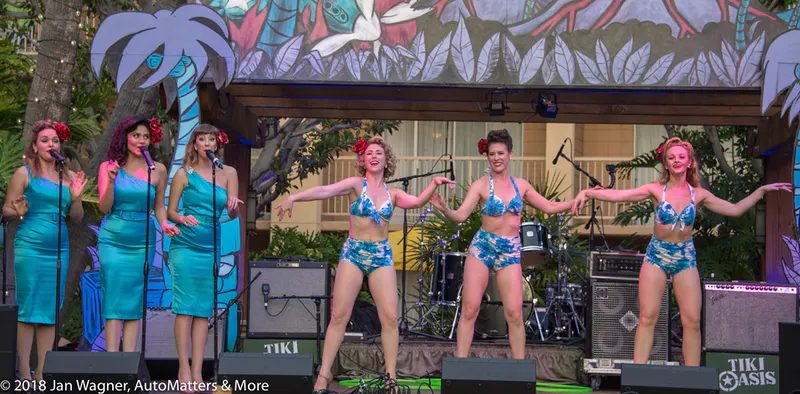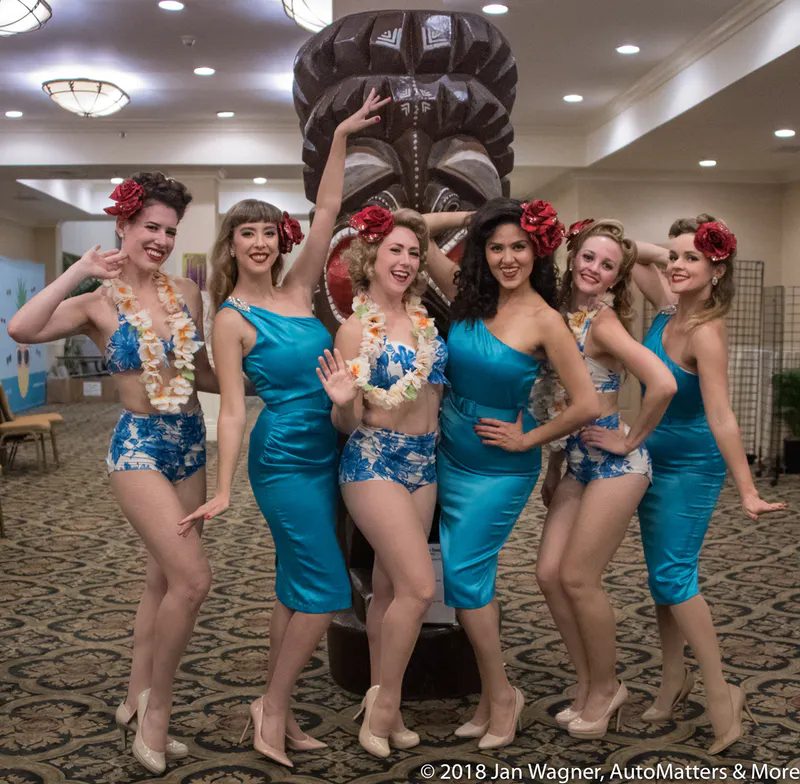 – For future appearance dates and locations, check out https://www.thesatindollz.com.
… the Miss Tiki Oasis contest…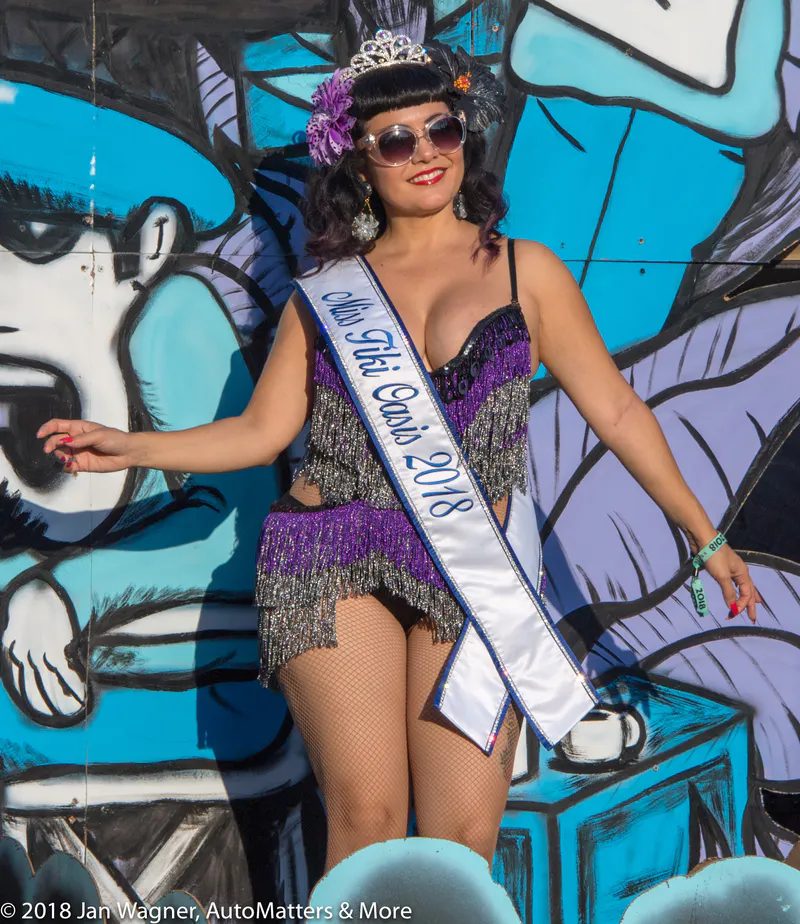 … swing dancing, Polynesian-themed fashion shows…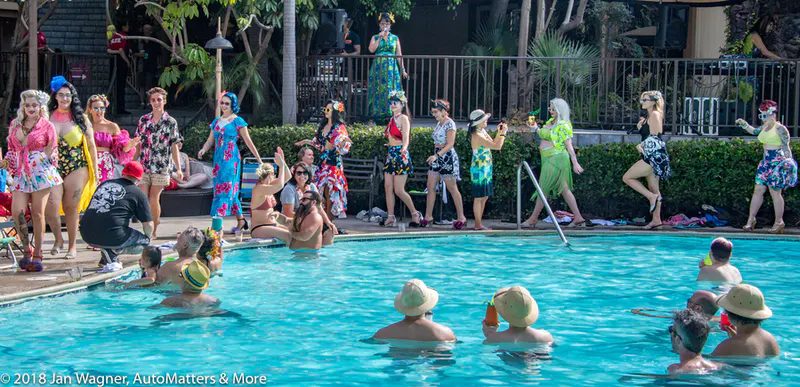 – Poolside fashion show.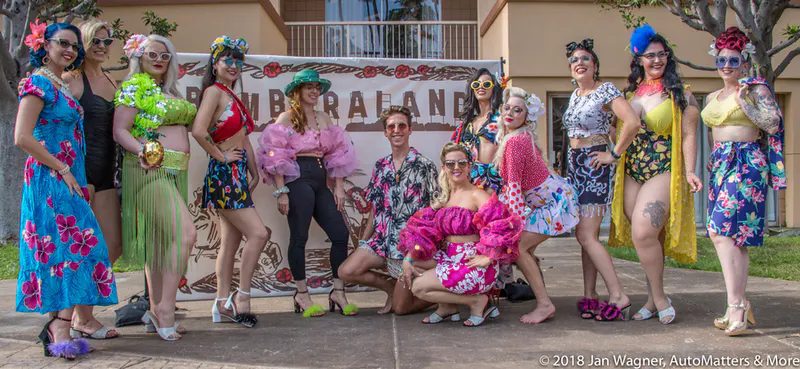 … many more bands and DJs…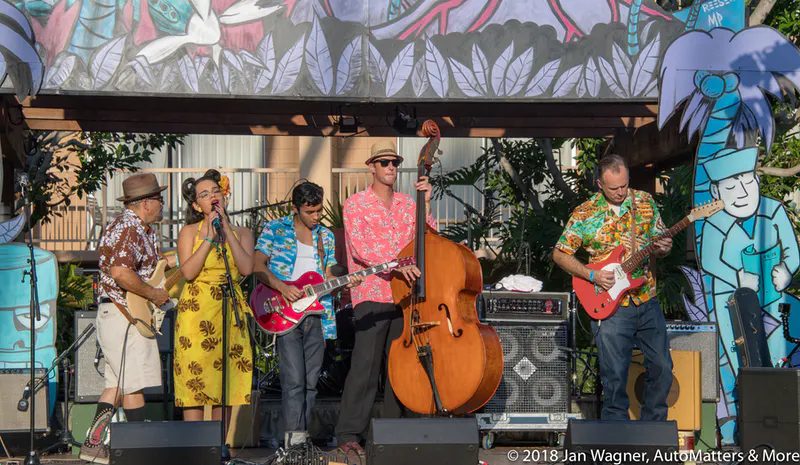 – Just one of the many bands.
… hula hoop instruction, vintage military uniforms and accessories…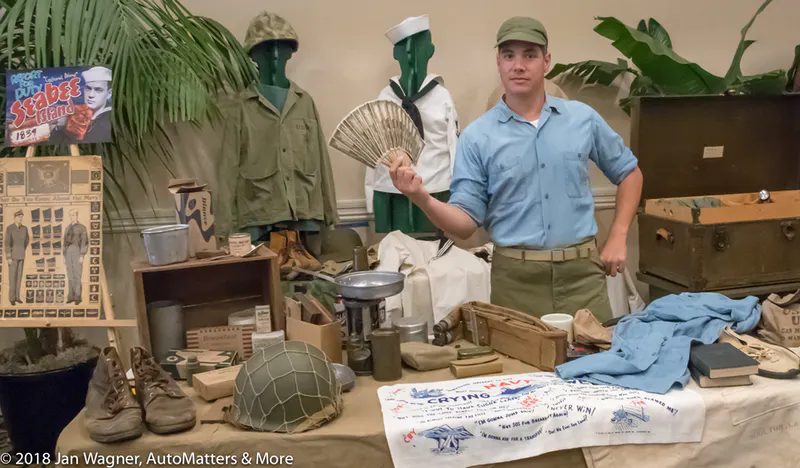 … an art show with Tiki-inspired original art for sale, Tiki tastings featuring rum drinks…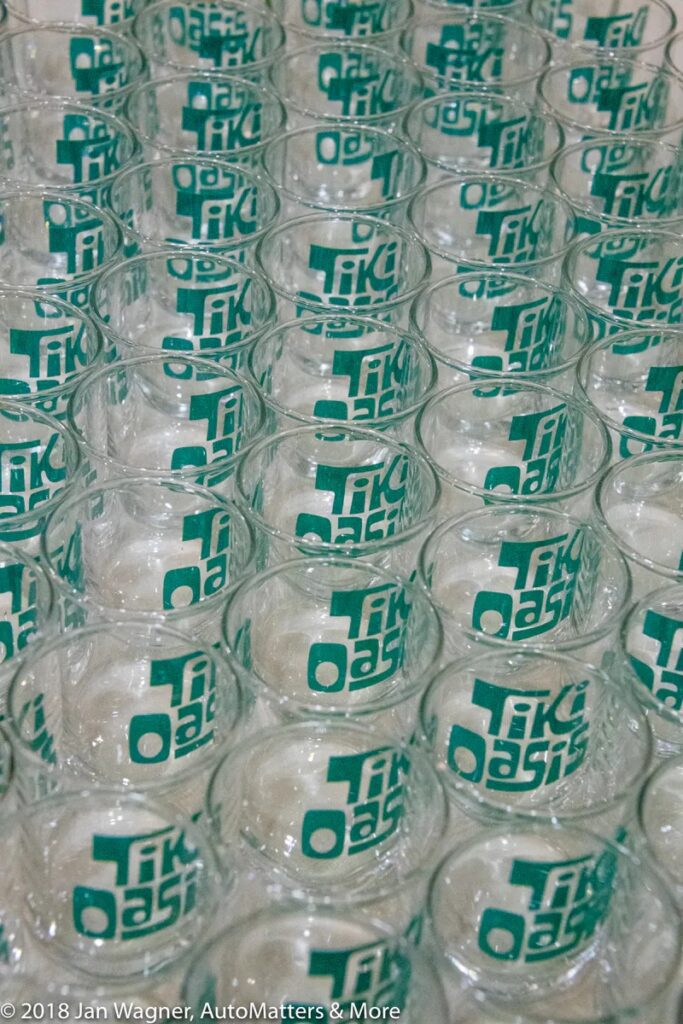 – Beverage tastings.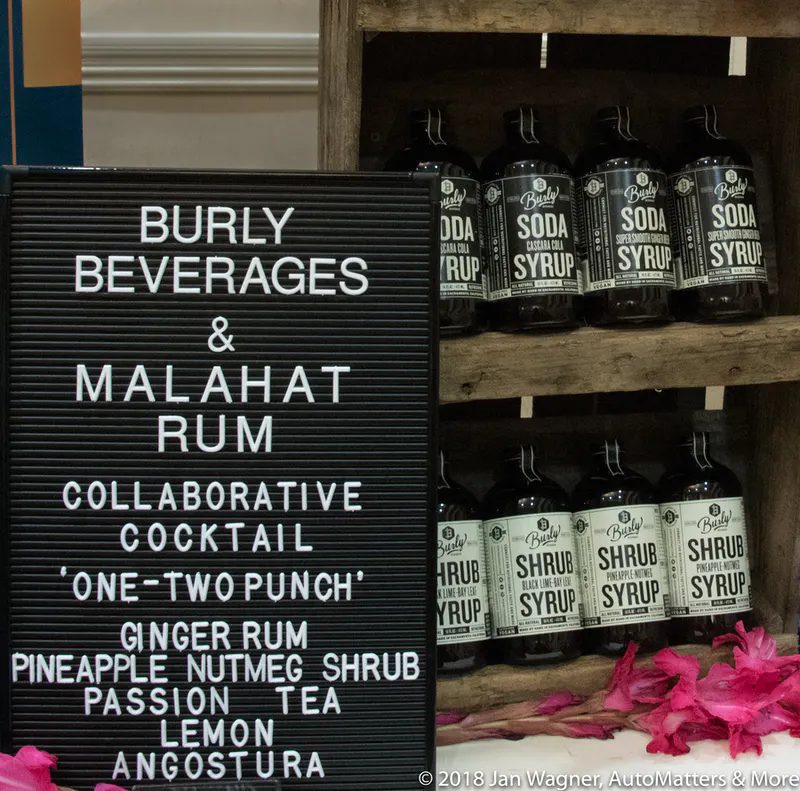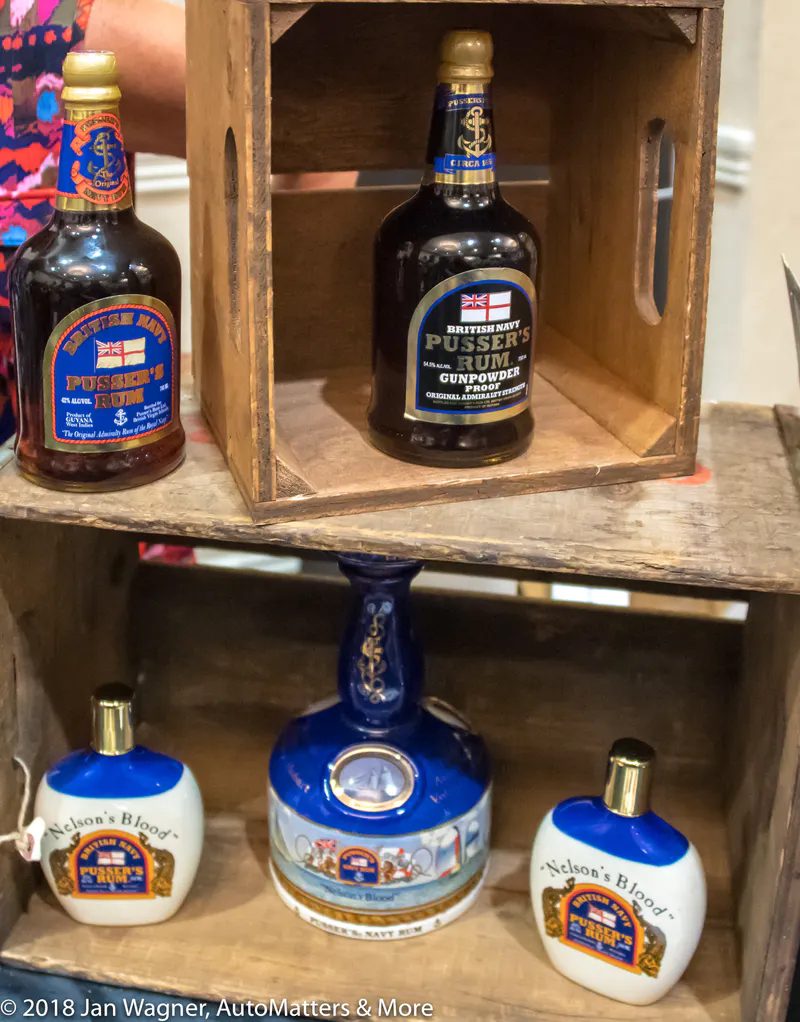 – One of my favorites: non-alcoholic, concentrated fruit flavorings by Liquid Alchemist (www.liquid-alchemist.com).
… hula dancing instruction, Polynesian-themed dining, several indoor and outdoor marketplaces featuring Tiki- and Polynesian-themed merchandise…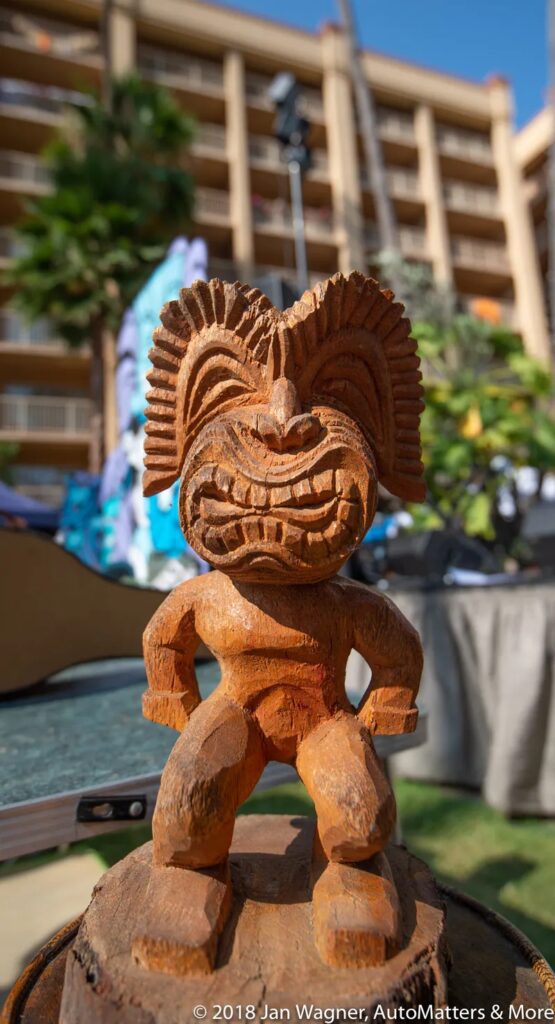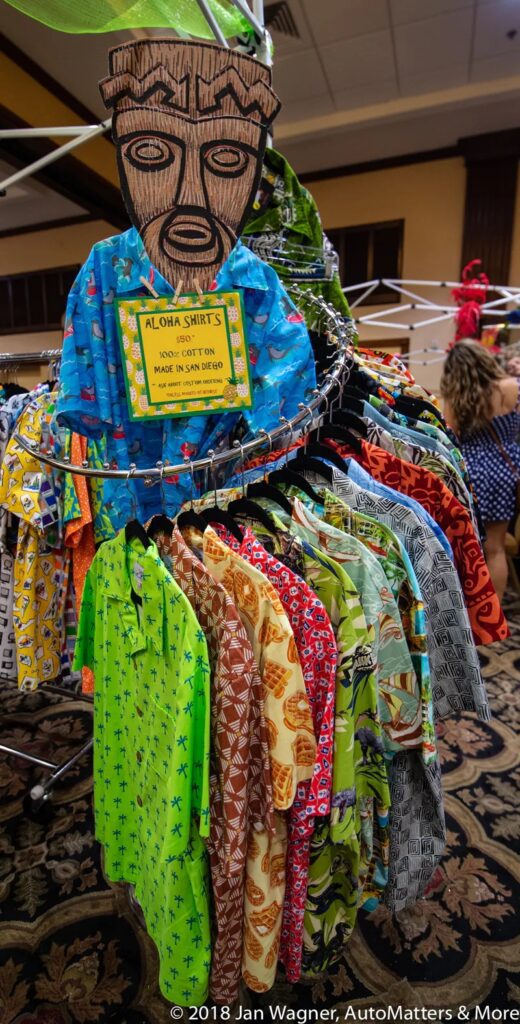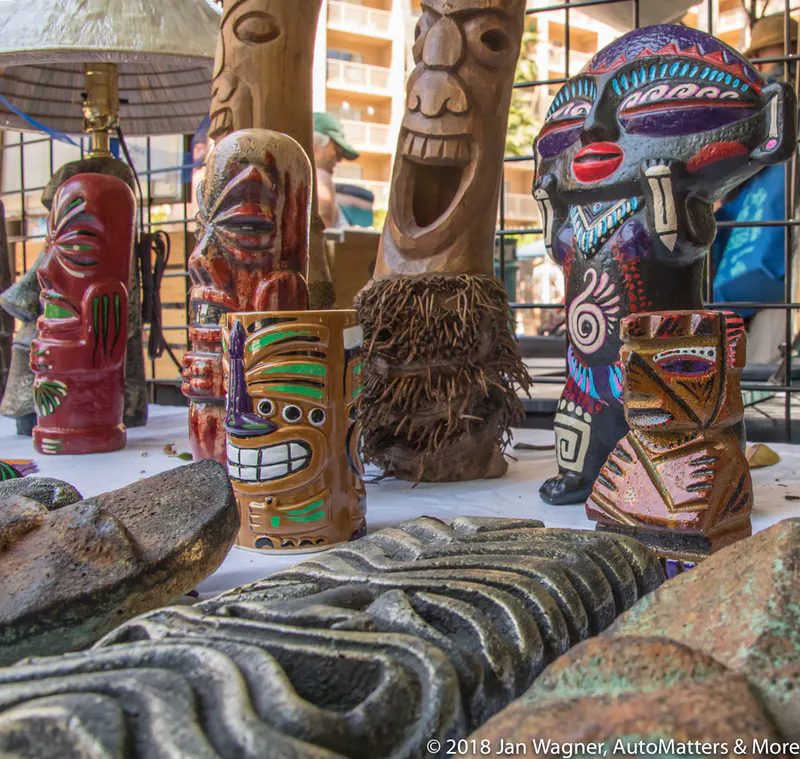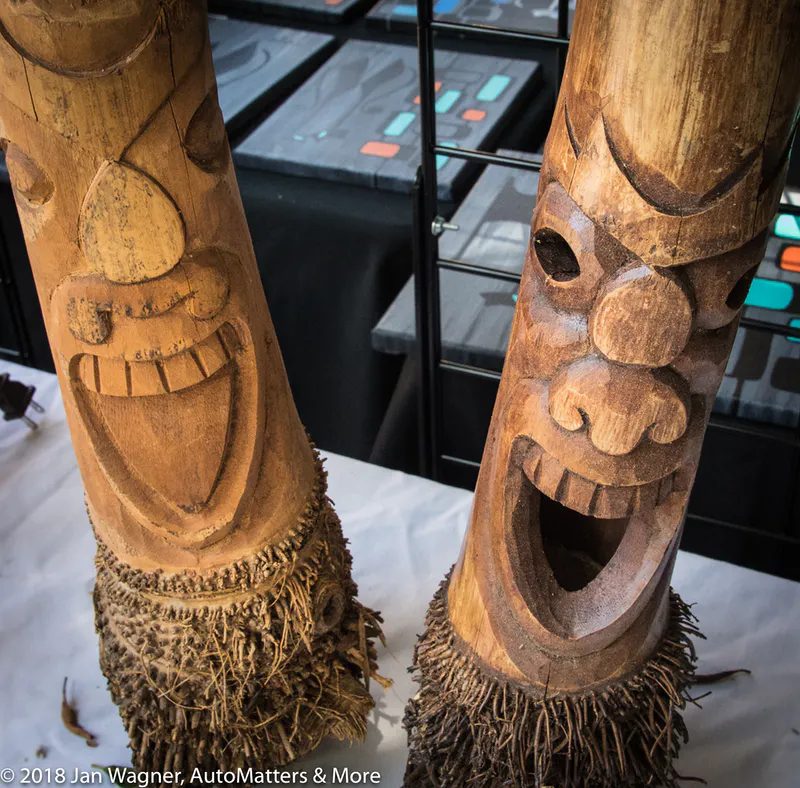 … activities for kids, two midnight burlesque shows, the entertaining Tiki Oasis Bartender Battle (with samples!)…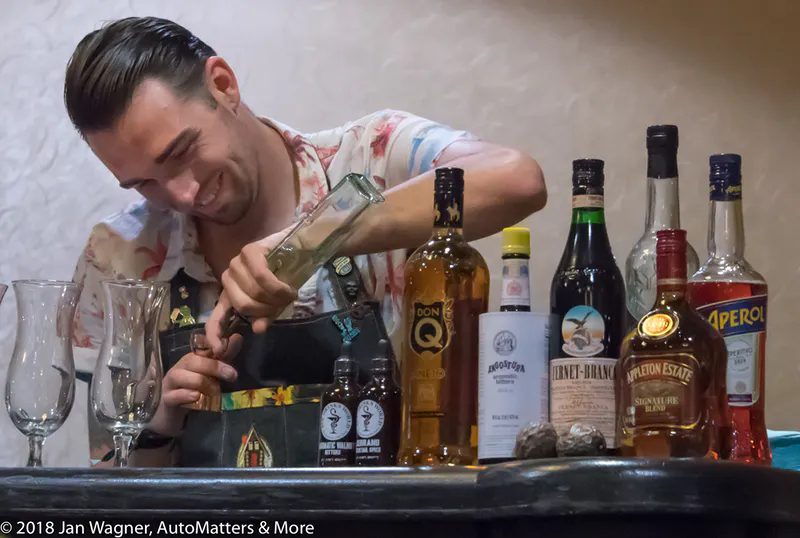 – Tiki Oasis Bartender Battle.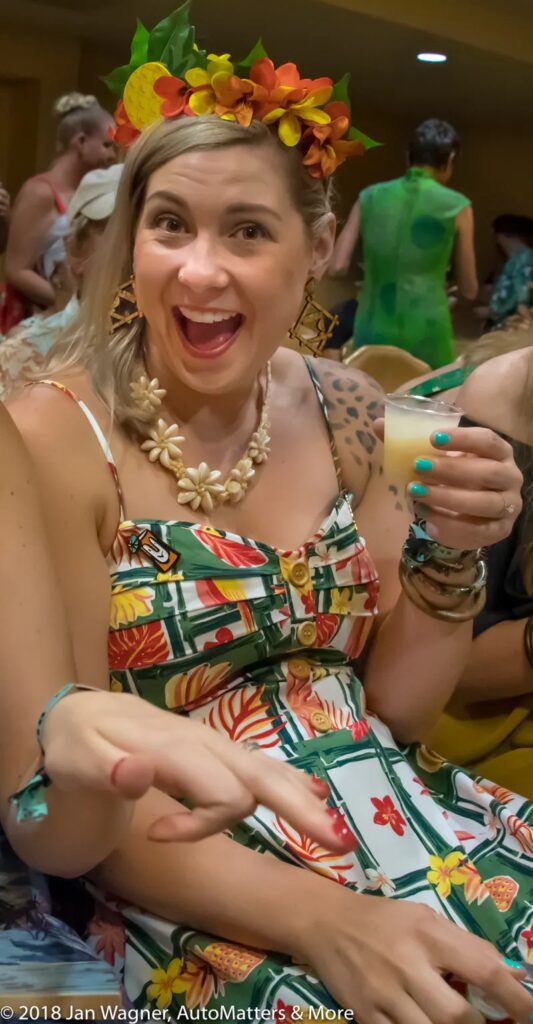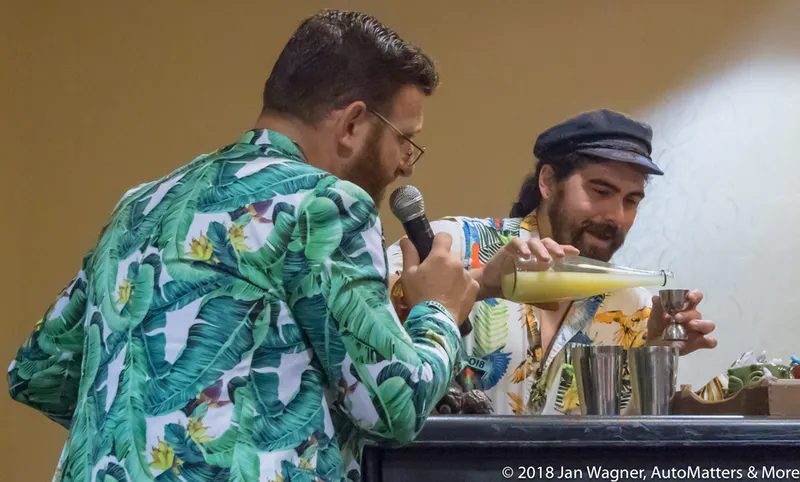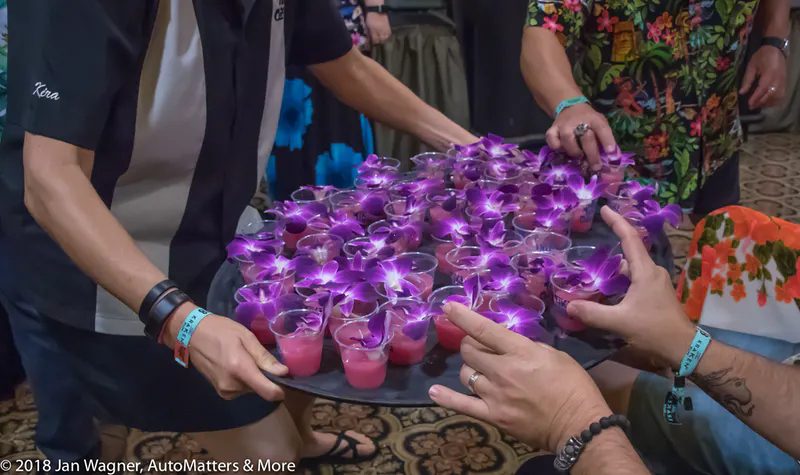 – Samples for the audience.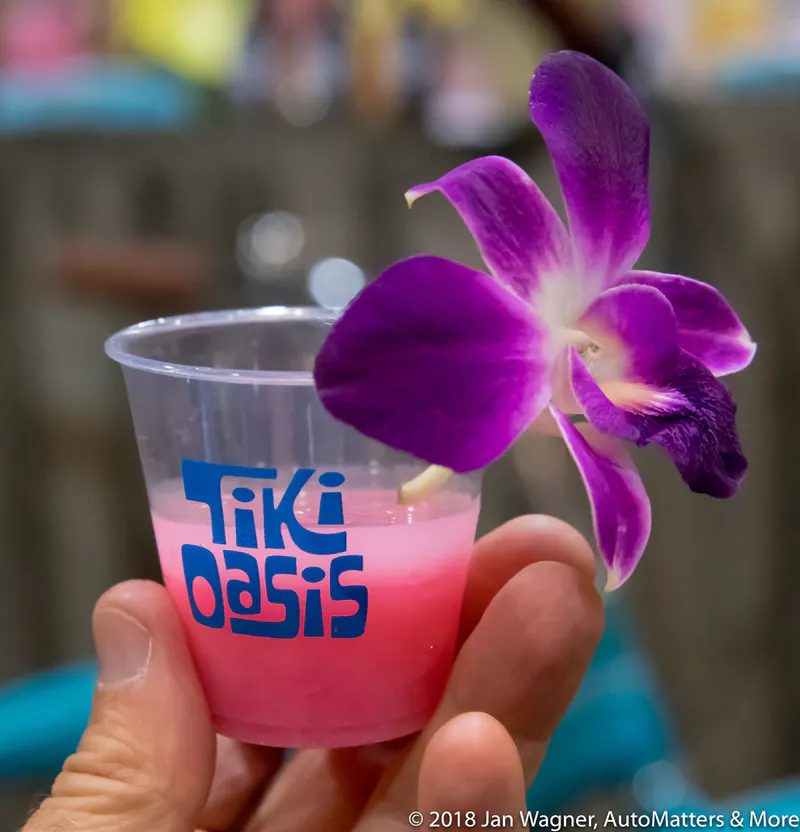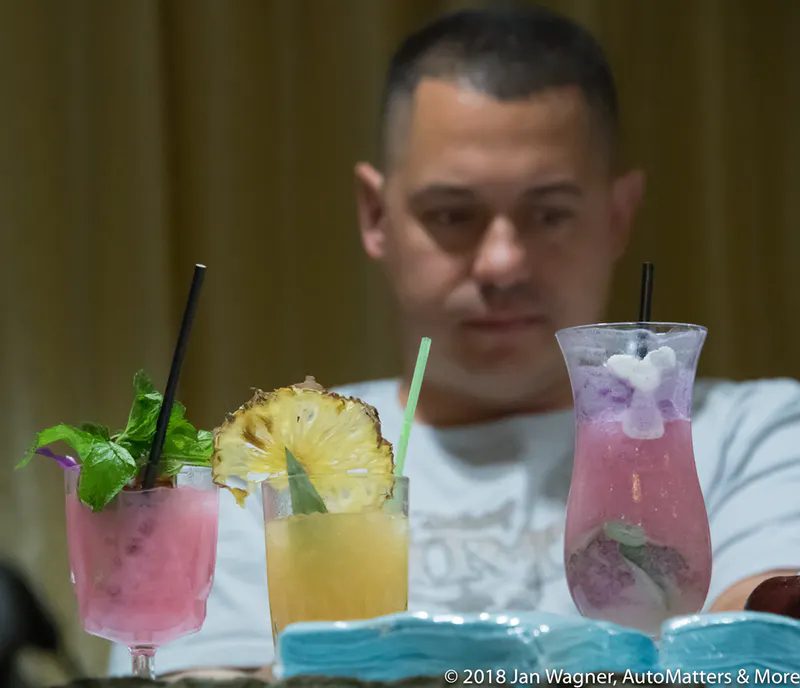 – One of the judges deliberating.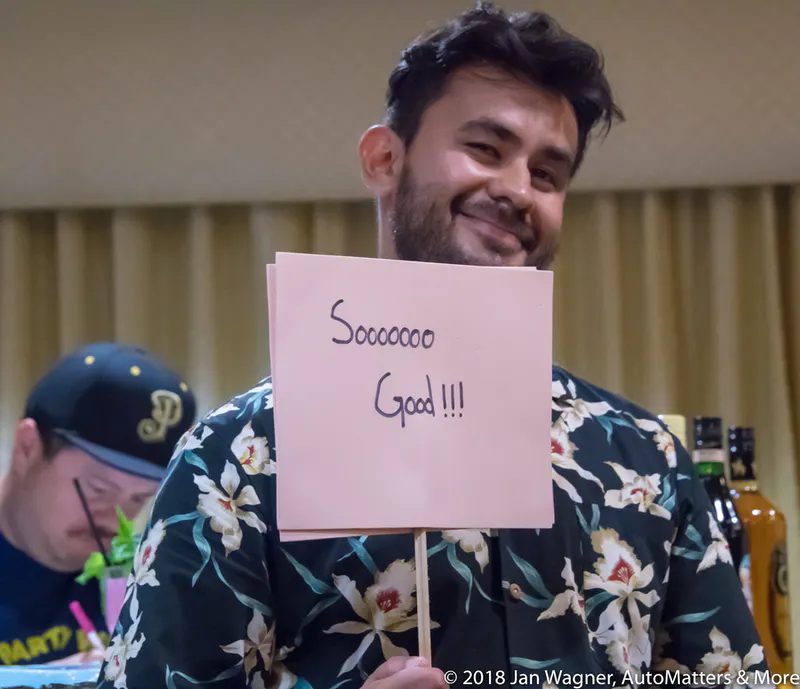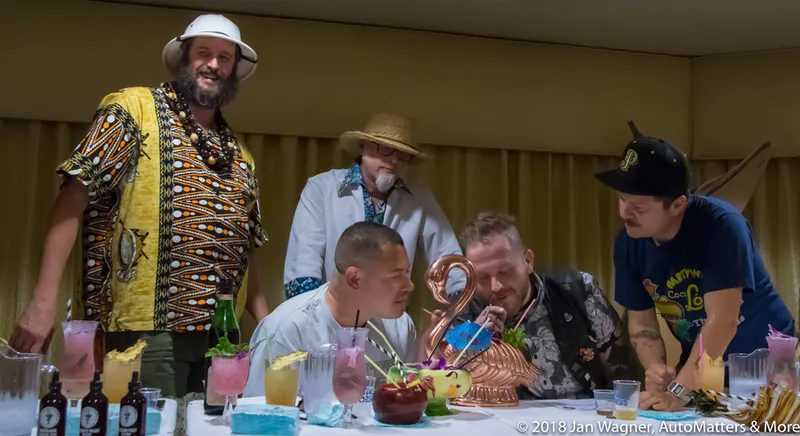 – The esteemed panel of judges.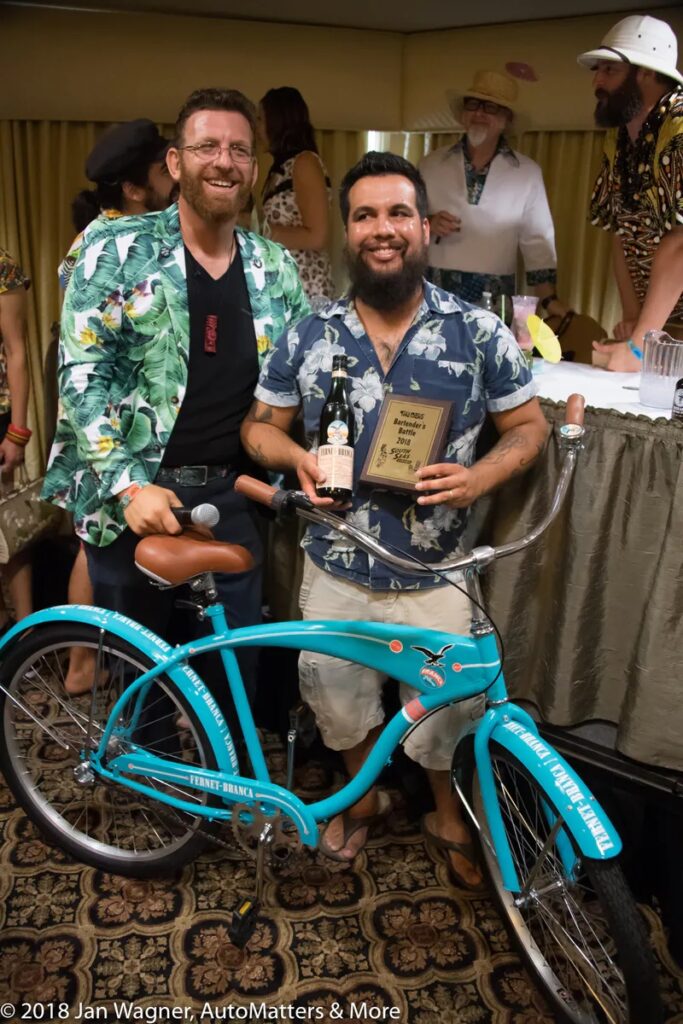 – The proud winner of Tiki Oasis Bartenders' Battle 2018.
… a ukulele jam session, costume contests…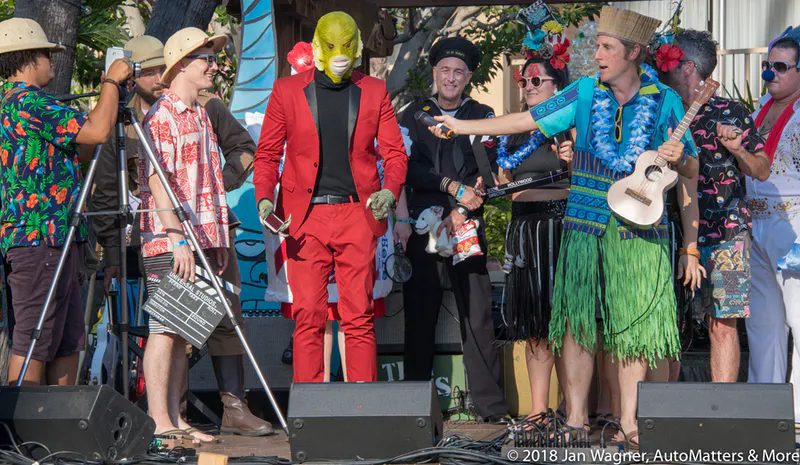 – Costume contest entrants.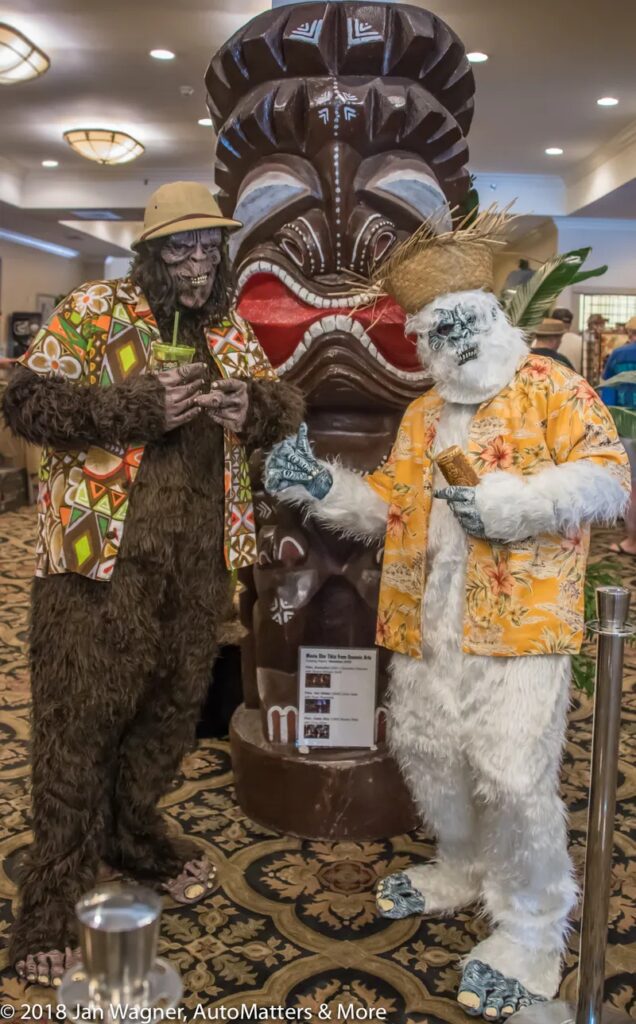 – Not costume contest entrants but great costumes nevertheless.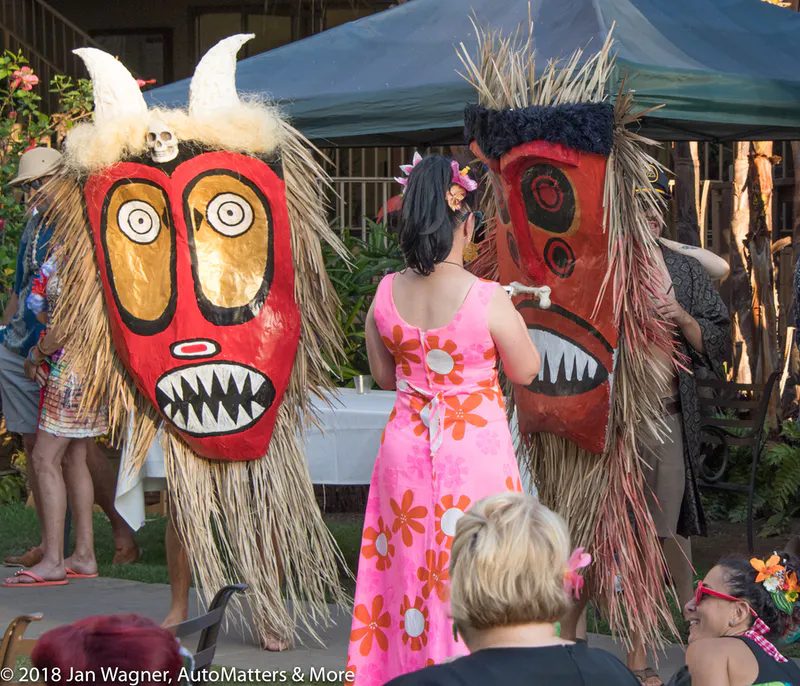 … and many interesting and informative symposiums.
One of my favorite symposiums was a comedy travelogue slide show comprised of family vacation slides taken in Disneyland's early years, with laugh-out-loud commentary by showman extraordinaire Charles Phoenix – mid-20th century automobile enthusiast and expert on Americana. For his upcoming tour dates, visit www.charlesphoenix.com.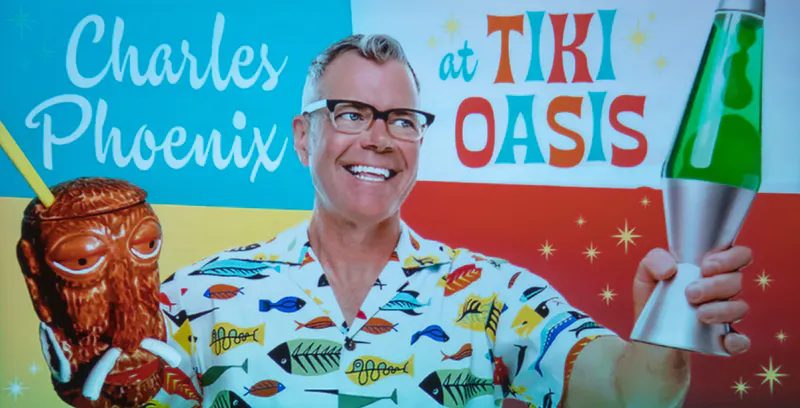 – Charles Phoenix, authority on Americana.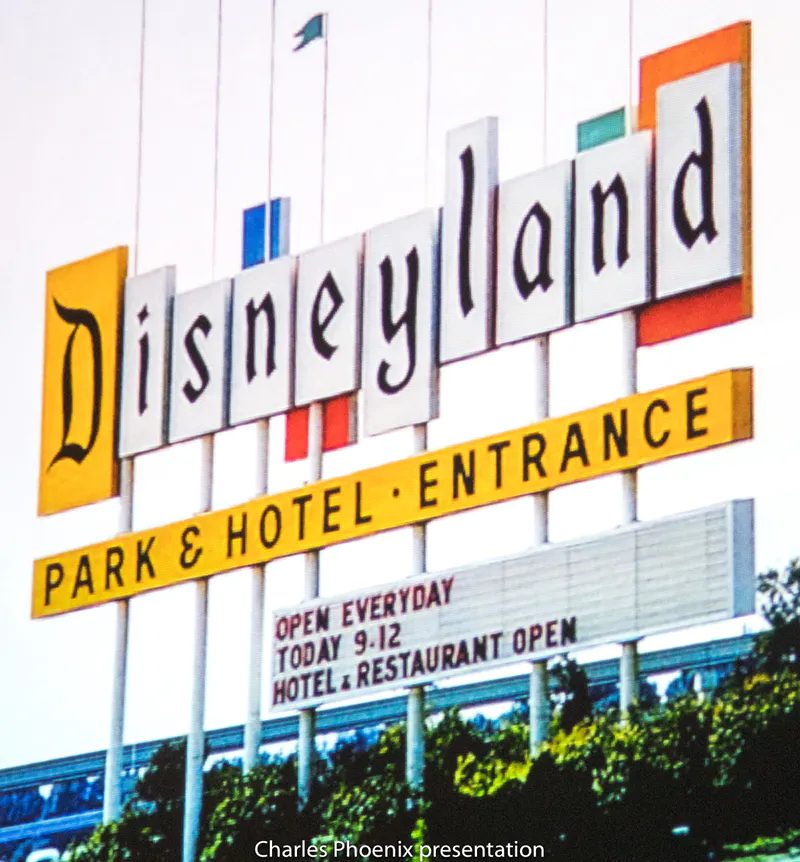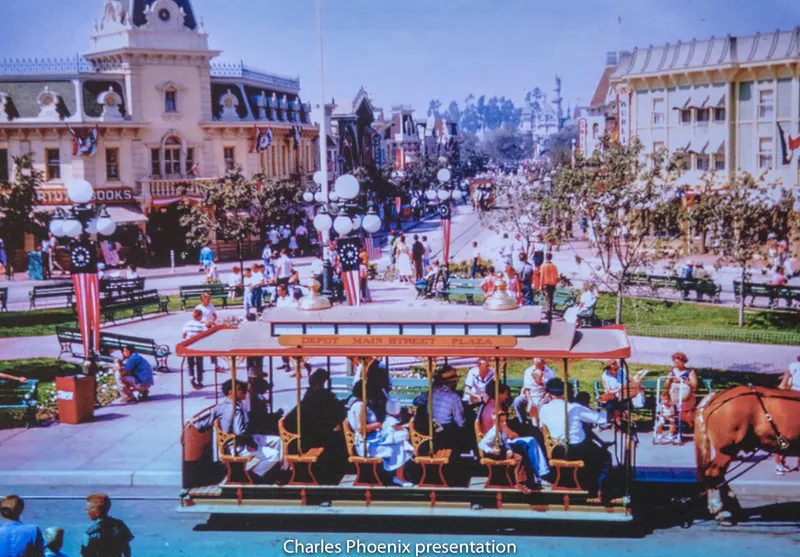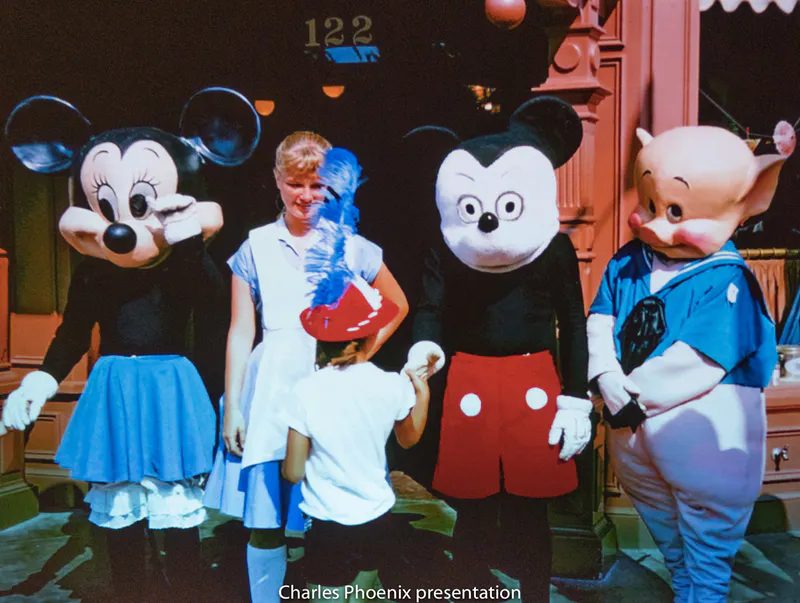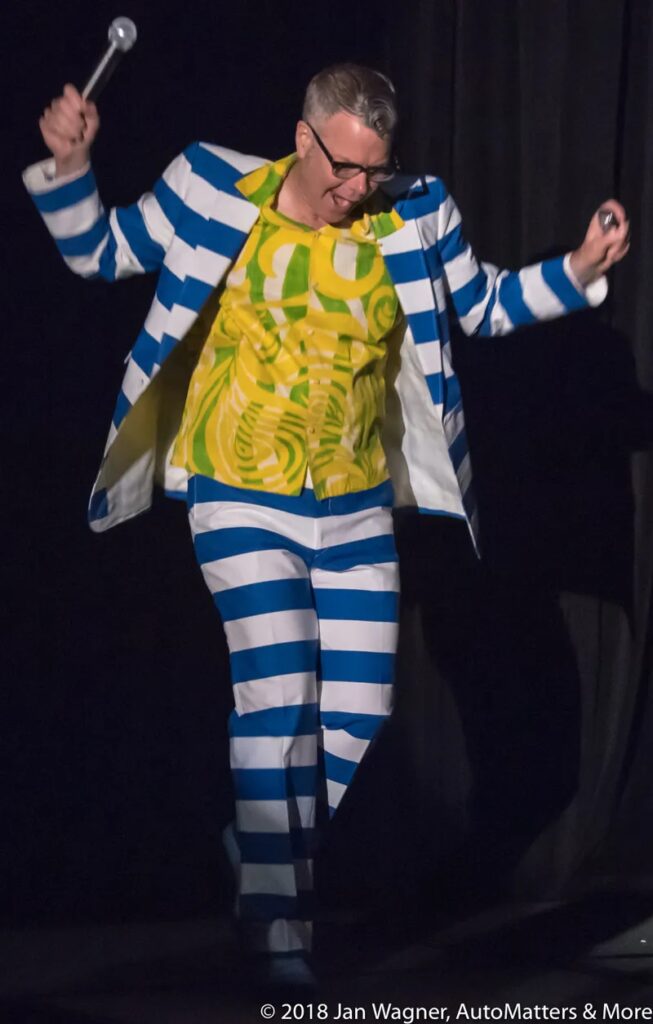 – Aside from his great sense of humor and his timing of punchlines, Charles is also known for his flamboyant suits.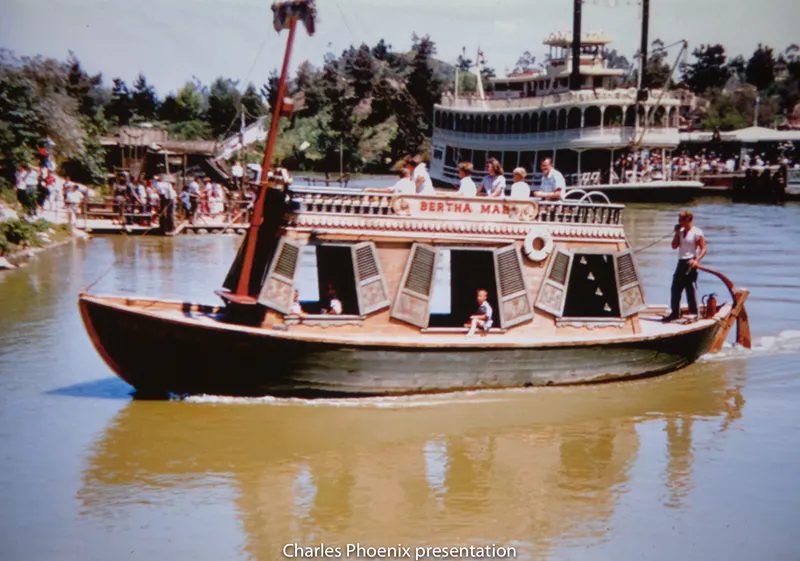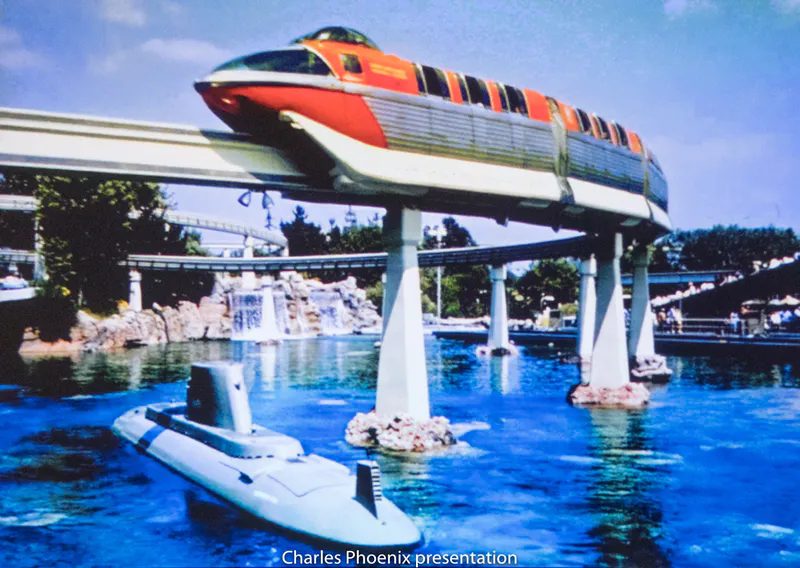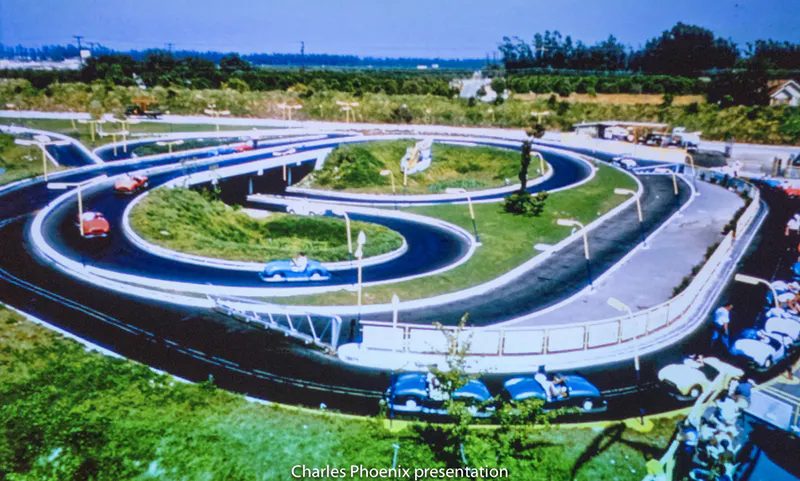 – Vintage Autopia at Disneyland.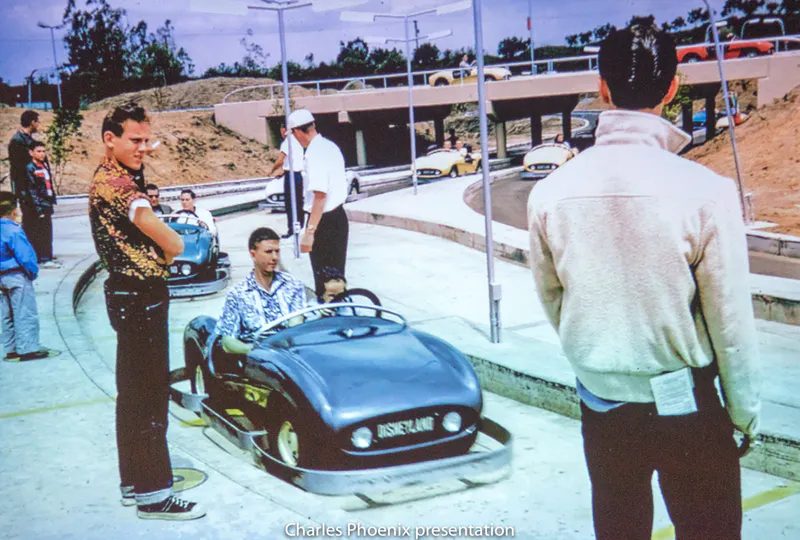 – Vintage Autopia at Disneyland.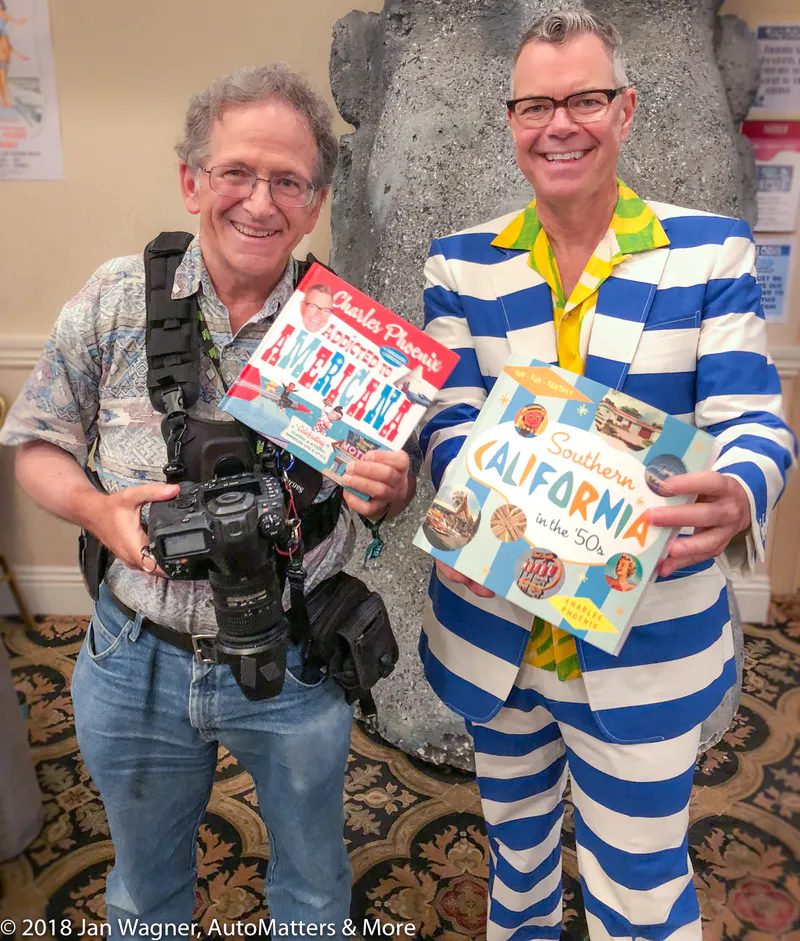 – Here I am with Charles and my two autographed books (yes, I paid for them!) (https://www.charlesphoenix.com).
Another symposium was aptly named "The Golden Age of South Seas Cinema," with Ron Ferrell. He is renowned for his extensive collection and knowledge of movies, music shorts, TV shows, commercials and photos of Tikis and the South Pacific. Included in his audio/visual presentation were numerous movie posters and rare, vintage movie clips.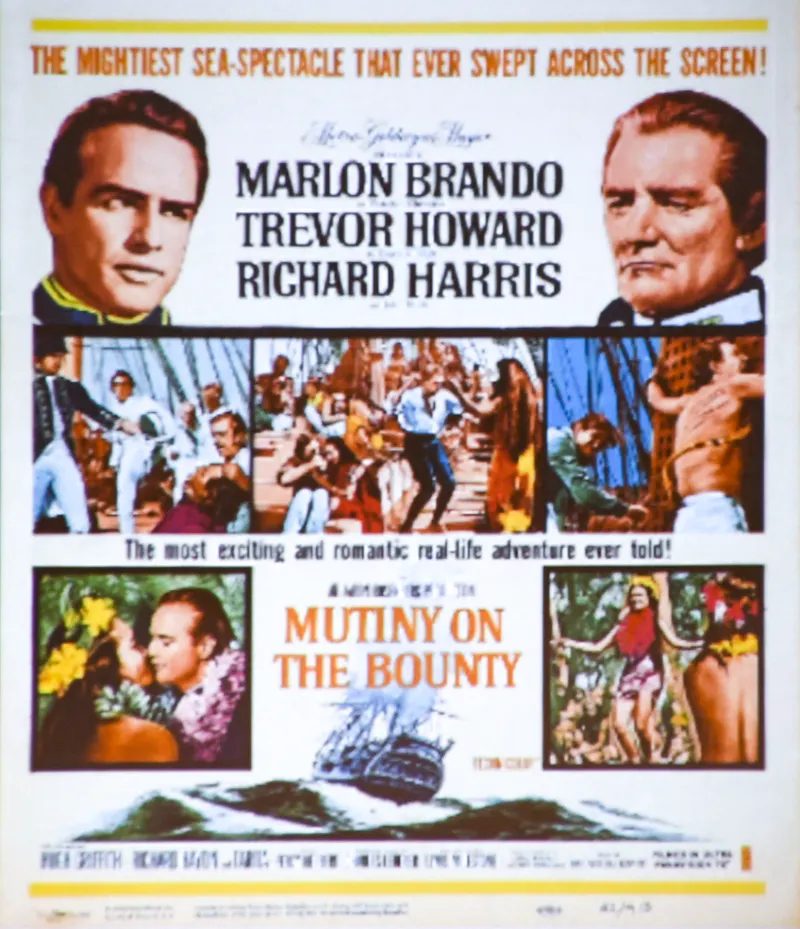 Movie and TV personalities and references in Luis I. Reyes' symposium, entitled "Hollywood Icons of Tiki Cinema," included Elvis Presley, Harrison Ford and Tom Hanks, along with TV shows "Hawaii Five-O" and "Magnum, P.I."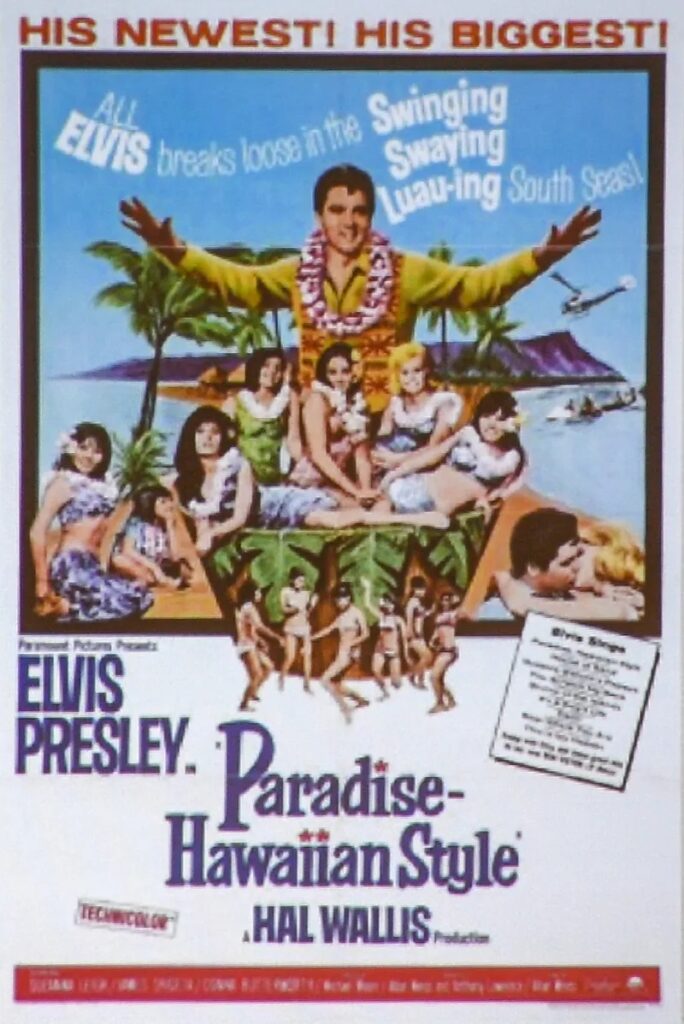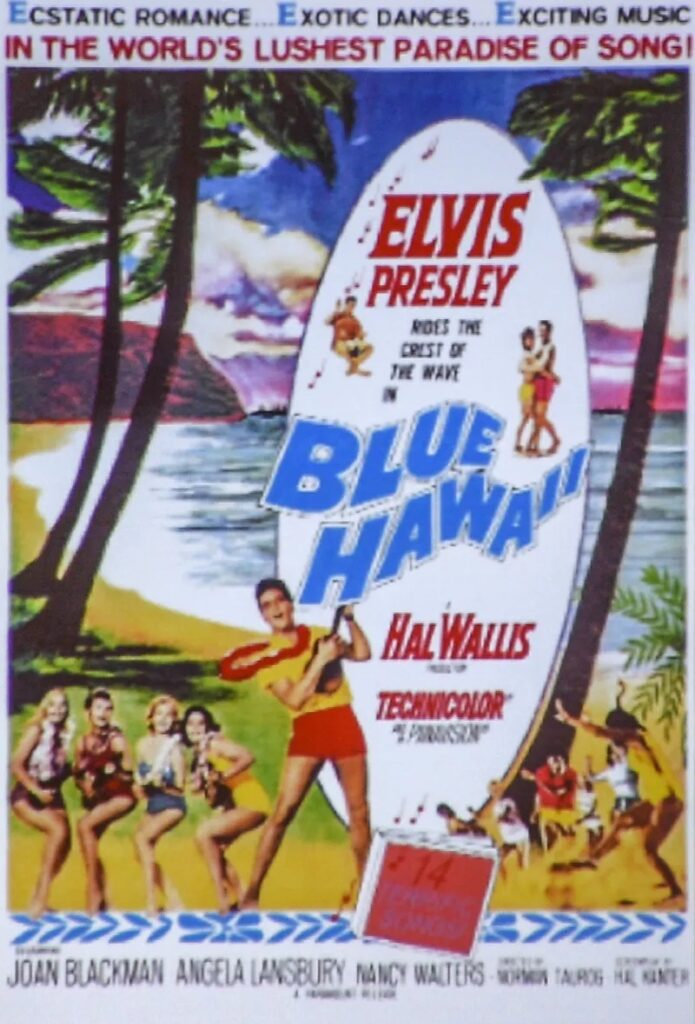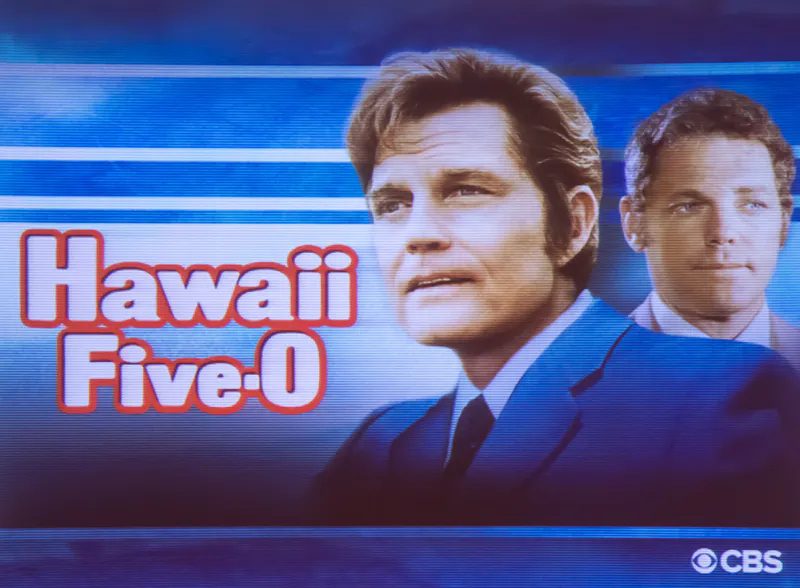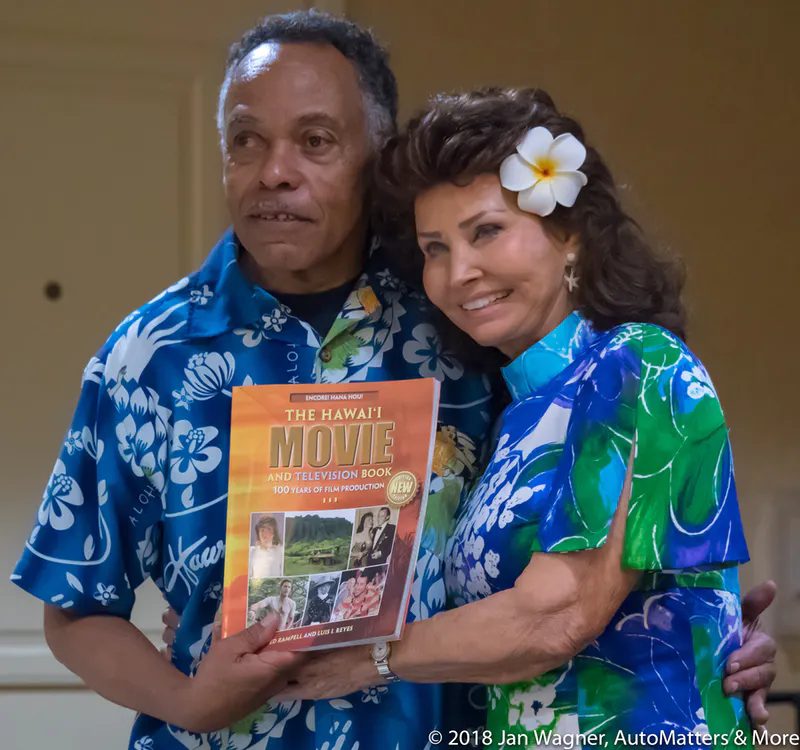 Children's entertainment included their own Tiki Tot Tour let by King Kukulele. Kids asked questions of several large Tikis – and got answers!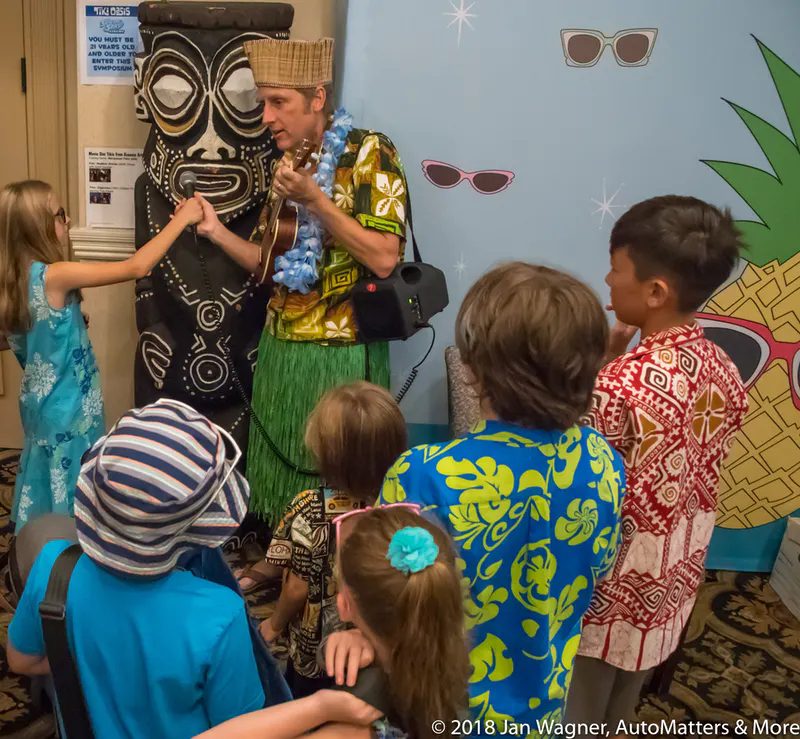 – Kids asked Tikis questions and got answers!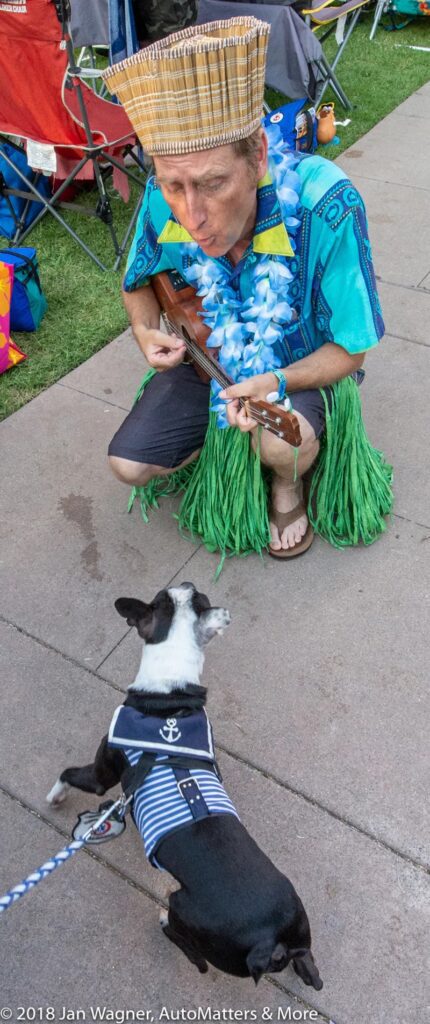 – King Kukulele with an audience of one.
Mark your calendars now for Tiki Oasis 2019, Aug. 7 – 11 in San Diego, California. Its theme will be Catch the New Wave! – "like TOTALLY TUBULAR, DUDE!"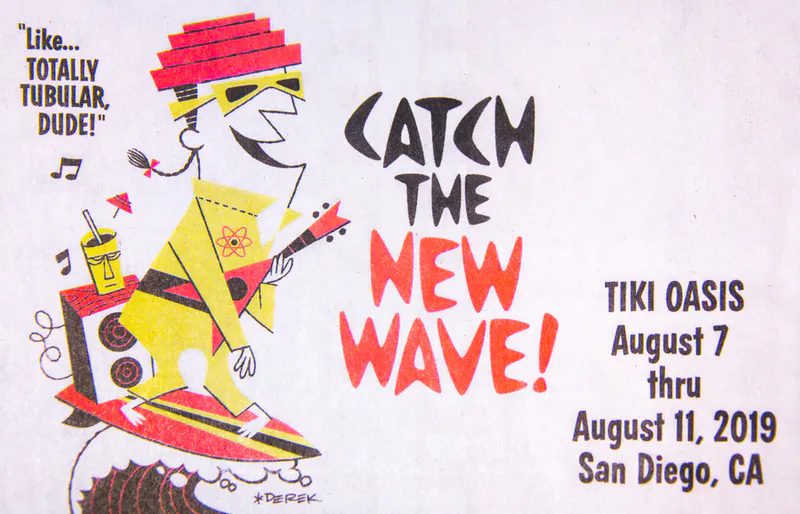 – Tiki Oasis 2019.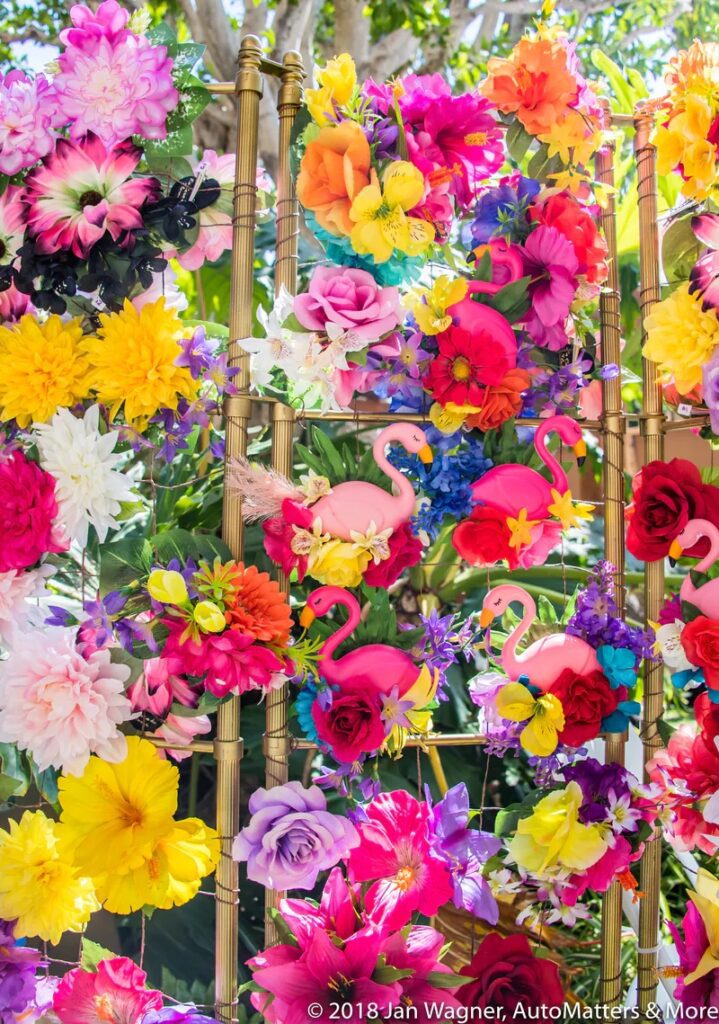 COPYRIGHT © 2018 BY JAN WAGNER – AUTOMATTERS & MORE #554R2