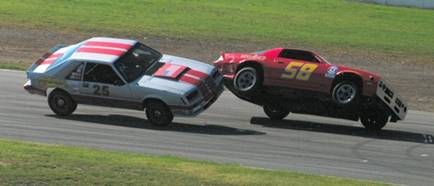 Fun at 2004 California AUTOFEST
Just when I thought I'd seen – or at least heard about, most every exciting form of organized automobile racing, yet another one has come along. The one that I've reported on most recently is drifting – perhaps the fastest way humanly possible to wear out perfectly good sets of tires (I'm sure it is no coincidence that Yokohama and Dunlop are involved in this madness). The thick clouds of tire smoke may also be an effective way to kill mosquitoes. Whatever. Enough about drifting. Today I'm here to tell you about extreme racing. Have you heard of it yet? If not, you're in for a real treat. I'll get to that in a minute, but first I'd like to tell you a little bit about where and when I discovered it.
I expected the event to mostly be a big car and vendor show, as well as an opportunity to drive a few pace laps around the NASCAR track at California Speedway. It was an annual event called the California AUTOFEST. I had not been before, so when I was asked to add my car to a vendor's display, I decided to brave the anticipated high heat in my un-air conditioned Miata Club Sport and drive up to Fontana to check it out.
I should have known that this would be much more than just another car show. The organizers previewed this year's California AUTOFEST quite well when they summed up last year's version by saying: "this ten-ring circus of all things motorized featured a phenomenal range of high-performance vehicles and action events." Absolutely.
In addition to exhibitions of extreme racing, the range of things to see and do included: plenty of cars, trucks, motorcycles and custom boats; charity and silent auctions; tech seminars; live (and very loud) bands; Dunlop Tire drifting demos; opportunities to drive scale model RC cars; and even a fashion show!
Many interesting products were on display, including the "Carcoon," the "Outdoor Carcoon" and even the "Bike Bubble." Think of them as big, environmentally controlled plastic bags for car storage. If you'd like to learn more go to www.carcoon.com.
I have no doubt that there was even more to see and do but there is a limit to how much heat I will endure in the pursuit of automotive fun. Man, Fontana in the summer is H-O-T! I'm from the land of ice and snow (Canada). I don't like heat. Nevertheless, I'm very glad I went and heartily recommend this annual event. You might want to bookmark the event's Website for future reference: www.thecaliforniaclassic.com. Hopefully next year it will not be held in the peak of the summer.
One really nice thing about California Speedway for a show like this is that it is HUGE. That fact enabled the organizers to separate out the really noisy things (like the bands) from the vendor and car show areas, and also to have enough room to do really good, on-track exhibitions of drifting and extreme racing. Free and frequent shuttles were available to take people from place to place.
Well, I've probably teased you with extreme racing long enough, so here it is. As it is described on the XRL Extreme Racing League Hollywood Website (www.extremeracingleague.com): "Hollywood meets drag racing in the Extreme Racing League." I think this is actually a twist on the auto thrill shows that I remember going to many years ago.
Do you remember them? Joie Chitwood's was perhaps the most famous, but there were others, too. Daring (insane?) stunt drivers used to accelerate up ramps and then leap through the air in cars, jumping over other vehicles (and assorted big objects) before landing. They'd drag daredevils wearing harnesses and then release them to slide perilously through rings of fire and even, as I recall, through boxes rigged with explosive charges (the Department of Homeland Security would surely love that). They'd defy the laws of physics by getting way up on two wheels and then hold it there for what seemed like an eternity without rolling over, as the audience held their collective breath in awe of the driving skill on display.
Last night on TV's TNT (Turner Network Television), I watched a tape delayed, two-wheeled version of one of these shows. Robbie Knievel, son of the legendary Evel Knievel, successfully jumped over several parked military airplanes on the deck of the decommissioned USS Intrepid aircraft carrier, turned floating museum, in New York Harbor (for information on the Intrepid Sea, Air & Space Museum and its incredible collection, which includes an actual Concorde, visit www.intrepidmuseum.org). Then I enjoyed a new, made-for-television movie about Evel Knievel.
Such is the history behind extreme racing, which takes some of its elements from these stunt shows and then doubles the action by adding racing to the mix. Do you think I'm exaggerating? Hardly. Take a look at the occupations of the first few drivers profiled on the XRL Extreme Racing League Website: Professional Stuntman, Stuntman, Stuntman, Stuntman (and Panoz Racing Instructor) and Stunt Performer. These guys – and gals, are really good. The points leader going into the round I saw was a woman!
By their own description, "the XRL's Pro Extreme class is a sprint race between two cars involving obstacles and stunt driving skills. As auto racing goes, the XRL involves fast acceleration, cornering, braking and ground pounding. And like no other form of auto racing, the XRL involves a considerable degree of trick or stunt driving elements."
"THE START: Two cars paired up on starting line. Flag start."
"THE TAKE OFF: Cars accelerate for 75 feet and ″slalom″ through a chicane of 55 gallon barrels."
"THE STRAIGHTAWAY: Having cleared chicane, cars full throttle accelerate down the track for 400 plus feet…"
"THE 180 BARRELS: In each car's lane is a single barrel. Cars do a 180-hairpin slide around respective barrels and race back the other way."
"THE RAMP: Enroute to the finish, cars must negotiate a ramp with either right or left side two wheels, depending on respective lane."
"THE FINISH: One hundred feet from the ramp is the finish… Each lane has a suspended 10″ diameter rubber ″jolly ball″. First car to contact respective jolly ball is the winner. HOWEVER, 15 feet beyond each jolly ball is a wall of barrels… Cars may not knock any of these barrels over. To do so is to be DQ'd/DNF'd and the slower car gets the win for that run."
Extreme racing is a real hoot to watch. I liked "THE RAMP" the best. I swear the cars came close to rolling over – sometimes side-by-side. You've got to see this for yourself. I want to see it again. Upcoming XRL extreme races in 2004 are scheduled to take place on the evenings of August 14th and Sept. 25th at Irwindale, and later at Willow Springs and the Los Angeles County Raceway. I say WAHOO!
The XRL Extreme Racing League is partnered with The National Veterans Foundation.
Drive safely and do join me again next time.
Copyright © 2004, 2006 & 2021 by Jan Wagner — AutoMatters & More #111r1