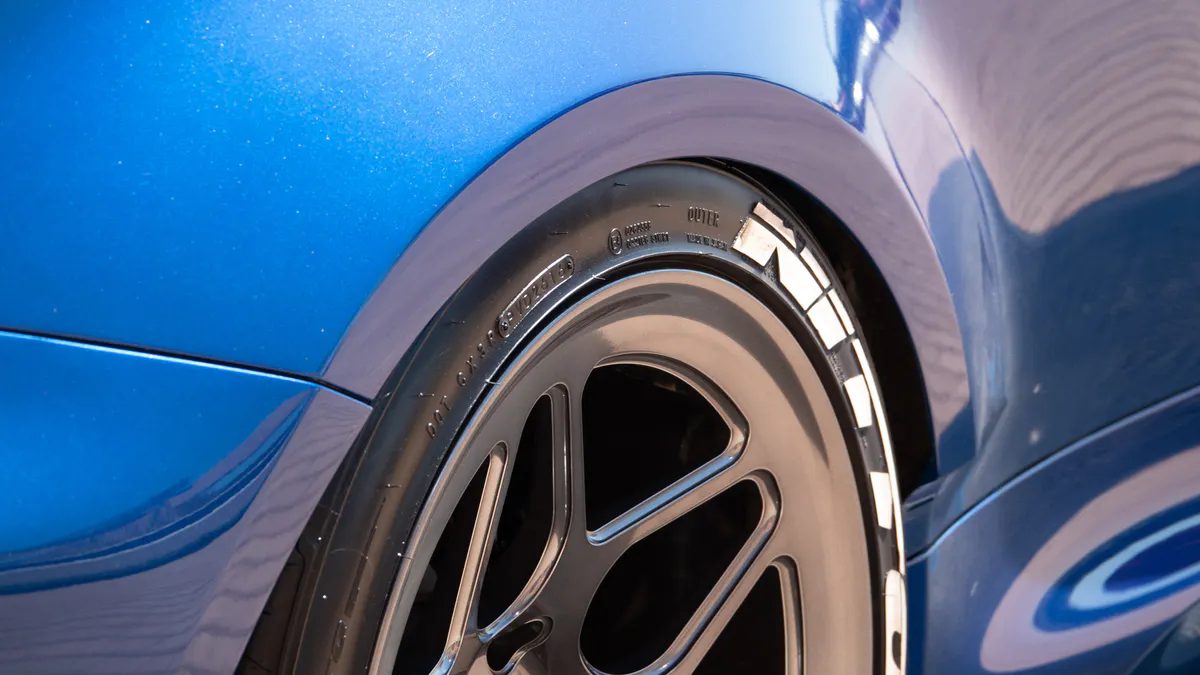 Lexus loads its bases at Angel Stadium of Anaheim, California.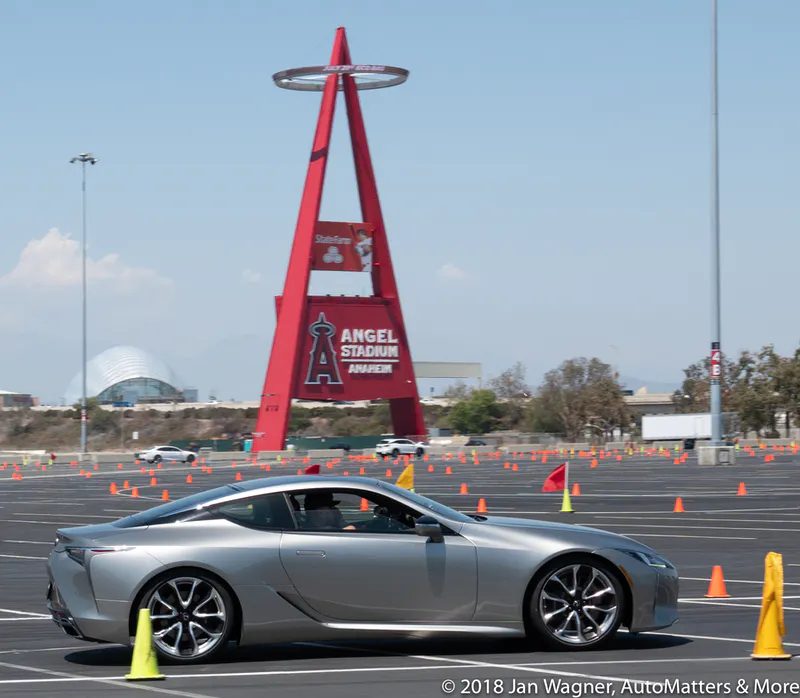 Our invitation read: "Test-drive the first-ever 2018 LS 500, 2018 LC 500 and several Lexus hybrids and SUVs at Angel Stadium of Anaheim. This is an exclusive event where you and a select few will get to be some of the first to experience the new era of Lexus performance, craftsmanship, hospitality and active safety technologies for yourselves, on thrilling driving courses you won't find anywhere else."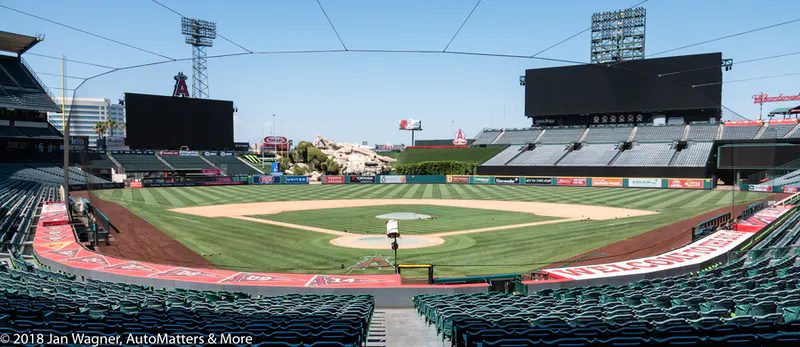 Pre-registration was required and the number of attendees was limited.
At the entrance to the stadium, bordered by two gigantic red baseball caps, several Lexus concept cars were arranged in a semi-circle.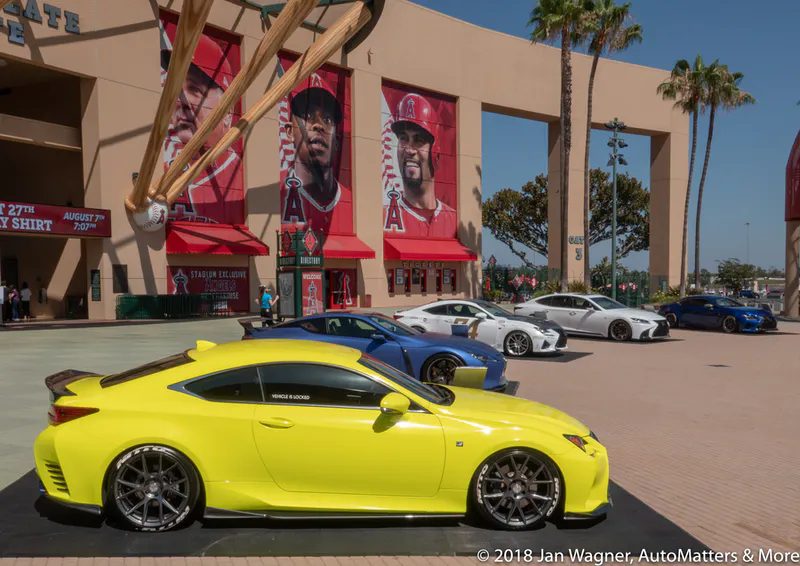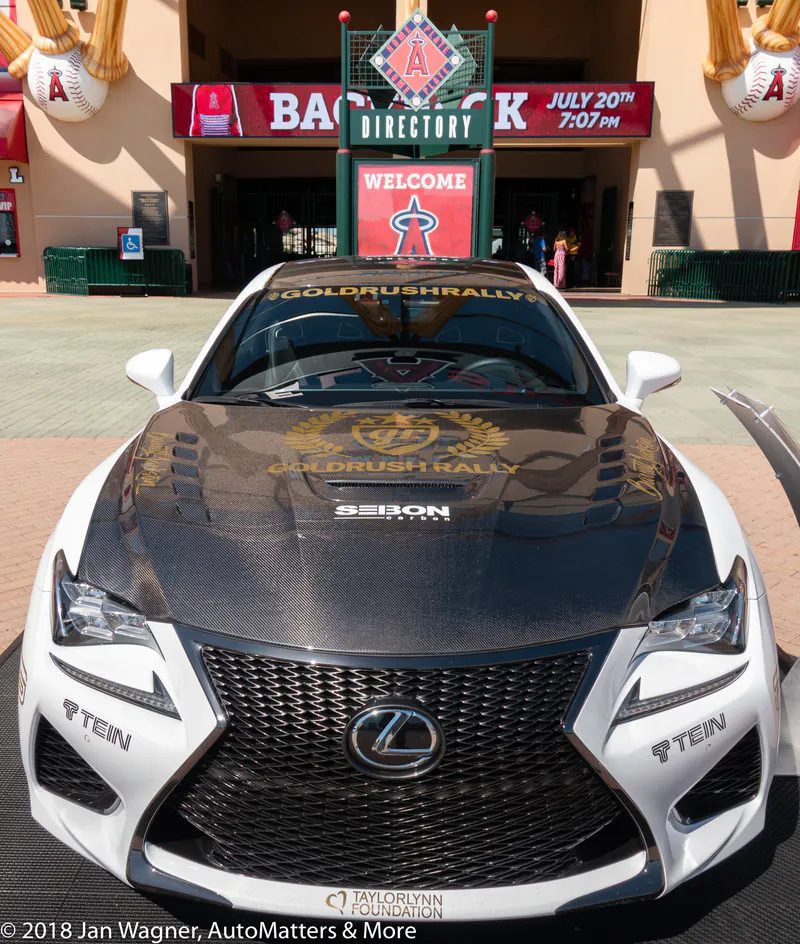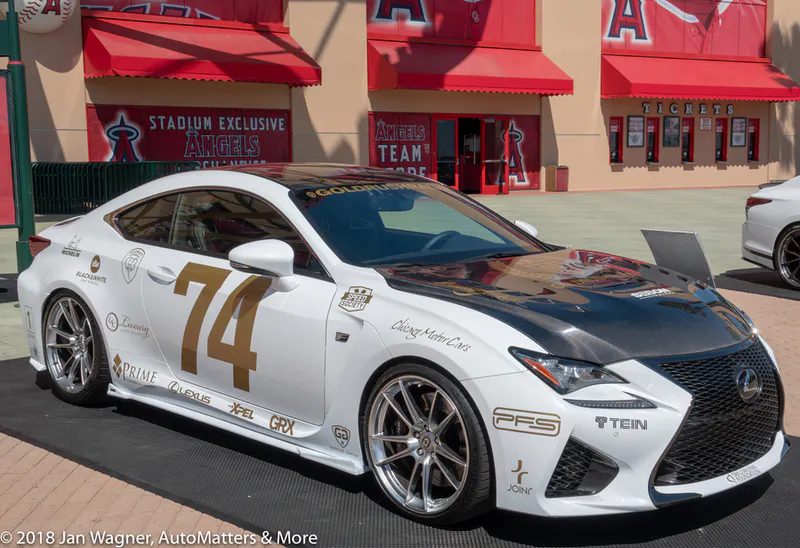 The check-in area was inside the air-conditioned stadium, where a video showed us the extreme attention to detail paid by the workers at a Lexus factory.
From there we were directed into a presentation room where we watched another video. The Lexus lineup included LS, LC, RCF, GSF and NX models.
Our enthusiastic host briefly described the stations that we would soon experience outside: Flagship Drive (2018 Lexus LS), Lexus Safety System, Performance Drive (2018 Lexus LC, RC F and GS F) and Hybrid Drive (2018 Lexus LCh, LSh, NX 300h & RX 450hL).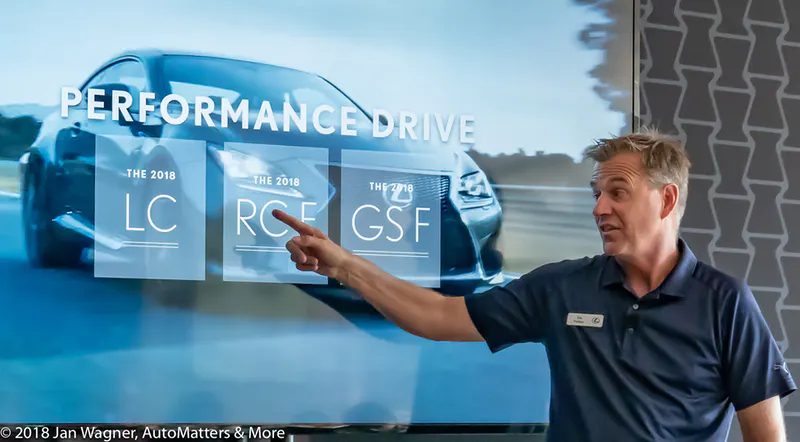 FLAGSHIP DRIVE
Following our introduction, we were led out to two long rows of Lexus LS 500 and LS 500h flagship sedans.

Inside each car was a walkie-talkie, from which were broadcast instructions as we were led – follow-the-leader style – in our "Flagship Drive" around a part of the stadium's sprawling network of parking lots, to experience how these luxurious automobiles performed in simulated street drive situations.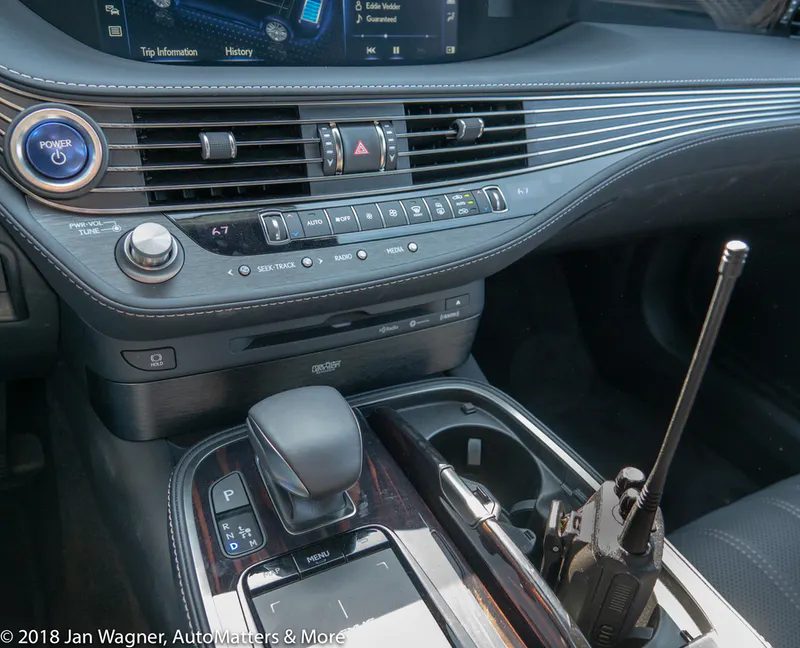 Starting at $75,000, they are powerful, comfortable, spacious and very well equipped.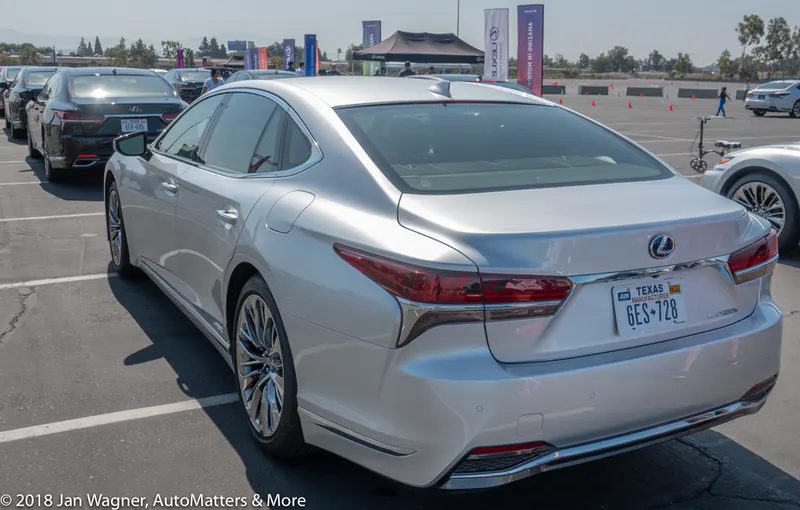 LEXUS SAFETY SYSTEM
At this station, a Lexus representative in the driver's seat demonstrated the car's 360-degree cameras and sensors technology, engineered to alert drivers to nearby traffic, pedestrians and other objects.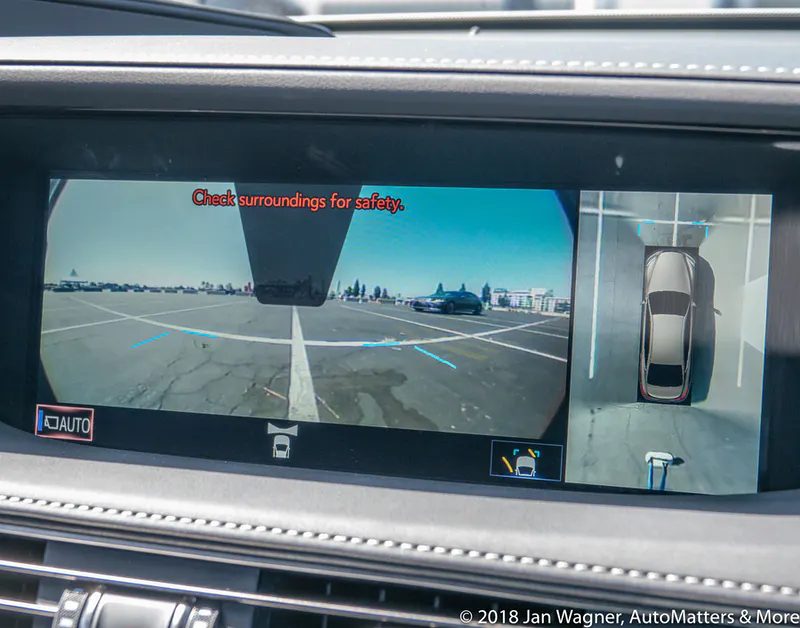 Near the front passenger side of our vehicle, a tall artificial hedge blocked our view, but our car's cameras and sensors alerted us to approaching cross-traffic.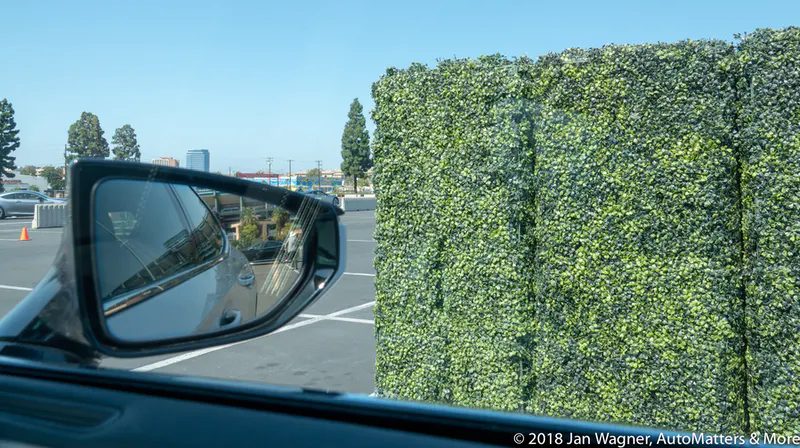 In another demonstration, our Lexus was shifted into reverse and began to backup. Behind us a mannequin simulated a pedestrian behind our car. When we got too close, Lexus safety systems kicked in. Warnings included three bright red "BRAKE!" graphics arrayed on the dashboard. Additionally, the Lexus will stop itself if the driver fails to do so.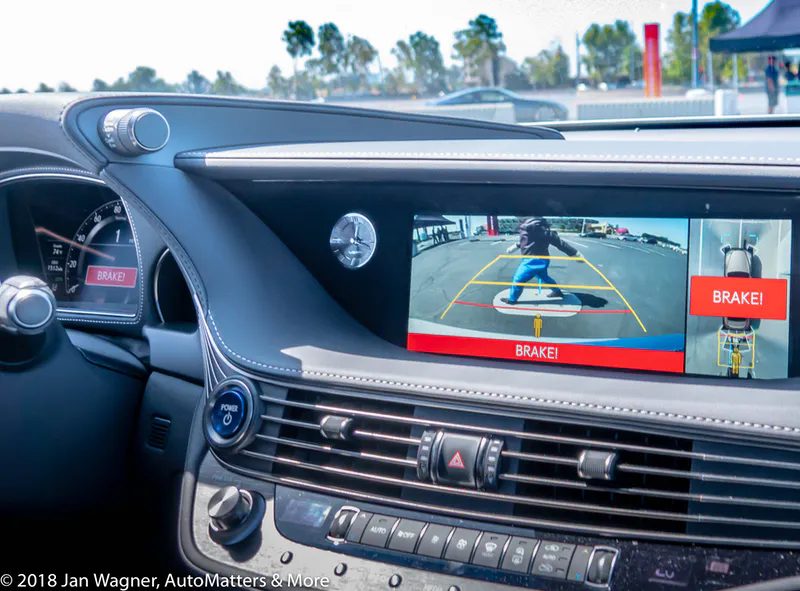 PERFORMANCE DRIVE
Lexus set up a long, moderately quick, pylon-lined autocross course to demonstrate the performance capabilities of the GS F four-door sport sedan, and the RC F and LC500 two-door coupes. We were given one opportunity to drive each.

First impressions, after a very brief time behind the wheel, are as follows: When driven aggressively, the GS F is a powerful, hard-charging performance sedan that would be right at home on the track. With its 467-hp V8, it is the most powerful Lexus sedan to date. Pricing starts at $84,350.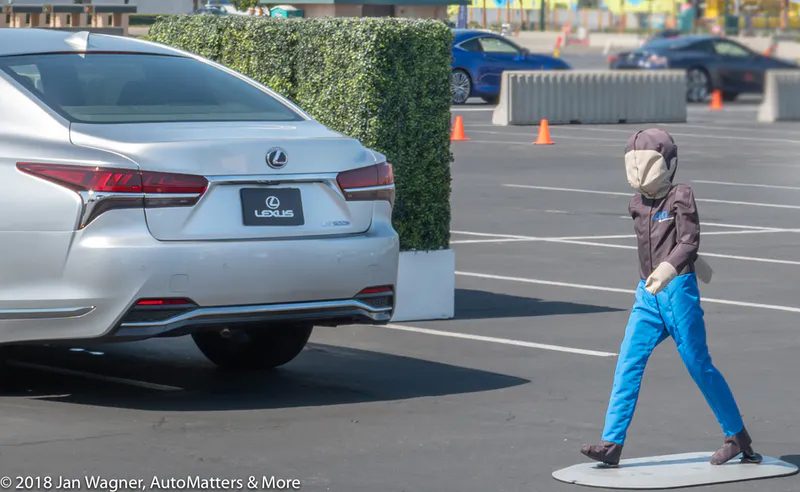 The LC500 is simply gorgeous. With its 471-hp 5.0L V8 and a 10-speed automatic transmission, it is truly a high-speed grand tourer.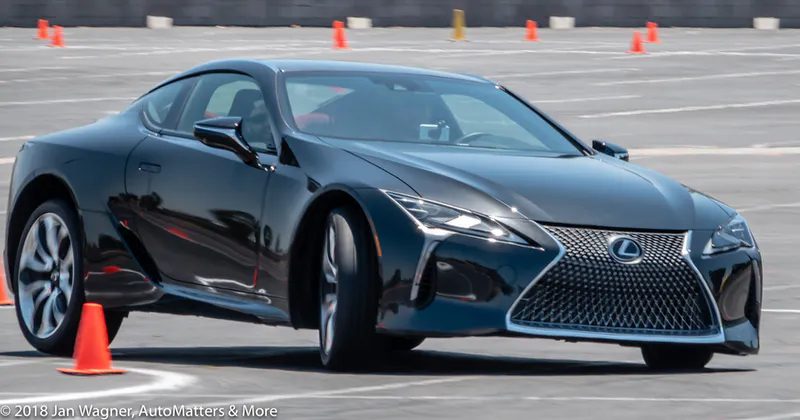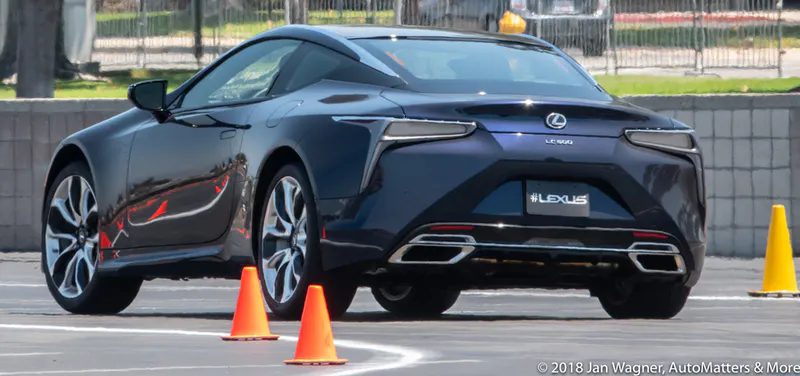 Like the GS F, the RC F has a 467-hp V8. Of the three cars, this one feels especially agile and responsive.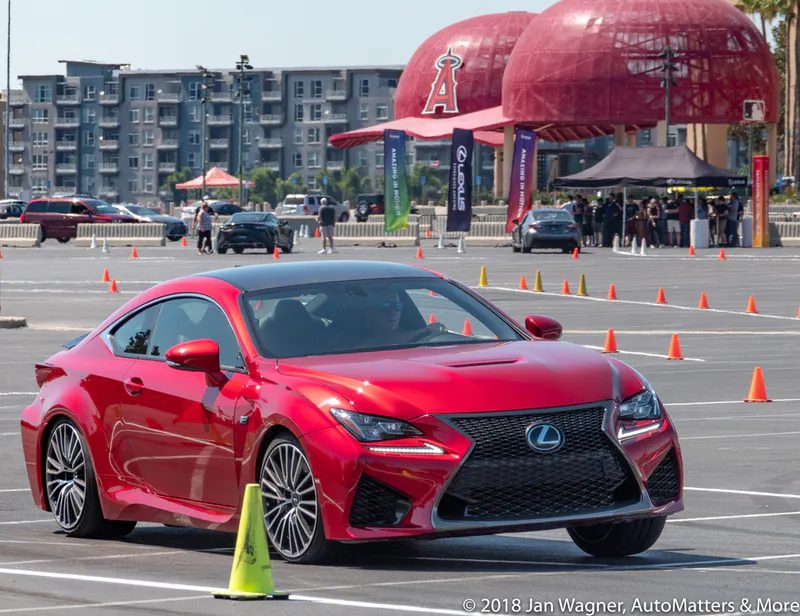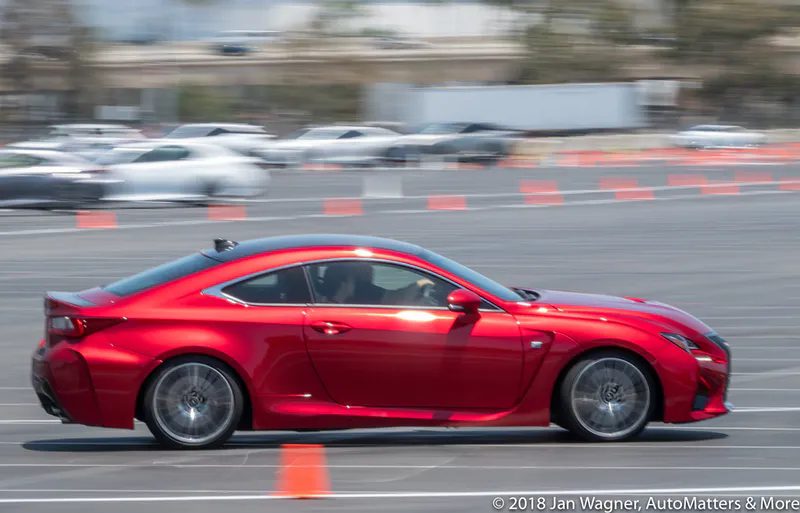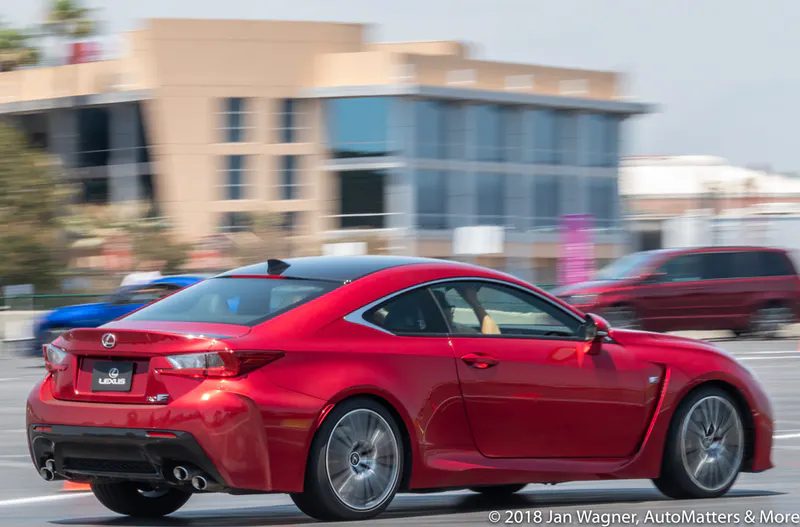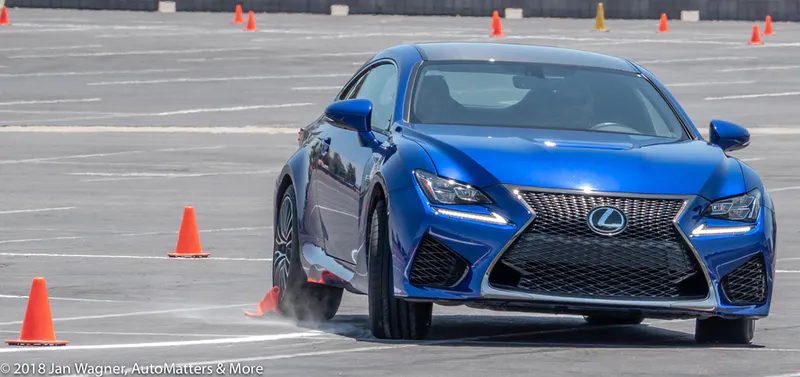 HYBRID DRIVE
Additional Lexus models, including several SUVs, were waiting for us at another autocross course. Consisting of many very tight turns, this course was much slower than the Performance Drive autocross. Continually having to turn the steering wheel back and forth to avoid the traffic pylons made driving the SUVs quite a challenge, but the vehicles were up to the task.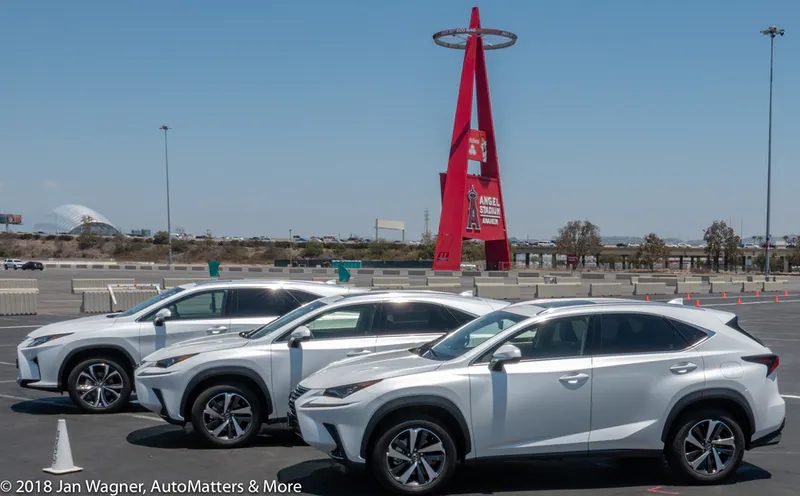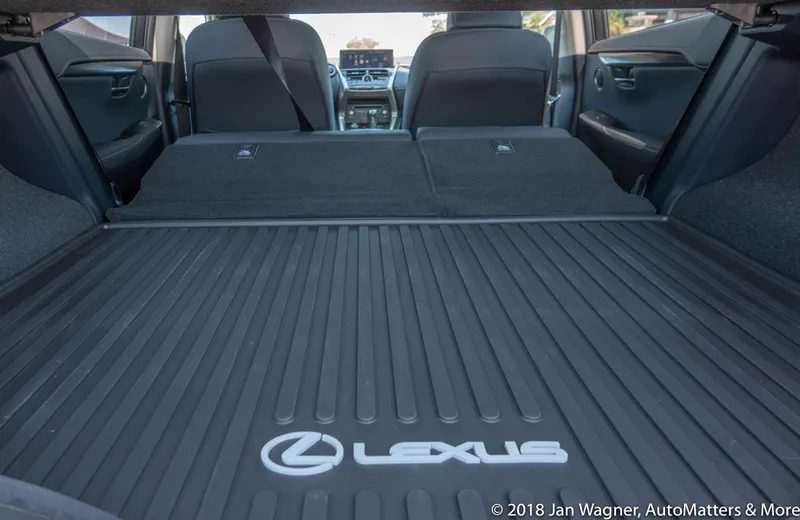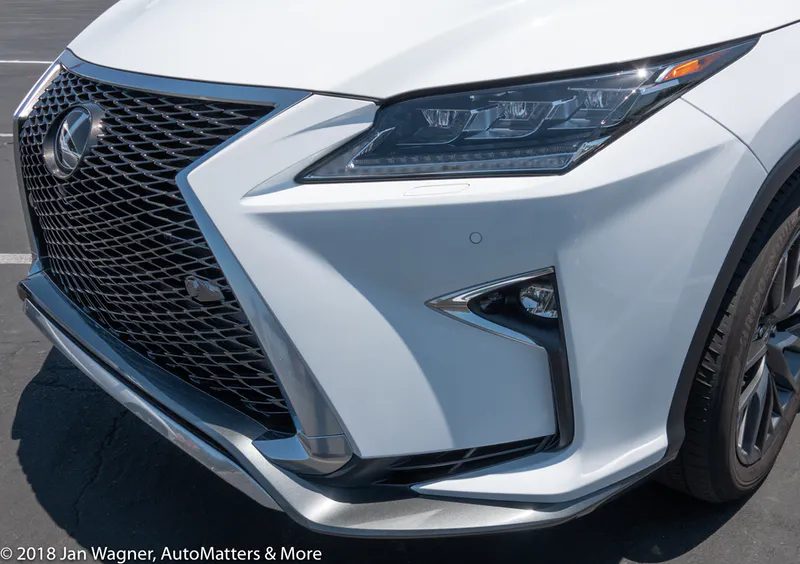 WRAPPING IT UP
Snack bars and water were provided at the exit survey station, where we were also given the opportunity to sign up to receive (via email) a $1,000 certificate good towards the purchase of any new Lexus vehicle – excluding LFA – for retail delivery by the certificate's date of expiration (10/14/2018).
Times have certainly changed since the pre-recession days of over-the-top 'Ride & Drives.' When compared to those, the 2018 "Lexus Driving Tour" was pretty no frills. Missing were competitive vehicles from other auto manufacturers, informative sign boards describing the vehicles at the various experience stations in the parking lot, and Lexus-branded takeaway mementos. An additional, display-only group of the Performance Drive vehicles would have contributed to a more informative, productive experience.
For more information, visit www.lexus.com.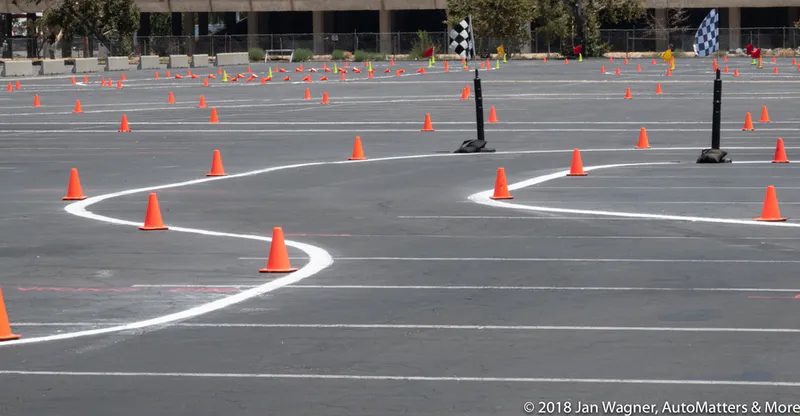 COPYRIGHT © 2018 BY JAN WAGNER – AUTOMATTERS & MORE #551r1