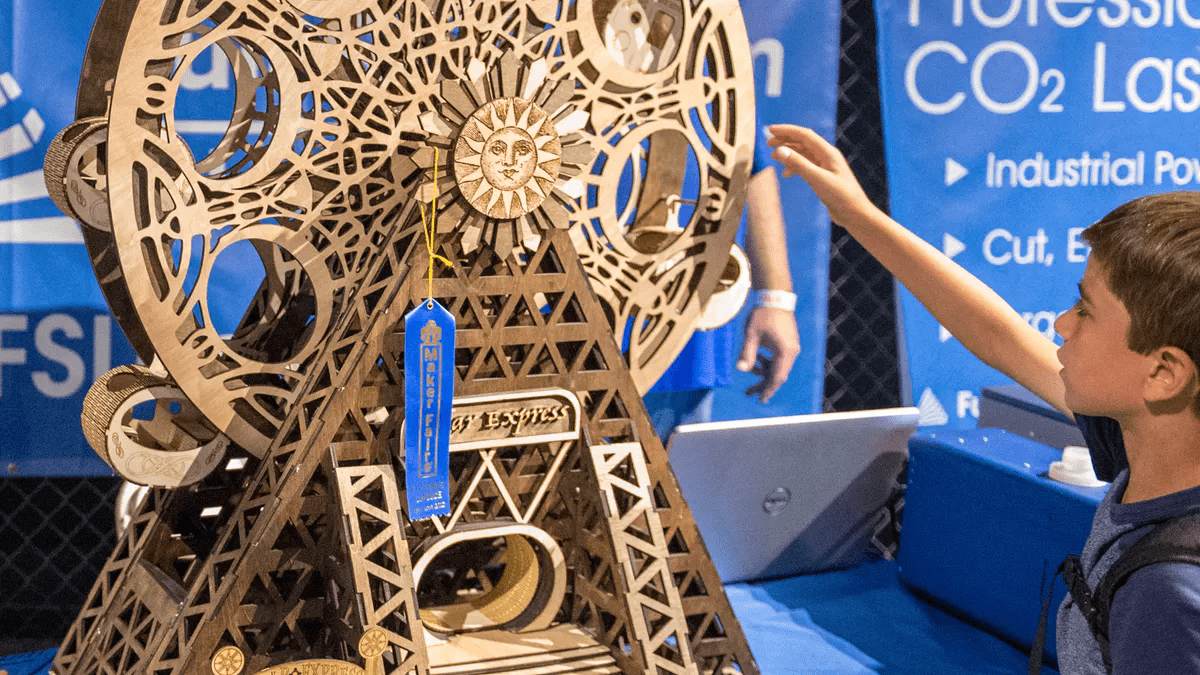 MAKER FAIRE SAN DIEGO 2017
Dream It, Build It, Share It!
Billed as the Greatest Show & Tell on Earth, the annual Maker Faire San Diego was a Balboa Park-wide, multi-museum, ten zone celebration that featured a fire-breathing robot, drones, kids activities, food trucks, innovative products, musicians and interactive art. Maker Faire San Diego showcased innovation and creativity – the idea where if you can imagine something, you might just be able to figure out a way to make it and share it with others.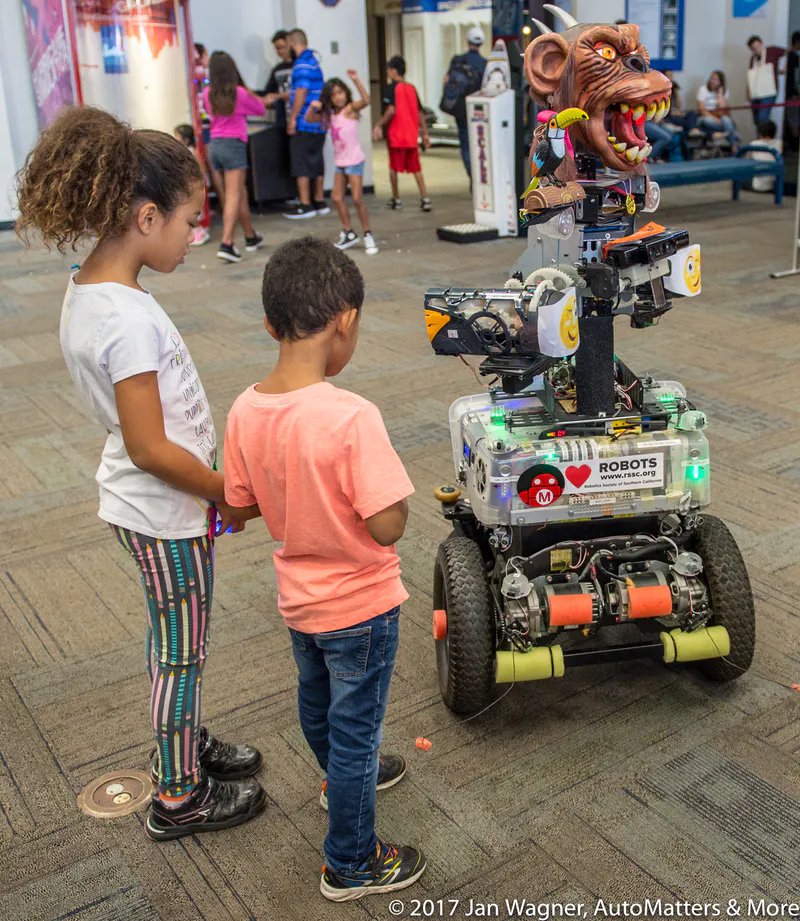 There were many things to see and do in ten zones spread throughout Balboa Park. Attendees were challenged to "Complete the Circuit." The map resembled an electronic circuit board.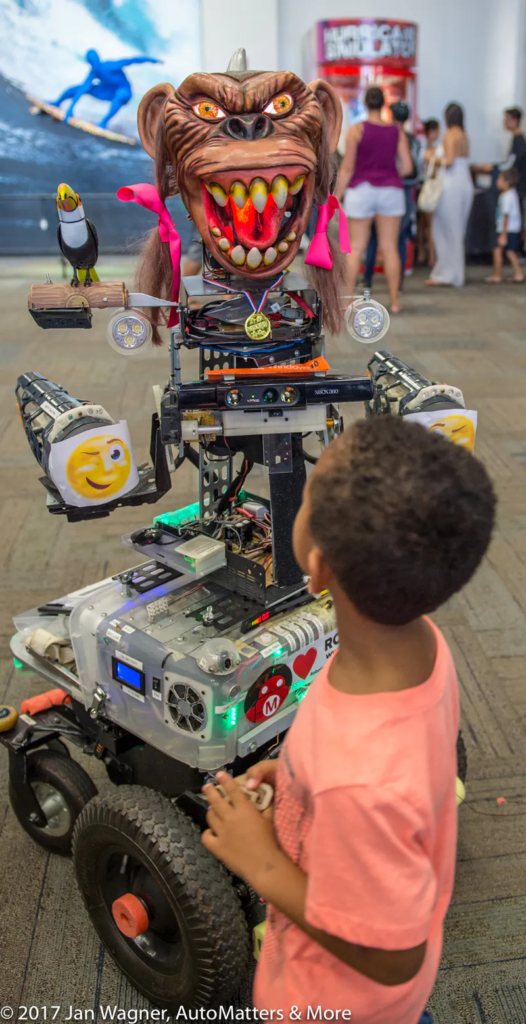 Zone One – the "Human Made Zone" – was located at the San Diego Museum of Man. Attendees satisfied their curiosity about "Tapigami" and "Yarn Bombing."
At "The Living Library," participants could learn what it is like to be someone else. A collection of people from various backgrounds was "on hand to share openly and candidly about their lives." Storytellers included survivors of trauma, students with special needs, and members of the blind and disabled communities. Each storyteller was ready to answer questions like "What's it like to be you?"
YouTube sensation Tommy Edison, the Blind Film Critic, is famous for answering questions about what it's like to be blind.
Zone Two included the "Costuming & Stage Set Design Zone," located at The Old Globe Theater. Included were hands-on "Indigo Dyeing," "Paint and Playground," and a fascinating "Backstage Tour." Elsewhere in Zone Two, in the Plaza de Panama, were food trucks and the main stage.
Zone Three was at the Japanese Friendship Garden. It had a "STAR WARS and Beyond" theme where, among other things, participants could engage each other in lightsaber battles.
Zone Four – the "Modeling & Hacks Zone" – was at the San Diego Model Railroad Museum. It featured "Model Mountains," "Battle Pond: Behind the Scenes" and "3D Modeling."
At Zone Five – the "Robotics Zone" at the San Diego History Center – there were autonomous robot races and "First Robotics" team demonstrations.
Zone Six was the "Technology Zone" at the Fleet Science Center. Hands-on activities included the "Cardboard Combat Area;" the "AudioBody Show," where two men invented, hacked and created a world of physical comedy and music technology;" "Game Masters: Video Game Experience;" and a speaker stage.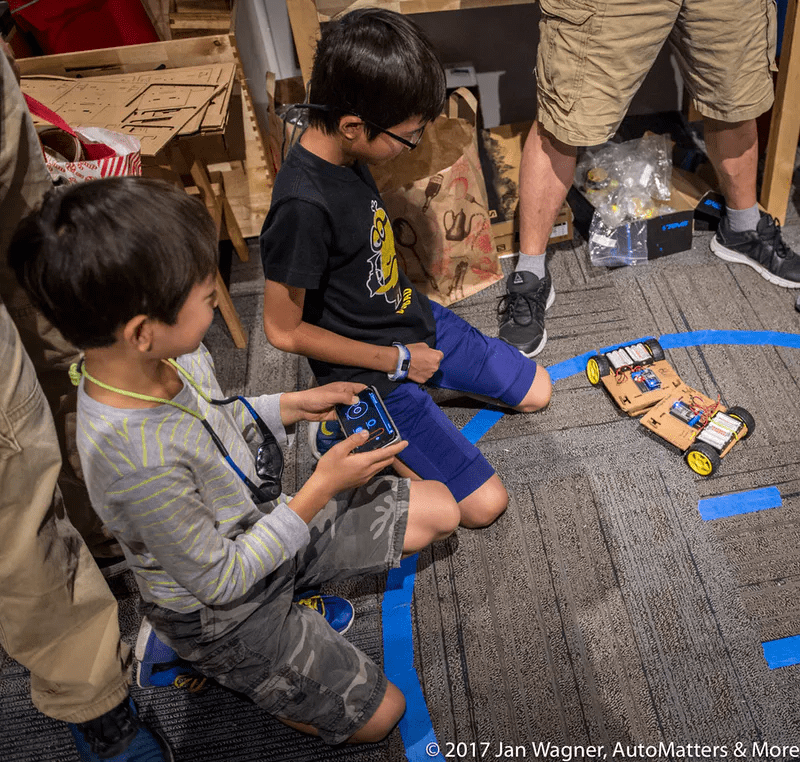 Shane Evans' spectacular "Robot Resurrection" – a 30-feet tall, human piloted, articulating, fire shooting robot-like sculpture – could be found in Zone Seven.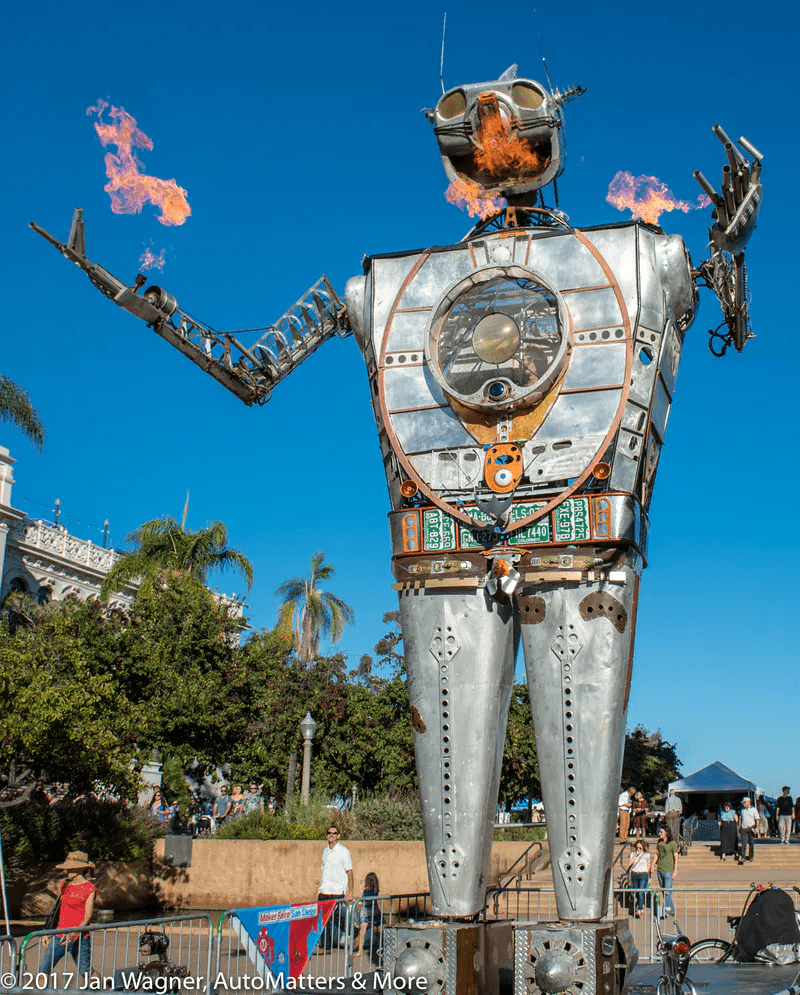 Zone Eight – the "Kids & Education Zone" – was located at the San Diego Natural History Museum. The hands-on activity there was called "Make Wings."
Zone Nine was the Cox "Outdoor Zone," featuring "Build an IP Packet Racer" (presented by Cox); Lindsay Lawlor's animated, 17-feet tall, Electric Giraffe named Russell; Maker spaces; and the hands-on activity "Learn to Solder" (presented by Newegg), where attendees were given instruction in how to solder electronics. Newegg provided the materials for making and then taking home a cool, battery operated Maker bot badge that lights up.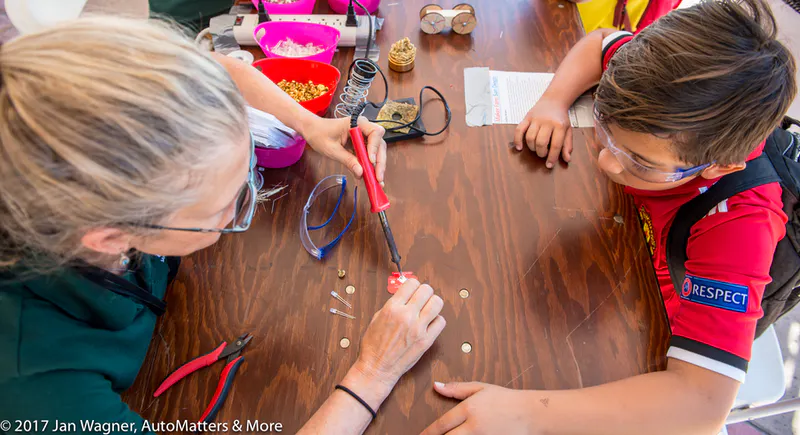 In Zone Ten – the Spanish Village Arts Guild – demonstrations included glass blowing and jewelry smithing.
Musical entertainment included a brass band.
200 makers were represented around the park. One was Newegg, a tech-focused online retailer (www.Newegg.com). They offered workshops on building your own PC, and soldering tutorials for those new to the craft. They used this opportunity to unveil their new Maker Category dedicated to builders and DIY tech enthusiasts, making it a one stop shop for tech enthusiasts seeking to build their own PCs, customizing them to meet their specific individual needs. At Newegg they will find the tools and components that they will need to build their creations, including STEM products for younger builders, developer kits, drones, home automation and boards needed to build more complex projects.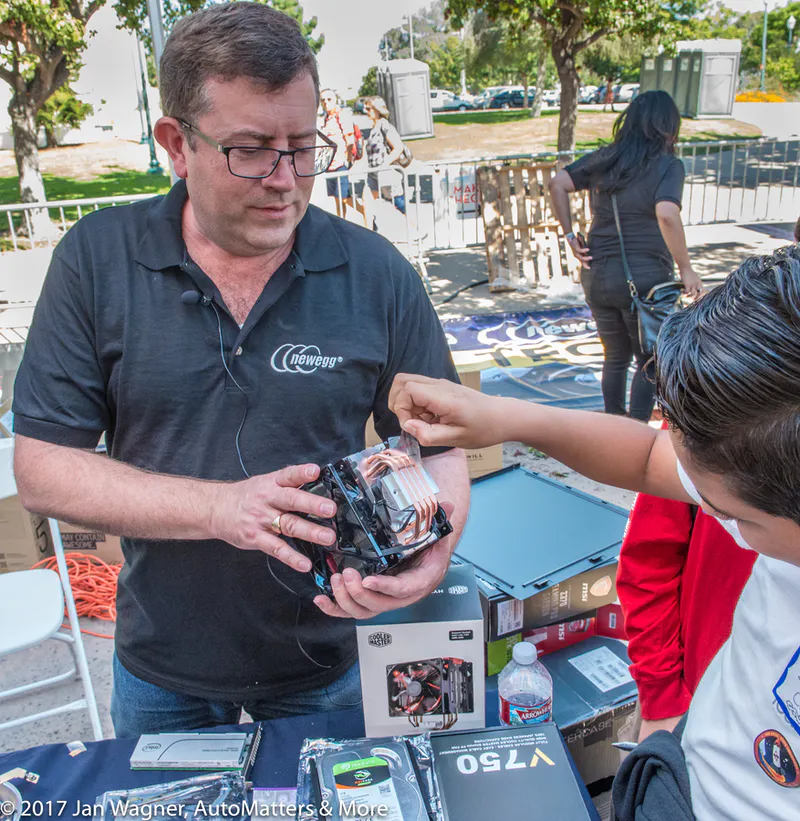 On display at the Newegg booth inside The Fleet Science Center were products from companies such as Extreme Fliers, Makeblock, MSI, NVIDIA, Pai Technology, Robolink and Piper Computer. Featured here was a hands-on demo area where attendees were able to test and purchase various products, such as maker boards and miniature drones.
To join the discussion with other Makers, visit Newegg's new Maker community forum at community.newegg.com/topics.

Be sure to visit the next Maker Faire San Diego. For more information visit SanDiegoMakerFaire.org.
COPYRIGHT © 2017 BY JAN WAGNER – AUTOMATTERS & MORE #521