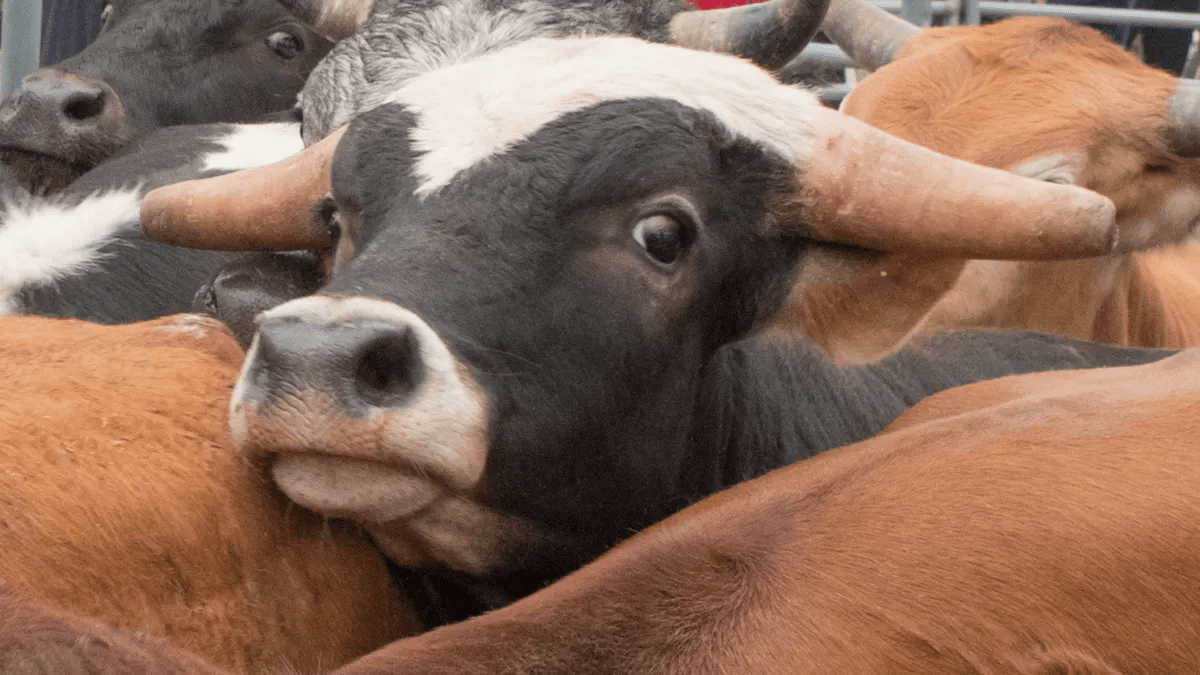 MONSTER SUPERSTAR RAVEBOX, WILD WEST FUN AT THE FAIR & A CATTLE DRIVE
The party's on OUT WEST!
MONSTER SUPERSTAR RAVEBOX
MONSTER – world-renowned for its dedication to the music industry – has set a new standard for portable music machines with this, the most fun thing I've been asked to review in a very, very long time. From entertaining at a large party to providing music at home for a few friends, the MONSTER Superstar RaveBox with Bluetooth delivers with this portable, indoor and outdoor, music and light show machine.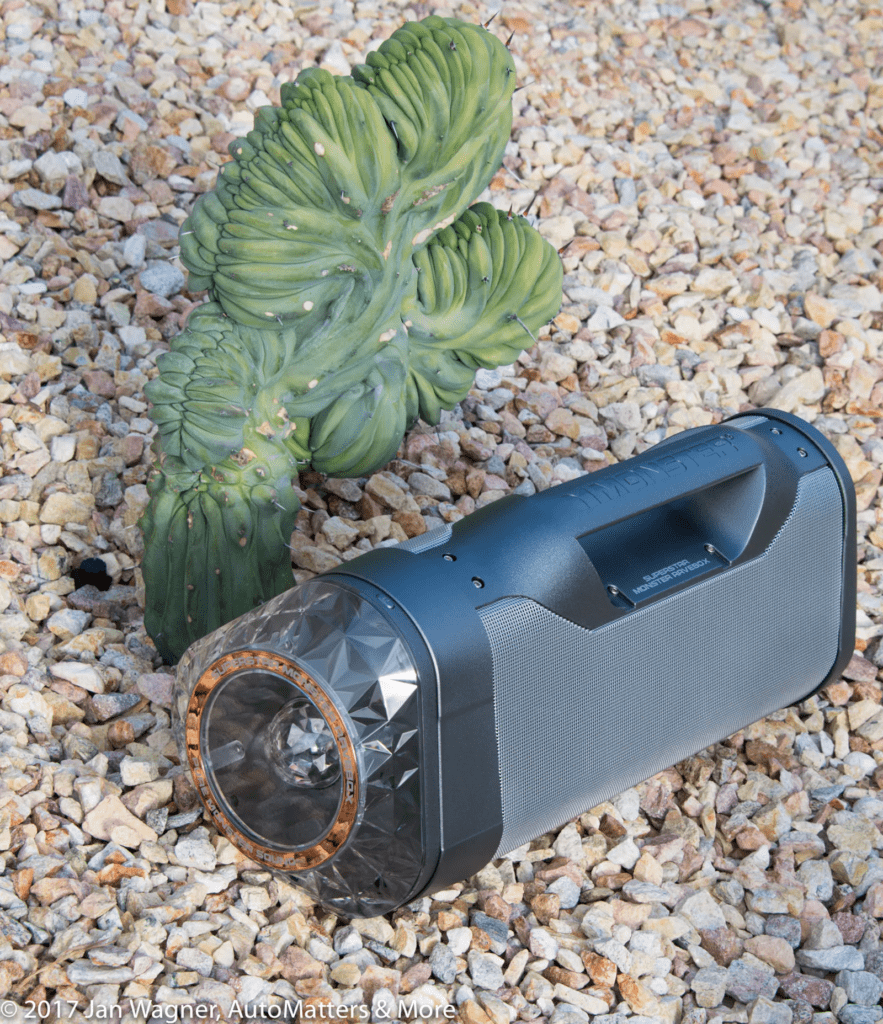 The MONSTER Superstar RaveBox incorporates bi-directional driver design with full range drivers in angled 360-degree orientation to disperse sound over large areas, and a down-firing, integrated powered subwoofer that literally shook my granite countertop! At nearly 17 pounds, it is rock solid and extremely well built, assuring crystal clear music as loud as you can stand it – and then some.
Its dazzling, multi-colored, kaleidoscopic light show is synchronized with the music. You can even plug in a mic (not included) to make announcements.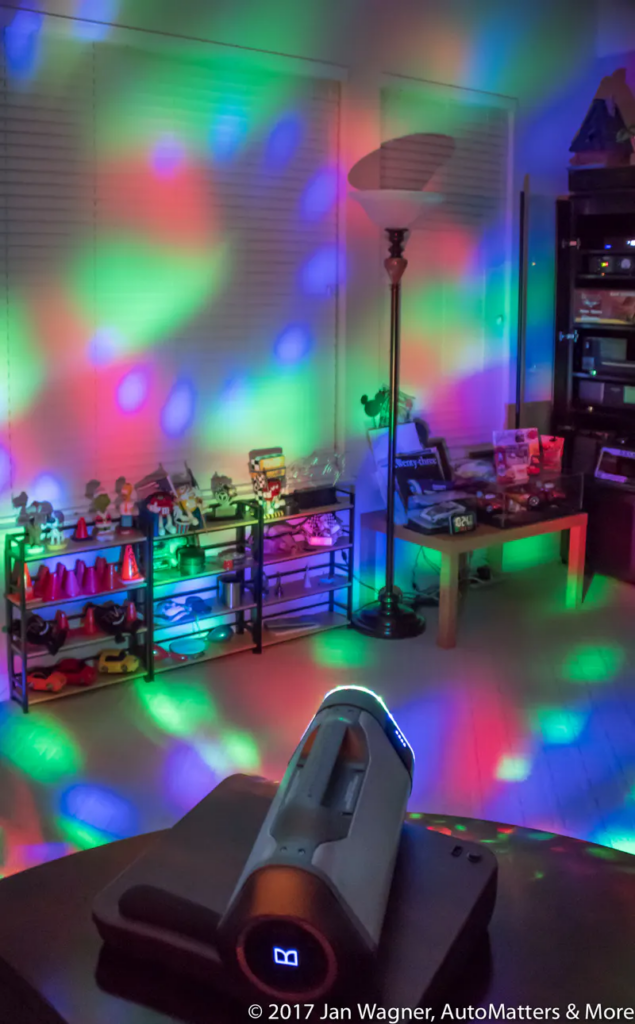 It is ideal for filling large, open spaces with music and light, with selectable equalization modes for indoor and outdoor use. It is waterproof and splashproof, so don't worry about it if it starts to rain.
The built-in rechargeable battery is rated to last up to 12 hours on a single charge, and it even includes a USB outlet to charge your cell phone.
After connecting my iPhone via Bluetooth and then listening to "Miss Atomic Bomb" by The Killers I was convinced, and you will be too! What else is there to say, except to ask how on earth is MONSTER going to top this?!!!
The MONSTER Superstar RaveBox is available from MONSTER authorized dealers and, along with more information, on the MONSTER Products website: www.monsterproducts.com/monster-superstar-RaveBox#prreviews. Party on!
A CATTLE DRIVE – THROUGH DOWNTOWN SAN DIEGO!
Try to picture this: 200 big, heavy cattle being herded by riders on horseback and their incredible dogs through the pedestrian-lined streets (with no barricades!) of downtown San Diego.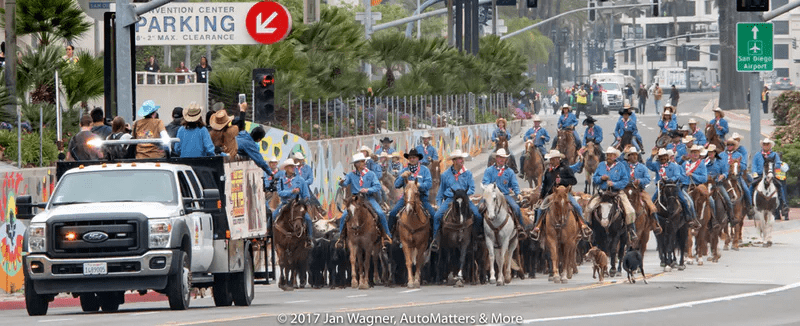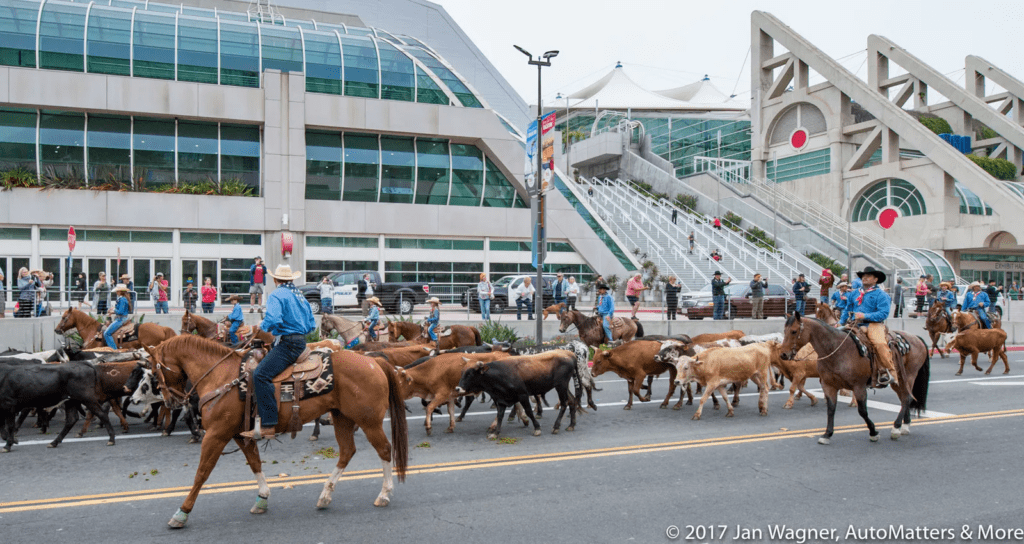 Believe it or not, that actually took place on the morning of Saturday, June 3, 2017. I had to see this for myself, so much so that I bailed on covering an event at Paramount Pictures in Hollywood.
Witnessing that spectacle brought back fond childhood memories of my hometown and the Calgary Stampede Parade (the folks at the Calgary Exhibition and Stampede helped out with this cattle drive).
The cattle drive route began in a park just past the USS Midway Museum, continued past the San Diego Convention Center and back, turned onto Fifth Avenue under the San Diego's historic Gaslamp Quarter sign, along Market Street and back to the park near the USS Midway (where I spent the rest of my day).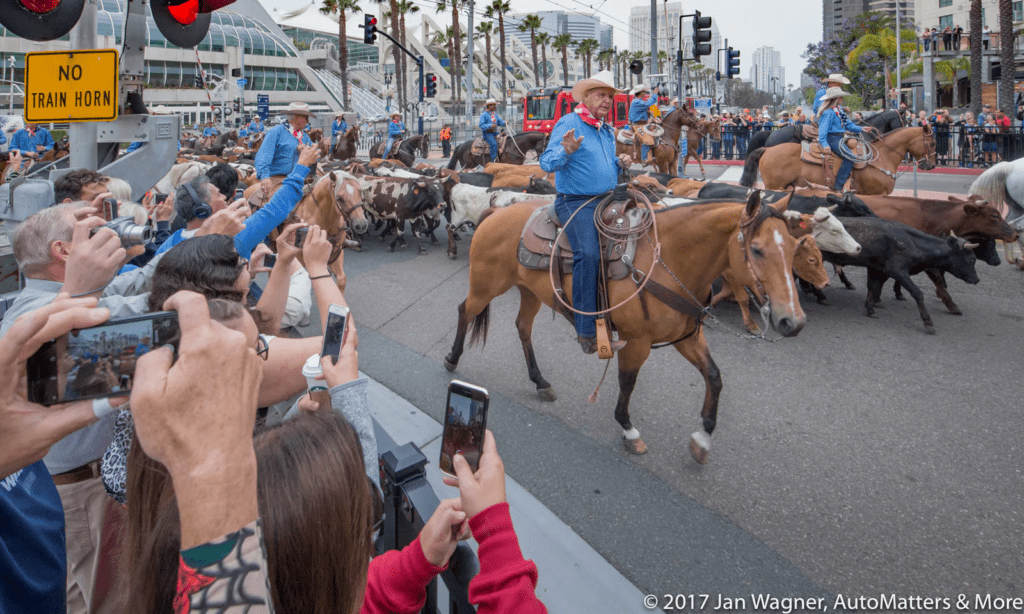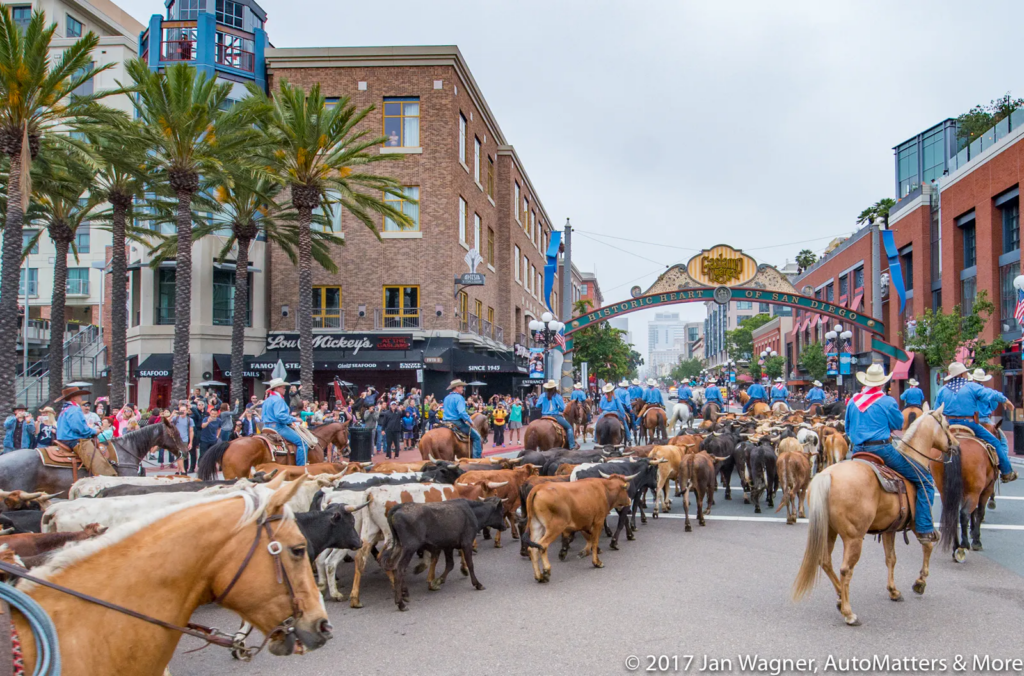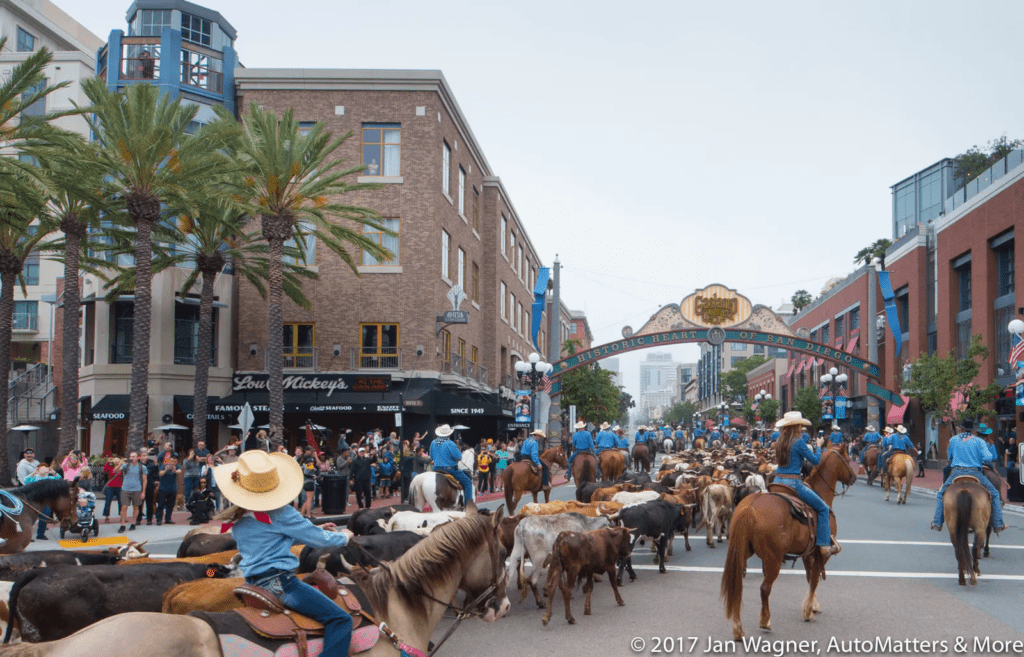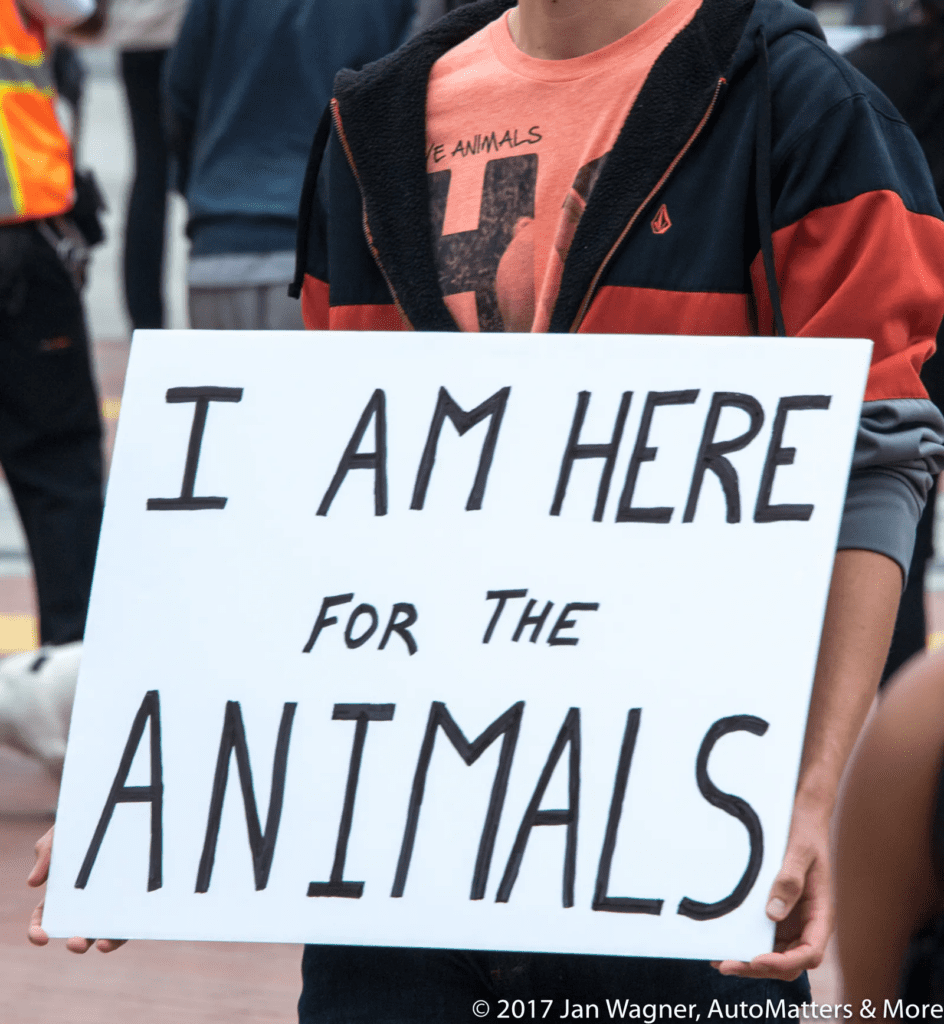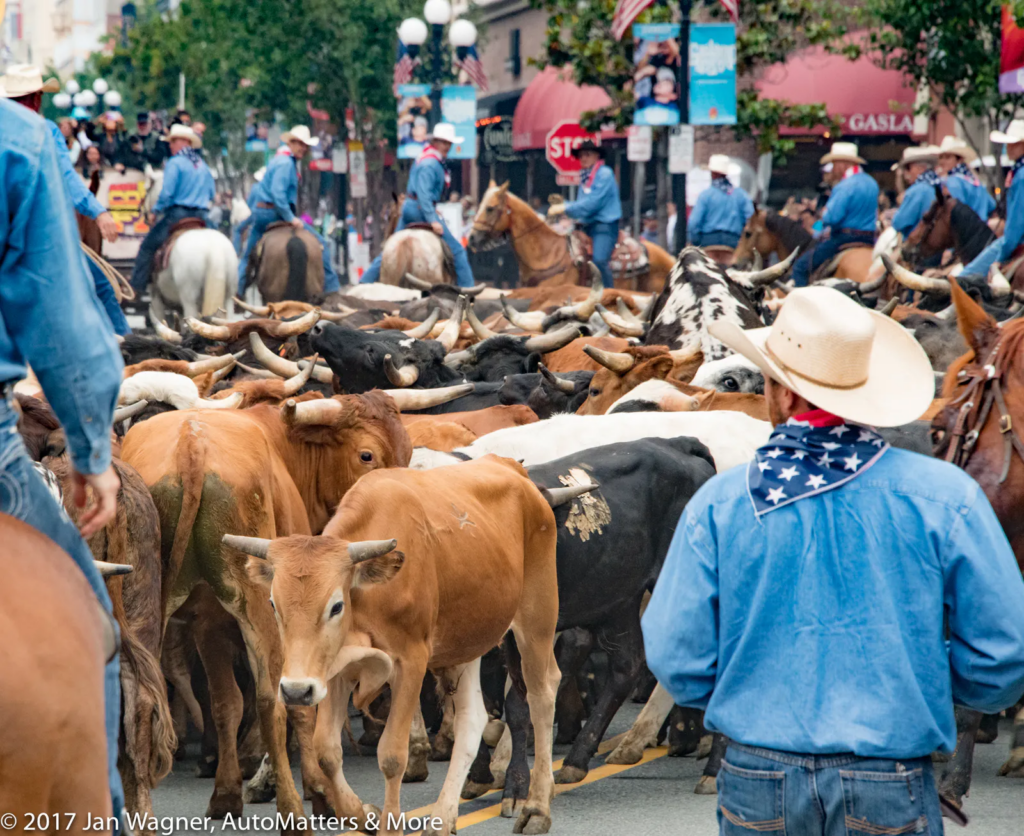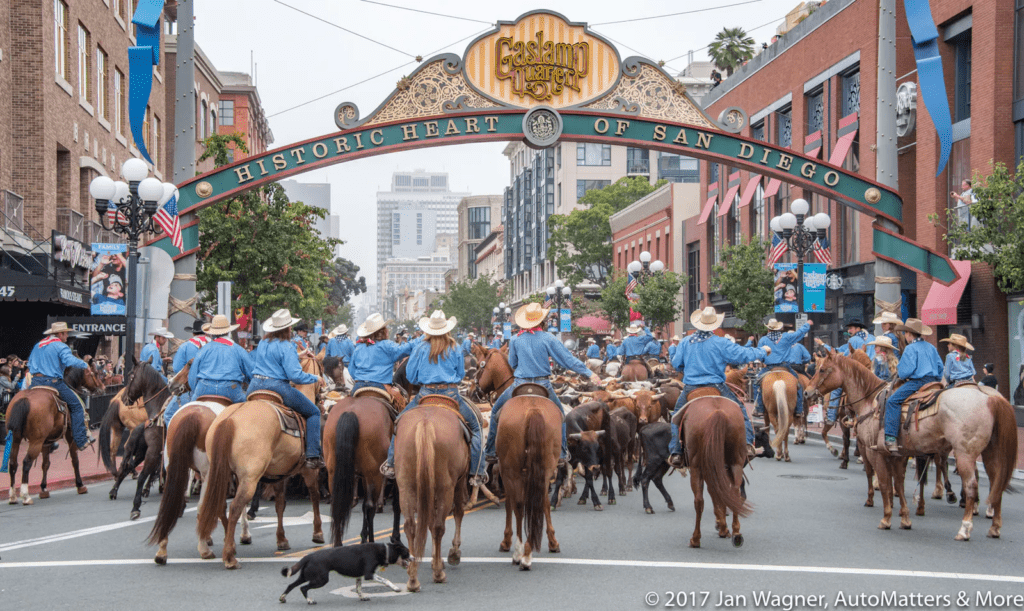 A crowd watched in awe as the cattle – which weighed hundreds of pounds each – were efficiently loaded in groups of ten or so back into trucks.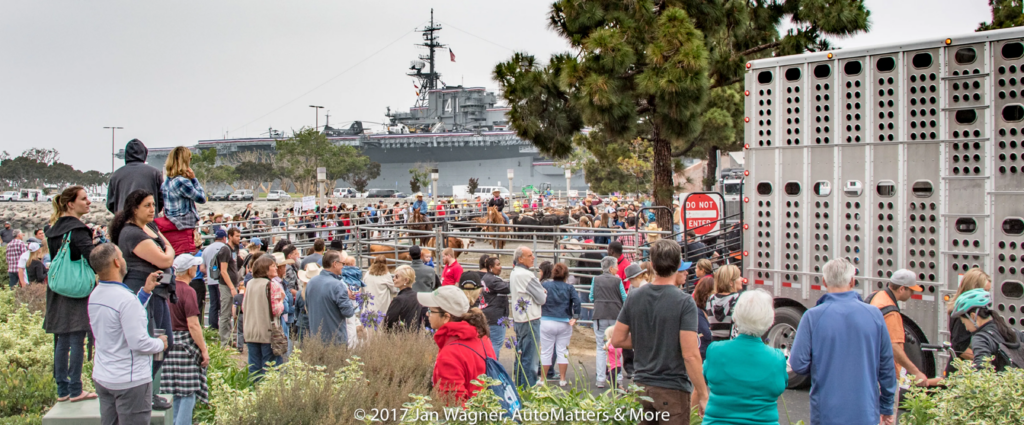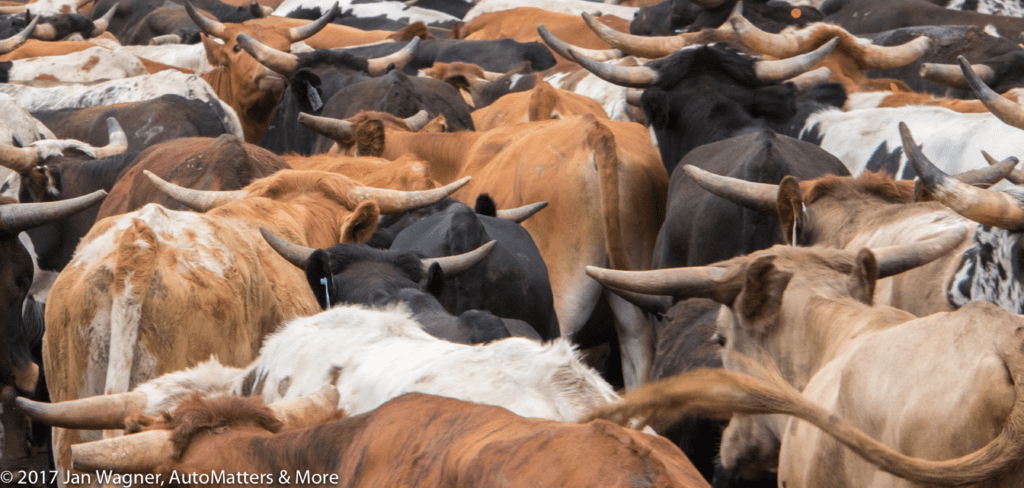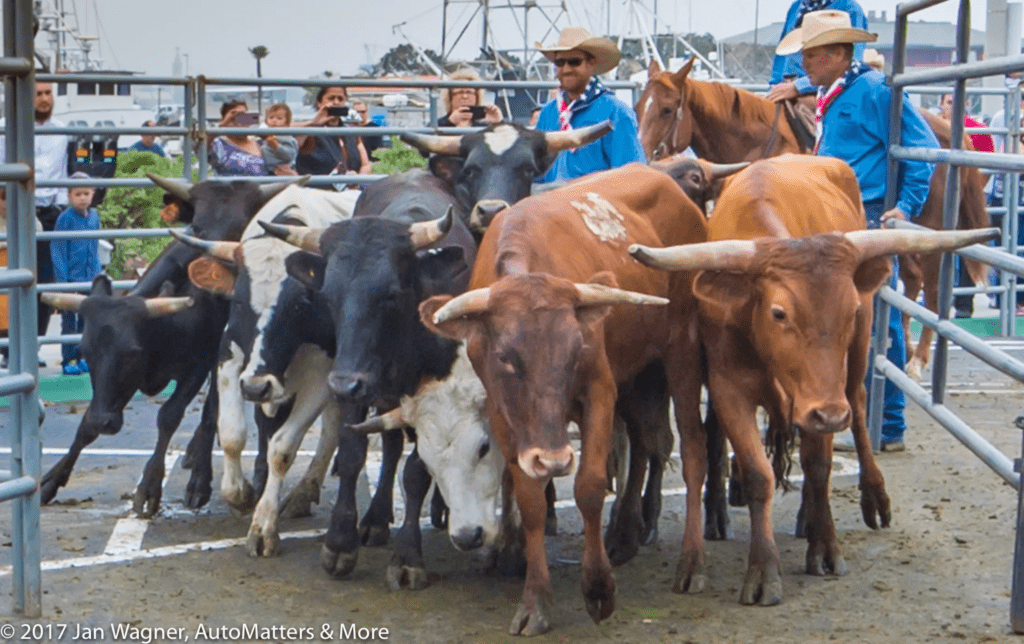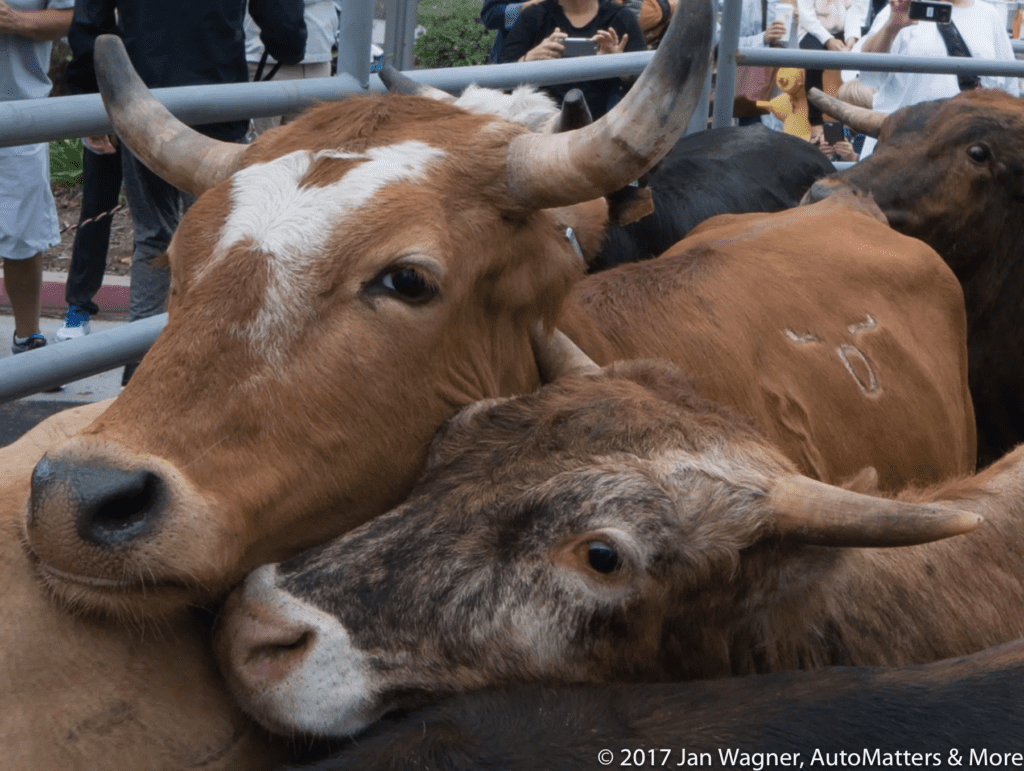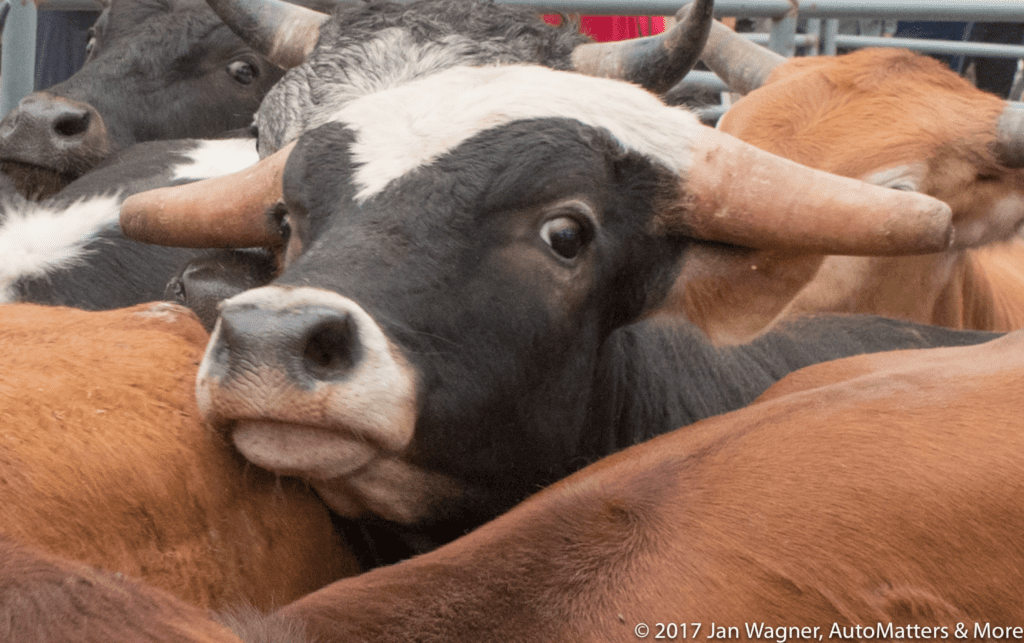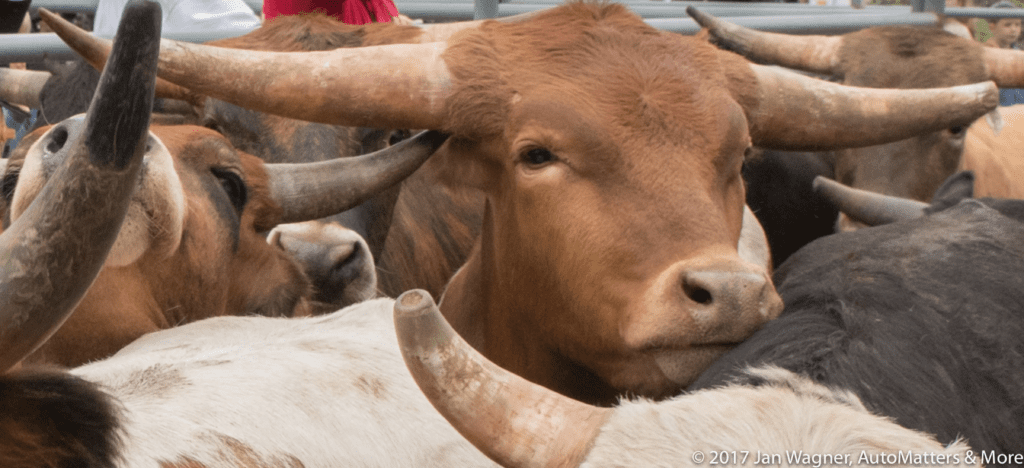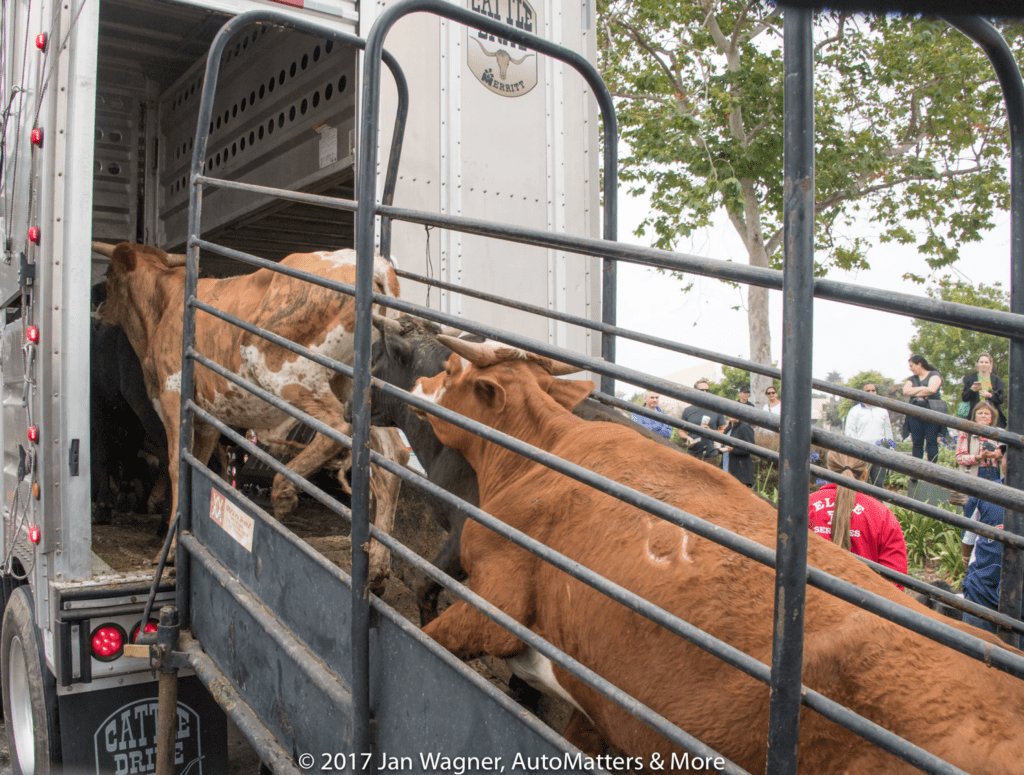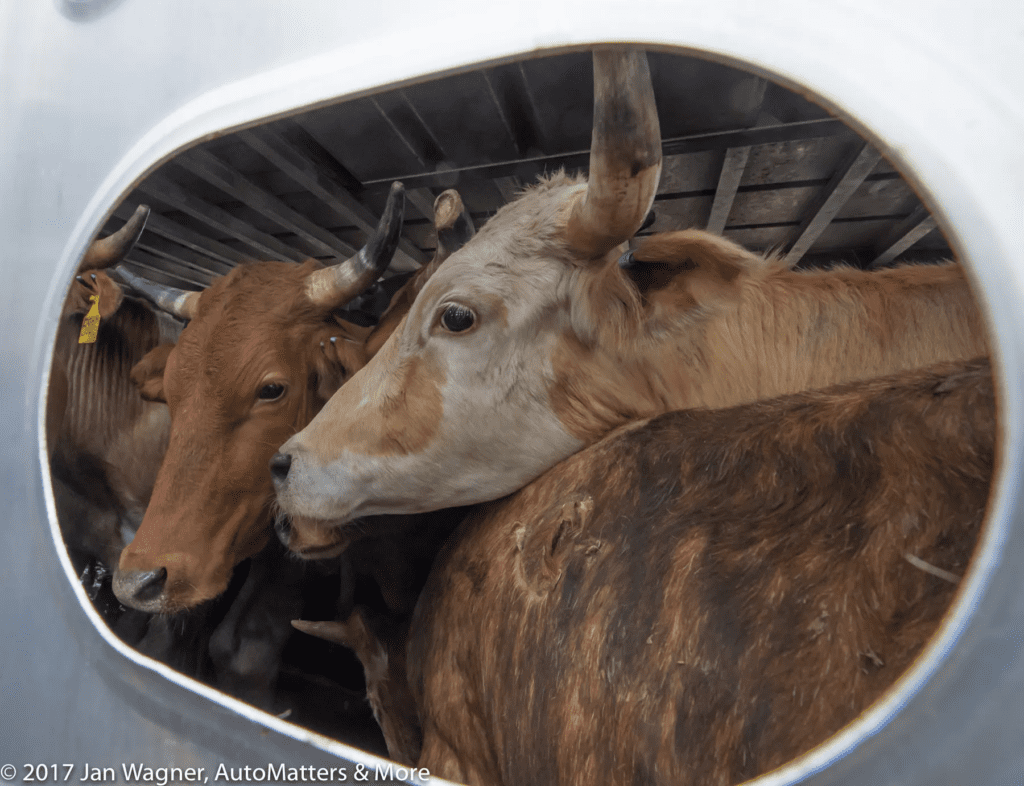 This event was staged, in part, to commemorate the 150th anniversary of San Diego's Historic Gaslamp Quarter and to bring attention to this, our next topic:
WHERE THE WEST IS FUN!
That is the theme of the 2017 San Diego County Fair.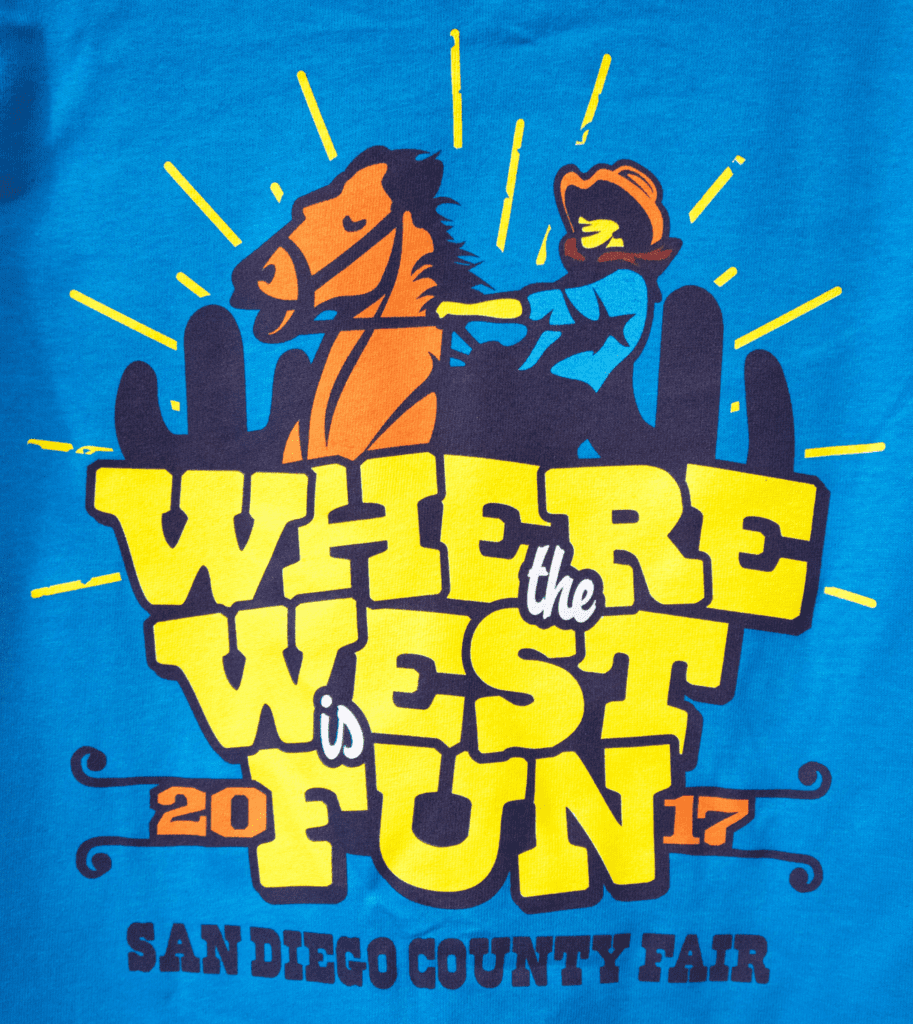 At the cattle drive, fair ambassadors handed out fans that read, in part, "GRAB the FAIR by the HORNS!" That was clever, considering the horns on the cattle, and an appropriate tie-in to the Fair.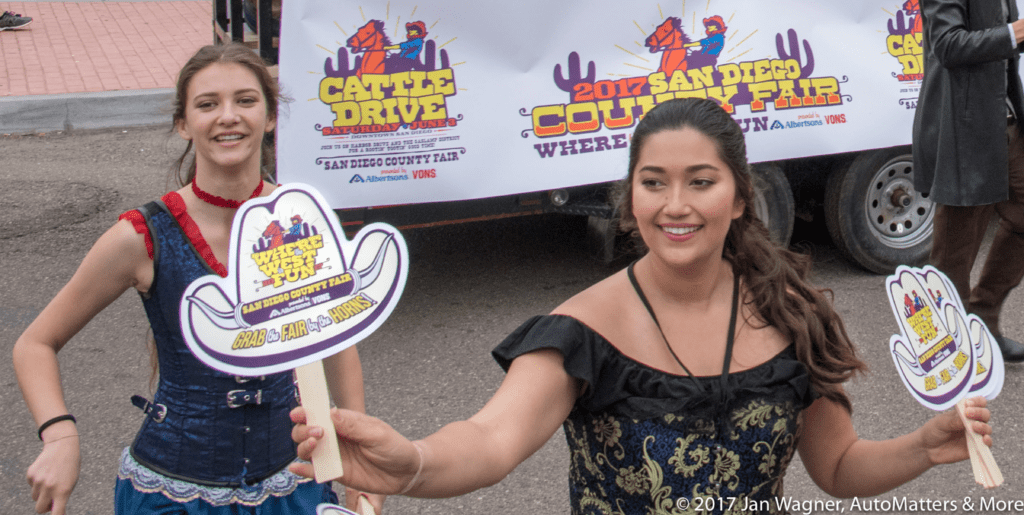 The opening afternoon and evening of the Fair the day before the cattle drive provided a great opportunity to check out some of its Western-themed exhibits…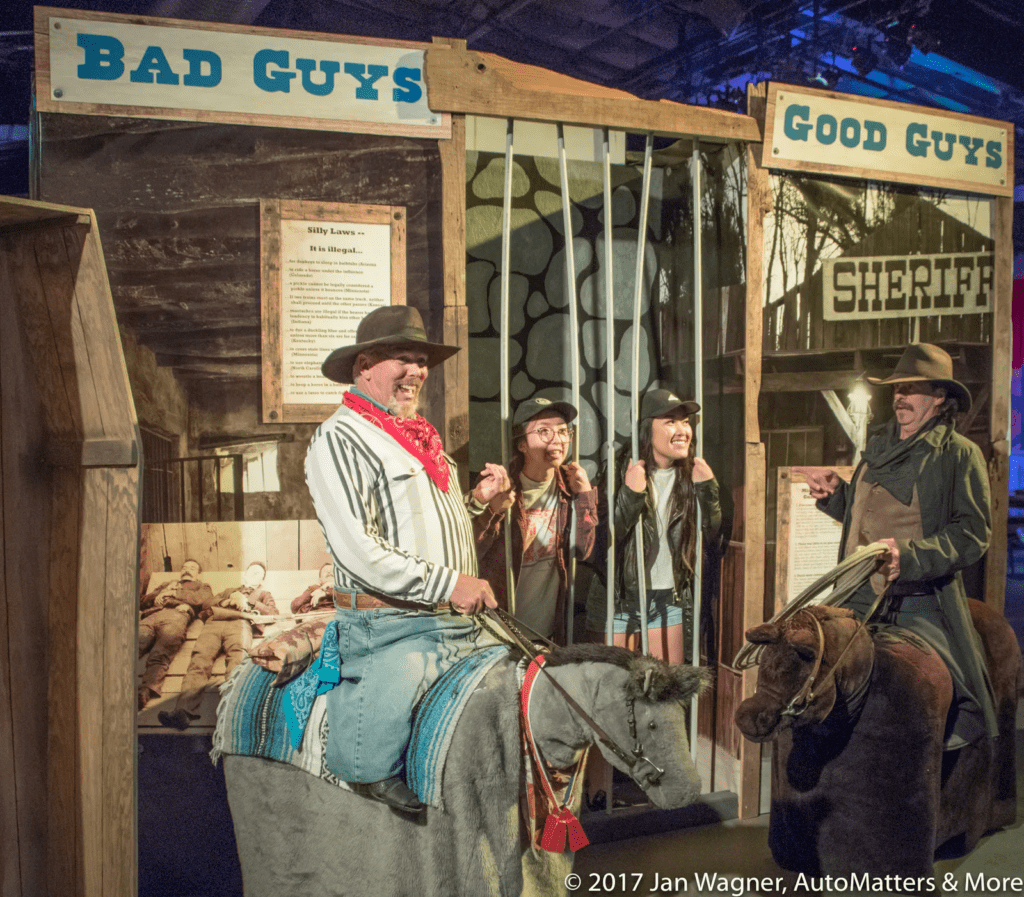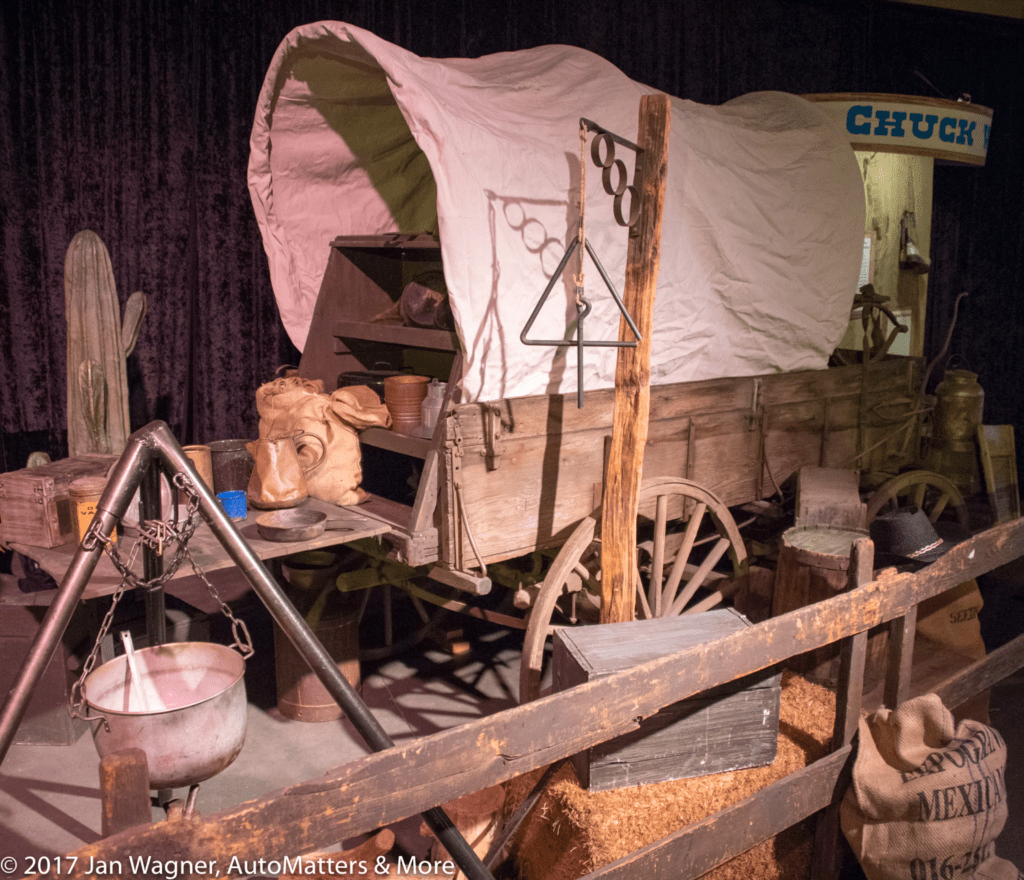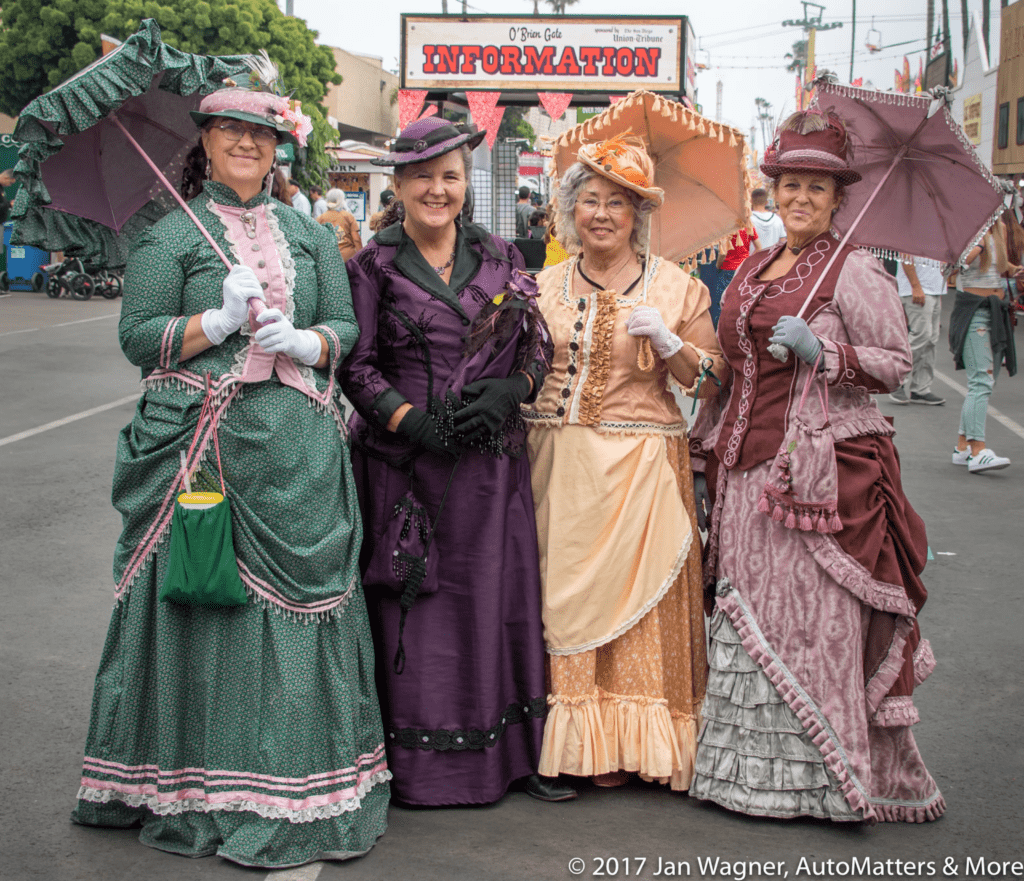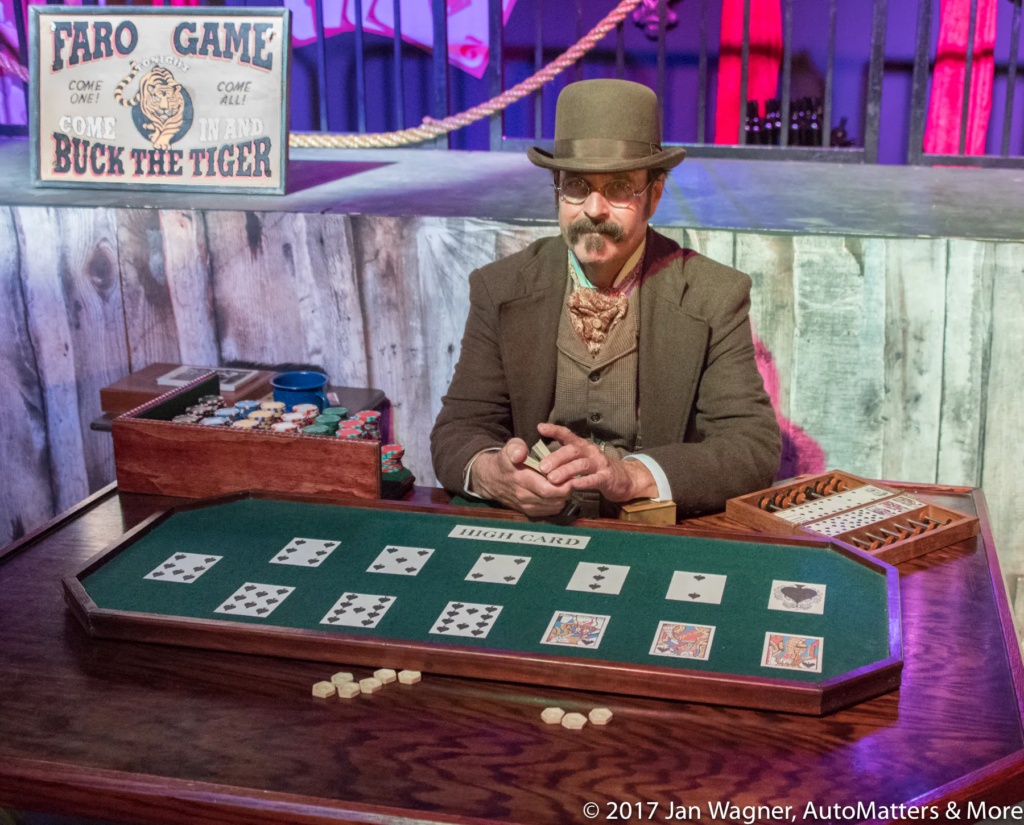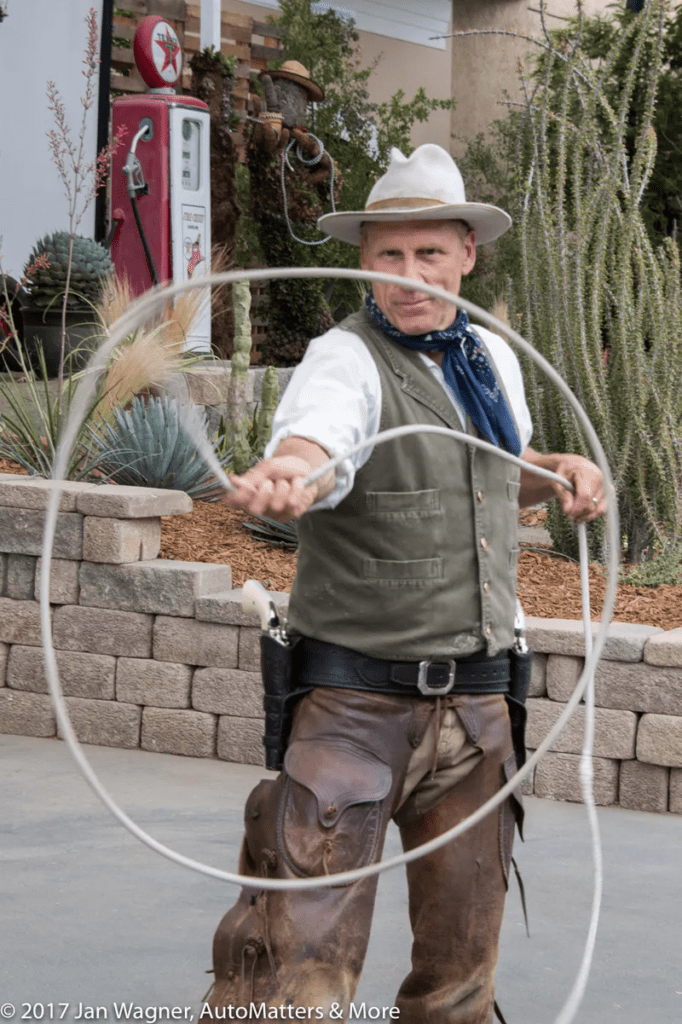 … the large, colorful and noisy carnival midway…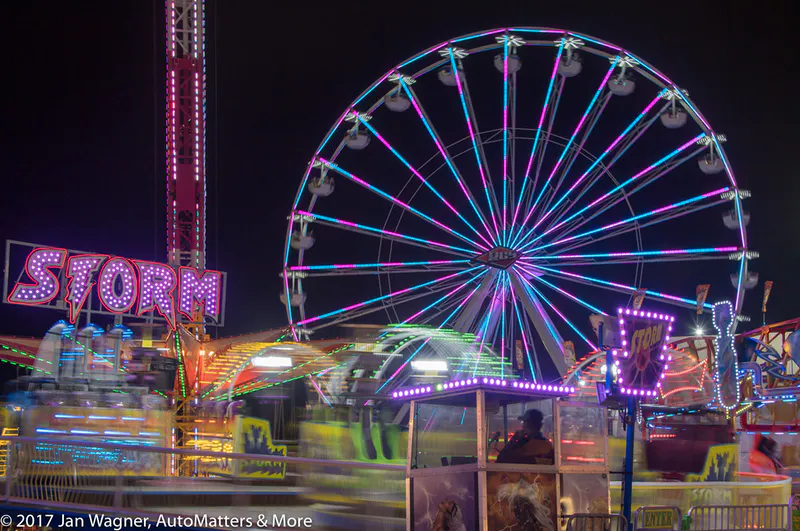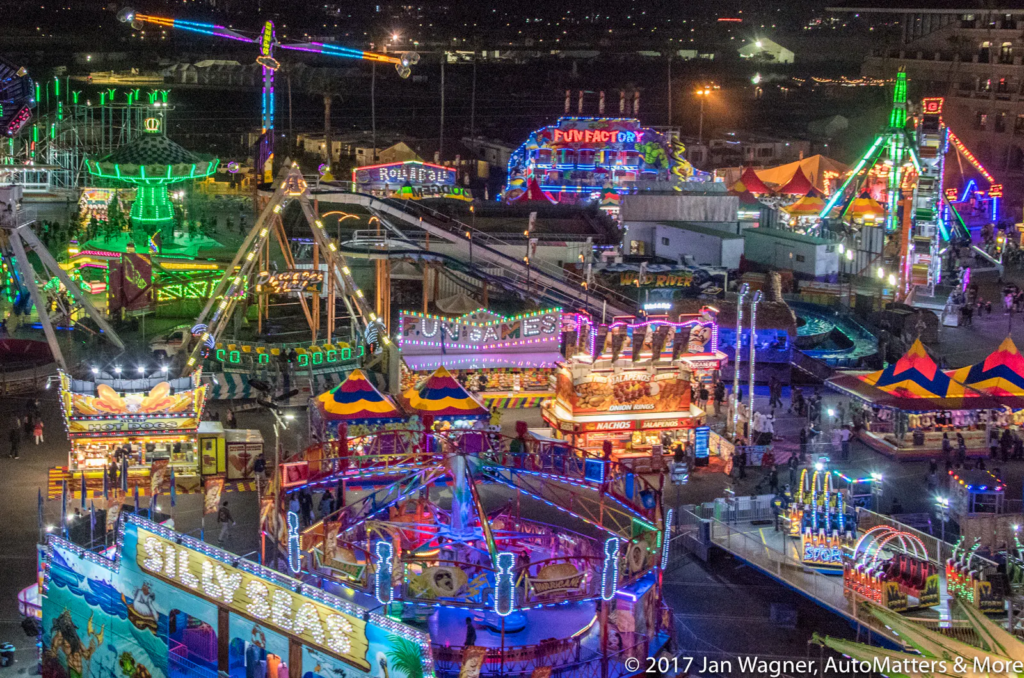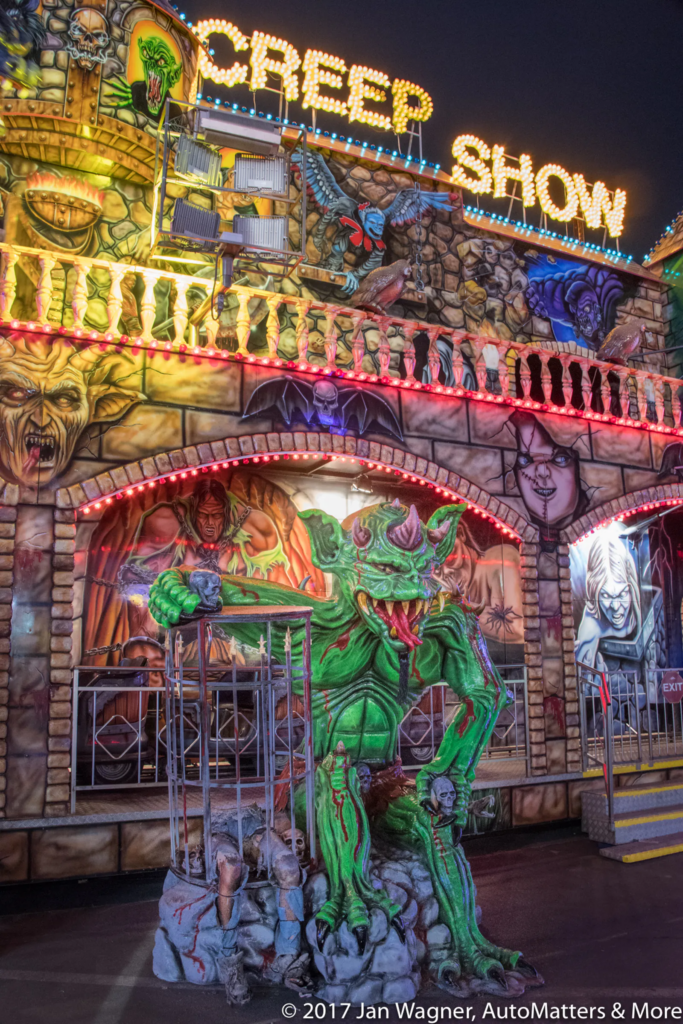 … and of course the wonderful fair food. Let's just say that I did not leave there hungry (excessive calories, sugar, fat and cholesterol don't count when you're at a fair, right?).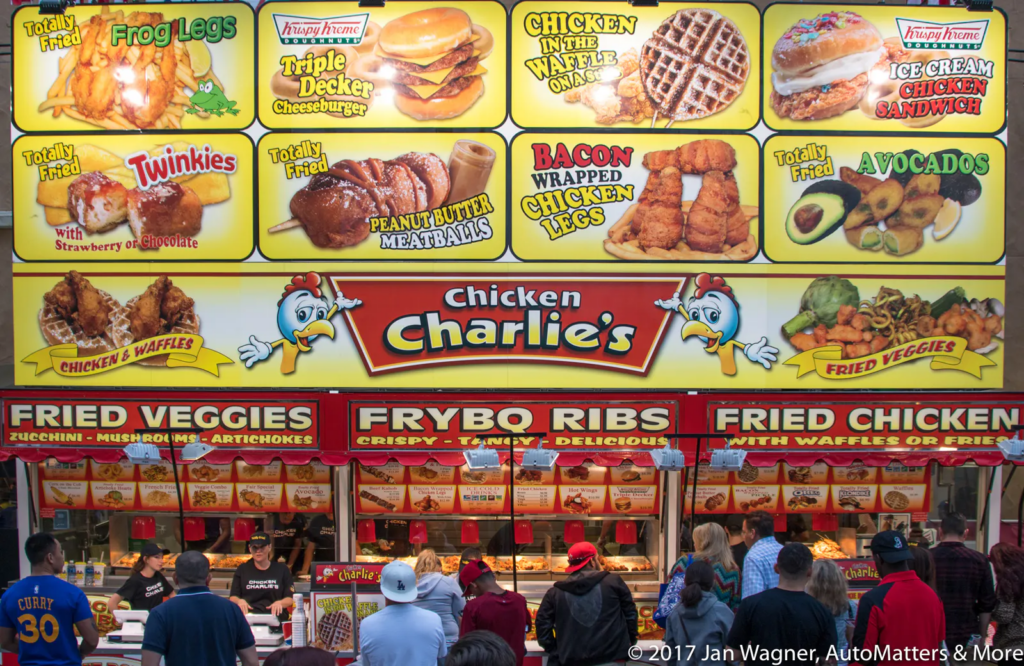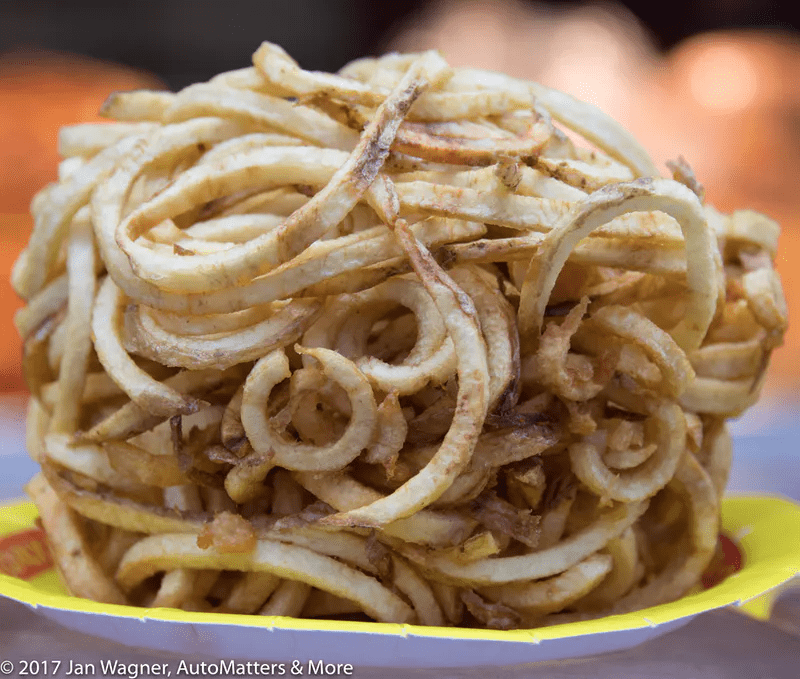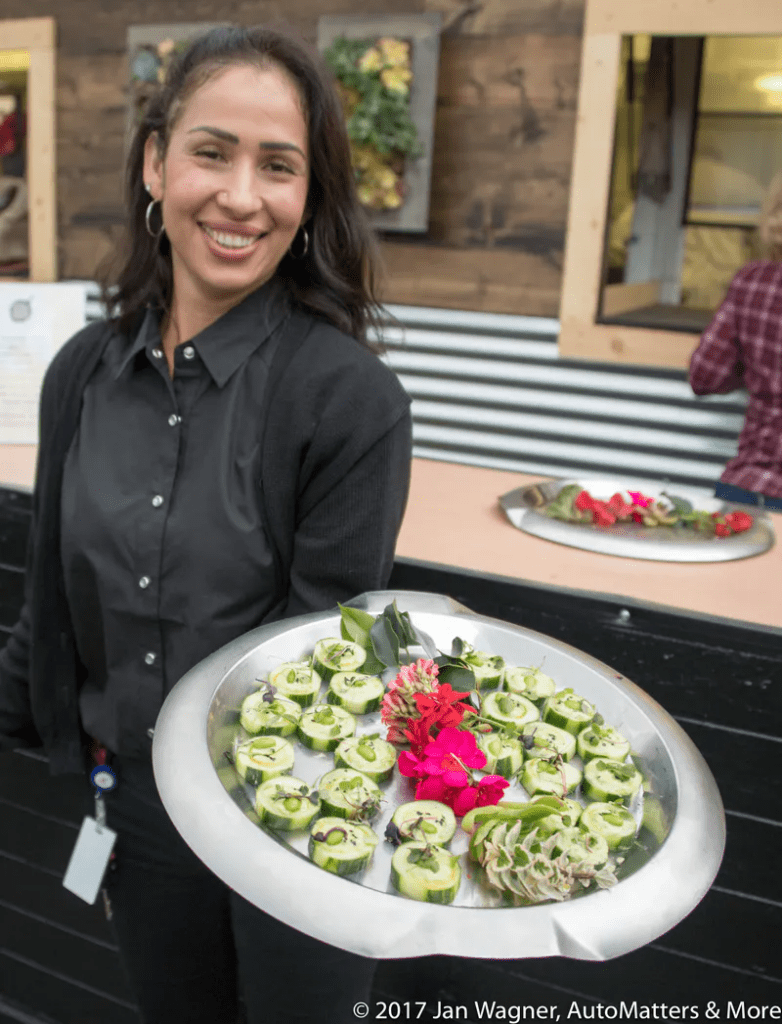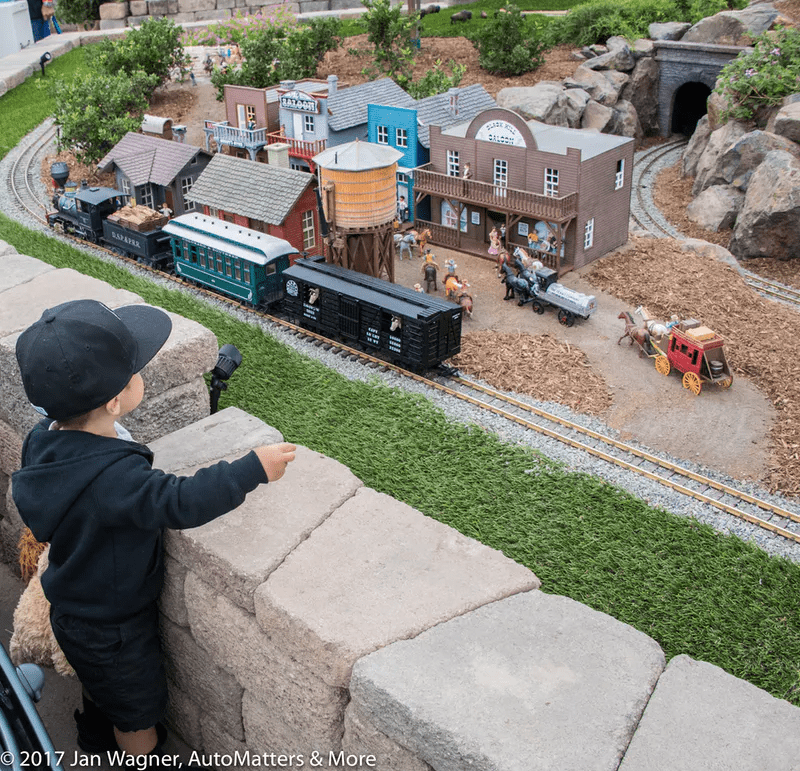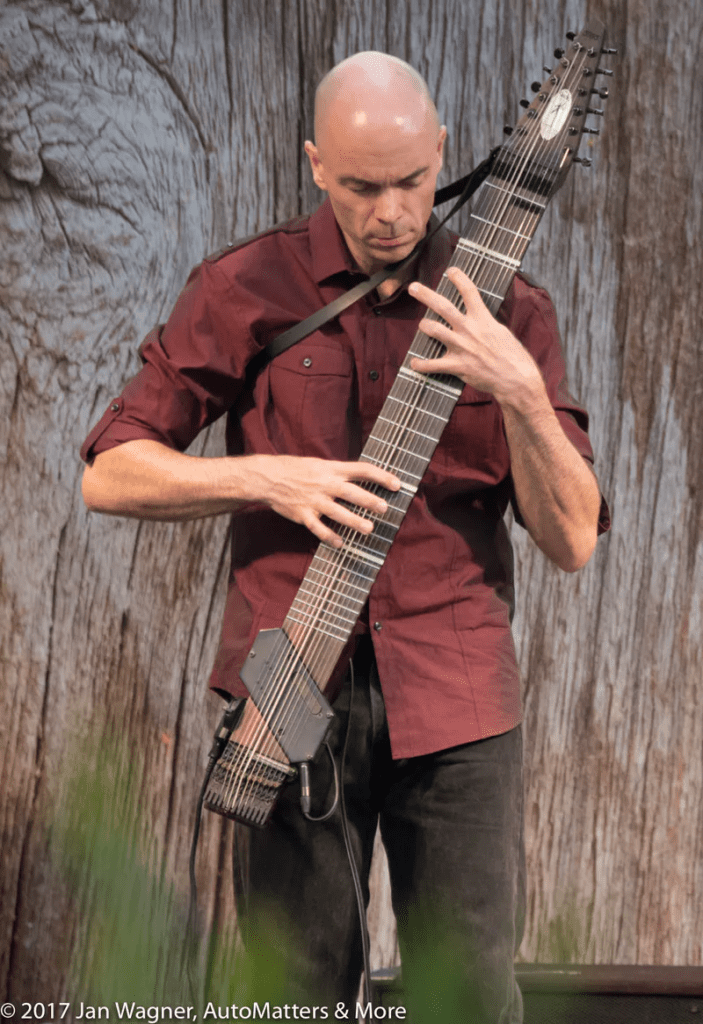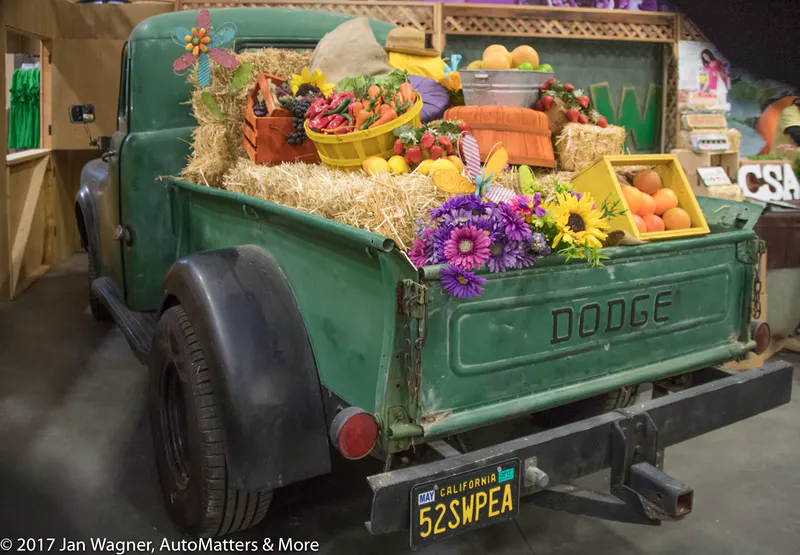 … wine tasting; visiting the livestock; seeing the amazing hobbies and woodworking exhibits…
… wandering through the aisles and aisles of vendors' merchandise (last year I bought an easy to use watermelon cutter); and of course eating more of that delicious Fair food!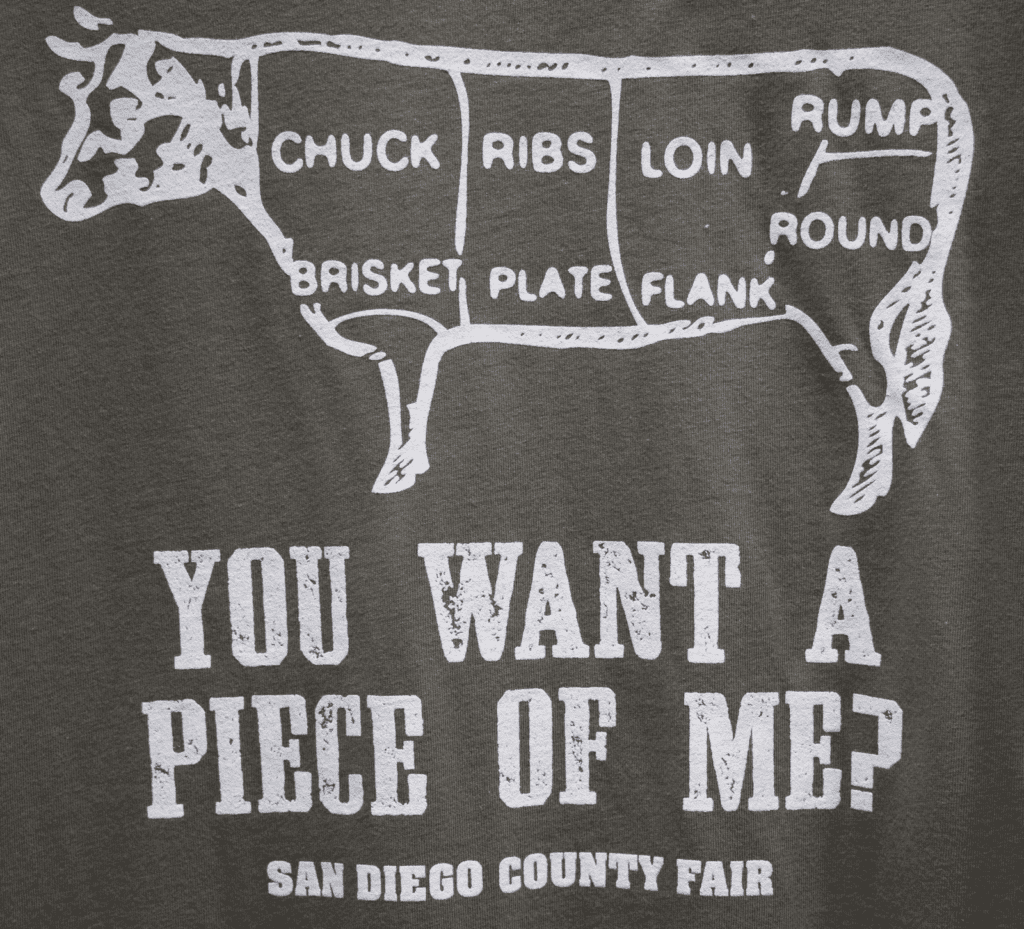 The San Diego County Fair is on now and continues through the Fourth of July, ending with the traditional fireworks extravaganza. For more information, including schedules, visit sdfair.com.
COPYRIGHT © 2017 BY JAN WAGNER – AUTOMATTERS & MORE #492R3