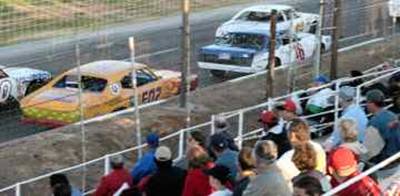 Racing at Cajon Speedway (R.I.P.)
This particular column began out of my sense of frustration over the rumors – hopefully unsubstantiated, that Cajon Speedway's continued existence is threatened. At issue may be a government-administered lease on the property. I've seen similar situations before.
I grew up in Canada. In the early 70s I lived in Calgary, Alberta and enjoyed going to see races in Edmonton, at Edmonton International Speedway (EIS). I especially recall seeing Jackie Stewart race there in the Can-am series. It was a wonderful era in the history of racing, but over time the telltale rumors began to circulate. They said that the land that the raceway occupied had become too valuable to justify racing on it. Investors and real estate developers were making grand plans for redevelopment. It couldn't happen, it shouldn't happen, but it did – and Edmonton International Speedway turned into a fond memory, represented in my memorabilia by photographs, a felt pennant from the "Klondike Trail '200'" and an "EDMONTON EIS" pin.
In 1984 a new chapter of my life began. I moved to the United States and settled in San Diego County. For me, employment opportunities aside, moving here meant the possibility of enjoying year-round automobile racing. Riverside International Raceway was world famous and I couldn't wait to see the races there in person. For some reason two particular races – one involving Lynn St. James (in a gorgeous IMSA GTP racecar) and the other, a NASCAR race with Darrel Waltrip (in the Kentucky Fried Chicken car #17) come readily to mind. Despite having to endure the chronic dust problem at the track (I can still recall the little, mini-tornado-like swirls of rising dust), I was back in racing fan heaven.
But once again, unbelievably, the evil rumors began to circulate. People were saying that the land occupied by Riverside International Raceway was too valuable for racing, just like others had said about Ontario Speedway before it. Ontario, like Edmonton International Speedway, had already disappeared but for several years Riverside desperately clung to life. We hoped against hope that some generous set of benefactors might save the track but we knew that each season might be its last.
In the end the investors and real estate developers had their way yet again. Another racetrack rich in history was torn up, to be replaced with cookie-cutter houses and places to shop. Racetracks are more than just concrete and asphalt. They cannot be replaced. They each have their own individual personalities. Now the racing at Riverside exists only as a collection of stories, images and assorted remnants, passed down through generations of fans and racers.
However, we still have thrilling racing action nearby. With our incredible, year-round weather, surely we will always have a racetrack here, right?
For me and many others, enjoying Saturday evenings filled with exciting short track racing at Cajon Speedway has been an annual tradition. "Since 1961 more than 3,415,000 fans have attended the racing events at Cajon Speedway, making the track one of the most successful and longest running race tracks on the west coast." While I laughingly say that the racers are nuts, deep inside I long to be on the track racing alongside them. Instead, I autocross. While it is more affordable than wheel-to-wheel racing and safer too, it is not very exciting for spectators to watch.
The racing at Cajon Speedway takes place, week in and week out, because drivers, their families, enthusiastic friends, mechanics and sponsors all work together to assemble the racers – and then put them back together again after Saturday night's action on the track. Looking at some of the cars, it is amazing that they even run, let alone race, but once they're on the track they really come to life. The sparks fly as they scrape the walls. Drivers take time during caution periods to wave to their appreciative fans. Stuffed animals seem to cling desperately, as if for their lives, to the roof pillars. Courageous, daring passes are made, lap after lap, race after race.
The racing is exciting, not just because of the competition but because you never know what will happen next. You don't dare look away because you might miss something exciting. There are no instant replays here. Anticipation of the inevitable crashes adds to the excitement, and afterwards everyone cheers as the drivers walk away from them unhurt (or are towed away from the scene, still in their cars and eager to race again).
The fans cheer and sometimes they boo. They have their heroes and their villains. Such is the nature of short track racing at Cajon Speedway.
Why do they race? I think it is safe to say that most of them do not race because of an expectation that they will significantly advance their "careers" in racing. Racing is expensive. Think of all the parts to buy, tune, fix and replace: engines, suspensions, tires, brakes, clutches, transmissions, electronics, gauges, fuel tanks, safety equipment, bodywork, paint, fuel, lubricants and race graphics – the list goes on and on. Then there are tow vehicles and tools, meals and shop space. It cannot possibly be economically viable for most of them and yet they keep coming back for more, week after week, season after season. No, they don't do this to get rich; they do it for the joy of racing. Anything else is a bonus.
Racing at Cajon Speedway is truly a family affair. It starts and ends off the track, unseen by most. Families come together to support their racers and, often, to work on the racecars.
Friends and families are enthusiastic in the stands (however, rowdiness is not appropriate and is not tolerated). They proudly wear T-shirts and hats bearing the images of their favorite NASCAR racers. In the end it doesn't really matter which racers they cheer for because in the bigger picture they all have something in common. They all love racing.
Over the years, businesses have sprung up all over the county to provide the various products and services that are vital to the racing at Cajon Speedway. The impact of the many jobs and revenue that this adds to the community should not be underestimated.
So far we've just discussed direct benefits to members of the greater racing community. There are other benefits to racing that people may not realize. The members of the racing community (and also the automotive enthusiast community in general) do not, for the most part, seek public attention for their good works and charitable contributions. As a result these efforts often go unrecognized, except by those directly touched.
Racers really make a difference in kids' lives. At the track, they entertain kids and give them something positive to look forward to, including the opportunity to perhaps work in the racing industry someday.
I couldn't help but smile when I observed what follows the racing at Cajon Speedway, after the track lights dim. It begins after the adrenaline rushes subside, when grizzled, competition-worn racers set aside their evening's rivalries and spread out a selection of new little diecast cars, checkered flags, Frisbees and other memorabilia to be autographed and given away to their fans – especially to the children. Those kids eagerly wait for when the gates open to the pits, and then (followed closely by their parents) they literally run to their favorite racers, line up for the treasured autographs and talk with their heroes.
When, after getting his autograph, a little kid was offered the chance to actually sit behind the wheel of a racer's car, one could see the joy reflected in his enthusiasm as he scrambled inside. Such scenes are repeated every Saturday night at Cajon Speedway, and at race meets, large and small, across the country.
Even more important than that are the charitable good works of the racing community. As much fun as the racing is to racers, their supporters and fans, the most heart-warming benefits of Saturday night racing do not even happen at the track. They happen off the track – in hospital wards, at camps for disadvantaged and sometimes gravely ill kids, at ongoing activities designed to keep kids off of drugs and through innumerable charities.
This was especially well-exemplified by an event that recently took place far away, in another part of the country. It was the opening of the Victory Junction Gang Camp in the beautiful countryside of Randleman, North Carolina.
Anyone familiar with racing surely is familiar with the Petty name. Retired NASCAR racer Richard Petty is famous worldwide as "The King" of stock car racing. Kyle, himself a racer and Richard's son, tragically lost his own son, Adam, in a racing accident in the year 2000. Kyle wanted, needed, to give back to the community at large so he, along with his wife Pattie and actor/racer Paul Newman, co-founded the Victory Junction Gang Camp. It is one of an international network of Hole in the Wall Gang Camps that "enrich the lives of children with chronic or life-threatening illnesses by creating camping experiences that are memorable, exciting, fun, empowering, physically safe and medically sound." What Kyle has helped accomplish, along with many other racers, supporters and fans nationwide, will benefit many kids in need. This camp may not have been built were it not for racing, and yet the beneficiaries are not racers. To learn more about this camp, you can visit their Website at www.victoryjunction.org.
On a smaller scale, the Cajon Speedway racing community helps youths in need, too. For example, racers, their crew members and sponsors, support non-profit organizations such as "Racers Against Drugs" (R.A.D.). They take their attention-getting racecars to where the youths gather (such as the annual county fair in Del Mar) and staff the exhibits to show and tell kids that through racing and all those who support it, there are exciting, worthwhile alternatives to drugs. For more information on R.A.D., visit them on the Web at www.racersagainstdrugs.com.
So you see, the Cajon Speedway racing community supports us in more ways than most people probably realize. Will we, in turn, continue to support them and their track? You can help. Simply take your family and enjoy the races on Saturday nights. Our numbers should send a loud, clear message to those in government and elsewhere who might have other designs for the property.
For the regular Saturday evening programs, qualifying begins at 5:15, followed by racing at 6:45 PM. Between race dates you can visit them online at www.cajonspeedway.com. The track is located one mile north of I-8, just west of Highway 67, near Gillespie Field in El Cajon. I'll see you there.
Drive safely and do join me again next time.
Copyright © 2004, 2006 & 2021 by Jan Wagner — AutoMatters & More #106r1