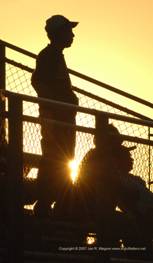 Sharp Aquos 500: The 'Race to the Chase' Heats Up at California Speedway
If you're reading this to get a turn-by-turn, caution-by-caution report of the race, I'm sorry to tell you that you've come to the wrong place. That part of the event has been very thoroughly reported elsewhere. Instead, this AutoMatters race report will reveal things that you may not have found elsewhere, including photos that I took before, during and after the race.
A raceday crowd estimated at 85,000 hardy souls endured truly brutal heat on the Sunday of the Labor Day Weekend to watch the Sharp Aquos 500 NASCAR Nextel Cup race at California Speedway. Time had almost run out for drivers to get one of the coveted 12 positions available for The Chase for the NEXTEL Cup.
Located in Fontana, California Speedway can get really hot. I'm sure that's why this race was scheduled to run mostly at night, to escape the heat of the day. However, with so much great stuff for the fans to see and do before the race, they had many good reasons to arrive early and then stay late. Unfortunately, that meant that they would join me in experiencing daytime temperatures approaching 120 degrees!
I am from Canada and grew up in snow country. Running out to the car in my shirt sleeves in the middle of winter was no big deal. I just took a deep breath of warm air, held my breath and dashed to my car. Cold air is invigorating. Hot air, at least for me, has quite the opposite effect.
So what was it like being outdoors in Fontana on Sunday, you ask? Just try to imagine what it would be like to walk around in a gigantic walk-in oven that is cranked way up to cook something. Seriously, the searing heat was almost painful. Walking up stairs was an ordeal. With many pounds of camera equipment to carry around, I was not feeling too hot (pun intended). I know many of you tell me that I am living the life that you would love to be able to live. Well trust me, you wouldn't have wanted to trade places with me this day. I can't imagine how the crews could work on their cars in that heat. Hopefully NASCAR will schedule a slightly later race date at California Speedway next year, for the fans and race teams alike.
For obvious reasons, this was the first NASCAR race that I've covered where I affirmatively did not push myself to keep walking in order to see every last thing I could during my time at the track. I just didn't have the energy. Instead, I decided to see what else the fans see and pass on my usual tour of the race garages. I've done that before and already have plenty of photos (see previous NASCAR columns in the column archives of AutoMatters.net).
After a quick stop to pick up my press photo vest – and a couple of bottles of ice cold water from the Media Lounge, I headed over to check out the "Opportunity, California FanZone."
California Speedway appreciates their fans and has invested a great deal of time, money and effort to provide them with a quality experience at their facility. Especially since I began by talking about the heat, it is appropriate that I commend the Speedway for installing water misters all over the place, to help people keep somewhat cool. An outdoor café features cuisine by celebrity chef and self-proclaimed auto race fan Wolfgang Puck.
FanZone entertainment for the weekend included the Metal Mulisha Extreme Stunt Show; an air conditioned, 10,000 square foot theater featuring Kerner Mobile Technologies 30-foot 3-D movie screen; and "30 Seconds to Mars" and other musical groups performing on the main stage (I didn't recognize their names but I think they were aimed at a much younger audience than 50-somethings like me). Of course there were many large trailers where fans could admire and buy collectible race team merchandise, too.
Every Sunday after the race is over, California Speedway President Gillian Zucker gives a Press conference. I always enjoy listening to what she has to say. This time she explained that California Speedway makes a big effort to appeal to a broad range of potential spectators, which explains the variety of entertainment in the FanZone and during the pre-race festivities, which featured 25-time Grammy Award winner Stevie Wonder (the race's Grand Marshal); TV and film stars Dylan and Cole Sprouse (Honorary race starters), and Grammy Award winner Melissa Etheridge (who performed our National Anthem). Improvements to California Speedway continue and it sounds like more great things are coming.
As for the race itself, 39 laps into the 250-lap event I noticed, from my vantage point with the race team spotters high above the grandstands, that smoke seemed to be pouring from the driver's-side front tire area of Michael Waltrip's #55 NAPA Toyota Camry. This followed minor contact with Ricky Rudd's car. I was surprised to see that Michael did not choose to make a pit stop. It turned out that he should have, because his car soon erupted into a spectacular fireball, when the tire blew and probably cut an oil line.
Ricky Rudd, in the 88 Robert Yates Racing Ford, was making his 900th series start – second in the records to Richard Petty. Technically I guess that I'm supposed to refer to that as his 900th NEXTEL Cup Series start, but I still find it somehow wrong to ignore years of history from when the series used to be called the Winston Cup. Does that bother anyone else or is it just me? Unfortunately on this day Ricky left the track in an ambulance, after getting involved in a racing accident.
Jimmie Johnson, who returned before raceday for a public visit to his hometown of El Cajon, CA, won the Sharp Aquos 500 driving his #48 Lowe's/Jimmie Johnson Foundation Chevrolet. For doing so he was rewarded with a special trophy designed just for this particular race, and a share of the $6,097,134 purse (wow).
Drive safely and do join me again next time.
Copyright © 2007 & 2021 by Jan Wagner — AutoMatters & More #248r1