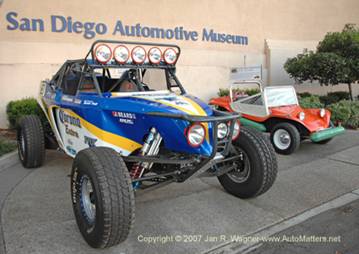 New Baja Exhibit & Racing Legends at the San Diego Automotive Museum
We were invited to the San Diego Automotive Museum to see their new Baja off-road racing exhibit. November 10 – 16, 2007 will be the 40th anniversary of the Tecate Score 1000, a famous off-road race through Tijuana, Ensenada and Los Cabos which was first held in 1967. Participants compete in buggies, trucks, motorcycles and all-terrain vehicles.
The standing room only event was very well attended.
To help celebrate this special anniversary, legendary Baja 1000 racers were on hand to personally share with us the rich history of the event. They also posed for photos and signed autographs.
Some of the memorable names from the event's history include three-time winners Ivan "Ironman" Stewart and Parnelli Jones, as well as Bruce Meyers (builder of the first buggy to run the Baja in its inaugural year), Malcolm Smith (off-road motorcycling pioneer), Sal Fish (President and CEO of SCORE International), Bud Ekins (Baja motorcycle racer), Johnny Campbell (9-time overall winner), Larry Roeseler (12-time overall winner), Mark McMillin (five-time overall winner) and many more.
In addition to mixing with Baja 1000 legends, we had plenty of time to explore the museum to see the other exhibits and visit the gift shop.
Dinner consisted of delicious Mexican food, prepared fresh for us on the park grounds at the rear of the museum.
The San Diego Automotive Museum is ideally situated for locals and out-of-town visitors alike. Along with its central, easy-to-find location in Balboa Park, its setting among the other museums (next door you'll find the Aerospace Museum) helps to establish just the right atmosphere to enjoy and appreciate the special collections within.
You can learn about the San Diego Automotive Museum online at www.sdautomuseum.org. For instance, I discovered that the auto museum building was originally constructed in 1935 as part of the California Pacific International Exposition. Originally intended to be a temporary structure to display Exposition goods, its life was then extended for use during World War II as a barracks for Navy Corpsmen. After the war the building had many civic uses, including storage, as an auditorium and as a dance hall. Now, decades later, this building has become the home of the San Diego Automotive Museum.
The idea for an automotive museum in Balboa Park came from Briggs Cunningham, a legendary racer himself. With the help of local automobile enthusiasts the idea moved forward until, in 1980, the San Diego City Council unanimously approved the museum and granted it a long-term lease. Nearly $1 million was spent for the building's renovation, which has since welcomed millions of visitors from around the world.
SCORE donated 1,000 special posters to commemorate the 40th anniversary of the Tecate Score 1000. If you would like one of these, I was able to pick up an extra and will gladly mail it to the reader who gives me the most compelling reason to do so (no threats, please). Write your reason in an email and send it to me at AutoMatters@gmail.com.
Drive safely and do join me again next time.
Copyright © 2007 & 2021 by Jan Wagner — AutoMatters & More #247