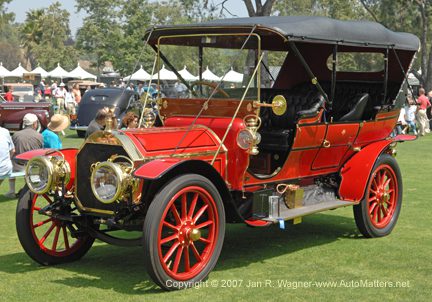 2007 Los Angeles Concours d'Elegance — with a large photo gallery
Rose Bowl/Brookside Golf Course, Pasadena
Last year at about this time AutoMatters covered the Pebble Beach Concours d'Elegance (2006, AutoMatters #209). It's that time of year again but instead of Pebble Beach let's visit this year's LA Concours d'Elegance.
If you've never heard of this magnificent display of classic and exotic automobiles, that's understandable. Despite its scenic location by the Rose Bowl on the grounds of the Brookside Golf Course, this is only its second year in existence. That's a good thing – and I'll tell you why.
The pictures tell half the story. Incredible automobiles; gently rolling expanses of green grass and mature shade trees; unbeatable weather and a landmark location – this event has all of that and more, but it's what you can't see that is the other half of the story.
As much as I loved going to Pebble Beach last year, it was well beyond the range for a day trip. Factor in very limited accommodations and it was no surprise that I had to pay a steep price to stay in a modest chain motel room in the middle of nowhere, an hour from where I needed to be. In contrast, the Los Angeles Concours d'Elegance benefits from its location in the greater Los Angeles area. It's just a short freeway drive away from almost anywhere in Southern California and, for those coming from further away, a broad range of accommodations are available.
Another advantage of this new event is its lack of large crowds. Whereas Pebble Beach was wall-to-wall people, here I was easily able to move about whenever and wherever I wanted to enjoy the automobiles and get back far enough to take photos – and I didn't need my Press credentials to do so.
This year's Los Angeles Concours d'Elegance included 31 classes of horseless carriages, pre-war and post-war classics, exotics and more. I'll let the automobiles speak for themselves through my photos, but one vehicle in particular seems worthy of special mention. The "round door Rolls" has a fascinating history – which was told in the event's official souvenir program by Leslie Kendall, Curator of the Petersen Automotive Museum (www.petersen.org).
The car was first sold in England in 1925 to a buyer from Detroit. She, in turn, sold it to the Raja of Nanpara. By 1932, and several owners later, it was in Belgium where it was re-bodied "with fashionably aerodynamic coachwork complete with two sunroofs, a large fin, sloping radiator shell, and round doors." Reportedly it was honored at the 1936 Cannes Concours d'Elegance and then was shipped overseas, to America.
"Sadly, the car fell into disrepair and was discovered in New Jersey in the early 1950s in near derelict condition." A subsequent owner rescued it and had it painted gold – "adding several pounds of gold dust to the paint." Eventually it was sold to someone in Japan, where it remained until "coming to the Petersen Automotive Museum in the spring of 2001." A ground-up restoration was performed. As beautiful as this car is to look at, it is challenging to drive. "It is difficult to steer at low speeds, requires double-clutching when changing gears, and cannot be stopped easily in an emergency."
This is but one of over 400 vehicles that were on display at the 2007 LA Concours d'Elegance. There was truly something for everyone.
Your support of the LA Concours d'Elegance benefits the nonprofit Assistance League® of Southern California (ALSC). Its volunteers "contribute over 7 million hours of service … annually." Established in 1919, the ALSC "has given hope to hundreds of thousands of people." "From volunteer operated services for children to professionally staffed programs for the elderly, ALSC specializes in giving the neediest people the opportunity to lead productive, independent lives." To learn about other ways in which you can help this worthy organization, visit their Web site at www.assistanceleague.net.
A new collection of automobiles will gather for the Los Angeles Concours d'Elegance on Sunday, June 1, 2008. For entry information, sponsorship opportunities, tickets and more, visit www.LAConcours.com.
Drive safely and do join me again next time.
Copyright © 2007 & 2021 by Jan Wagner — AutoMatters & More #246
PHOTO GALLERY