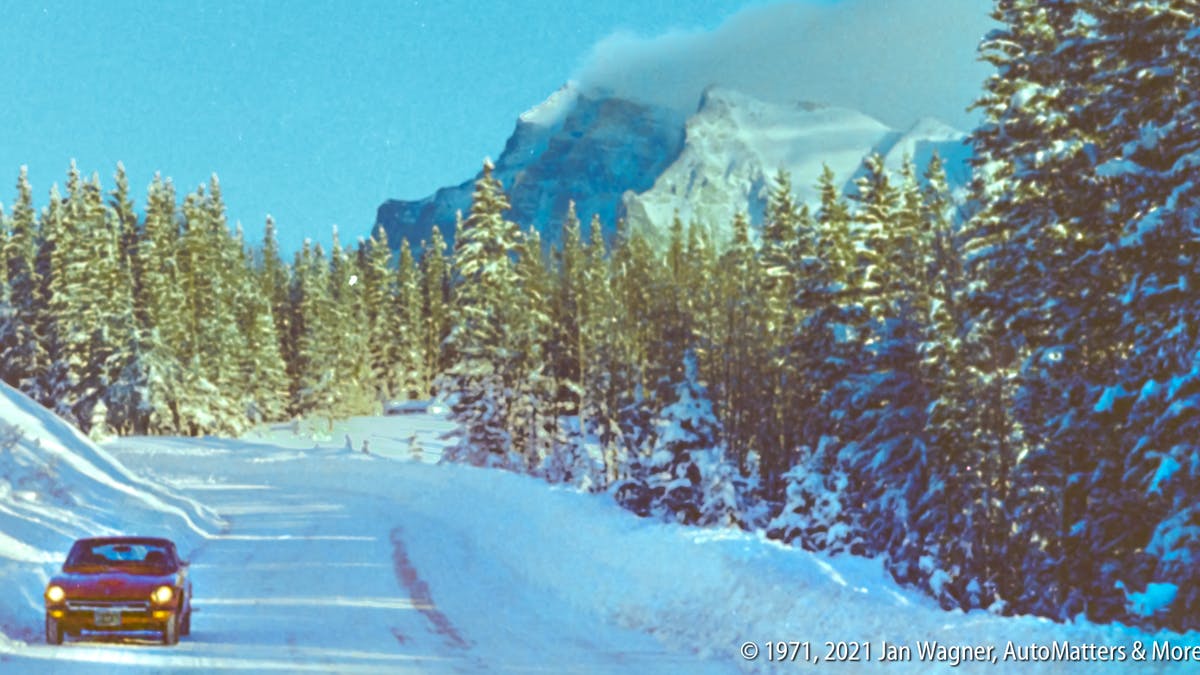 THE 'GOOD OLD DAYS' — ALBERTA'S ROCKY MOUNTAINS IN THE 1970S AND BEYOND
Decades-o​ld photos help share the memories
(UPDATE: This is turning into a living document that I keep feeling compelled to add to, as I remember more from long ago. Please share your thoughts and precious photos of long-forgotten ski trips in the comments section. Jan)
Last week I was excited to go out on my first of hopefully many major photo shoots since I began to shelter in place for the coronavirus pandemic in March 2020. I missed taking pictures and, judging from feedback that I received, you missed seeing them.
However, as I contemplated taking new photos, it occurred to me that I am already sitting on a treasure trove of my old photos that you might also enjoy seeing: Can-Am racing from the 1970s, travels around the world, visits to places and events that no longer exist, and so much more. In addition to the photos, I have vivid memories that will enable me to tell you their stories. With that in mind, you are about to read a significantly extended version of the column that I sent to the newspapers.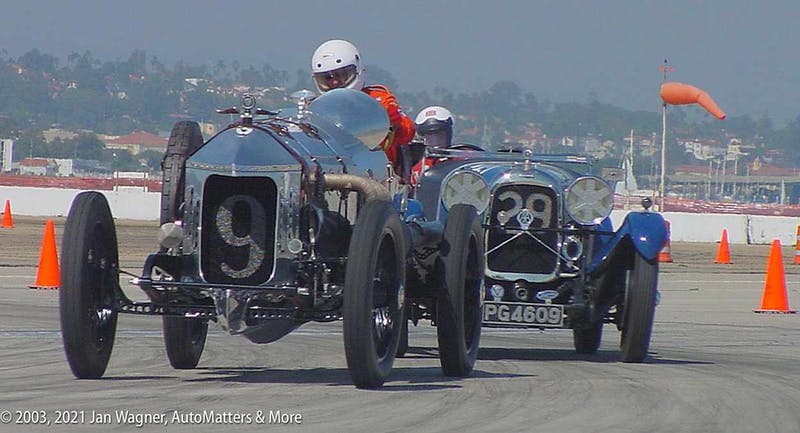 Until today, I have not been able to share my old photos with you. To have them commercially digitized would have been too expensive. However, I had been working on solving the problem of how I could efficiently and affordably digitize those photos to show to you.
I had been taking pictures for several decades before the advent of digital. Back then my pictures were in the form of prints and color slides. A while ago I tried to digitize a few of them using a 20-year-old flatbed scanner and a photo adapter, but digitizing just four negatives took me forever to do, and that necessitated a lot of painstaking editing. I have thousands of old slides and negatives, so I needed to find a better, quicker and yet affordable way to digitize them — or they would remain hidden, probably forever.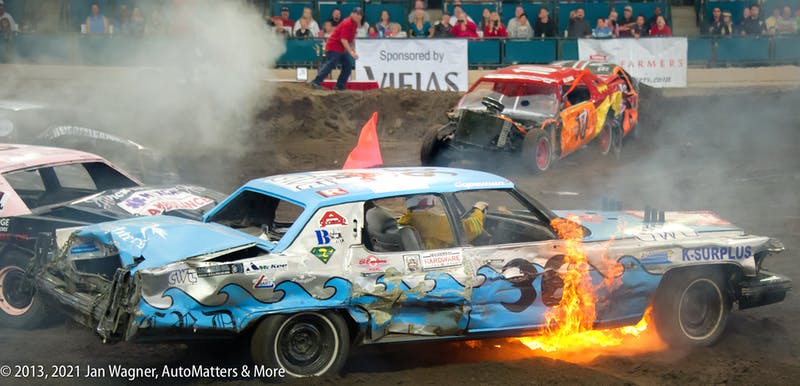 Thankfully, I am now able to more quickly take digital photos of my old 35mm slides and negatives (albeit only a few at a time) using one of my high-resolution Nikon cameras, ES-2 digitizing adapter and 60mm lens, as well as a bright LED light.
The unfortunate exception is with the often black & white photos that I shot with my very old Kodak Instamatic 100. That camera's negatives are square and are not as wide as 35mm negatives, so they do not line up with the spaces in the ES-2's negatives holder. I can only shoot one of those frames at a time and then I have to remove the holder from the ES-2, to reposition the negative strip in the holder.
This is the first product of my new process, and I'm still learning. It is more difficult to digitize negatives than slides, in part because it is difficult determine the correct exposure when taking a picture of an orange or grey-colored negative. To address that, I take a range of exposures of each frame, and then merge them into one HDR image using Adobe Lightroom. Then I reverse each one in Lightroom and get the colors right in Lightroom and, if necessary, in Photoshop too. After I digitize each negative, the final step is to edit each photo.
My first 'good old days' journey back in time takes us to the Canadian Rocky Mountains, as far back as the 1970s.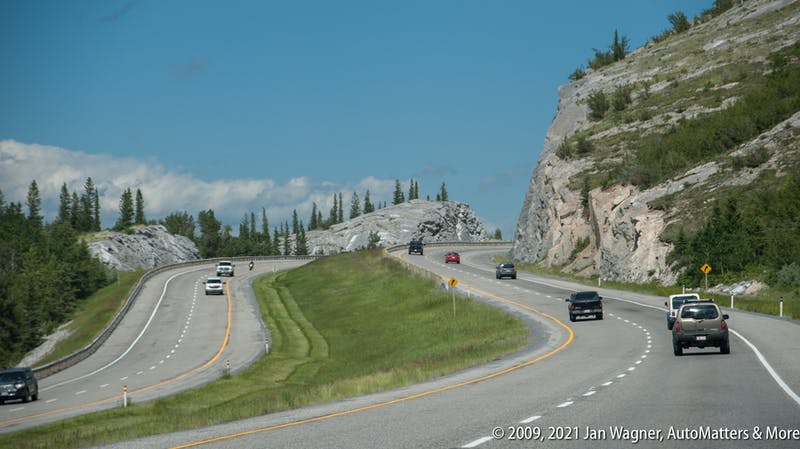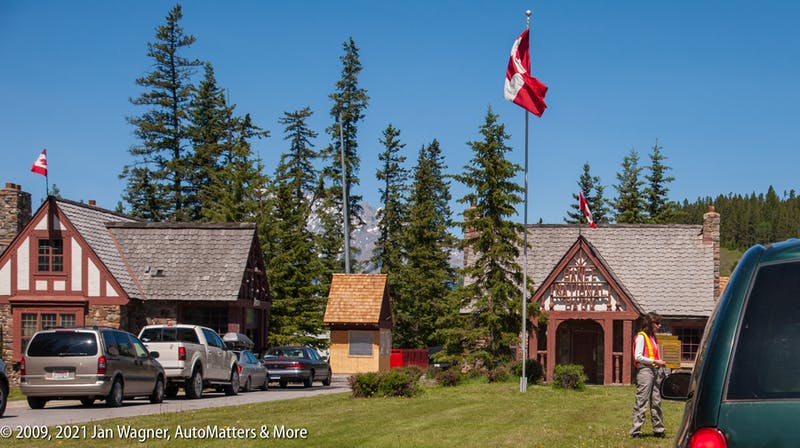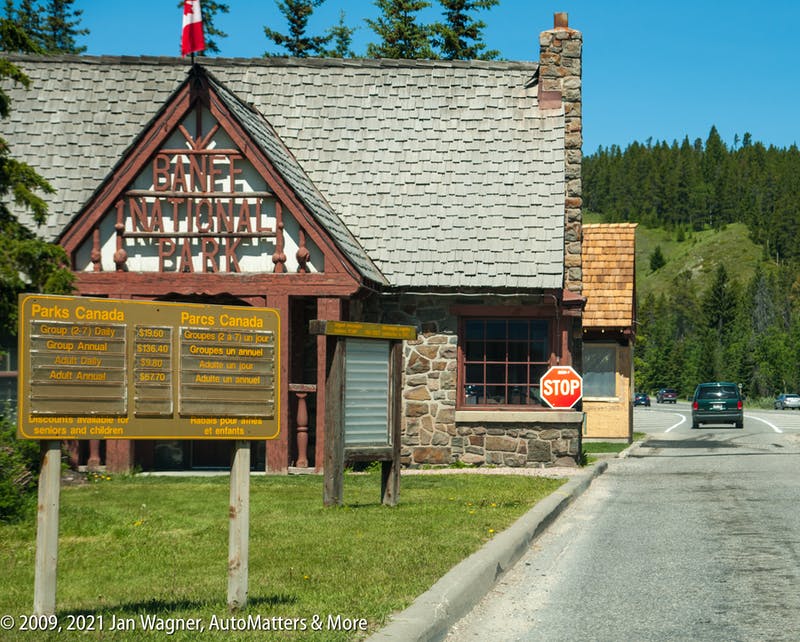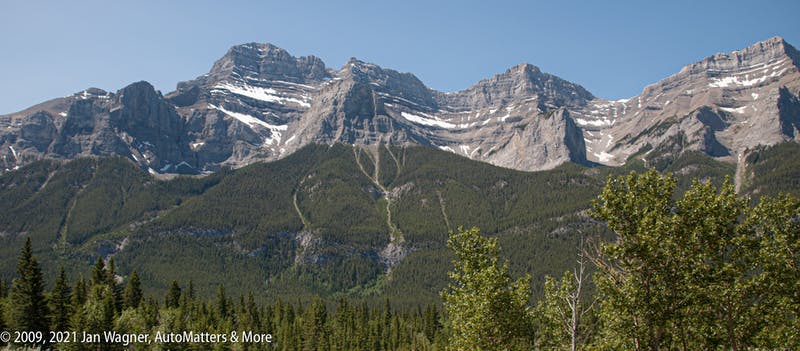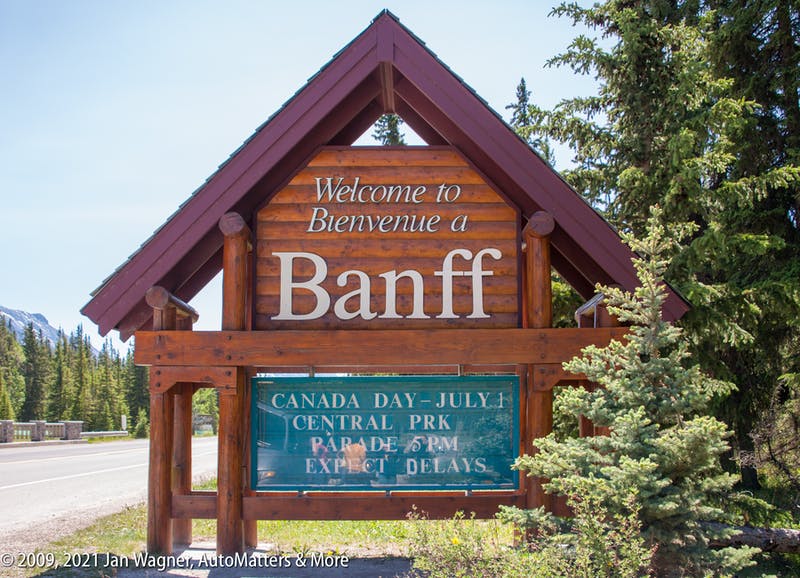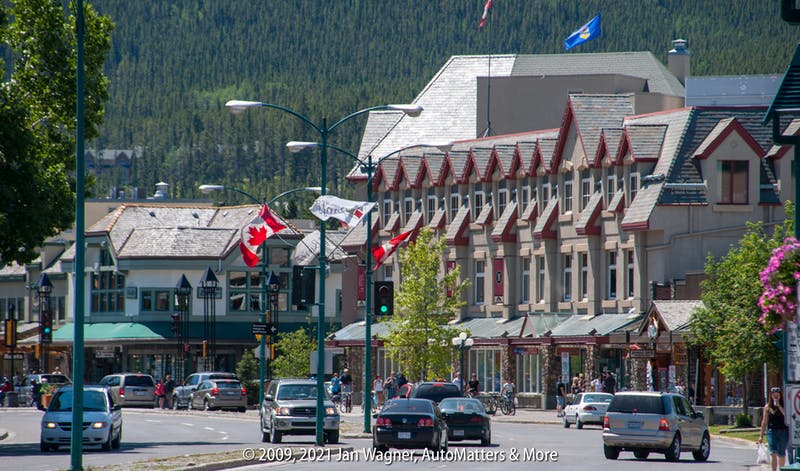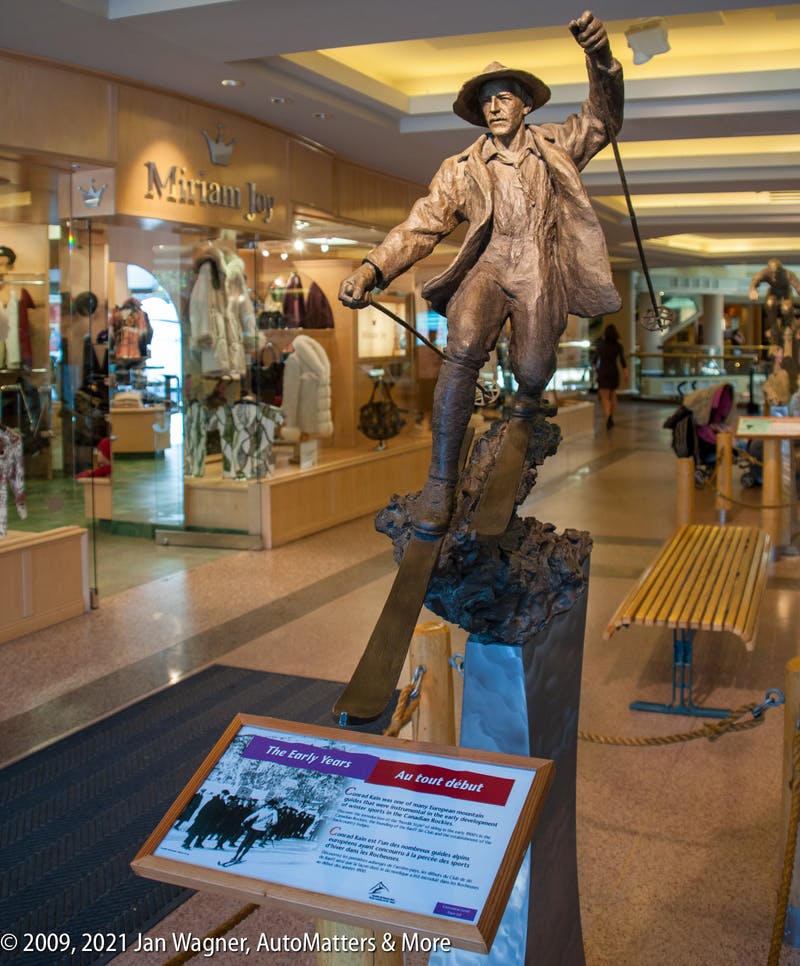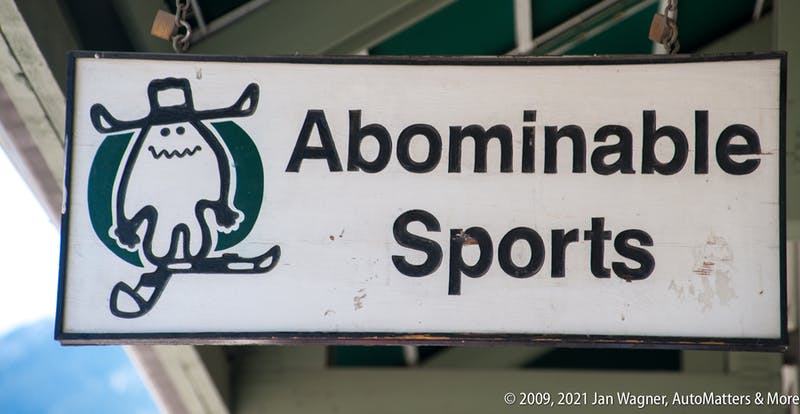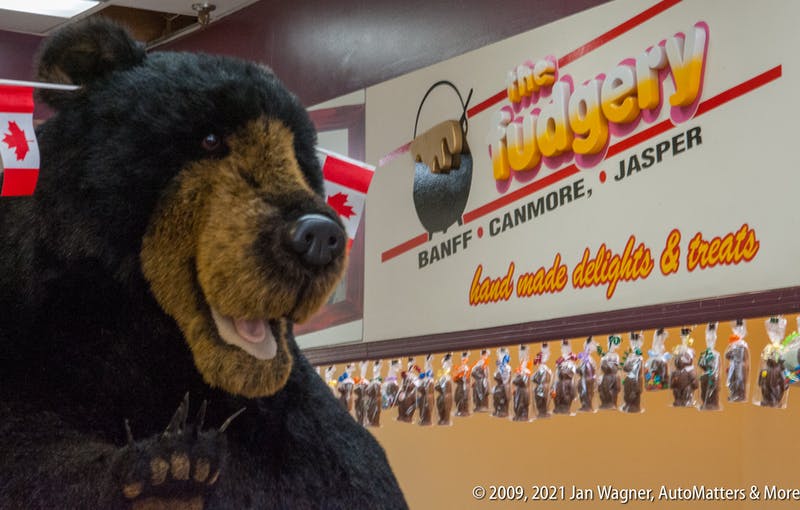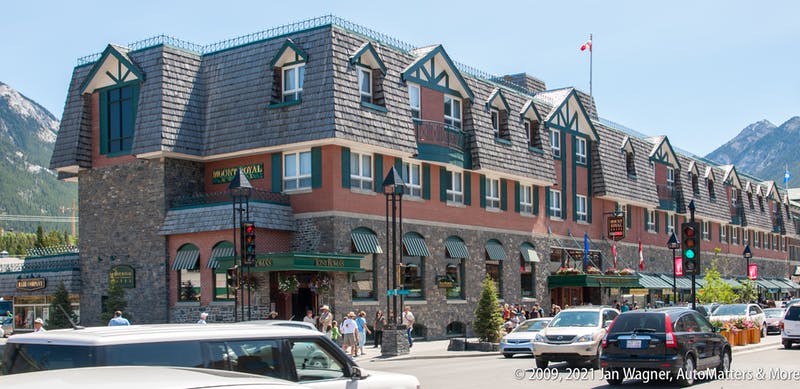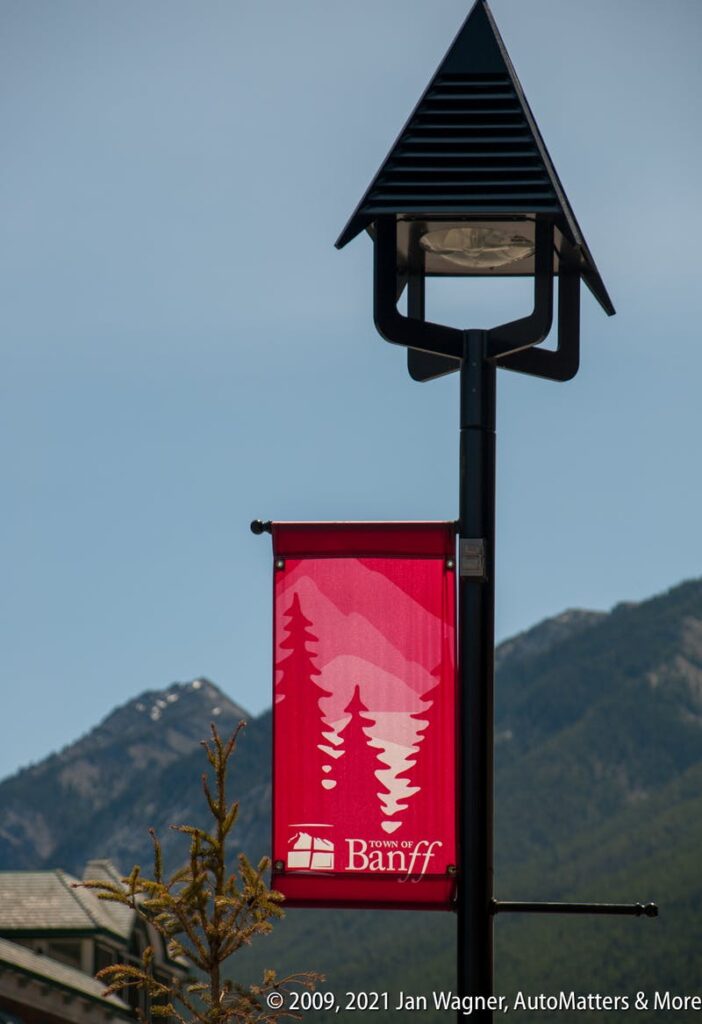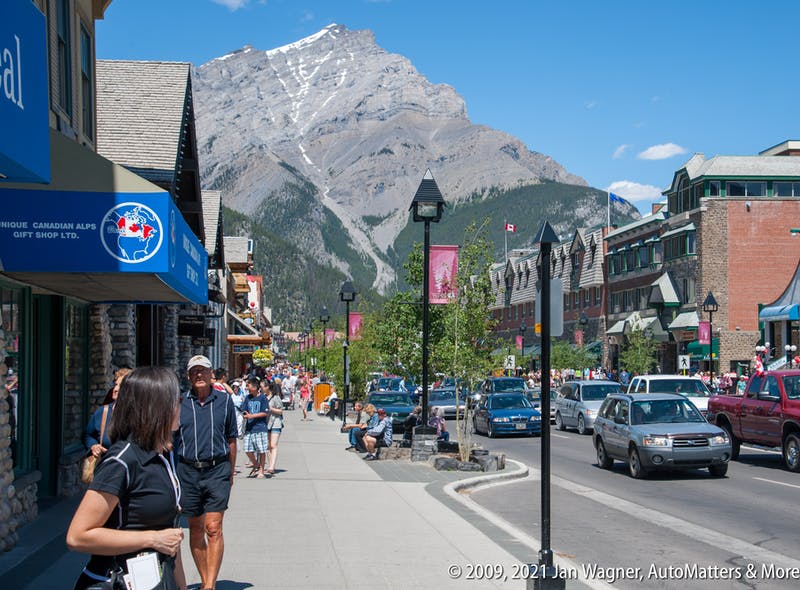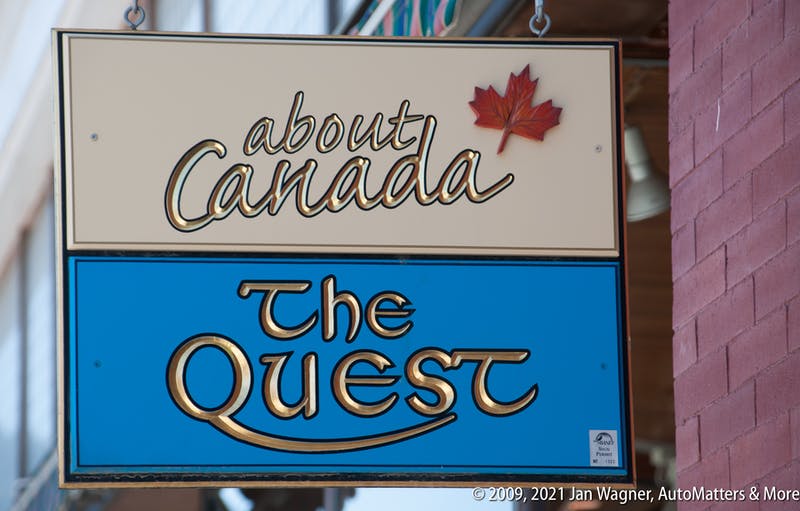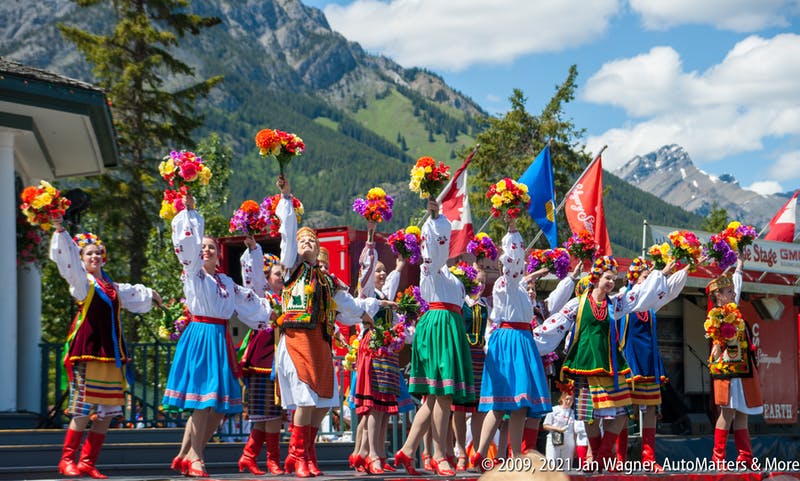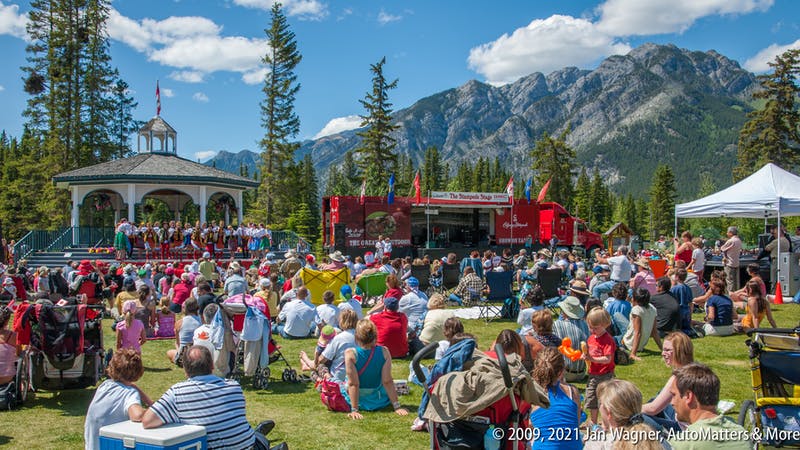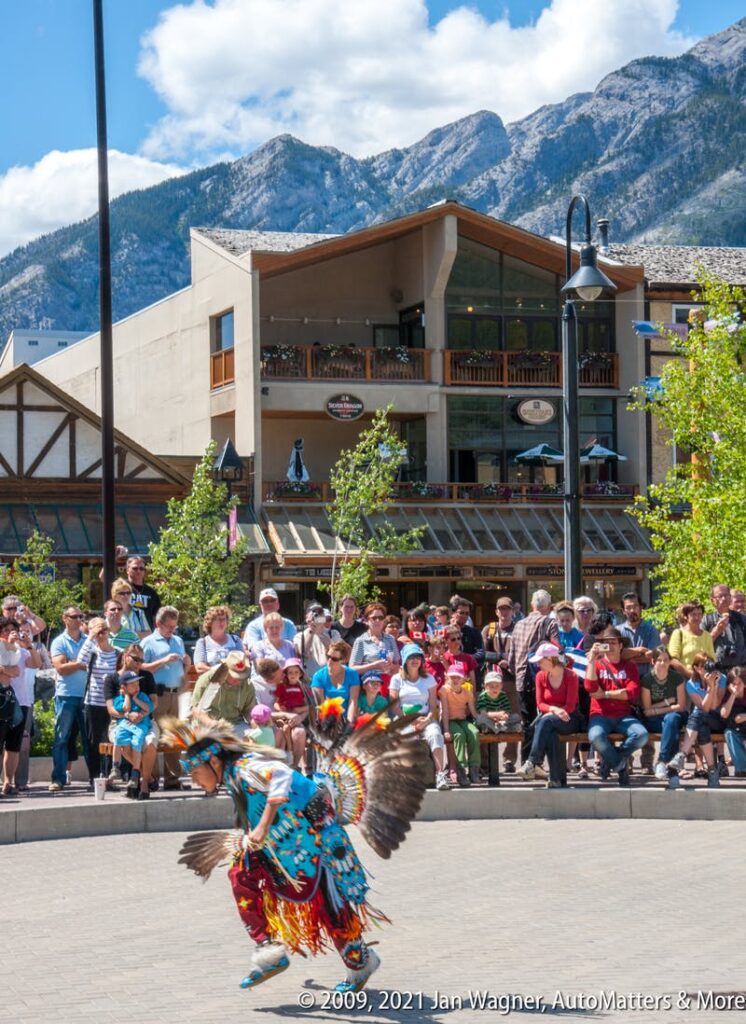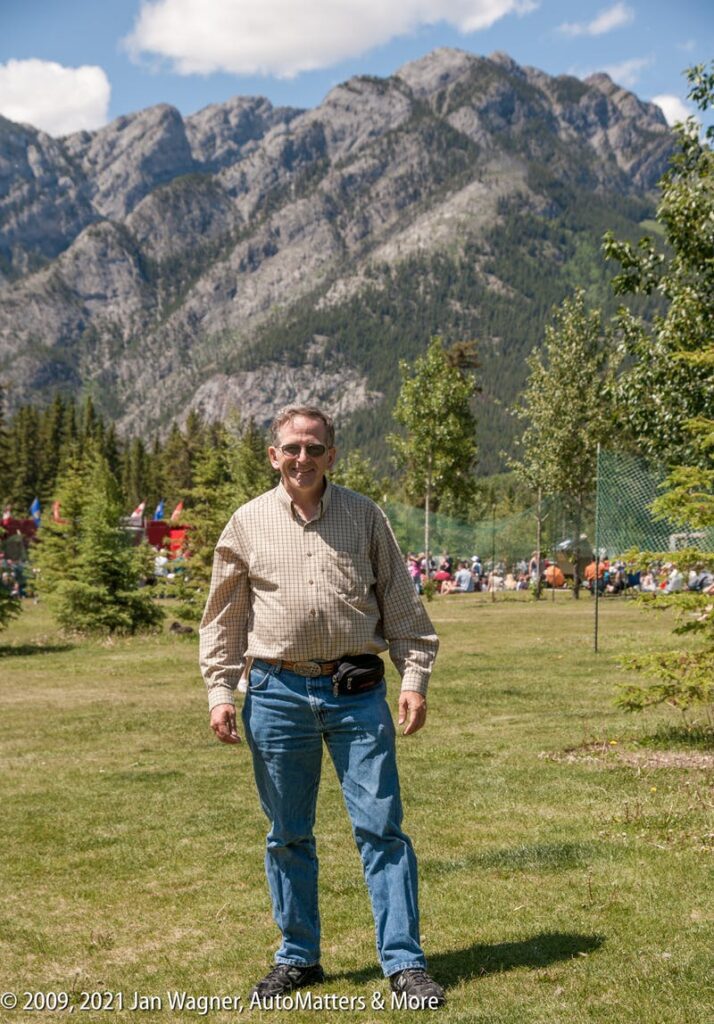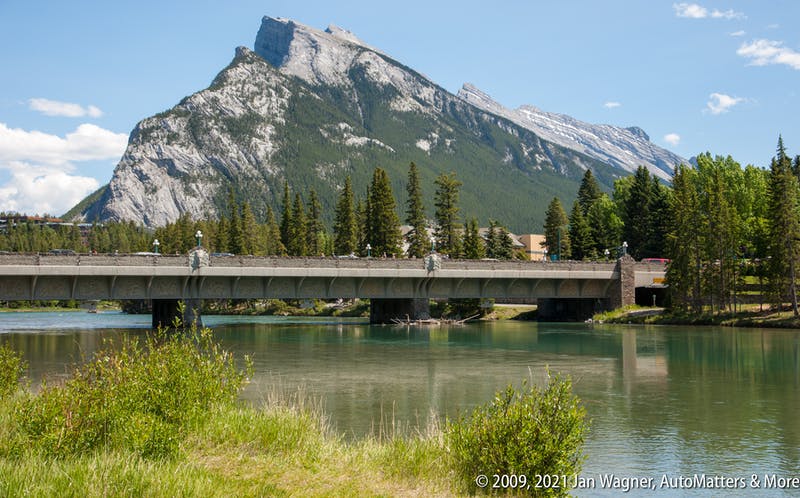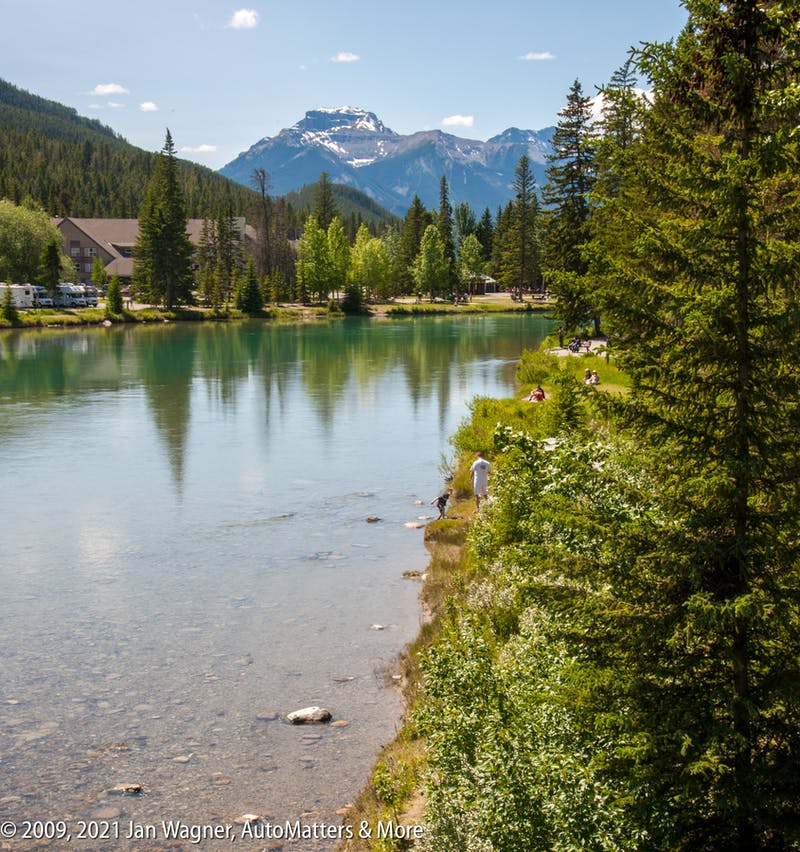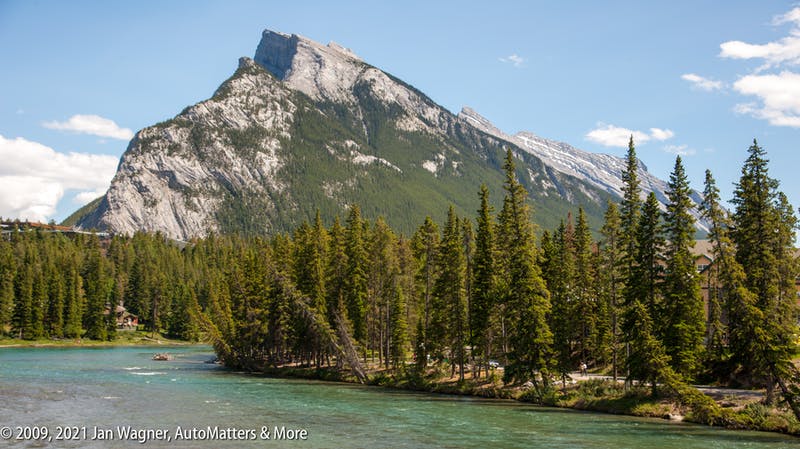 As I grew up in Calgary, I used to go skiing in Banff National Park at the Mt. Norquay, Sunshine Village and Lake Louise ski areas.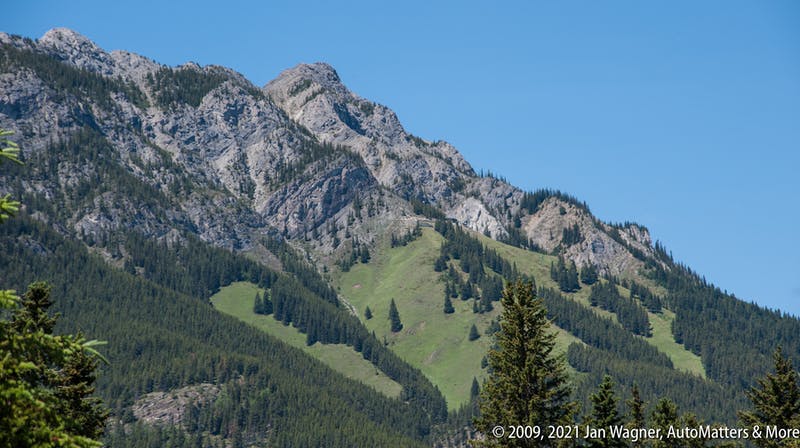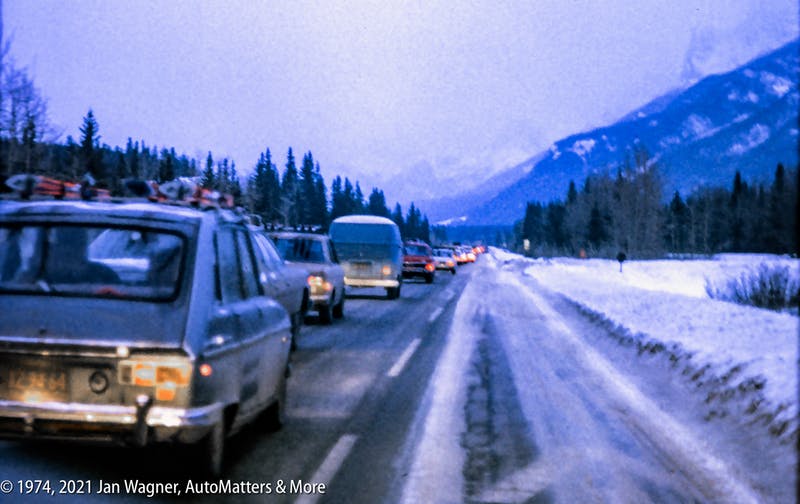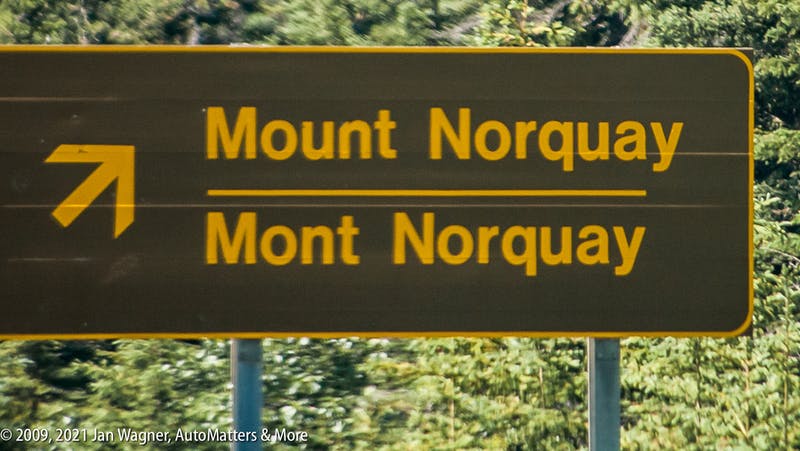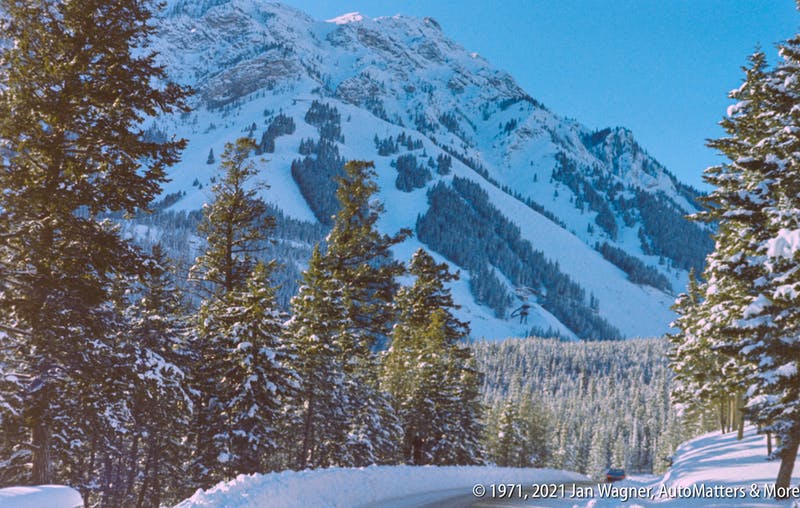 At first, skiing was not particularly popular. Even though there were not many ski lifts, skiers could get right back on the lifts as soon as they reached the bottom of the runs. I skied until I was exhausted.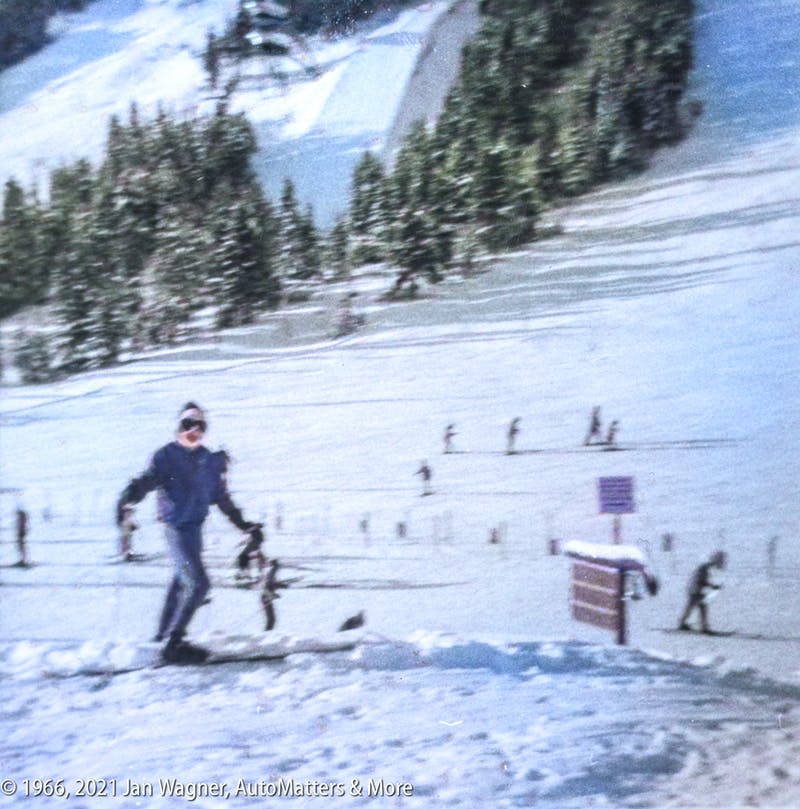 It was also really inexpensive. I still remember that as a teenager, I could take a bus chartered by the Calgary Ski Club to Mount Norquay from Calgary, and half a half-day skiing lesson, all for only $5! I'm serious. That would probably have been in the mid-1960s.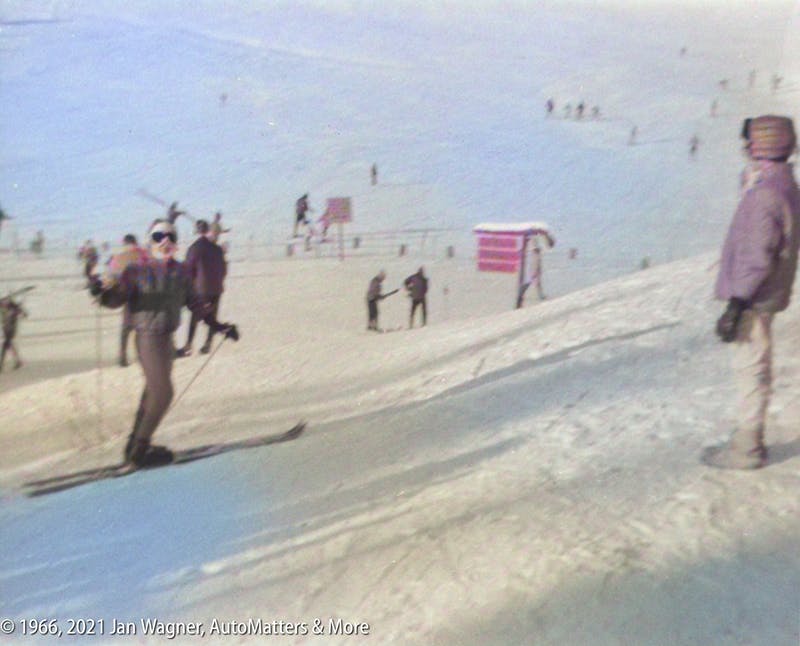 Speaking of Mount Norquay, that ski area had the most challenging runs. Its upper runs were steep and difficult — black diamond runs, and there was no easy way to ski down the mountain, after getting deposited at the top by the chairlift.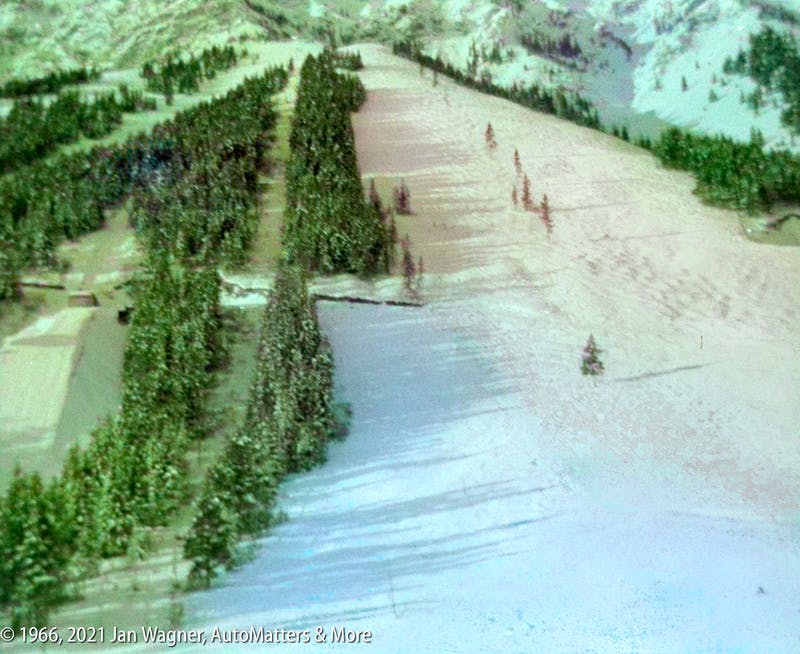 I was what you might call an advanced intermediate skier. I could ski down almost any steep run — as long as it was covered in at least somewhat packed snow, but not deep powder. I could do that through a combination of traversing back and forth across the slope, and then turning on either side on the steep moguls with 'stem christie' turns. If the snow got icy, as a last resort I could snowplow straight down, but it wasn't pretty.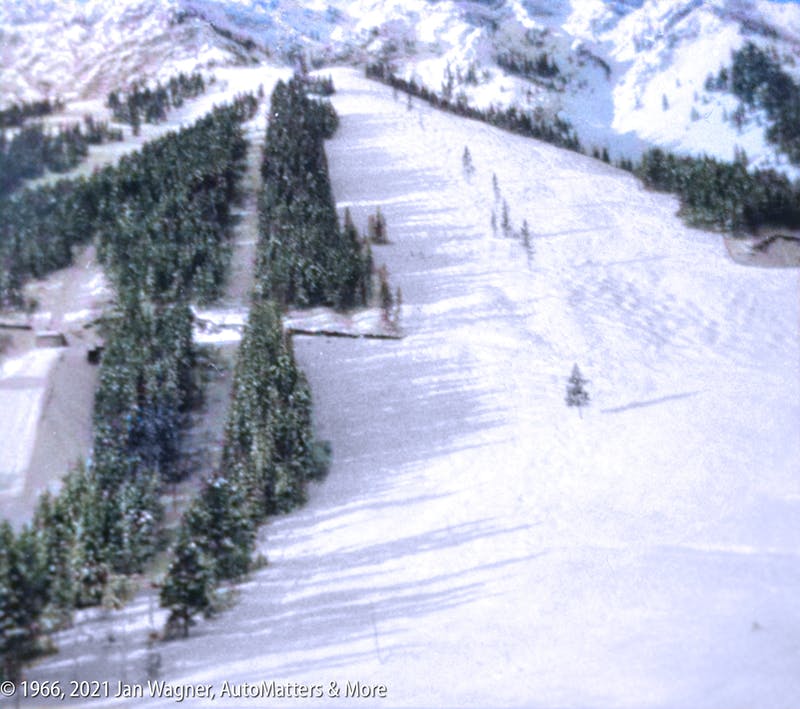 By the way, in case you're not aware of what 'stem christie' turns are, they were the 1960s predecessor to parallel turns of the 1990s, which were facilitated by the advent of parabolically sculpted sides of skis. As opposed to those, my skis were straight-sided and quite long, as was common back then.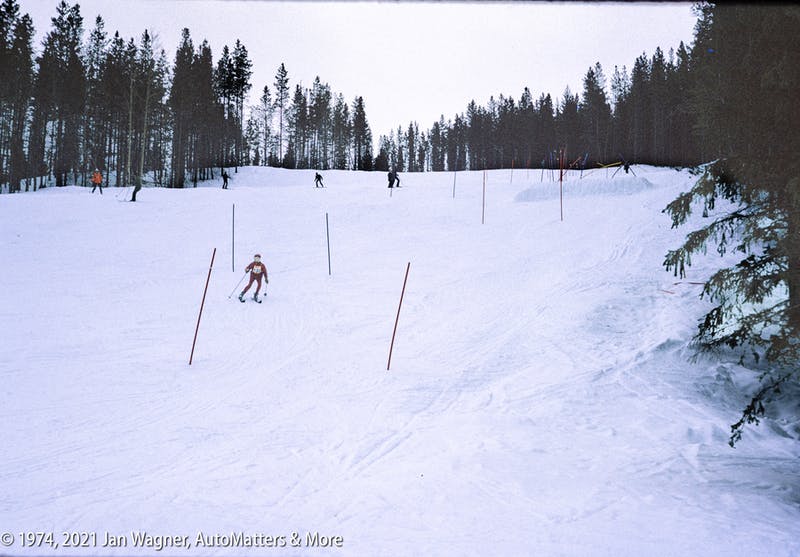 My first pair of skis were wooden "Gresvig Jets." Their "rat trap" bindings consisted of a coiled metal cable that was positioned by metal guides around the base of the (lace-up) ski boots, going up and over the back of the boot's sole, along a groove molded into the sole. The tension of that cable was tightened by pressing down on a lever located just past the front of each boot, until it snapped into place on the top of each ski. If a ski released during a fall on a steep, black diamond run, it could be quite difficult to put the ski back on. Sometimes I would have to sit on the slope and hold my skis in place, as I tried to put them on.
In stark contrast to the black diamond runs at the top of Mount Norquay, there was a much more gently sloping run directly below them, ending in front of the day lodge. Compared to what was at the top of the mountain, that was easy. I could speed down it with few turns.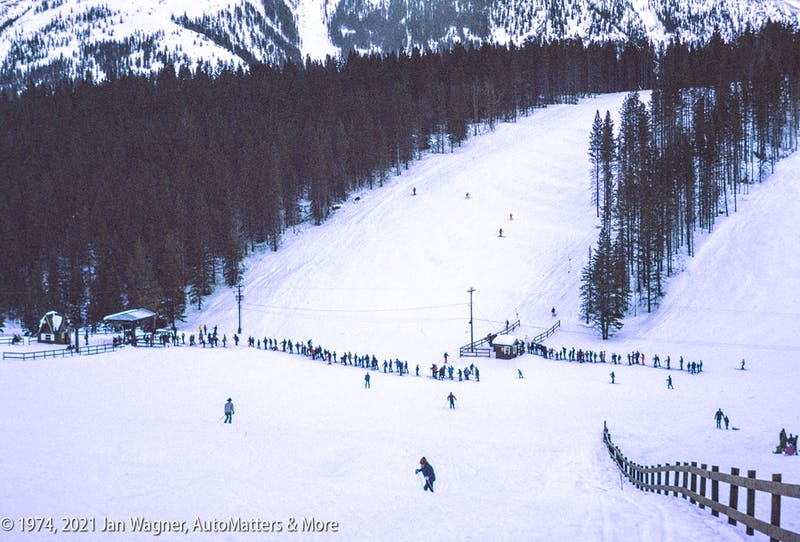 There was a nice intermediate group of runs to the right of the day lodge, hidden from sight by a thick stand of pine trees. To get there you would ski down along a path between the trees.
I remember that Mount Norquay had an unusual way of attaching its long, narrow lift ticket. It was threaded through a loop in a specially embossed piece leather, that snapped onto clothing. I wish that I still had one of those as a souvenir. This ticket design predated the much more common, wider ticket made of adhesive-backed printed paper. Skiers would wrap it around a thin piece of metal wire that was first attached to a loop on clothing, or perhaps through a hole at the end of a zipper.
My favorite of the three ski areas was Sunshine Village. Getting there was an adventure in itself. The only way to get there was to take a radio-equipped, manual transmission equipped, Brewster Rocky Mountain Gray Line bus several miles from Banff. From the midpoint of the mountain on up, the narrow gravel road was slippery and barely passable. Even though the Dodge Powerwagon buses were relatively short, on one very steep section with very sharp turns at the top and the bottom, the driver had to back the bus up one of the switchbacks, because there was not enough room to make the turn. Heavy chains were mandatory for traction.
To give you an idea of how few people skied back then, the lodge where people could stay overnight at Sunshine Village, and have meals, eventually became the ski shop!
S​unshine Village is at a very high elevation. It sometimes got so cold there that large ponchos were provided at the bottom of one of the chairlifts, for the long ride up the mountain. Another chairlift sometimes had whiteouts at the top, making it very difficult to see.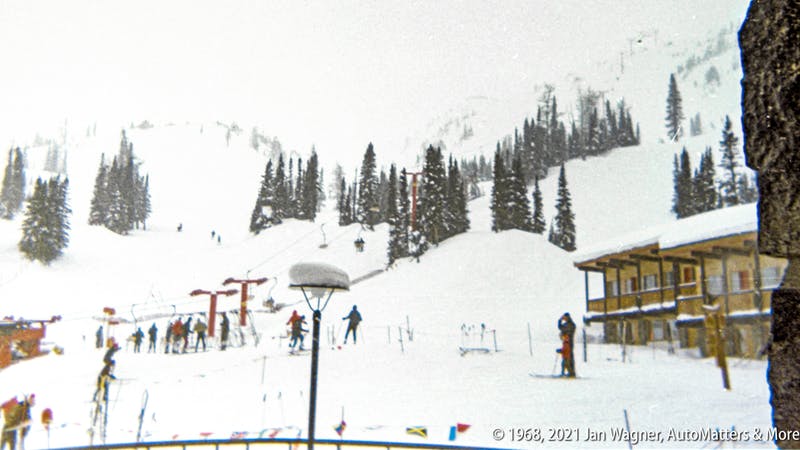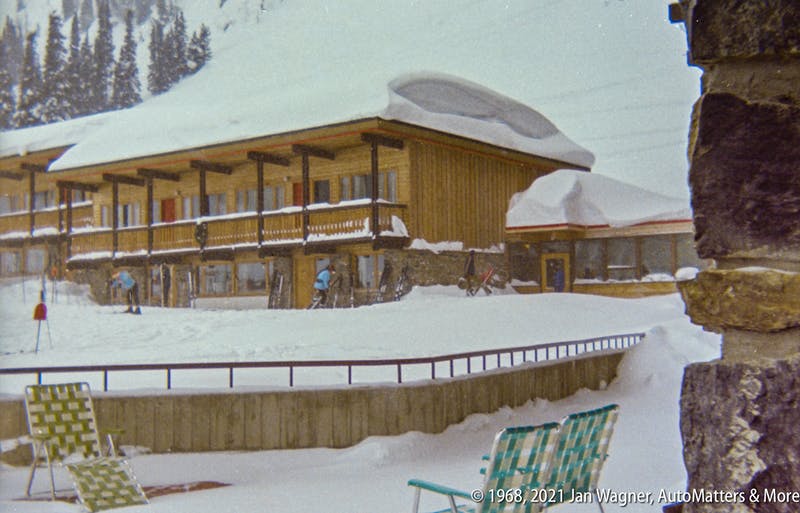 My parents did not ski, but they often stood at the bottom of a slope, on the snow and in the cold of winter, to watch me complete runs.
Lake Louise was the furthest of the three ski areas from the town of Banff. As I recall it was at a lower elevation. It had some really long runs. The ski-out would take you all the way back to where the gondolas took people up the mountain.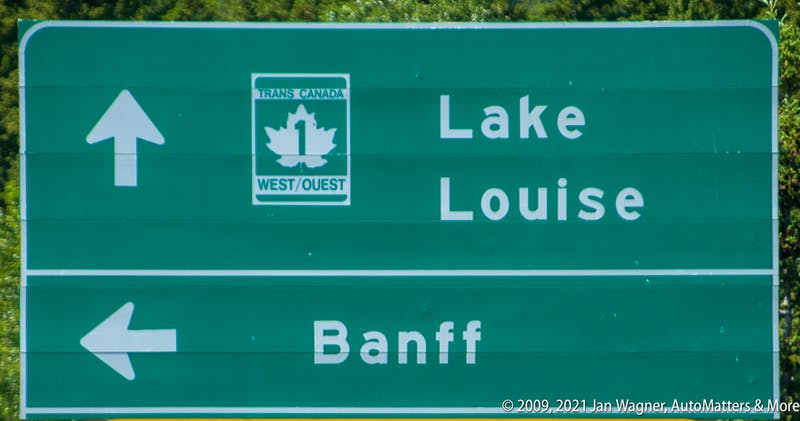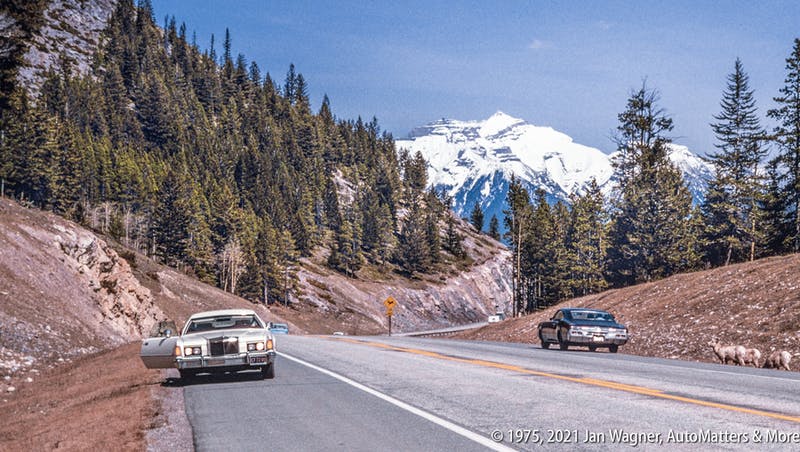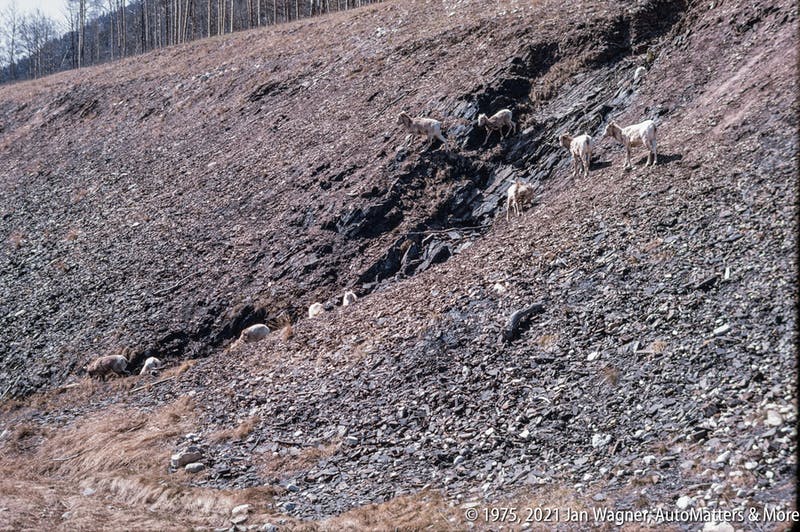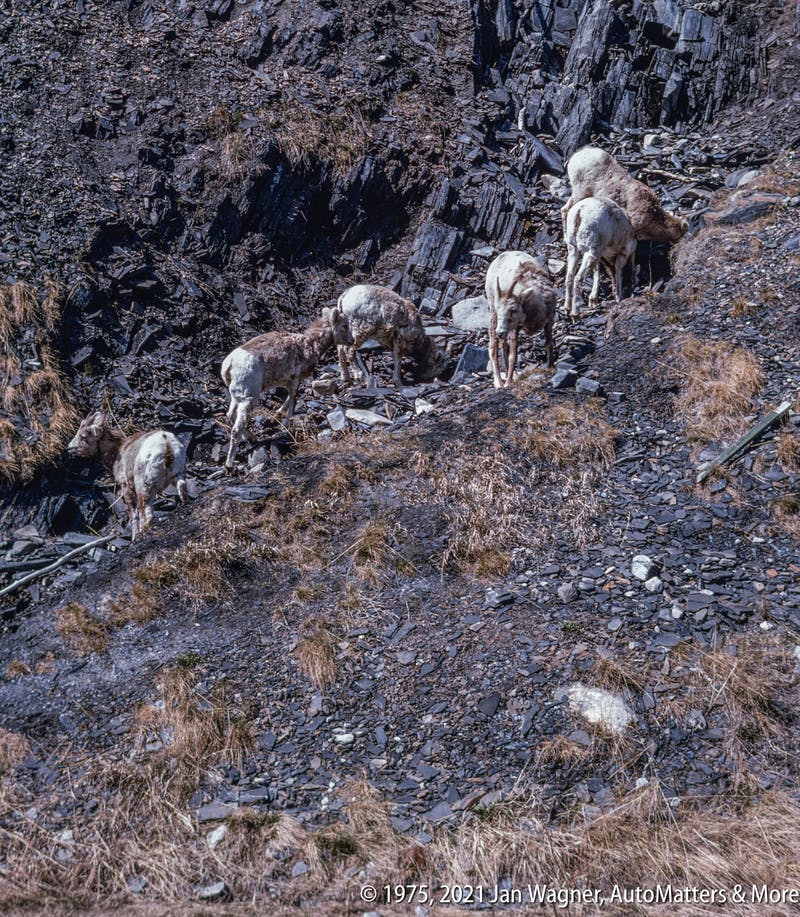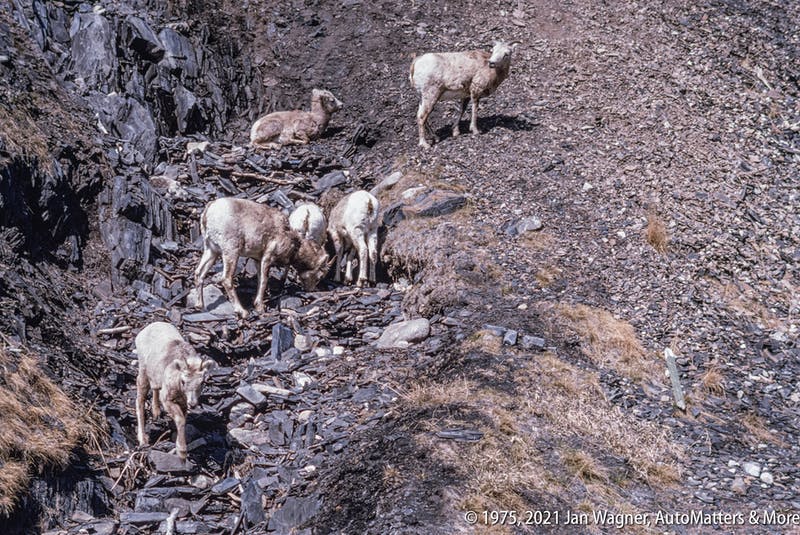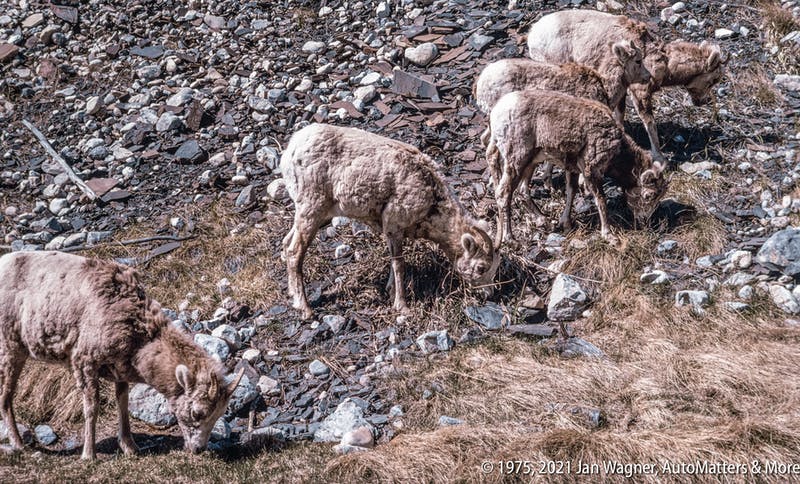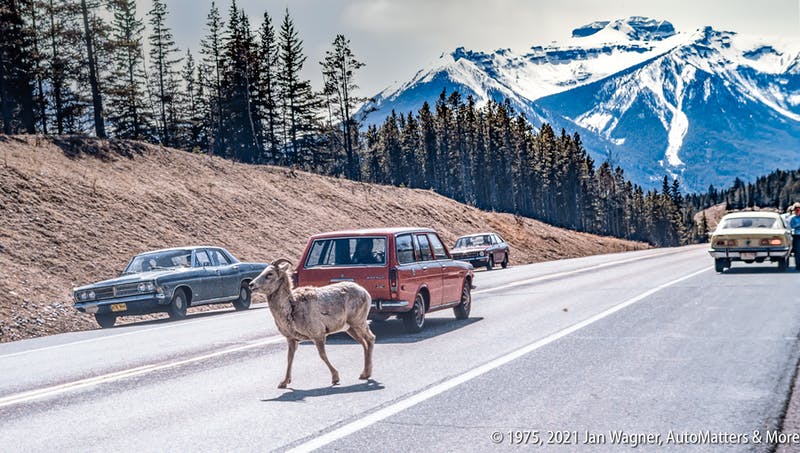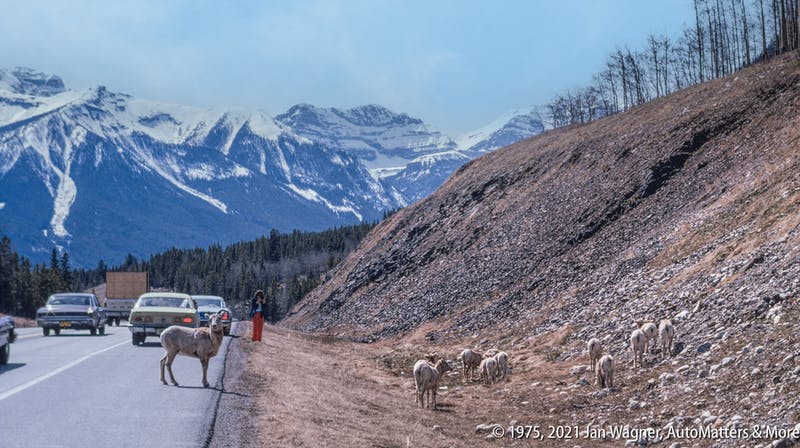 There are two grand old Canadian Pacific Railroad hotels in Banff National Park. One is the Chateau Lake Louise.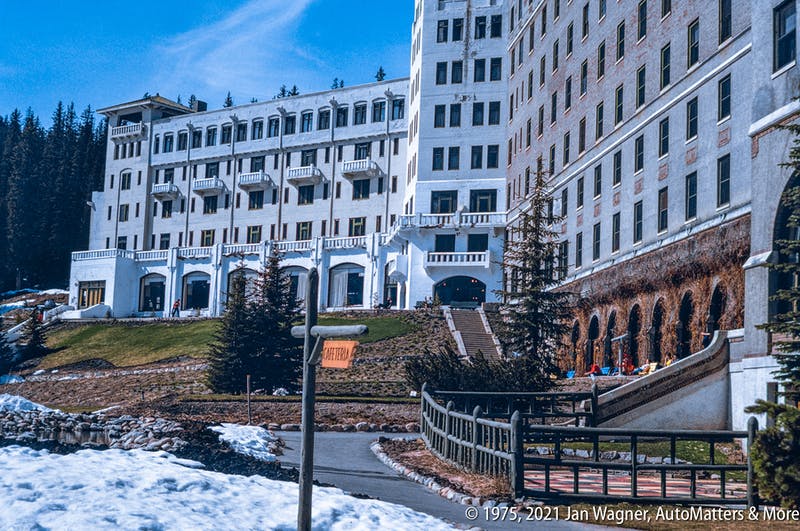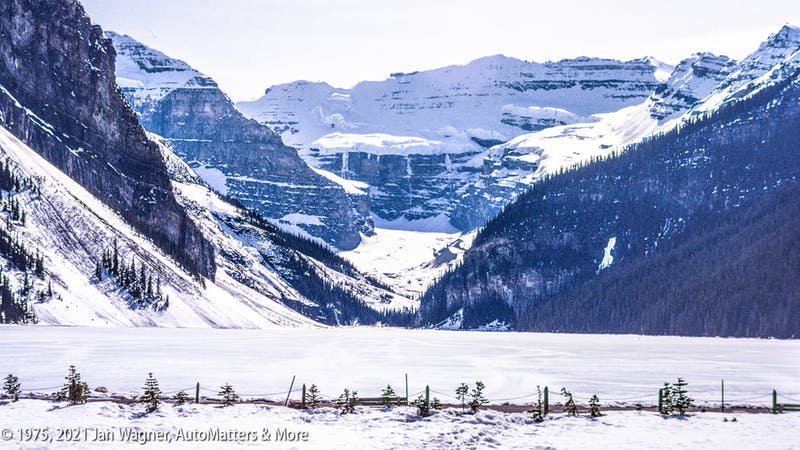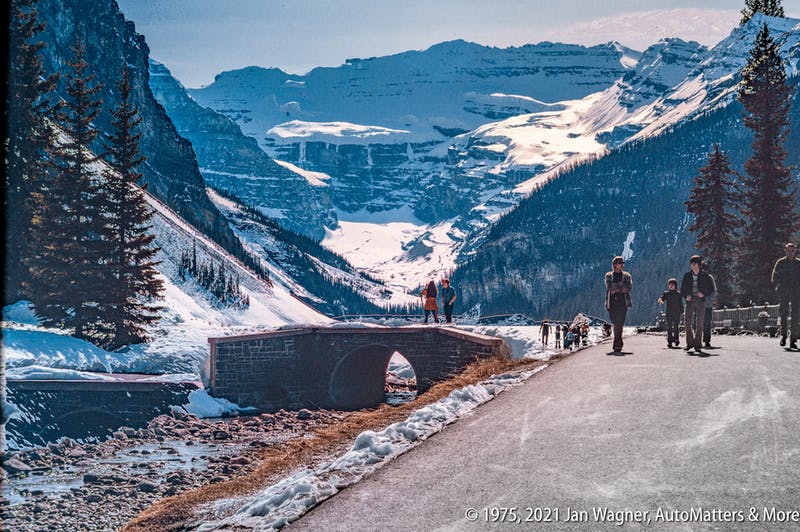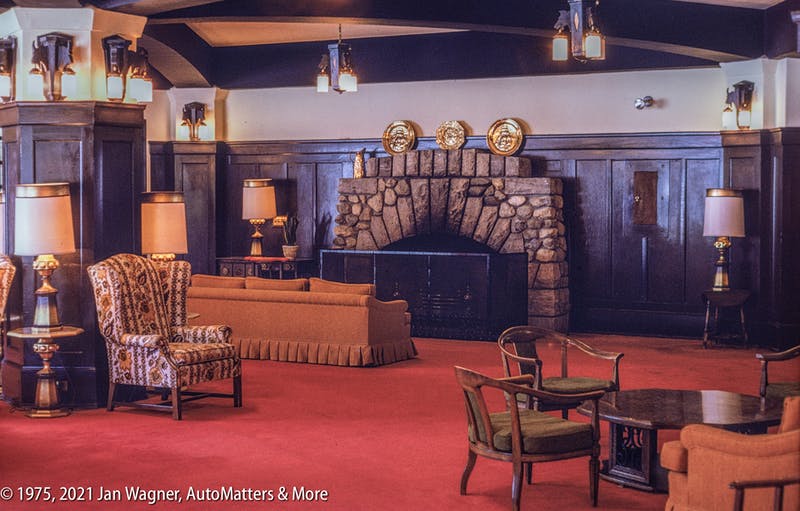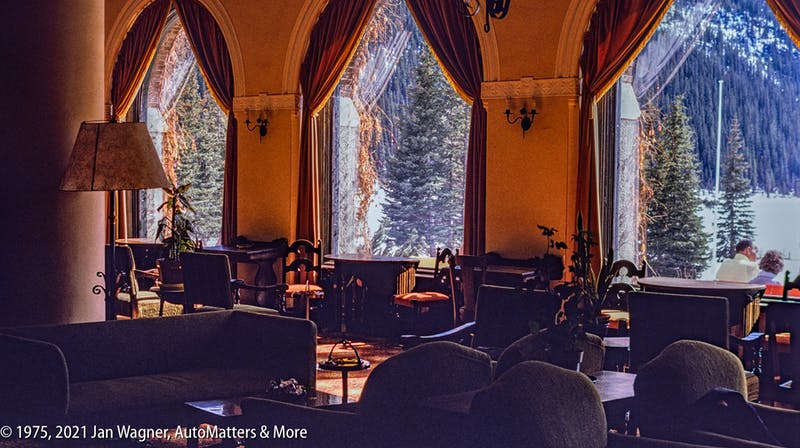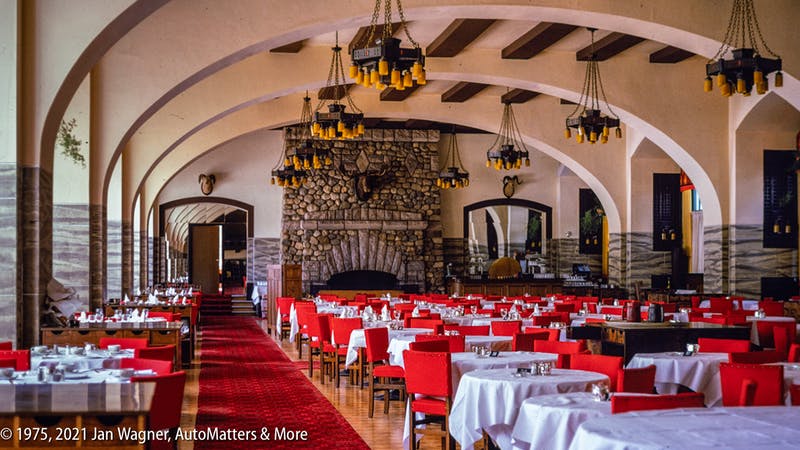 For winter vacations when I was growing up, we often stayed at the Banff Springs Hotel (now called the Fairmont Banff Springs). At first that hotel was not open for guests to stay in the winter. It did not have sufficient heating for the cold Canadian winters.
Until it was eventually winterized in the latter part of the 1960s, we stayed at the rustic Timberline Hotel, at the foot of Mount Norquay. That hotel's dining room had panoramic windows that looked out into the beautiful river valley below. On the other side of those windows, wild deer would come up and graze on the grass.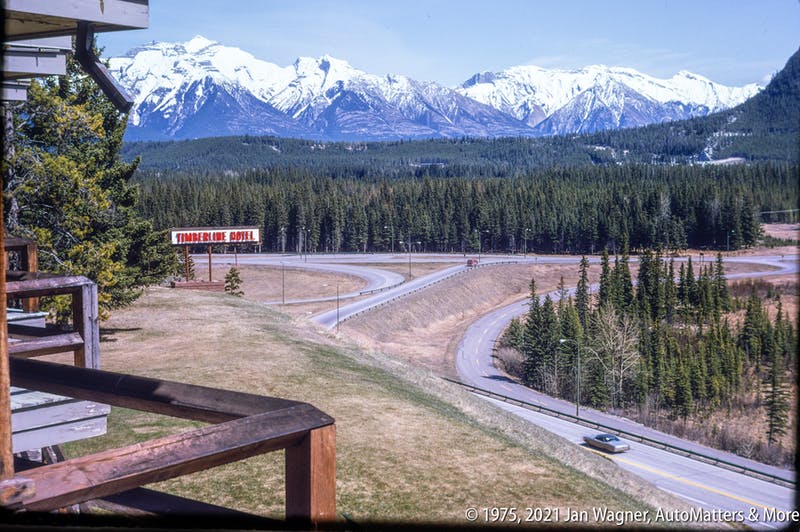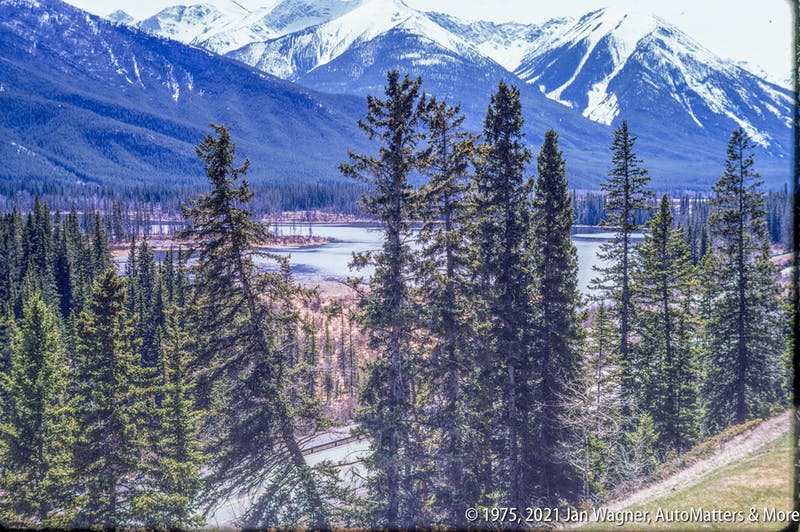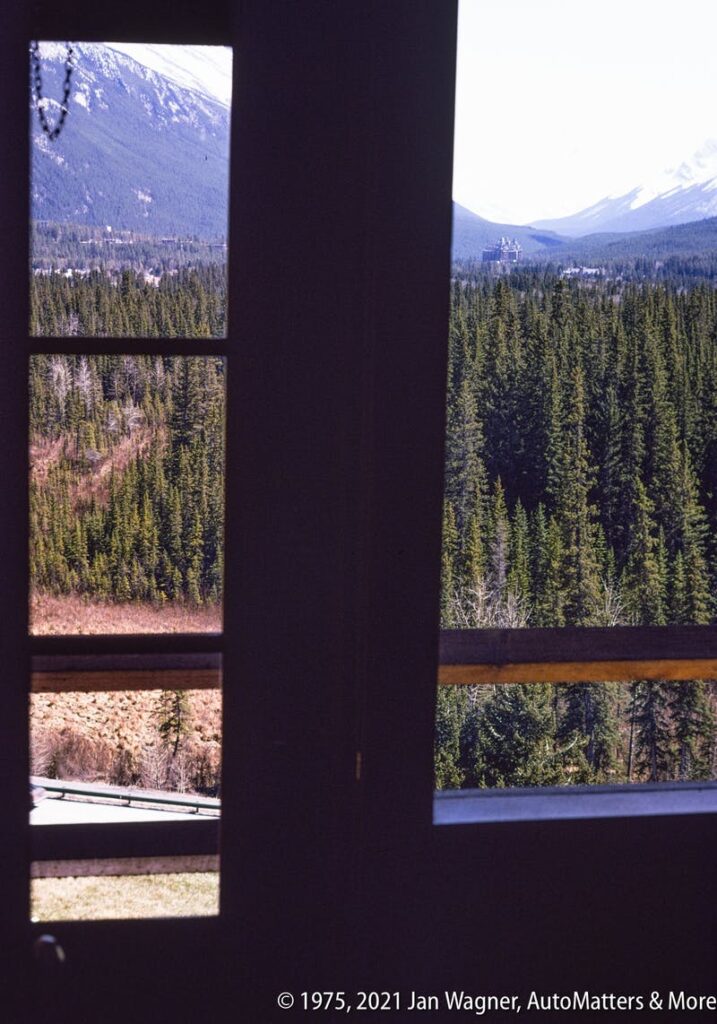 The first version of the Banff Springs Hotel dated all the way back to 1888, but that building was destroyed by fire and was subsequently rebuilt to be more fire resistant. The version of the hotel that we stayed at still look very old, with radiant steam heaters, plumbing and fixtures that looked like they were from a much earlier era — which they were.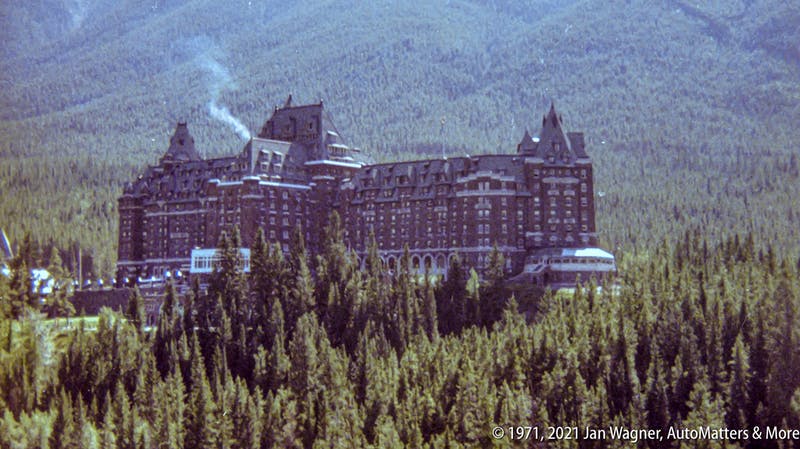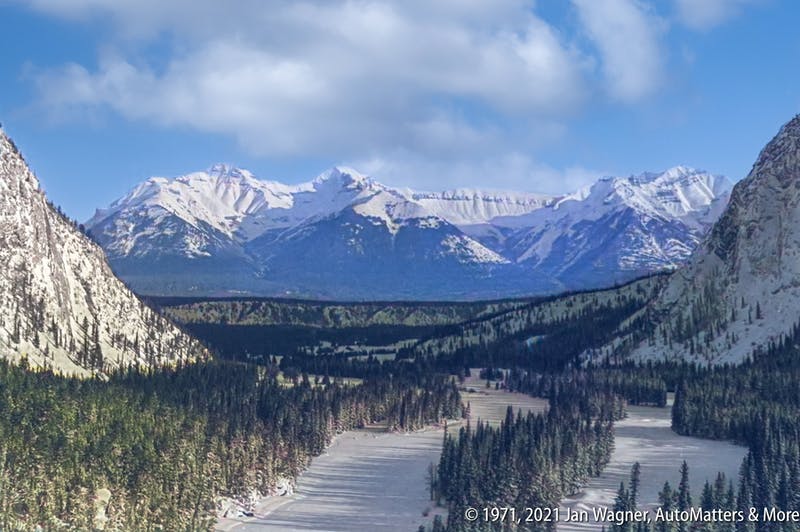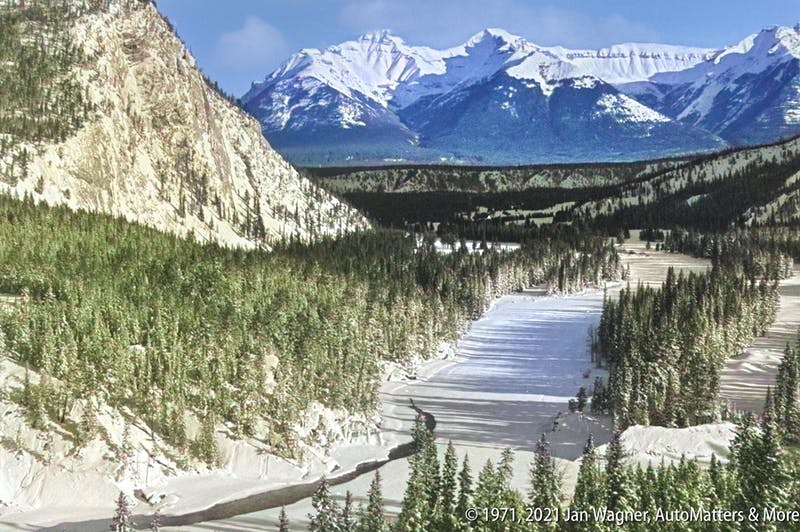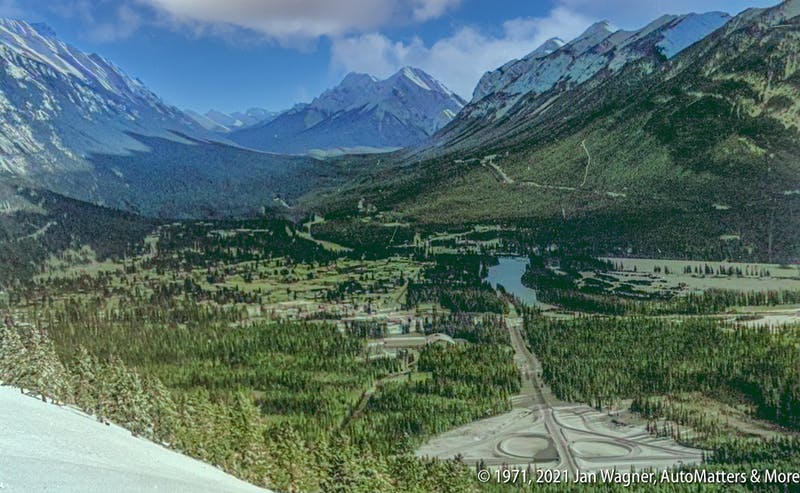 Forget about watching TV in the rooms at night. Instead, after a day on the slopes, guests could gather downstairs in one large, wood-paneled room downstairs to watch the lone, probably black & white TV set. I don't remember how many channels we had to choose from to watch programs that we could all agree on, but the closest city (Calgary) only had three TV channels (CBC, CTV and an independent — CHCT-TV, Channel 2, nick-named "The Rockin' Deuce," as I recall), so the town of Banff would not have had more than that. Are you old enough to remember when TV sets only had a rotary dial that could tune in no more than 13 channels?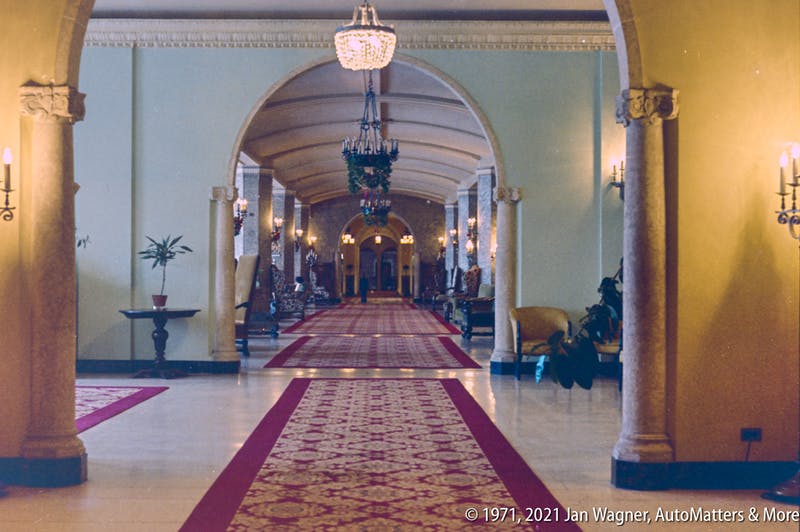 The dining rooms in the Banff Springs Hotel were absolutely grand, but their service could be slow and the quality of the cooking was inconsistent. I suspect that it is much, much better today under Fairmont's operation.
In addition to the castle-like hotel building, there was a separate building where college students would stay while working at the hotel on their breaks from university. Their working arrangements were sort of like those at Disneyland, where cast members wear badges that say what places they are from.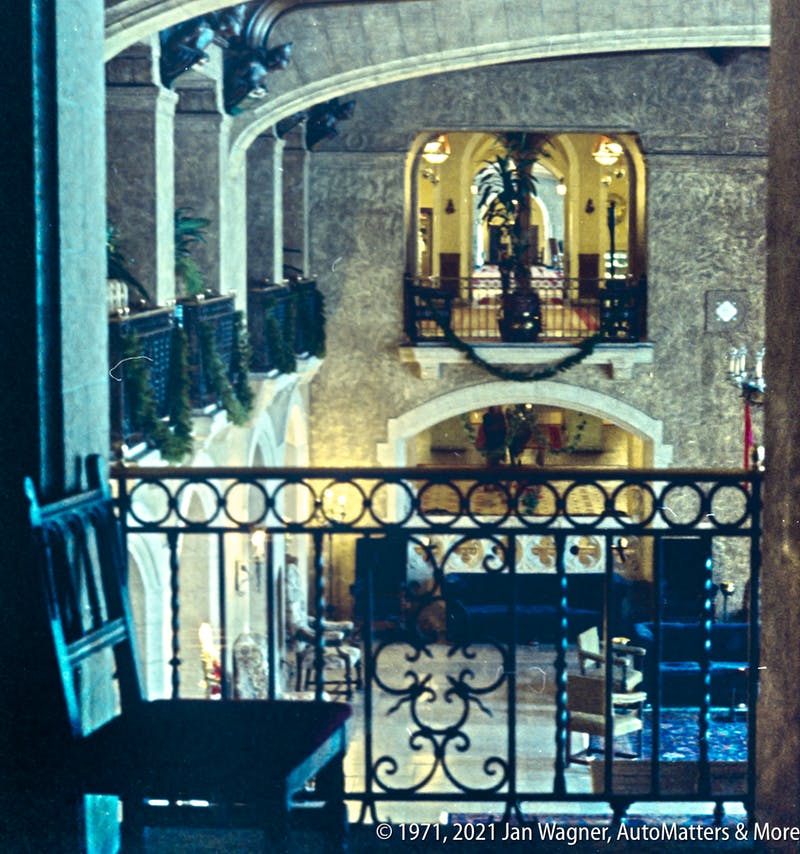 Long ago, the rear of the Banff Springs Hotel had a grand motor coach and guest entrance, where vehicles would be driven to unload their passengers and luggage. From there guests walked up the staircase into the registration area — a large, rustic, wood and stone area room, with soaring ceilings and taxidermy animals on the walls. Sadly, when I last visited, that classic hotel entrance had been replaced with a modern 'brass & glass' entrance at the front of the hotel. Some things really should be left alone.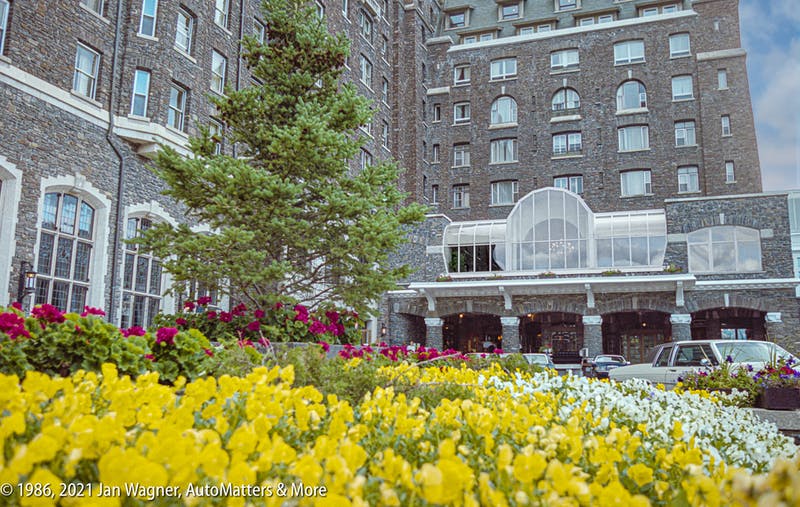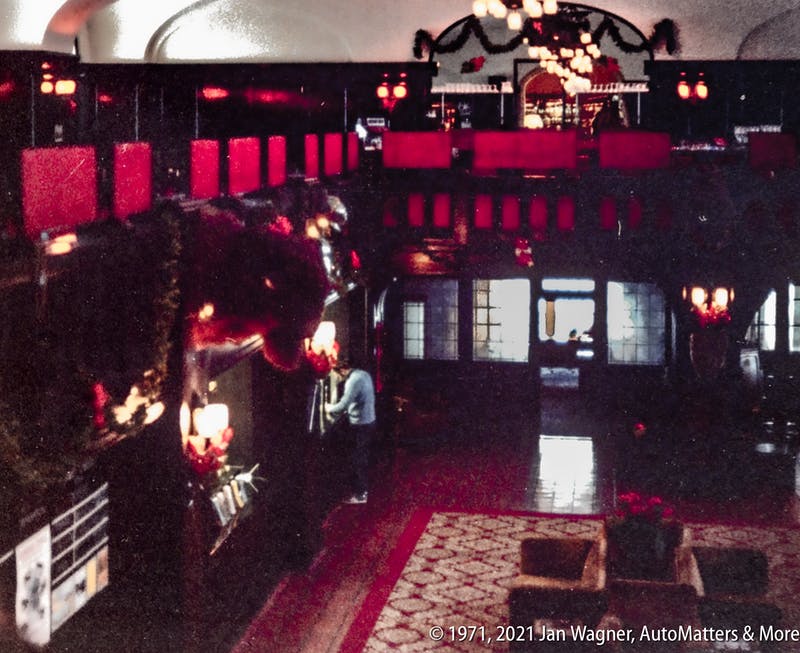 I wish that I had taken more photos back then. Hopefully between the few photos that I've found so far, and my recollections, you will be able to imagine what it was like. I also have other, unfortunately vague and perhaps no longer completely accurate, fond memories from long ago in the town of Banff, and for which I have no photos and never will: walking from the cold night to have dinner at a popular mom & pop restaurant — the proprietor of which was named Gus; going to the one movie theater, since there was so little TV to watch for entertainment at night; driving on the winding local road up above Banff to wait in line and then have a delicious breakfast of warm French pancakes filled with strawberries — probably canned — at Phil's Pancake House; going at the end of a day's skiing to warm up at the natural hot springs in a place called the Cave & Basin (literally in a cave) — and then walking back to town instead of getting a car ride back, because I was so toasty warm inside; lifting my skis up on to a rack attached to a Brewster Rocky Mountain Gray Line bus for the ride from Banff snd up to Sunshine Village; pulling the string to pop a holiday popper and spread the confetti within, during what was probably New Year's Eve at the Timberline Hotel; and turning the four-pronged handles (now nostalgically vintage) on separate hot and cold water taps, with their integrated faucets, in the old fashioned bathroom sink of our room in the Banff Springs Hotel, so that I could then mix warm water in my cupped hands.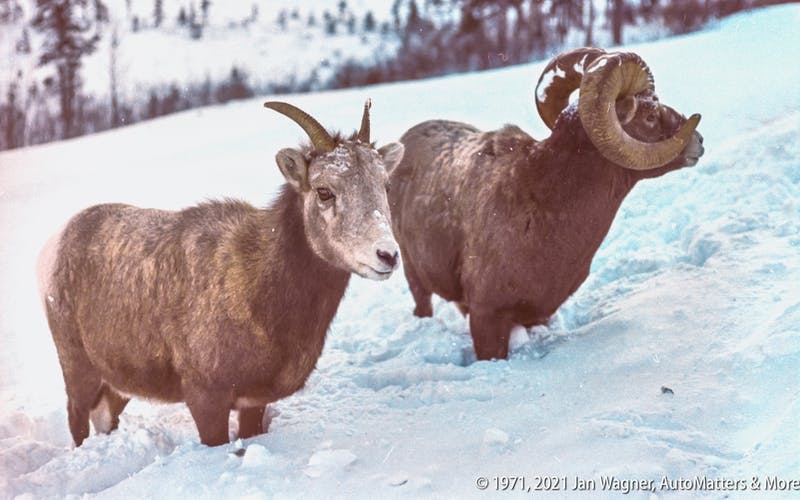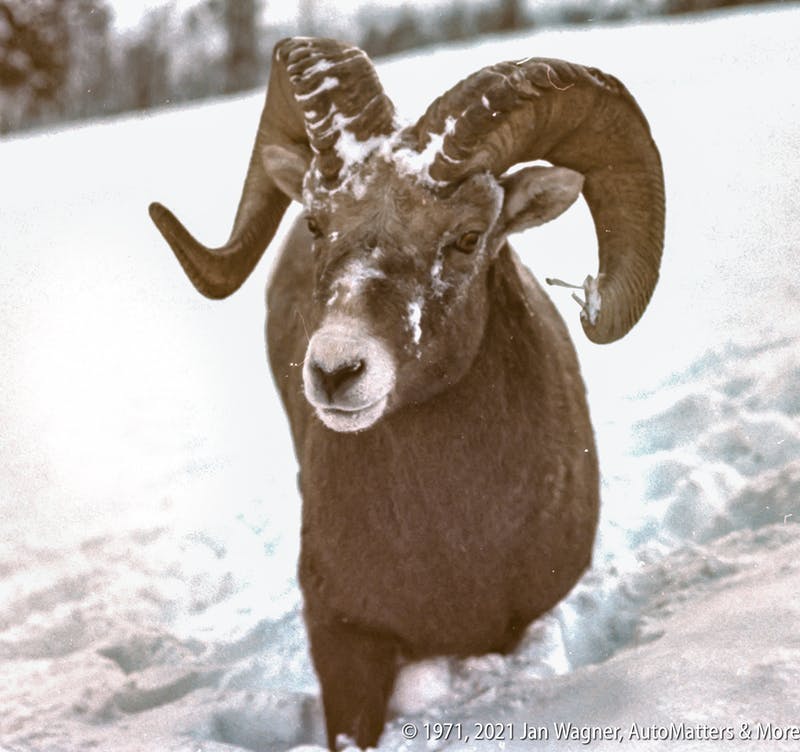 At some point — after I finally take my own "AutoMatters & More" website live, hopefully within the next few months — I intend to digitize more of my old photos — perhaps of a Can-Am race weekend in the early 1970s where Jackie Stewart raced and I got to experience the glorious sounds of the UOP Shadow and other Can-Am cars, up close and personal at Edmonton International Speedway. Right now, in my spare time, I am working on uploading many of my 693 columns to date, and their photos, to my new website. I'll let you know when it is live…
COPYRIGHT © 2021 BY JAN WAGNER – AUTOMATTERS & MORE #693 EXTENDED VERSION-R9