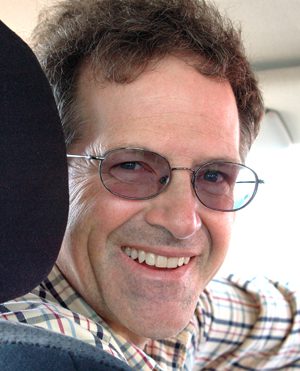 The very first AutoMatters & More column
(2021 NOTE FROM JAN: This was not my column's original name. I eventually changed it to "AutoMatters & More" — to reflect its greatly expanded variety of content, over the years, beyond just automotive. My older columns have been updated to reflect that name change).
Hi and welcome to a totally new, entertaining and informative column on automobiles in San Diego County. I can talk your ear off on lots of automotive subjects, which is what this column is all about. Love them or hate them, private automobiles are a necessary fact of life in Southern California. It is my goal to help you love them, at least a little bit.
You may actually know me or someone like me — no, not from the glossy car magazines, which I read but do not write for. I'm a car nut and a neighbor down the street who people inevitably turn to for advice when its time to replace their automobile. I'm the guy who neighbors call when they want company while checking out the San Diego International Auto Show or for a Saturday night's entertainment at Cajon Speedway. I'm the single guy that usually has two cars in his garage – one that is practical, comfortable, quiet and reliable and the other one that is mostly for fun. It tends to be none of the above. I like to think that adds to its character.
I like to find excuses to go for a drive – almost anywhere, except to LA (but I will even drive there because there is so much to do). Driving the right vehicle can be a truly joyous experience. That is why I autocross. The objective is to see how quickly one can negotiate a course marked by traffic cones, usually found in a large parking lot at Qualcomm Stadium. Driving hones my skill and makes me a better driver, which comes in handy when the unexpected happens.
I love old cars and new ones, practical cars and sports cars, SUVs and muscle cars. They all have their place in the automotive scheme of things.
Automobiles have changed a lot since their inception, and especially in the past 30 years. As a group they offer a much better combination of performance, economy and reduced emissions than did their predecessors. An increasing number of hybrids are making their presence known, which is really raising the bar – and the expectations of the motoring public. The future of the automobile is greener.
I'm not a mechanic, so if you want to know how to fix your whatchamacallit you'd best look for help elsewhere. I tend to over-tighten things. That is bad when it comes to car repairs and their specific torque settings. I usually leave repair work to the experts. My advice to you is to find the best experts that your budget can afford and then stick with them. If they get to know your driving habits and your vehicle, they will be in the best position to keep you a happy motorist. There are lots of good shops out there.
For the coming weeks and months my goal is to touch on a wide and interesting variety of automotive subjects. I'll gather automotive technical and product material from a variety of automotive sources and share it with you in a conversational, easy to understand style that avoids being too technical. The focus will be on features and benefits. There are many automotive events going on in and around this county, despite the fact that we still do not have a major motorsports facility here that takes advantage of our great year-round weather. There are numerous car clubs here and I look forward to introducing you to a few.
Please join me again next time.
© 2002, 2005 & 2021 by Jan Wagner – AutoMatters & More #1r2