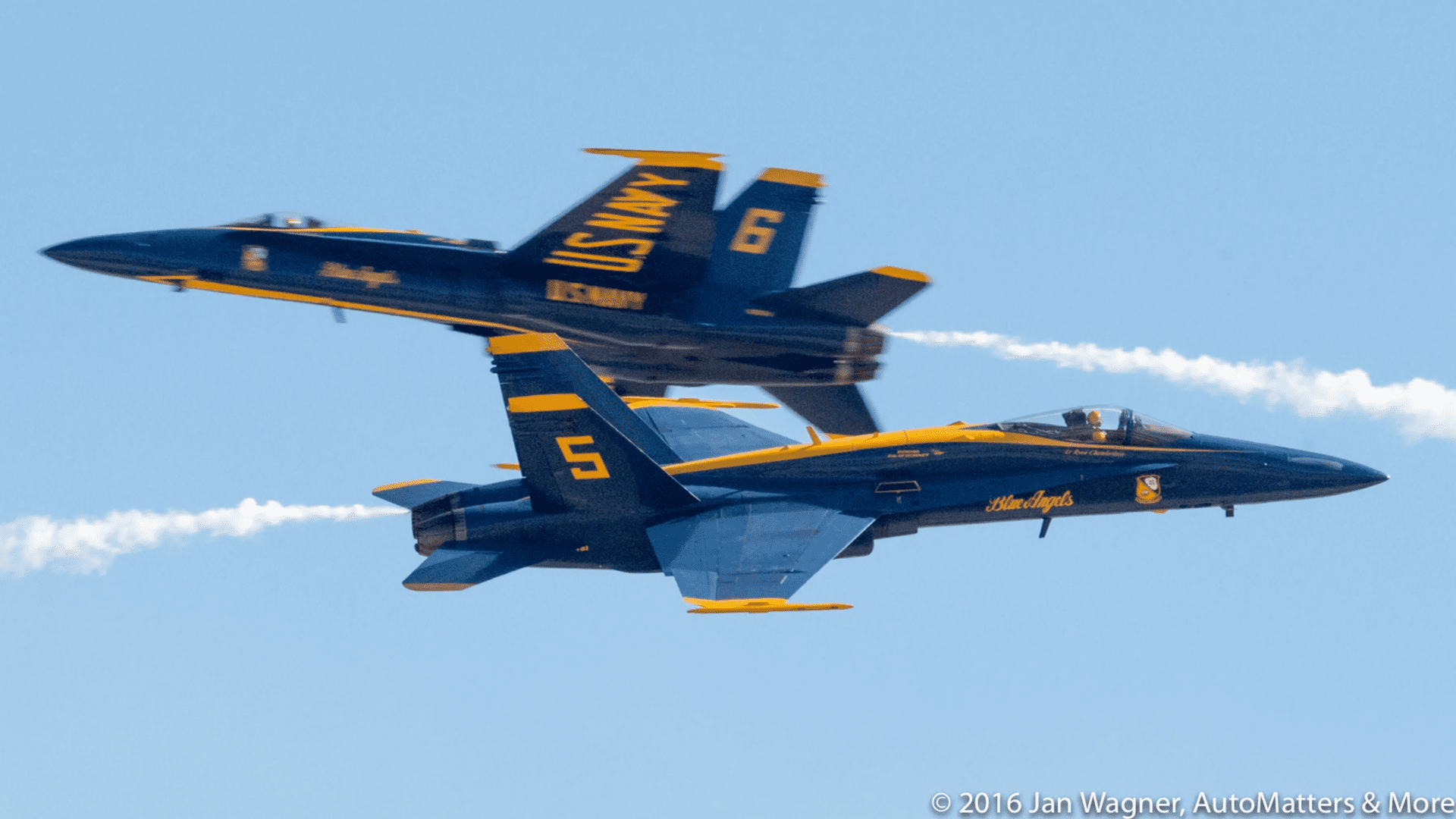 2016 MCAS MIRAMAR AIR SHOW
The U.S. Navy's Blue Angels return to San Diego
The MCAS Miramar Air Show is the largest military air show in the USA. In 2016 it celebrated 100 years of the Marine Corps Reserve. Much of the information you'll be reading here is from the official event program.
MCAS Miramar is the 23,000-acre home to the 3rd Marine Aircraft Wing and more than 10,000 Marines. It is vital to the Marine Corps' mission to train, equip and deploy our forces to respond to a variety of crises around the world.
The proud history of the Marines dates back to 1775. The Marine Corps Reserve was established in 1916, during World War I. Since then, Reserve Marines have served alongside their active duty counterparts in times of war and national emergencies.
MCAS Miramar is a leader in responsible management of our precious natural resources. Half of MCAS Miramar's energy is provided by renewable resources, including methane gas from the Miramar landfill and solar. Reclaimed water is used throughout the base.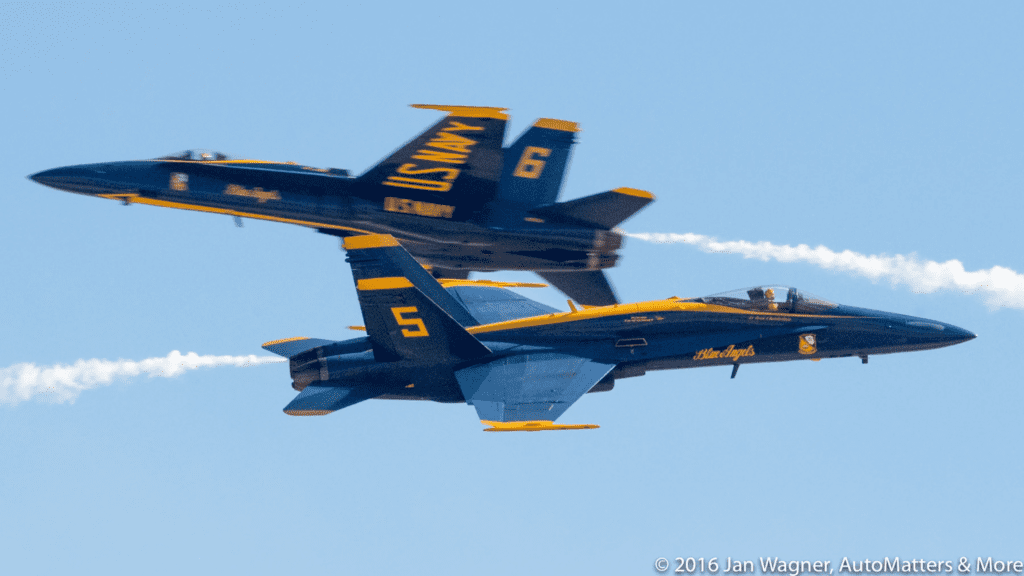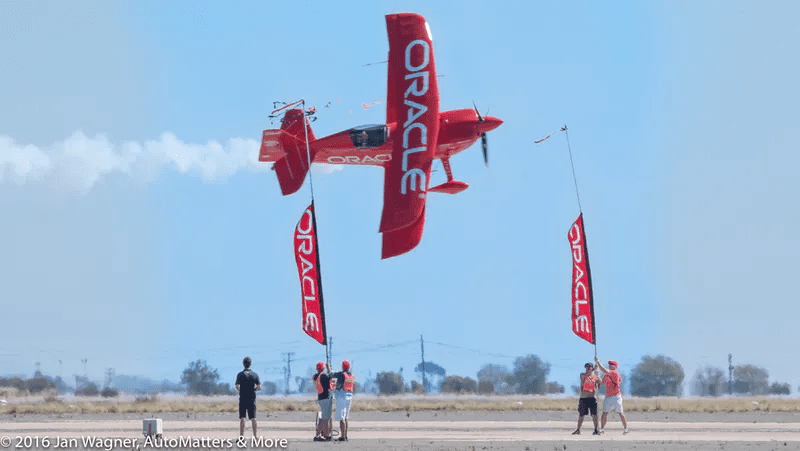 This year's air show, which culminated with a 70th anniversary performance by the legendary U.S. Navy Blue Angels flight demonstration team, also featured breathtaking, stylish formation flying maneuvers by the Breitling Jet Team – the world's largest professional civilian flight team performing in jets; an intense Marine Air-Ground simulated battle demonstration, complete with massive, fiery explosions; gravity defying maneuvers by the "Oracle Challenger" aerobatic biplane, piloted by Sean Tucker – a "Living Legend of Flight" with over 1,200 performances at more than 475 air shows; the F-35B Lightning II Joint Strike Fighter, the AV-8B Harrier, the MV-22B Osprey and the F-16 Fighting Falcon; the U.S. Navy Leap Frogs and the U.S. Army Golden Knights parachute teams; the 3rd Marine Aircraft Wing Band; the Shockwave Jet Truck; opportunities to speak with and thank Marines, Sailors, Soldiers, Airmen and Coast Guardsmen while exploring the numerous static displays that included past and present aircraft, and ground combat equipment; vendor exhibits and more.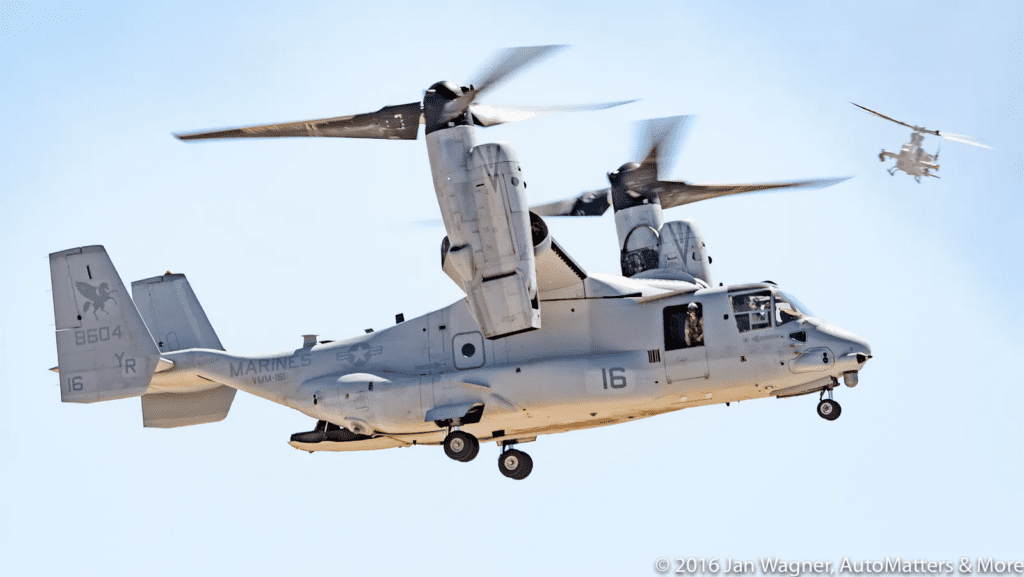 Easily recognized because of its two large, tilt-rotor engines, is the MV-22 Osprey. Its capability for vertical takeoff and landing like a conventional helicopter, combined with its ability to fly twice as fast, carry three times the weight and fly more than twice as high as the CH-46, provides commanders with unprecedented agility and operational reach. It will eventually replace the current Marine Corps assault helicopters in the medium lift category (CH-46E), contributing to the dominant maneuver of the Marine landing force, as well as supporting focused logistics following commencement of an amphibious operation.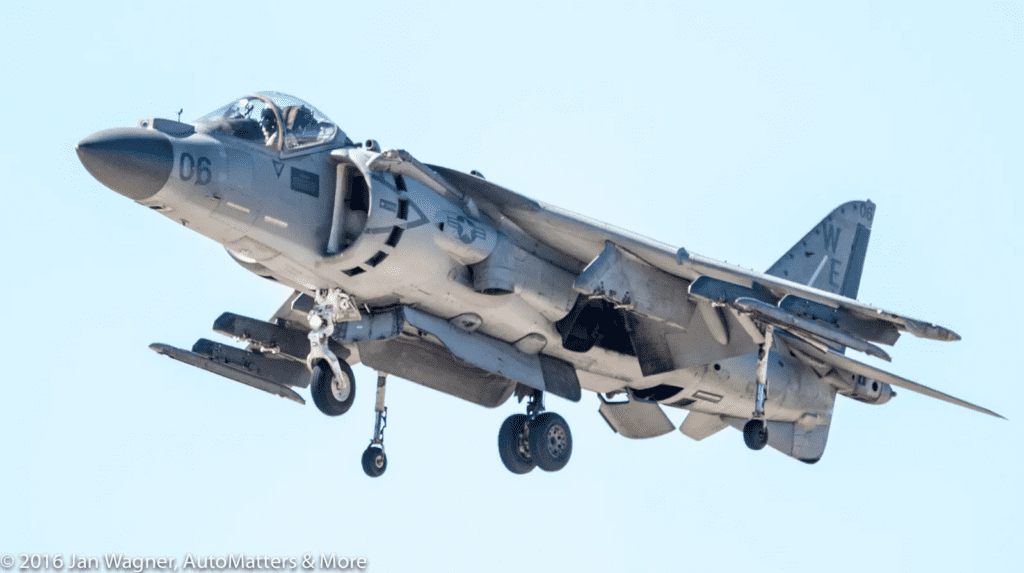 Likewise, the AV-8B Harrier can takeoff and land vertically from helicopter pads, roads and ships, allowing it to be based in areas that other jets cannot access. This maneuverability is made possible by four moveable exhaust nozzles, which can be directed for conventional flight, short takeoffs and landings, or vertical maneuvers. The Harrier, which is used by the Marine Corps for light attack and close air support, can attain speeds of Mach 1.
The new F-35B Lightning II is the Marine Corps' Joint Strike Fighter, delivering supersonic speed, radar-evading stealth, fighter agility, short takeoff/vertical landing capability and the most comprehensive integrated sensor package of any fighter in history. The 3rd Marine Aircraft Wing, based at MCAS Miramar, is proud to have the first operational F-35 squadron: Marine Fighter Attack Squadron (VMFA-121).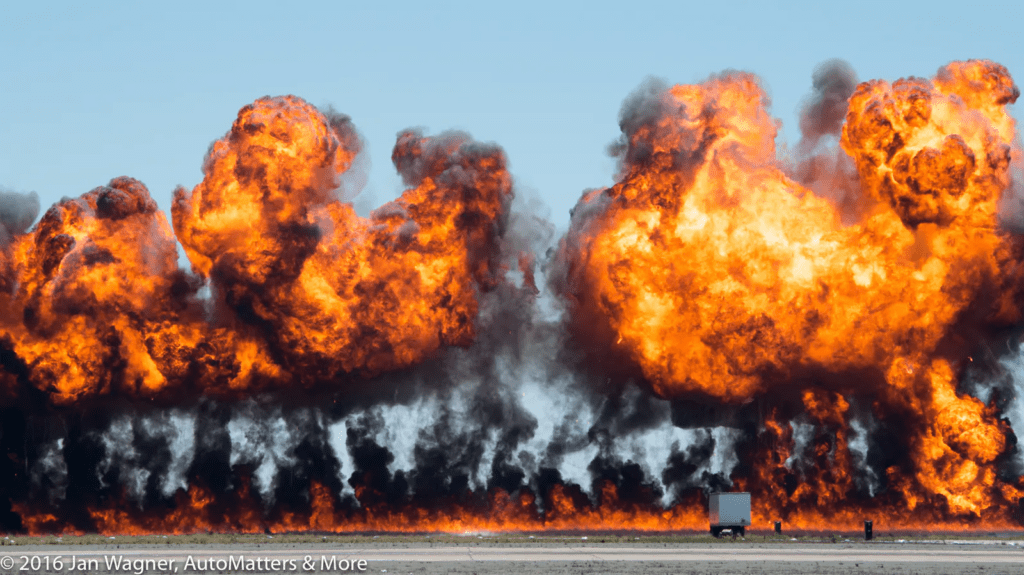 Especially exciting at the Miramar Air Show was the massive Marine Air-Ground Task Force demonstration (MAGTF). A MAGTF is an extremely flexible, ideal rapid response team, able to quickly arrive anywhere in the world and accomplish missions that include crisis response, security assistance, humanitarian assistance and disaster relief. In the demonstration, F/A-18 Hornets and AV-8B Harriers screamed through the air, leaving explosive pillars of flame on the ground beneath them in their wake – simulating strafing and bombing runs to soften up their targets.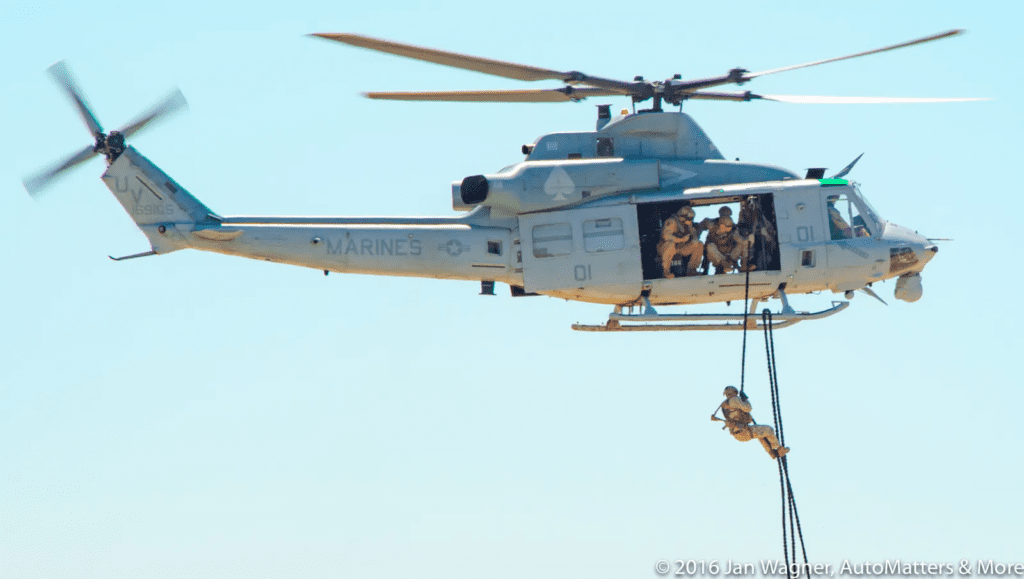 Helicopter-borne Marines then rappelled from the sky, and infantry platoons moved in on their objectives by foot and in armored vehicles.

The F-16 Fighting Falcon is a compact, multi-role fighter aircraft that has seen extensive use in hundreds of thousands of missions since its first delivery in 1979. Its exceptional maneuverability, combined with its range of more than 500 miles, enables it to deliver its weapons with accuracy, defend itself against enemy aircraft and return to its starting point.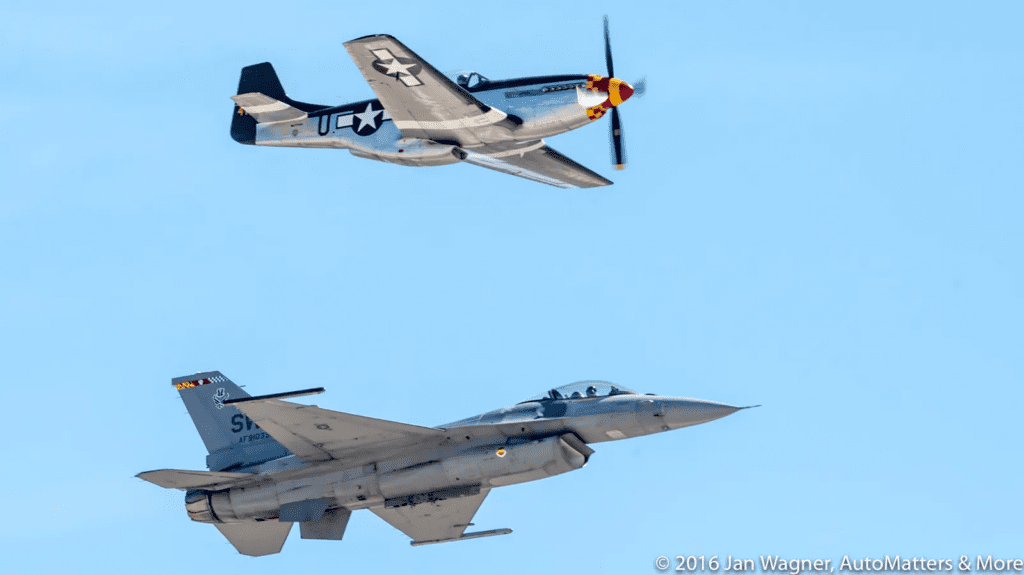 In the Air Force "Heritage Flight" an F-16 Viper and a P-51 Mustang slowly circled MCAS Miramar in formation.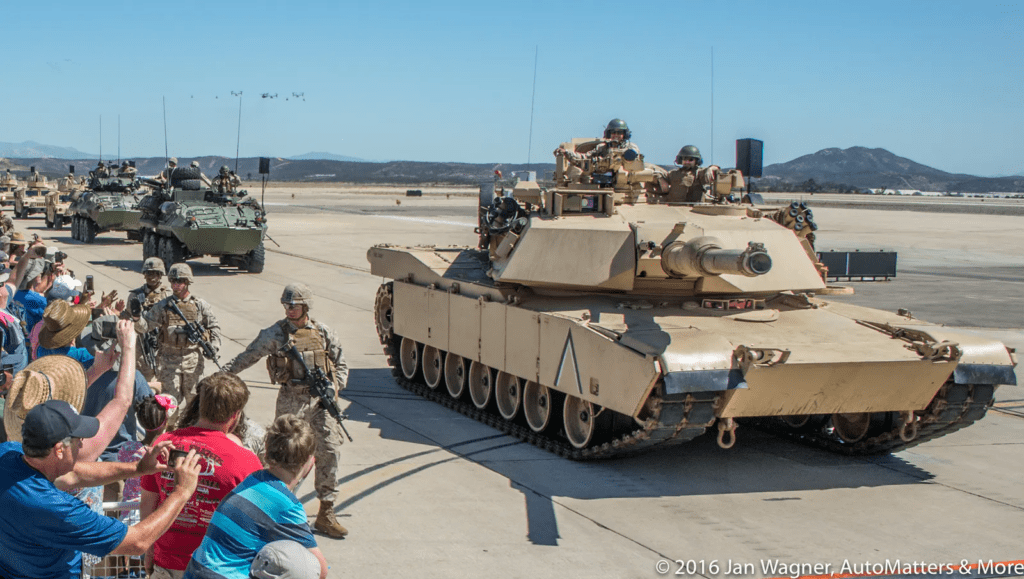 Copyright © 2016 by Jan Wagner – AutoMatters & More #457