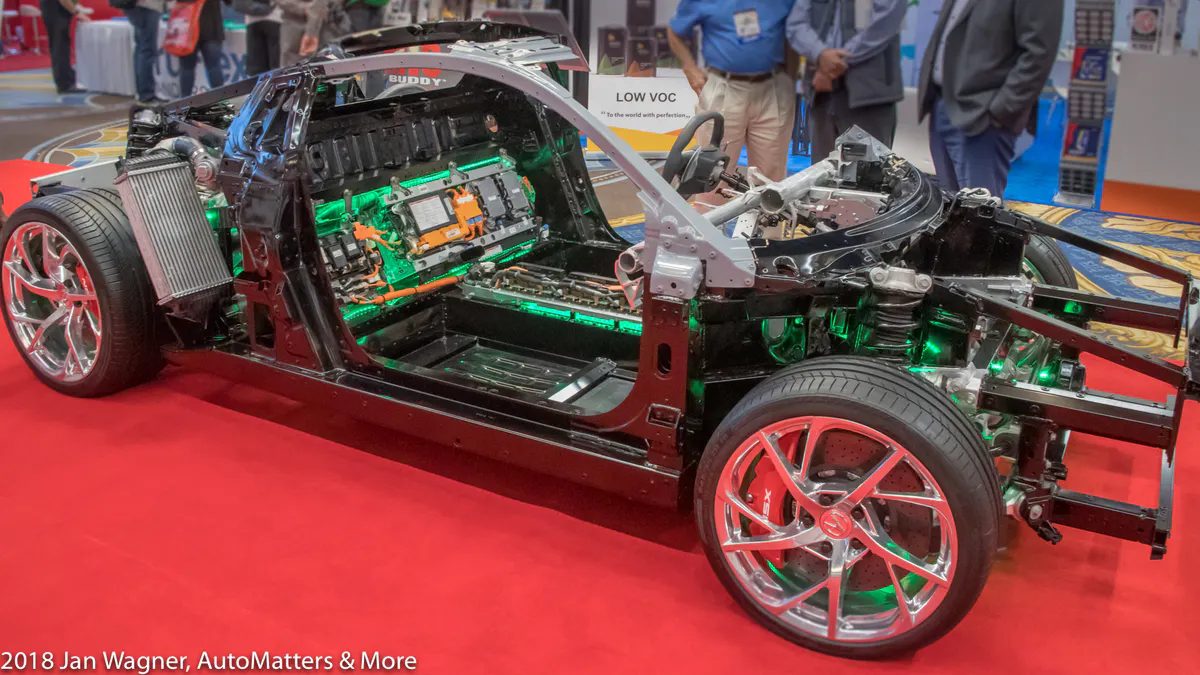 ACURA NSX TECHNOLOGY REVEALED IN A UNIQUE CUTAWAY CAR
One of the stars of the 2018 SEMA Show
There were a few standouts from the crowd of 1,500 feature vehicles at the 2018 SEMA Show. One such vehicle – Mopar's "Super Charger" and its 1,000 horsepower "Hellephant" crate engine – was covered in the preceding column (AutoMatters & More # 564).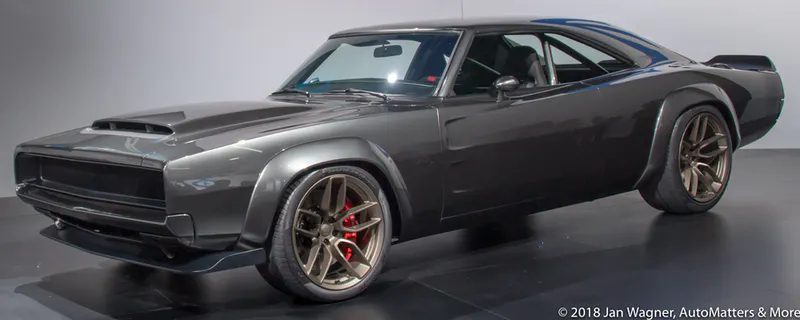 Another standout was the unique cutaway Acura NSX. It was part of a Honda exhibit that was aimed at body shops, and which promoted their ServiceExpress system – Honda's Independent Repair Website.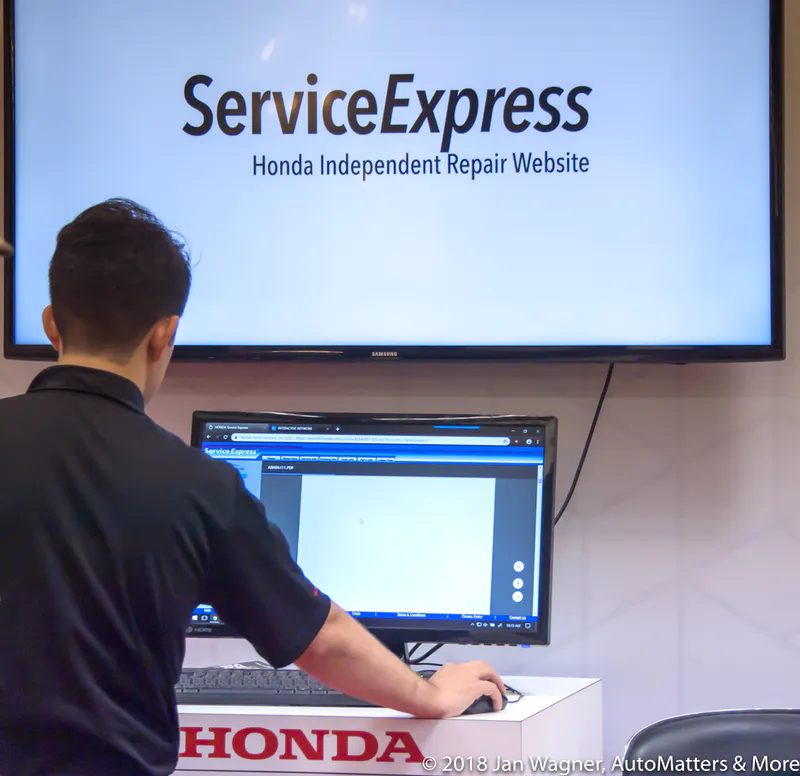 Some may have missed this very special vehicle, as the exhibit was not in the Las Vegas Convention Center but rather in a ballroom of the Westgate hotel.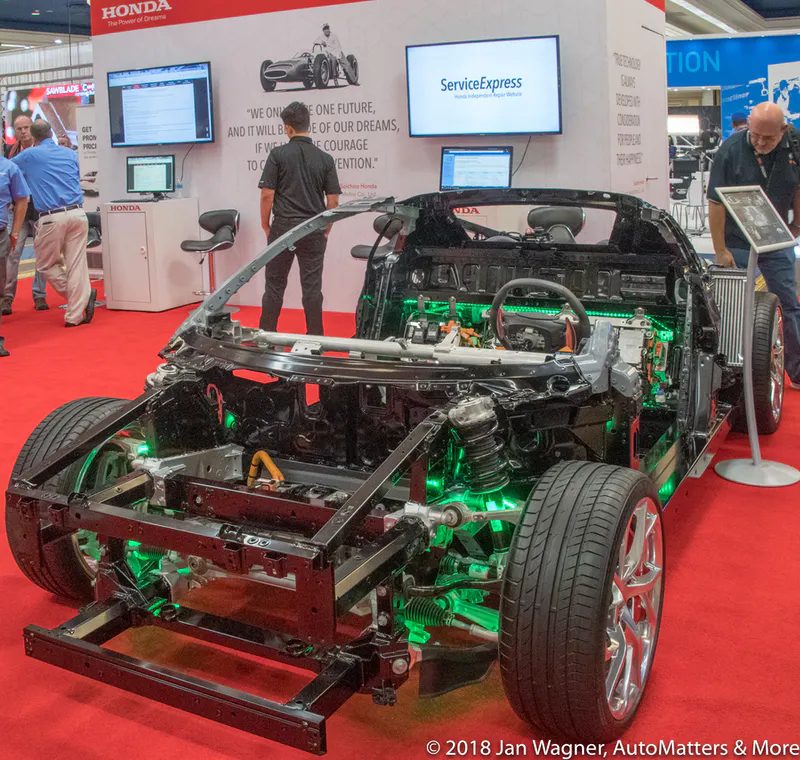 The Acura NSX exemplifies the philosophy of Soichiro Honda, Founder of the Honda Motor Company, who once said: "We only have one future, and it will be made of our dreams, if we have the courage to challenge convention."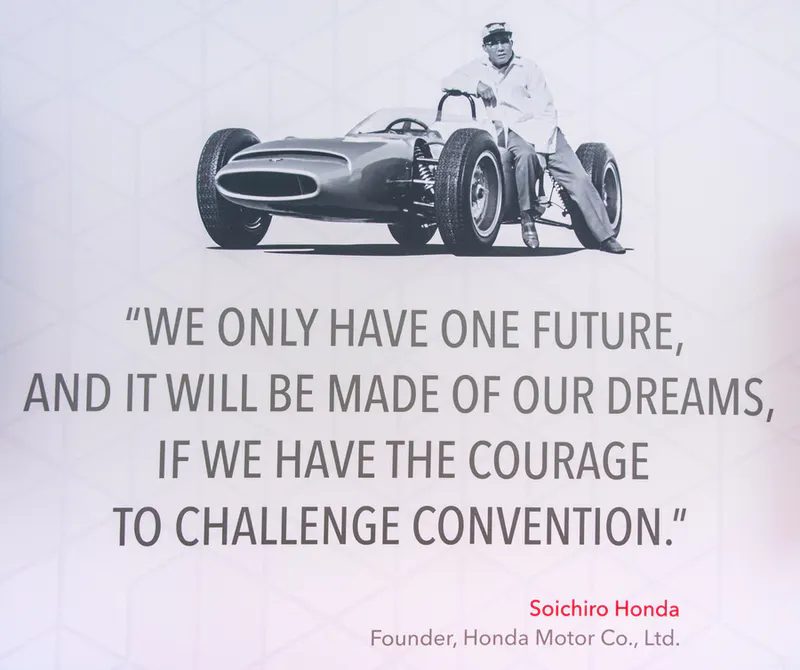 Leigh Guarnieri is with American Honda Parts, Service and Technical. As we walked around the car, he told me how it was built and explained some of what we were looking at. Additional information about the car's highly advanced, cutting edge technology was presented via graphic spotlights.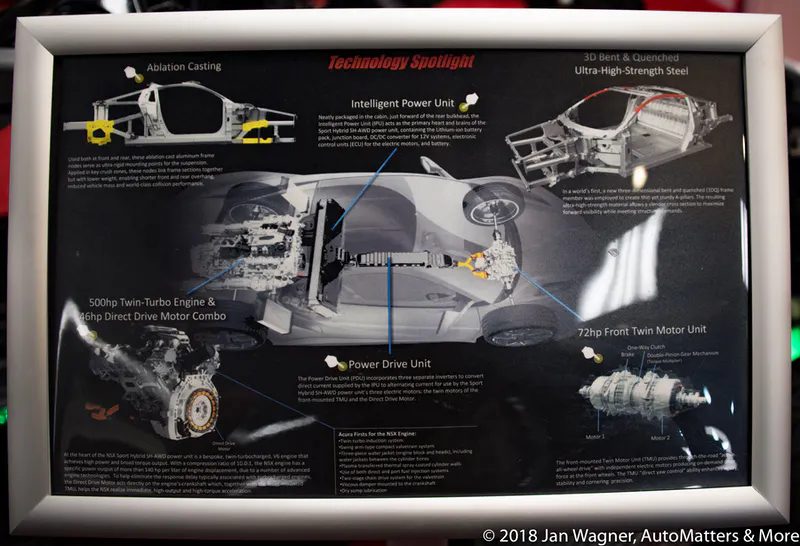 This cutaway Acura NSX was built just as you see it, on the assembly line in Ohio. It was built when production was started, so that there would be a display vehicle in the foyer to showcase the technology.
The Acura NSX is hand built. The majority of its parts are made by Honda: stampings, the aluminum that is welded – that's all jigged up and welded at the factory. It's assembled, painted, water tested and vibration tested there.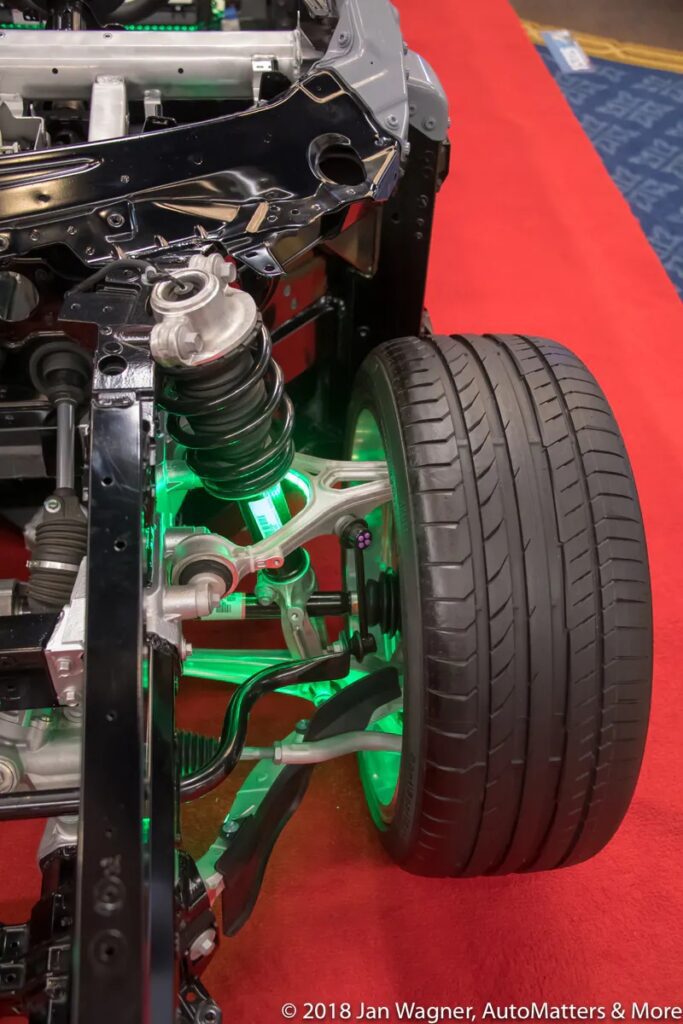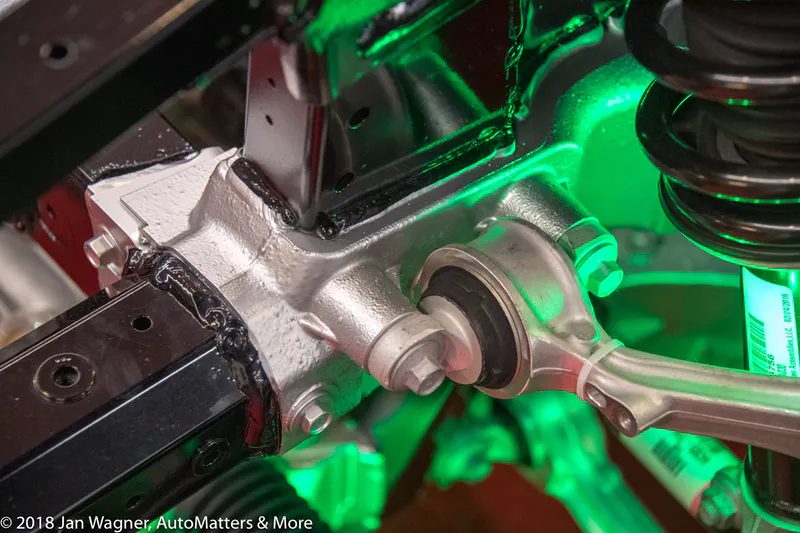 At the heart of the NSX Sport Hybrid SH-AWD power unit is a twin-turbocharged, V6 engine that achieves high power and broad torque output. With a compression ratio of 10.0:1, the NSX engine has a specific power output of more than 140 hp per liter of engine displacement. To help eliminate the response delay typically associated with turbocharged engines, the Direct Drive Motor acts directly on the engine's crankshaft which, together with the front-mounted TMU, helps the NSX realize immediate, high-output and high-torque acceleration.View gallery image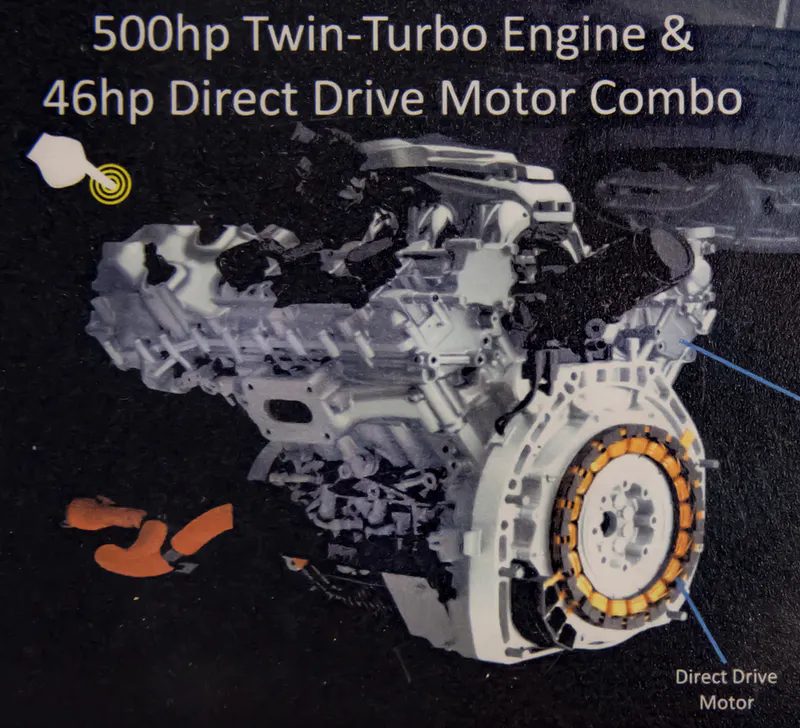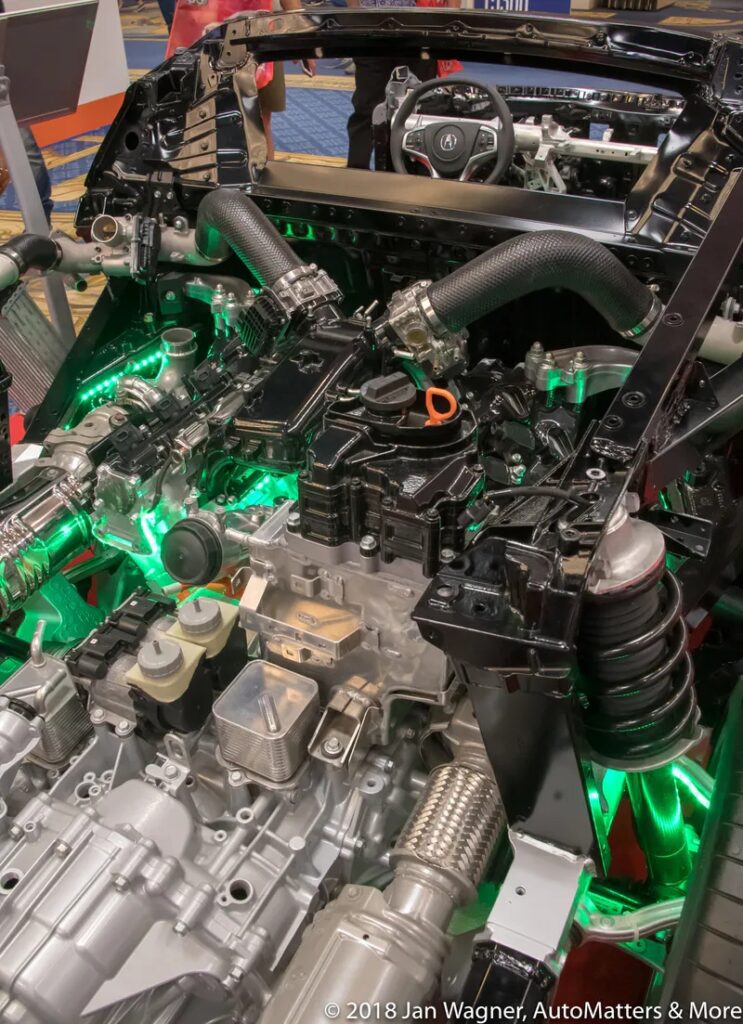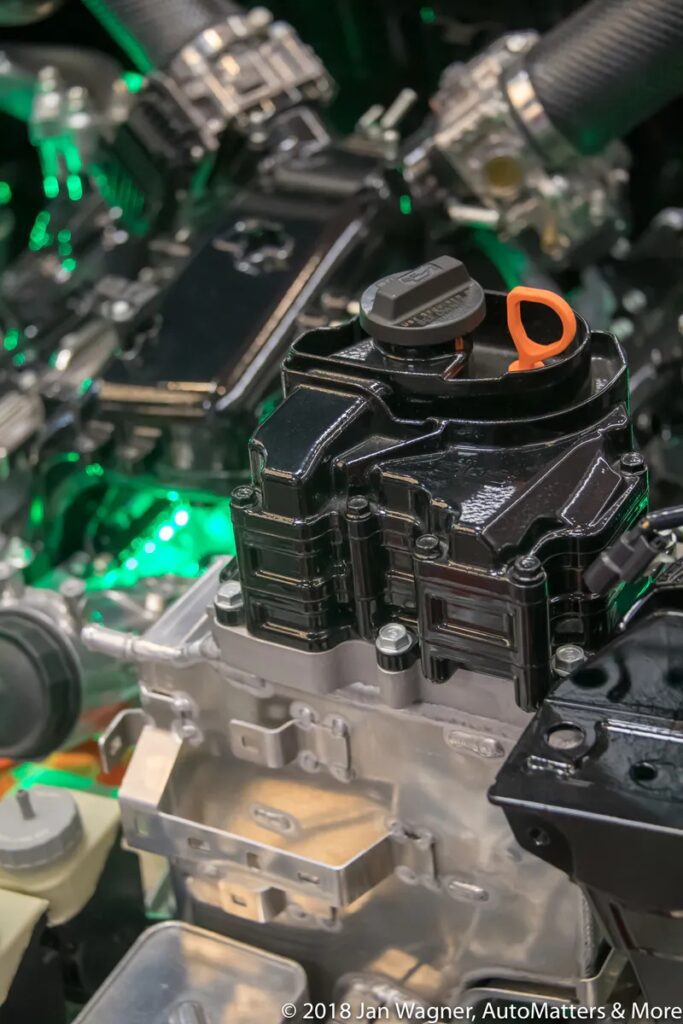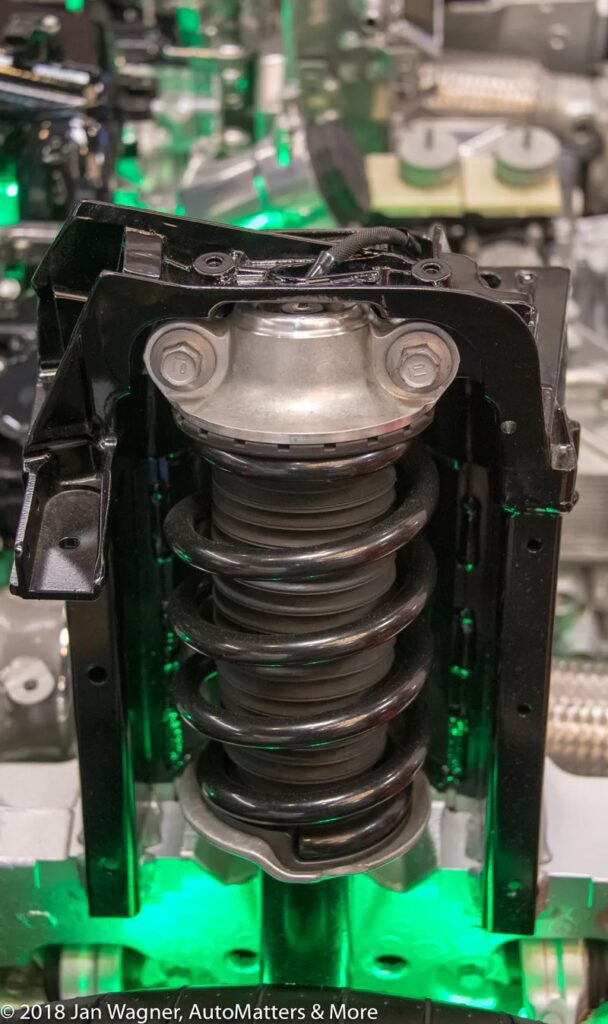 Acura firsts for the NSX engine include a twin-turbo induction system; swing arm-type compact valvetrain system; three-piece water jacket (engine block and heads), including water jackets between the cylinder bores; plasma-transferred thermal spray-coated cylinder walls; use of both direct and port fuel injection systems; two-stage chain drive system for the valve train; viscous damper mounted to the crankshaft; and dry sump lubrication.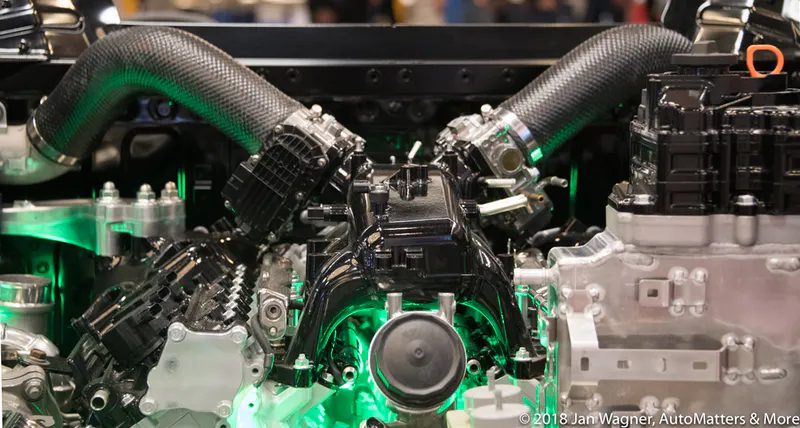 Neatly packaged in the cabin, just forward of the rear bulkhead, the Intelligent Power Unit (IPU) acts as the primary heart and brains of the Sport Hybrid SH-AWD power unit, containing the Lithium-ion battery pack, junction board, DC/DC converter for 12V systems, electronic control units (ECU) for the electric motors, and battery.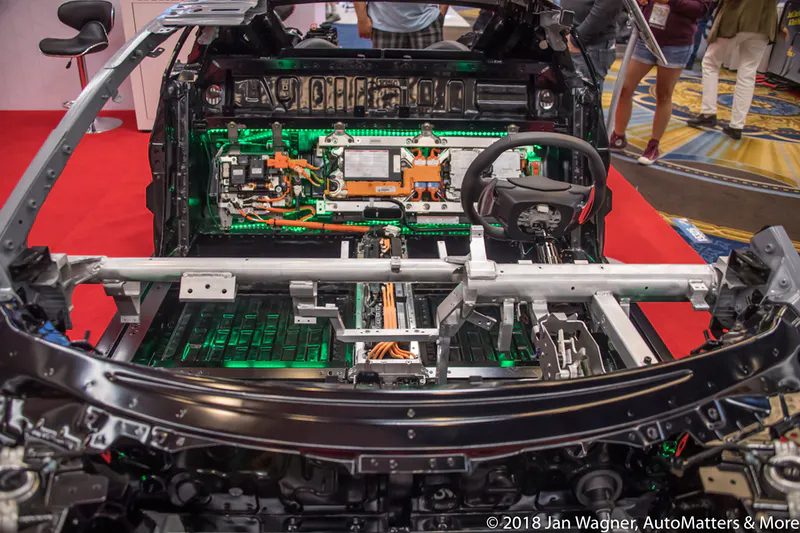 The front-mounted Twin Motor Unit (TMU) provides through-the-road "active all-wheel drive" with independent electric motors producing on-demand drive force at the front wheels. The TMU "direct yaw control" ability enhances agility, stability and cornering precision.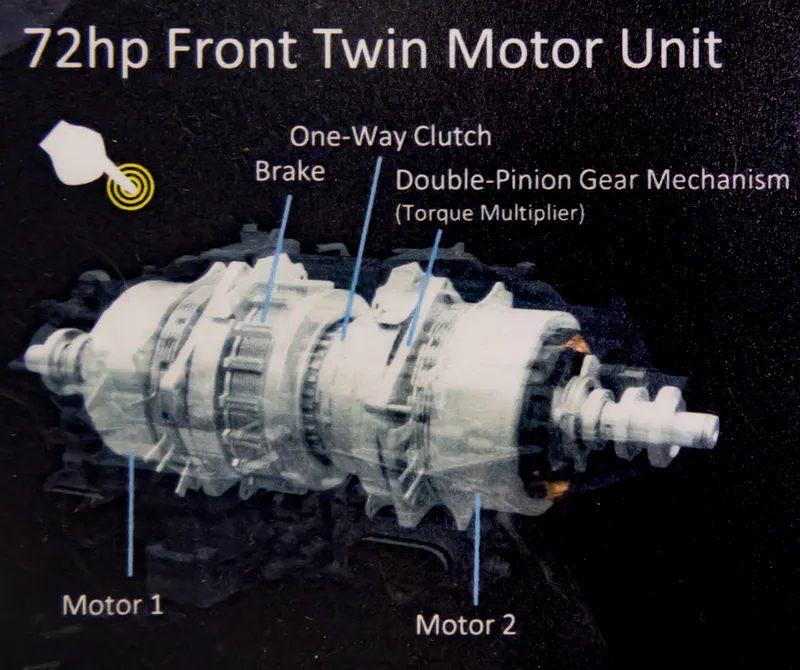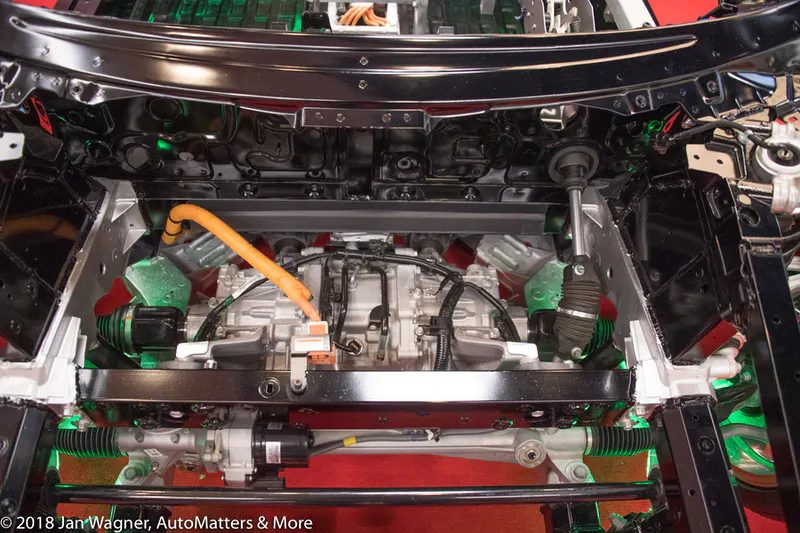 In a world's first, a new three-dimensional bent and quenched (3DQ) frame member was employed to create thin yet sturdy A pillars. The resulting ultra-high-strength material allows a slender cross section to maximize forward visibility while meeting structural demands.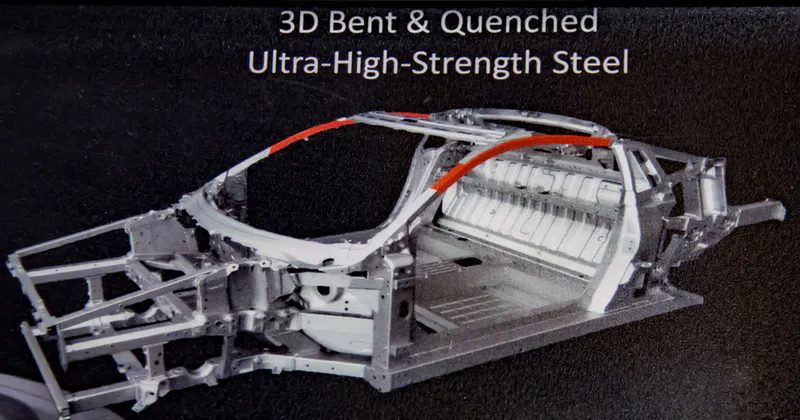 The Power Drive Unit (PDU) incorporates three separate inverters to convert direct current supplied by the IPU to alternating current for use by the Sport Hybrid SH-AWD power unit's three electric motors, the twin motors of the front-mounted TMU and the Direct Drive Motor.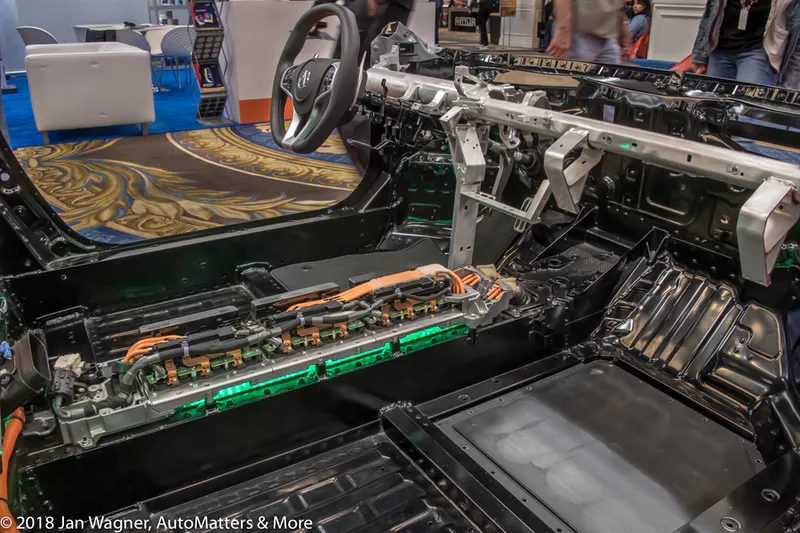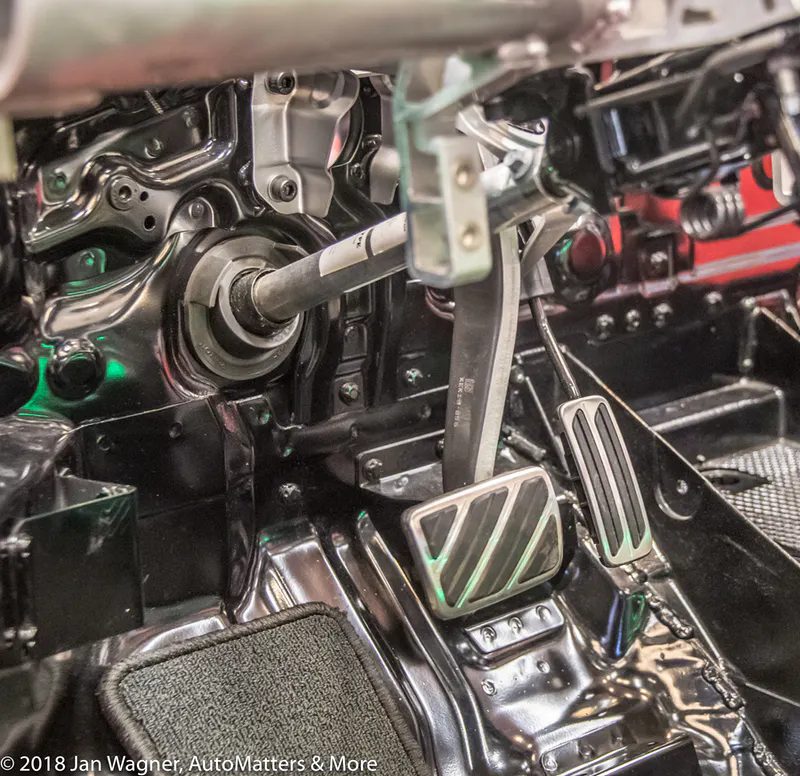 Ablation casting is used both at the front and at the rear. Ablation cast aluminum frame nodes serve as ultra-rigid mounting points for the suspension. Applied in key crush zones, these nodes link frame sections together but with lower weight, enabling shorter front and rear overhang, reduced vehicle mass and world-class collision performance.

If collision damage is minor or cosmetic, it may be repaired at a bodyshop that Acura or a dealer recommends. Other than that, if there is any structural damage whatsoever, the NSX has got to go back to Ohio. A concierge follows it from start to finish.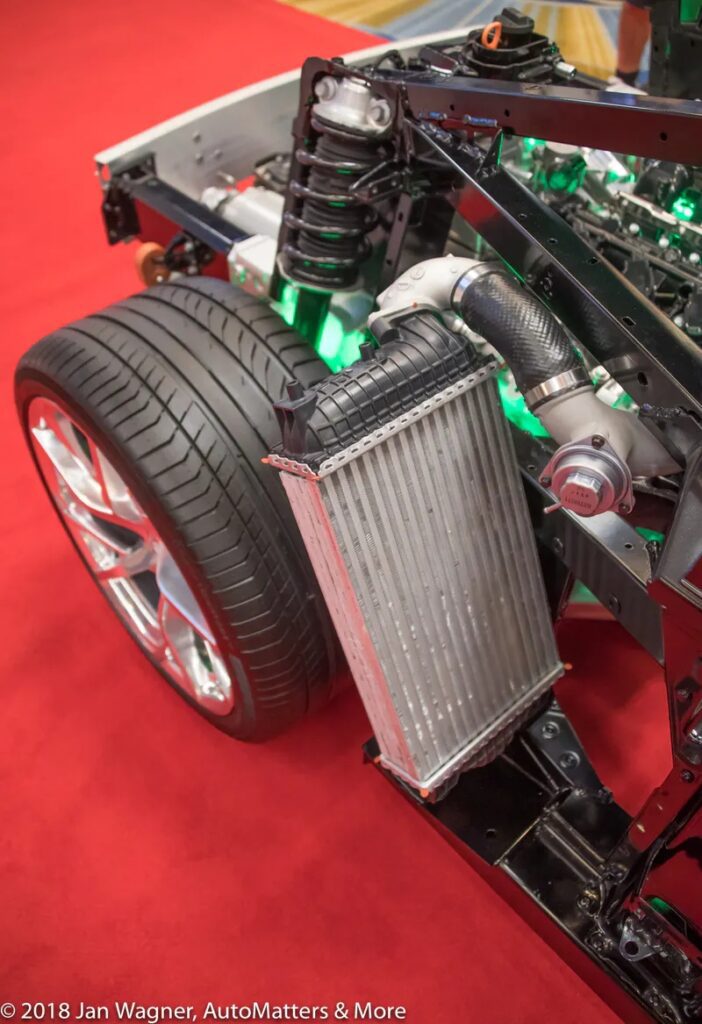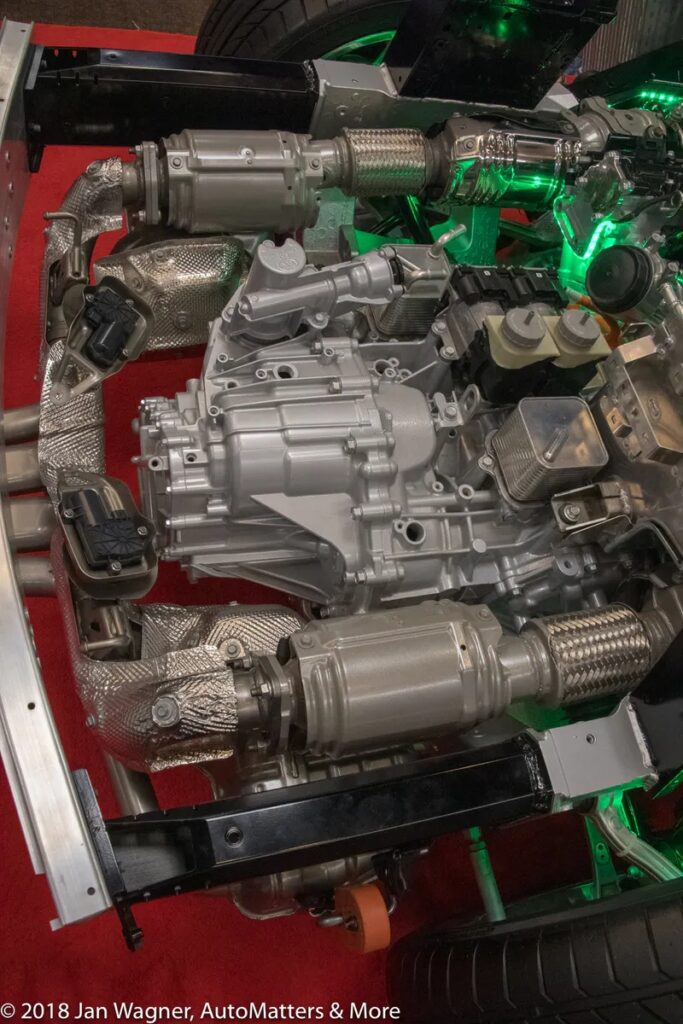 To learn more about how the advanced technologies in the Acura NSX work together, see "AutoMatters & More" #558, entitled "Droptops, Jeep, Volvo XC40 & Acura NSX," and visit nsx.acura.com.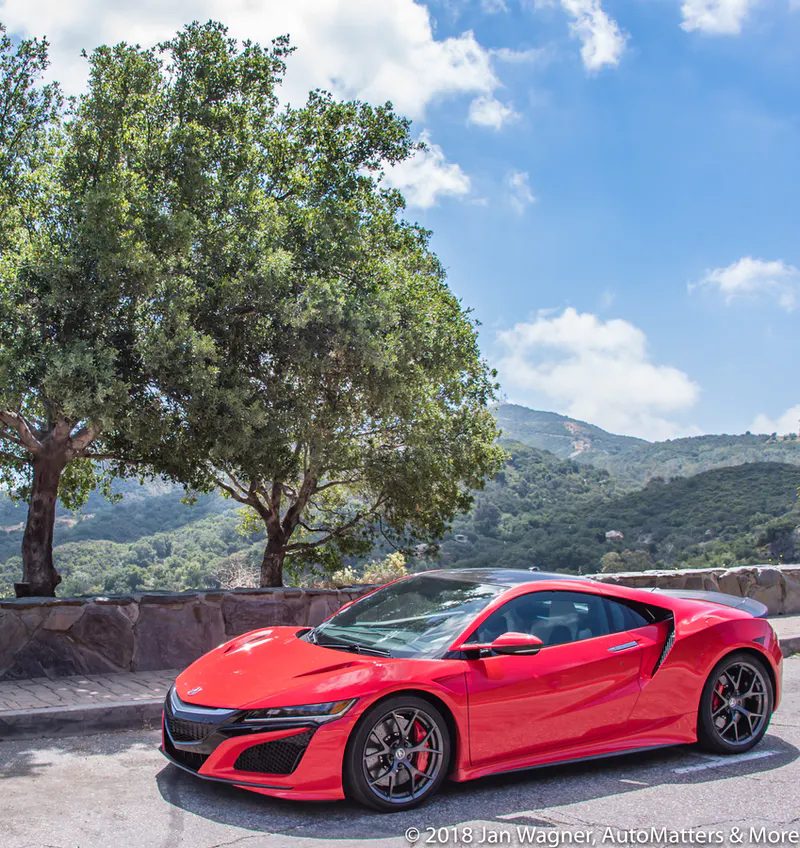 Send comments and suggestions to AutoMatters@gmail.com.
COPYRIGHT © 2018 BY JAN WAGNER – AUTOMATTERS & MORE #565