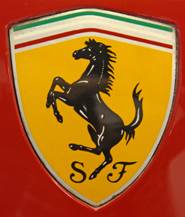 Cavallo Motorsports: specializing in exotic automobiles
When Don Swanson called and invited me to visit Cavallo Motorsports, I wasn't sure exactly what I'd see there but I did know that it would be well worth my time to go. I met Don a few years ago. Long-time readers of AutoMatters might recall reading about him and his racing school in AutoMatters #124 (you can refresh your memory in the 2004 Column Archives at www.AutoMatters.net).
Don has been a racer since he was 9 years old. He is a professional racing driver, test driver and long time racing instructor who, according to his bio, has "has owned and driven Stock Cars, Sports Cars, Open Wheel Cars, Sprint Cars, Drag Cars and Hydroplanes and has owned vintage Formula One and Indy Cars. He has tasted the thrill of victory in 45 motor racing events, holds track class records, has won three Championships and has raced in North America and France" (I am so jealous). Now Don has brought his enthusiasm for motorsports and years of professional racing experience to Cavallo Motorsports, where he serves as General Manager. Feel free to drop in and chat with him.
They tell me that Cavallo means horse in Italian: horse as in Ferrari's iconic prancing horse. It is not surprising, therefore, that one of the specialties of Cavallo Motorsports is Ferrari, as well as Maserati, Lamborghini, Jaguar and other exotics. They offer expert service, restoration, racing support, events – including rallies and get-togethers, consignment sales and more.
Located in Carlsbad, just a few hundred feet from the beautiful Pacific Ocean and also from I-5, Cavallo Motorsports is ideally situated to cater to those who enjoy and appreciate the world's finest exotic cars. Near Rancho Santa Fe and Del Mar, they're freeway close to East County and a scenic, coastal drive from La Jolla and Newport Beach. With Palomar Airport nearby, as well as Four Seasons Resort Aviara, La Costa Resort and Spa, Carlsbad Premium Outlet Center and LEGOLAND California for the kids, this is a very attractive vacation destination, too – especially as an escape when the weather is less than ideal back east.
Cavallo's spacious service and repair facility includes four state-of-the-art, low profile Rotary lift systems. These enable the technicians to safely lift low-profile exotic vehicles without having to resort to blocking.
The team of technicians is led by co-owner and well known Carlsbad resident Christopher Dugan.
It was fascinating seeing the various parts of exotic engines and transmissions that they are building, carefully spread out in preparation for assembly.
If you're considering the purchase of a pre-owned exotic, they offer pre-purchase inspection, valuation and verification of vehicle history.
While there I observed a restoration in progress, which involved stripping a rare car down to its bare metal and then rebuilding it from the ground up.
They have the expertise and capability to recreate needed parts that are not available. The quality and authenticity of the restoration is everything.
Don Swanson's special passion is racing. Cavallo offers a complete, shop-to-the-track racing support program that can include the on-site services of their highly skilled technicians during each race. Beyond that, Don can provide professional driving instruction and coaching.
Cavallo has a customized 53-foot enclosed transporter, complete with lounge, to get your race cars there and back safely.
Be sure to check out their monthly "Drivers' Club" – a workshop for road and track driving enthusiasts.
The large showroom provides ample room and an attractive space for consignment sales. This service makes life easier and more convenient for buyers and sellers alike. Stop by and see what's there from time to time. It is like an exotic car museum with rotating exhibits but no admission charge. If you are looking for a particular car to buy, Cavallo can help you locate one, and then restore and maintain it.
What makes Cavallo even more special, beyond their expertise, facilities and breathtaking location, is their passionate enthusiasm for fine automobiles, driving and racing. Would you like to have somewhere to go to join your fellow Tifosi and watch a Formula One race live on a big screen at 4:30 one morning? Drop in and make arrangements to do so at Cavallo Motorsports. By the way, for those of you who might not understand why anyone in their right mind would get up in time to watch a car race at 4:30 in the morning, watching it live versus recorded makes all the difference. It may be the next best thing to being there.
Are you a member of an exotic car club? Cavallo is car club meeting friendly, they're easy to get to and have plenty of on-site, free parking.
Since these cars are meant for driving and we've got some of the nation's most beautiful scenery, it makes perfect sense that Cavallo organizes road rallies. What better way to stretch the legs of your exotic than with the company of others who share your passion?
Cavallo Motorsports is located in Carlsbad, California, just west of I-5. Take the Palomar Airport Road exit, turn left just past the Shell truck stop and proceed south to 6010 Avenida Encinas. Look to your left for the big building with the black and white checkered pillars at either end. For more information, visit their Web site at www.CavalloMotorsports.com.
Drive safely and do join me again next time.
Copyright © 2007 & 2021 by Jan Wagner — AutoMatters & More #242r1