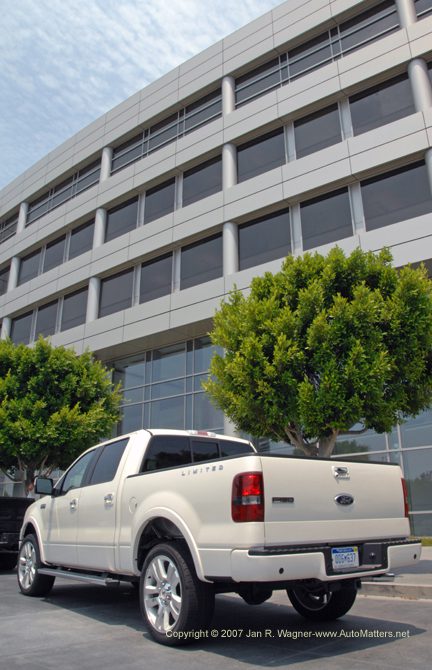 Ford's New, 2008 F-Series Trucks
According to Ford, their F-Series pickup trucks have been America's best-selling full-size pickups for 30 years. I learned about a few of the reasons for their popularity while at the company's Premier Automotive Group (PAG) headquarters building in Irvine, CA. Ford's approach to truck design places a lot of emphasis on listening to drivers to learn how they use their trucks, in order to give them what they want and need. F-Series trucks reflect the ongoing application of this knowledge.
Inside PAG headquarters senior Ford engineers, including Don Ufford, Chief Engineer for North American Truck Engineering, conducted demonstrations for us compare their F-150 to Toyota's Tundra and Chevrolet's Silverado. There are distinct, fundamental differences between these competing trucks.
One demonstration involved the application of a fixed quantity of weight to each of the three vehicles' frames and then measuring how much they deflected. Ford's tested best (F-150 – 0.934, Silverado – 1.550 and Tundra – 2.426). Don compared each of the trucks' frame designs, front to rear, and answered our questions. Important differences between the three included frame depth, welds versus rivets, the number of points where the cab is attached to the frame and more.
Another demo revealed significant differences in the trucks' rear leaf springs, including their width. Only Ford uses two bolts, not one, to fasten the leaf springs together. Measurements revealed that Ford excels at handling an applied load. Advantage Ford.
In another test, members of our group applied torque to a leaf spring bolt from each truck, noting the torque figures until they began to stretch. Then they kept applying more torque until they broke. Advantage Ford again.
A video showed each truck driving along a very rough test track (first individually and then in sync). We observed how well each vehicle remained in control and how much each truck's bed moved relative to its cab. We were told that the torsional rigidity of each vehicle's frame is the main factor that contributes to how well they perform in this situation. The Ford appeared to be the least upset by the rough road.
A crank-operated assembly enabled us to experience how much effort is required to turn a drive wheel. This seemed to demonstrate that the effort needed differs significantly, depending upon whether or not 4-Wheel-Drive components are disconnected when the vehicle is in 2-Wheel-Drive mode, as they are on the Ford. The added drag, if they are not disconnected, wastes fuel and adds needlessly to wear and tear.
In the final demonstration, a mallet was used to show us the superior sound-deadening characteristics of Ford's "Quiet Steel," which is found in the 2008 Ford F-150, versus standard steel. "Quiet Steel" consists of a layer of visco-elastic material sandwiched in-between two layers of steel. This is a long-term solution to reducing noise, as opposed to using mastic, which works for a while but soon deteriorates.
Then we headed outside, to see some of the new F-Series trucks. Chip Foose introduced us to his new Foose F-150, which looks really sharp.
A special Harley-Davidson version of the F-150 was unveiled, against a background of two Harley-Davidson motorcycles which stood in the water feature in front of the PAG headquarters building.
I drove a Harley-Davidson F-150 on the freeway. Its combination of a sporty exhaust note, powerful supercharged engine and decent handling on the on- and off-ramps made it fun to drive.
I also drove a beautifully detailed F-150 Lariat Limited along the same freeway route. However, its comparatively leisurely acceleration and its more truck-like cornering capabilities – which reminded me that this is a tall vehicle with a high center of gravity, really made me appreciate the performance benefits of the Harley-Davidson model.
For secure storage, an innovative new, factory-installed cargo management system will be available on any truck with the 6.5-ft. Styleside box. It includes strong, integrated, easily moveable crossbars and two lockable storage boxes. More accessories can be added.
It provides secure storage behind lockable, double-paneled doors near the front of the bed, on both sides. Sliding drawers can be fitted into the enclosed space. It is available in white on the Regular Cab with the 145-inch wheelbase and on the SuperCab with the 163-inch wheelbase.
I tried one new feature and found it to be something that I wish were available on all new vehicles. It is a backup camera system, but instead of using an expensive navigation system screen that you need to look down at, the screen is in the interior rear view mirror – right where you'd look naturally while backing up. That and the audible alert tones, in conjunction with huge exterior side mirrors, make backing up without hitting anything much easier. The camera is located in the bezel which surrounds the tailgate's handle.
The Ford F-150 has a maximum tow rating of 11,000 pounds when properly equipped. It is available in "three cab choices, three box lengths, two box styles and five unique series:" – from the entry-level F-150 XL to the off-road ready F-150 FX4 and the luxurious F-150 Lariat King Ranch version.
Ford's F-Series trucks have earned a reputation for being tough. They have "more trucks on the road with 250,000 miles or more than any other brand." To demonstrate this toughness, Ford assembled a team of seven drivers; gave them a 2008 F-Series Super Duty truck equipped with the new 6.4 liter Power Stroke twin turbo diesel engine; attached a large, heavily loaded trailer; and, with a motorhome to provide mobile accommodations, sent them on a long, cross-country trip called "BOLD ENDURES," "America's Toughest Road Test."
They drove 150,000 miles in only 131 days, covering the 48 lower states, Alaska and seven Canadian provinces. That's just over 1,145 miles per day. To accomplish that feat, they drove 24 hours a day, seven days a week, rotating drivers out of the motorhome along the way. They did an oil change every 4 ½ days. Trouble-free, their truck pulled an amazing 18,000 pounds for 100,000 miles, and around 14,000 pounds for the other 50,000 miles. Now, their journey complete, some of the drivers are making the rounds with the truck and trailer, to tell people about their experiences.
Before I left, I stopped to admire and take some photos of the vehicles on display in the lobby of the Premier Automotive Group headquarters building.
Drive safely and do join me again next time.
Copyright © 2007 & 2021 by Jan Wagner — AutoMatters & More #243r2