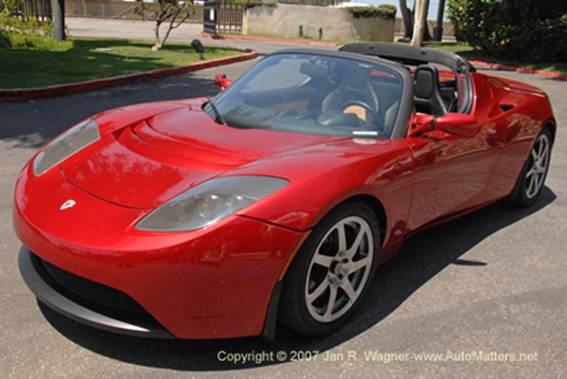 Tesla Roadster: All-Electric Sports Car
I just attended a Press introduction for the all-electric, high performance Tesla Roadster. It seemed fitting that we were at The Proud Bird restaurant near LAX, which is surrounded by high performance aircraft.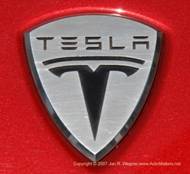 Before the presentation I was skeptical. I've heard about far too many cars from new companies that are not quite ready for prime time and failed to deliver on the promises and the hype. Unlike those, the Tesla Roadster seems to be the real deal. It continues to be the beneficiary of a painstakingly thorough development process and it will be on the market very soon.
Tesla Motors has provided a great deal of preliminary information about their new Roadster. I'll go over some of the highlights with you here, but to learn more visit their Web site at www.teslamotors.com.
Bringing the real deal to market is not something that can be done by a few people working out of a garage on a shoestring budget. Tesla Motors' international staff numbers 275. They are located in facilities here in the United States, as well as in England, Taiwan and Thailand.
Great looks aside, what really makes this car special and worthy of so much attention from the automotive Press is its high tech, all-electric propulsion system.
Useful battery life is in excess of 100,000 miles, and the system has been engineered for safety. Their chosen battery supplier "has produced billions of safe, reliable, Li-ion (Lithium-ion) batteries." Tesla's unique battery pack design has been engineered "to provide multiple layers of protection." In a worst-case scenario, "should any cell fail catastrophically, adjacent cells do not."
The charging system only becomes "live" when it is properly connected to the car, which is continually verified as the charging unit and the car communicate with each other. The Battery Safety Monitor "measures voltage, current, acceleration, tilt, smoke, moisture, and more." It will disconnect the battery pack if it determines a need to do so.
Acceleration from zero to 60 mph takes about 4 seconds, with a top speed of over 130 mph. The high performance AC electric motor is rated at 248 hp peak (185kW), with redline at 13,500 rpm. The neat thing about the Tesla Roadster's electric motor is that it immediately produces peak torque from a standstill all the way to 6000 rpm, without requiring the frequent gear changes of a gasoline engine. Beyond that, torque begins to taper off somewhat until redline but it still remains high, compared to gasoline engines which drop off sharply after they peak. This is great for quick, effortless (clutchless), pollution-free acceleration.
For fun, ask your passenger to try to turn on the radio – an instant before you accelerate, hard. I so want to drive one of these!
The cruising range is over 200 miles, and it takes as little as 3.5 hours to reach a full charge. Fuel economy is equivalent to 135 mpg, with estimated fuel costs of a penny per mile. Regular maintenance will never include an oil change, belts, filters or spark plugs.
The body is made of strong, light, hi-tech carbon fiber, like on exotic race cars. The chassis is bonded, extruded aluminum. The all-independent, double-wishbone suspension is designed to optimize tire contact with the ground at all times. The brakes are Brembos. Weight is around 2,500 pounds. Overall length is 155.4 inches.
Safety features include a full complement of airbags, rollover protection, front and rear crumple zones, antilock disk brakes and traction control. Rigorous ABS testing was done on frozen lakes just south of the Arctic Circle.
Standard interior features are luxurious and complete, from sport seats to a Blaupunkt sound system, air conditioning, power windows and locks, cruise control and leather-trim.
Exterior details include proprietary halogen headlamp assemblies and LED tail lights.
The wheels are unidirectional, extremely lightweight, forged aluminum alloys.
Tesla Motors expects to make the first delivery of a Tesla Roadster in the fourth quarter of 2007, at an expected starting price of $98,000. 570 of the 2008 Roadsters have been pre-sold. The next model will be a performance sedan, targeted for the 2010 model year.
The Tesla Roadster represents an encouraging look at the future of automobiles. Consider these claims from Tesla: their environmentally friendly, all-electric Roadster offers better acceleration than a gas-thirsty Lamborghini Murcielago and twice the equivalent fuel economy of the leading hybrids.
Drive safely and do join me again next time.
Copyright © 2007 & 2021 by Jan Wagner — AutoMatters & More #244