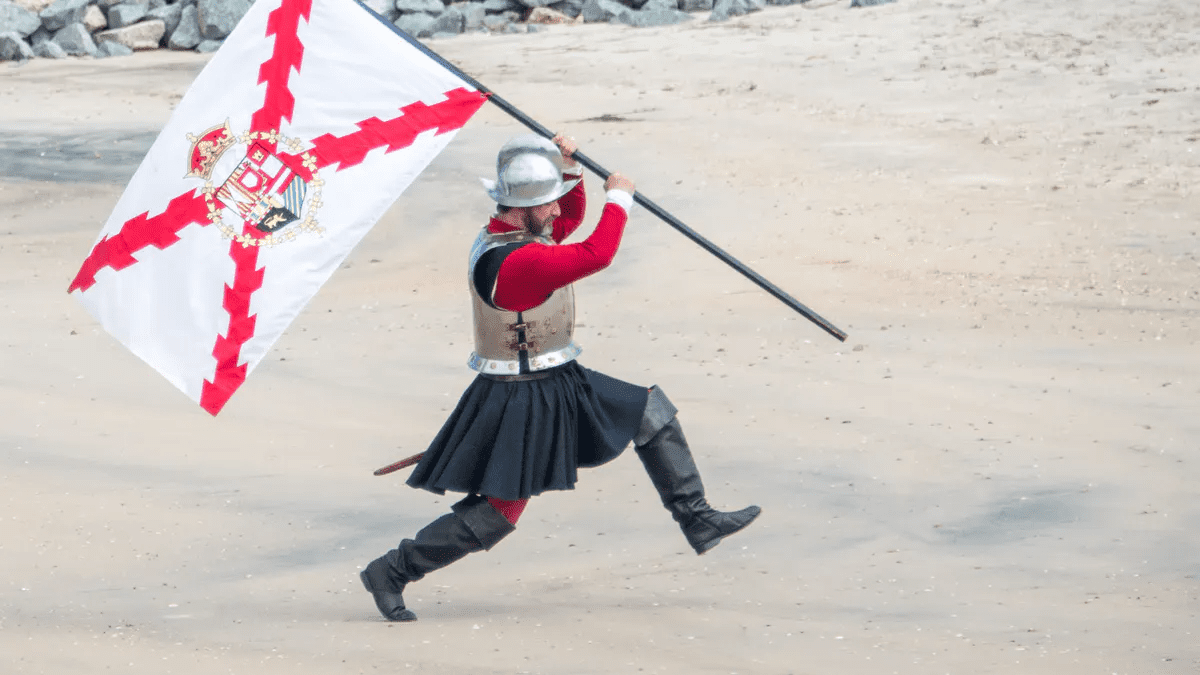 DISCOVERING SAN DIEGO – THE CABRILLO FESTIVAL
Commemorating Juan Rodriguez Cabrillo's historic 1542 landing in the United States
According to the U.S. National Parks Service in their informative Cabrillo National Monument brochure, Juan Rodriguez Cabrillo "was the first European to set foot on the west coast of what is now the United States. His expedition brought Spain's first great era of exploration to a close."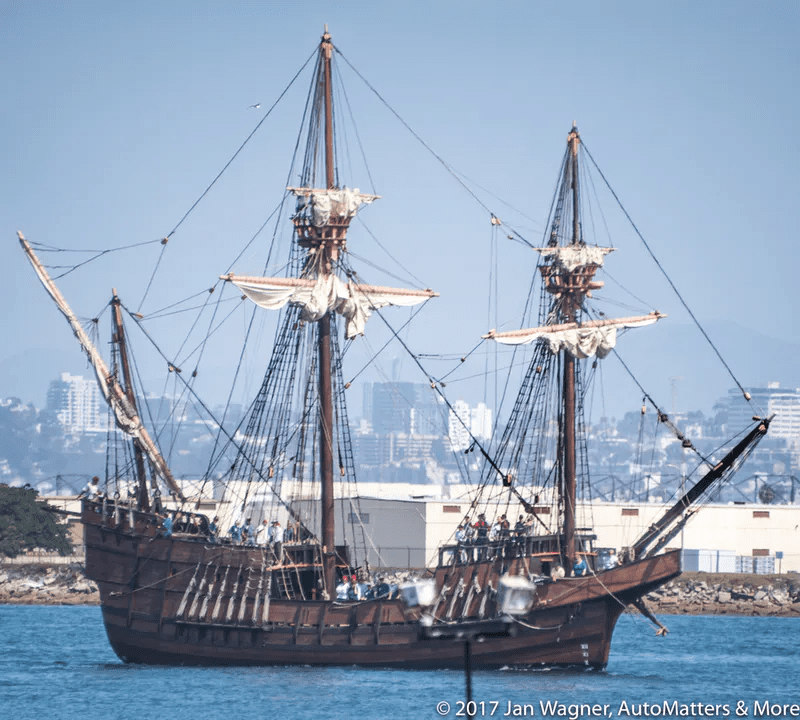 From the Cabrillo Festival we learned that "on June 27, 1542, Cabrillo set sail from Navidad on Mexico's west coast with three vessels: San Salvador, La Victoria and San Miguel in search of gold and a route to the Orient and the Spice Islands. Sailing northwest into uncharted waters, they explored the west coast of Baja California. On September 17 they anchored at San Mateo, known today as Todos Santos Bay, Ensenada. A few days later they departed. Sailing north they landed on September 28 at 'an enclosed harbor, which was very good.' Cabrillo named it San Miguel. We know it today as San Diego. Cabrillo and his men remained for six days, trading with the native Kumeyaay people living around the bay, exploring and taking on supplies and fresh water. On October 3 they departed, continuing their voyage northward along the coast of Alta California. Although Cabrillo died of an injury before completing his journey, he is one of the most recognized figures of the Age of Exploration."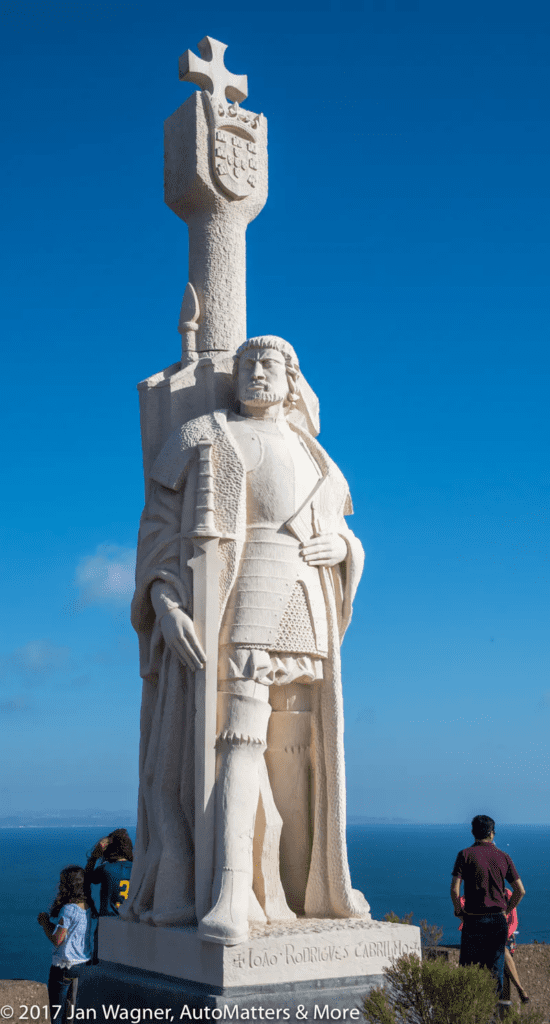 An informative video recreation of Cabrillo's journey is presented in the visitor center of the nearby National Parks Service's Cabrillo National Monument.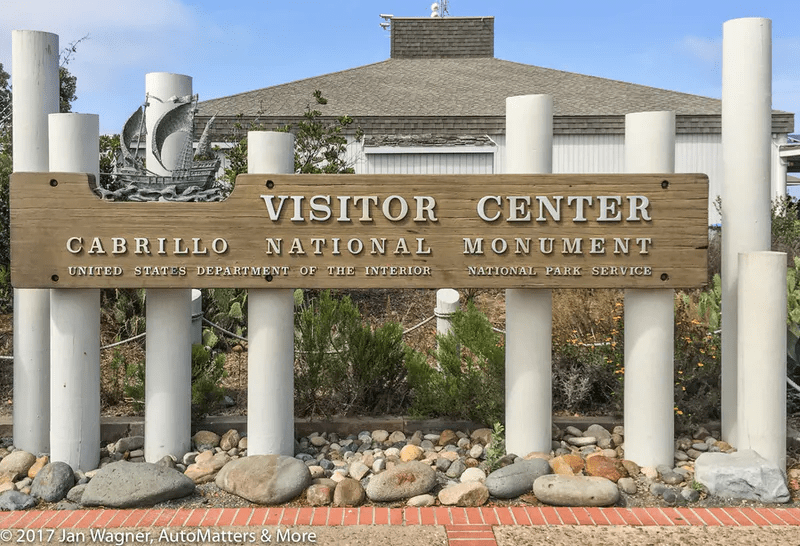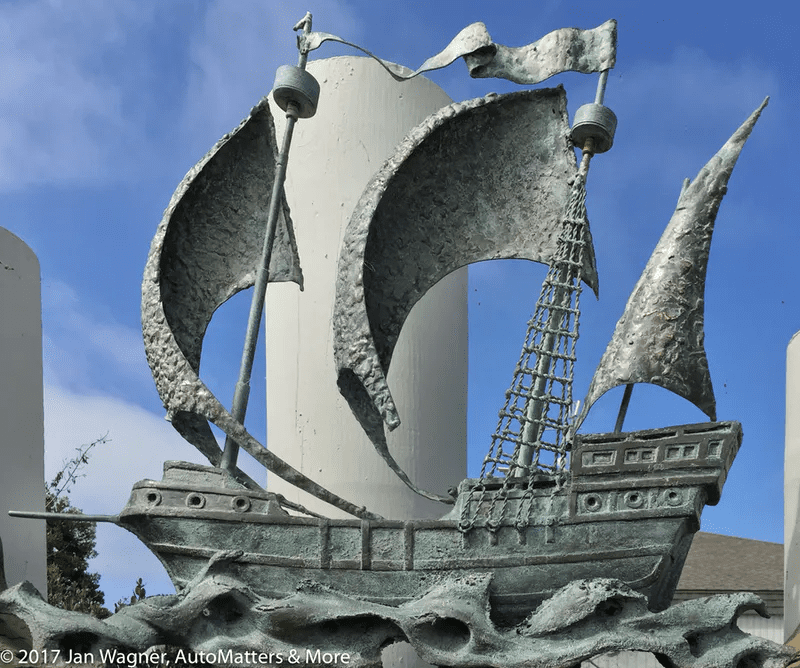 On Sept. 30, 2017, the Cabrillo Festival brought Cabrillo's historic landing to life, with a re-enactment of his arrival on Sept. 28, 1542 at the place that we now call San Diego. A replica of his galleon – the San Salvador, recreated by the Maritime Museum of San Diego – entered San Diego Bay. From this mighty sailing ship emerged costumed re-enactors of Cabrillo and his landing party. "Cabrillo," his soldiers and a priest transferred to a small rowboat and then walked onto the beach at Ballast Point where he planted a flag to claim the land in the name of Spain.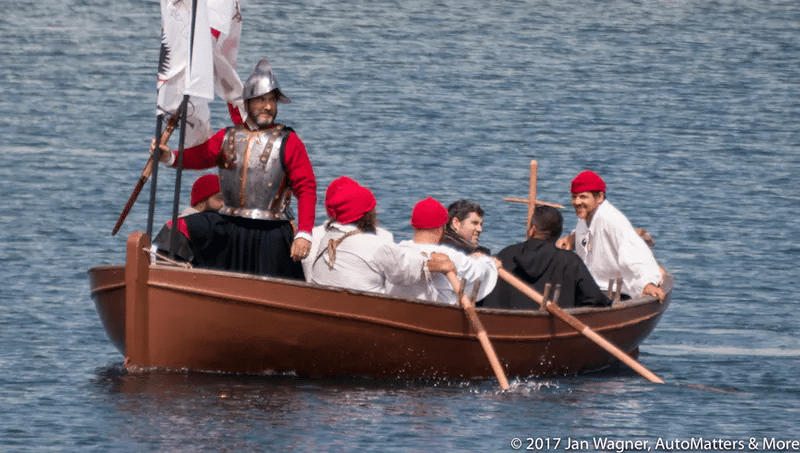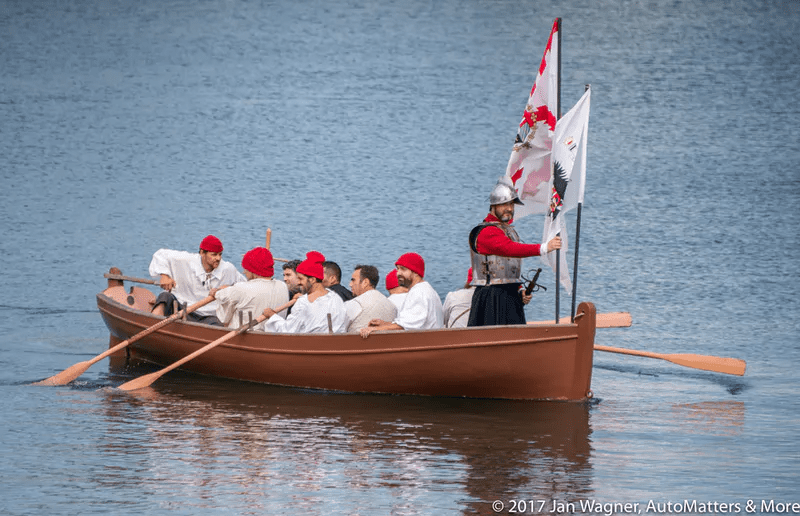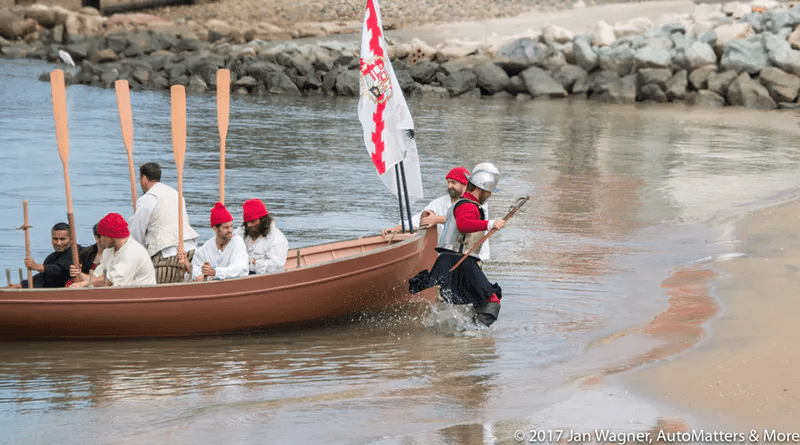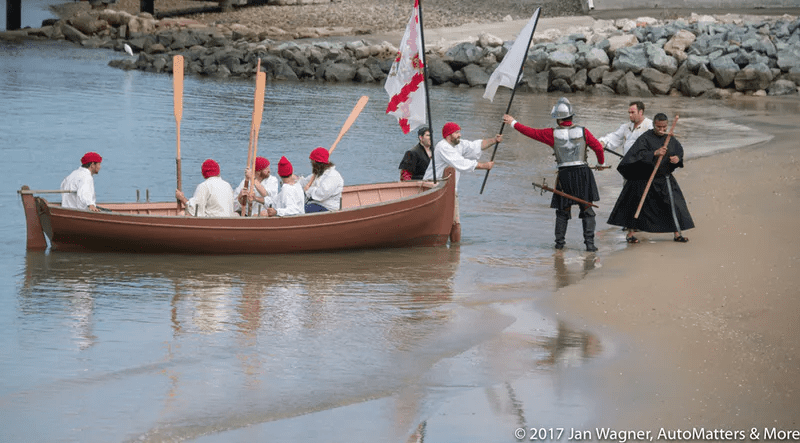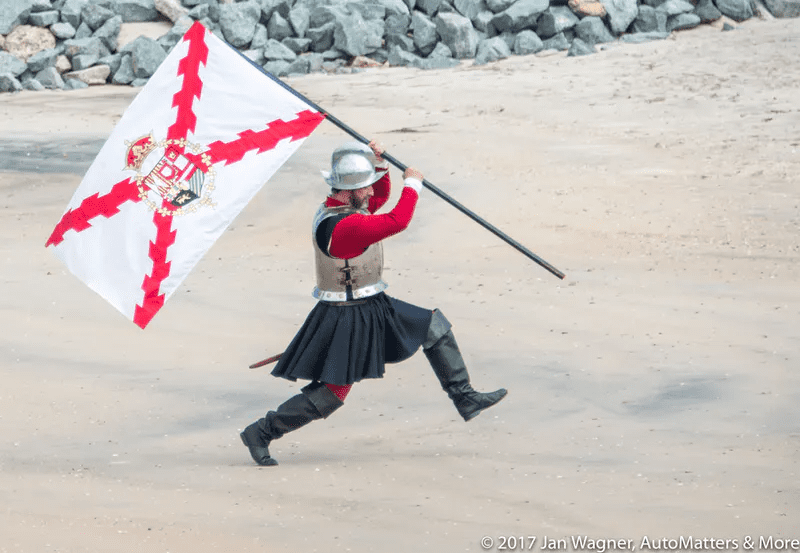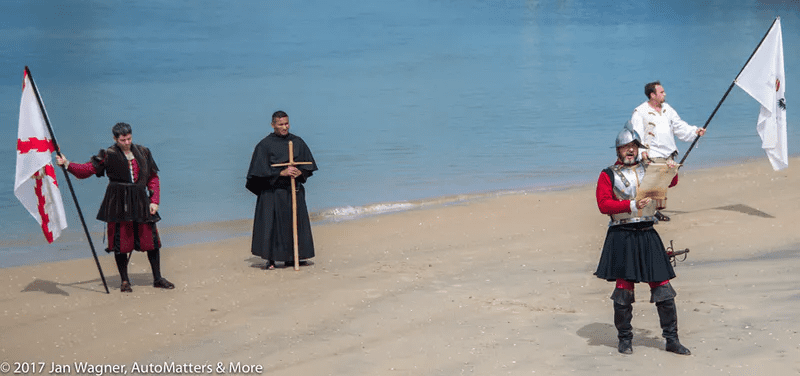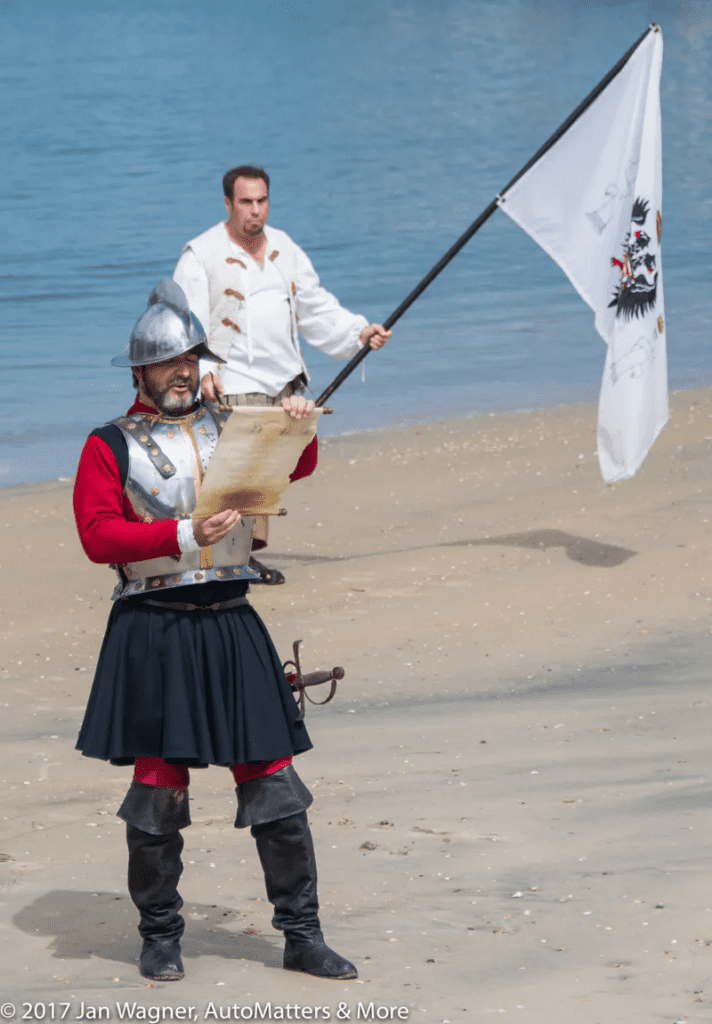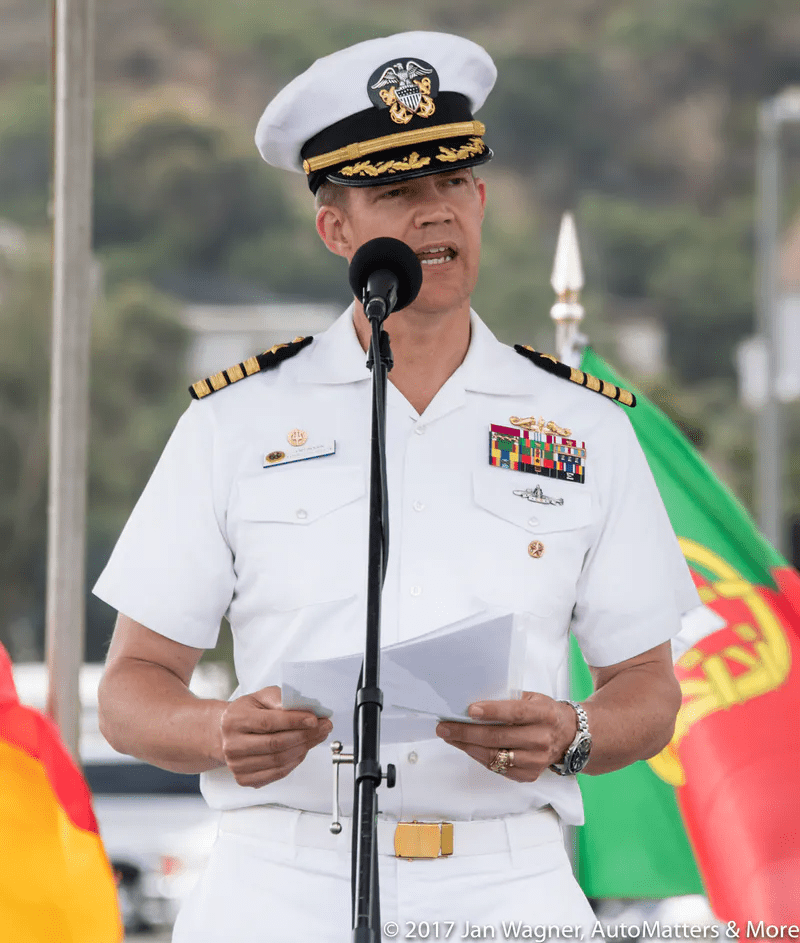 "It is my honor to host the 54th annual Cabrillo Festival celebrating the exploration of West Coast United States by the explorer Juan Rodriguez Cabrillo, 475 years ago. We're excited to open the base to the San Diego community and to our distinguished representatives from the countries who share a part of this rich heritage, and it is a result of the events we celebrate today. I believe that Juan Rodriguez Cabrillo would be honored to know that his accomplishment of exploration and daring is still recognized today and creates a wonderful opportunity for five distinct cultures to celebrate the heritage we share in a spirit of harmony and respect."
"Naval Base Point Loma serves a diverse group of naval commands who conduct a variety of sensitive operations and research. For that reason we generally do not open our base up to the public, to protect those sensitive operations and that research, but in addition to serving and protecting our war fighters, Naval Base Point Loma has a mission to protect our cultural heritage and build on a strong relationship with the community, so Cabrillo Festival is significant enough to provide a great opportunity to help us preserve that shared cultural heritage while building our relationship with the San Diego community."
The annual Cabrillo Festival is steeped in culture, including folklore; traditional Spanish, Mexican, Portuguese and Native American Indian music and dancing…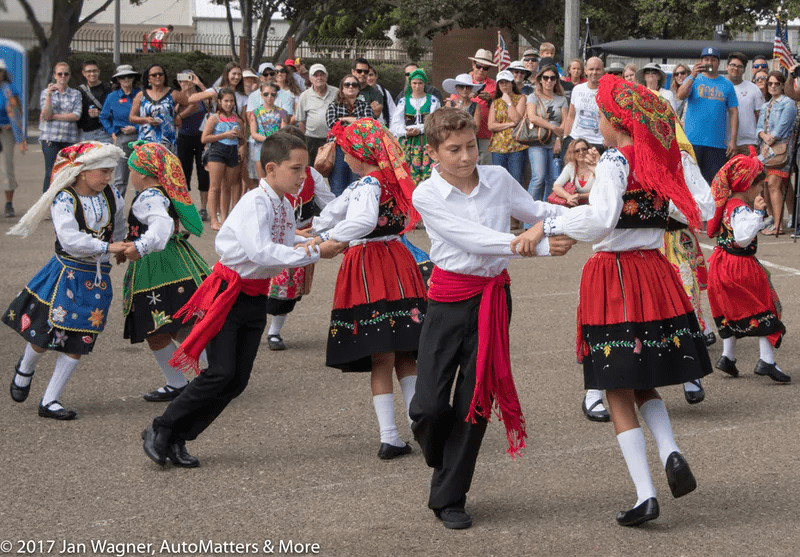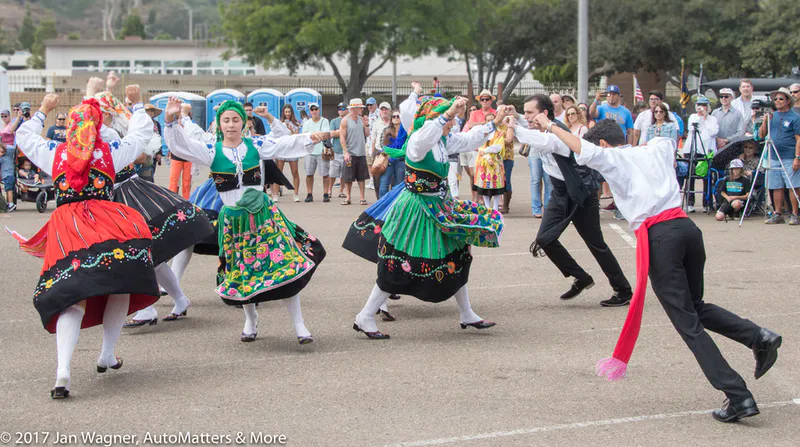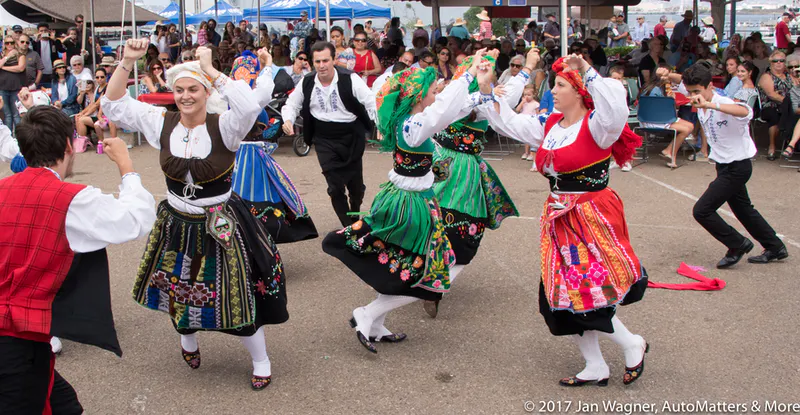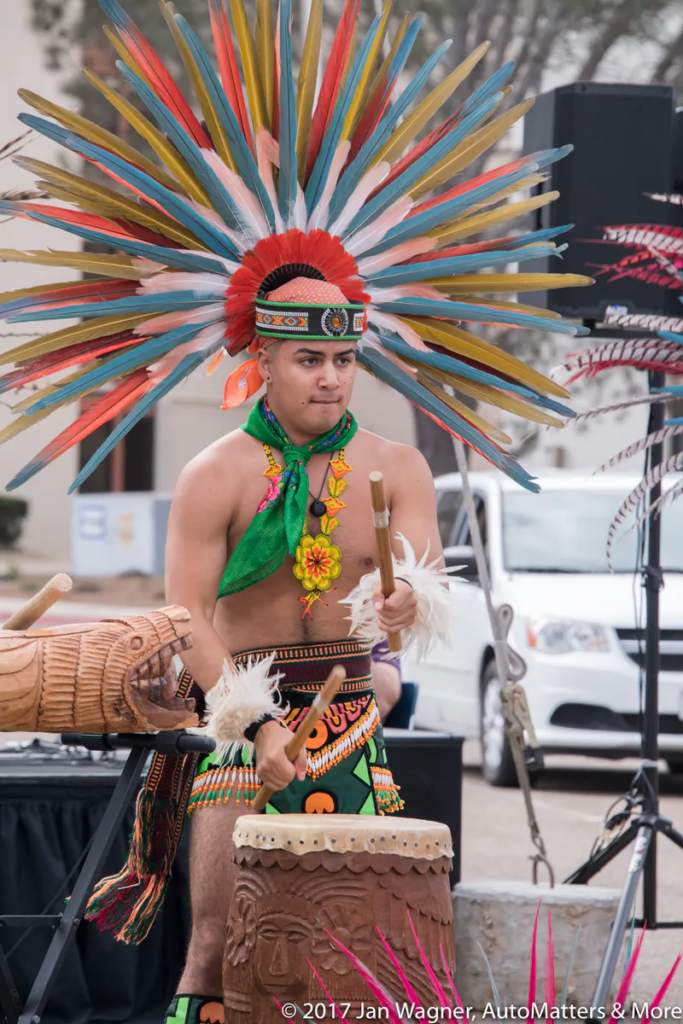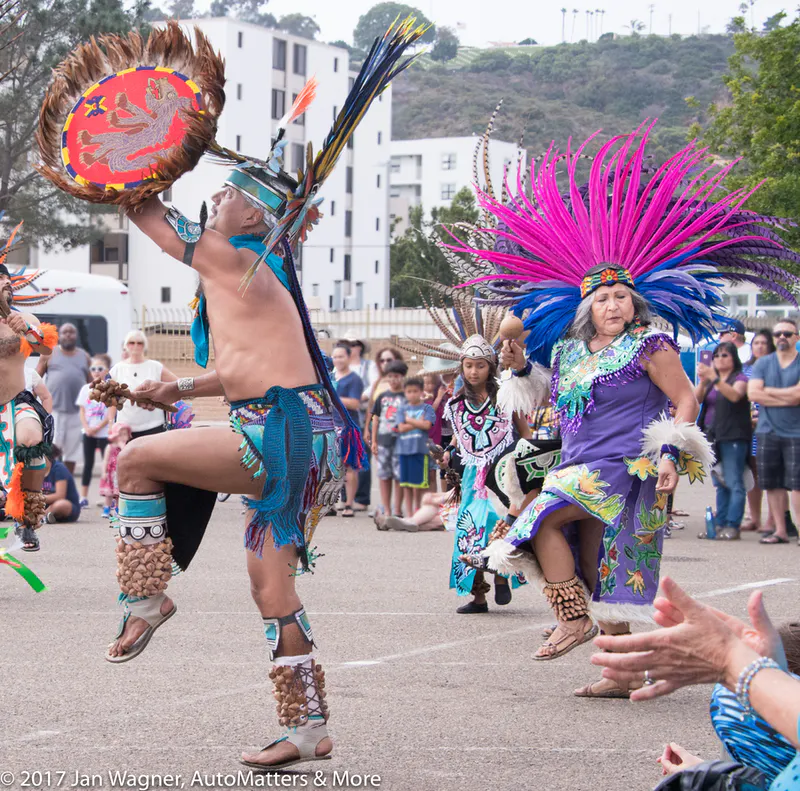 … colorful costumes…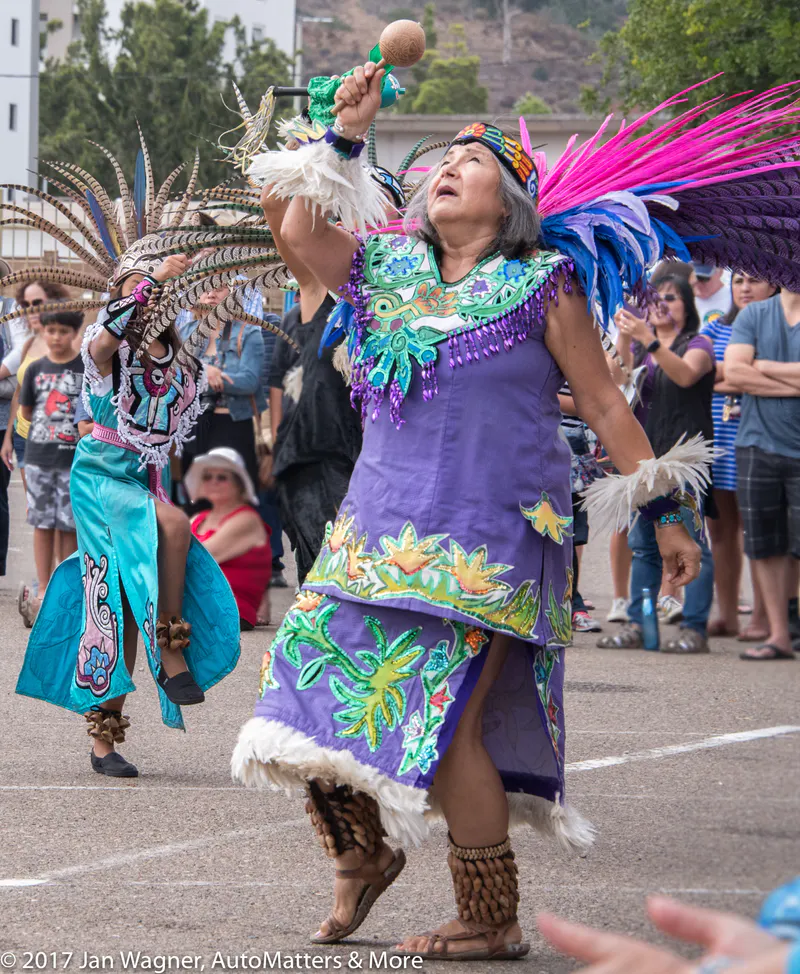 … educational displays…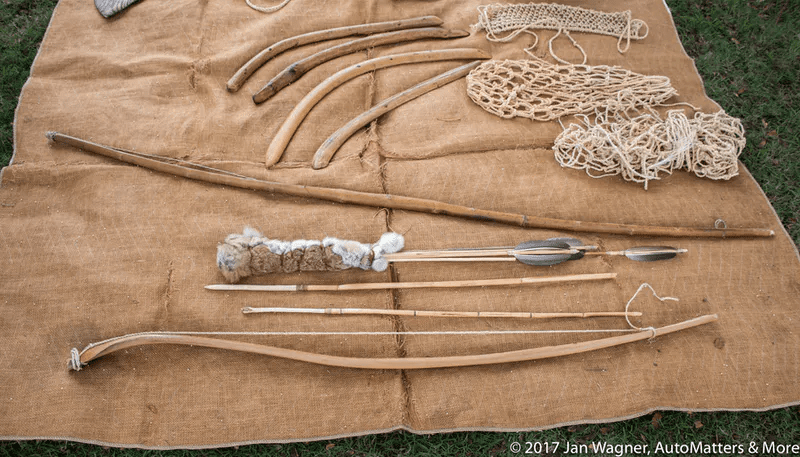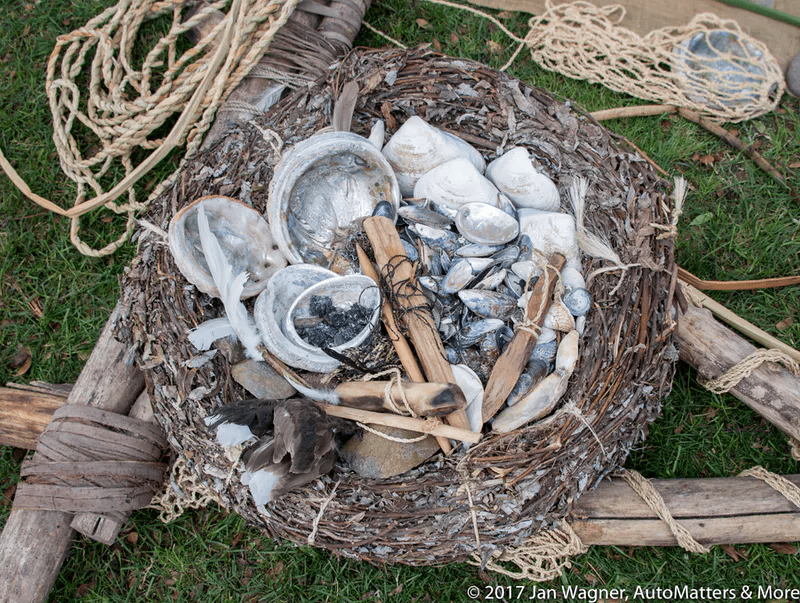 … demonstrations of common items from the period…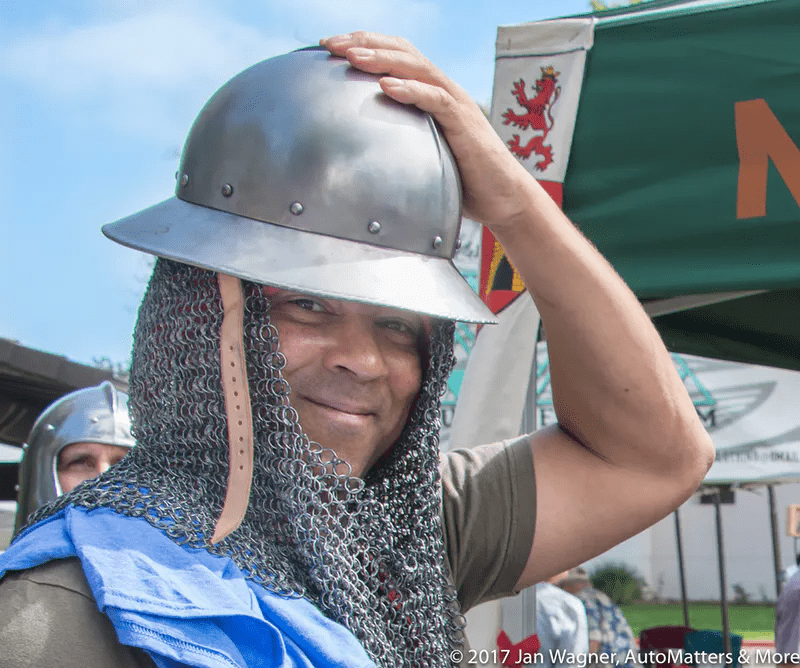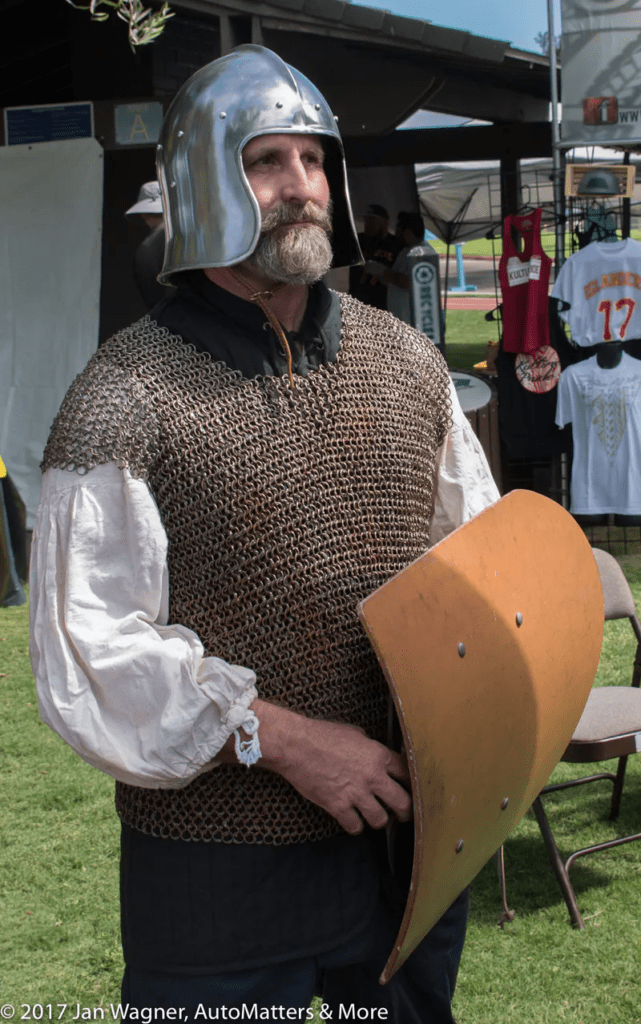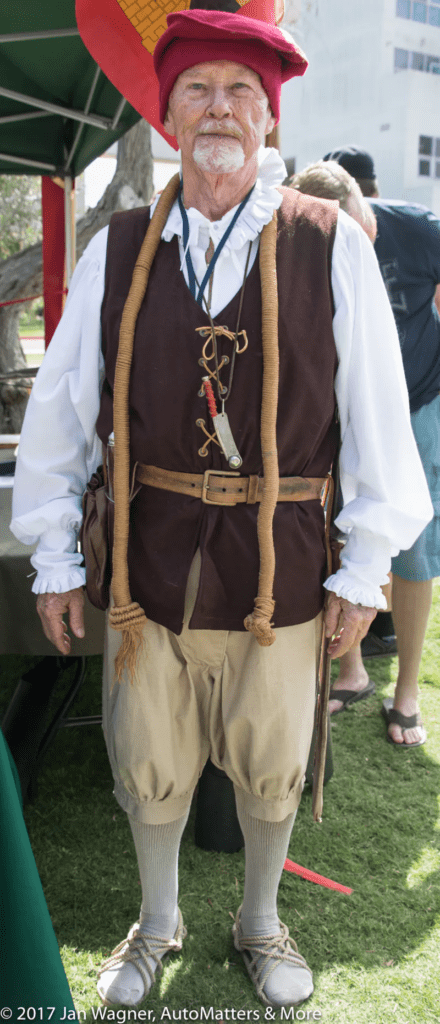 … arts and crafts; and food, including a large batch of delicious, slow-cooked Paella: a blend of shrimp, calamari, clams, bell pepper, peas, tomato, onion, garlic and rice – all cooked in olive oil.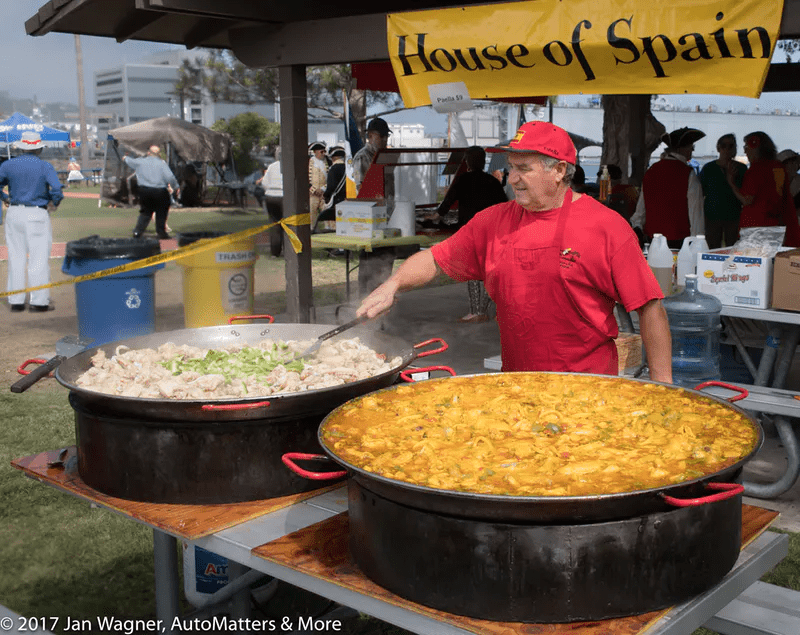 I had never eaten this traditional Spanish dish before and I mistakenly assumed that it was spicy, like much of the Mexican food we enjoy here in San Diego. It was cooked under the expert supervision of Jesús Benayas, President of the House of Spain (houseofspainsd.com) in San Diego's Balboa Park. For those of you who will be in San Diego in early December, the House of Spain will prepare Paella at "December Nights" in Balboa Park.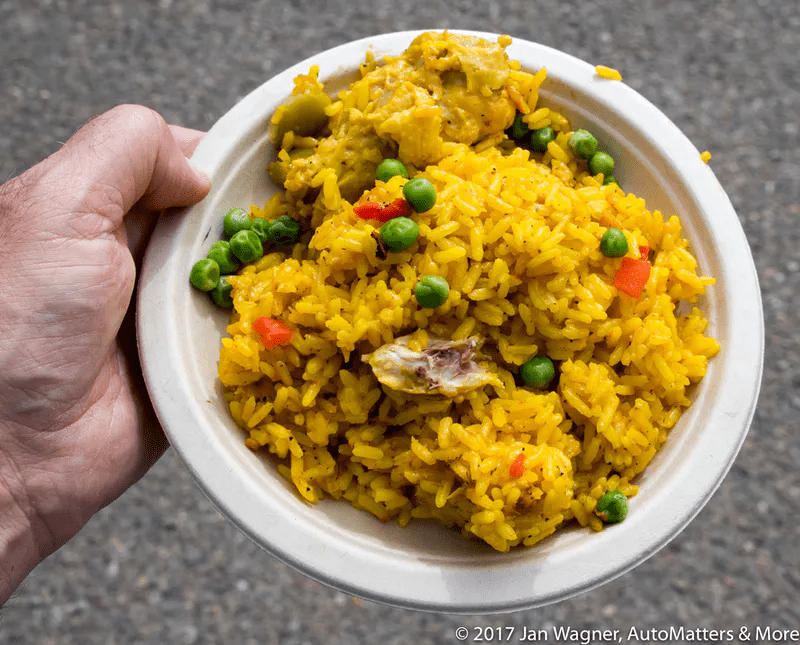 For more information visit www.cabrillofestival.org.
COPYRIGHT © 2017 BY JAN WAGNER – AUTOMATTERS & MORE #510R1