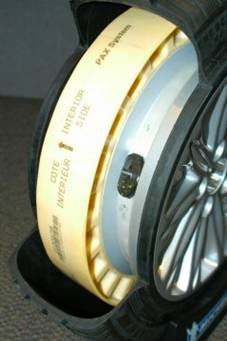 As a driver, one of the things I keep tucked away in the back of my mind is the possibility that I will have a flat tire. I've had them before and they seem to occur at the absolute worst times. Who plans for a flat tire?
Once when I was driving on a crowded freeway, one of my car's front tires suddenly had a massive blowout. Luckily I did not panic. Instead, I gently let off the gas and the other drivers let me pull safely to the shoulder to examine and deal with the smoldering mess.
Another time I lent my car to someone, only to get a phone call later that two tires went flat at once – on a rain-soaked, muddy side-road in the middle of the night. I don't remember how I handled that one but with only one spare tire in the car I'm sure it was not convenient or quick, to say the least.
The possible scenarios are endless: a flat tire on the way to an important business appointment or on the way to pick up the kids from school would be equally inconvenient. Wouldn't it be nice to not have to worry about that?
Michelin, the company that invented radial tire technology, has come up with a new system – one that appears to be better than previous run-flat tires. They call it the Michelin PAX System.
Simply put, if one of these tires experiences either a gradual or even a sudden loss of inflation pressure, you can still drive on it for up to 125 miles at 55 mph before getting it serviced. That should be plenty of distance to enable you to keep that important appointment or drive to a safer or more convenient place to get it taken care of. Also, even if you experience multiple, simultaneous flats, you can still drive safely on the tires.
To demonstrate their new PAX System, Michelin invited journalists to Hollywood Park to drive several vehicles that were fitted with the system. First they showed us the components of the system and explained how they work together.
A PAX System tire has a shorter, more flexible sidewall than a traditional tire. This enables it to grip the road better, for more responsive control.
The reason why it can be built that way is because of the special PAX System wheel and inner support ring. The tire is anchored to this special wheel in such a way that "a PAX System tire is designed to never separate from the rim, even with a blowout at high speeds under normal driving conditions." Furthermore, the inner support ring supports the tire when it is deflated. As the vehicle turns, the inside horizontal surface of the tire slides from side to side on this inner support ring, which bears the weight and cornering loads. The combination of the inner support ring and the secure anchoring of the tire to the wheel allow for a less rigid tire design. The increased flexibility of the tire makes it much more responsive, offering "exceptional maneuverability and control in the event of a blowout." It also produces a more comfortable ride.
With the PAX System there are two ways you will learn that you've suffered a flat. First, since the PAX System requires a tire pressure monitoring system in the vehicle, that monitoring system will show you that you have a tire deflation. Second, when the tire is running in a deflated state, a mild vibration will be conveyed to the occupants of the vehicle. That will serve as a constant reminder to have it attended to.
So, how does the Michelin PAX System perform in driving situations? When we went outside we were given a memorable demonstration. A small explosive charge was fitted to the sidewall of a new Honda Odyssey minivan's PAX System tire. Then, while we watched the Odyssey drive along, the charge was triggered.
Instantly a large hole was blown out of the tire's sidewall, yet it kept doing its job. The driver stopped so we could examine the tire and see the blowout for ourselves. Then, to prove the point that you can safely continue to drive on a fully deflated PAX System tire, the driver resumed driving on the badly damaged tire for several miles, until our demonstration ended.
We also got several opportunities to drive, in a variety of vehicles with inflated and deflated PAX System tires. From Europe-only vehicles to a Honda Odyssey minivan model that is sold here, they all performed well. Not only did their fully deflated PAX System tires work, but one could still drive on them aggressively – as I found out behind the wheel of an Audi A8. The experience was truly amazing. The Michelin PAX System really makes carrying a spare tire, jack and tire changing tools redundant and unnecessary. That can free up trunk space for other things.
Individual components can be quickly and conveniently replaced, as needed.
Currently the Michelin PAX System is available here on the 2005 Honda Odyssey 'Touring Edition.' Visit your local Honda dealer to test drive an Odyssey with the PAX System for yourself.
European car fitments include the Rolls-Royce Phantom, Renault Scenic, Audi A6 and A8, Bugatti 16/4 Veyron, Bentley Arnage, Volkswagen Phaeton, Lancia Thesis and certain armored Mercedes and BMWs. I suspect and hope that our number of Michelin PAX System fitments will increase substantially as the word gets out.
For more information on the Michelin PAX System, check it out online at www.michelinman.com/paxsystem.
Drive safely and do join me again next time.
Copyright © 2004, 2006 & 2021 by Jan Wagner — AutoMatters & More #128r1