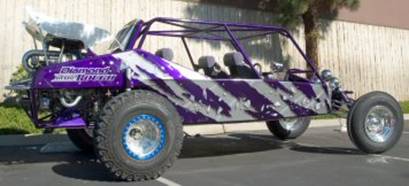 Sidewinder Offroad's SV20 & GT LIVE Preview
This is shaping up to be a really hot December in Southern California – and I'm not talking about the weather. We'll start off with toys for the desert, and end with an upcoming event that you shouldn't miss.
Question: what do you get when a twin-turbocharged Corvette engine is installed in a light, purpose-built, high-tech dune buggy with 20 inches of sand-dune-taming, offroad wheel travel and ample room for a whole family? The answer is the brand new SV20 from Sidewinder Offroad Inc. in El Cajon. But I'm jumping to the end of the story. Let's start closer to the beginning.
Those of you who are familiar with offroad racing are well aware that the Chenowth name is legendary. Mike Hancock worked for Chenowth Racing as a fabricator around 20 years ago, helping to build military "fast attack" vehicles, offroad racecars and, as he described them, "play" cars. I could sense the passion that Mike has for the sport of offroad racing when I spoke with him at his company, Sidewinder Offroad Inc.
According to Mike, "probably back in 1983, Len Chenowth had already sold Chenowth Racing Products to Mike Thomas, but he was still involved in design and development in the race division. At that time, stadium racing was really heavy. Mickey Thompson was promoting the Mickey Thompson stadium series. What happened was one time – I can remember it like yesterday, we were sitting there. It was late, like one o'clock in the morning. I'm in there working and Len and I were talking, nobody else in the building, and he's telling me this concept that he had. He wants to build a little, tiny, miniature racecar that fits in the back of a pickup truck. (You could) load it in the back of your truck and go race at the stadium with the big boys. It was supposed to be affordable to the public. (Along) with Mickey Thompson they were going to create a class of its own, and that was the marketing campaign behind the car." Well, true to their plan, they did just that.
Len got together with well-known fabricator Bob Butler. With Mike's help, they designed and developed the first "mini-Mag," an "affordable version of what was called the Magnum racecar." The Magnum was "Chenowth's signature stadium racecar" which "dominated the entire sport." "Anybody that won drove one of those cars:" including Roger Mears and Robby Gordon.
"It originally was a 90-inch wheelbase, single seat version of (the new SV20) with a Rotex snowmobile motor in it and a little automatic snowmobile transmission. At that time (Len) developed that car to be a four-wheel 'A-arm' car, which was totally unconventional. He wanted to basically take the big Magnum design, shrink it down and call it the mini-Mag."
"The car was done, the promotional videos were being made … but right then and there is where it all fell apart – when Mickey (Thompson) and Trudy got killed. I can remember the morning that happened. I walked out of my shop four or five doors down to Len's. I walked in at 7 o'clock in the morning and he was in tears on his desk. He just looked up and … said 'Mickey Thompson has been shot.' He knew Mickey and Trudy both and we're right in the middle of this whole project. That ruined the entire thing because it didn't go any farther at that time with the stadium deal. It fell apart."
Despite that major blow, they did some desert racing with the "mini-Mag." Rory Chenowth, Len's son, raced it to victory in a couple of Baja 1000s. Eventually, however, Chenowth went military and their "mini-Mag" project got shelved.
A few years later Rory decided to build a two-seater version of that car for himself and a few of his buddies. He asked Mike if he wanted one too but Mike said "I've got to have a four-seater. … I'm having kids." The wheelbase was stretched from the original 90 inches to 120 inches for Mike's vehicle, and it was nearing completion. Rightfully expecting payment soon, Rory asked Mike "did you tell (your wife) Jackie yet?" His reply was a somewhat guilty "no." Rory said: "When are you going to tell her?" but Mike could not give him an answer, instead saying: "I don't know, why don't you tell her?" Rory wasn't about to get in the middle and said "I'm not telling her!" This went back and forth for a while until finally Mike realized that "it was getting close to where I'm going to have to really start paying him some serious money, rather than just tokens."
Rory had bills to pay so he decided to give things a little nudge. One day, when they were all out together at a place called Gordon's Well, Rory told Mike: "All right. Watch this," and said: "Jackie, come here!" He waved Mike's wife over as Mike pleaded with him: "Man, don't do this – not right now." Rory said: "I'm not going to tell her." Instead, he went over to his own personal two-seater and simply asked Jackie to "get in. Come on, let's go for a ride up the hill!"
As Mike recalled years later, as if it were the day before: "She looked at me and I go yes, go ahead." She asked: "Is it safe?" The answer was "Fine. You've got an offroad racing super star here. Go ahead, go for a ride. So she jumps in the passenger seat and she buckles up and everything."
Mike told me "if you've ever ridden with Rory, even Eric who works for me will tell you there's a fear factor going on. It's extremely nerve-wracking. But at the time he was a professional racecar driver. He was born and bred into offroad racing. His dad pioneered the sport – very competent."
"So she gets in the car and they buckle up and he does a little loop. If you've never been there, Gordon's Well has a pretty big flat area and then it goes up a giant hill called 'Test Hill.' It used to be the test. There's a flat area and then it goes up on a dirt canal road and drops down into the water canal. So he goes up on that canal road and does a little loop. From there it comes down about a 15-foot drop, across a flat area, across a pretty deep series of bumps, and then up this giant hill about 500 to 600 hundred yards long. Then it drops off the top, flattens, you come around and then its really steep coming down back into those bumps."
"So he does a little loop back up on the canal and he fires that thing up in first, second, third gear and you can hear her screaming over the motor. She is screaming LOUD. She's holding on and he just hits those bumps at like 70 miles an hour. The car's dancing like a spider. Its going and doing everything its supposed to. The chassis's not rolling. It hits the bottom of the hill, fires up the hill (and) jumps off the top. (He) lands the car (and) does a turn on this berm."
"Usually you slow down coming off of the top of the hill (and going) down. It's a BIG hill. It's WAY higher than a palm tree. So he downshifts, gets into second gear or so, and then all of a sudden just lays into the throttle and jumps off of the top of that hill. You can hear her screaming from the top of the hill. The car lands, shifts into third gear and fires down the hill way faster than he went up it – right across the bumps, the tires working like you can't believe. He goes up on the canal road, does a power slide, comes pulling up to us (and) stops."
(Jackie) jumps out of the car screaming and yelling: 'Oh my god, oh my god. We've got to have one of these! We have GOT to have one of these!'"
"Everybody starts laughing because all my friends knew what I was up against. So she goes: 'what are you guys all laughing at?' Rory puts his arm around her, looks at her and goes: 'Jackie, your car's almost done.' She goes 'What?' He says: 'We've been working on it for about a month. It's almost done. You guys have got a four-seater.' And she looks at him and goes: 'How much is it?' and I go: 'We need another 20,000 bucks.'" Jackie's reply? "We'll figure out where to get the money!"
"And from that point on, that's how (Rory) marketed the cars. He would get the wife in the car, drive the car and that was it. It works. These cars are so advanced that they're really soft (like) floating on a cloud. You've got suspended seats and padded seat belts. Our car has seat warmers, adjustable steering – the whole nine yards. By the time the women get out of the cars … they're not sore, they're not beat up, they're not fatigued – they've had a lot of fun and they've forgotten about how much money they've spent. The more they enjoy it the more they come back and then it becomes a family thing."
Rory continued building SV16s as a business for a few years, but eventually got into doing other things. So, Mike offered to buy that part of the business from him. Since Rory knew it would be in good hands, he agreed.
Recently Mike's Sidewinder Offroad company launched their new SV20, an evolutionary, high tech development of Rory Chenowth's SV16. Building on that vehicle's precise suspension geometry and custom rack & pinion steering that featured virtually zero bump-steer, and inboard disc brakes in the rear to reduce unsprung weight, the SV20 features an incredible 20 inches of suspension travel. Other custom-designed features include unique suspended pedals, power steering with a tilt steering wheel, fore-and-aft seat adjustment and race-tested precision alloy hubs. The cab-forward design helps you see where you are going. Add in an option like a twin-turbocharged LS1 Corvette motor that puts out anywhere from 630 hp up to 900 hp to the crank – in a 2200 pound car, and you can almost fly across the desert dunes.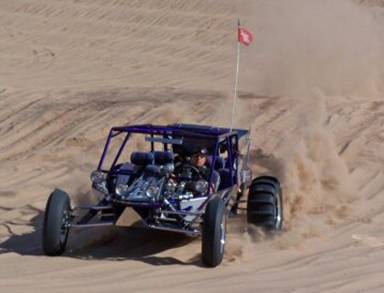 Mike took me for a brief ride in a customer car. I've got to tell you, these things are flat-out amazing. As opposed to a car built for a paved racetrack, which telegraphs every little bump and surface imperfection directly to the driver through a stiff suspension, this family-sized desert racer seems to float effortlessly over obstacles in its path.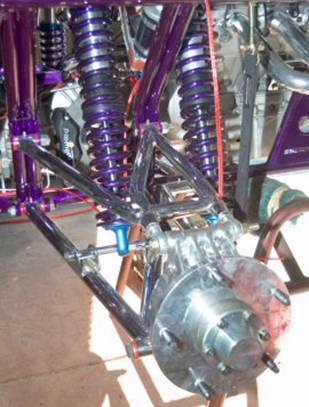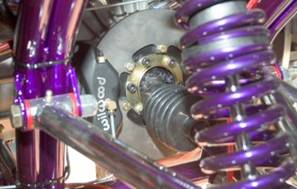 We started with an acceleration run. Under hard acceleration the SV20 lifted softly with a whoosh and rocketed away like nobody's business. Then, as we rapidly approached a sharp dip and a change in road surface, Mike didn't even slow down. I braced myself for an expected hard impact followed by a wild launch, but instead I felt almost nothing. We just kept going, as the suspension fully absorbed the bumps and the sharp elevation change.
Soon after, I reluctantly left Sidewinder Offroad but I still craved more seat time. A ride through the desert in an SV20 is definitely in my long-term plans. If you'd like to find out more, go to www.SidewinderOR.com, call Mike, Dean or Eric at (619) 440-8898 or take a shop tour like I did in El Cajon.
* * *
In other news, if you have not done so already you need to quickly make last-minute plans to head up to California Speedway in Fontana the weekend of December 18th and 19th. GT LIVE will combine Japanese Pro Drifting and the U.S. premiere of the Japan Grand Touring Championship (JGTC) racing series, with seriously interactive activities for racers and fans alike.
The centerpiece of GT LIVE will be the JGTC, with racing action featuring "production-based cars from manufacturers like Toyota, Honda, Porsche, BMW and Ferrari tuned to the max (at a cost of up to $1.5 million)." "The JGTC's innovative racing rules result in extremely competitive races and tight finishes."
Additionally, fans may rip around the racetrack with a pro driver, take their own cars out on the GT Autocross, get behind the wheel of the latest production cars in the GT Ride & Drive or test the power of their rides in the Turbo High-Tech Performance Dyno Challenge." Music, Japanese race queens, a vendor area and more will add to the truly festive GT LIVE motorsports and tuner cars experience. This promises to be one of the most action- and variety-packed weekends in motorsports. For more information and tickets (which are running low), hurry over to www.jgtcusa.net.
Drive safely and do join me again next time.
Copyright © 2004, 2006 & 2021 by Jan Wagner — AutoMatters & More #129r1