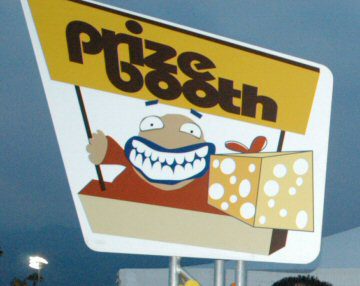 The Significance of #97 & Toyota Puts It In Play
I did something I rarely do last night. After I got back from my very wet autocross (on old slicks – ouch), I watched every minute of a NASCAR NEXTEL CUP stock car race that I had recorded earlier in the day from NBC on tape. To anyone who follows stock car racing, this particular race was special and very significant. Bear in mind these were unofficial results. I suspect that they will not change.
The entire season came down to the last lap of this, the 36th and final race in this year's series. The location was Homestead, Florida, and the event was the "Ford 400." Marking the first year of a radically new format, which included a ten-event shoot out for the top ten contenders at the end of the season, this was the closest championship battle in NASCAR's 56-year history. Incredibly, in this last lap of the last race any one of three drivers could have taken the series title – and the multi-million dollar check that went along with it. It just doesn't get this close, ever.
When the checkered flag finally flew (after several exciting late race caution periods), and having earned 6,506 points over the season which began in Daytona early in the year, Kurt Busch in his #97 Rousch Racing Ford Taurus beat out challenger Jimmie Johnson (#48, from El Cajon, racing for Hendrick Motorsports) by only 8 points. 16 points behind Kurt was Jeff Gordon (#24, a past NASCAR champion).
More than a championship was at stake. Greg Biffle (#16) won the race in another Rousch Racing Ford. Edsel Ford presented the trophy to him. All in all it was a good day for Ford.
So what is the special significance of Kurt's #97 Ford, you ask? Well, my autocross number happens to also be #97. I run it on my Mazda Miata. Ford just happens to have a significant financial interest in Mazda. Are these just coincidences or was it fate? I've leave that for you to decide.
* * *
In other news, a few weeks ago I drove up to Pasadena's Rose Bowl for a free Toyota event that was open to the public. It was called "put it in play." If it returns next year – and I sincerely hope that it does, you really should make the effort to go. It was very creative, completely original and GREAT fun. Toyota took aim squarely at a predominantly younger demographic and hit the bull's eye – literally. Here are some of the highlights.
In "Vehicular Dodgeball" we drove Toyotas while trying to dodge large and small balls blocking our path through a racecourse. At the very end of the course, our fellow competitors pelted our cars with soft little water-soaked, spongy balls. They were trying to hit a bull's eye on each car. Had they been successful they would have cost us points, which would have cost us valuable prizes. That could not be allowed to happen. So, in my determination to win, I had been driving very quickly through the course for, you guessed it, the most prize points. I came around the second last corner, towards the gauntlet of pitching wannabees. I mashed the accelerator as I entered the short straight with just one corner to go, and – oops, I forgot one important thing. The balls were filled with water, which got all over the track. Instead of a dry, grippy surface, it was wet and very slippery. Try as I might, there was no way I was going to make the last 90 degree left-hand turn. Instead, there was a very good chance that I would crash into the very hard safety barrier. Oh, and I forgot to tell you one other important detail.
Just before I began my run, one of the event organizers announced to all within earshot that I am an experienced, supposedly hot-shot autocrosser. We've known each other for years and he was determined to put me on the spot. With those thoughts well in mind I proceeded to smash through his carefully placed sea of cones, stopping just short of the barrier at the edge of the course. That was a very humbling and embarrassing experience for yours truly. It was also, in retrospect, a major hoot (that means it was terrific fun)!
After that, all of the other events were sort of anticlimactic, but I'll tell you about them anyway because they were still very creative and entertaining.
In "Capture the Checkered Flag" (which I didn't have time to try) small groups of friends piled into Toyotas and tried to capture their opponent's flag and switch drivers. The first team to four won – and got lots of prize points.
In "High-Octane Red Light/Green Light" (which I DID do – and won), we lined up in several Toyotas and did mini drag races, starting and stopping on cue. The first one to the finish line won. The trick was to maximize acceleration when we had the green without stopping too late (which would cause us to lose a turn). Wahoo! More points!
In "Pro-Driver Speed Tag" three of us amateurs teamed up with a pro-driver. In a tag-team situation, we kept changing drivers until we'd all had a chance to drive, trying to beat the other team to the final finish line. The Pro driver drove last, in an effort to make up for our mistakes. We lost. Rats!
There were also vehicular versions of musical chairs, "Car-e-oke," the "Toyota 101" Pop Quiz and more. The prizes were really great, and included good quality T-shirts and recent movies on DVDs. I had a wonderful time and I'm sure everyone else did too. Toyota, bring it back next year – please!
Finally, there's an initiative being floated to get rid of the need to place front license plates on cars in California. If you're interested take a look at the petition at: www.PetitionOnline.com/caplate/.
Drive safely and do join me again next time.
Copyright © 2004, 2006 & 2021 by Jan Wagner — AutoMatters & More #127r2