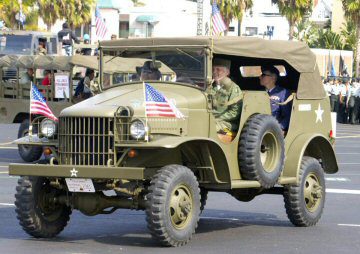 Veterans' Day 2004 & USS Midway
A Time for Reflection, Appreciation & Contemplation
Yesterday I had the honor and privilege of driving a Korean War veteran in San Diego's annual Veterans Day Parade. We gathered in the vicinity of the County Administration Building – the start of our route. The parade included veterans, honor and color guards, military and high school marching bands, military units and vehicles.
The veteran that I drove thanked me, but all of the thanks were rightfully due to him. It was a humbling experience, driving slowly along the parade route and listening to all of the people applauding his service and that of the other veterans.
My experience prompted reflection, appreciation and contemplation: reflection on the past, appreciation for the sacrifices of those who passed before us and what we have to be grateful for, and contemplation for the future. Others have sacrificed their lives, their precious time with their families and their opportunities here so that we may enjoy freedom and the fruits of our nation.
I grew up in Canada. We called November 11th Remembrance Day. I recall wearing a paper or plastic poppy – symbolic of the blood-red flowers that grew in the battlefields of France and Belgium in World War I, where soldiers fought and died for freedom and peace.
Every year at 11 am on that day we would stop and observe a moment's silence. The silence is for peace. I remembered the sacrifices and contributions of our fallen heroes, and tried to appreciate what it all meant.
In 1984 I moved to the United States. Here the day is called Veterans Day.
This year our parade to commemorate Veterans Day began at about 11 am. Even though I did not have the privilege to serve in the military, it was nevertheless an emotional experience for me. I am deeply appreciative of the sacrifices of the brave men and women who serve us in the armed forces. I encourage you to help line the parade route next year and show the veterans your appreciation for their service to our country. It is a heart-warming and rewarding experience.
Afterwards I took the opportunity to tour the USS Midway. The story of the Midway is rich in history, having served our country for 47 years – from the end of World War II to "the liberation of Kuwait in Desert Storm."
I'm a history buff so I especially enjoyed reading about the Midway from literature that I was given aboard the ship. "During Operation Frostbite in the winter of 1946, Midway sailed and flew above the Artic Circle to test both man and aircraft. Midway taught the rest of the Navy how to fly among the icebergs."
"In 1947, Operation Sandy secretly tested the launch of a captured German V-2 rocket off Midway's stern. It proved to be the dawn of naval missile warfare."
The Midway was "the first American carrier homeported in a foreign country, calling Yokosuka, Japan home for 18 years." Midway served "as the flagship of Persian Gulf naval air operations during Desert Storm, even though Midway had become the oldest and smallest carrier in the fleet."
"Midway and the 225,000 Americans who served aboard answered our nation's call every time over nearly five decades of service."
Much more can be learned about the Midway from the audio presentation that is available as part of the tour. Also be sure to check out the books and materials available in their well-stocked gift shop. Furthermore, there are docents there who welcome your questions and have plenty of first-hand experience. For your own first-hand experiences, there are also simulators aboard for you to try.
For more information on touring the USS Midway, call (619) 544-9600 or visit the Web site at www.midway.org.
* * *
I took some time to reflect this week on this column and to contemplate its possibilities going forward. It has evolved significantly from its beginnings well over two years ago. At first, much of what I wrote was drawn from my own past experiences. Now most of what I write is of events that I cover on your behalf.
I speak to you through my written words and some of you write back to me, telling me how you enjoy our 'conversations.' I do too. It continues to amaze me to think, as I sit here and write this column, that in a few days you will be sitting wherever you are and reading it. You're actually doing that right now. I talk to you and, if you feel like sending me an email or stopping me if you see me around, you talk to me. Both in style and in substance, it is essentially a conversation.
At some point early on, on their own, the paper started adding graphics to my column. I immediately realized that the addition of these visuals made reading my column more interesting. So, since I've loved photography for a long time, I decided to start taking photos specifically for use in the column. Those photos have become an important part of AutoMatters & More, and I especially enjoy taking them. For me, the most difficult part is deciding which few, of the dozens that I take, to submit for publication each week. Then, due to space limitations, the papers further pare that number down.
And what of the future? For some time I've contemplated taking AutoMatters & More to the next level. There is no reason why I cannot do that other than the fact that I must stop procrastinating and overcome my inclination to put off the effort for another time.
There is a wealth of very interesting automotive news out there, as yet untapped in AutoMatters & More. Auto manufacturers invite carefully selected journalists to cover their new product launches in other locales, and there are major auto races and other important automotive events across the country – and around the world. You may read about these events in the major auto magazines. To access those events I need to increase the circulation of AutoMatters & More (thus the number of potential readers). Syndication needs to expand into other counties and states, and perhaps full circle back to my native Canada. That would be appropriate.
Drive safely and do join me again next time.
Copyright © 2004, 2006 & 2021 by Jan Wagner — AutoMatters & More #126r1