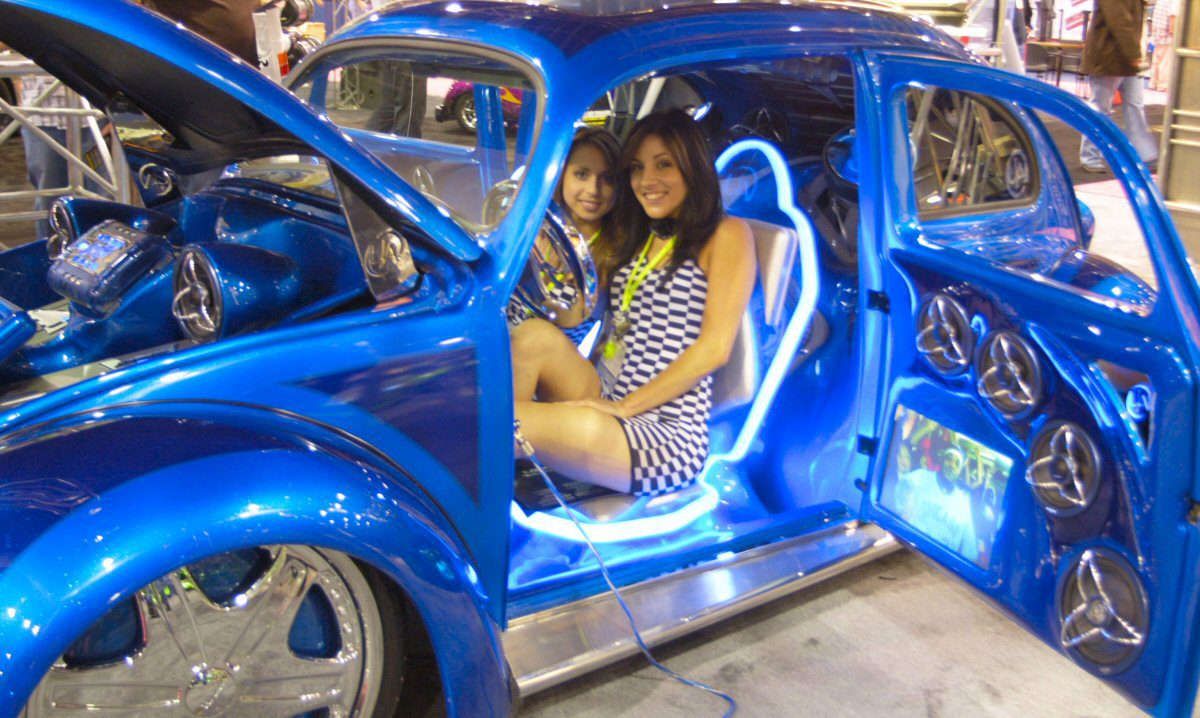 SEMA Show 2004 in Las Vegas: Absolutely FANTASTIC!
I just returned from the annual SEMA trade show in Las Vegas. Last year was the first year that I went and I couldn't have been more thrilled with what I found there – or so I thought. It is my experience that memories of great events become larger than life as time passes, in the process setting a standard that is virtually impossible to live up to. It came as a huge surprise that this year's SEMA SHOW blew last year's show right out of the water. I can't possibly tell you all about it in this column but I will at least give you an overview with some personal highlights. Then, in subsequent columns, I'll expand upon them with more details.
For starters, in case some of you are not familiar with SEMA, the letters stand for "Specialty Equipment Market Association." SEMA represents "the $29 billion specialty automotive industry of 5,727 member companies," encompassing everything from very small niche companies to major domestic and import automobile manufacturers. "The industry provides appearance, performance, comfort, convenience and technology products for passenger and recreational vehicles." That includes everything from specialty tires and custom wheels to electronic entertainment and information systems, cars and trucks to tools and equipment, floor mats and lighting to car care products, automotive art and race vehicles to – you name it. I even saw speedboats at the show.
Speaking of the show, SEMA held its first one way back in 1967. That humble event included just 98 booths in 14,000 square feet of space. 3,000 people attended. From that modest beginning, SEMA has since grown to welcome more than 100,000 visitors to over 9,800 booths in over 1 million square feet of space this year. The SEMA SHOW now occupies much of the sprawling Las Vegas Convention Center – inside and out.
Only five vehicles were displayed at that first show. This year there were approximately 2,000, as well as test tracks and a man-made off-road course.
You may recall that last year before I went to the SEMA SHOW I was cautioned that I would not have time to see everything. I scoffed at that prediction. After all, I was going to be there for all four days of the show. However, what they said turned out to be true and this year I saw even less of the show than last year.
There was an incredible variety of things to see and do. For instance…
Ford Motor Company, the show's featured vehicle manufacturer, rolled out a variety of their all-new 2005 Mustangs, including some pretty exotic tuner versions, and demonstrated their performance capabilities on site with autocross, drag racing and drifting demonstrations at the "SEMA Proving Ground, presented by Yokohama." We even got to drive them ourselves – hard! Instead of a Mustang, I chose a high horsepower, rear-wheel-drive Focus to try. Wahoo! Talk about oversteer, lift-throttle or throttle-on that car had plenty of oversteer on demand.
GM took the opportunity to celebrate the 50th anniversary of their small block V-8 with several examples on display.
Honda and Acura showed a variety of hot cars – and also used the occasion to unveil the name of a new truck: the Honda Ridgeline.
Outside we were also treated to exhibitions of rockcrawling. Incredible off-road vehicles defied gravity in their ability to negotiate passage over steep simulated rock outcroppings with the agility of mountain goats. I wouldn't want to walk where Jennifer Little skillfully drove me – all the while conducting a conversation. It was amazing! At times it felt like we were almost facing straight up — and then straight down on the other side of the mini-mountain, yet we didn't come close to tipping or falling off, thanks to the way she manipulated special controls for her vehicle's attitude.
They also compete with these vehicles, much like we do in autocrosses, in UROC (United Rockcrawling & Off-Road Challenge). Penalty points are assessed for cones hit and drivers try to get the best time.
Stars, sports personalities and other well-known people – perhaps as awe-struck by the magnitude of the show as I was, were in attendance in large numbers. In addition to top executives from major auto manufacturers, I personally saw Jay Leno, Tony Stewart, George Barris, Jack Roush and even Mr. Clean and the Michelin Man!
Some personalities demand very special vehicles. Kenyatta Goins (www.GoinsAuto.com) meets that need. He has done everything from collaborate with Goodyear on sidewall design and tread patterns to design and craft first class, custom vehicles that complement individual customers' personalities and lifestyles. For example, on display at the SEMA SHOW was a subtle Dodge Ram 2500 Series truck. To give you some idea of the extreme attention to detail and creativity demonstrated throughout, modifications included fitting the hood and bumper from a sportier model, for which were fabricated billet grilles to insert into the hood, hood scoop and front mouthpiece. Paint, electronics, performance enhancements and even a gas barbeque in the bed rounded out this celebrity's unique vehicle. It is one awesome ride.
Of course another nice thing about the SEMA SHOW is where it is held. Aside from the show, there is much to see and do in and around Las Vegas. I needed some new shoes so after the show I headed over to the Las Vegas Premium Outlet center. Much to my surprise, while I was there I found the perfect gift to take back home to my kids. Some of you from outside of California might recognize "The Fudgery." They caught my attention by ringing a large bell outside their door. Once inside, we were treated to an entertaining song and dance demonstration of how they make fudge. As Johnny skillfully threw the liquid fudge up into the air with a long-handled spatula, he encouraged us to sing along and respond enthusiastically to his funny remarks. We did. Afterwards, of course, he also encouraged us to buy some fudge. It was delicious.
Finally it was time to leave. My car was pretty heavily loaded with bags of stuff from the SEMA SHOW so my luggage was partially on the back seat. I was not inclined to risk leaving my car unattended while parked in a casino's parking structure. Instead, I left Las Vegas on the I-15 heading south and stopped near the state line in Primm at the Primm Valley Resort & Casino. They have an outside, well-lit parking lot and people are constantly coming and going, which alleviated my security concerns over leaving my loaded car.
I played some $2 blackjack in their attractive casino and won. Then I saw a fireworks show outside. Afterwards I went to the casino host's office to enquire about my rewards points and Mitra gave me a comp for their restaurant! One delicious T-bone steak and pie a la mode dinner later, I was back in my car and on my way home to San Diego. What a perfect ending to a great week. Their hospitality was great. I just might return to this resort for a round of golf on one of their courses.
Look for more on this year's SEMA show in future AutoMatters & More columns. Drive safely and do join me again next time.
Copyright © 2004, 2006 & 2021 by Jan Wagner — AutoMatters & More #125r1