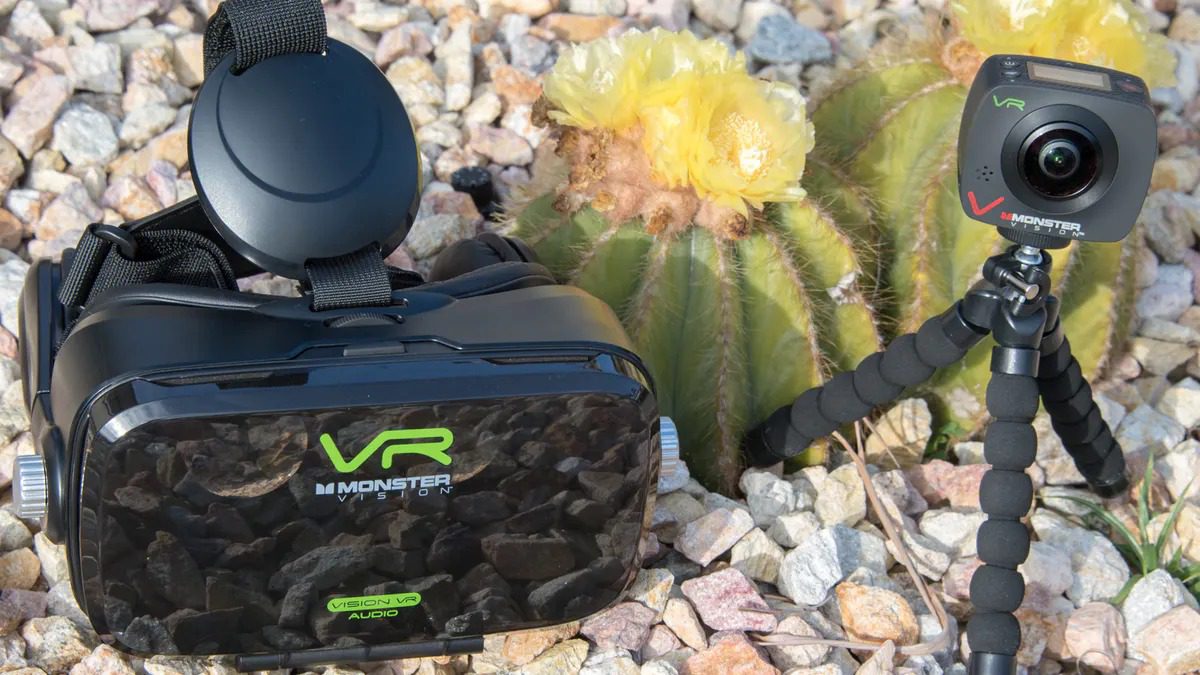 MONSTER VISION VR CAMERA & HEADSET WITH INTEGRATED HEADPHONES
Shoot your own virtual reality videos & stills
Imagine mounting a small camera on the dashboard of a race car, competing in an exciting race and then having the ability to relive that experience or share it with others in virtual reality, with simultaneous views all around – ahead, beside the car and even looking back at yourself while driving – with sound. Imagine shooting and then sharing an underwater scuba adventure or a high-flying parachute jump in virtual reality, with the ability to look all around, up and down. How about mounting the camera on a tripod in the middle of rooms in your home, in order to shoot 360-degree virtual still photos to help document your possessions in case of a loss? The possible uses for the MONSTER VISION VR Camera and Headset with Integrated Headphones are limitless, and MONSTER Digital has sent me one of each to review for you.
MONSTER VISION VR CAMERA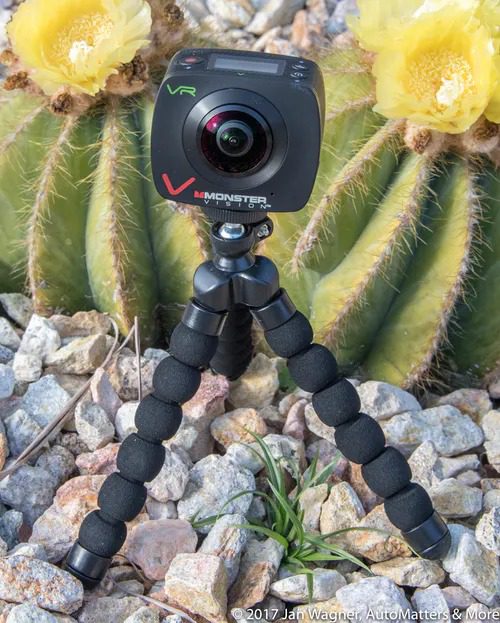 Unlike conventional cameras, the MONSTER VISION VR Camera simultaneously shoots in a full 360 degrees, producing a spherical image that can be viewed in any direction with a VR headset such as the MONSTER VISION VR Headset. Immerse yourself in this virtual world, as if you were actually in and looking all around the places where your videos were shot.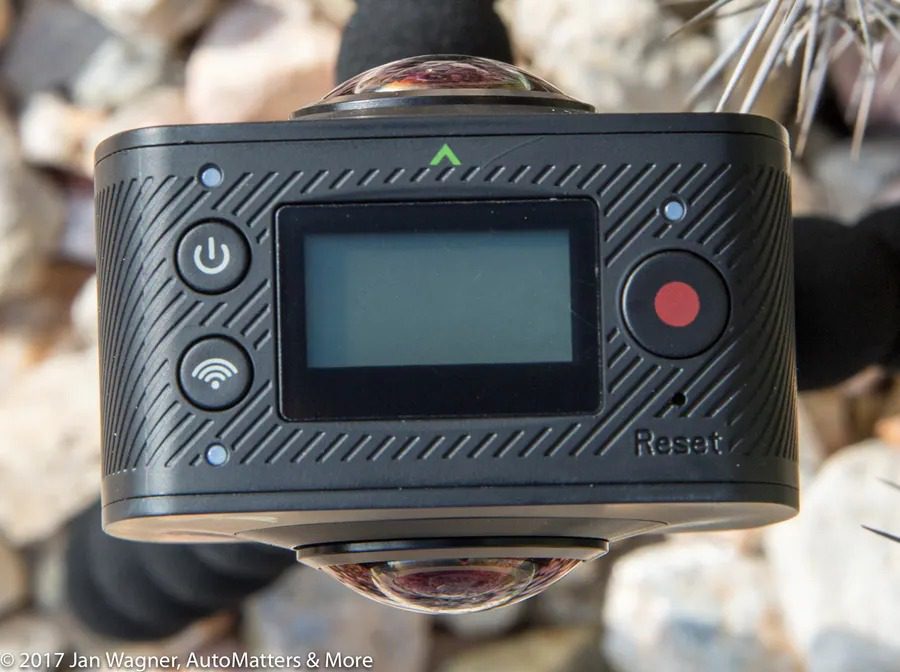 The first thing you might notice when you pick up this nearly cube-like, matte black camera – which fits comfortably in the palm of a hand – is that a significant portion of its front and back are each occupied by a large, convex lens that – depending upon how the light striking it reflects – sometimes has a red-colored appearance. These lenses immediately reminded me of the red lens prominently featured on the HAL-2000 artificial intelligence computer from the classic science fiction film "2001: A Space Odyssey." They give the camera a cool, high tech look. Each lens appears to be a protective, transparent cover for the 220-degree, wide angle, fixed focus lens within.
Underneath, the camera has a standard tripod mount.
Everything you will need is in the box: a variety of mounts (including suction cup, 3M adhesive disk, handlebar, X-Y axis adjustable, single axis adjustable and swivel adjustable), a mini tripod, a watch-like RF remote control, a 16GB microSD memory card that can record up to 2.5 hours of video (the camera will support up to 32GB cards), a USB cable, a cleaning cloth and even a USB card reader (or you can connect the camera directly to a computer via the USB cable to transfer files).
The camera can also be controlled by the phone, via WiFi, using the MONSTER VISION VR app, but to achieve the intended resolution of videos and still images, do NOT try to play them directly from the camera. Instead, download stills and videos to your phone first, and then play those by the app.
A time-lapse mode with various frequencies and durations is also available, which will enable you to record even longer events.
The MONSTER VISION VR Camera, with conversion and viewing software for Mac and PC, creates files that are compatible with YouTube 360 and Facebook 360. Video resolution is 1920×960, at 30 frames per second. The video format is .MOV. Still photos are 3024×1512 pixel JPEGs. Output is via USB. The built-in Li-ion 1500mAh rechargeable battery is rated for 1 hour.
A comprehensive series of short, instructional tutorials are available. Search for MonsterDigitalMedia on YouTube and then click on VR Camera Tutorials.
MONSTER VISION VR HEADSET WITH INTEGRATED HEADPHONES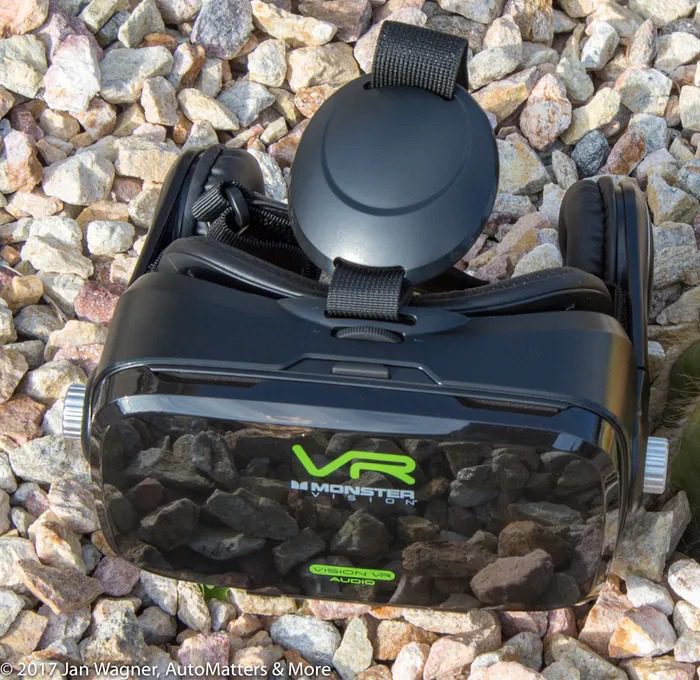 This is a premium VR headset with audio, ideal for use with the MONSTER VISION VR Camera.
As mentioned earlier, view your movies in virtual reality using the MONSTER VISION VR app on your Apple or Android cell phone. To download it, simply scan the QR code from the MONSTER VISION VR Camera's instruction booklet or its box and it will download from the App Store (Apple) or Google Play (Android). Allow the app to access your photos if asked.
Features of the MONSTER VISION VR Headset include pupil distance adjustment, an adjustable head strap, soft and breathable leatherette padding for comfort, precision polished glass lenses, focal adjustment and integrated high performance on-ear headphones for a truly enjoyable VR experience.MONSTER VISION VR Camera & Headset with Integrated Headphones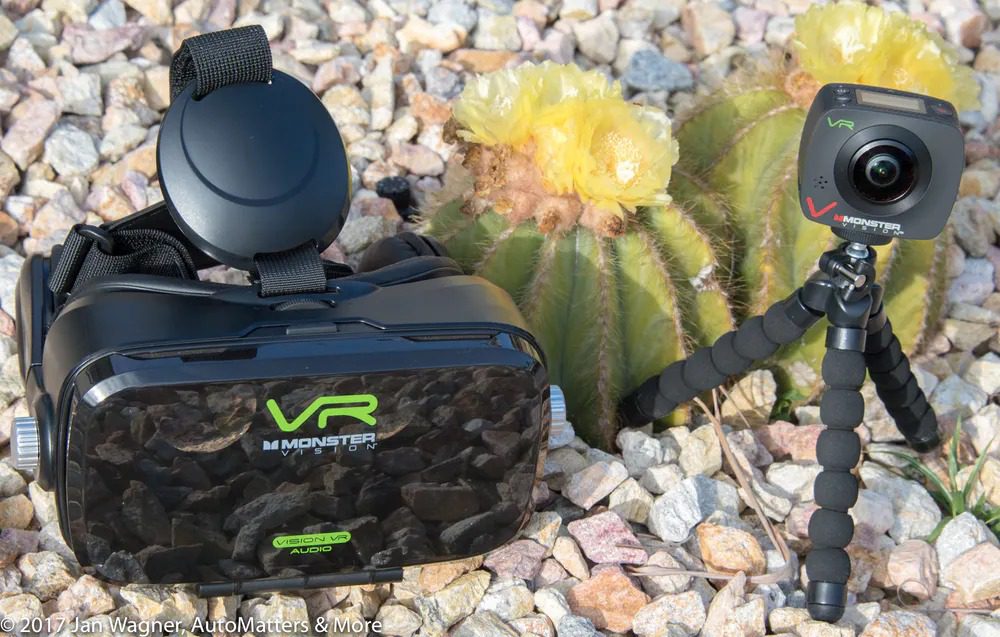 Visit the www.MonsterDigital.com website to order the camera and headset (with or without audio capability), and for more information.
COPYRIGHT © 2017 BY JAN WAGNER – AUTOMATTERS & MORE #495R1