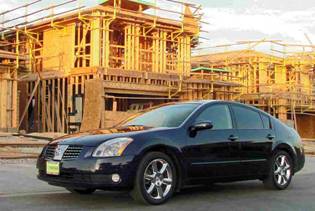 Real World Road Test: 2004 Nissan Maxima 3.5 SE
Welcome to another in a series of Real World Road Tests, where you learn about things that make a difference and leave the dry, technical stuff for someone else. This time I picked up a new Nissan Maxima 3.5 SE from Mossy Nissan in Oceanside.
With the 2004 Nissan Maxima 3.5 SE, the four-door sports car lives again. Nissan has really got their act together. The new Maxima is a great example of what a performance sedan should be. However it is much more than that. This car not only has the right moves but it is also a first class act. So let's start inside and work our way out.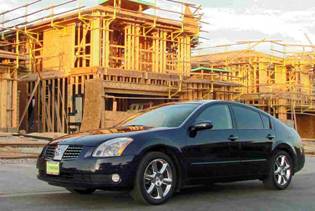 The new Maxima is the top-of-the-line Nissan and the interior proves the point. I have never seen a Maxima nearly as luxurious as this car is. Enter blindfolded and sit down in one of the two heated rear seats and you might believe that you are sitting in an expensive limousine. It is that luxurious. The two rear seats are separated by a full console, just like you might expect between the front seats. The console even has vents for the climate control system. For privacy and comfort from a beating sun, there is also an electric rear window sunshade, and for added convenience the rear power windows are auto-up/down.
The Maxima 3.5 SE's driver is truly pampered as well. The sumptuously thick, leather-covered steering wheel is a great example. As you might expect, tilt and telescoping adjustments are power – and with a memory feature. Turn off the car, open the door and the wheel tilts up and out of the way. Get back in, close the door, and it returns to your settings. But what you might not expect is that the steering wheel is also heated!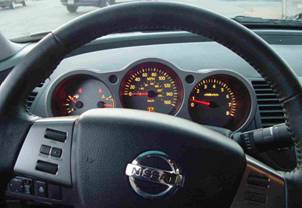 Instrumentation is very complete. I especially liked using the navigation system. It worked much more quickly than my trusty Garmin StreetPilot III . That is a very important characteristic, because the last thing you want to have happen when you inevitably miss your turn or exit is to have a long delay while the system calculates your new route. The only glitch with the Nissan system is in the user interface. It is not as intuitive as I would like. I found myself confused about basic features more than once and needed to look up operating procedures in the very large navigation system manual. Normally I have much more luck figuring things out for myself.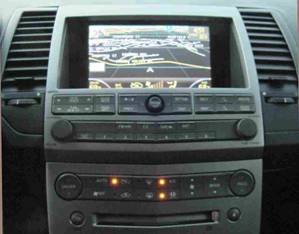 The buttons are thankfully normal and easy-to-use, avoiding the trend towards high tech, highly confusing interior controls. I do not want to program computers when I drive and for the most part (navigation system aside) in the Maxima I don't have to.
The 320 Watt Bose® premium sound system made me want to sit in the car and continue to enjoy the music at the end of my drives.
Moving outside one can't help but be struck by the beautiful design elements of this car. Unlike so many bland four door sedans, the new Maxima has real character. I suspect that you will either like it or dislike it. I like it a lot. The turning lights are actually quite effective.
The first thing that I noticed when I drove the new Maxima was the awesome acceleration. With 265 horsepower and 255 lb-ft of torque at your command, you actually have to exercise real restraint while accelerating. We're talking high performance sedan territory. This Maxima really gets up and moves when you punch it, although you might not enjoy watching the level of the recommended premium fuel drop as you do it. You can even get a close-ratio 6-speed manual transmission and do the shifting for yourself. This car is fun to drive.
Brakes include massive 12.6" rotors up front, to help you harness that power and stop with confidence. Underneath, the multi-link independent suspension is all about the business of performance driving too. Don't worry about understanding the technical mumbo-jumbo. Just trust me when I say that it works to provide sports car-like handling.
All this luxury and performance doesn't come cheap. A multitude of options raised the list price of my 3.5 SE from a base MSRP of $27,050 all the way to $35,150. It all depends what you want. The beauty of the new Maxima is that you have lots to choose from. It is not a take-it-or-leave-it, one-size-fits-all kind of car – and that is a good thing.
If you're in the market for a four-door sedan, you really need to take the new Maxima for a test drive. You can spend a lot more and not necessarily be a whole lot more happy with what you get.
Drive safely and do join me again next time.
Copyright © 2004, 2006 & 2021 by Jan Wagner — AutoMatters & More #83r1