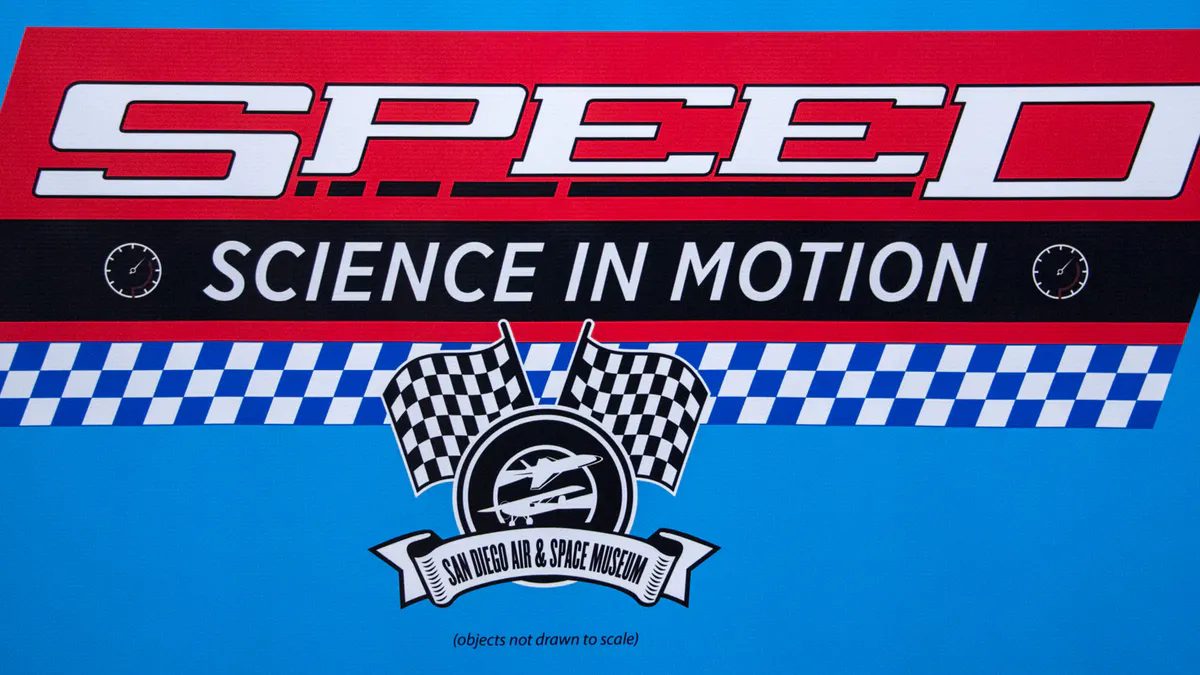 SPEED: SCIENCE IN MOTION AT THE SAN DIEGO AIR & SPACE MUSEUM
GOING FAST on LAND, on WATER, in the SKY and even IN SPACE!
A huge banner is emblazoned above the entrance of the San Diego Air & Space Museum. On it is an image of a red, open-wheeled, Formula 1 style race car, beneath the word "Fun!"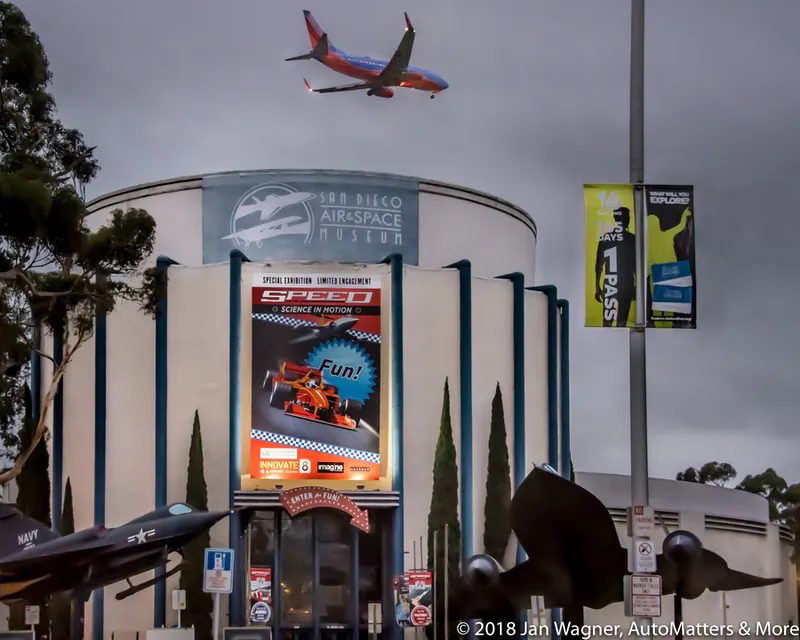 Since one of the things in life that I most enjoy is auto racing, I had to take a closer look.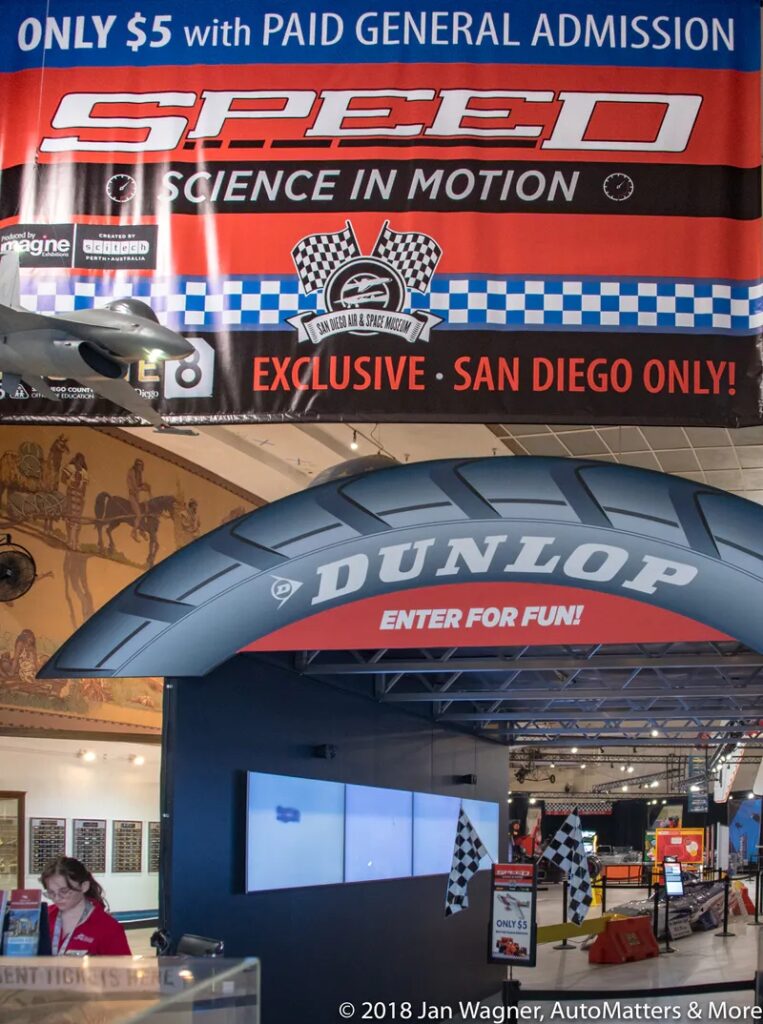 SPEED: Science in Motion is a special, limited engagement exhibition. The San Diego Air & Space Museum describes it as featuring "the fastest vehicles mankind has ever produced, including space ships, rockets, planes, trains, race cars, motorcycles, jet boats, and more!" You will see these in this exhibit, but that is just the beginning.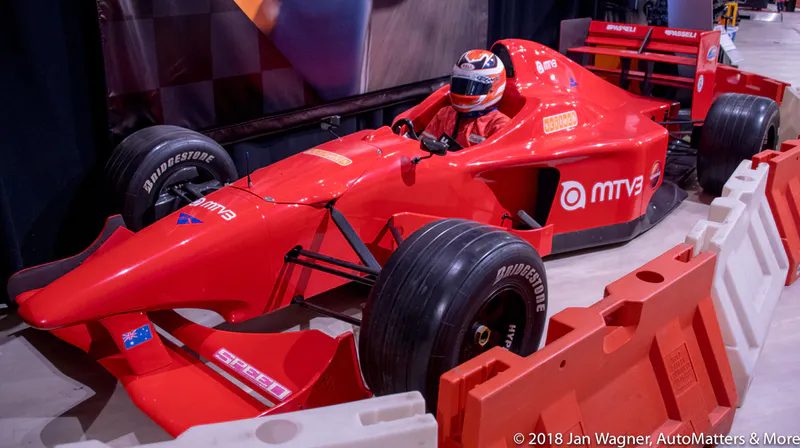 CBS News 8 (KFMB) in San Diego described it as "a fun, interactive special exhibition exploring the technology behind the fastest vehicles known to man." The key words there are fun and interactive, because this is not just an opportunity to see vehicles. You can interact with the exhibits, and have fun while you are doing so.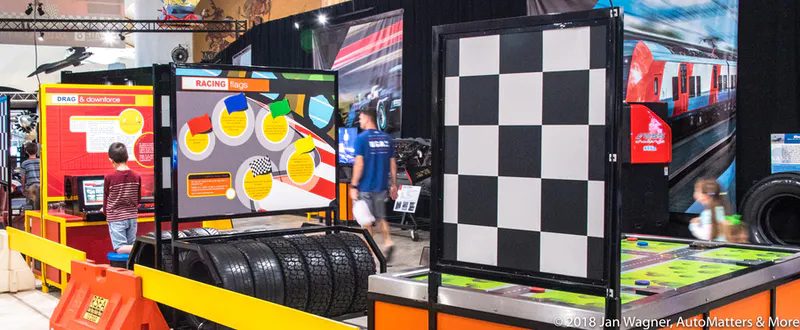 The exhibit begins by showing you a timeline of speed – beginning with the fastest vehicles – the relative speeds of certain, specific spacecraft, military aircraft, land speed record automobiles, race cars, high speed rail and marine vehicles, and more.
Important historical vehicles can be found throughout the exhibit, including an iconic, vintage drag race car, complete with a Christmas Tree and stickers from some very famous drag strips.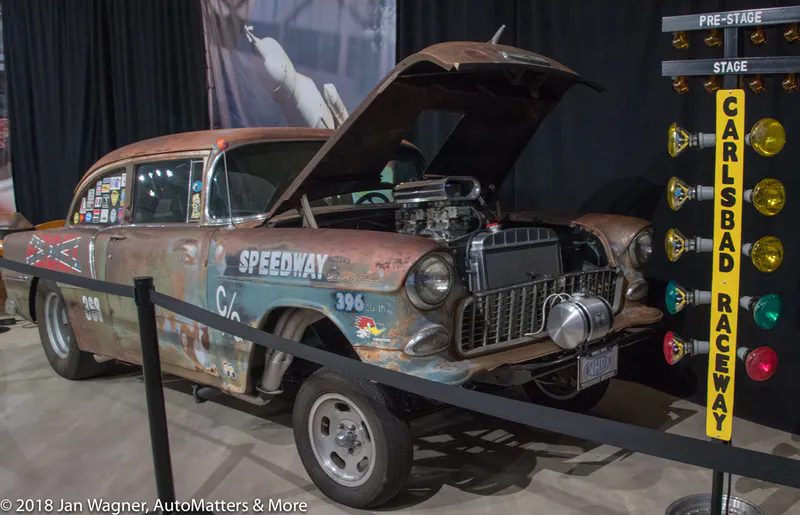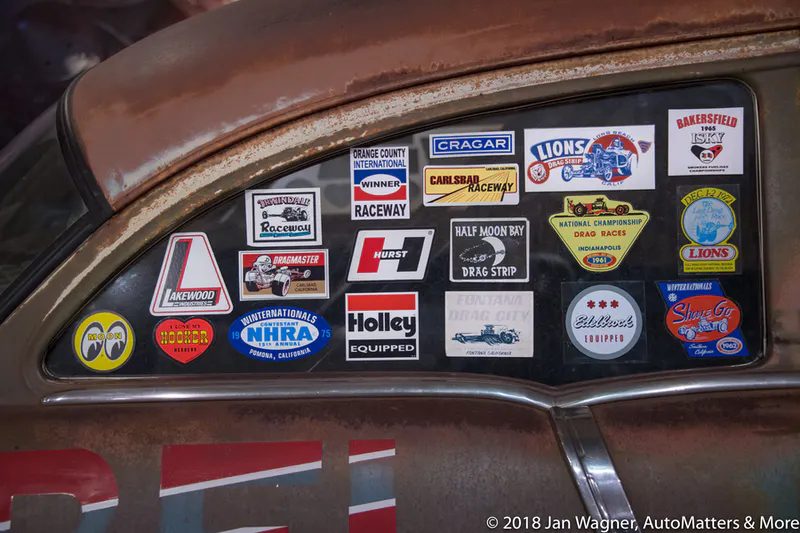 Also on display is a red and chrome "T" bucket roadster, based on a 1915 Ford Model "T" but powered by a Chevrolet 383 cubic inch "Stroker" engine.
Next to that car is a 1950 Cadillac 61 Le Mans – "Petit Pataud" – sponsored by Briggs Cunningham and co-driven to a surprising 10th place by Miles and Sam Collier at Le Mans in 1950.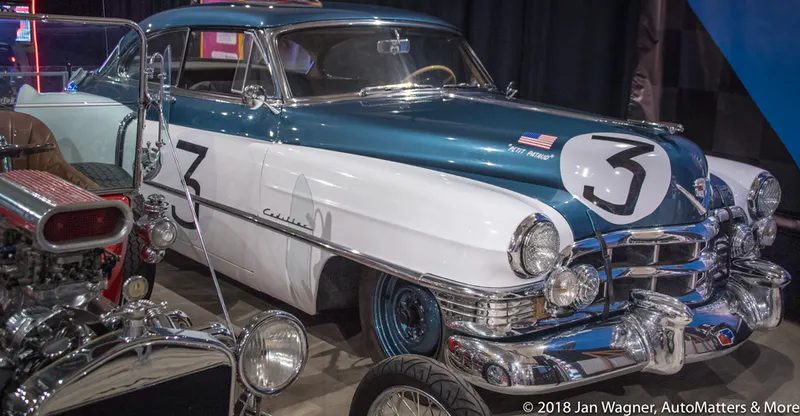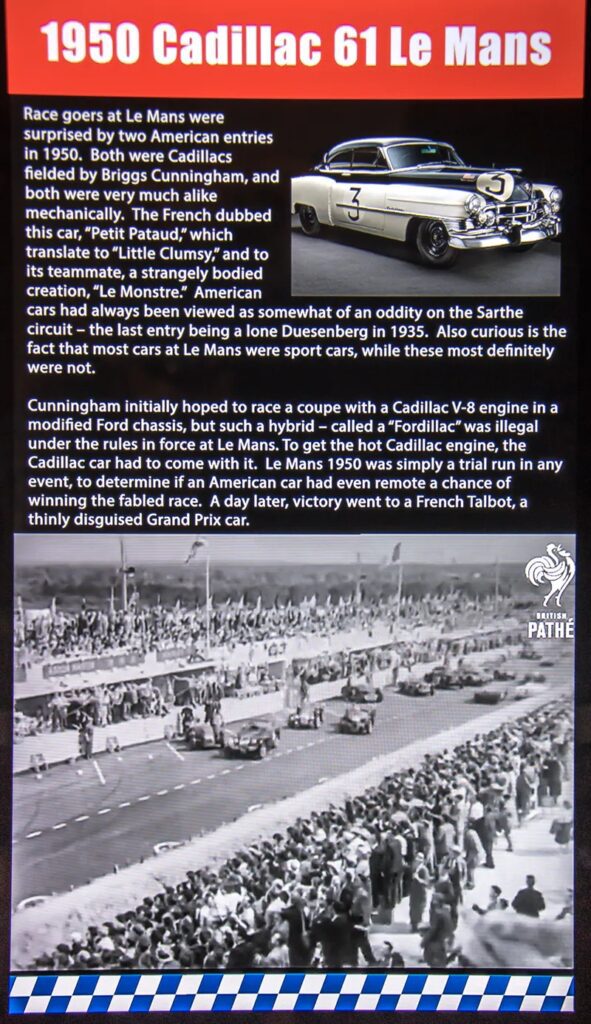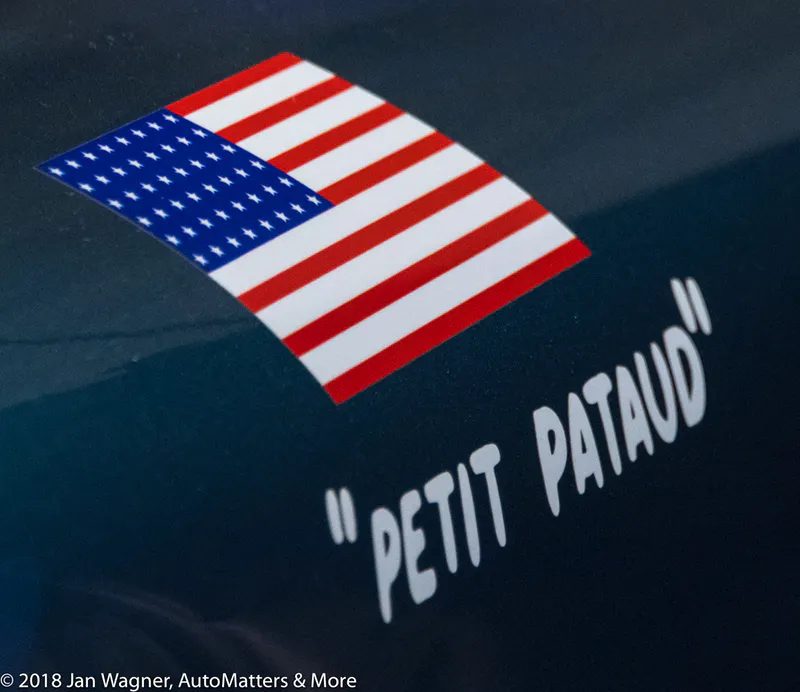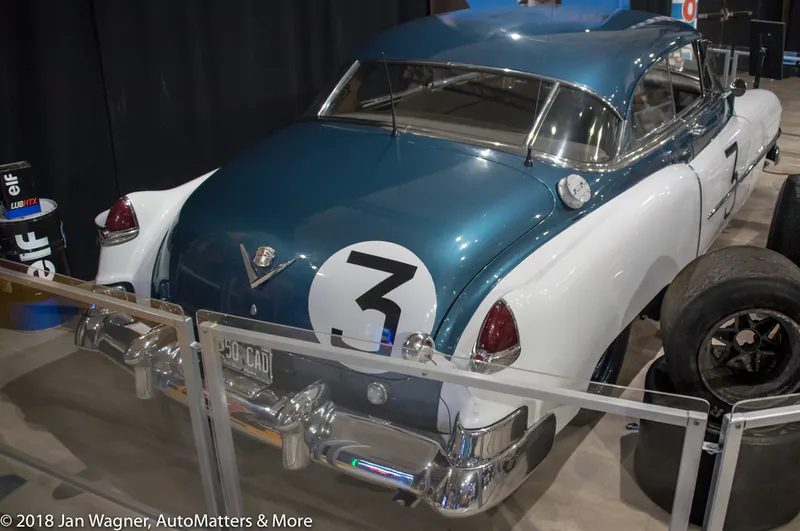 The Dragonfly, designed by San Diegan Steve Ball, is a 21-foot, mahogany-hulled hydroplane. Powered by an 850 cc Fiat inboard engine, it set a world record speed of 101.47 mph in 1975.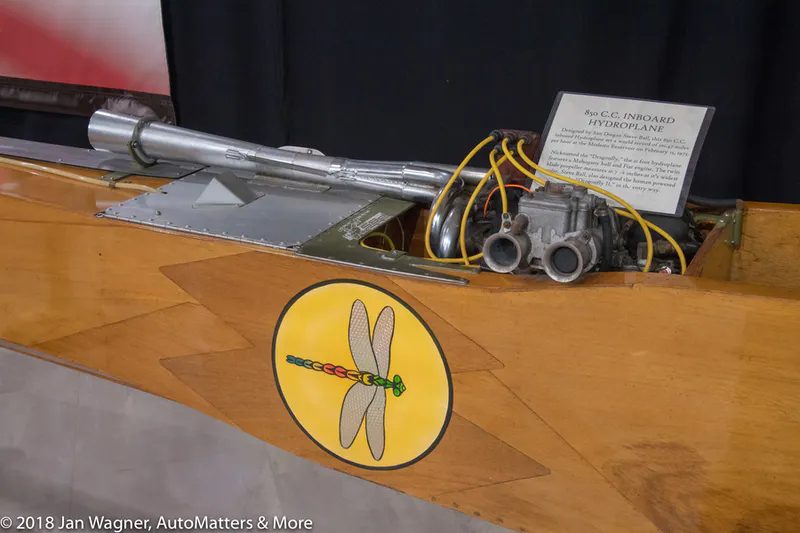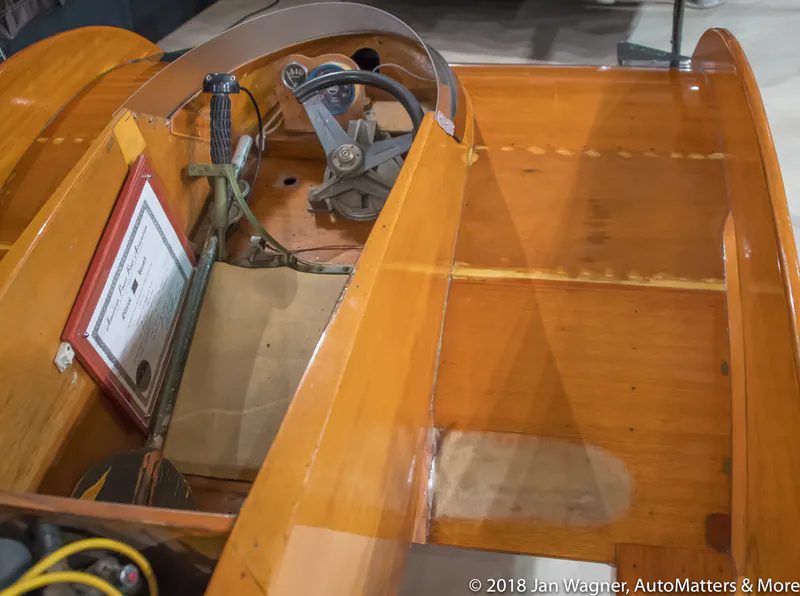 Intended to compete in the Unlimited Class at the Reno Air Races, the Rose RP-4 Racer has two V-8 engines mounted in tandem, capable of producing 2,500 hp. Construction began in 2005 but was halted in 2012, due to a change in the rules.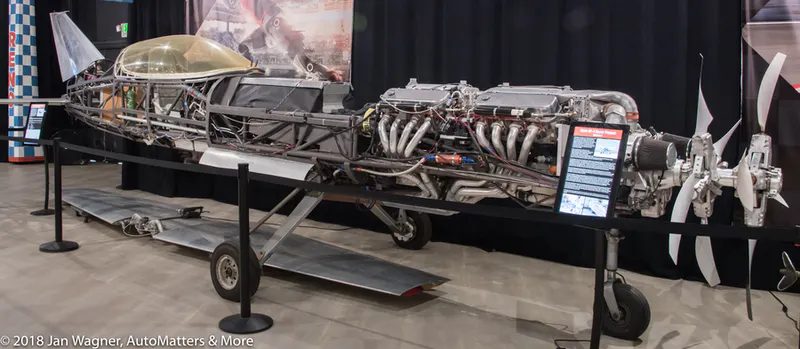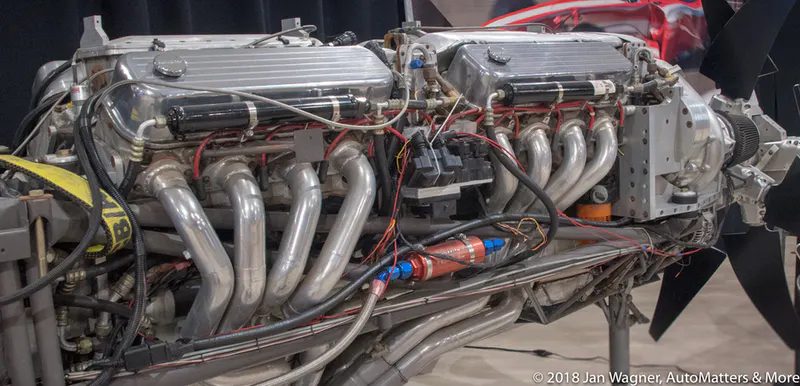 As you continue to walk through the exhibit you will encounter many interactive stations. At several dedicated to racing, you'll have an opportunity to race the clock and your friends as you change a race tire…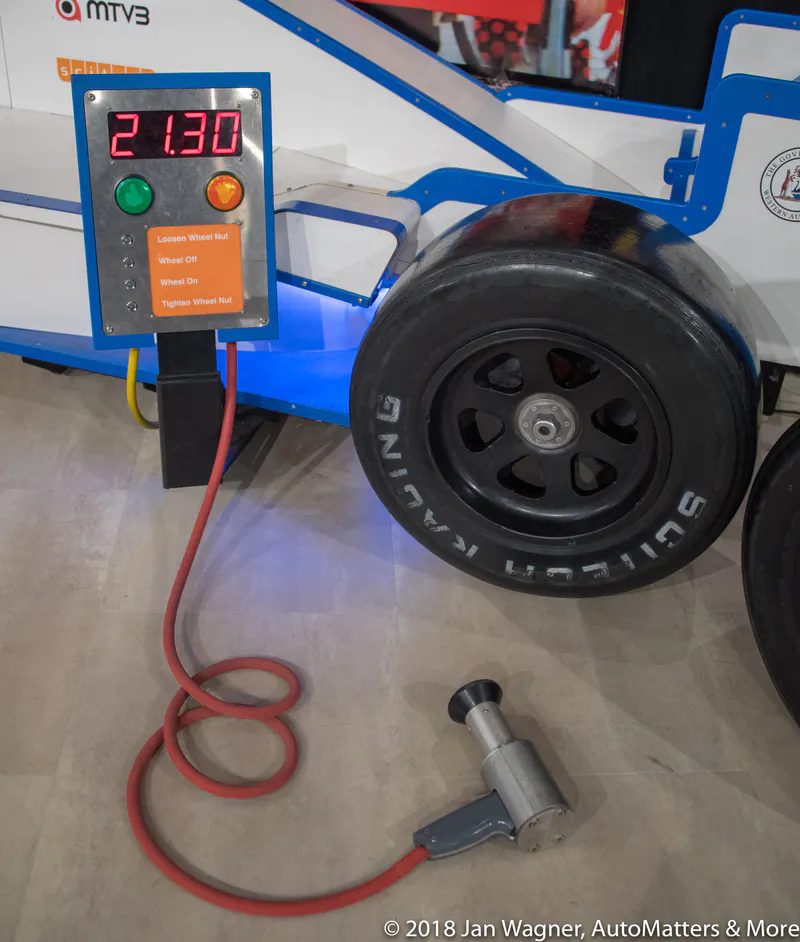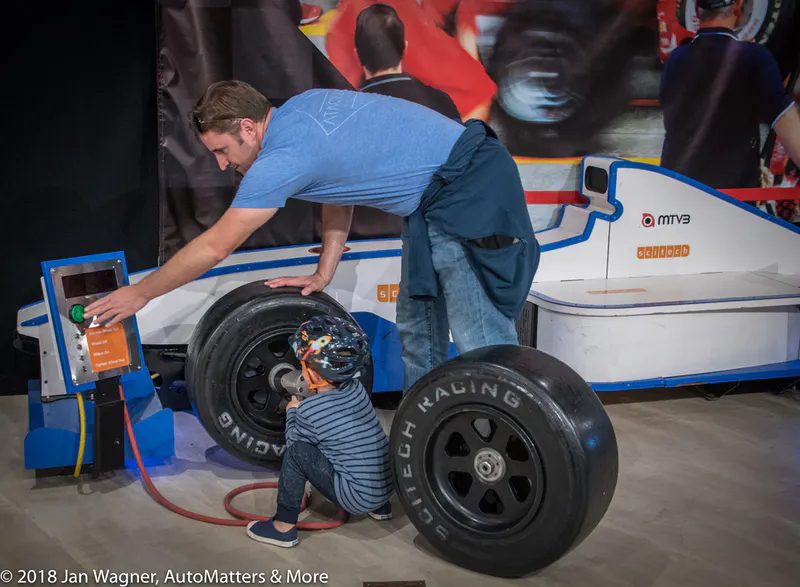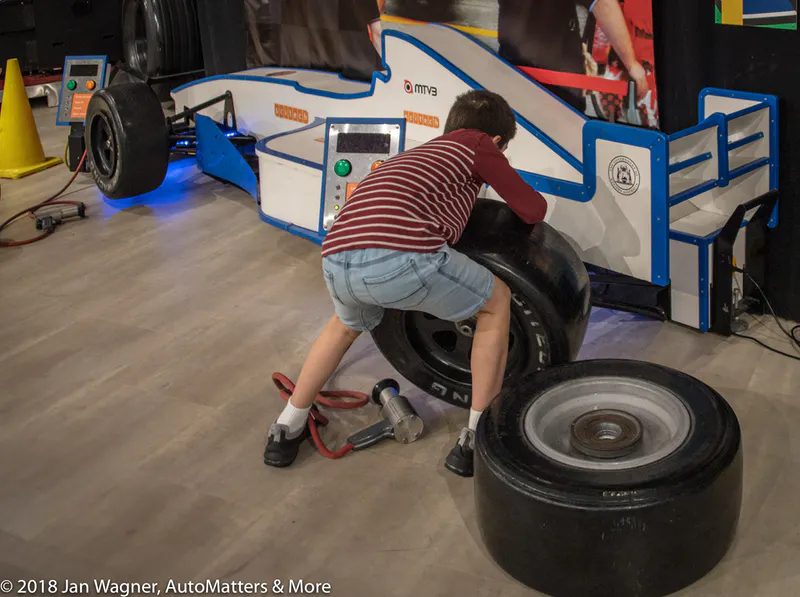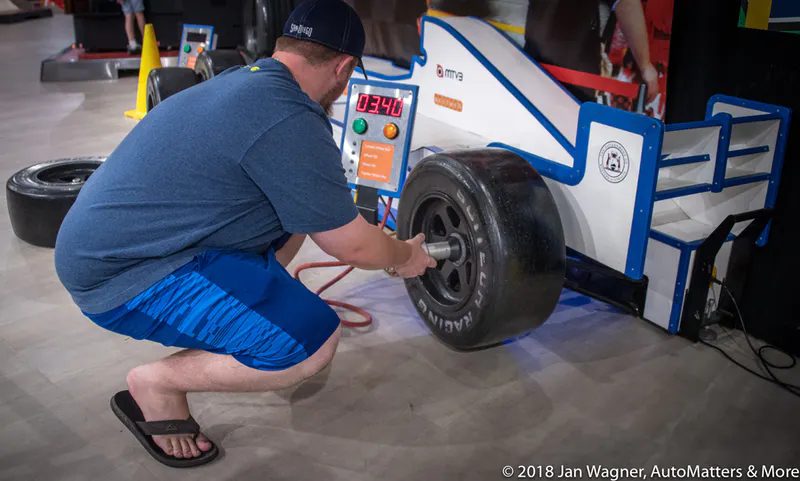 … identify parts needed to build an engine…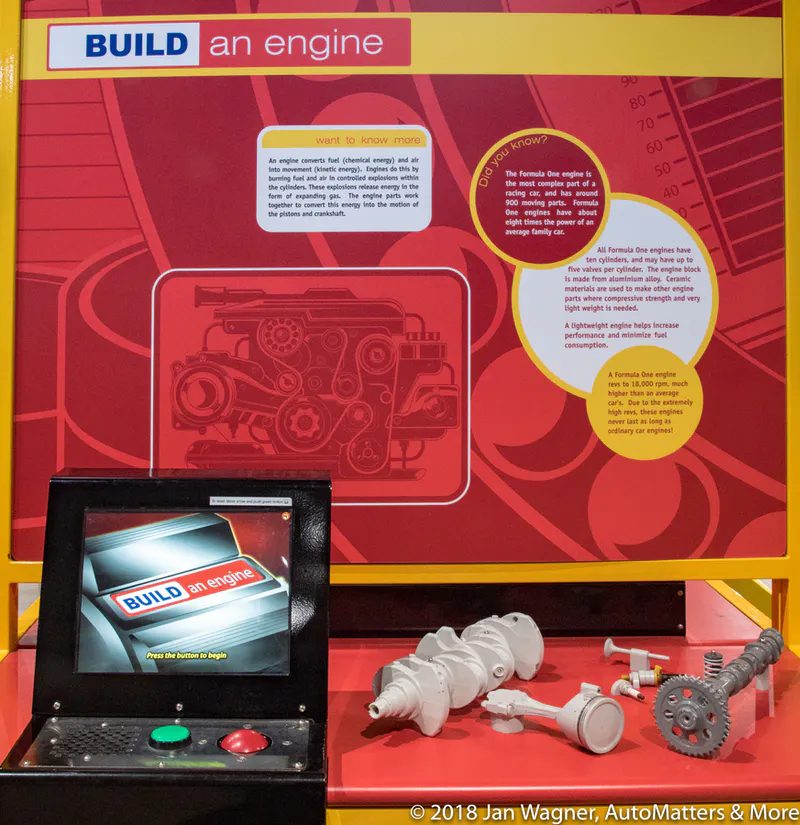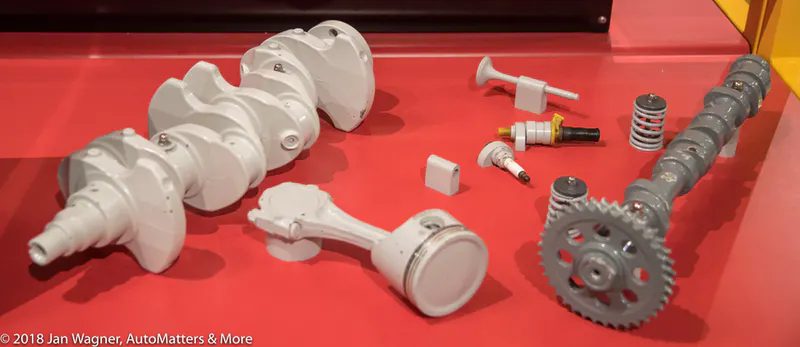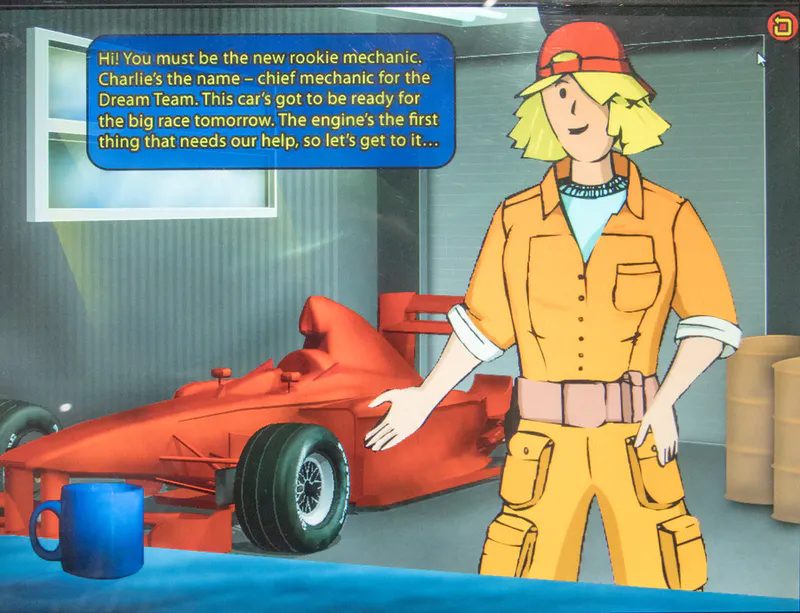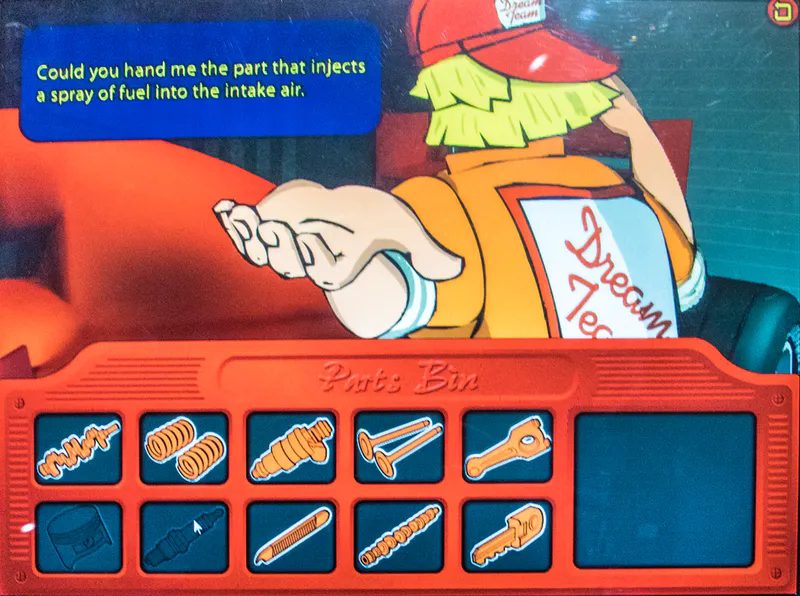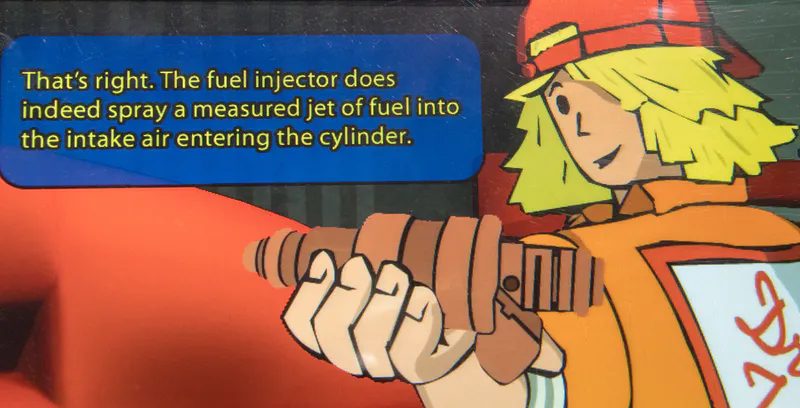 … experiment with the effects of race car spoilers on drag and downforce…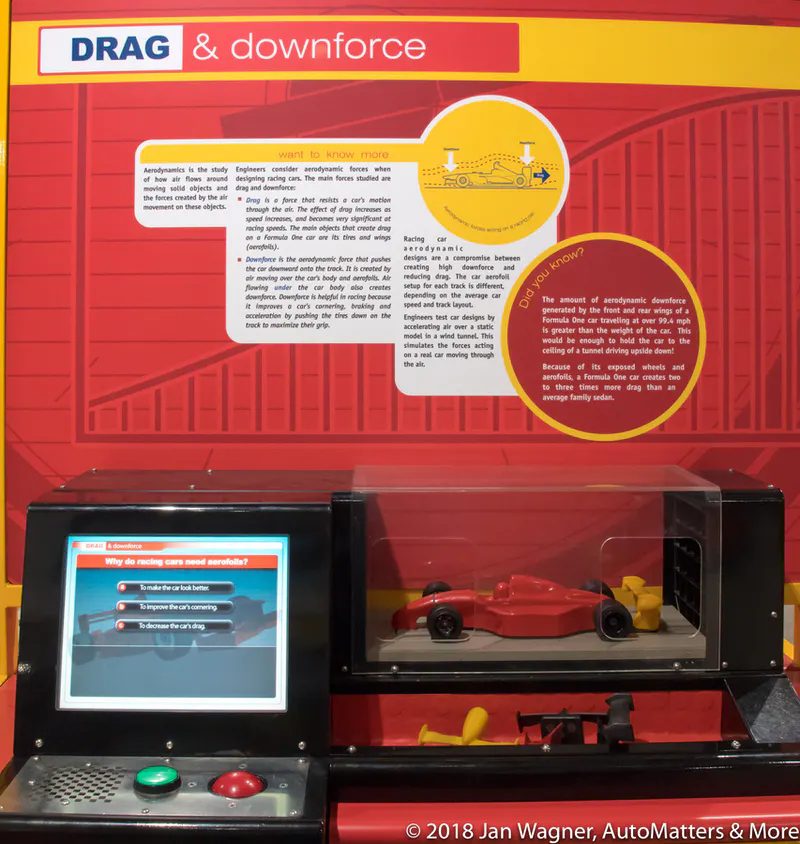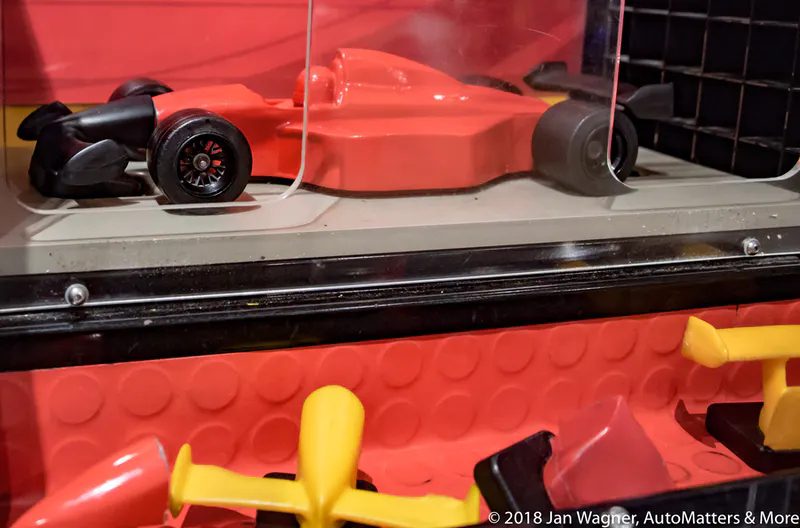 … see first-hand how a differential operates…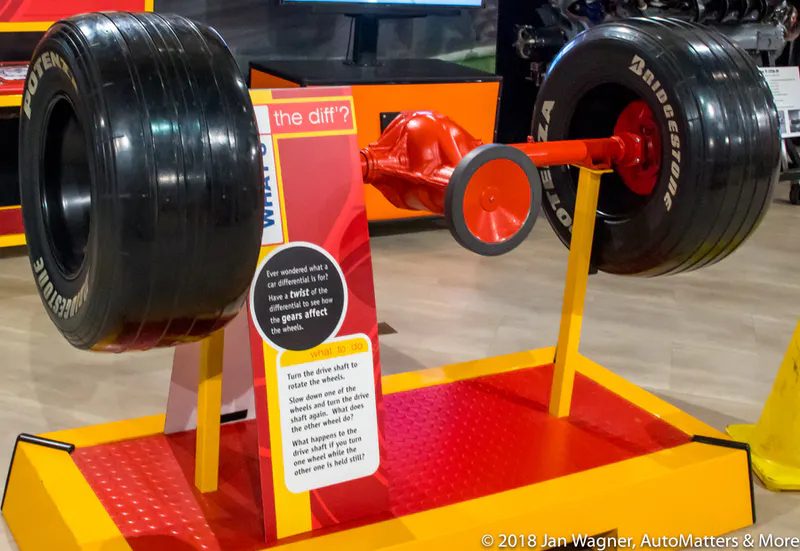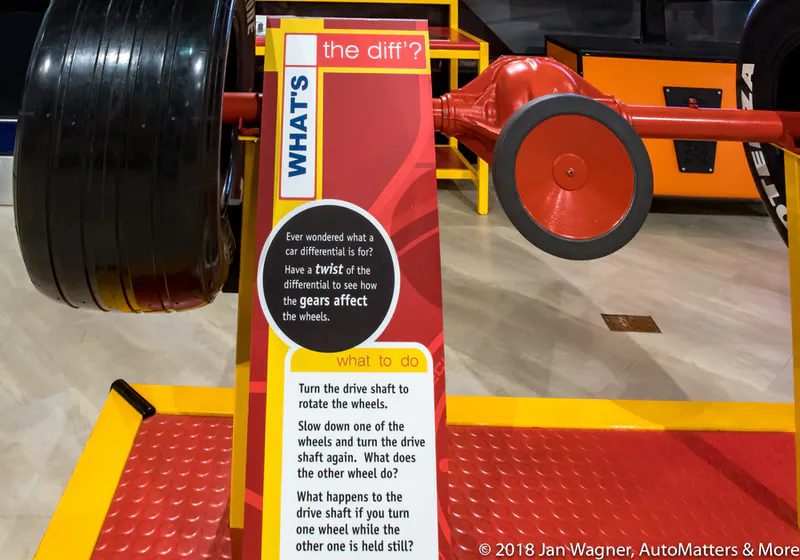 … race head to head on motorcycle and race car simulators…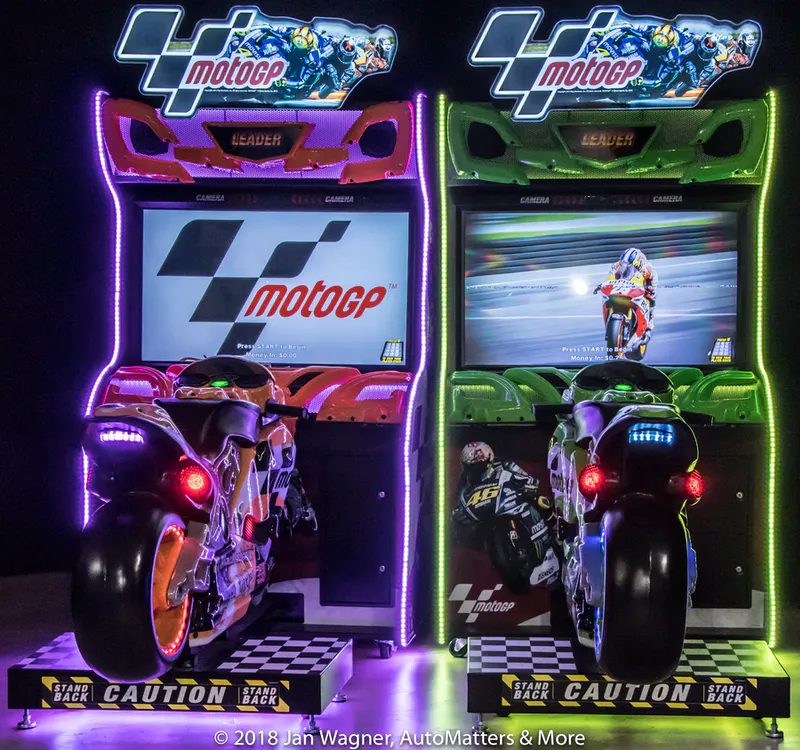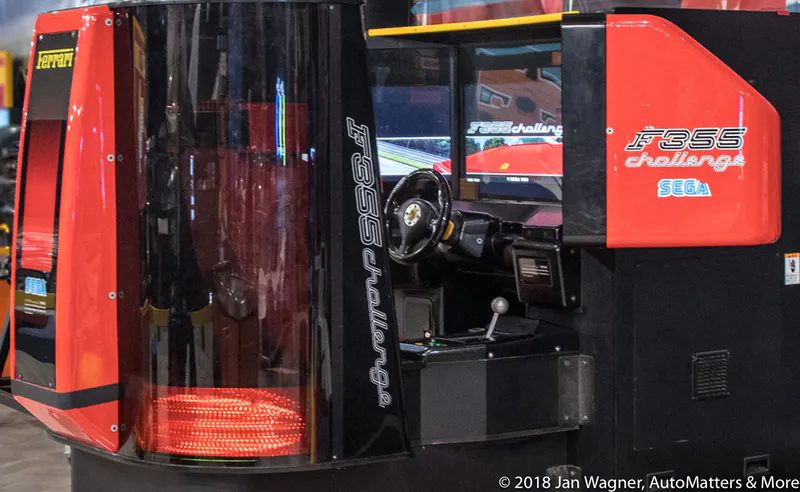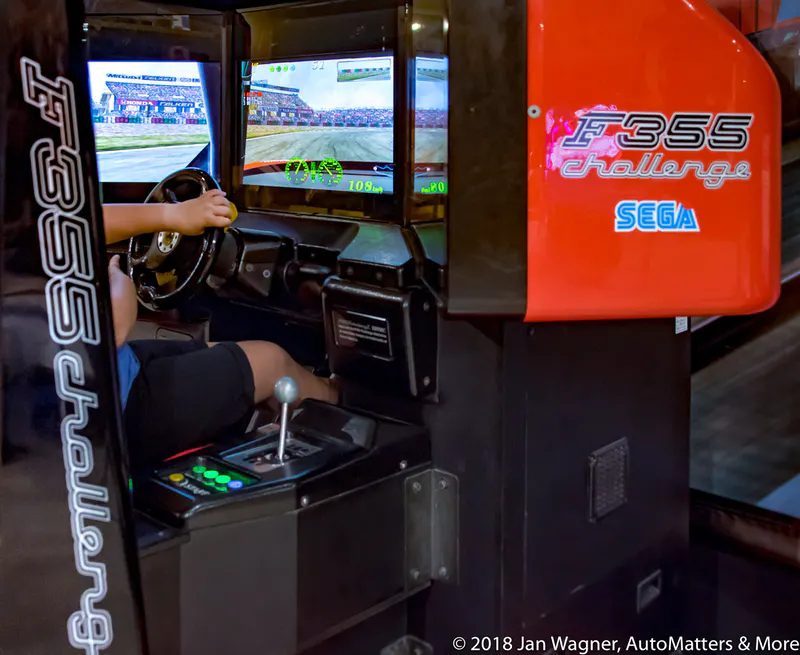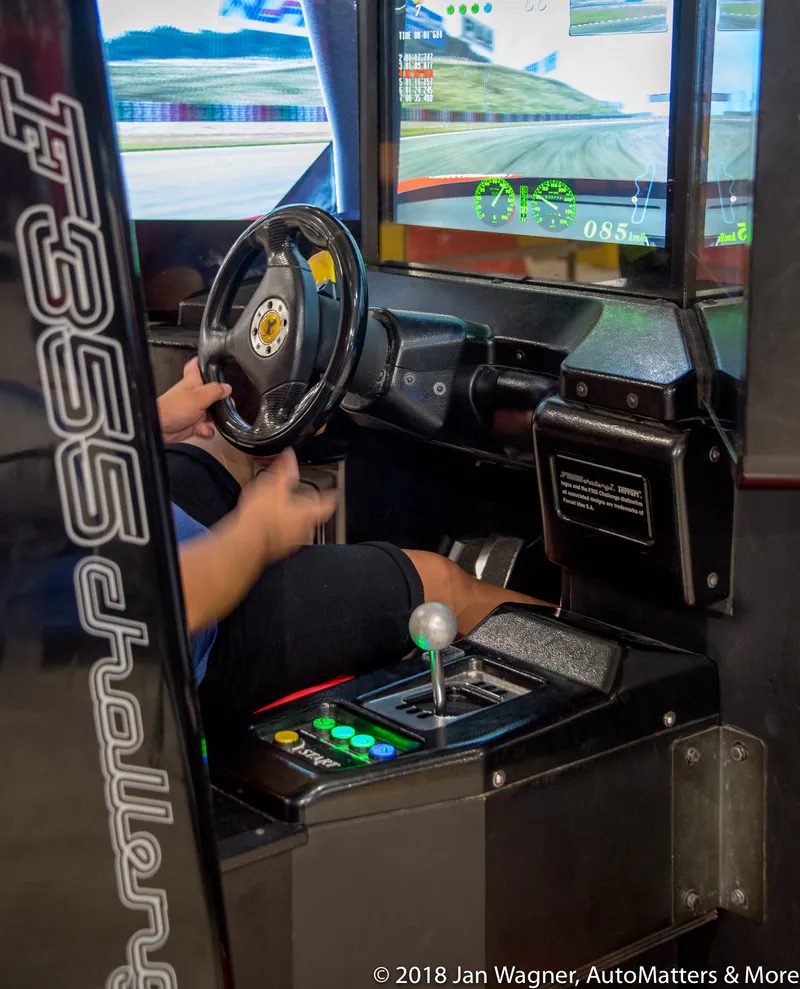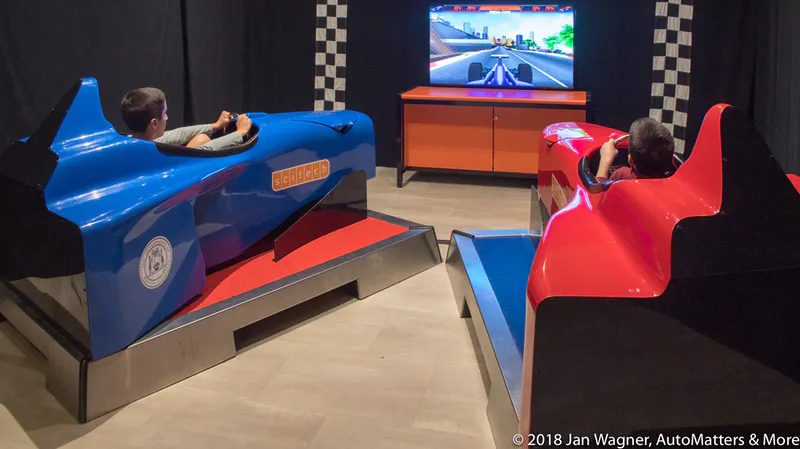 … race Hot Wheels cars…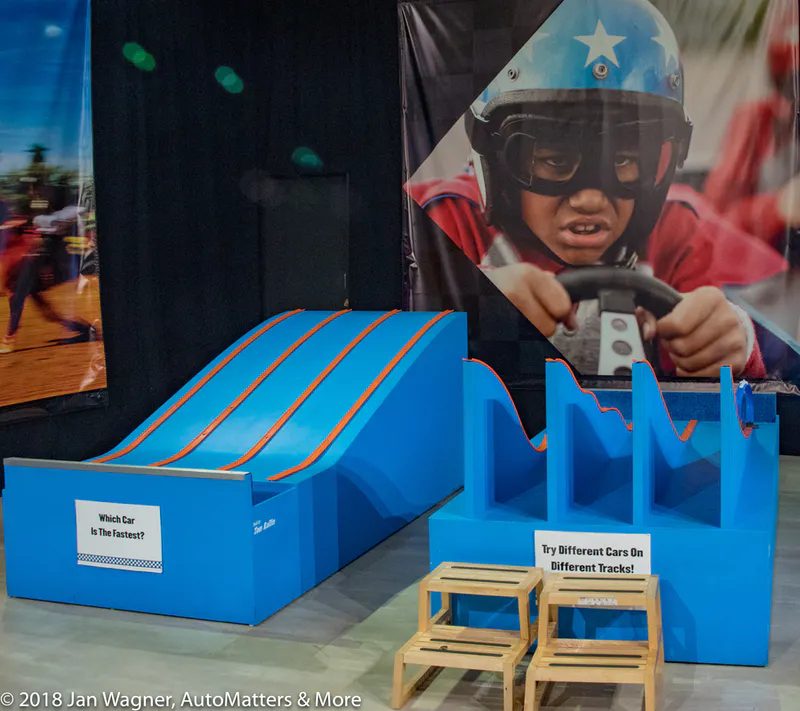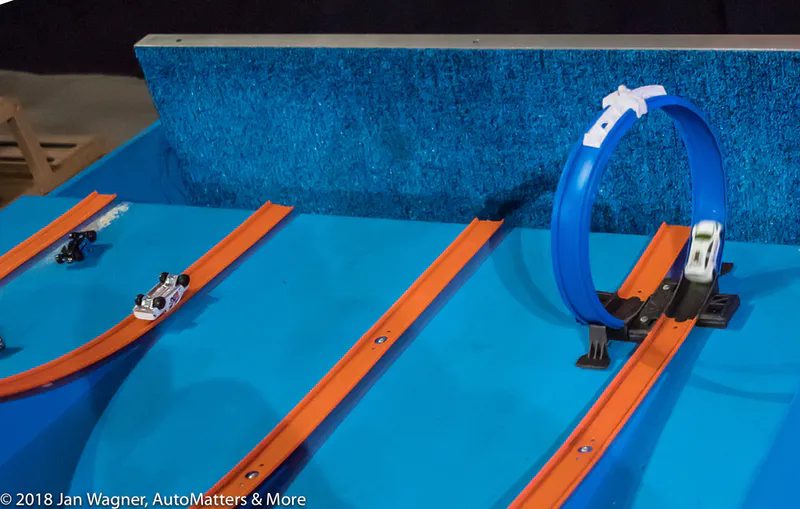 … learn the meanings of various auto racing flags…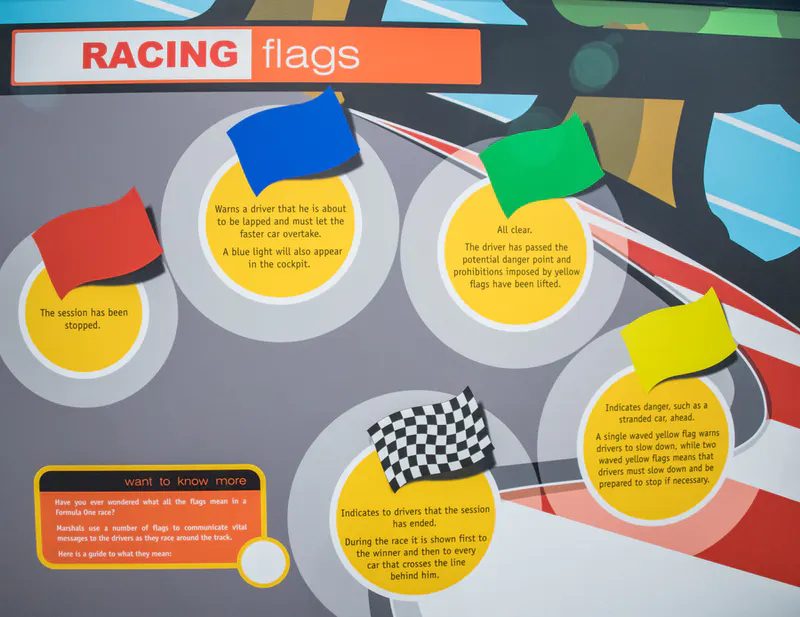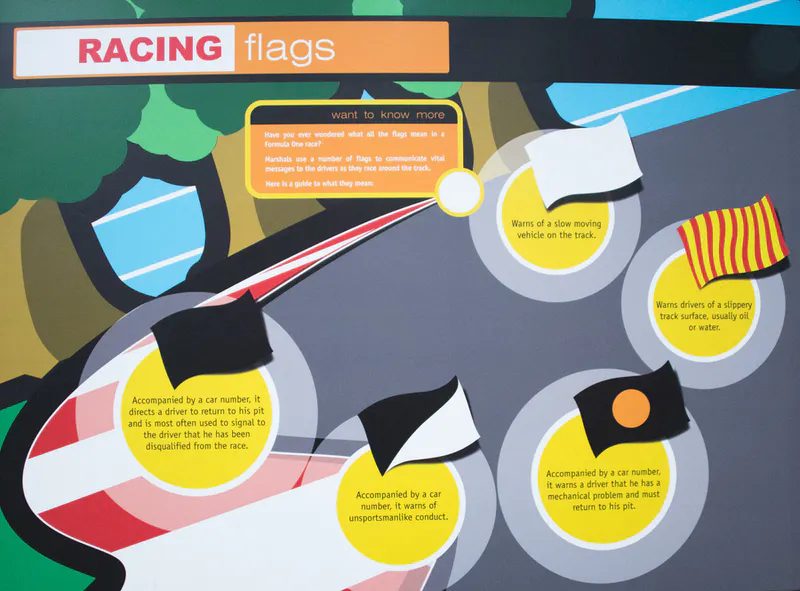 … and learn about Formula 1 race craft and technology in videos from Lewis Hamilton and Nico Rosberg, and others…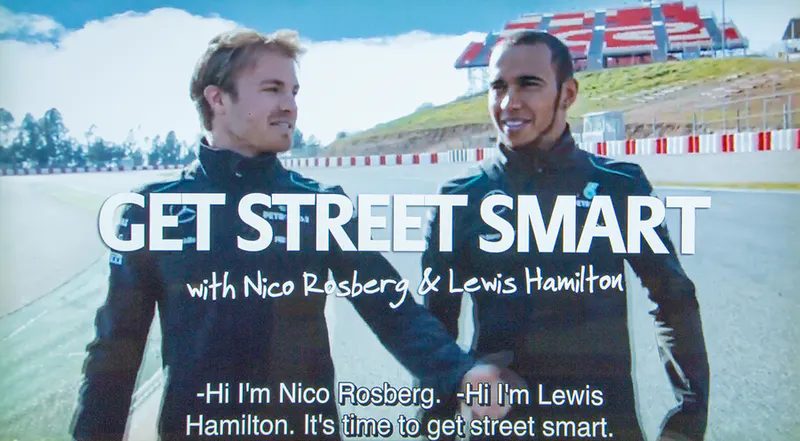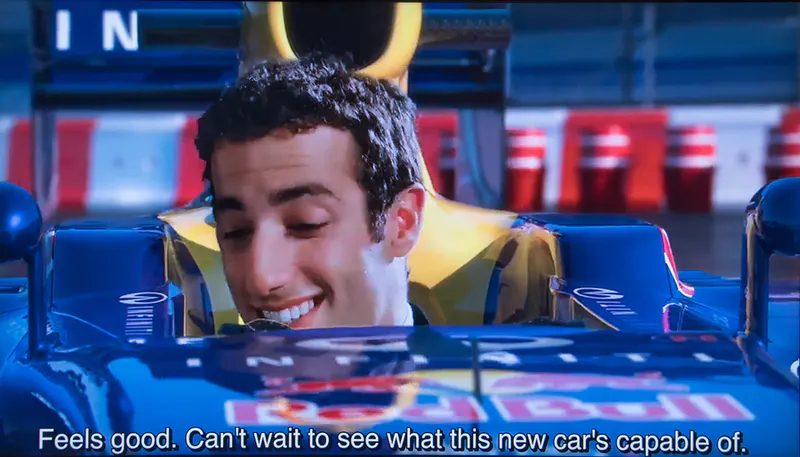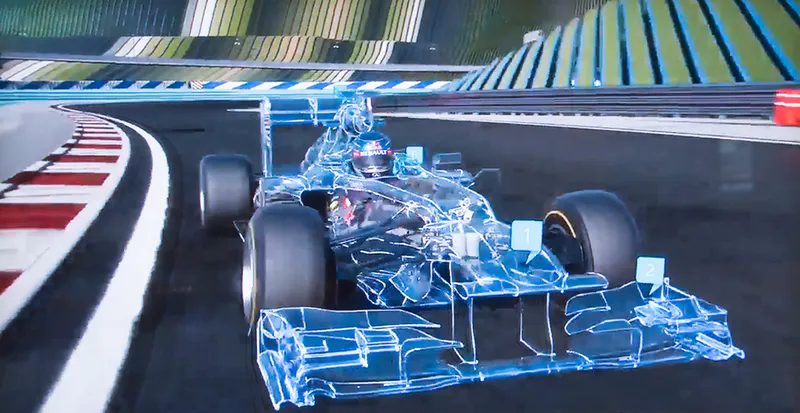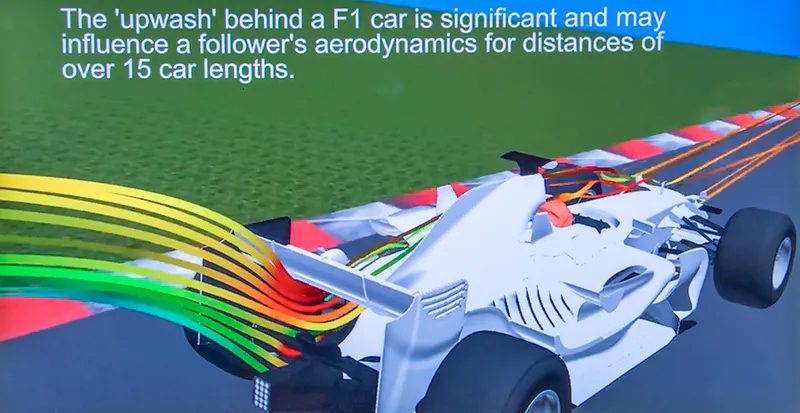 Like a race car driver, you'll be challenged to see how you perform tasks under pressure, as well as test your reflexes and your ability to judge distance and speed.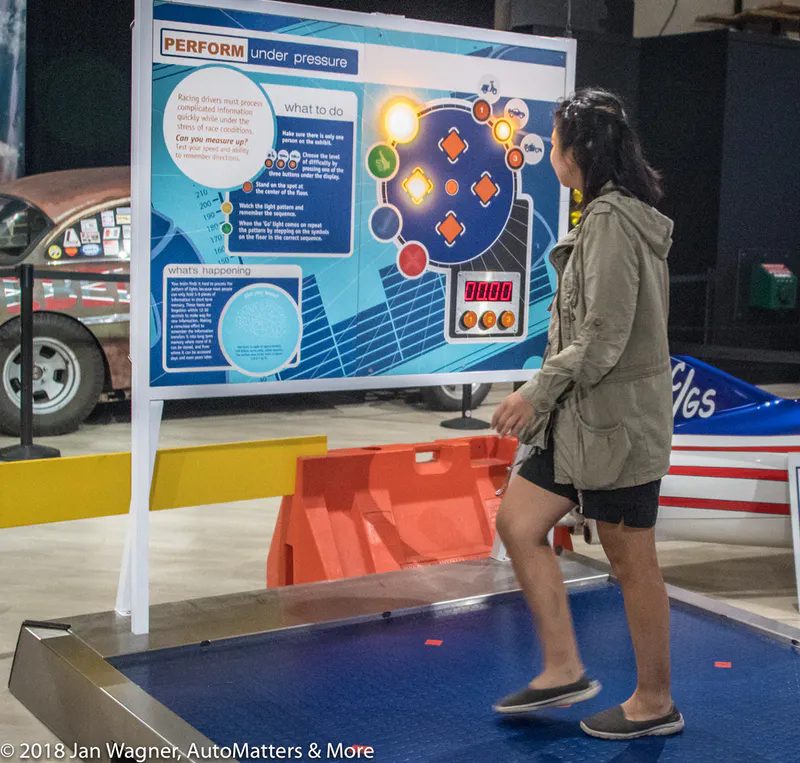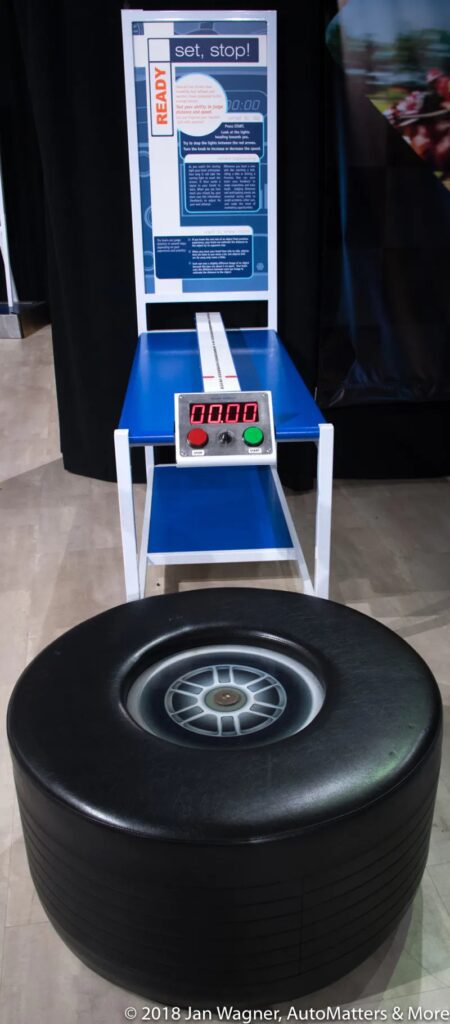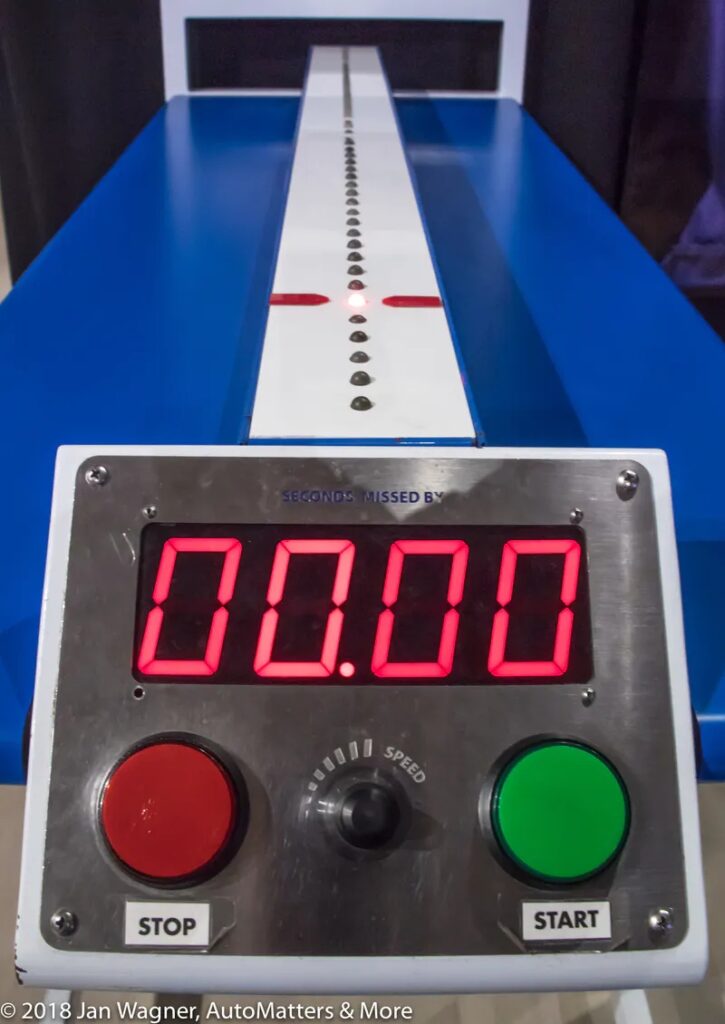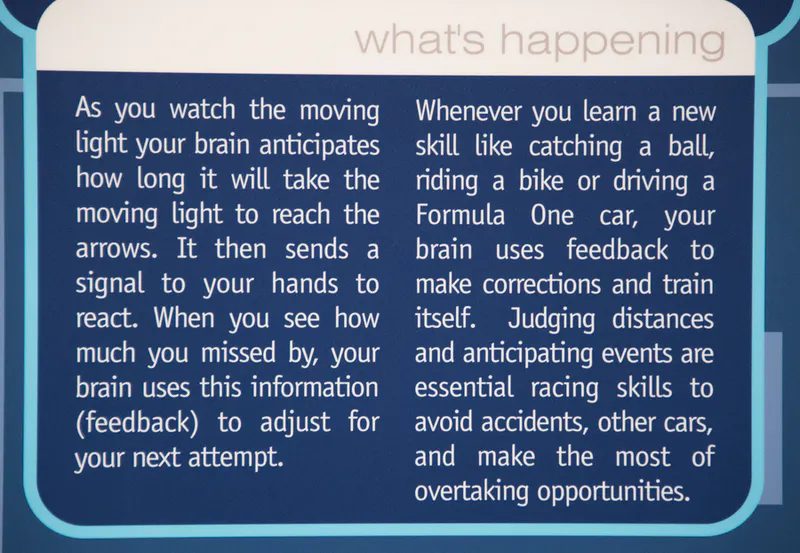 Learn how Newton's laws of motion can be used to analyze potential traffic collision scenarios, based on different 'vehicle' weights, launch speeds and directions for collisions that you can stage at intersections on an air hockey-like table.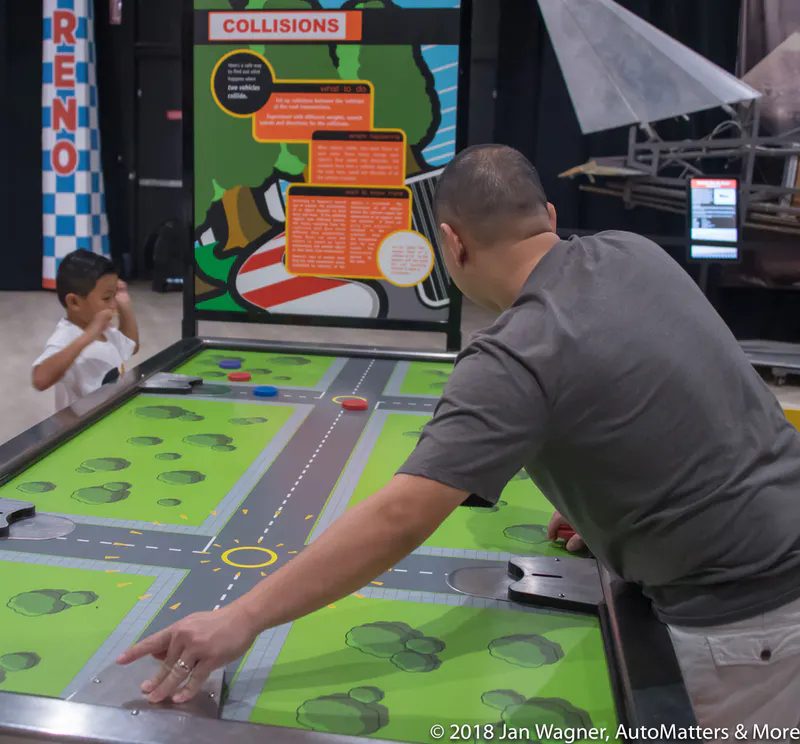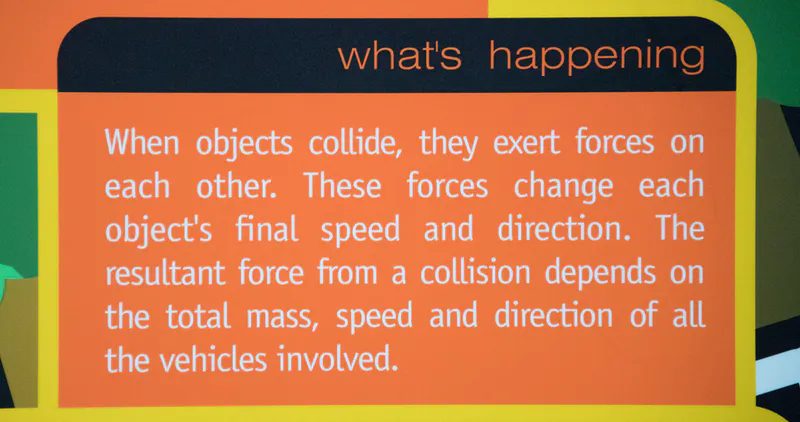 Build and test a giant ball bearing to see how easily it spins with and without the balls inside…
… and test to see which wheel accelerates quicker: one with a heavy hub (center) or one with a heavy rim (outside).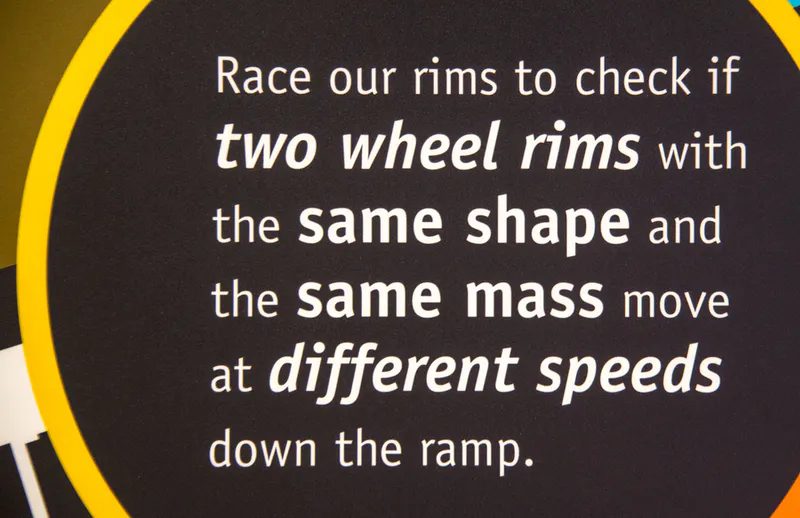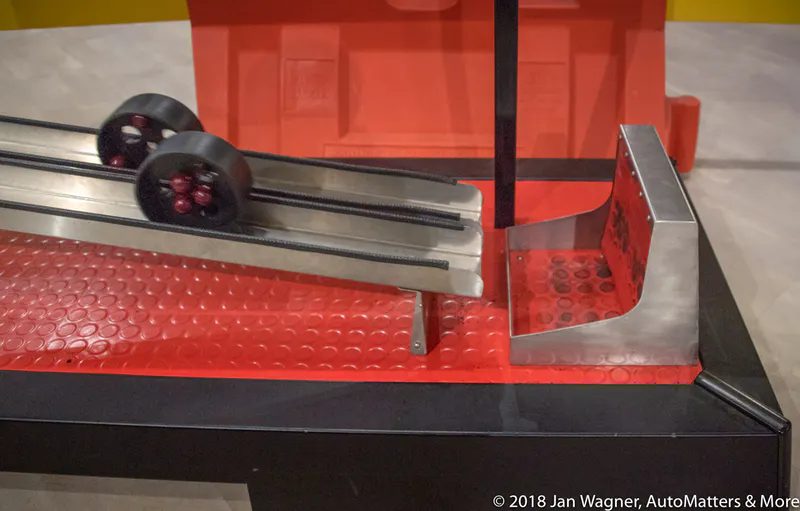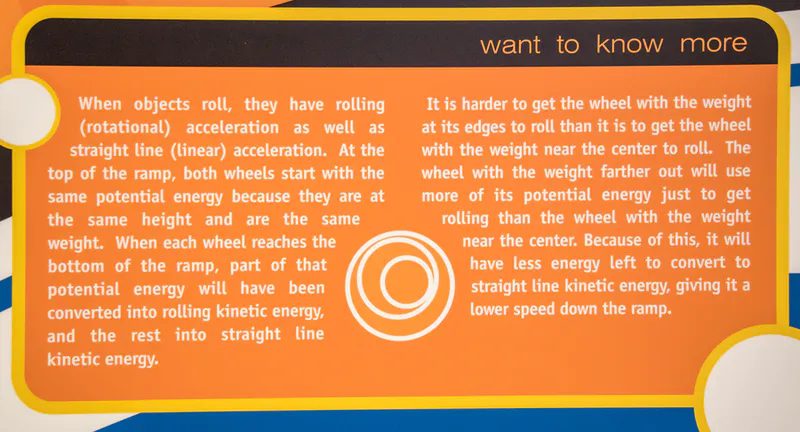 For additional information about SPEED: Science in Motion, visit sandiegoairandspace.org/exhibits/exhibit/speed-science-in-motion-exhibit.
There is, of course, much more to discover at the San Diego Air & Space Museum. At sandiegoairandspace.org, learn about their large collection of aircraft and spacecraft, including a reproduction of the 1902 Wright Glider, widely acknowledged by aviation historians to be the world's first practical aircraft; and the Chance Vought F4U Corsair, a prop-driven fighter plane that flew in WWII, Korea and beyond. At the other end of the spectrum is a mock-up of the Bell X-1, the first aircraft to intentionally exceed the speed of sound in controlled, level flight; and the actual Apollo IX Command Module – one of only two Apollo Command Modules flown in space and on display west of the Rocky Mountains.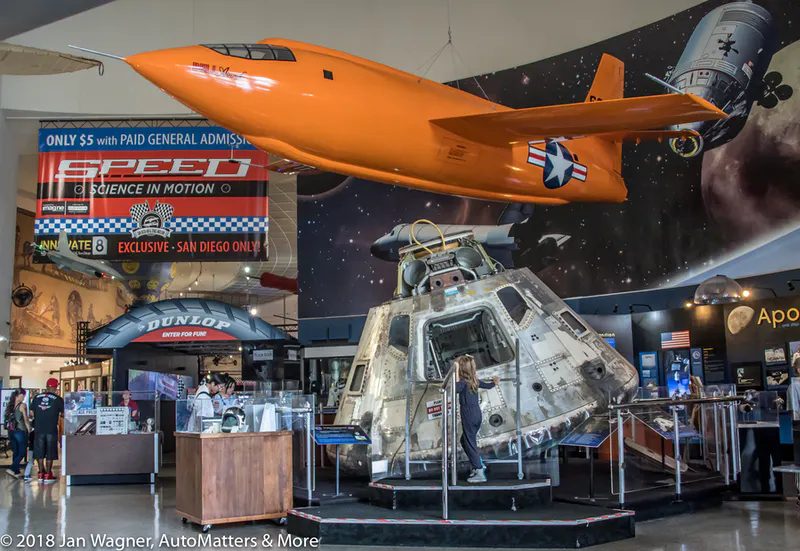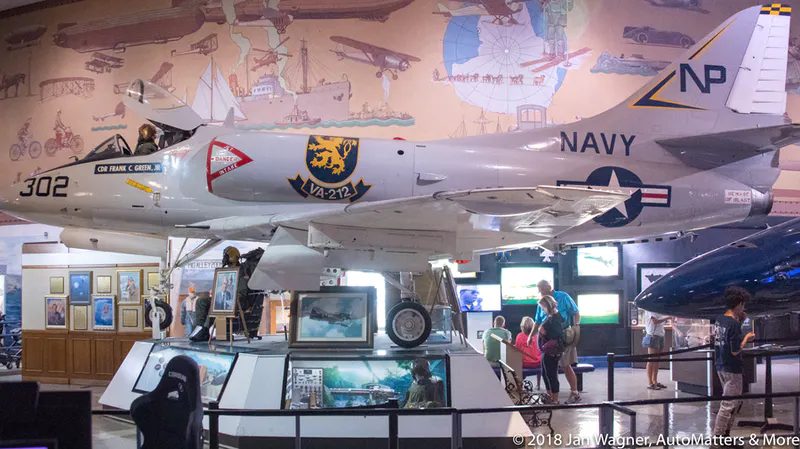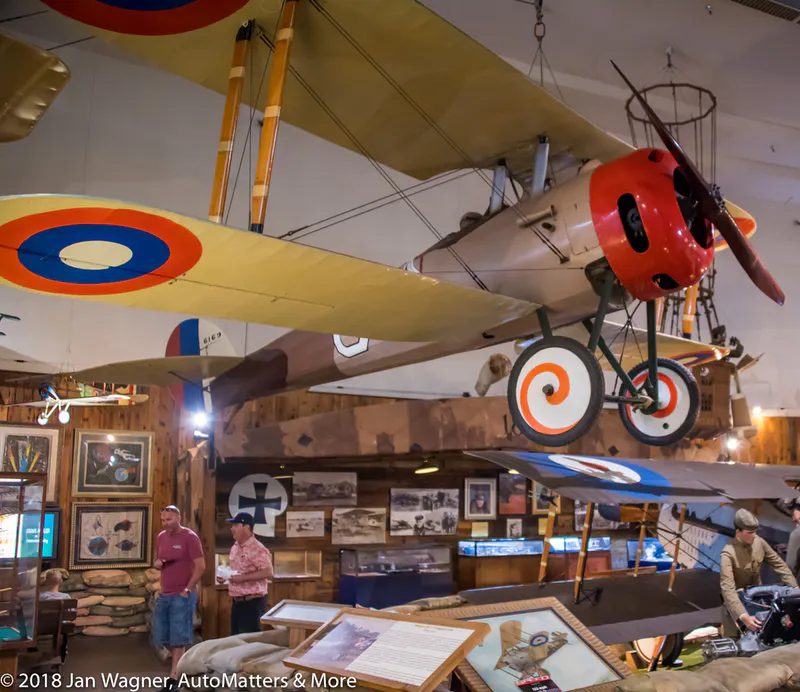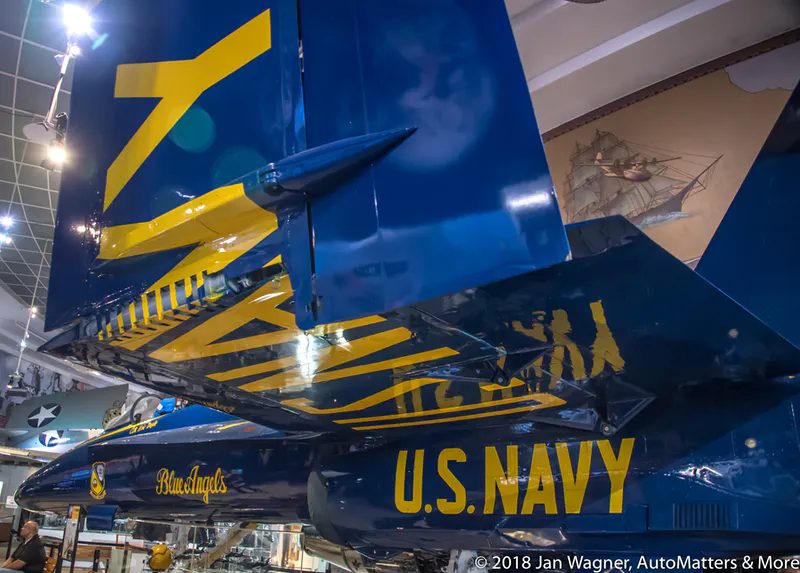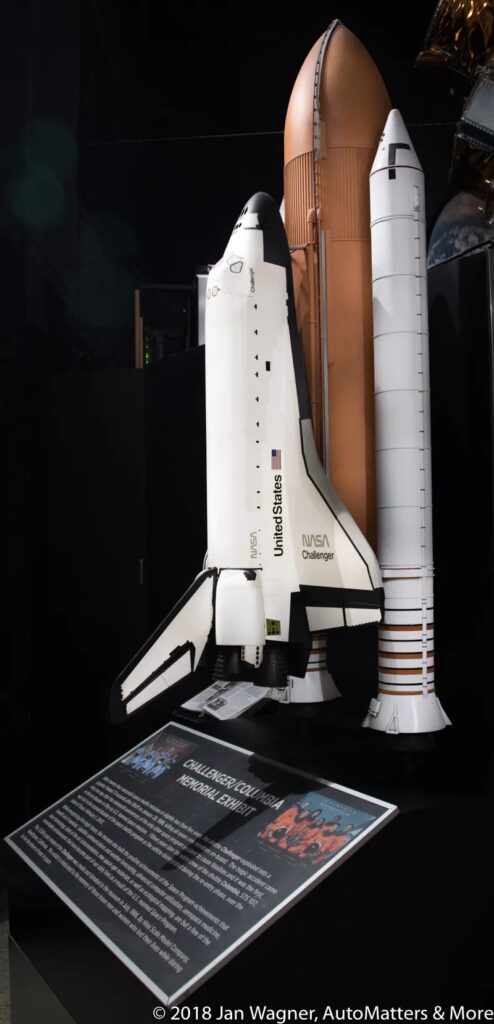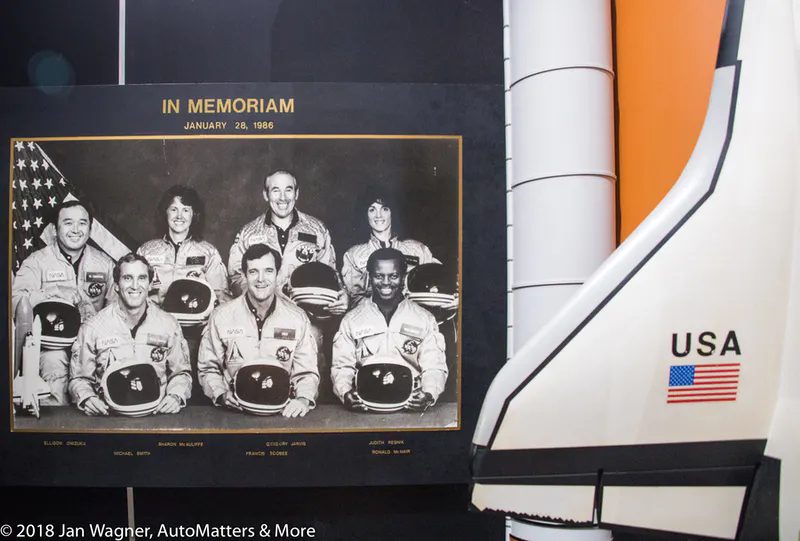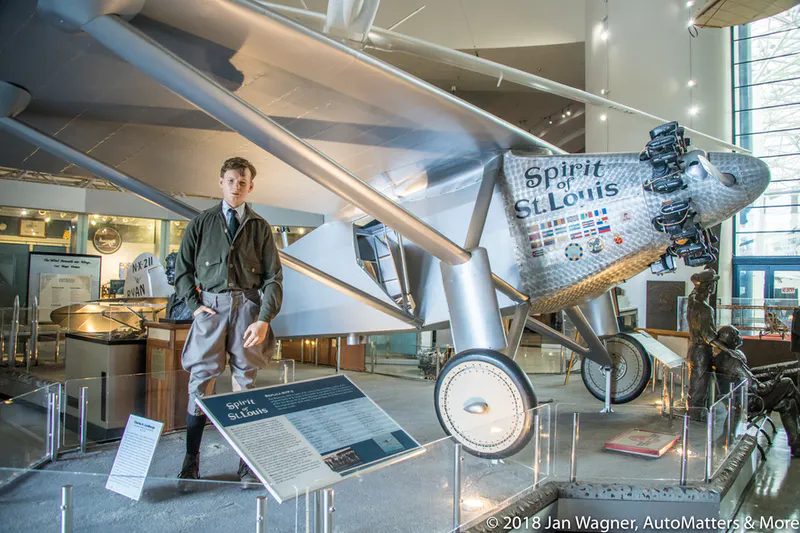 As always, I look forward to hearing from you in the comments below.
Jan
COPYRIGHT © 2018 BY JAN WAGNER – AUTOMATTERS & MORE #562R1
Jan