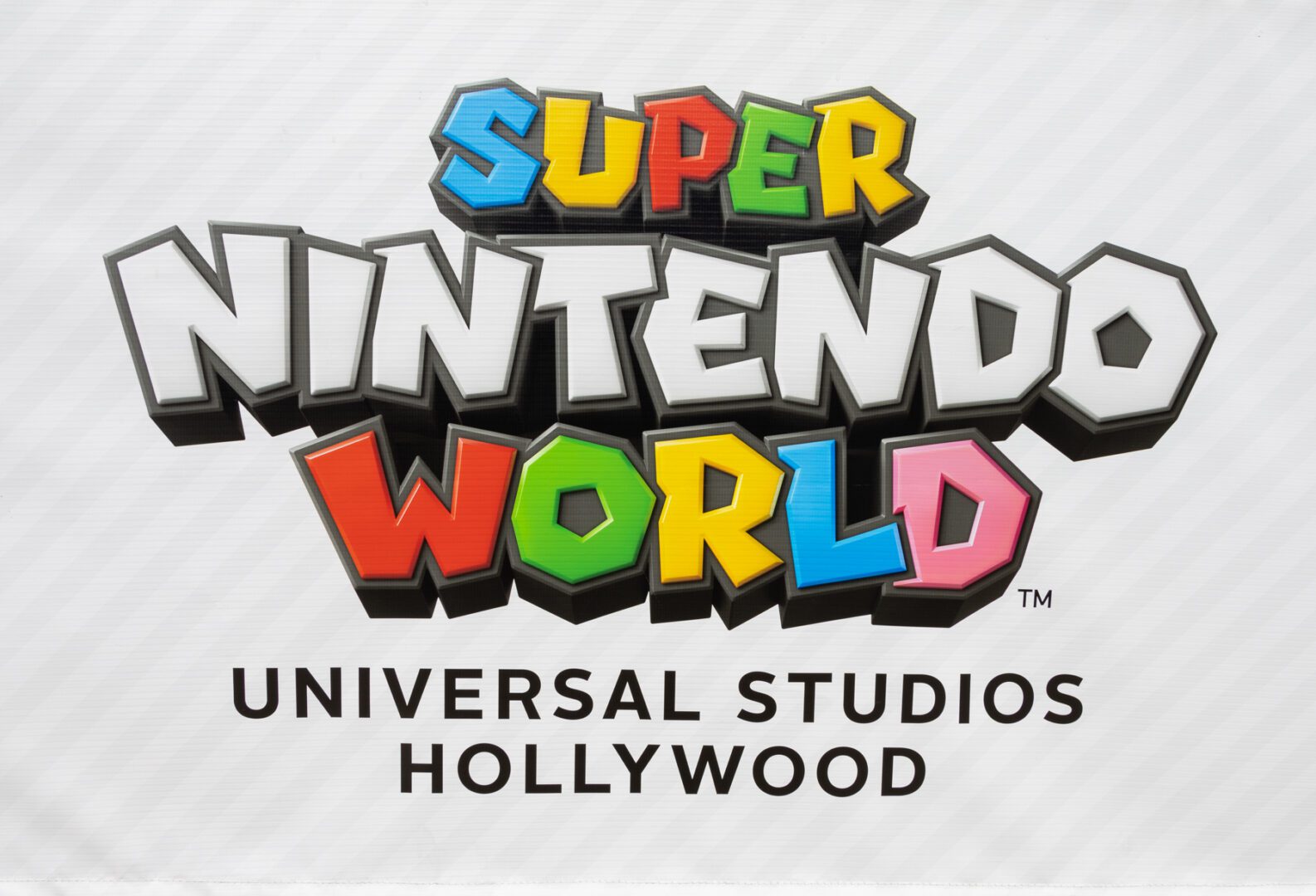 SUPER NINTENDO WORLD at Universal Studios Hollywood — Now Open!
March 9, 2023
/
/
Comments Off

on SUPER NINTENDO WORLD at Universal Studios Hollywood — Now Open!
Universal Studios Hollywood welcomes you to the wonderful world of Super Mario, Luigi, Princess Peach and all their friends and foes at SUPER NINTENDO WORLD — the brand new, thoroughly interactive new land that visitors of all ages are sure to enjoy.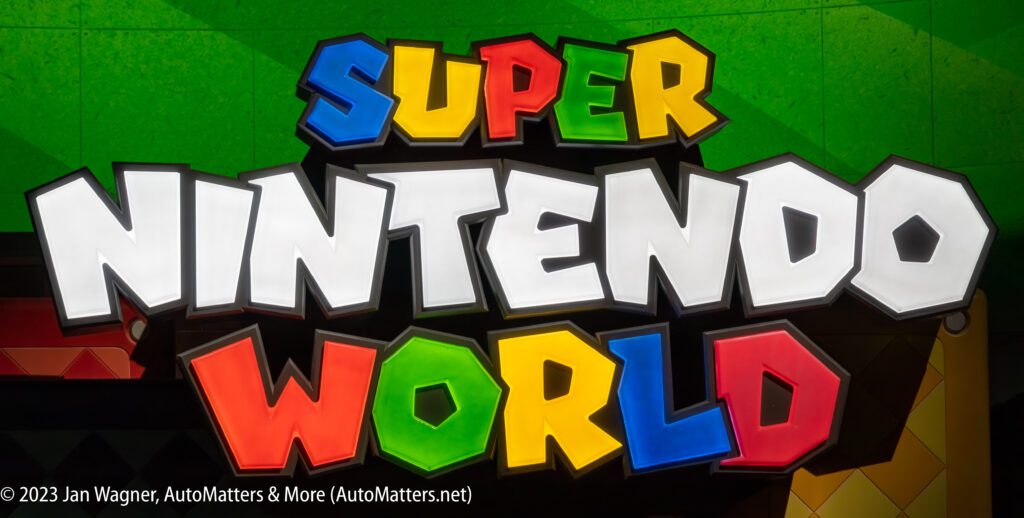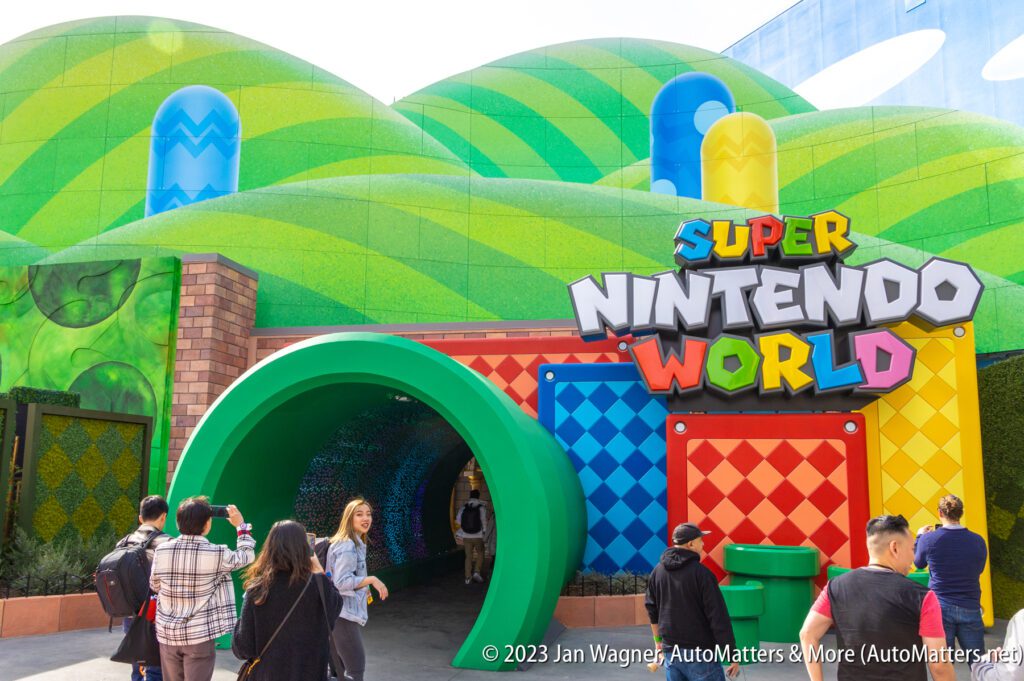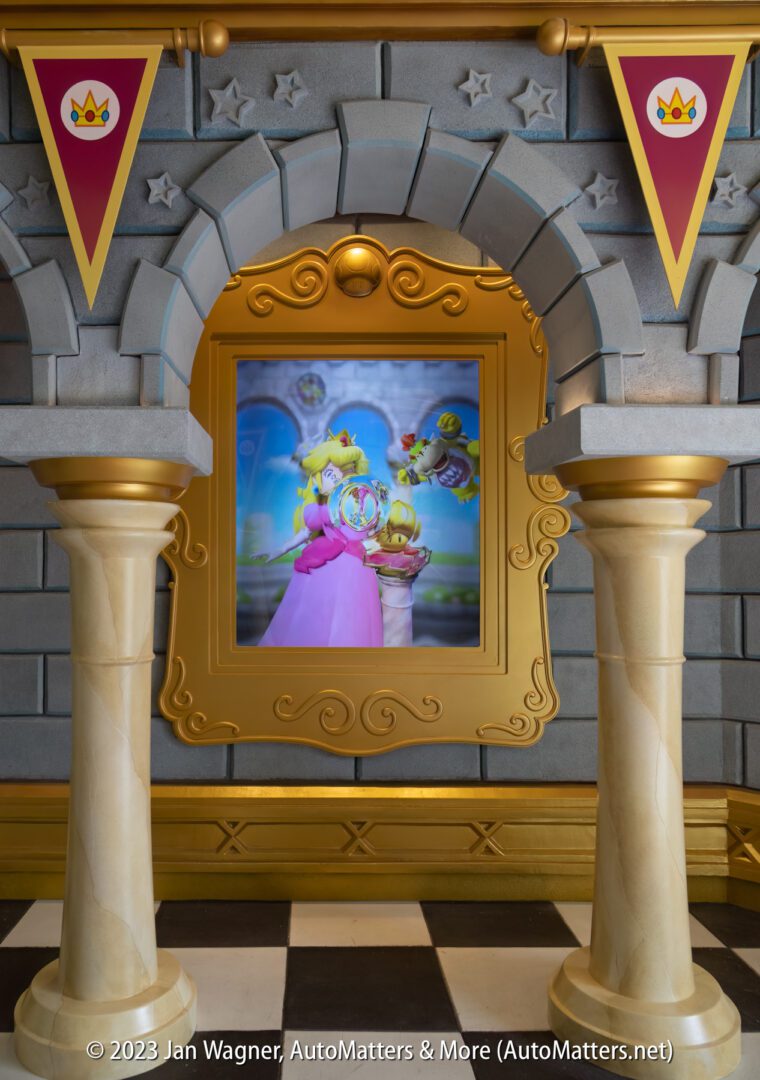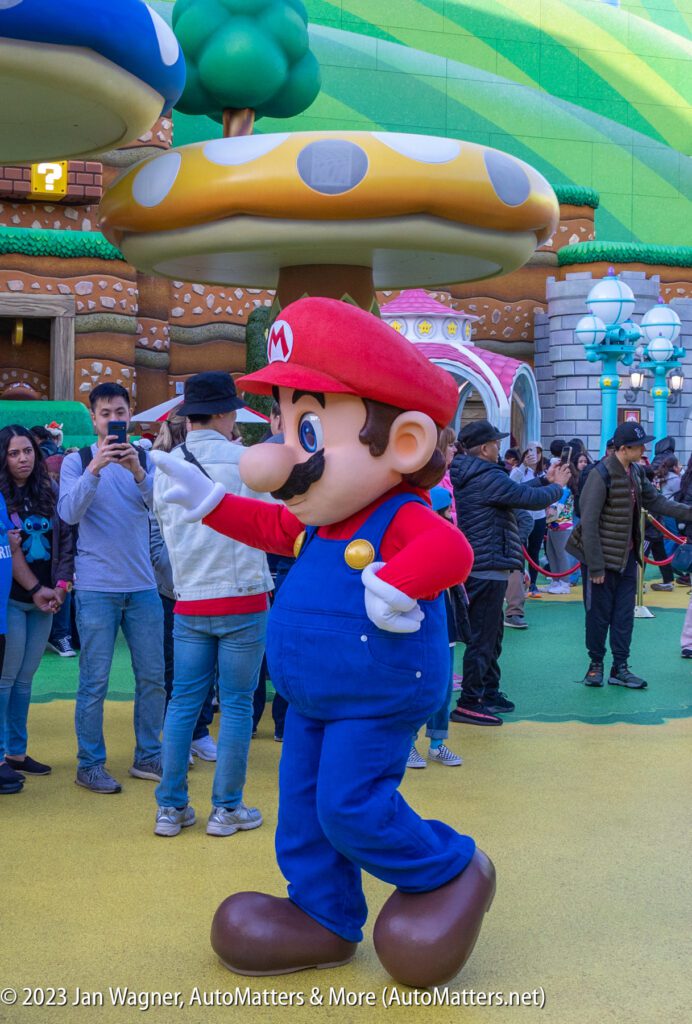 To truly enjoy your visit to SUPER NINTENDO WORLD, my PRO TIP NUMBER 1 is that you should plan on spending as much as a full day there. Even though the lines move pretty quickly, there is much that you'll want to see and do. That brings us to PRO TIP NUMBER 2: Be sure to visit the land in the daytime and after dark. The lights at night transform the land into something you'll want to see too.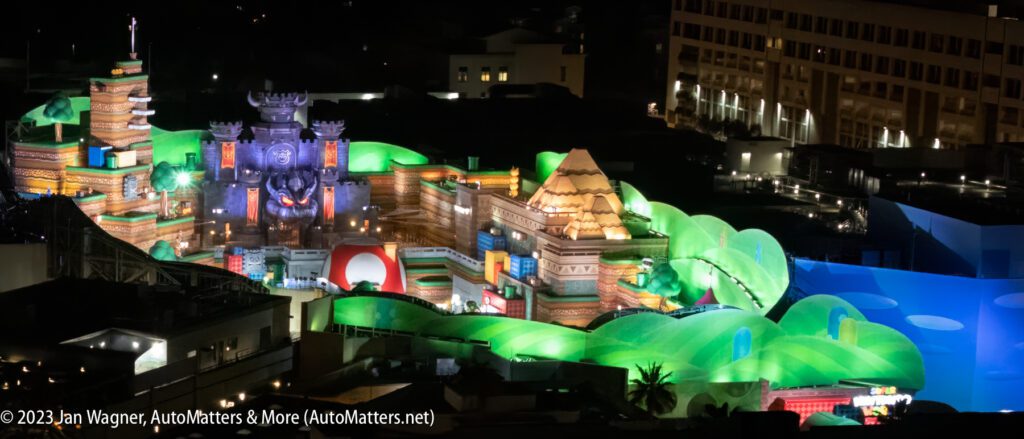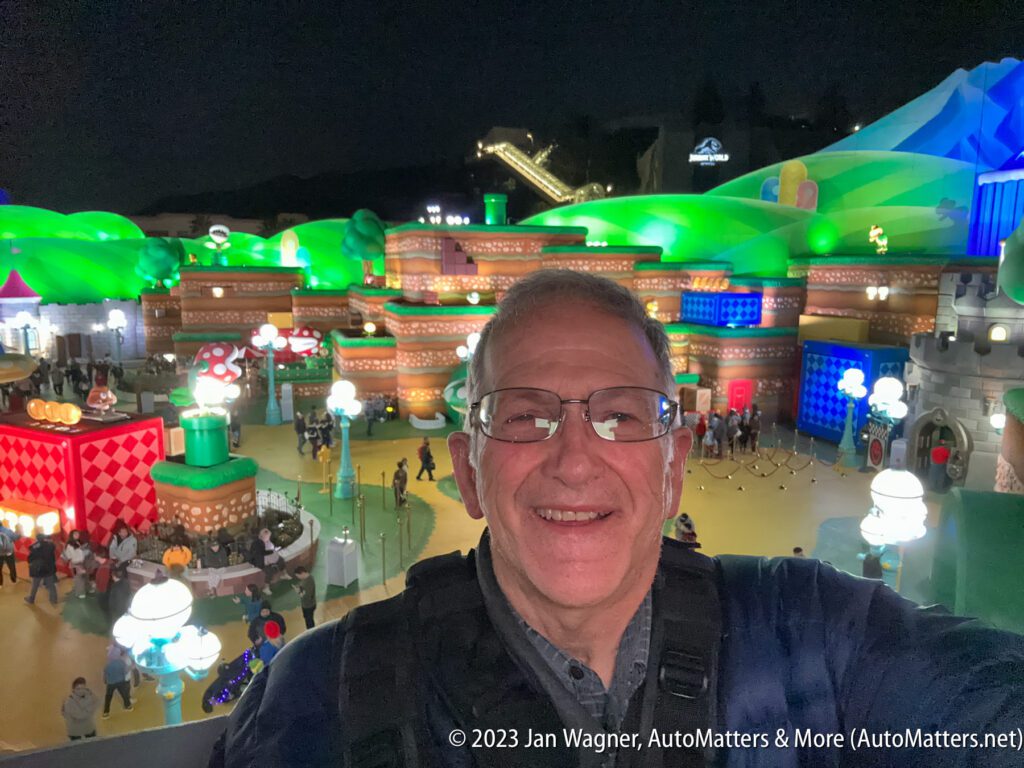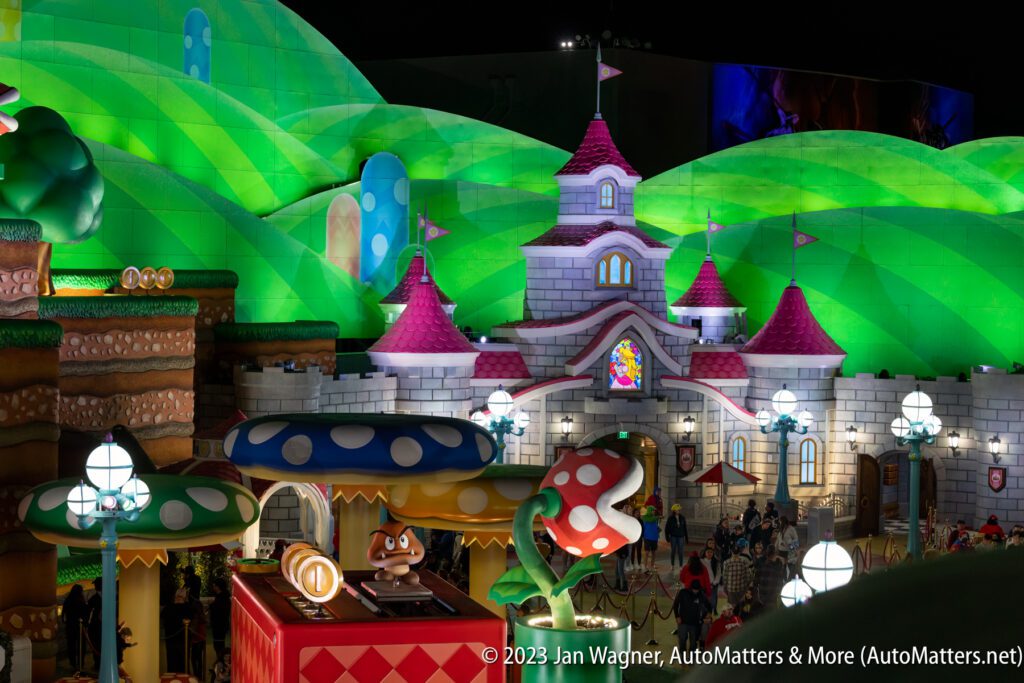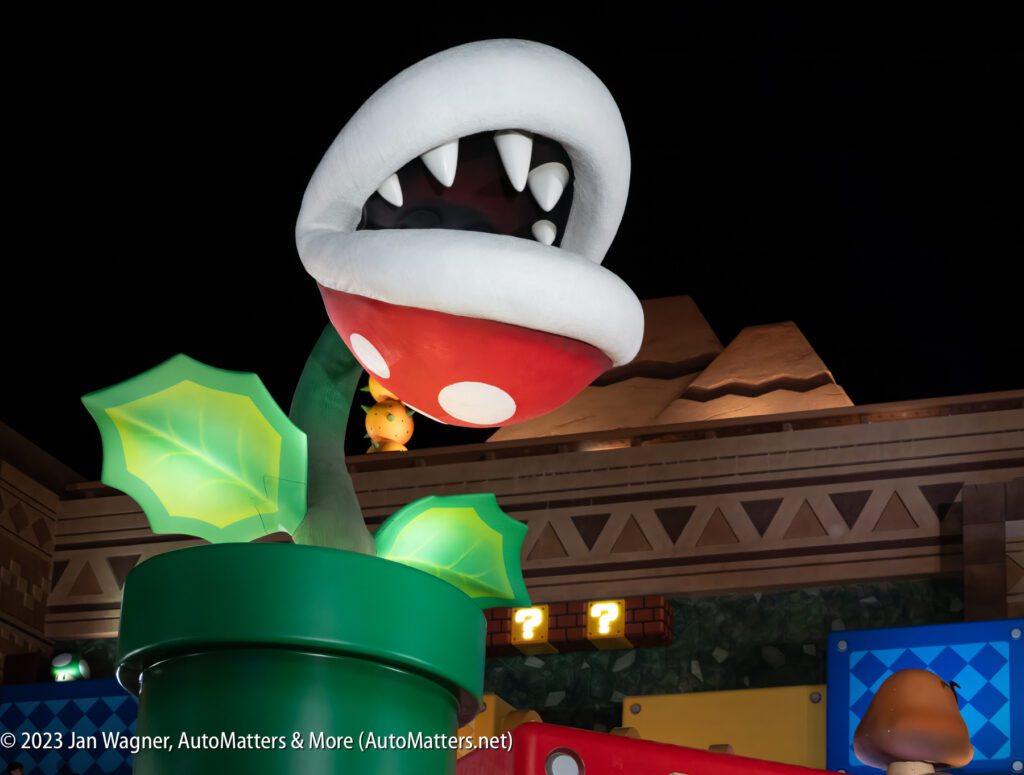 The land is incredibly interactive, which is why you'll want to spend so much time there. Here you'll be challenged to keep trying to improve your scores at the many challenges.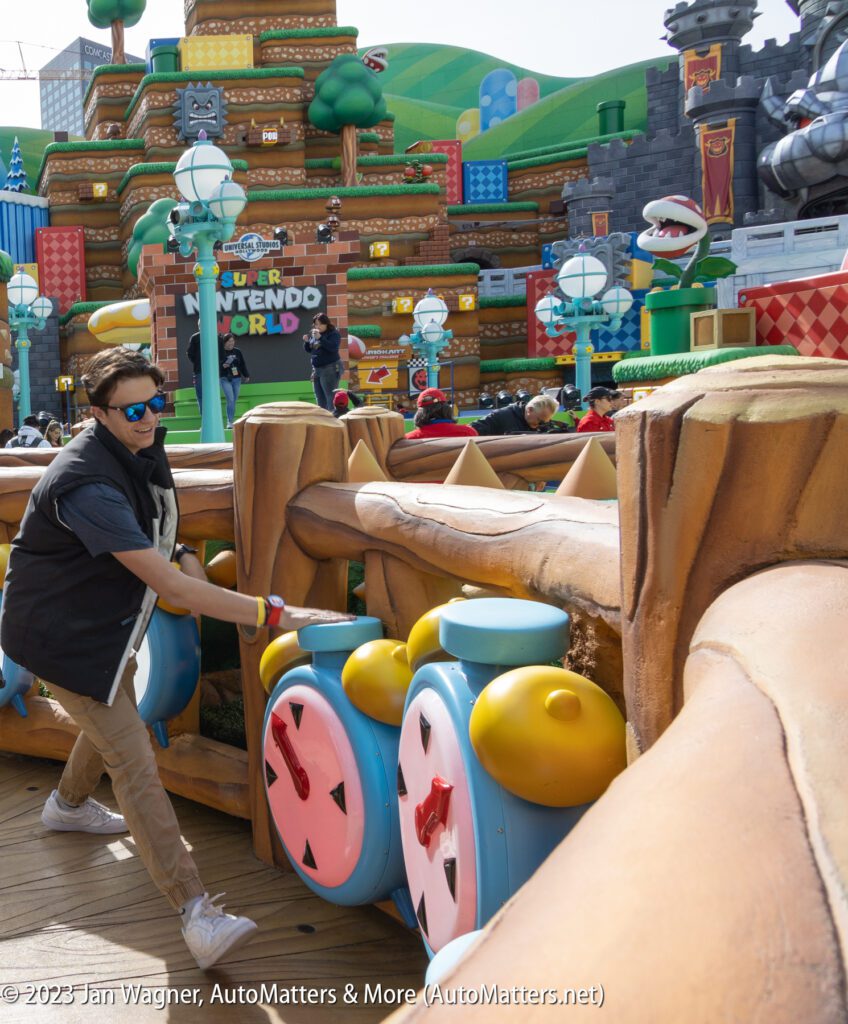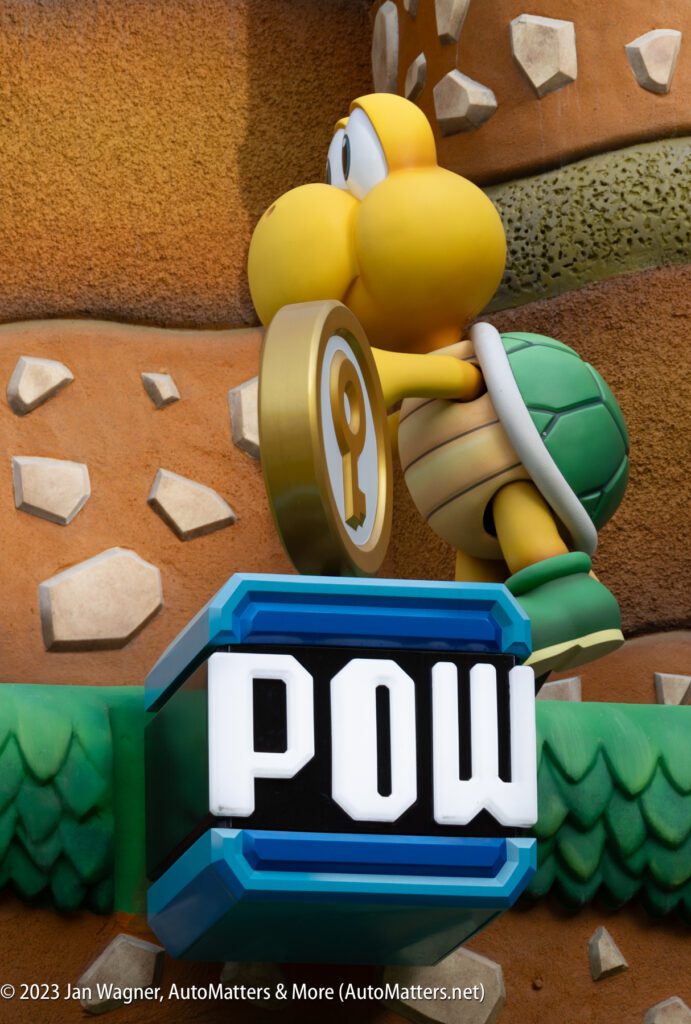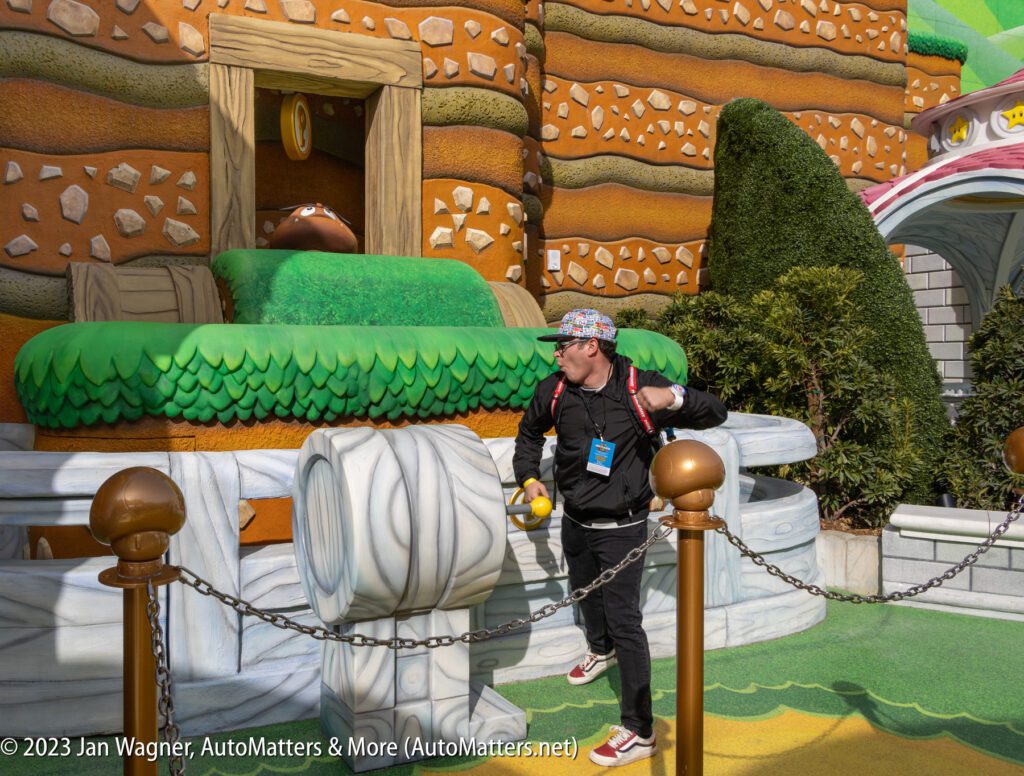 Do well enough at those challenges and you will collect three keys, giving you the opportunity to confront Bowser Jr. to recover the stolen Golden Mushroom in a final Shadow Showdown. This amazing technology creates a silhouette of you. Your shadow then mirrors your actions, as you hurl, fling and jump at the quickly moving targets. PRO TIP NUMBER 3: Be prepared for a physical workout!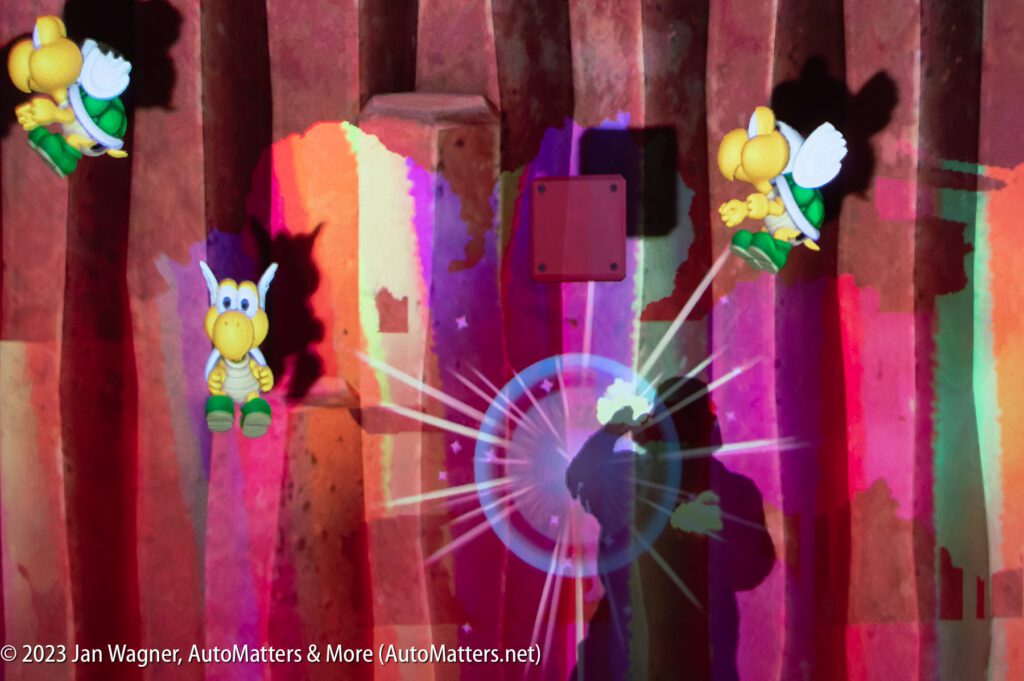 PRO TIP NUMBER 4: To fully enjoy the challenges throughout the land, and to best interact with the Universal Studios Hollywood Mobile App, purchase a SUPER NINTENDO WORLD Power-Up band. You'll use it to keep score throughout the land as you complete Key Challenges, defeat Bowser Jr., collect digital coins and more.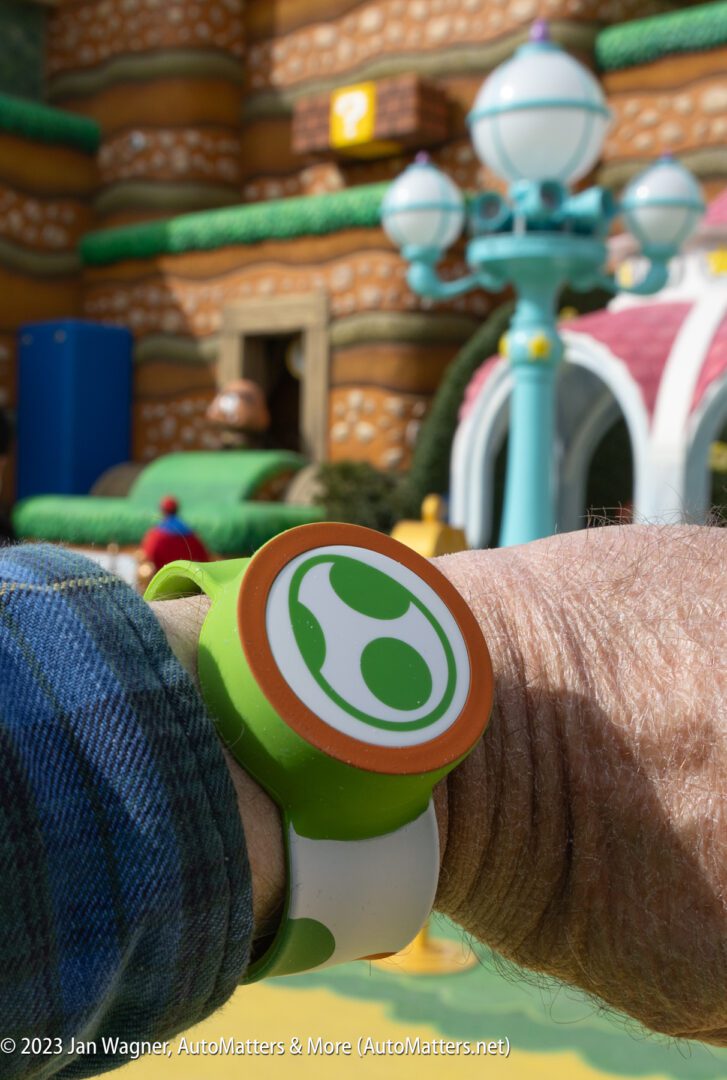 PRO TIP NUMBER 5: When you smash the bottom of the ? BLOCKS throughout the land to collect digital coins, use the palm of your hand or your fist on the arm where you're wearing your Power-Up Band. I'd bet that repeated smashing of the Power-Up Band would not be good for its longevity — just saying.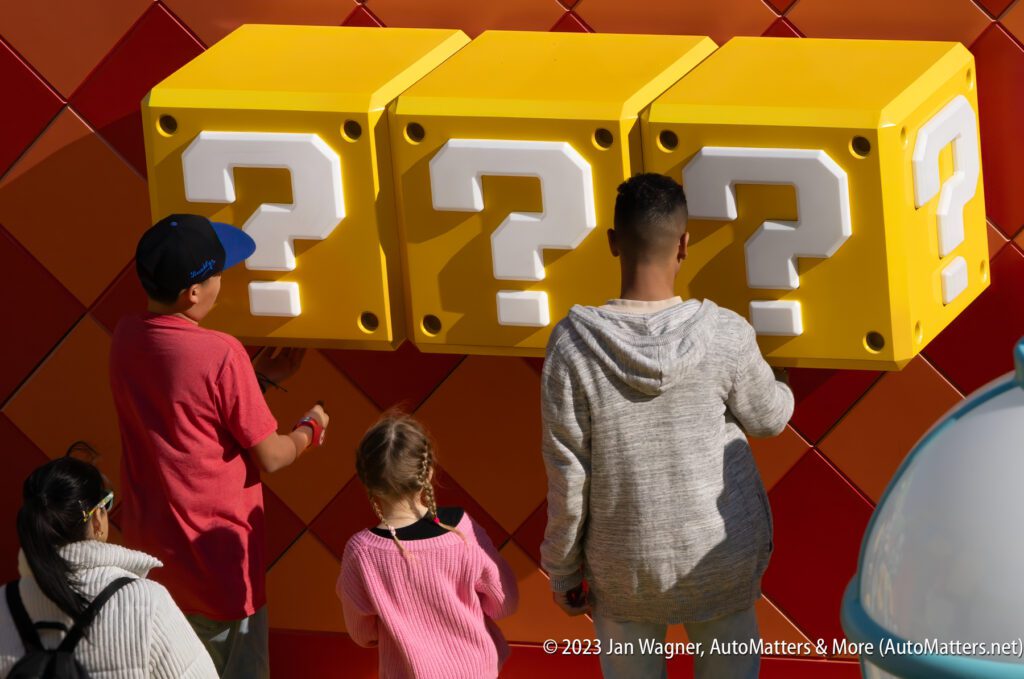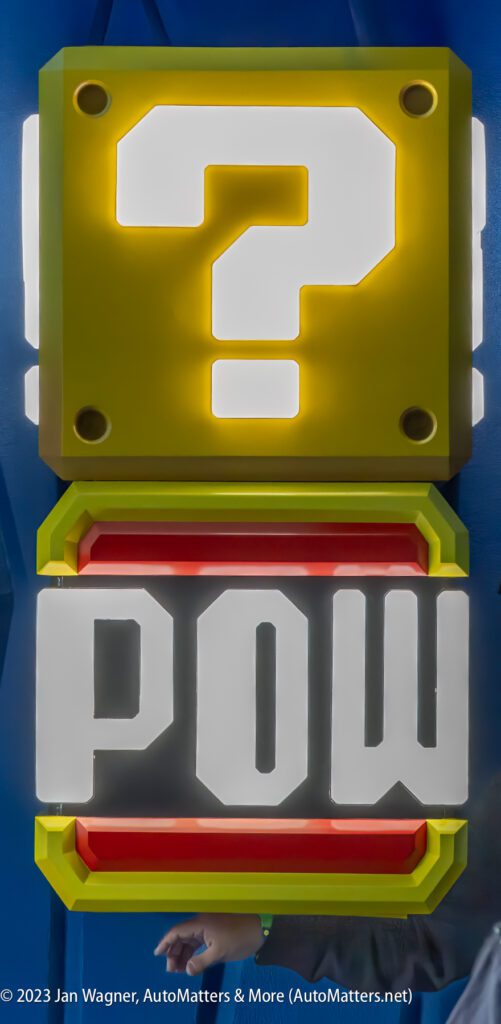 PRO TIP NUMBER 6: From Amazon.com order a flexible little watch strap clip to more securely clip the two ends of the strap together. Otherwise, energetically smashing the bottom of the ? BLOCKS to earn digital coins could send your Power-Up Band flying.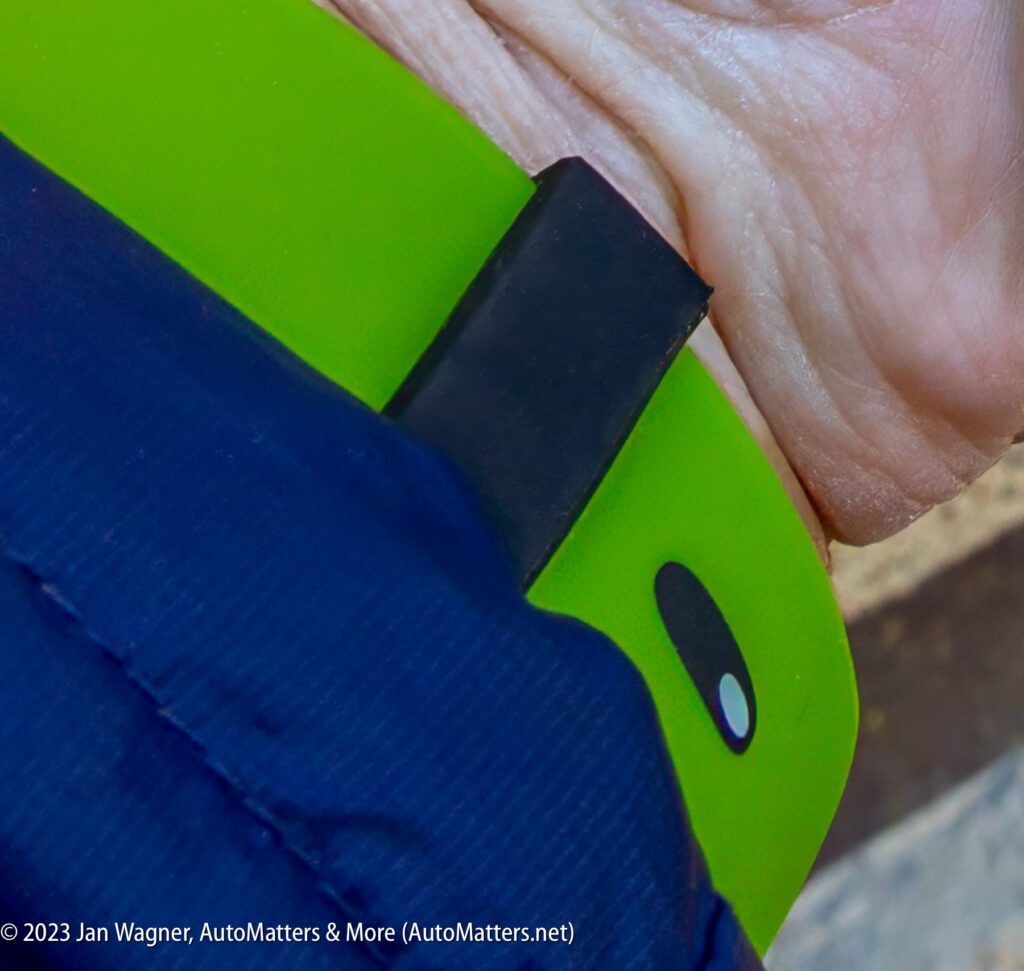 One of the videos on the Universal Studios Hollywood website (see the link below) or on YouTube (https://youtu.be/IAsOe1ZH0bw) shows you how the Power-Up Band works, as it plays the playful theme music that you'll hear throughout the land.
The signature attraction in SUPER NINTENDO WORLD is Mario Kart: Bowser's Challenge, where you'll drive alongside Mario, Luigi and Princess Peach to collect digital coins and throw shells to try to win the Golden Cup. This is truly state-of-the-art, combining several cutting-edge technologies. Here you'll put on a Mario cap and then magnetically attach high-tech AR (Augmented Reality) goggles. The goggles will let you see all sorts of virtual targets and environments, in addition to the physical objects and backgrounds on your ride.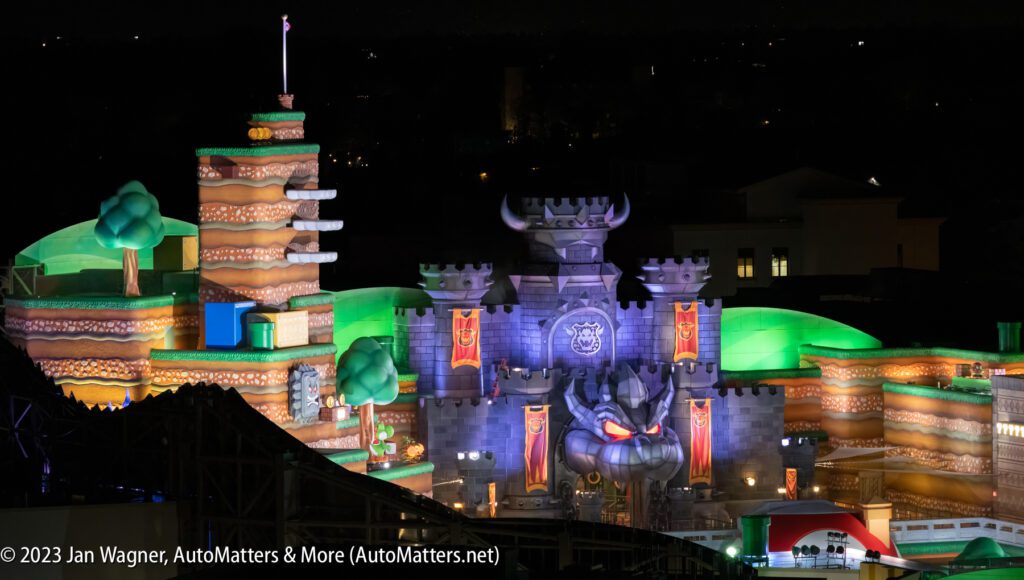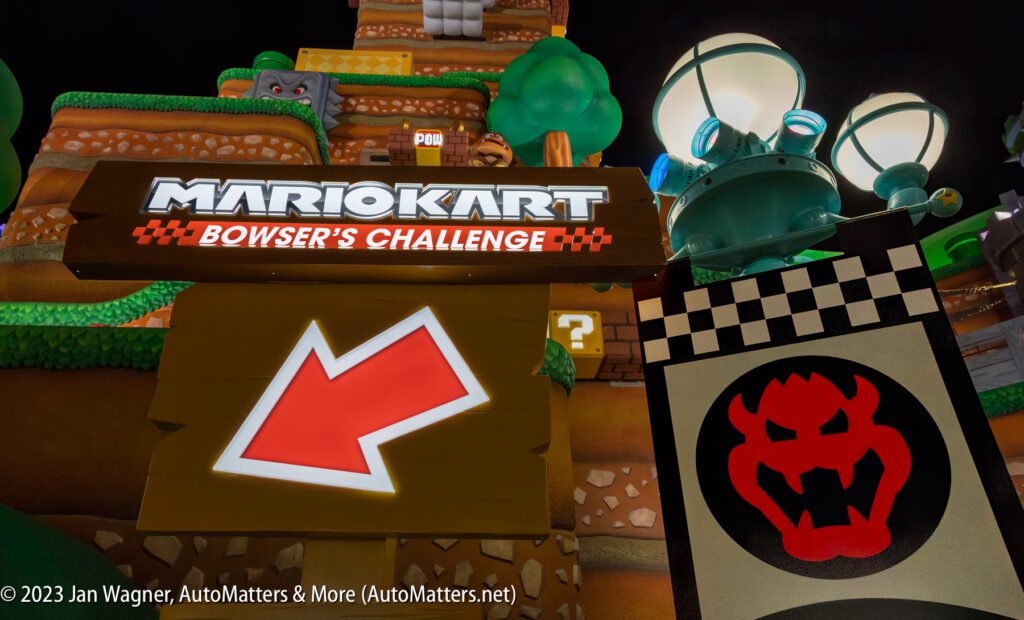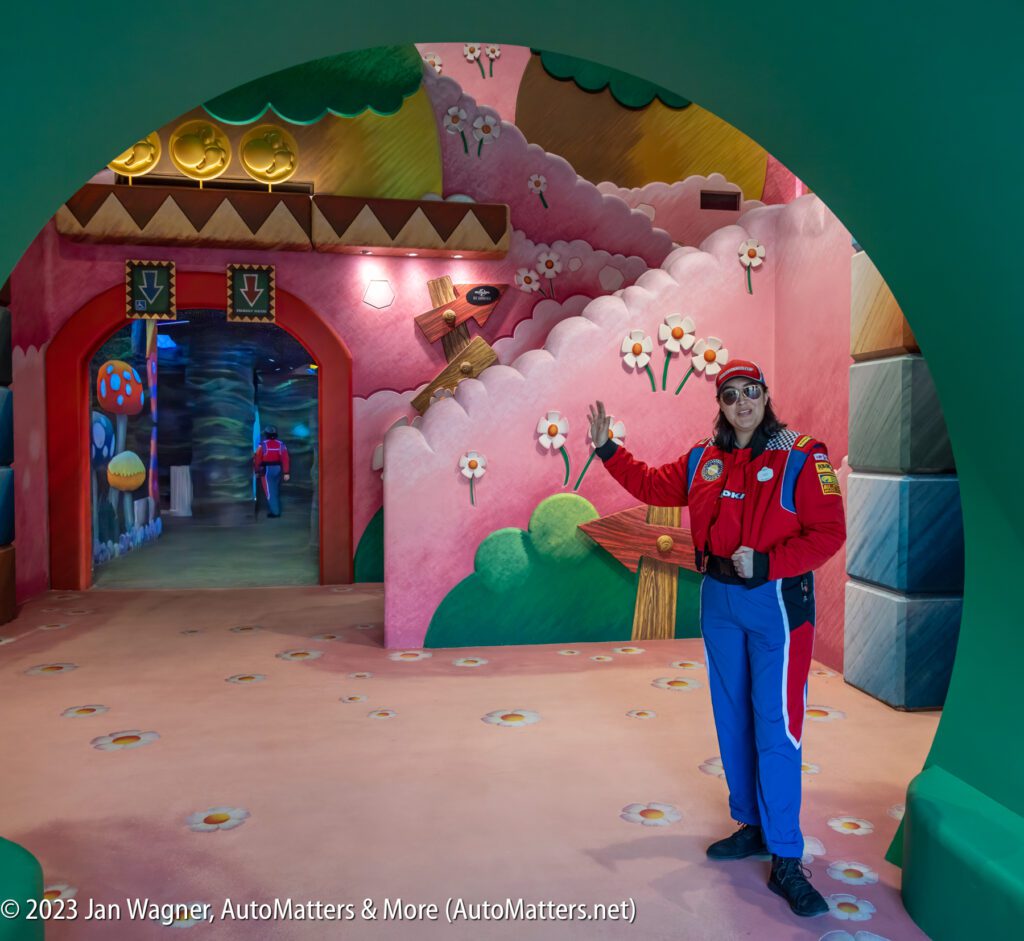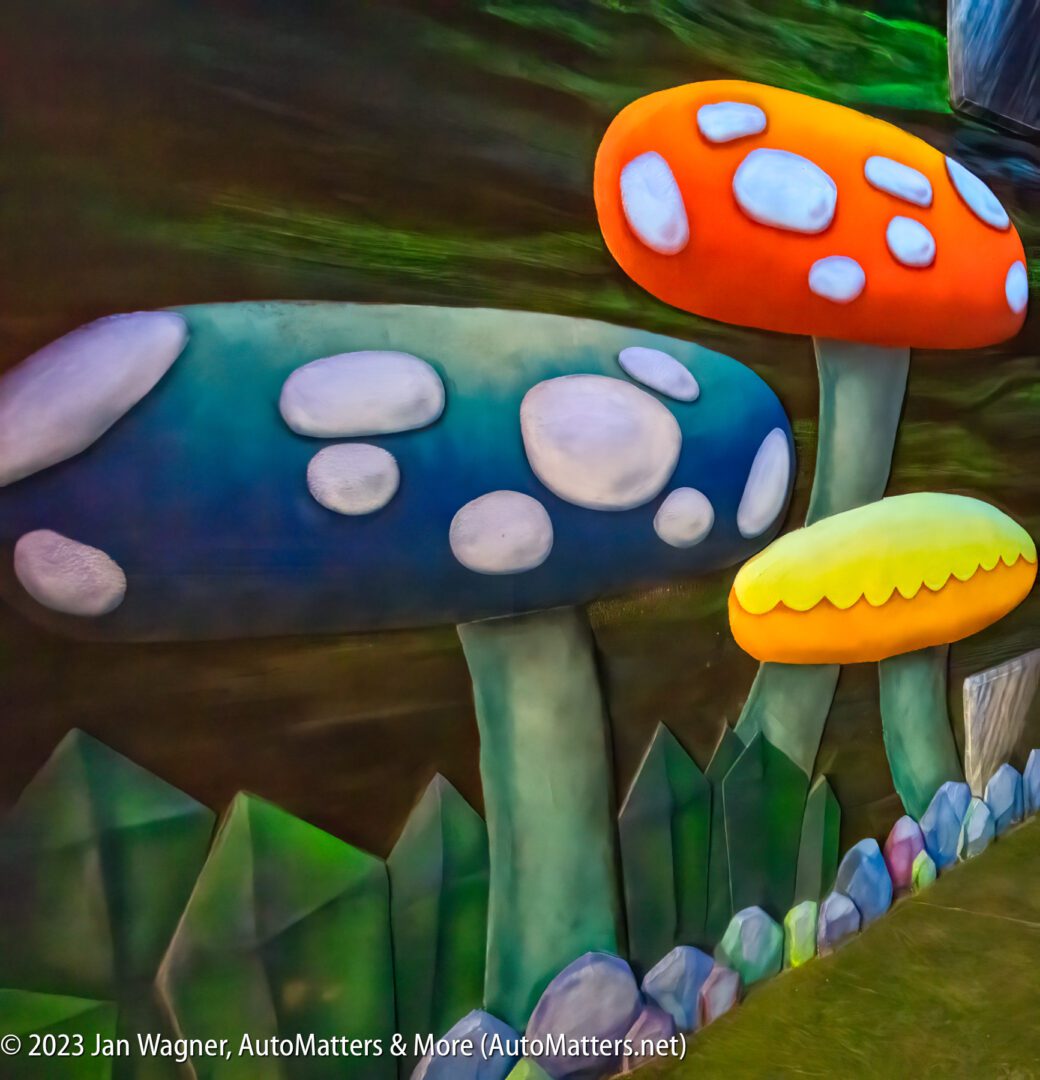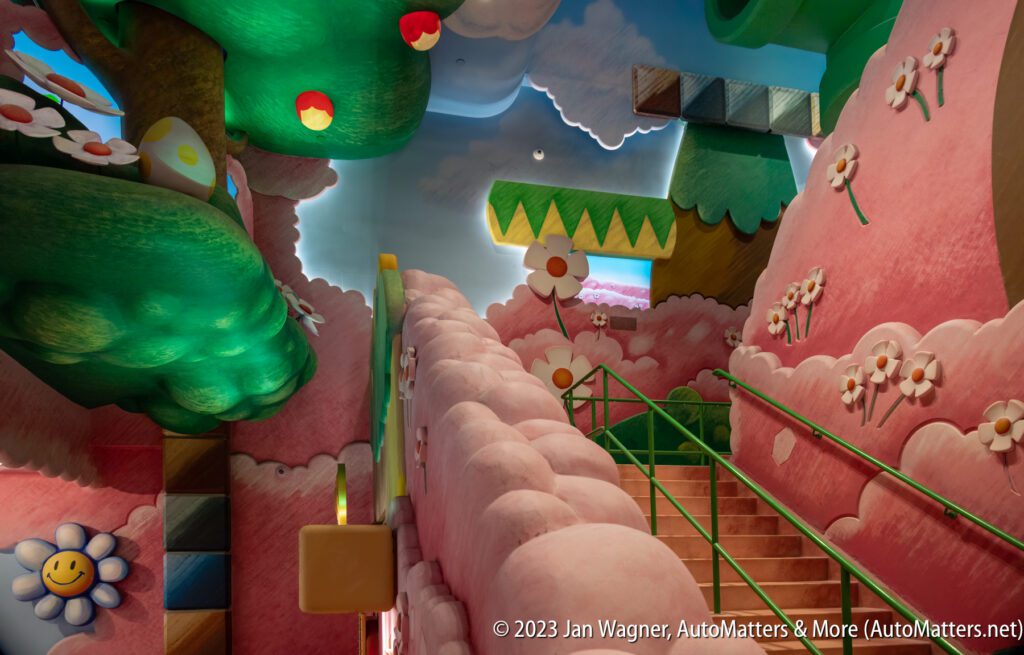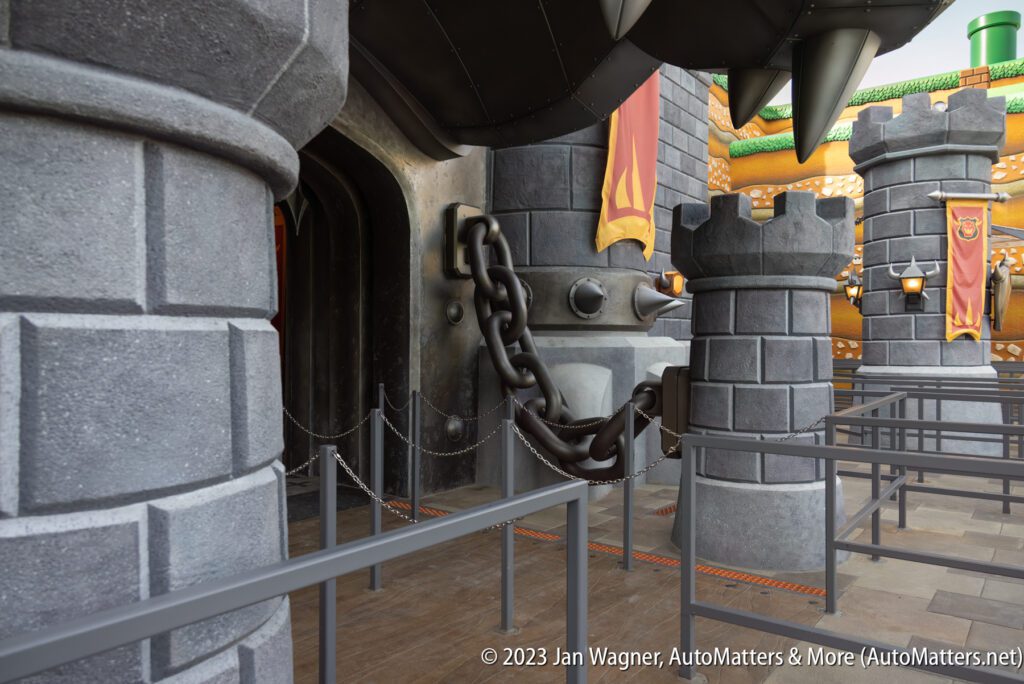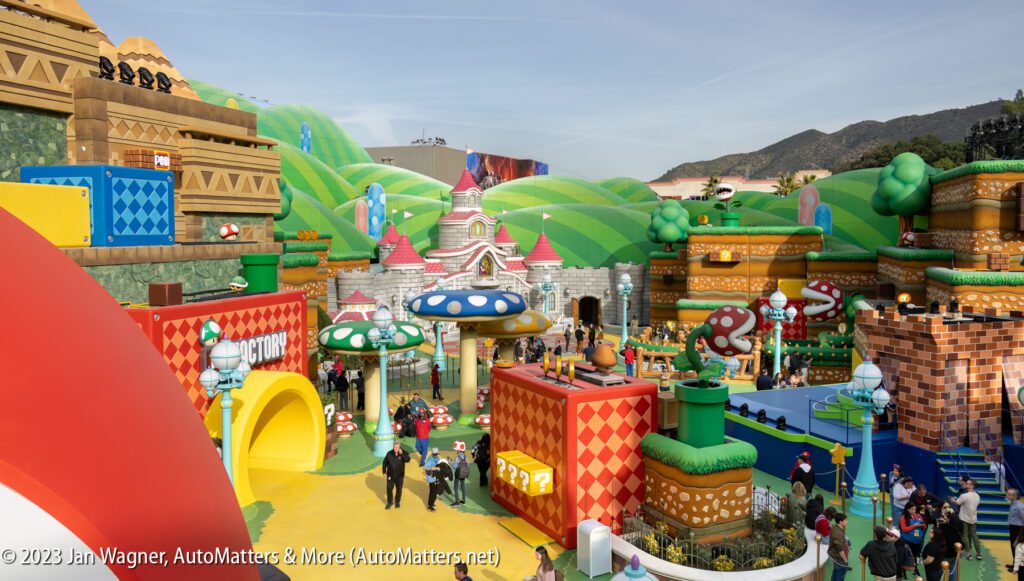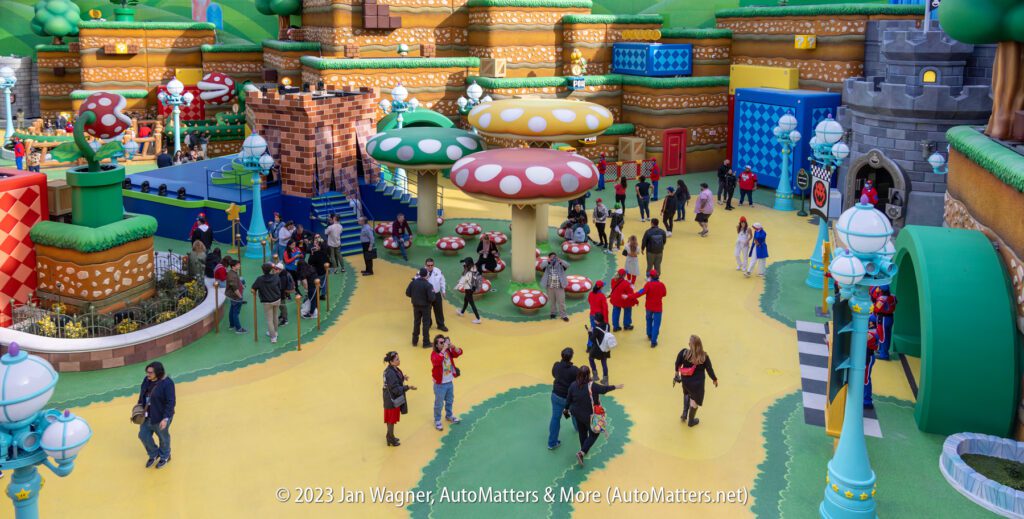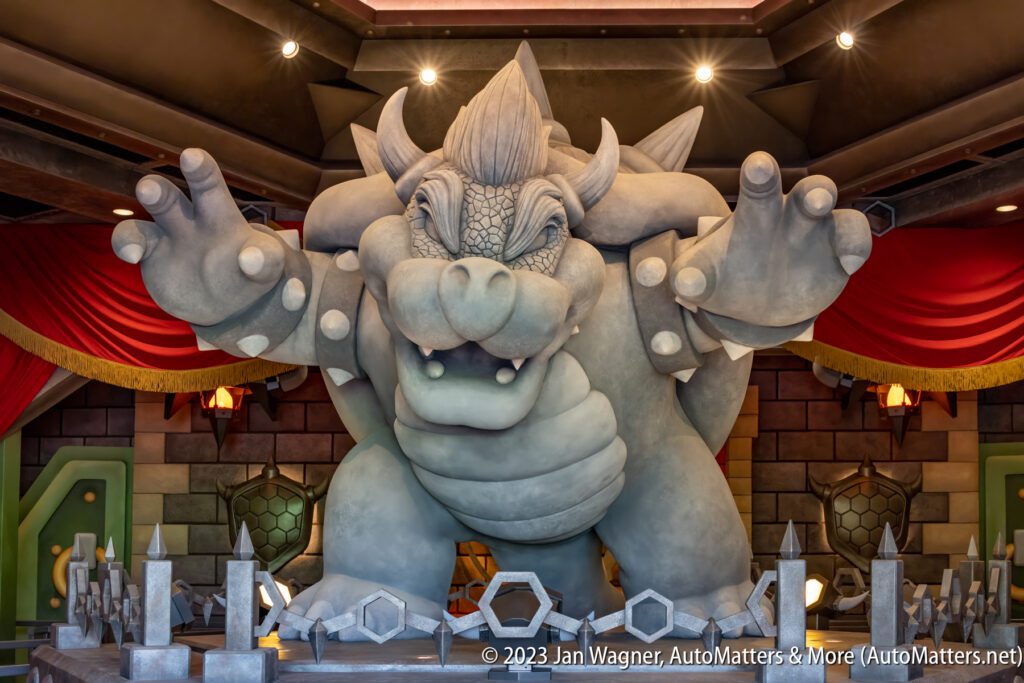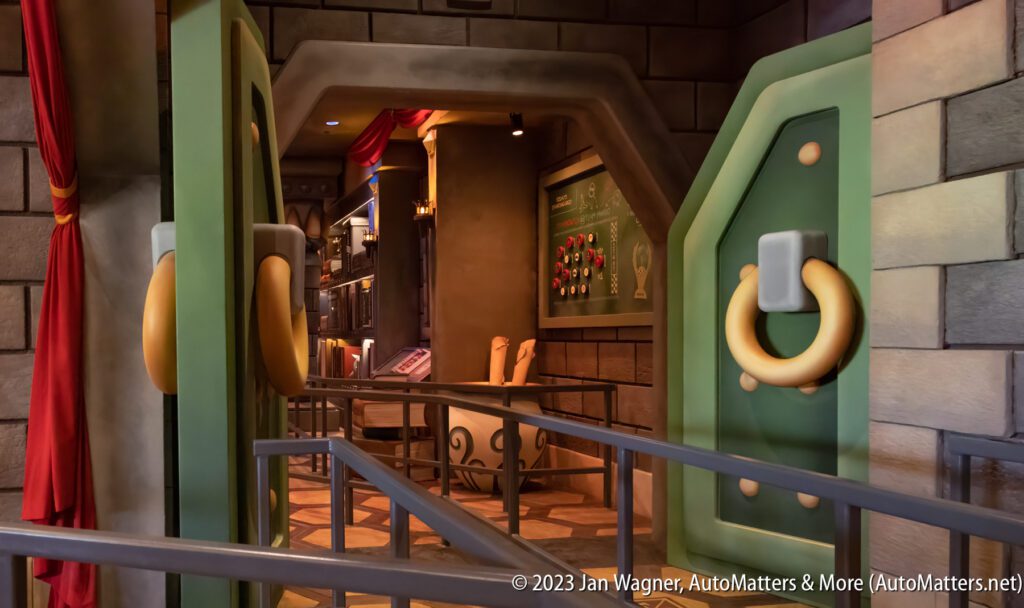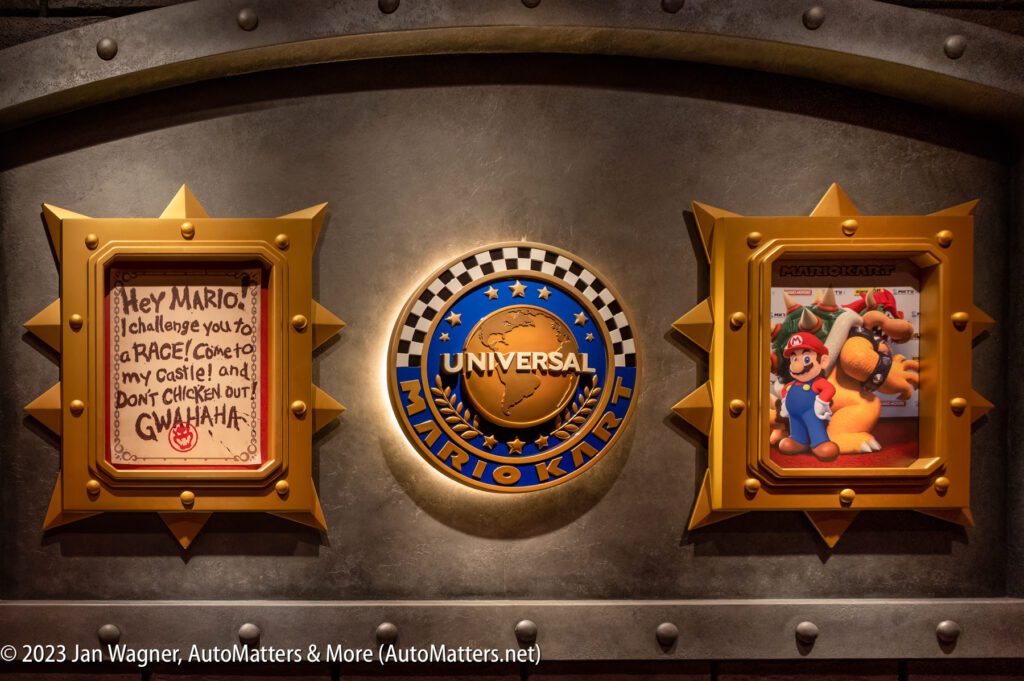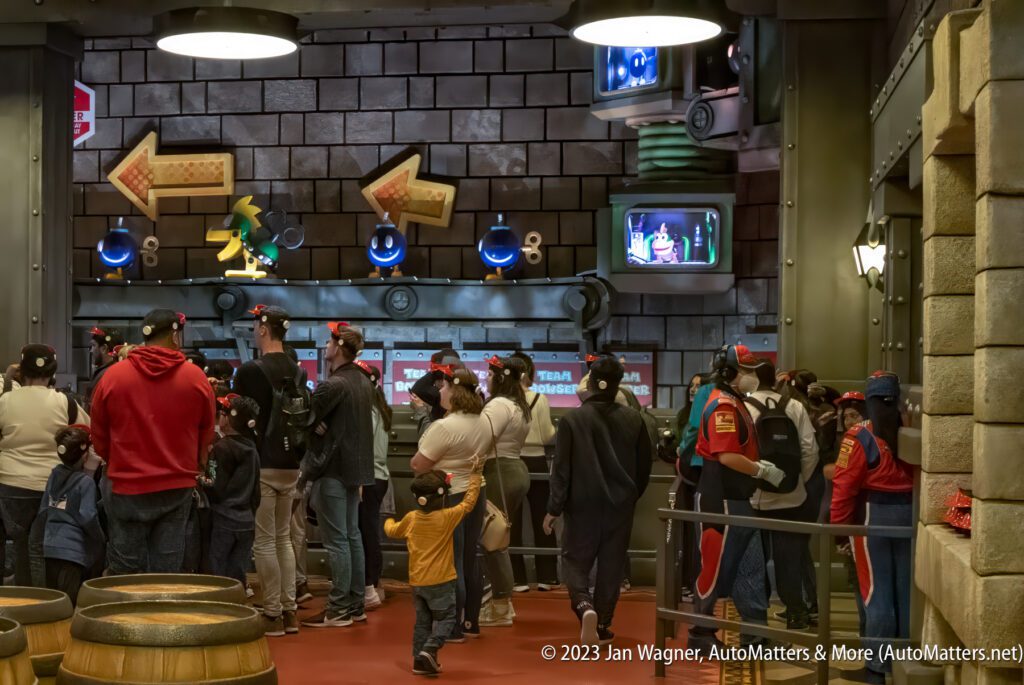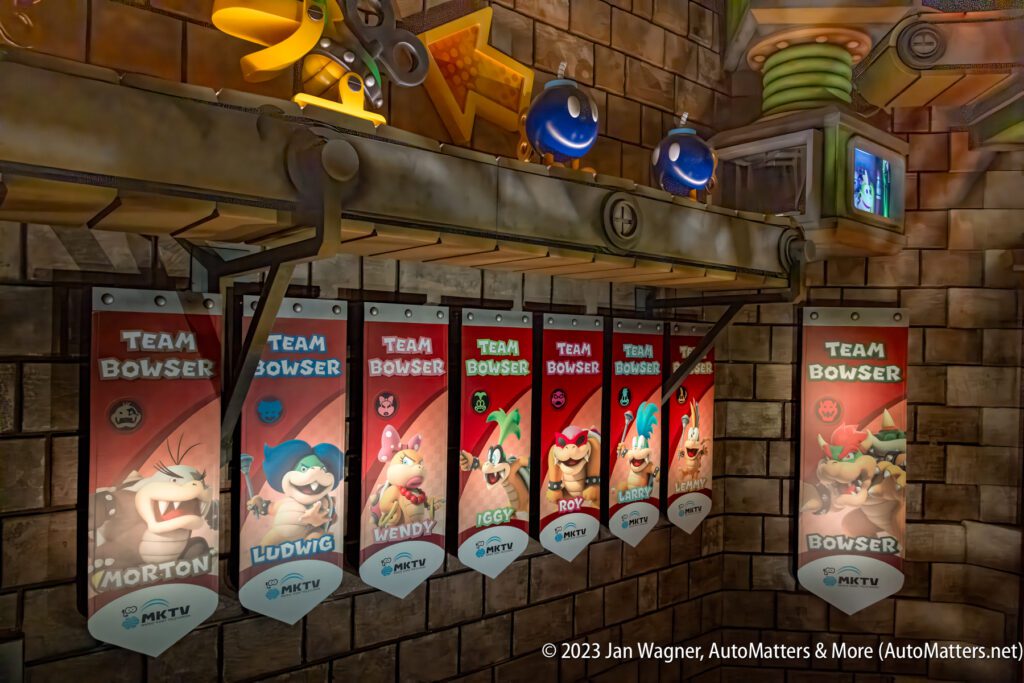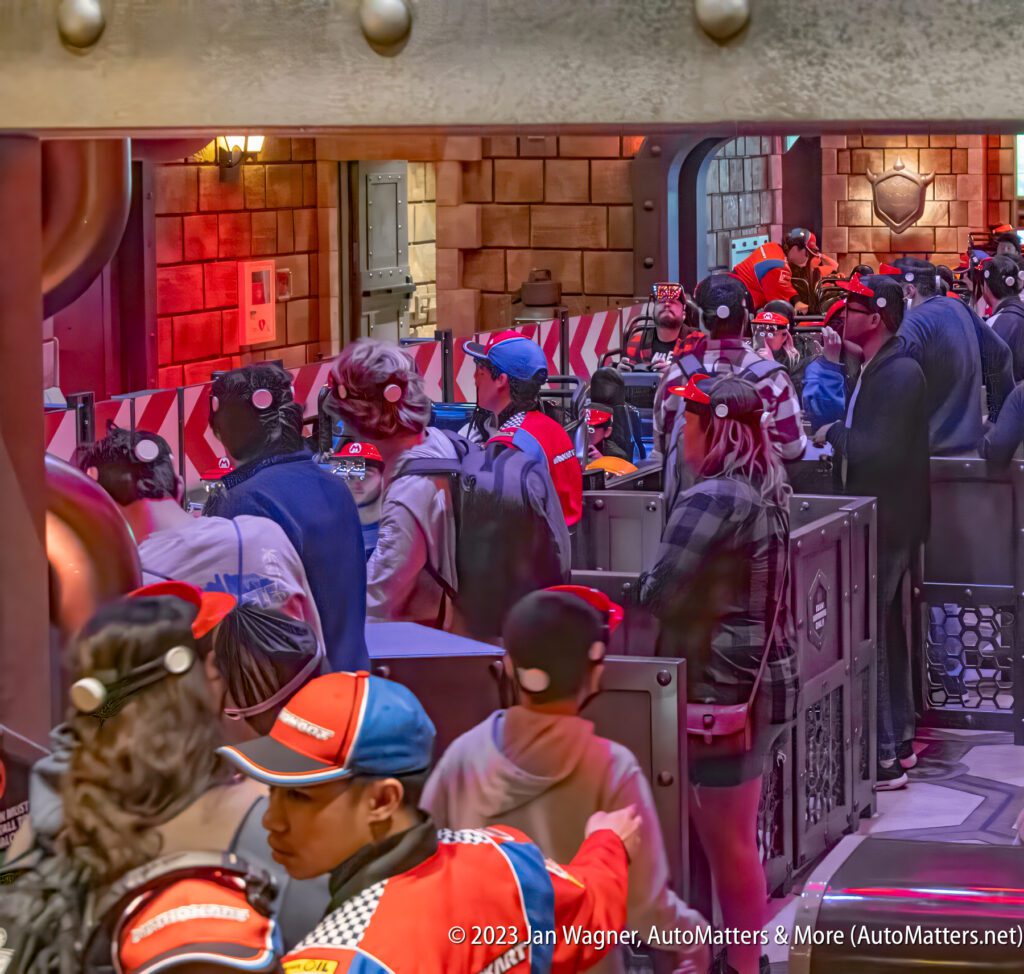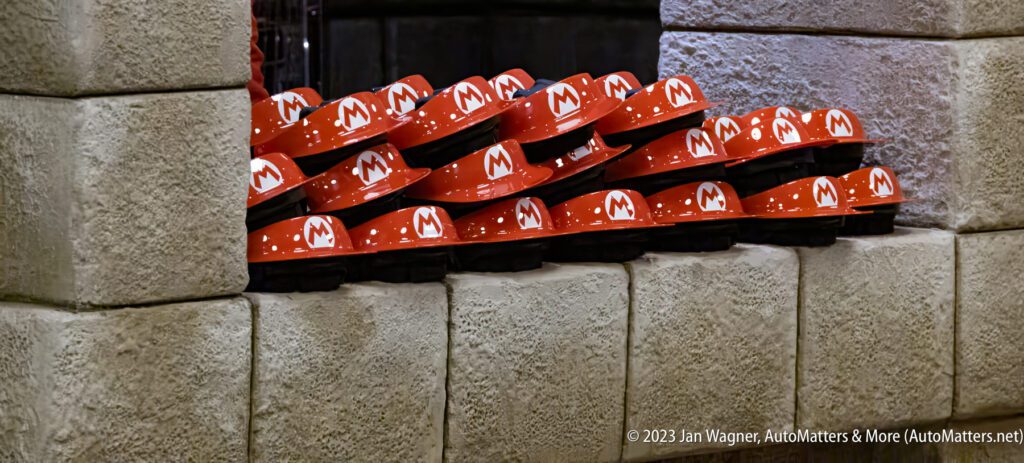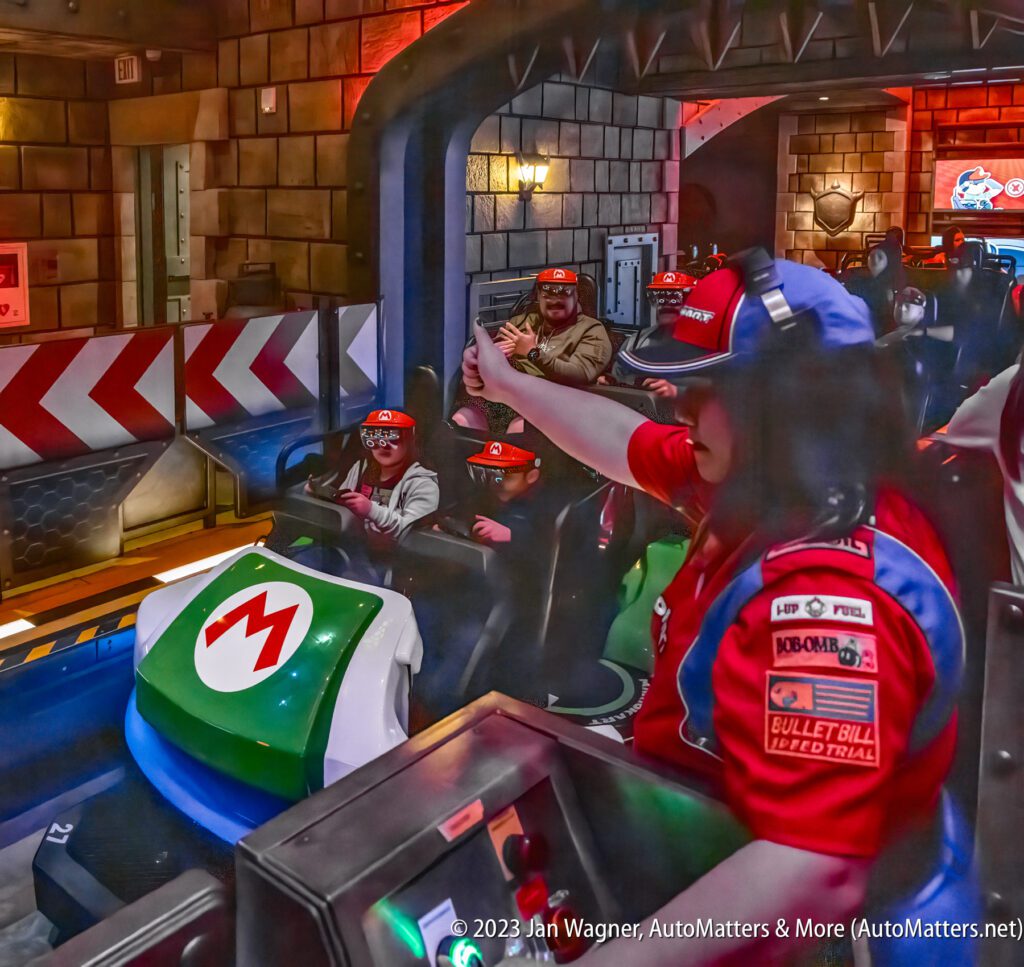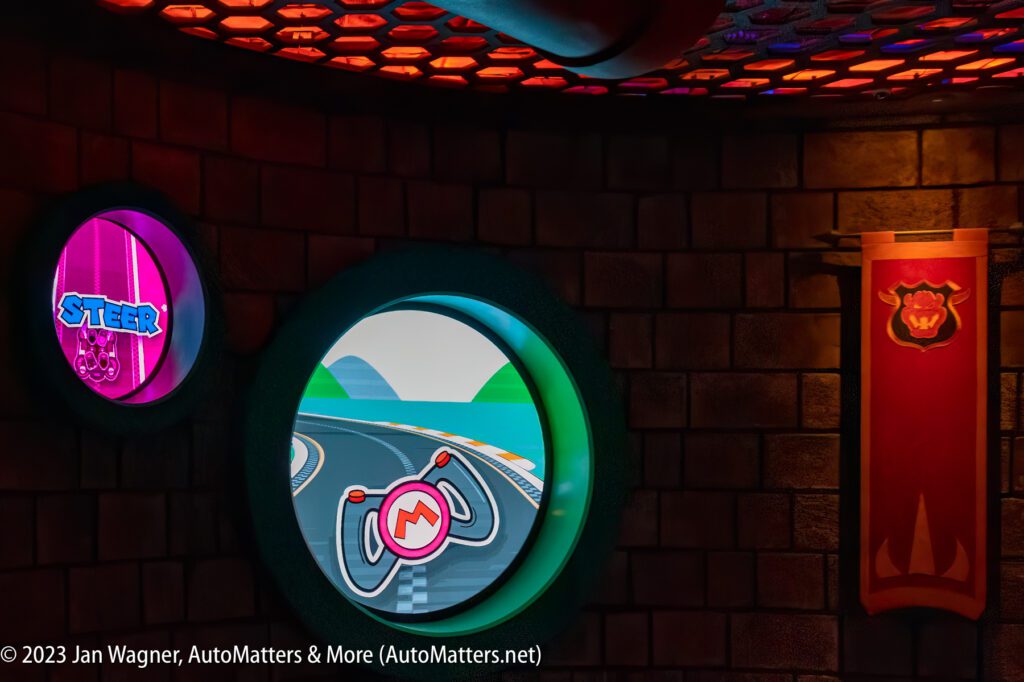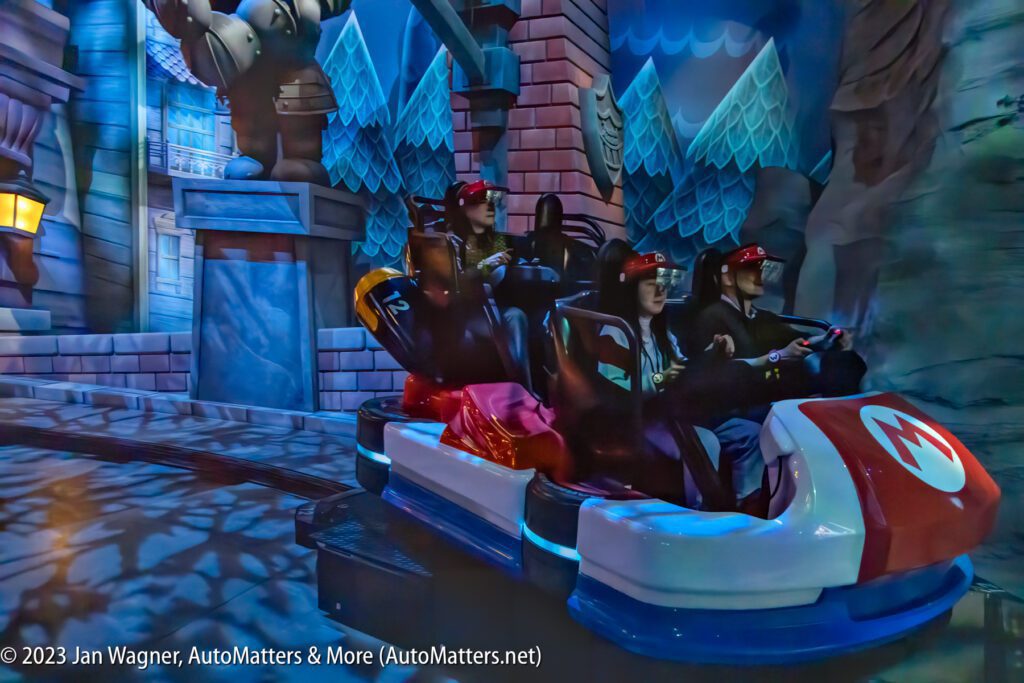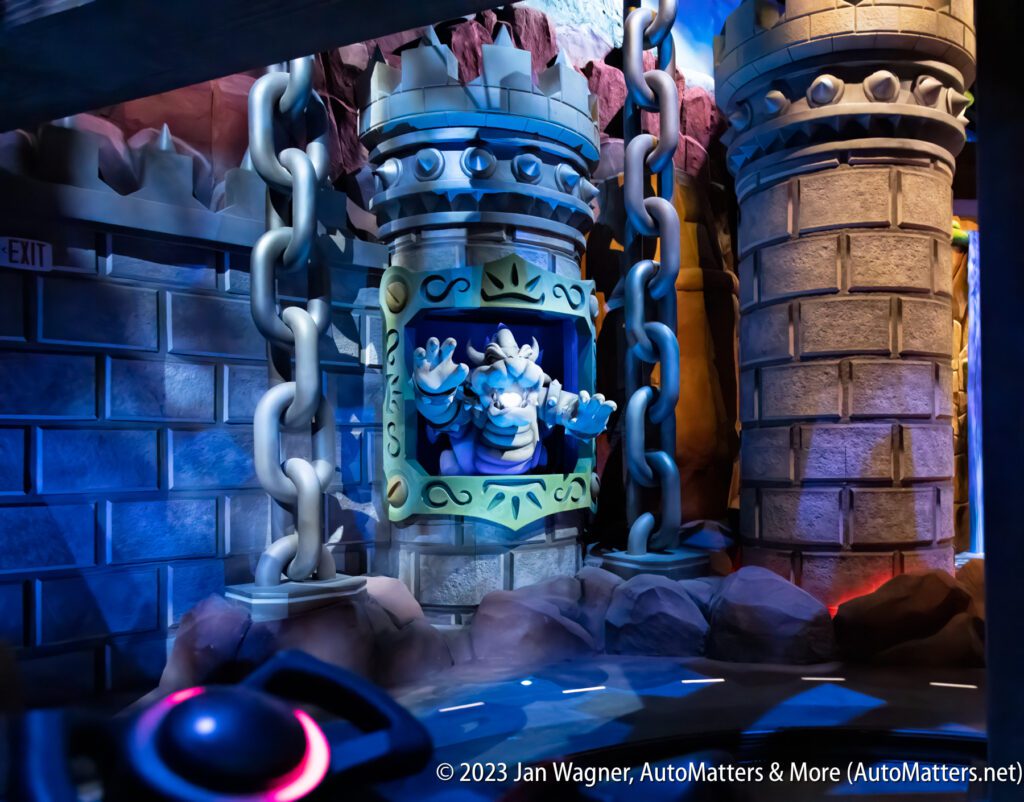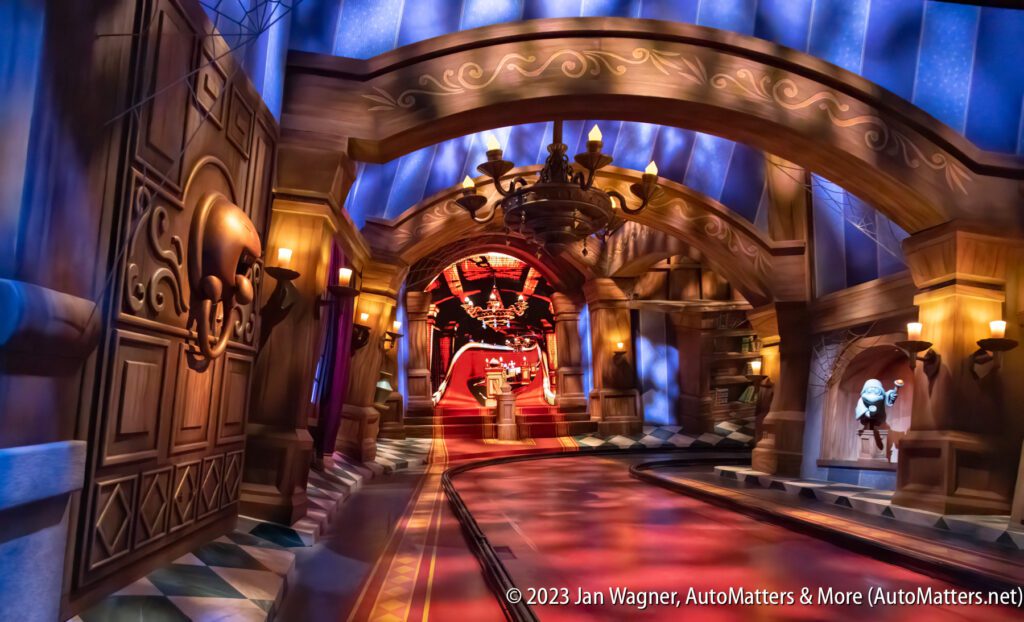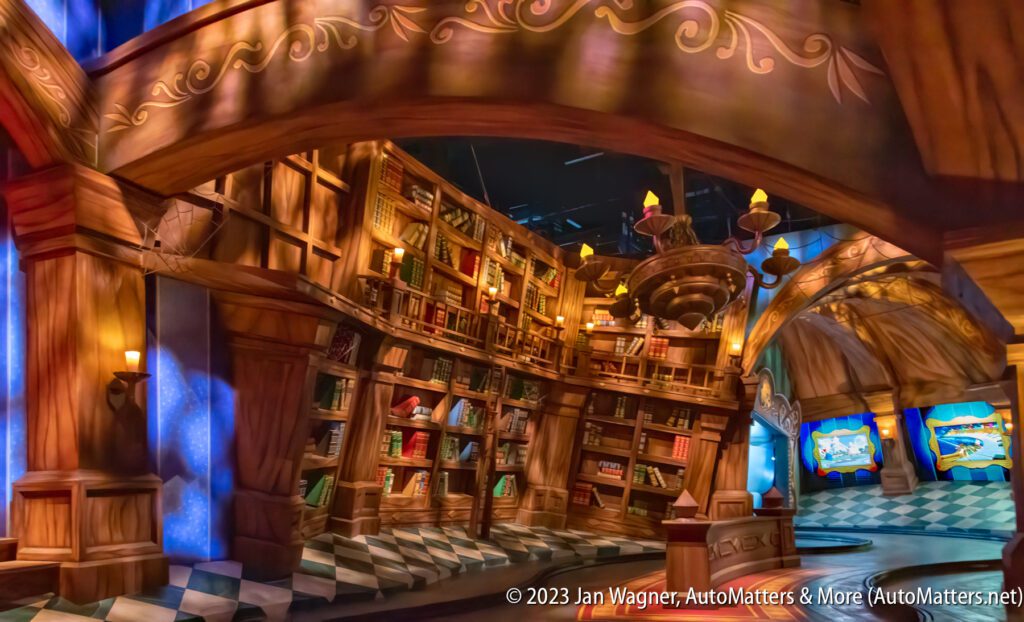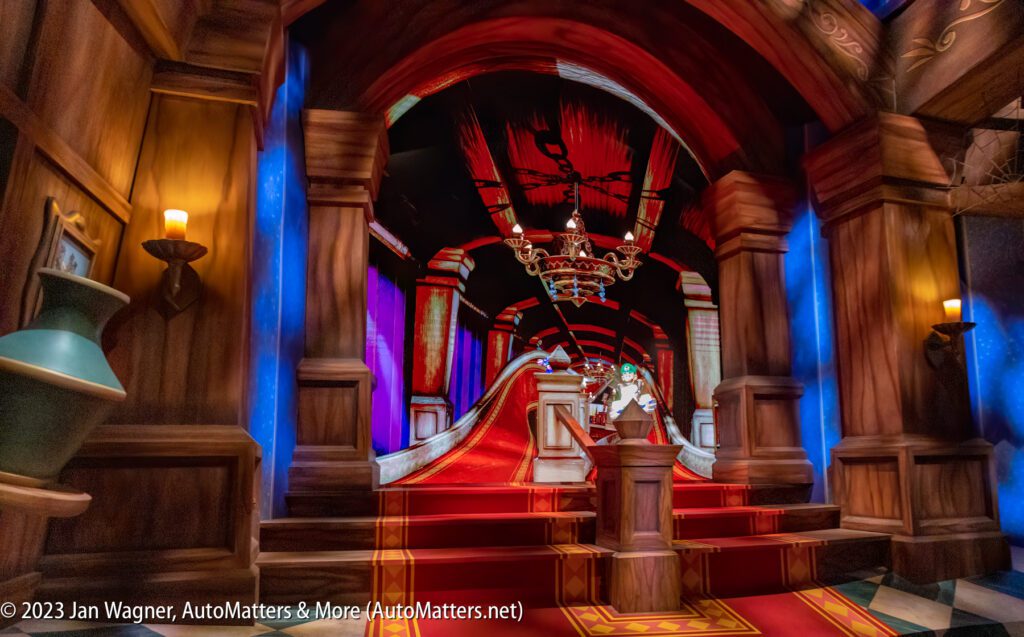 PRO TIP NUMBER 7: Look directly at what you are trying to shoot, because the AR goggles' technology can see where you are looking. Also, turn the steering wheel in the direction that the virtual arrows point you. PRO TIP NUMBER 8: Ride again, but this time without the AR goggles. That way you'll find it easier to see and enjoy the physical environment.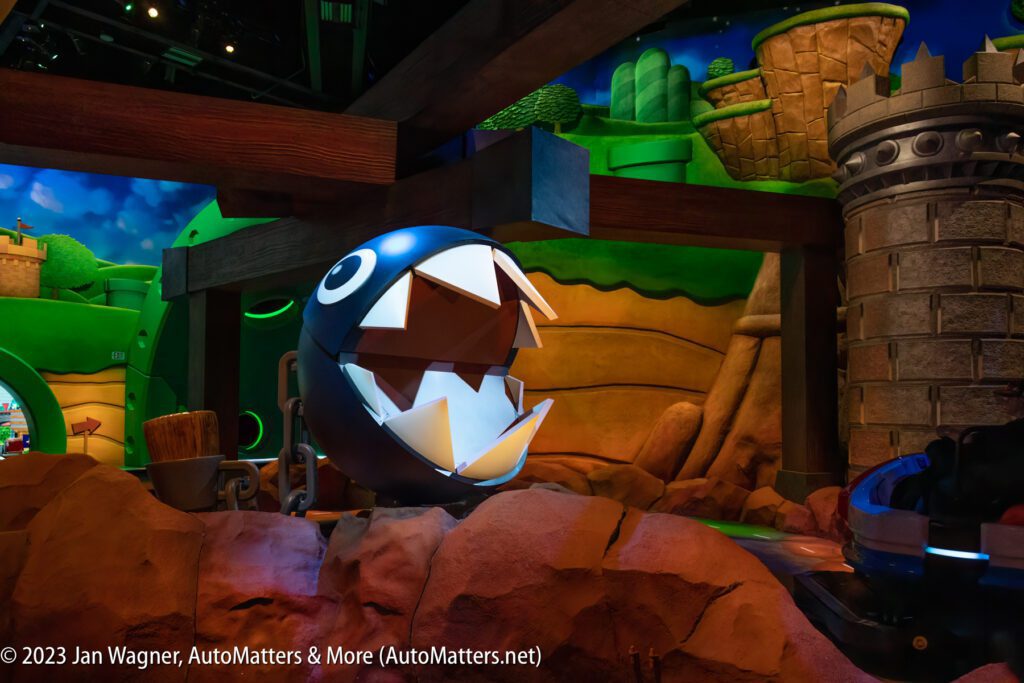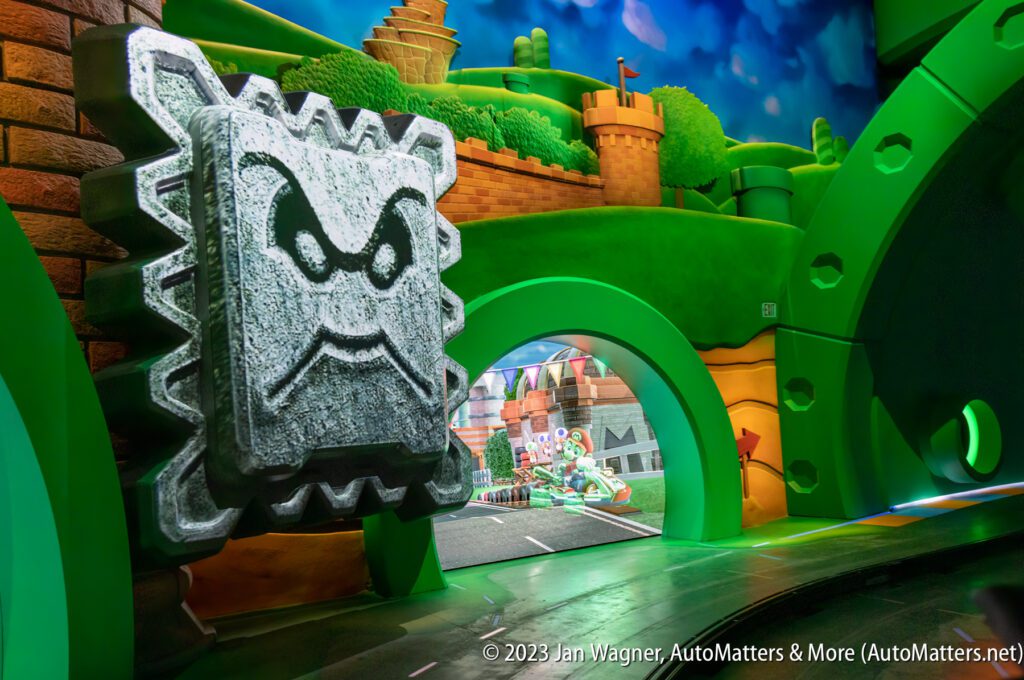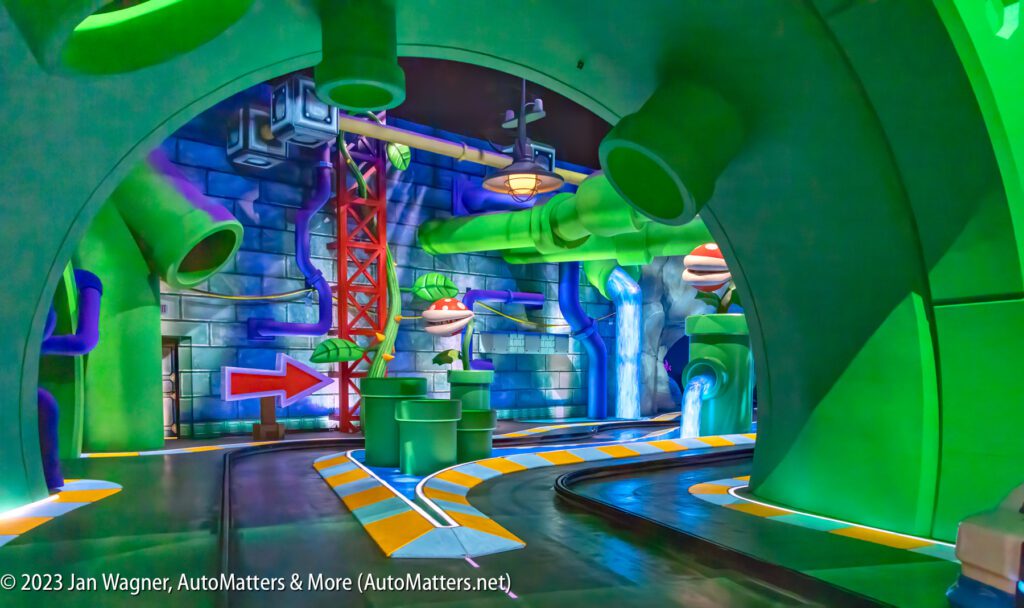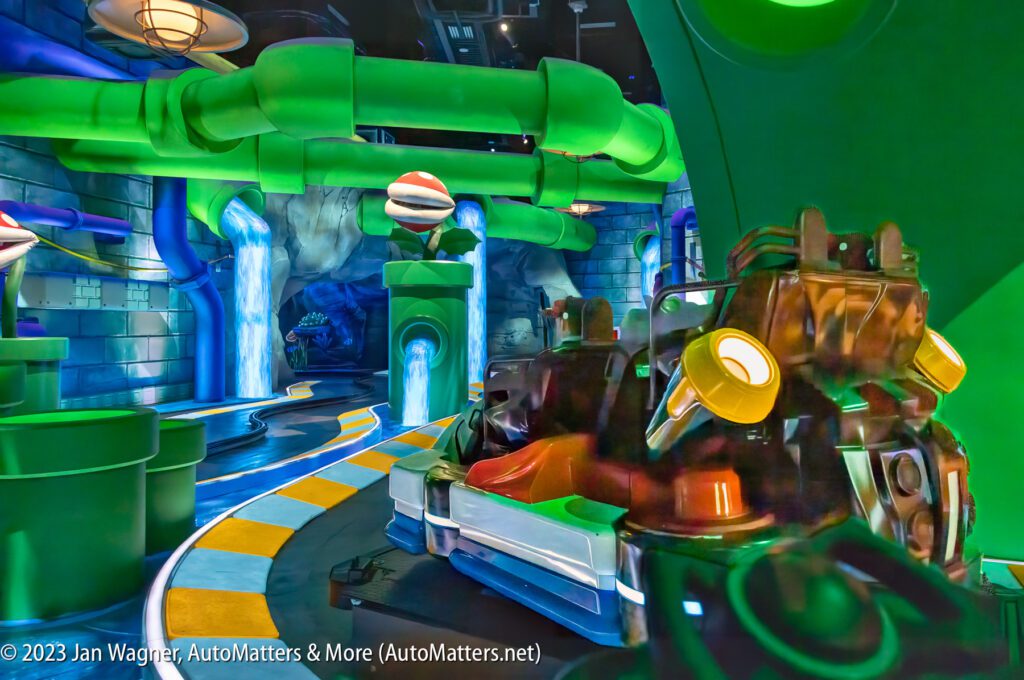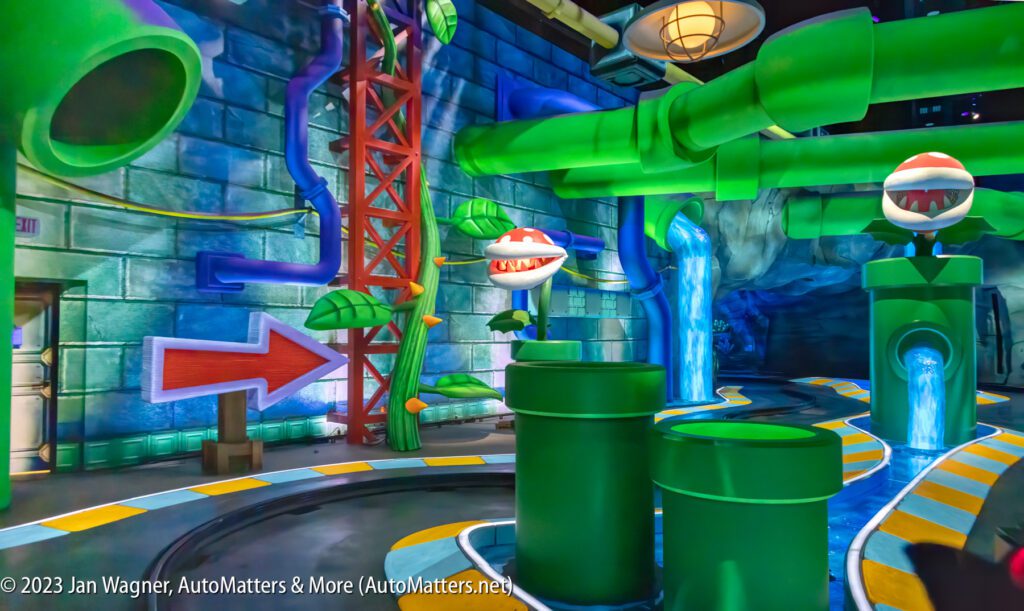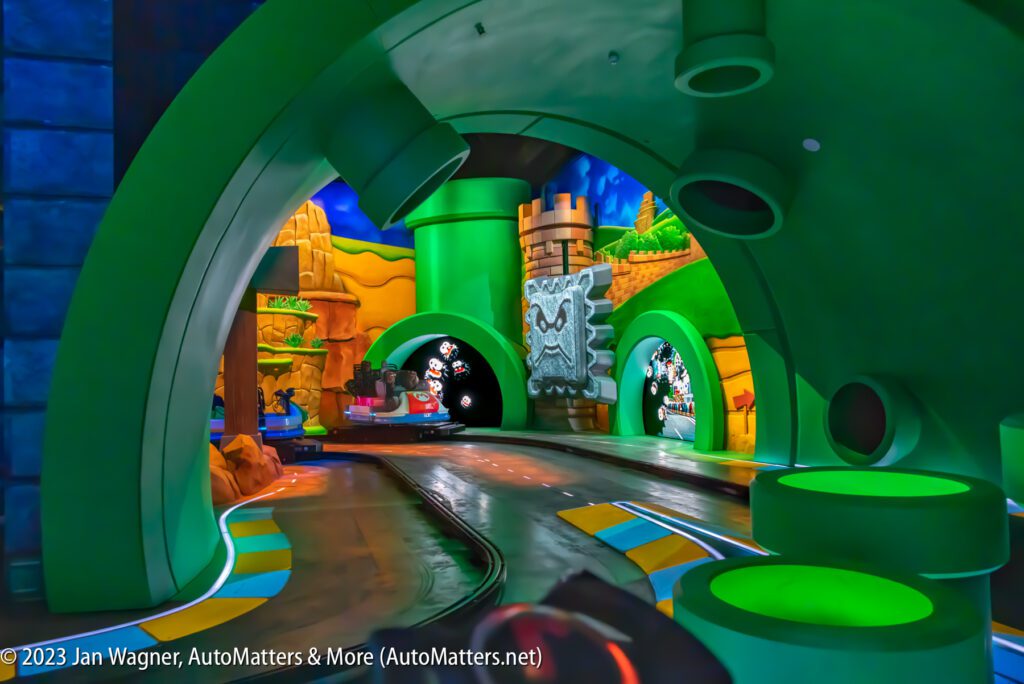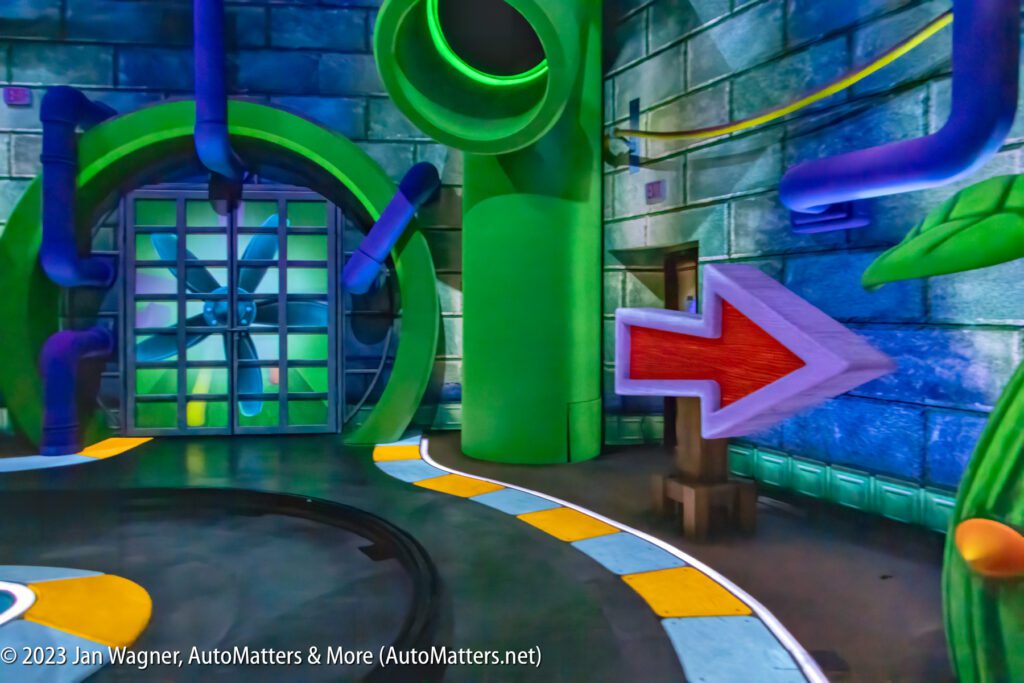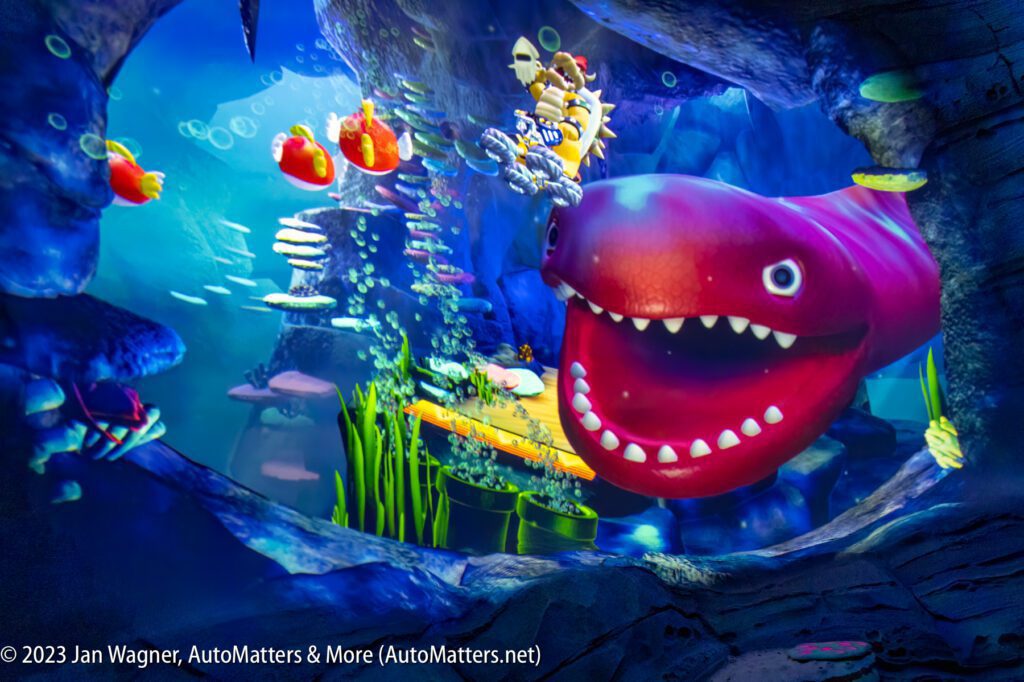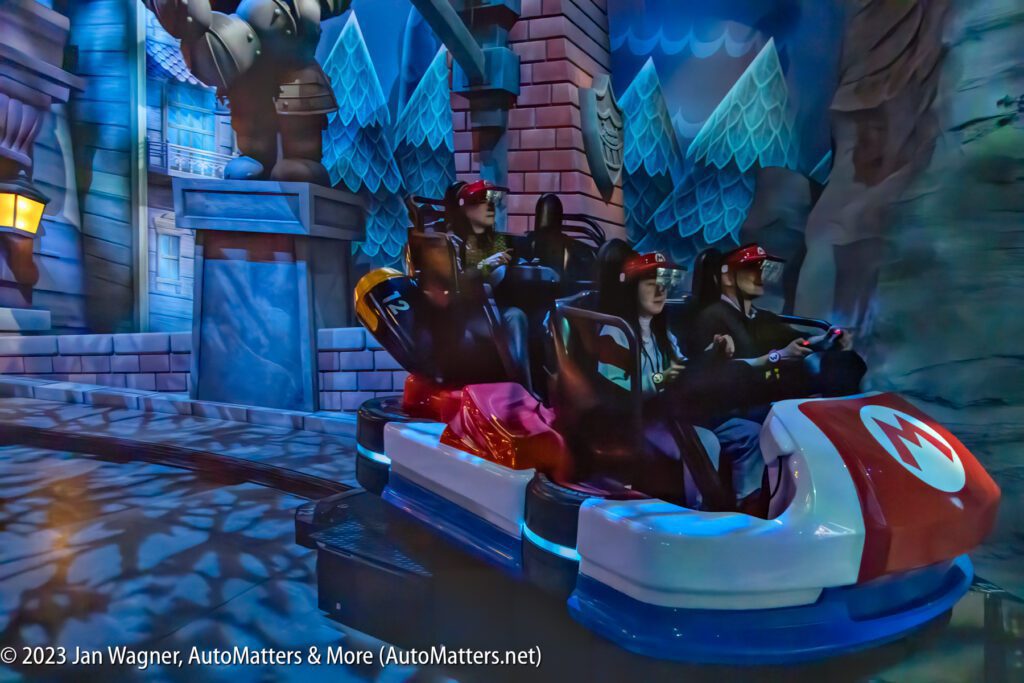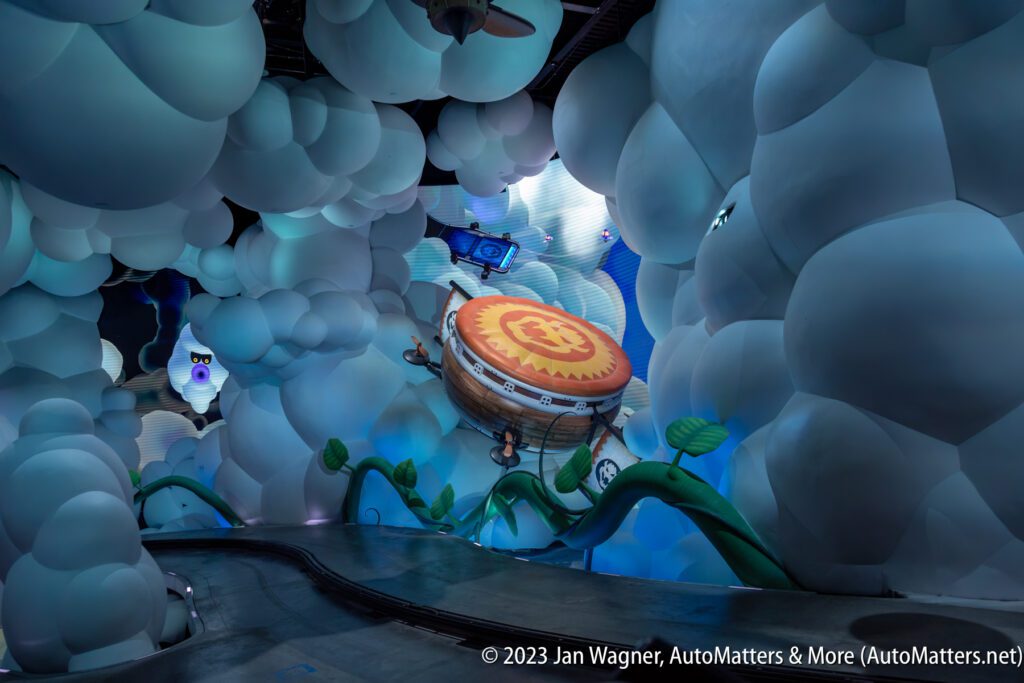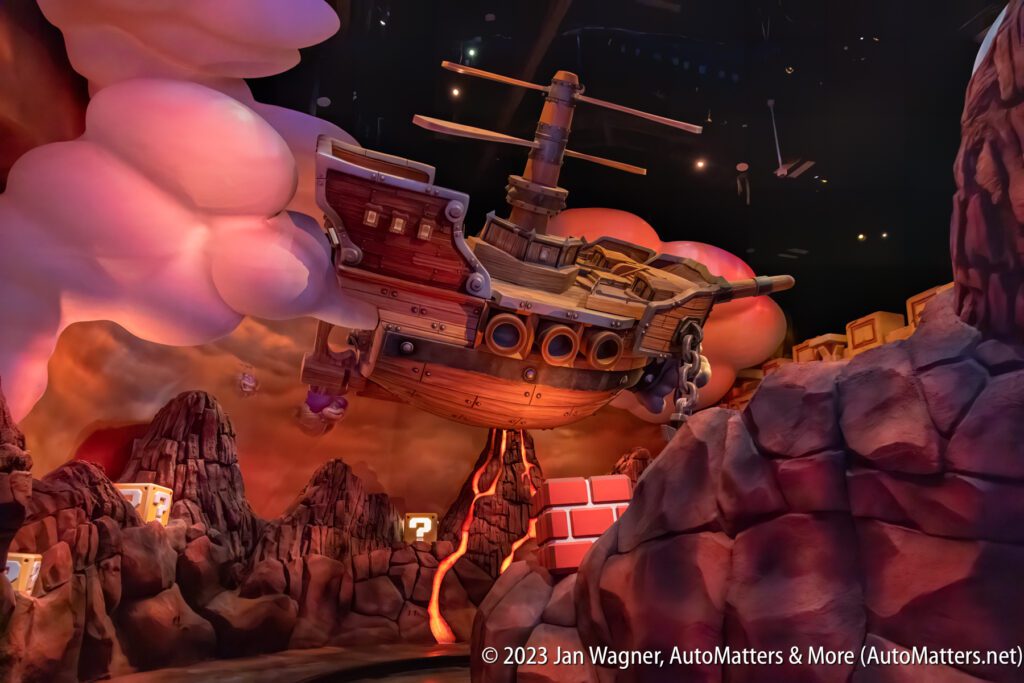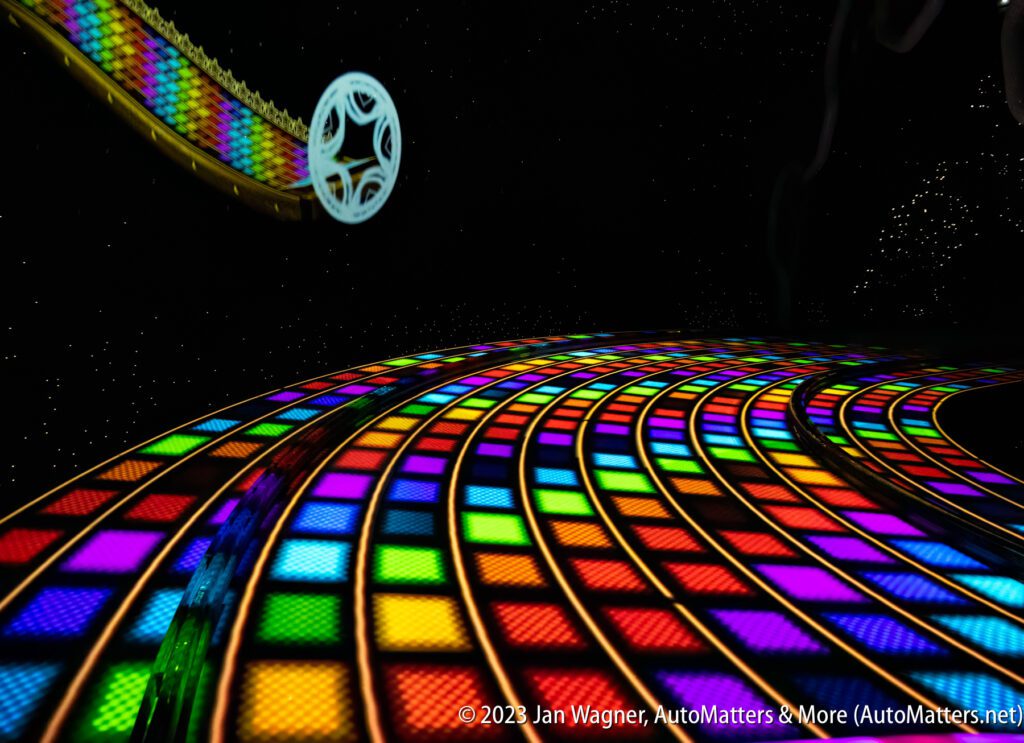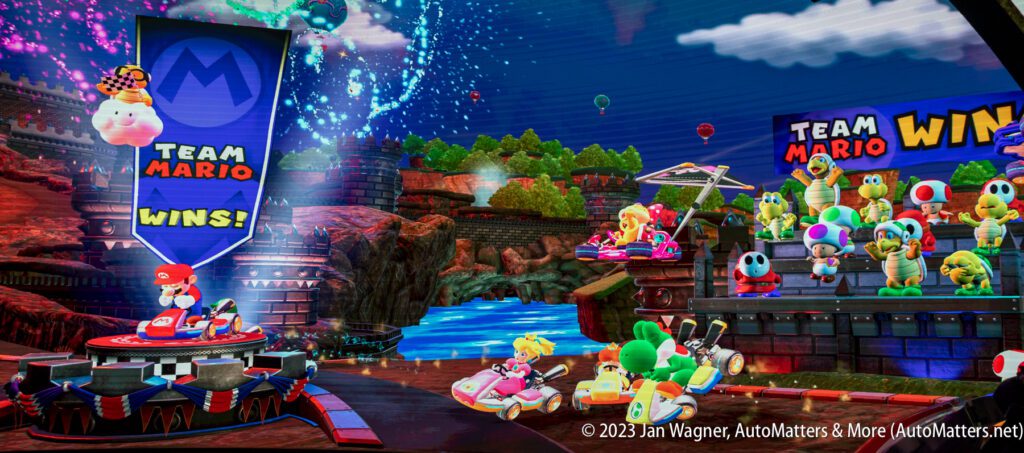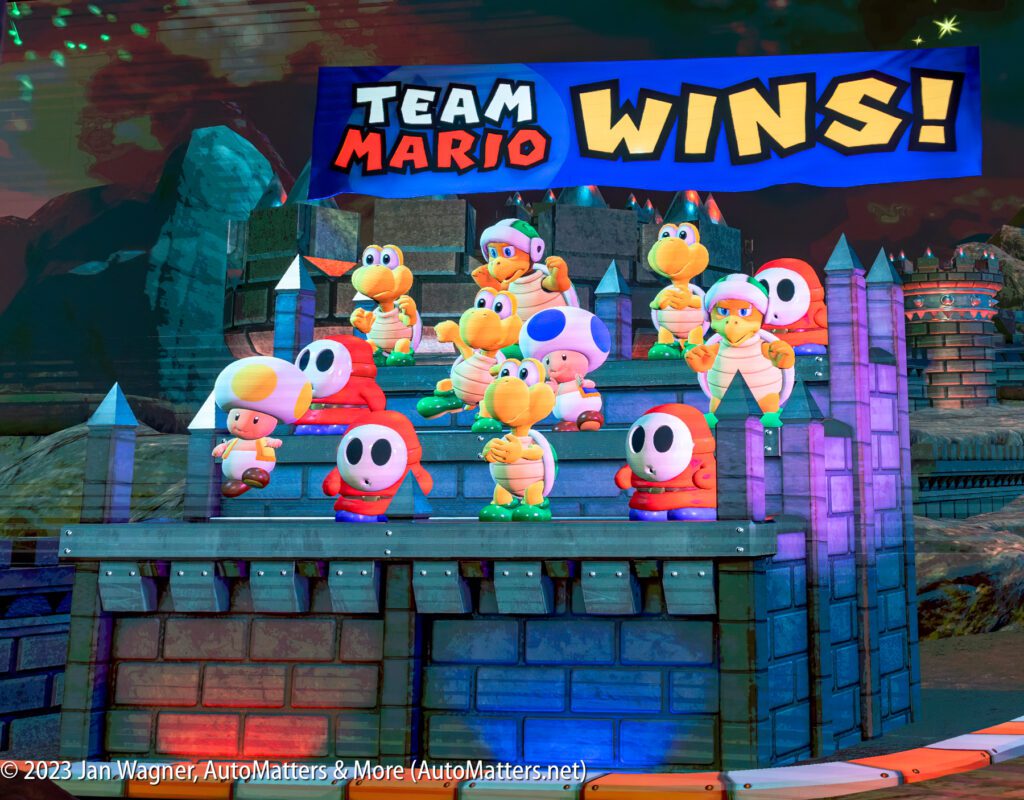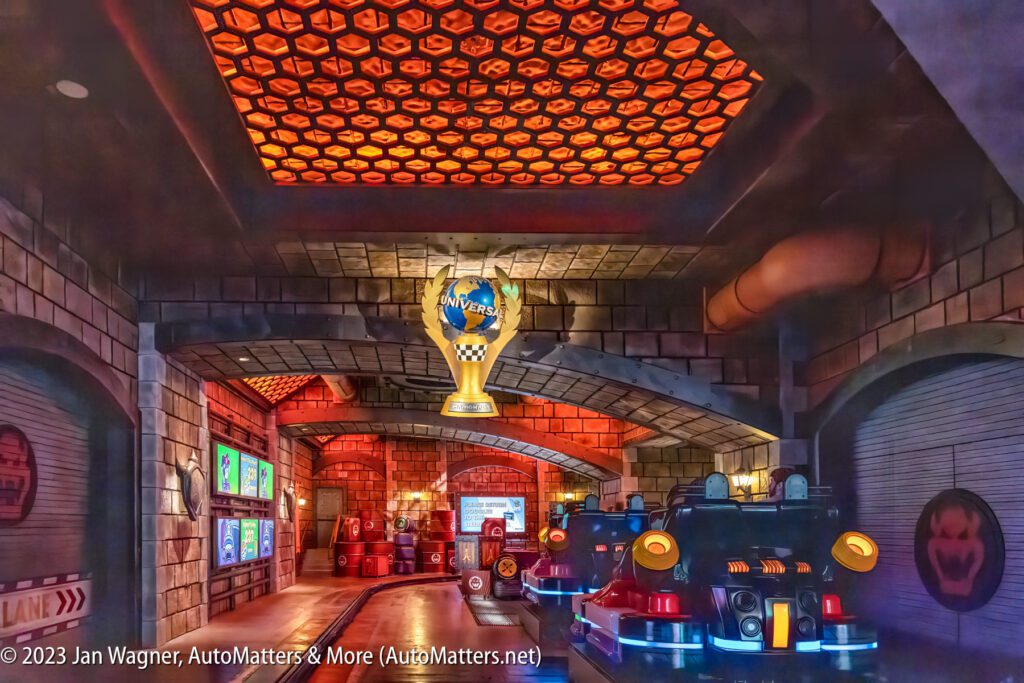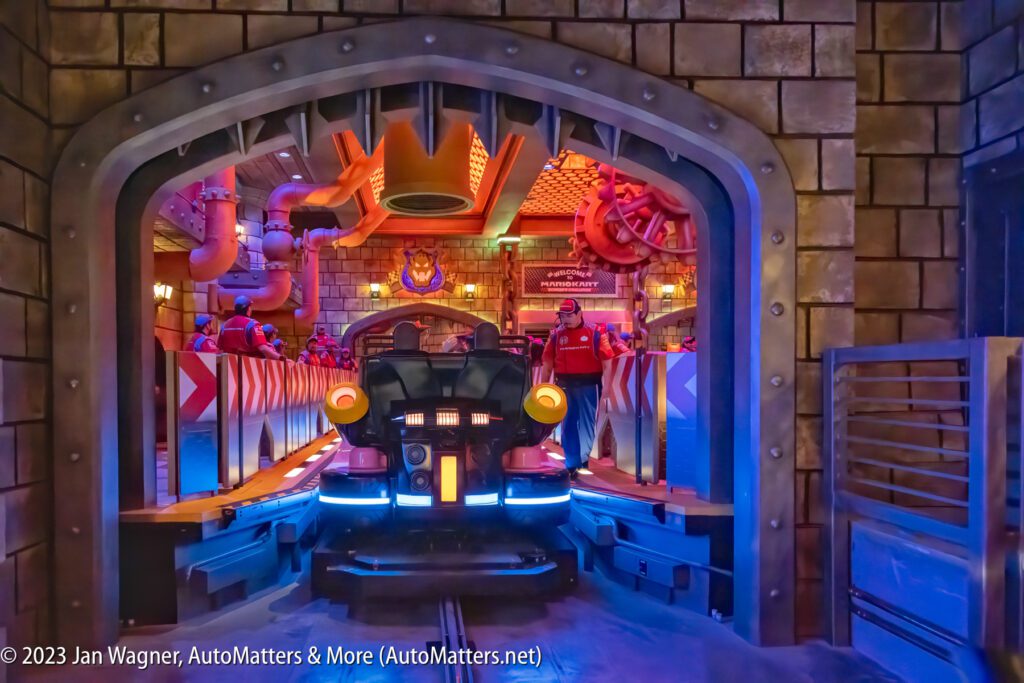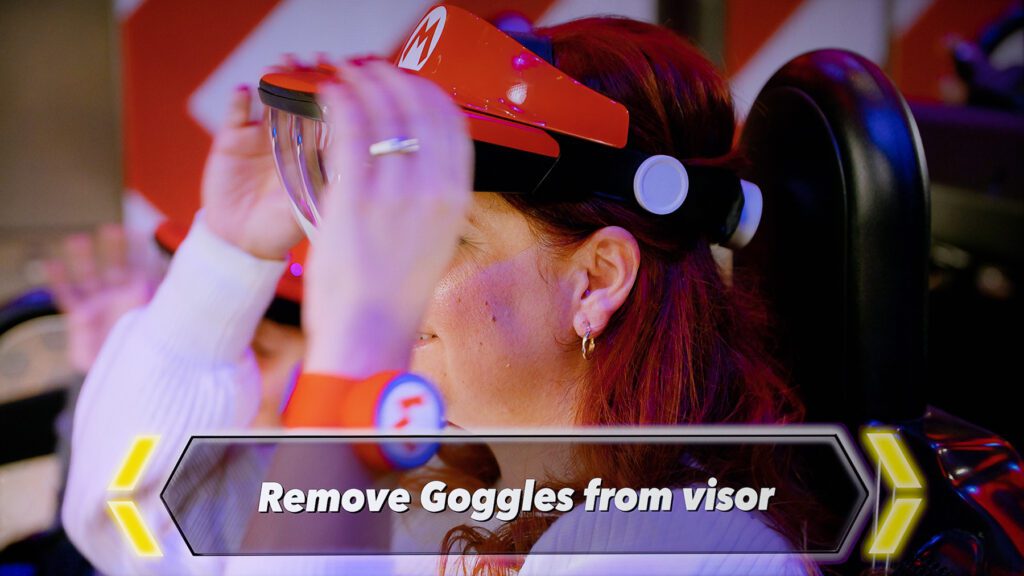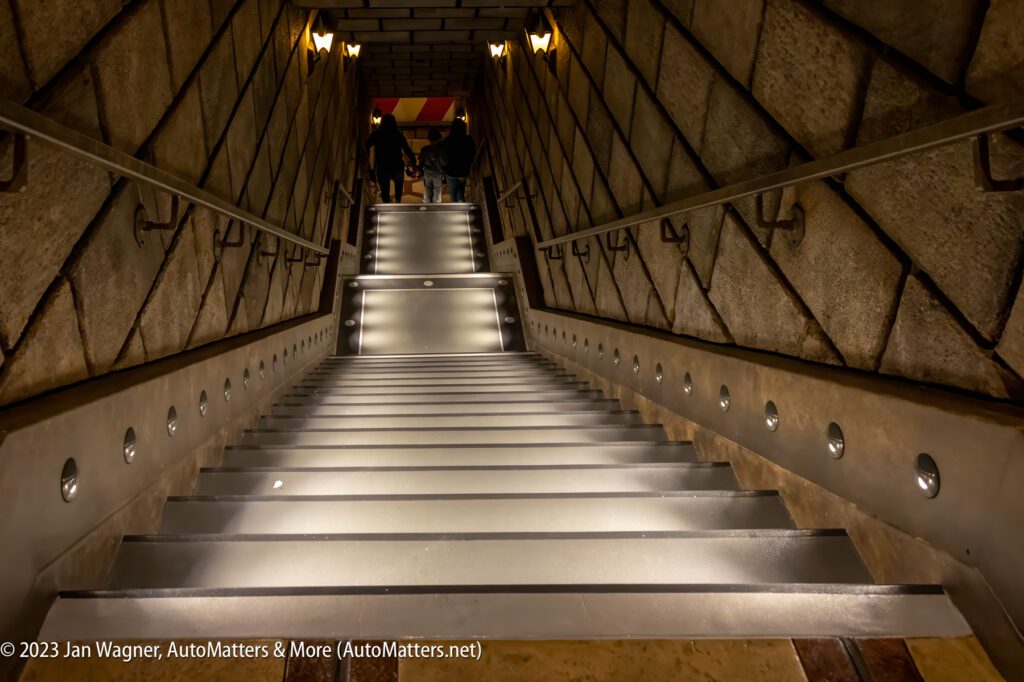 At some point you'll get hungry, so make a reservation early in the day so that you can eat in and experience the themed Toadstool Café.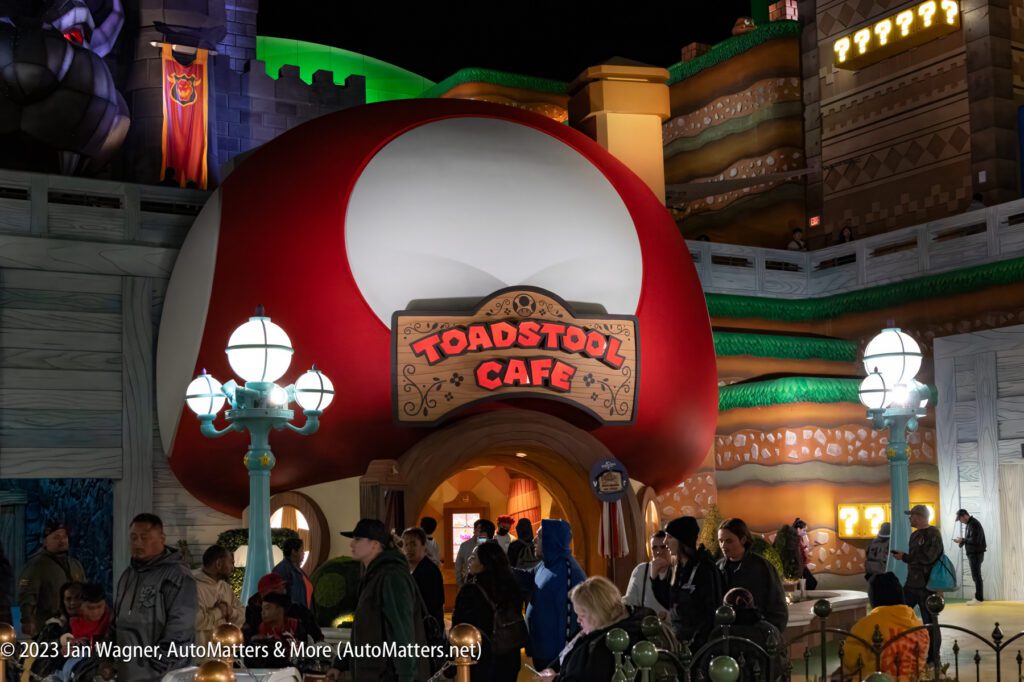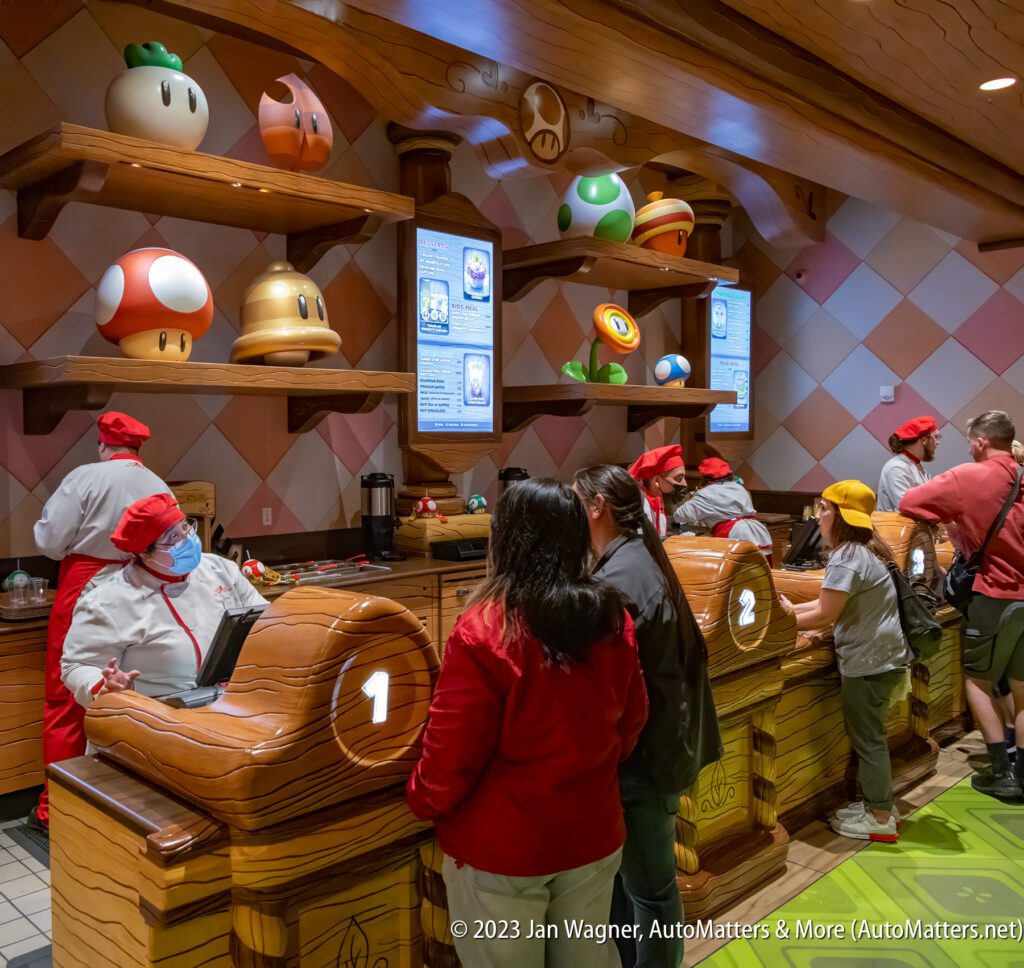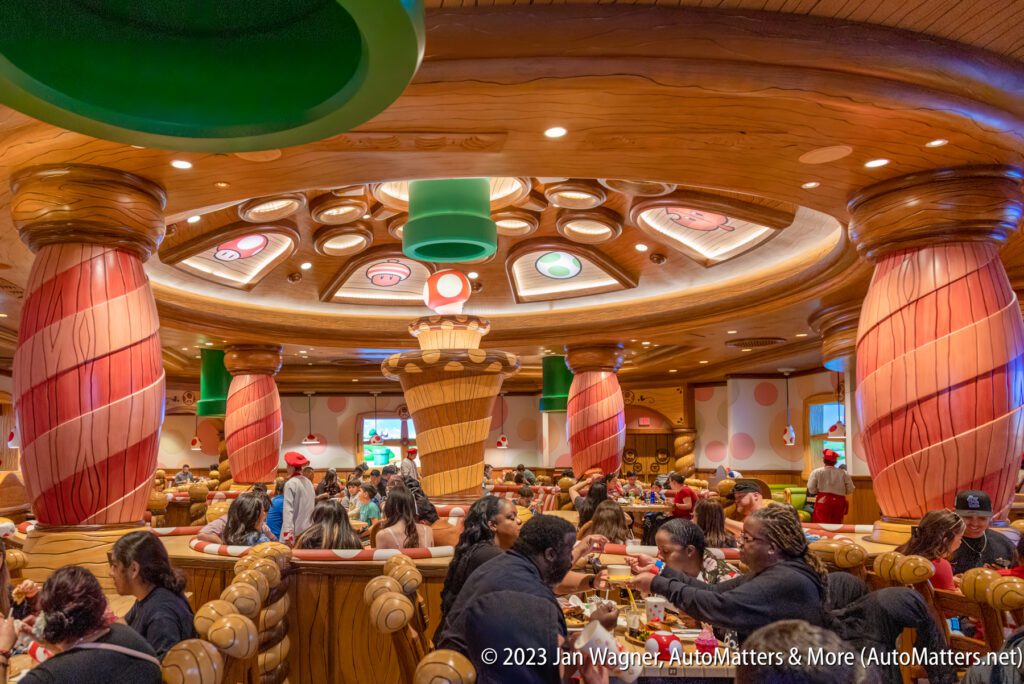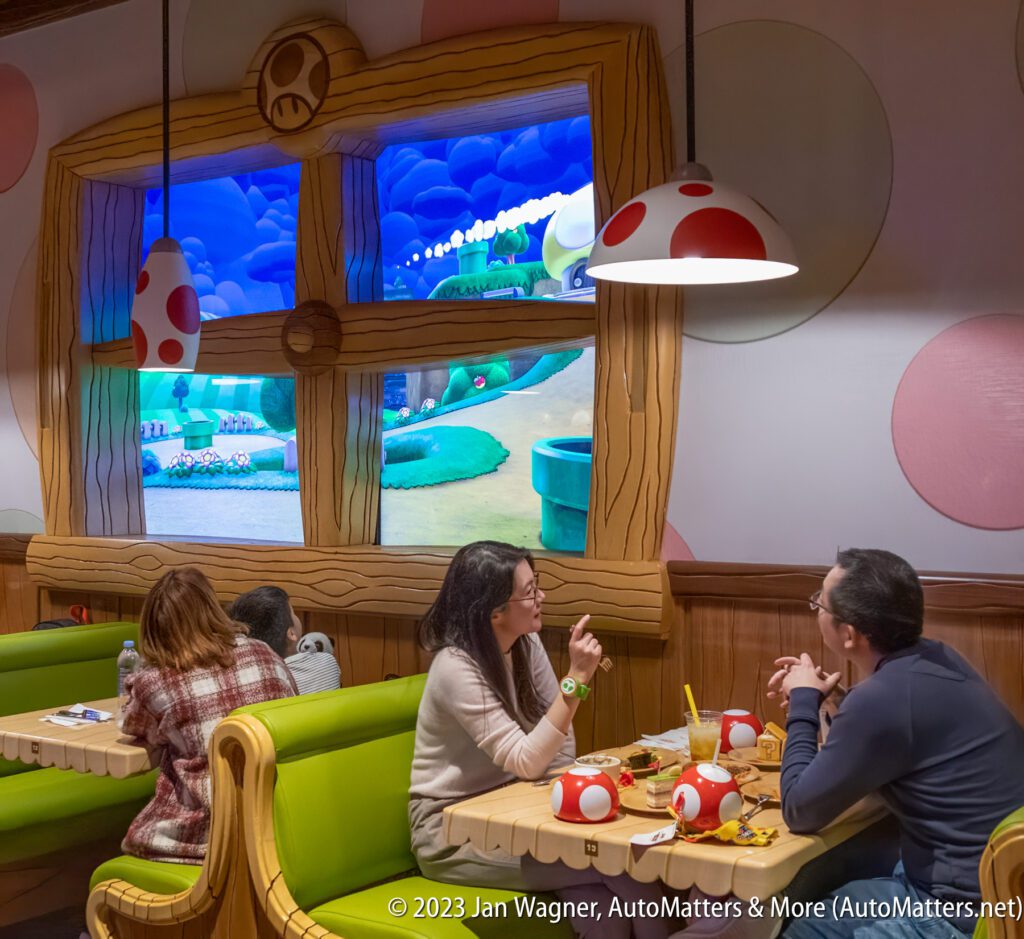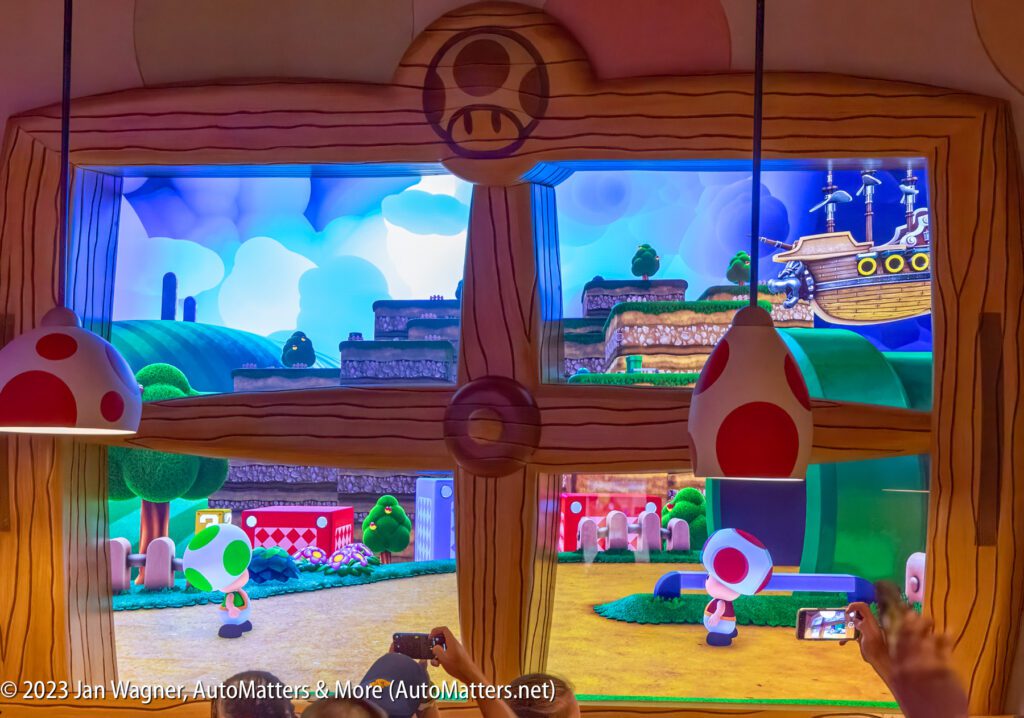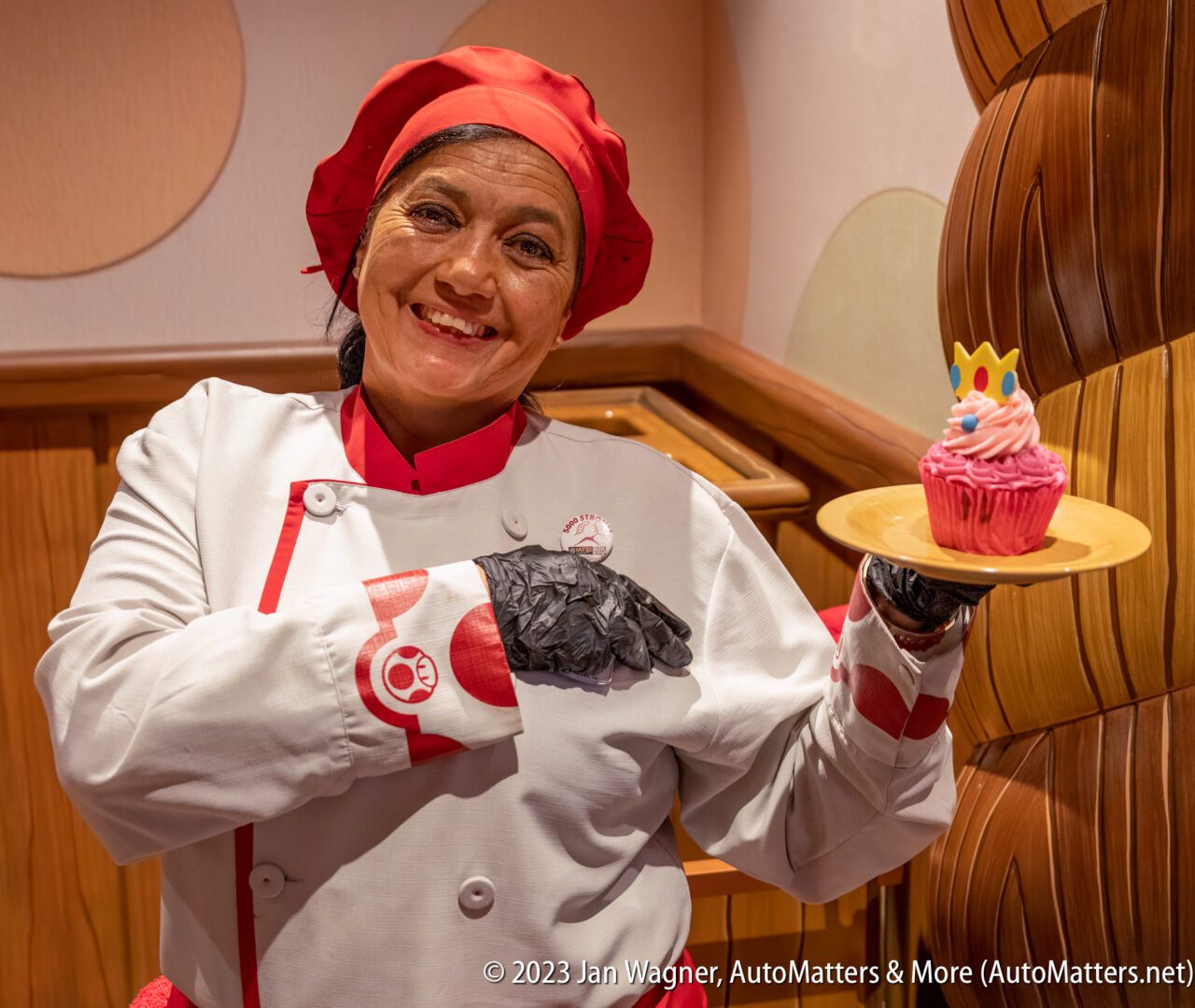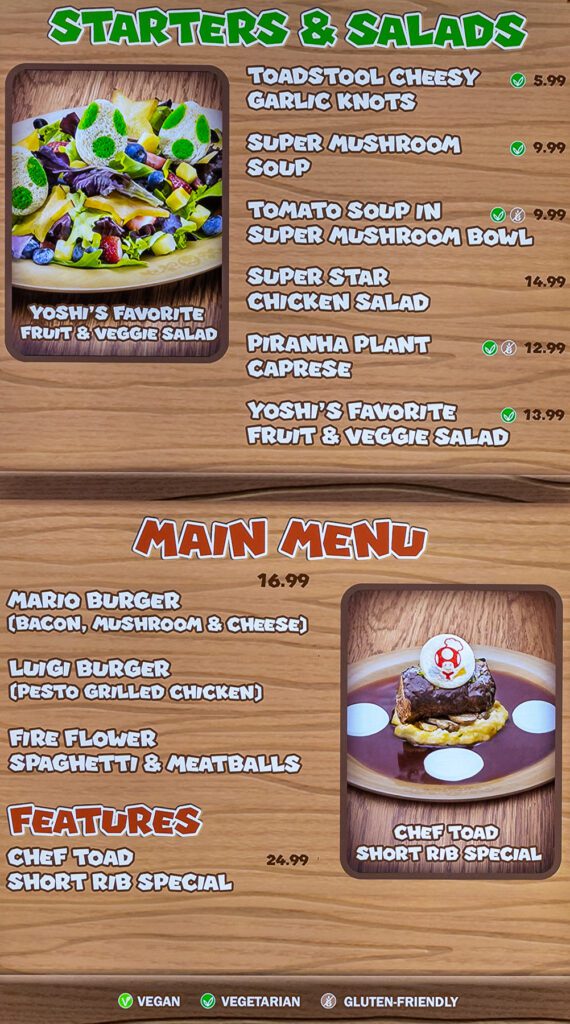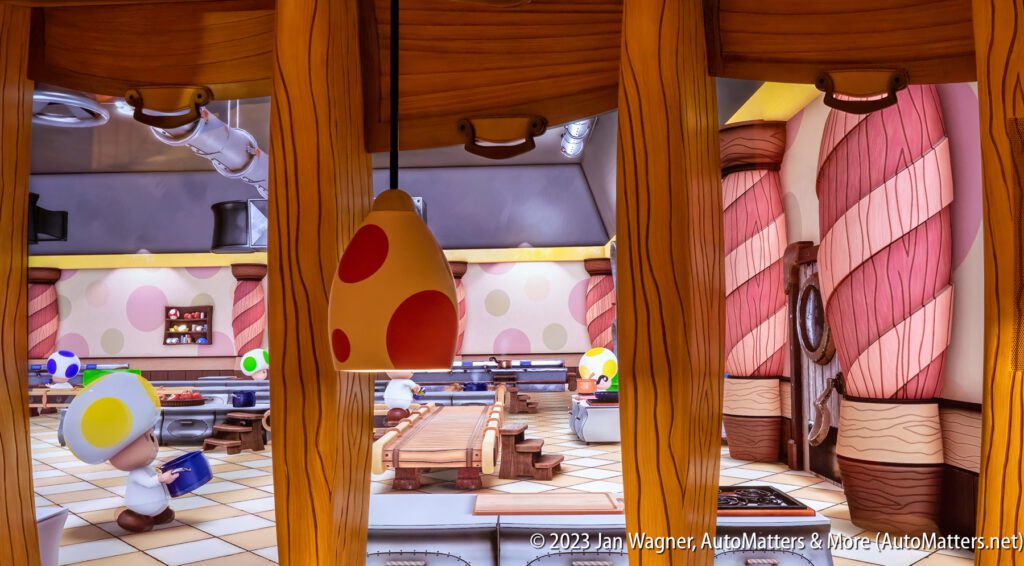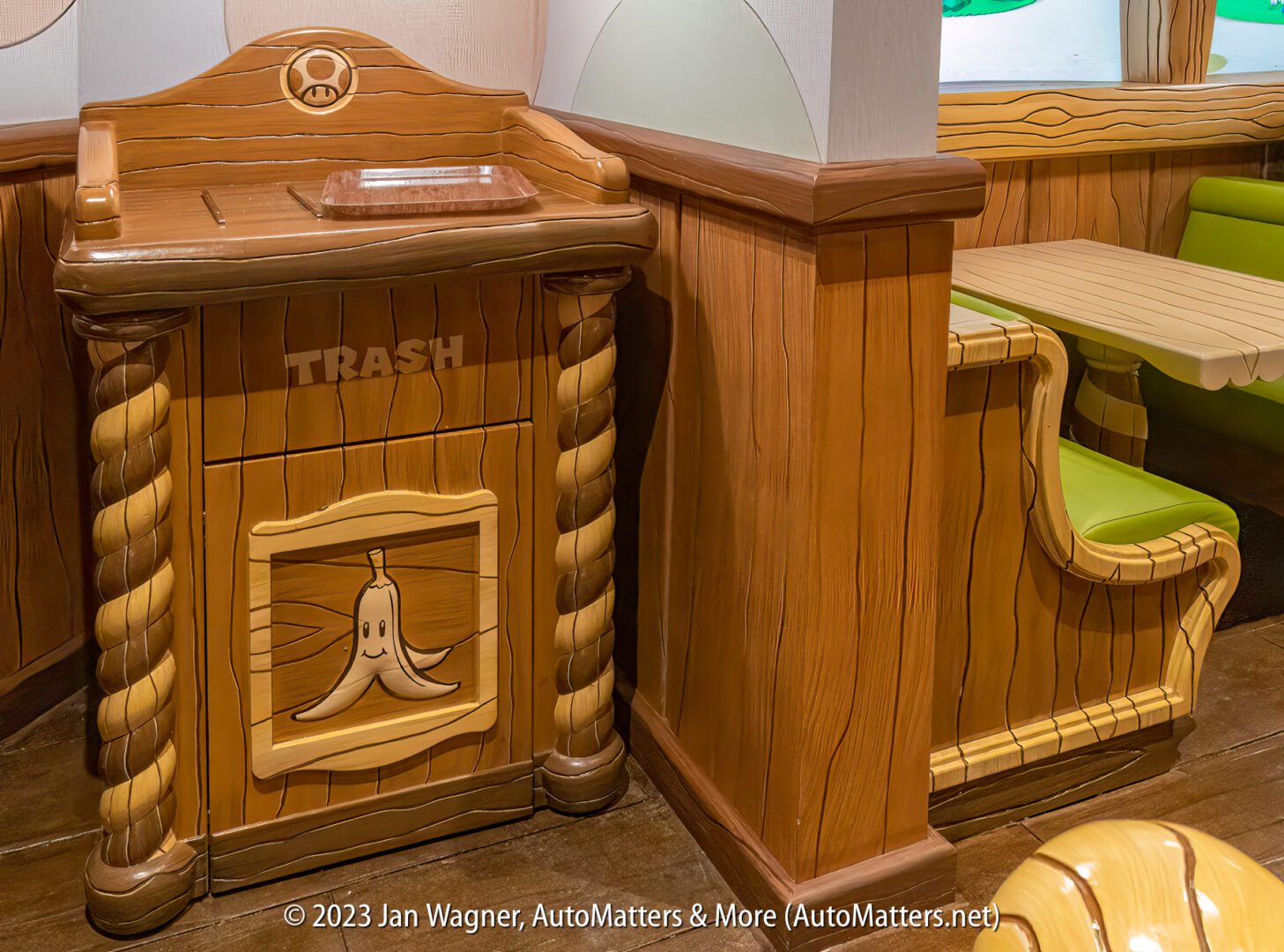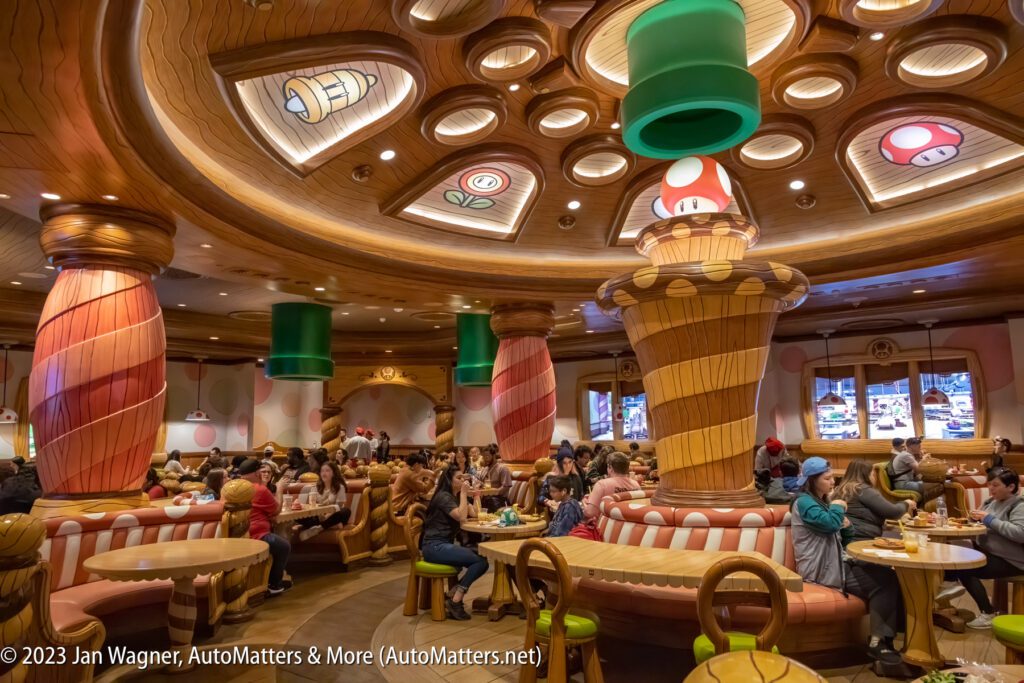 There's also a well-stocked souvenir shop called the 1-Up Factory.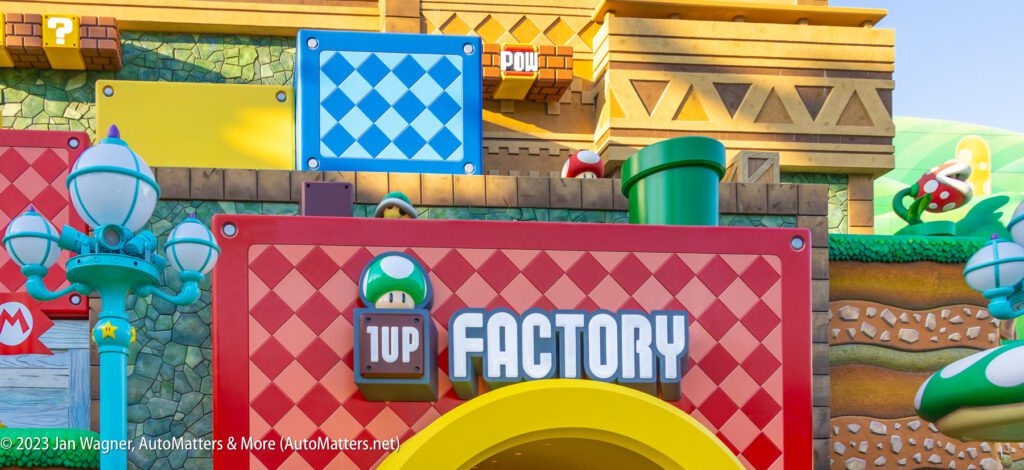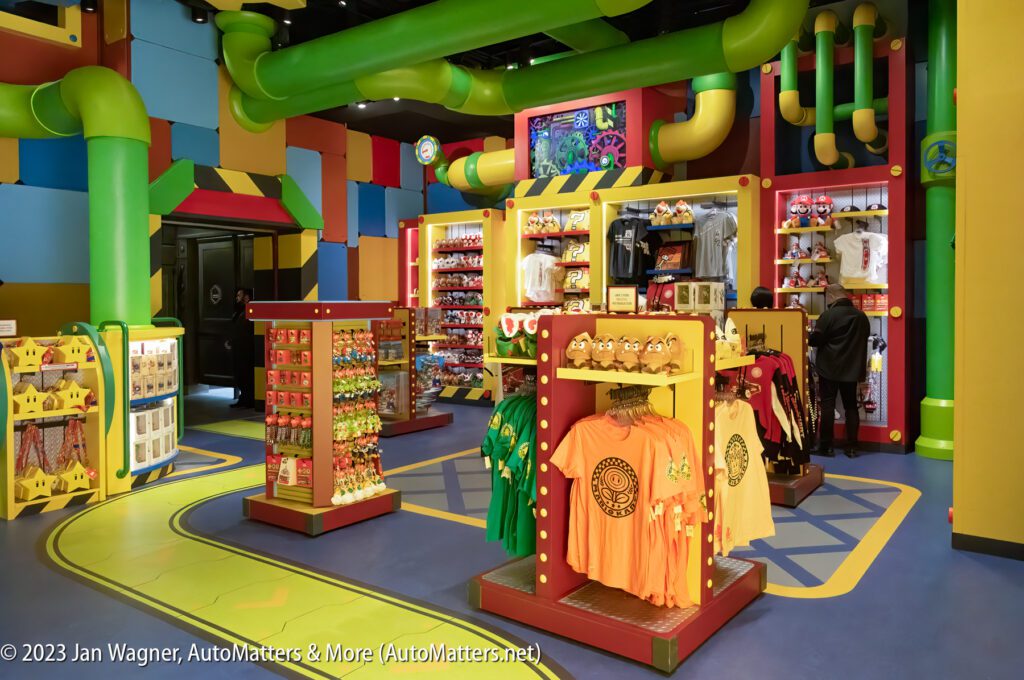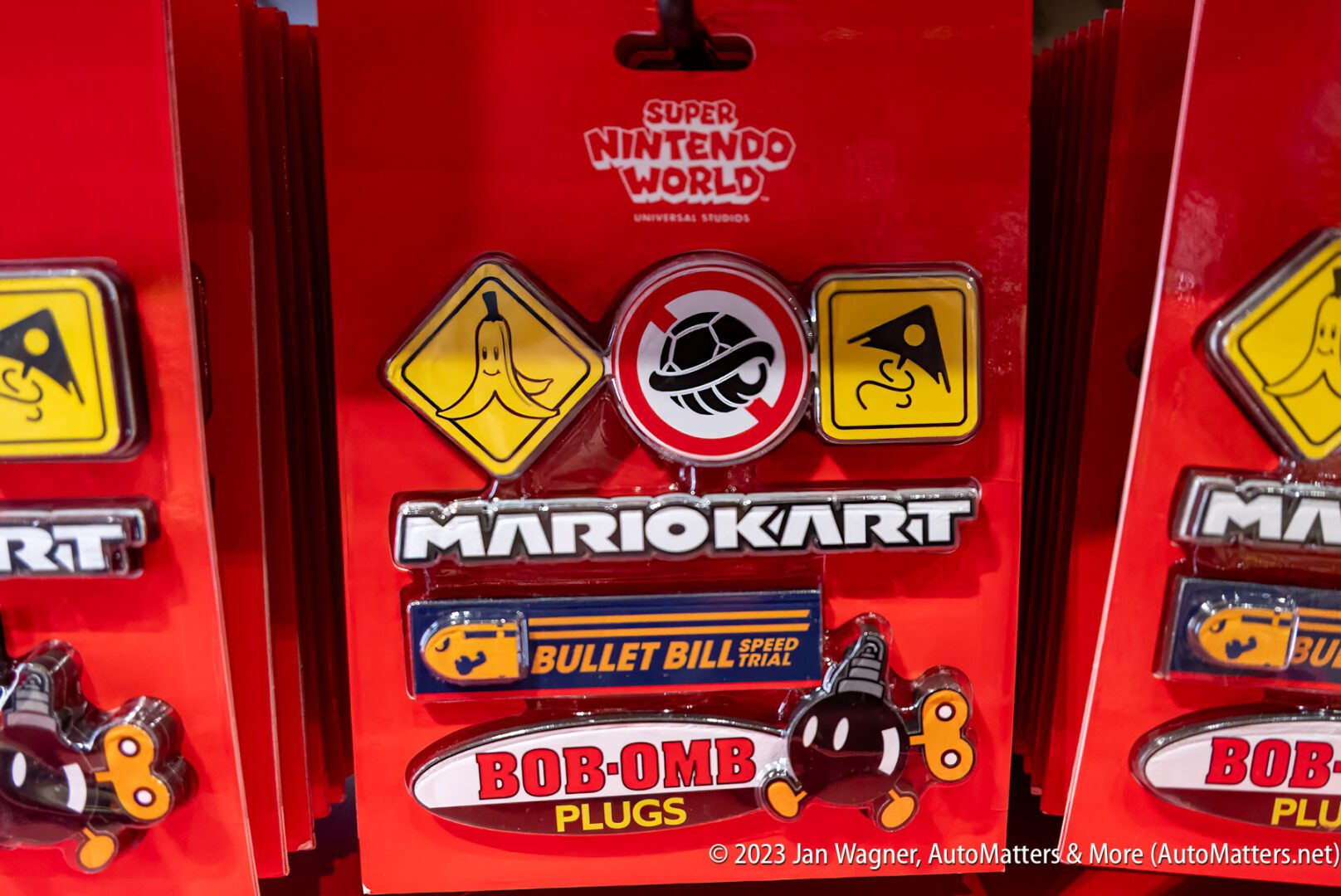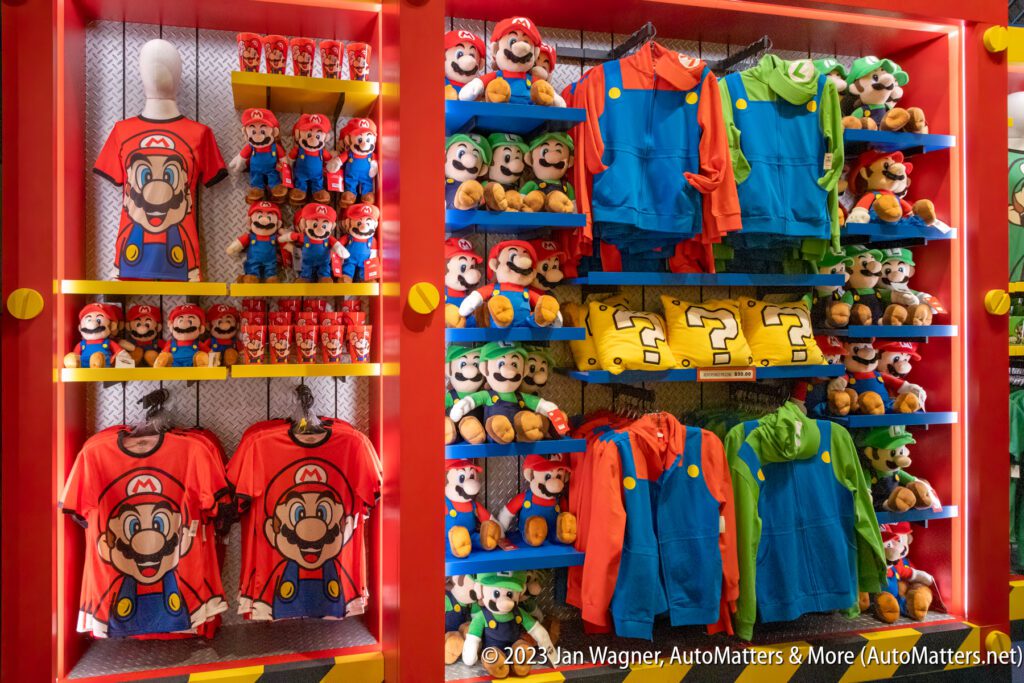 PRO TIP NUMBER 9: Get your picture taken with Mario and his friends!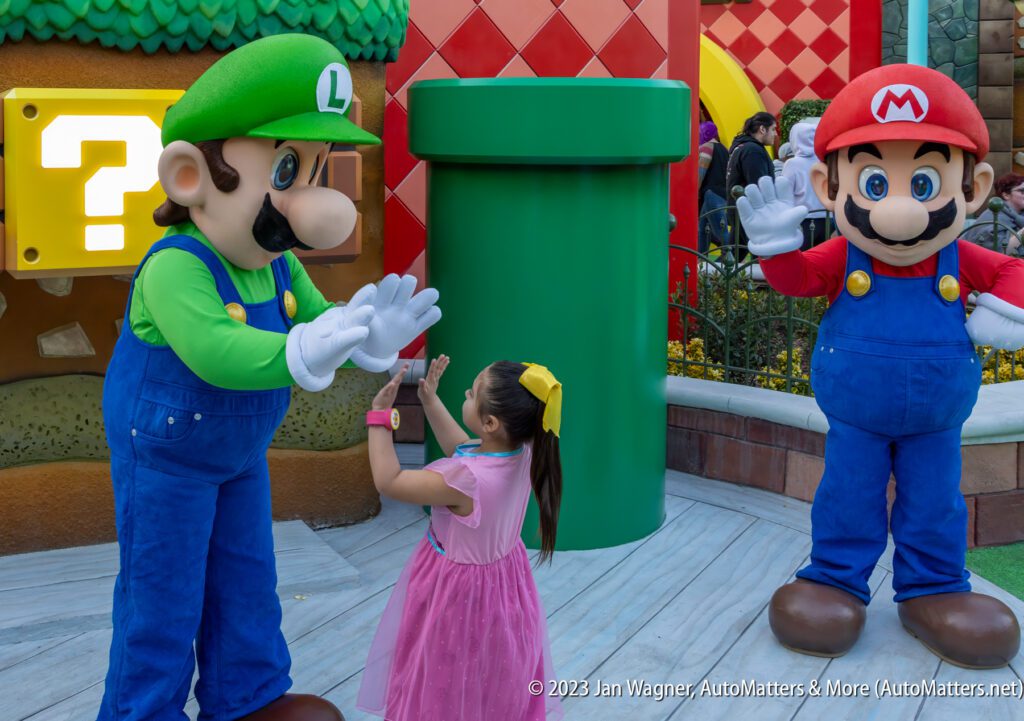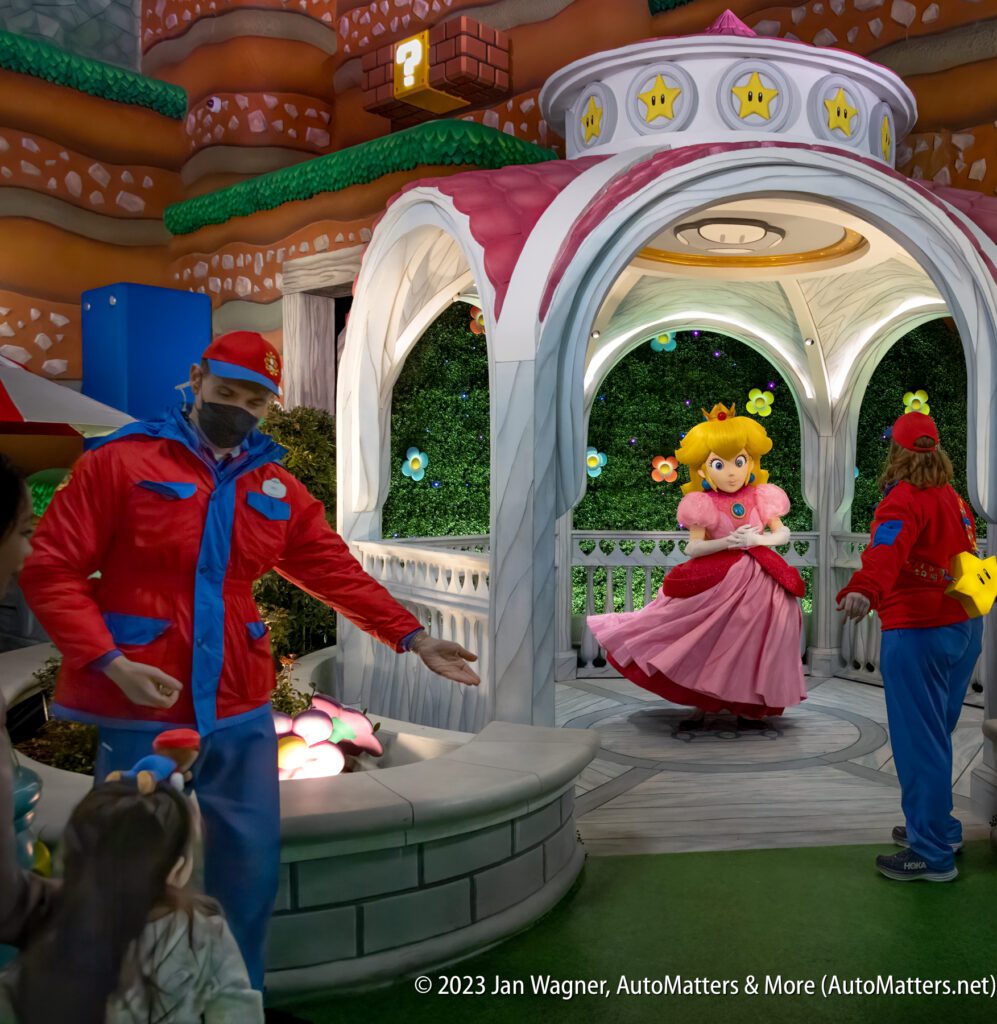 PRO TIP NUMBER 10: If it is especially busy when you go, you might be required to make a reservation on the Universal App to visit the land. However, when the crowds decrease the land will open back up with no reservations required.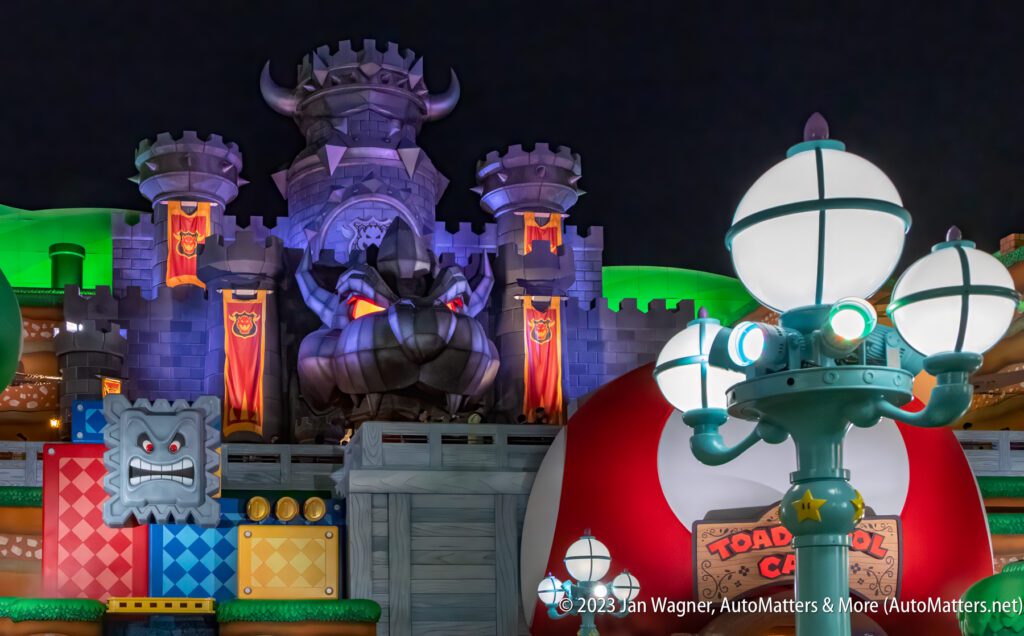 This is the second of these lands in the world. The first is in Japan. Yes, it has one more feature ride, but that is a long way to travel for one more ride.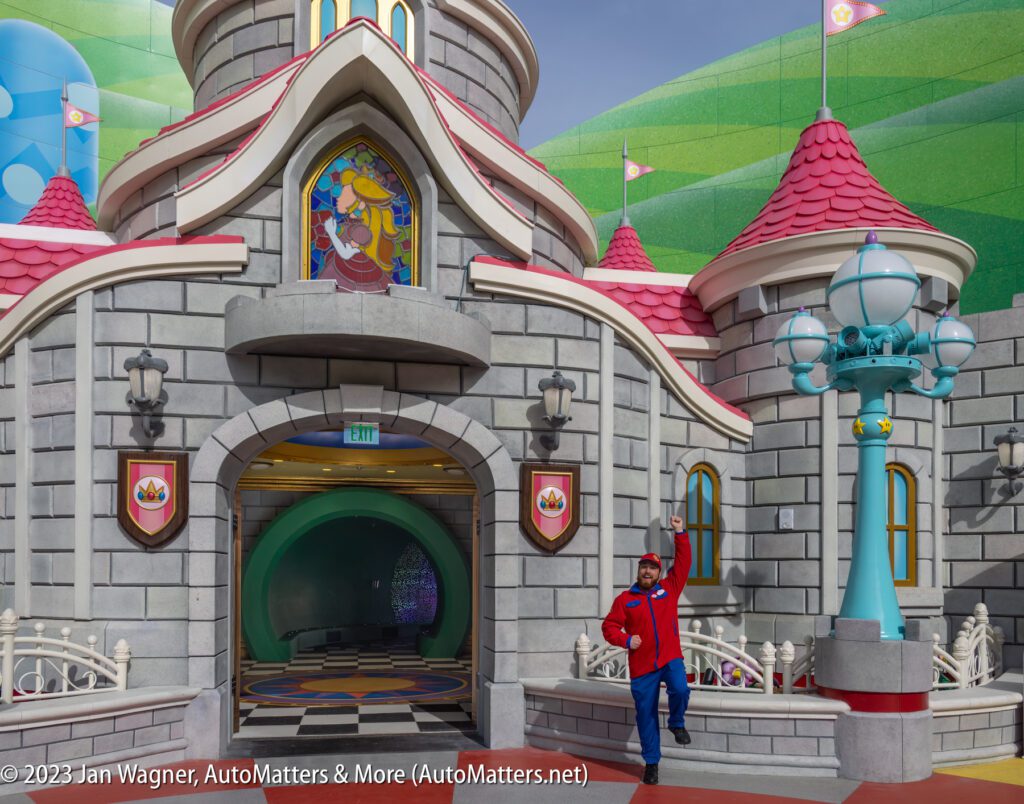 To learn more, visit: universalstudioshollywood.com.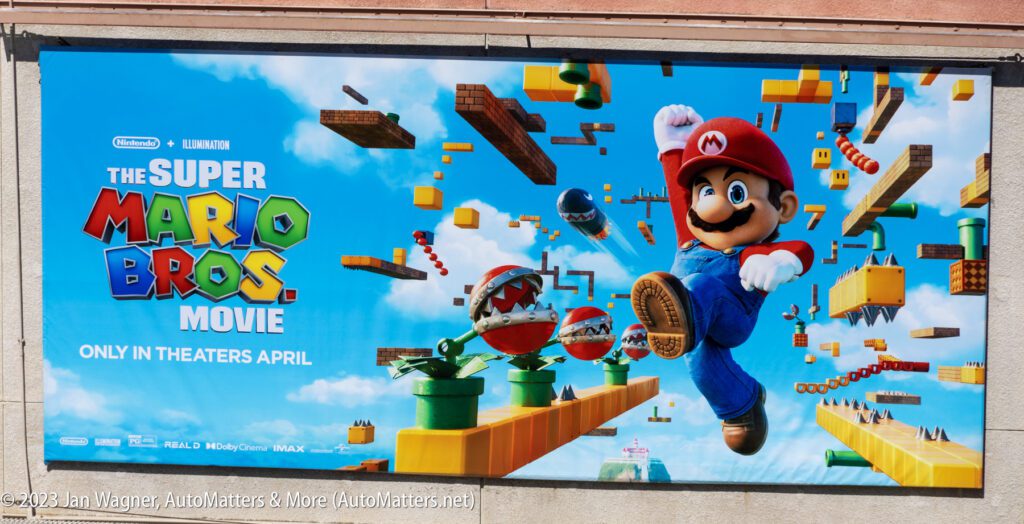 To explore a wide variety of content dating back to 2002, with the most photos and the latest text, visit "AutoMatters & More" at https://automatters.net. Search by title or topic in the Search Bar in the middle of the Home Page, or click on the blue 'years' boxes and browse.
Copyright © 2023 by Jan Wagner – AutoMatters & More #782